Mixing and matching is one wedding trend that doesn't seem to be going away any time soon. And that's great news for brides on a budget.
How does one mix and match and still maintain a coherent style and vision?
The wedding below features a mixture of different chairs, each one is different both in the style and the color. However, when you look at this picture it seems to visually make sense. Why? The chairs have similar structure and shapes and they're all in a neutral toned down color palette, so they don't detract or compete with the bright flowers or huge red barn behind them.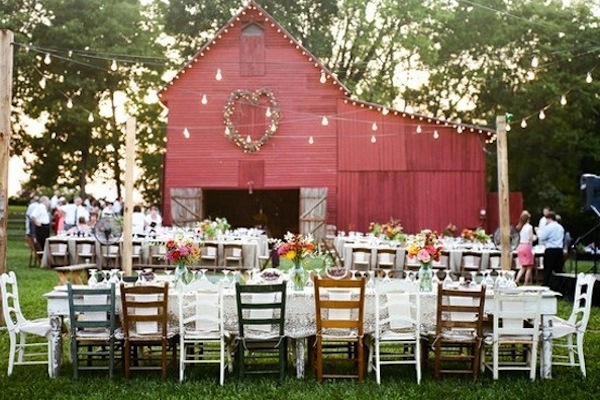 Mixing table linens is another fun way to add visual interest to your tables. To make them cohesive have them match your color palette if they're different patterns and match patterns if they're different colors. The same goes for napkins.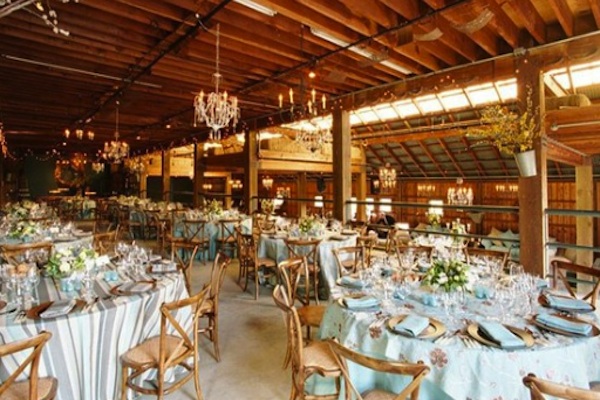 Having a variety of mismatched china is another one of my favorite ways to execute this style. I'm especially drawn to vintage china which is often already in muted tones, making it easier to mix and match many different colors and patterns while still having a look that's tied together by its size and the fact that it has a vintage look.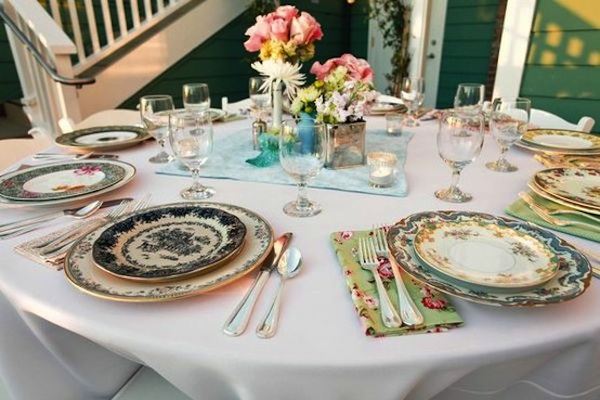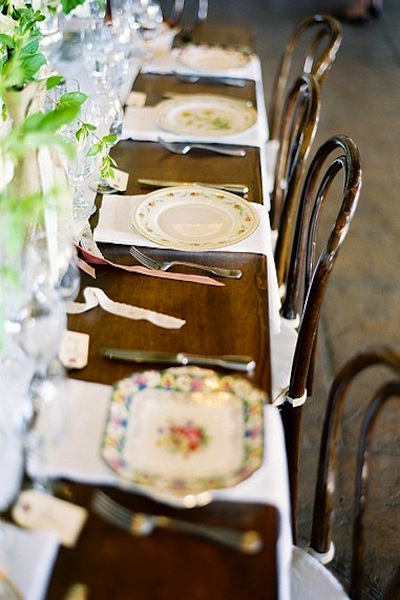 Glasses can also be mixed and matched. With glass there is even more flexibility because of them being transparent. Mixing shades and shapes is fun and also helps your guests to know which one is theirs!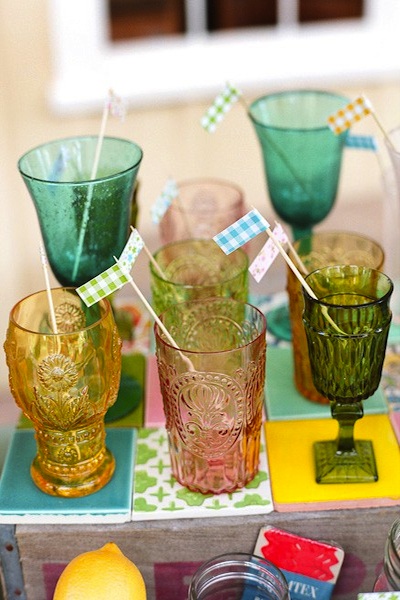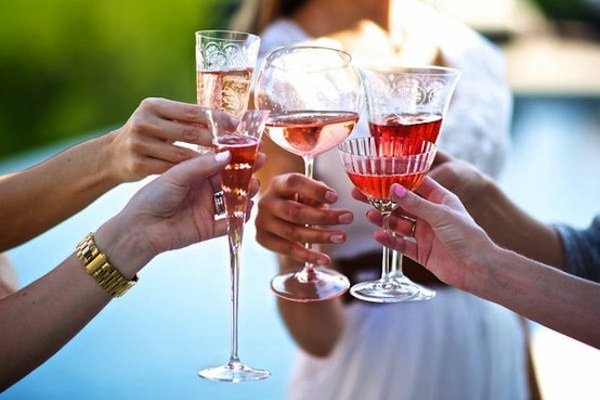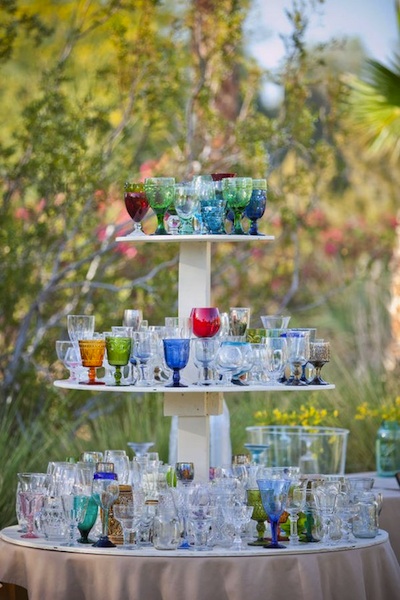 For the wedding party I actually prefer that each of the maids and groomsmen have unique elements, as long as they all still follow a basic theme. Dress variety and shirts or vests for the men. Note all have either a similar color palette or similar pattern.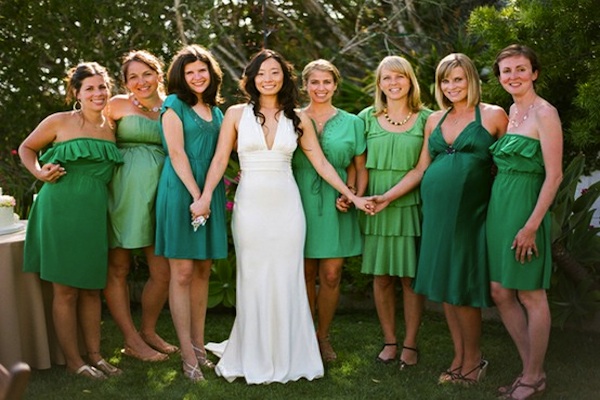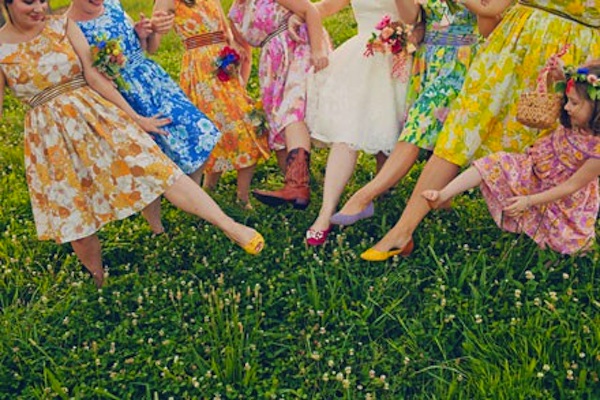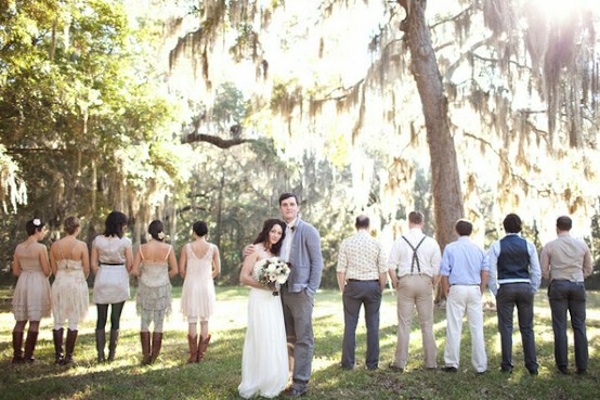 Flowers, shoes and jewelry can also be mixed for the bridal party. Each bridesmaid is different, why not let them have a touch of their personality show through?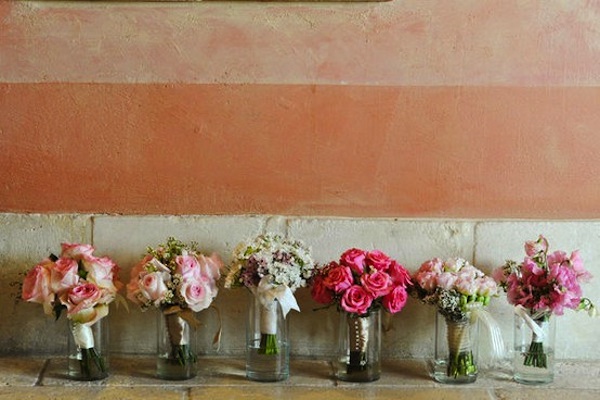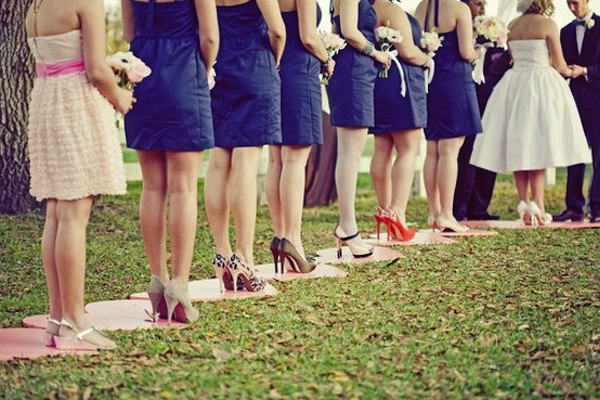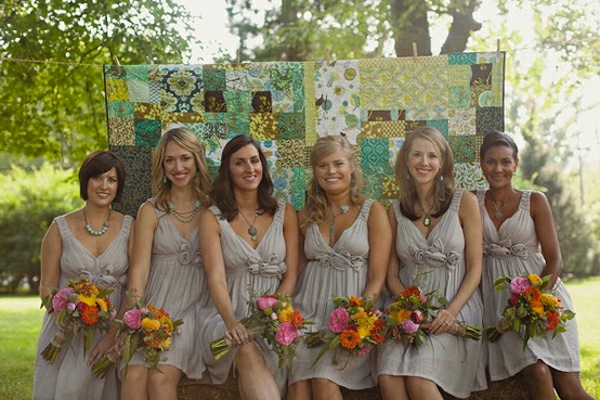 The most important thing to remember when mixing and matching is to make sure that there is a key similarity that runs through. If you find yourself loving several colors and not being sure whether they look good together invest in (or find online) a color wheel. A color wheel is a tool that you can use to see which colors go together the best, and which color combinations should be avoided. Whether you use a color palette, particular textures, shapes or patterns just remember that to do this successfully there has to be some unifying element that ties it all together. While this might seem overwhelming, know that the whole point of mixing and matching styles is that it's fun and personal to you!
Photo One: abryanphoto.com; Photo Two: wedding-dresses.more-tips.com; Photo Three: stylemepretty.com; Photo Four: duet-weddings.blogspot.com; Photos Five and Six: stylemepretty.com; Photo Seven: notetosarah.tumblr.com; Photo Eight: inspiredbythis.com; Photo Nine: intimateweddings.com/blog; Photo Ten: ruffledblog.com; Photo Eleven: stylemepretty.com; Photo Twelve: stylemepretty.com; Photo Thirteen: elizabethannedesigns.com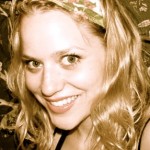 Rebekah is a DIY obsessed, wedding and event design wizard who loves hunting her bay area      homeland for clever craft  ideas, vintage gems, bargain buys, new pieces for her vintage rental line  and blogging inspiration. She and her husband live  and write in Oakland. Read her blog.