When there's a New England lobster bake involved, you know it's going to be a good time, and Erin and Zachary's Mystic, CT wedding certainly did not disappoint. With their immediate families in attendance, the couple exchanged their vows aboard the Argia schooner as it sailed the Mystic River, before joining the rest of their guests for a family-style dinner of lobster, chowder, and sea-salted potatoes. They finished the night – as any good night should be finished – with donuts and dancing.
A huge thanks to Daphne & Dean for allowing us to share all fun times and photos with you guys today!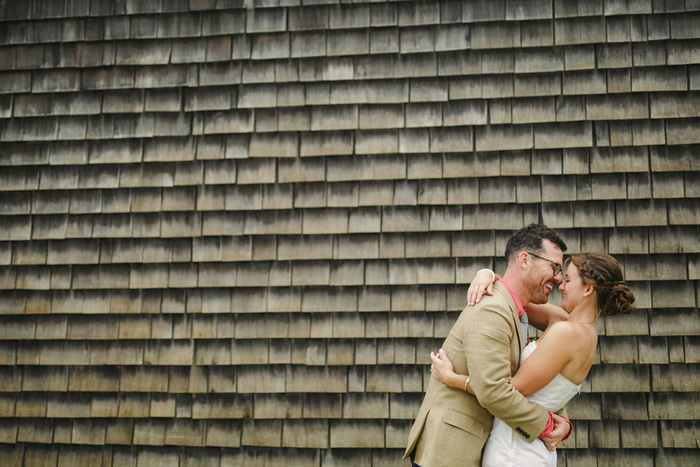 Erin, 32 & Zachary, 33
Mystic, CT
Wedding Date: August 1, 2014
Number of Guests: 68
Wedding Cost: $15,000
Wedding Ceremony Location: Argia sailboat
Wedding Reception Location: Mystic Seaport Boat Shed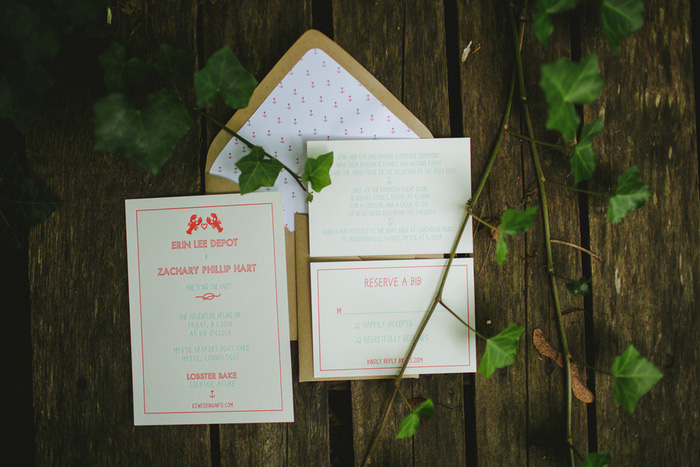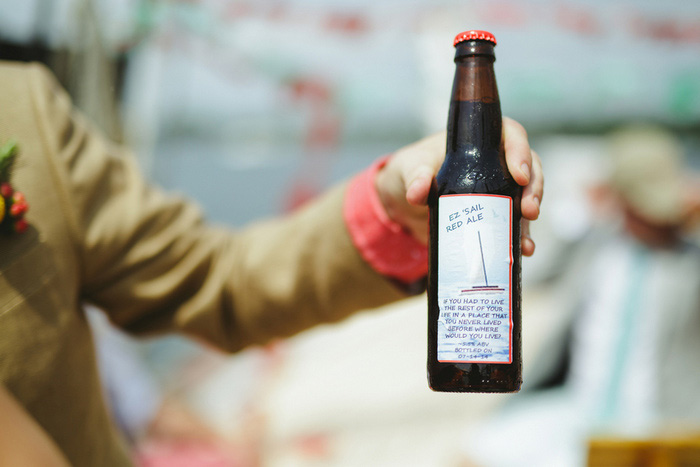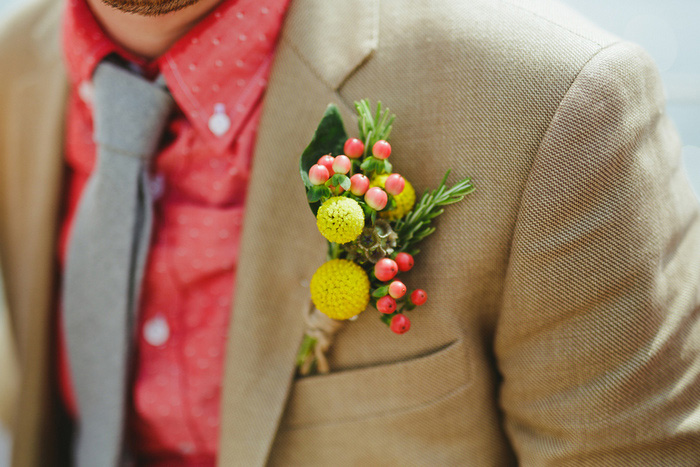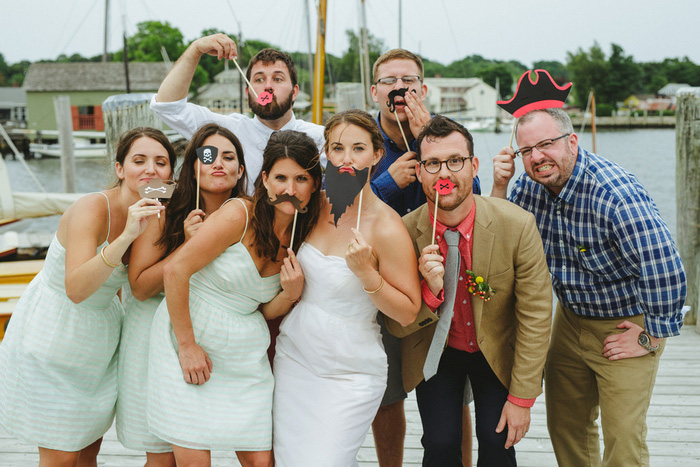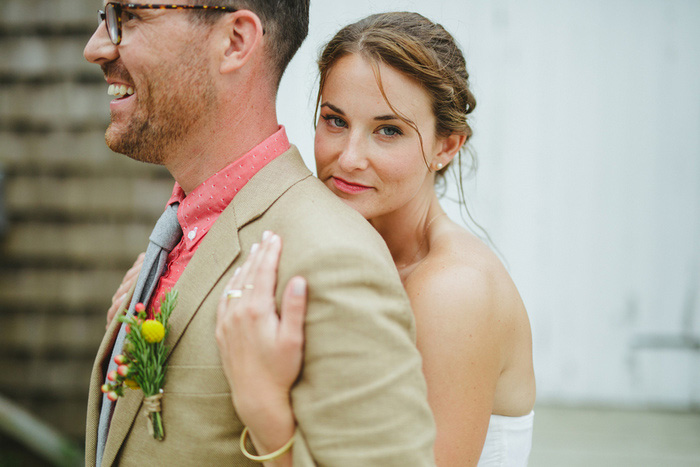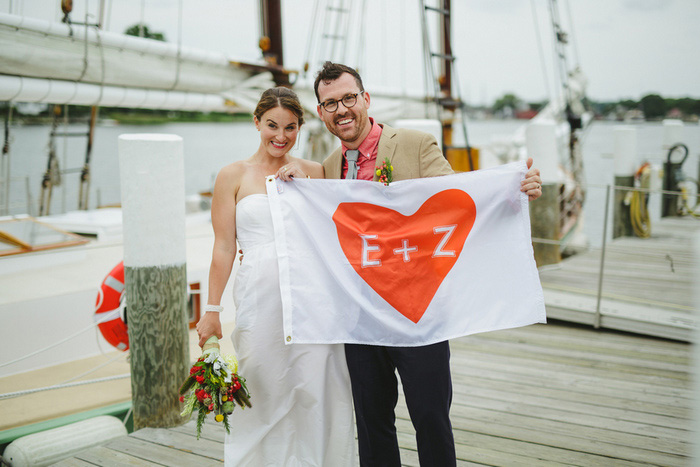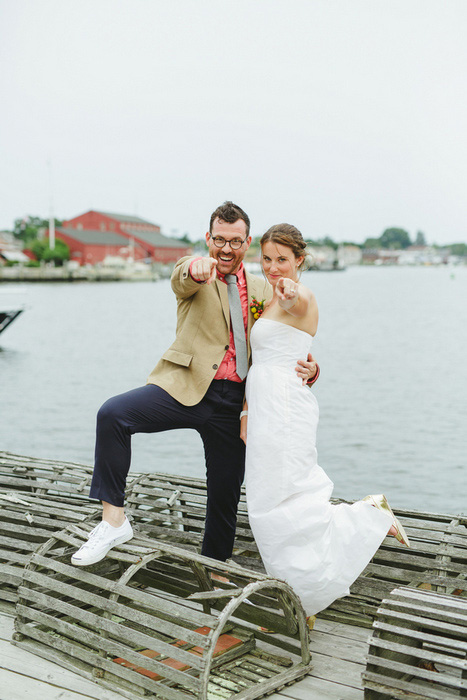 Why did you have an intimate wedding?
It was important to us that the day reflected our everyday lives. We are laid back and have a small group of friends and family that we regularly connect with. We wanted a personal experience and that's a lot more difficult to achieve with a larger wedding. Our vision for the day was to have fun, in a beautiful location, eating good food, with the people who understand us the most.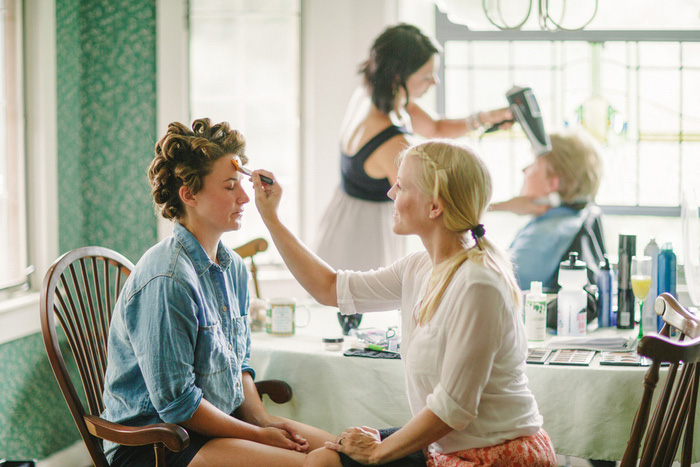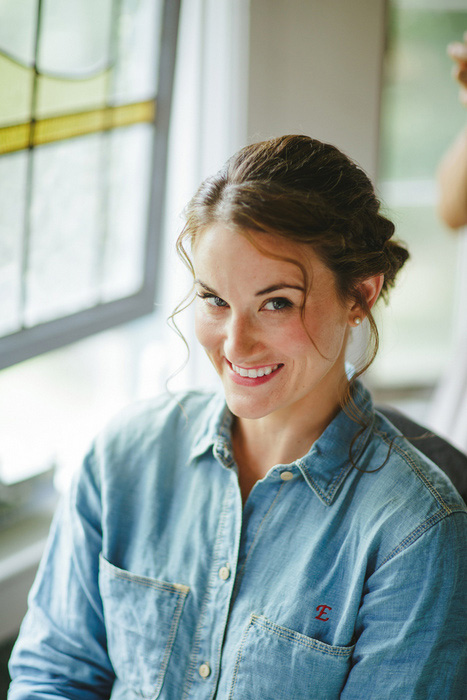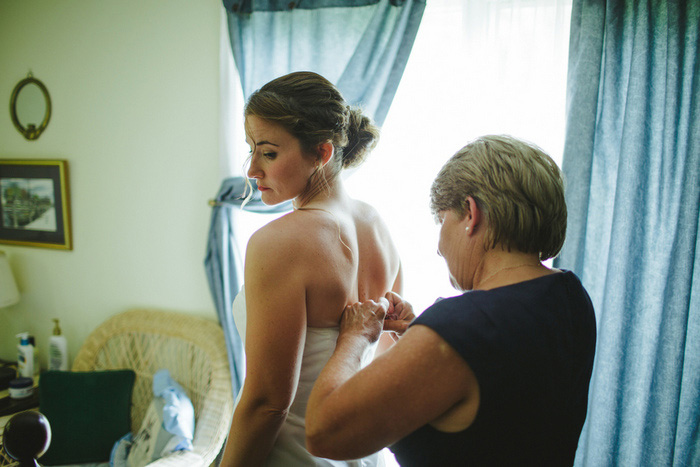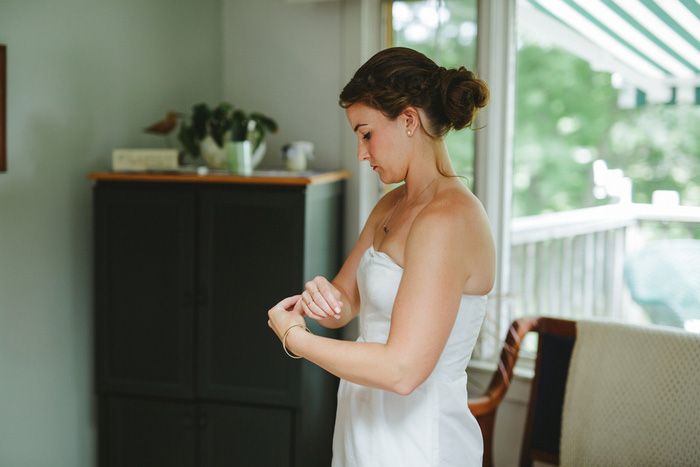 What are some of the challenges that you faced planning an intimate wedding?
Hitting our food and beverage minimum was a challenge at first. To have our reception at the Boatshed, the minimum guest list we needed was approximately 50 people. Fortunately, our top choice for dinner (lobstah!) helped us to reach that point. We also had difficulty in deciding on the ceremony location. We had our hearts set on the Argia (a beautiful, wooden sailboat that provides day cruises and sails along the Mystic River). However, their maximum capacity is 50. We tossed around the idea of having a guest list of only 45 to 50, but decided to have only immediate family and our wedding party join us on the boat for the ceremony. The remaining guests met us as we disembarked the boat as newlyweds and we all headed to the reception.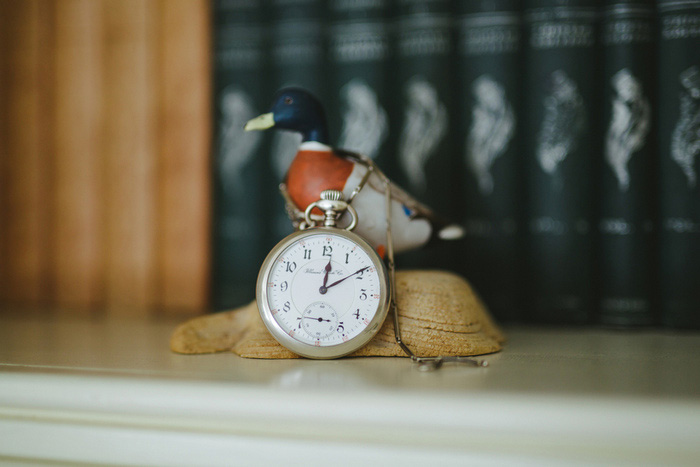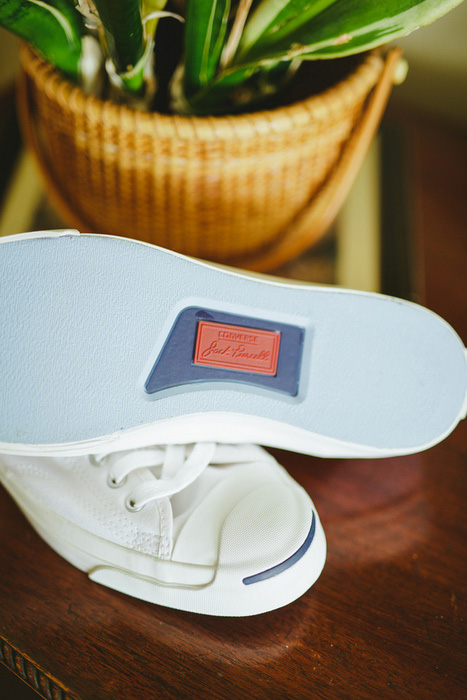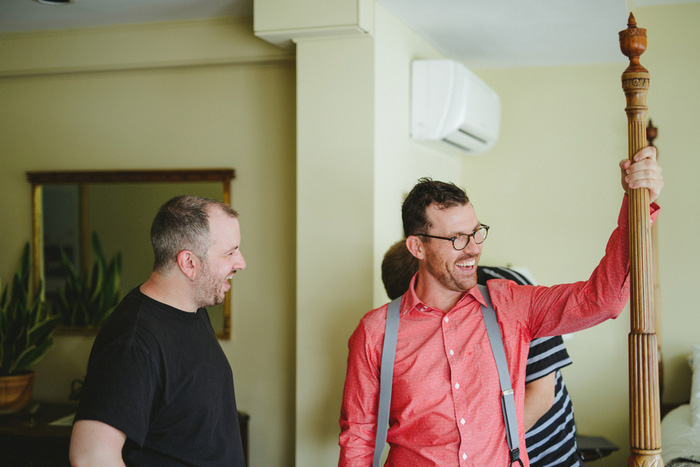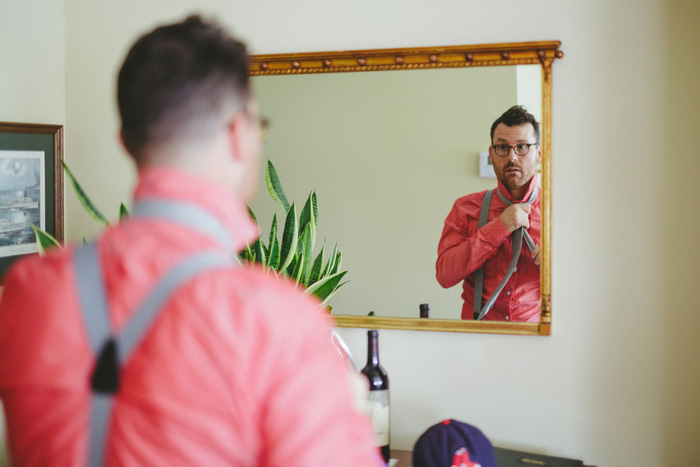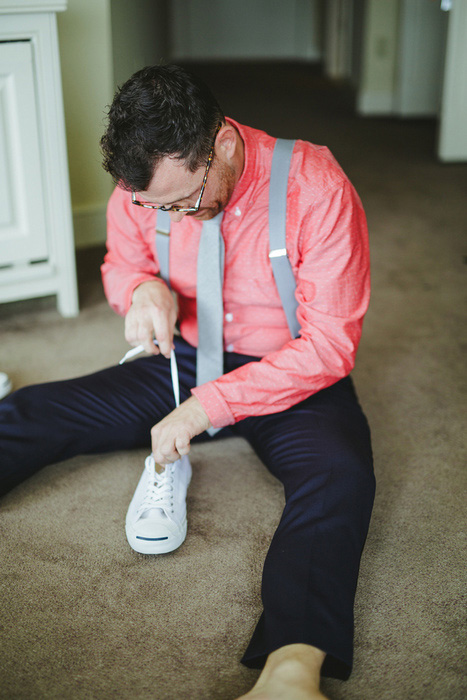 Was it difficult to pare down the guest list?
Yes. There were other important people in our lives, such as our family's boyfriends/girlfriends, young children, extended family, work colleagues, and friends, that we may have invited had we went with a larger wedding. In the end, we have no regrets and we were able to achieve a more intimate connection with each guest, and vice-versa.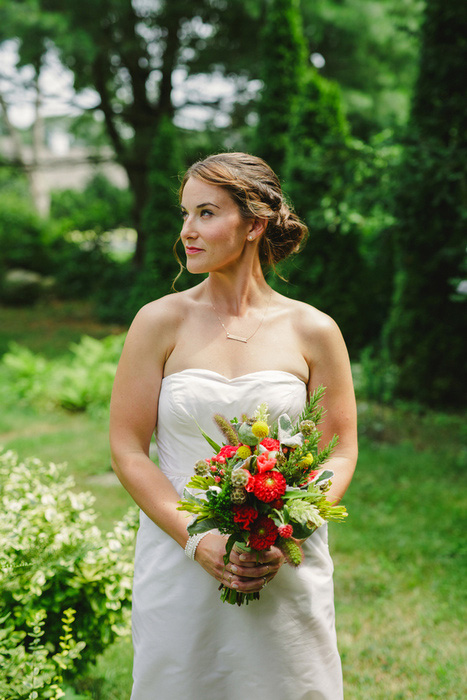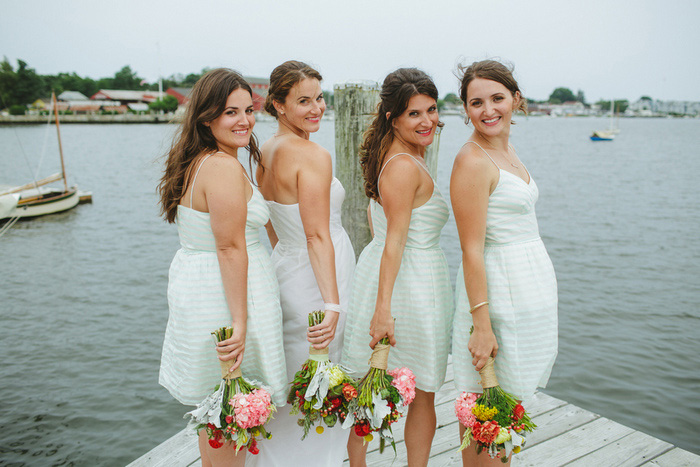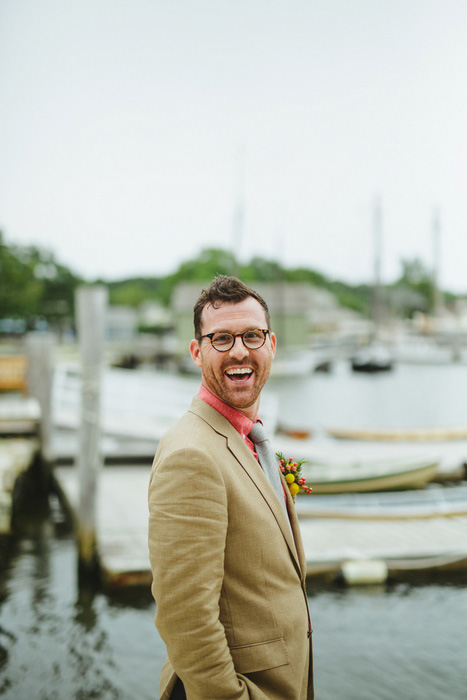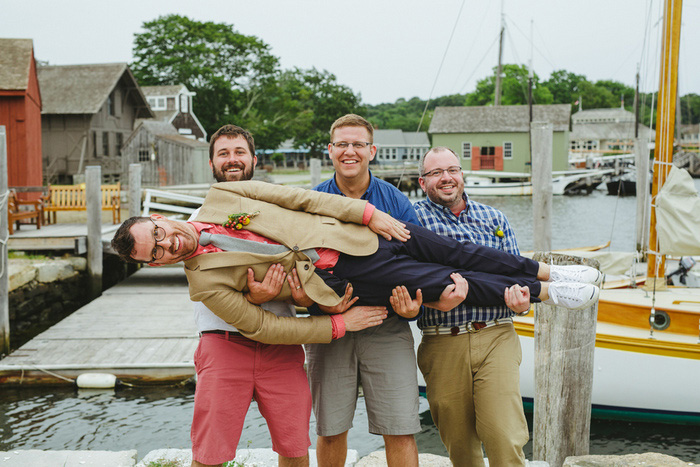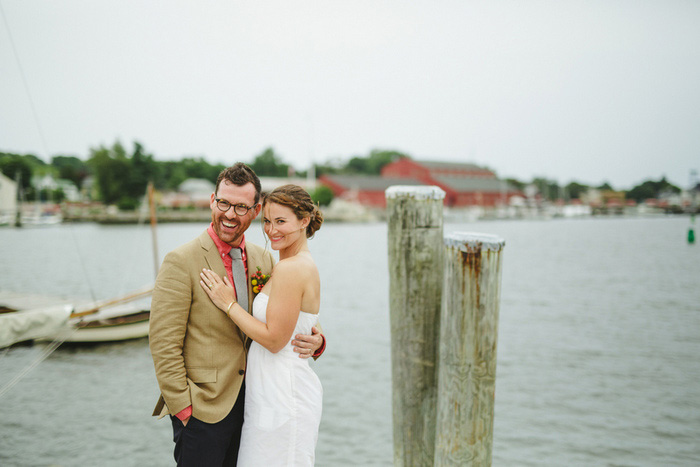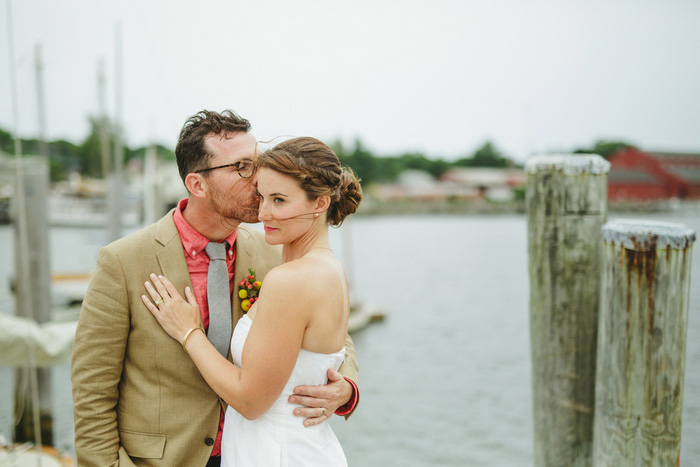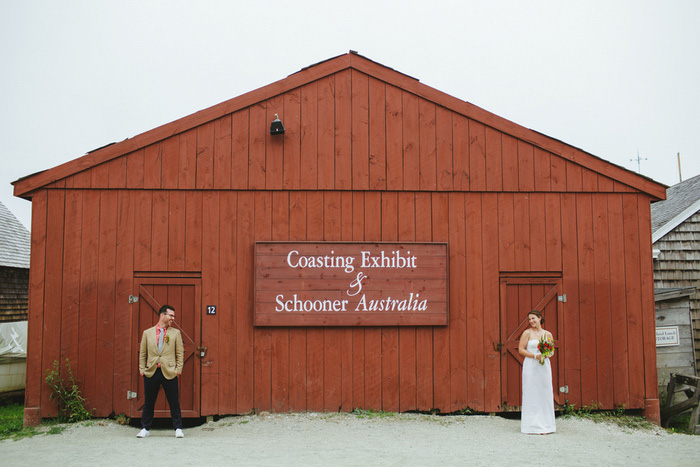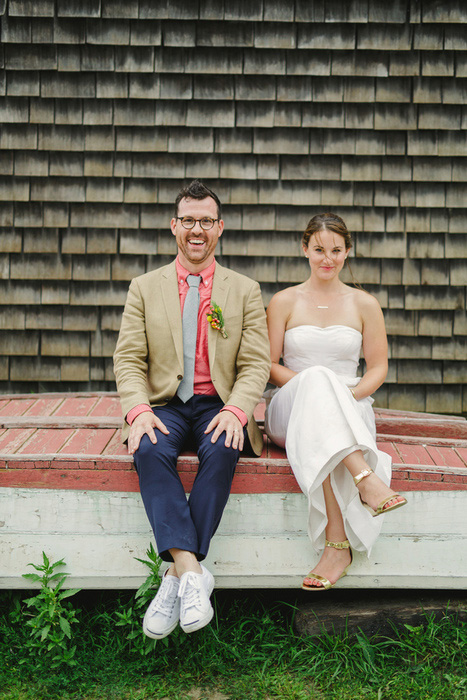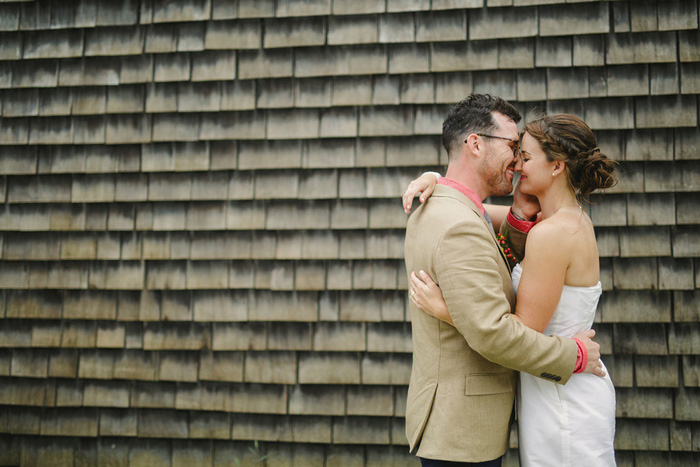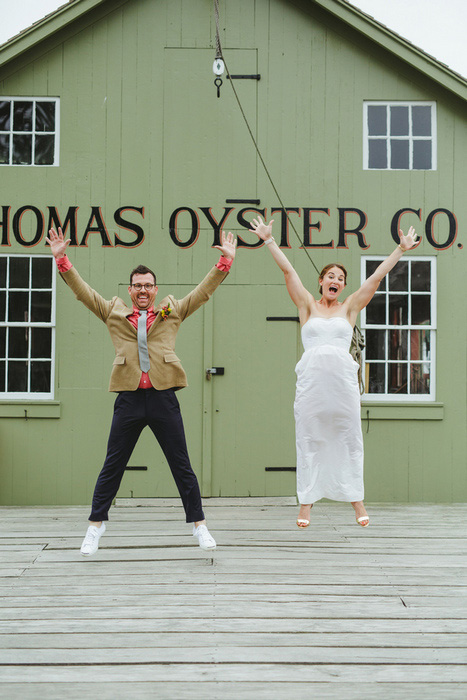 Did you have any 'issues' with the small guest list from friends and family? If so, how did you address them?
For the most part, no. We did face some questions here and there, however, this is something we anticipated. We were honest from the beginning, and were willing to explain our vision to a family member or friend who did not understand.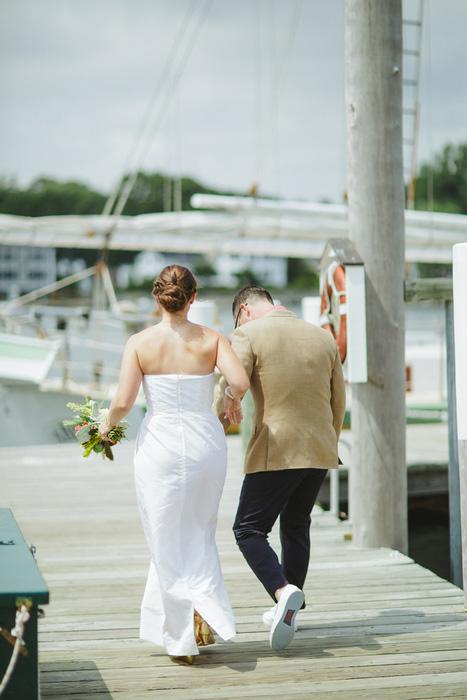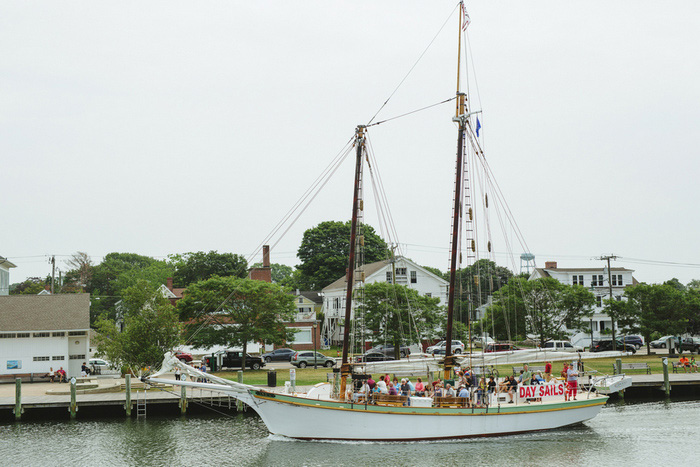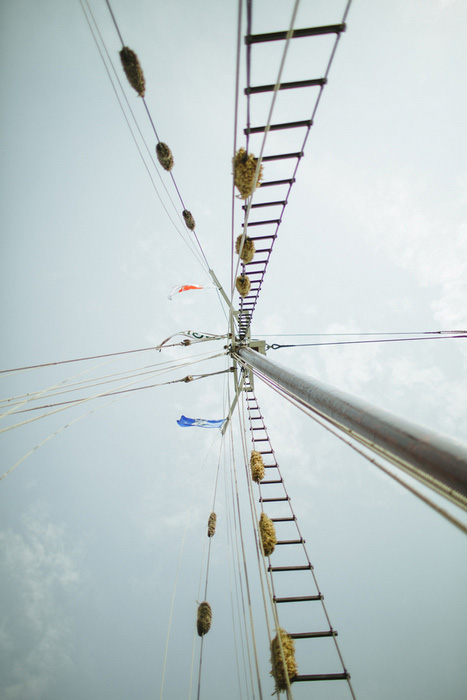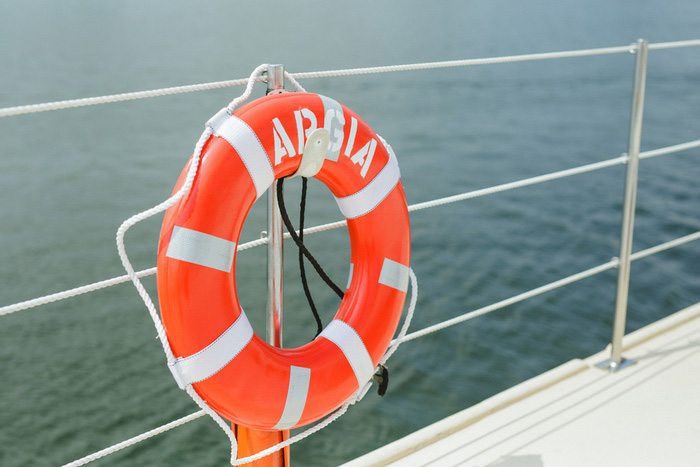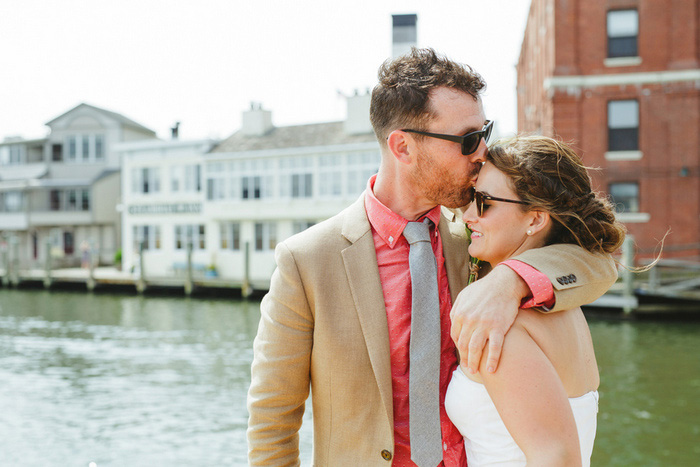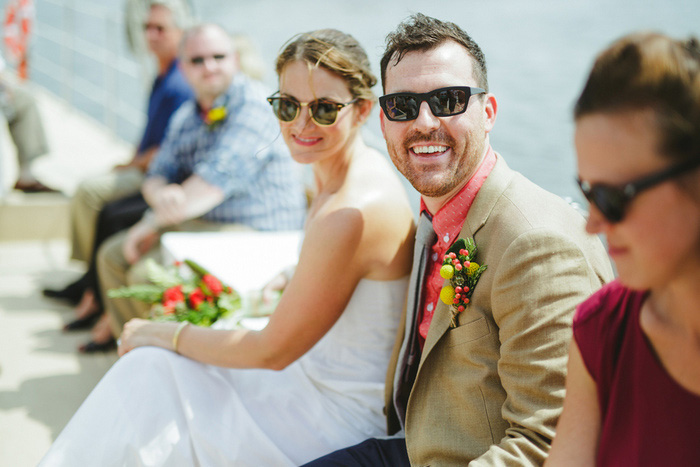 What were the highlights of the ceremony?
We were on a sailboat!!!!! Is there a bigger highlight than that?!? A specific moment was when we read our vows. We both wrote our own vows that included how we met, our history, and some inside jokes. As it was only close friends and family beside us, everyone knew us well enough to find meaning in every word.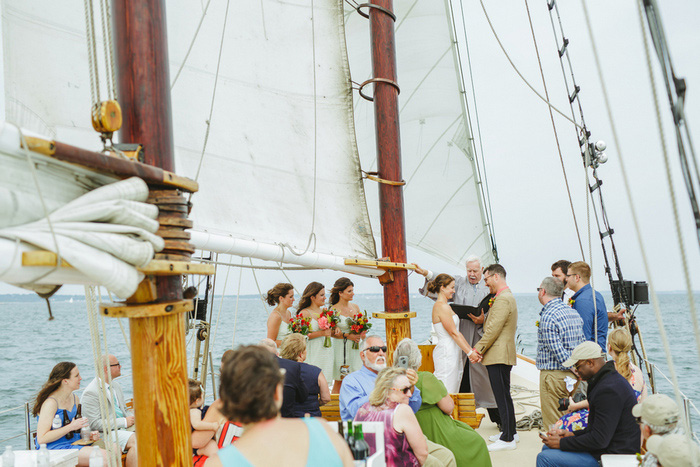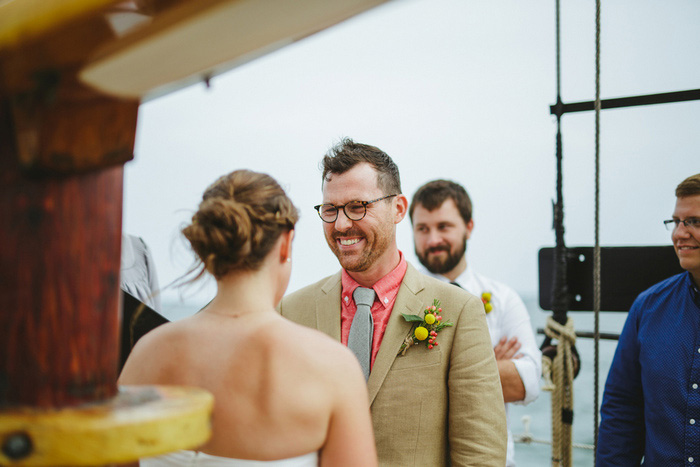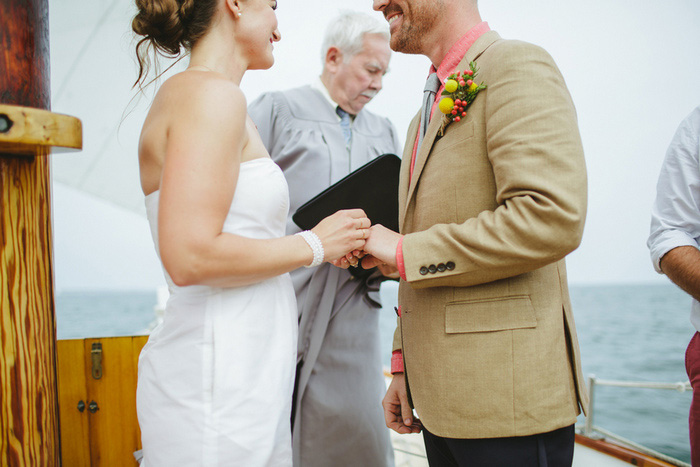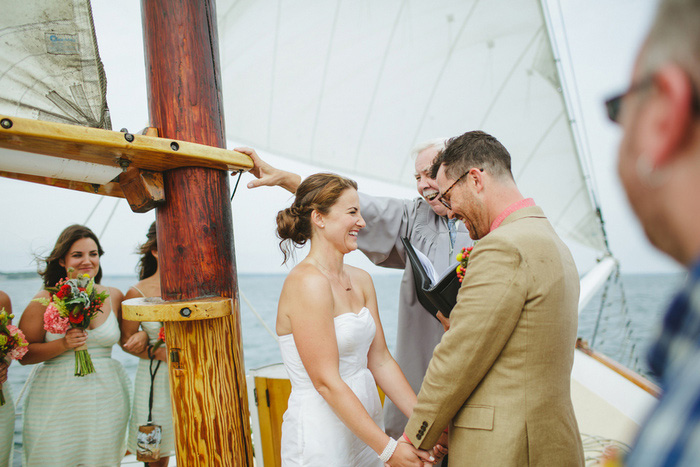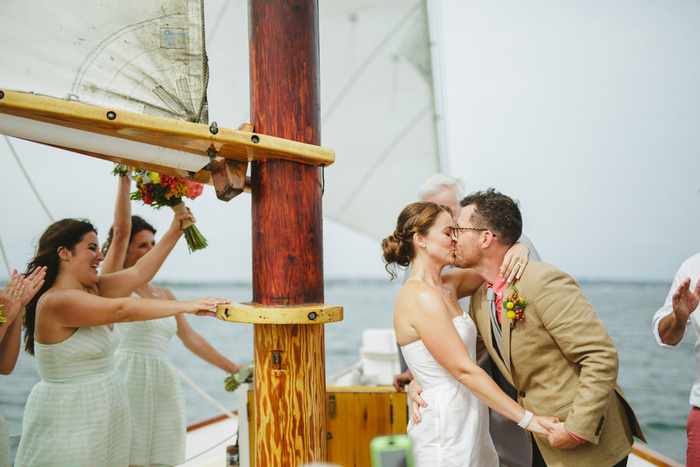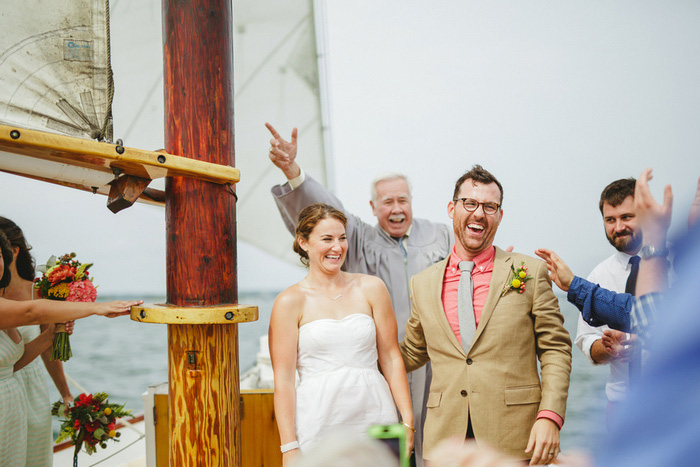 What were the highlights of the reception?
Dancing! Our band, Happy & the Moonshine was AMAZING! Their set list was exactly what we wanted, and they definitely set the mood for the entire party; slowing it down with 'Peace, Peace' during dinner, and ending with 'You Get What You Give' bringing everyone on the dance floor to close the night. Dinner was also equally amazing. We enjoyed a lobster bake dinner, complete with clam chowder and sea-salted red potatoes at a family style table. We felt like we were sitting with each guest, because we were! Our desserts weren't too shabby either; cupcakes and donuts. 'Nuff said.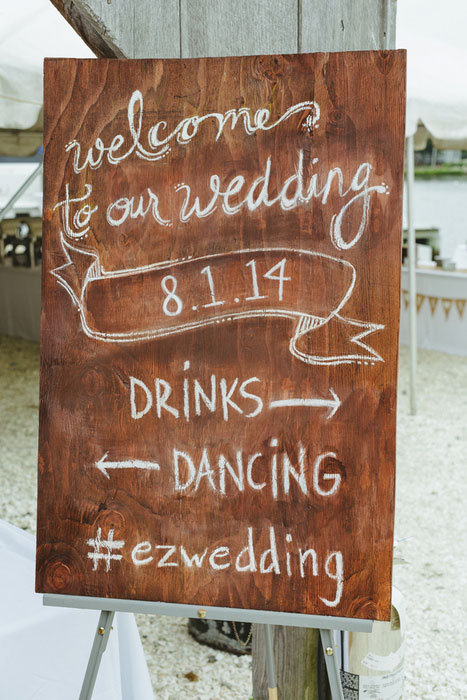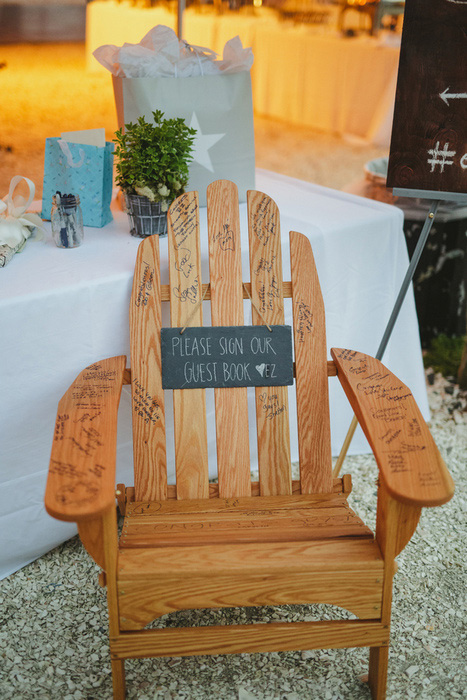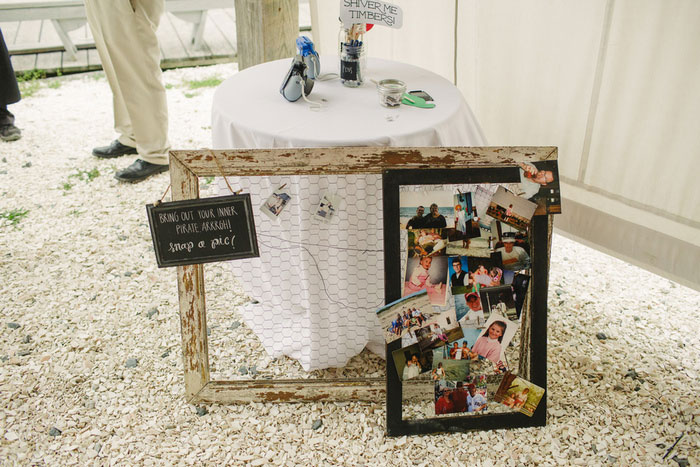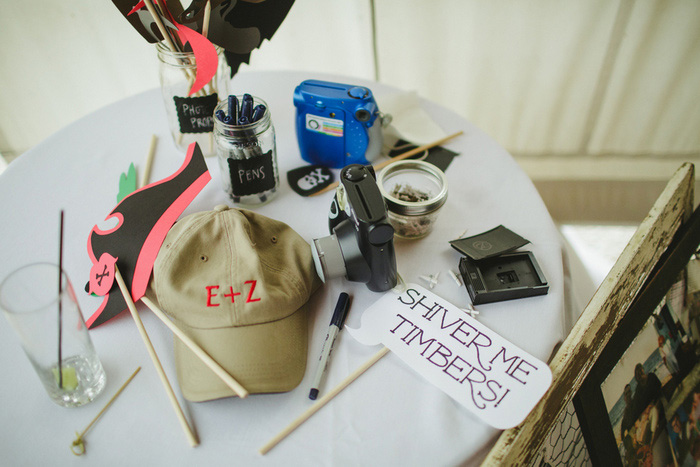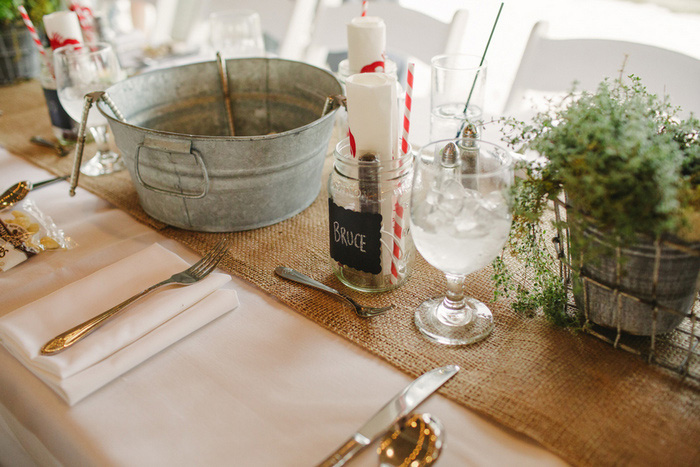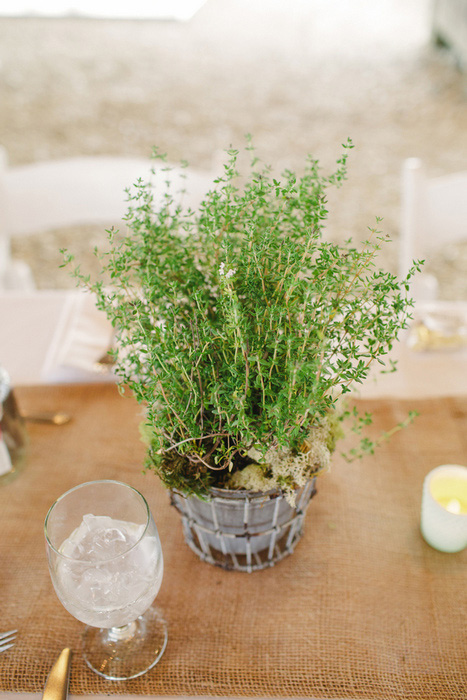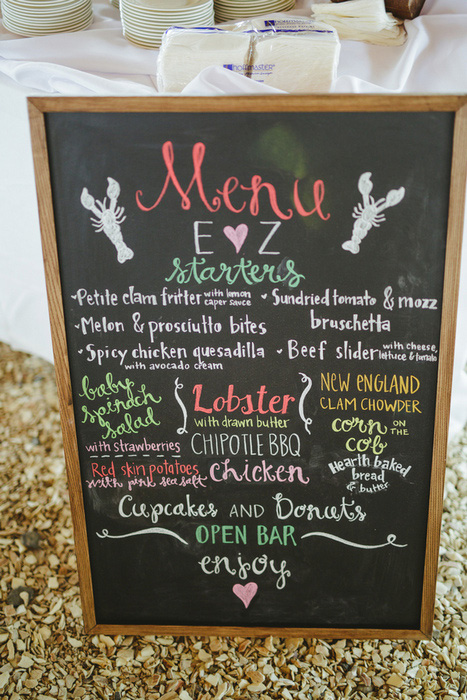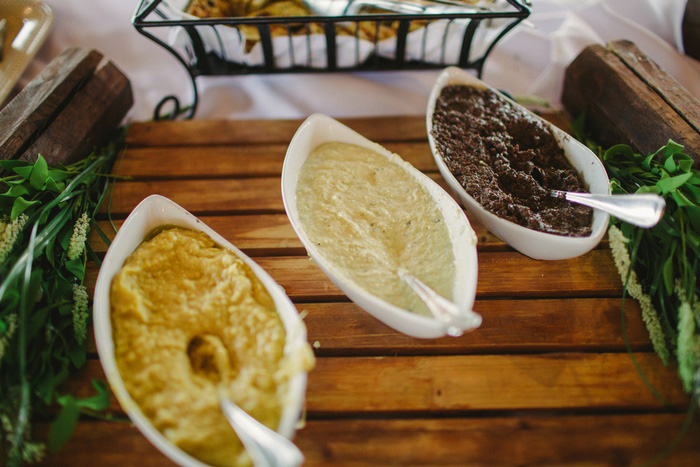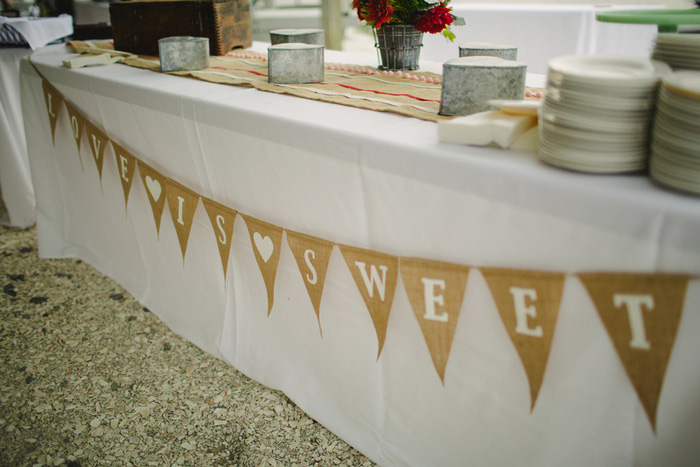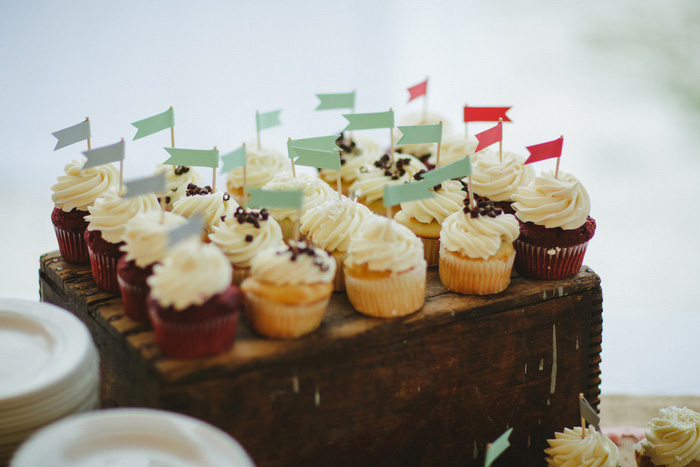 What was the best thing about having an intimate wedding?
Knowing every guest's name and being able to have a real conversation with them. It sounds silly, but we have heard many stories of weddings, during which the bride & groom don't know the names of many of their guests. "Oh that's so-and-so's significant other" or "Is that your mom's work friend?". It felt so refreshing to be able to relax and enjoy every moment, rather than worrying about introducing ourselves. We have said many times that we wish we could live our wedding day again, for the simple fact that it was the most fun we have ever had. That is a testament to the intimacy of the day.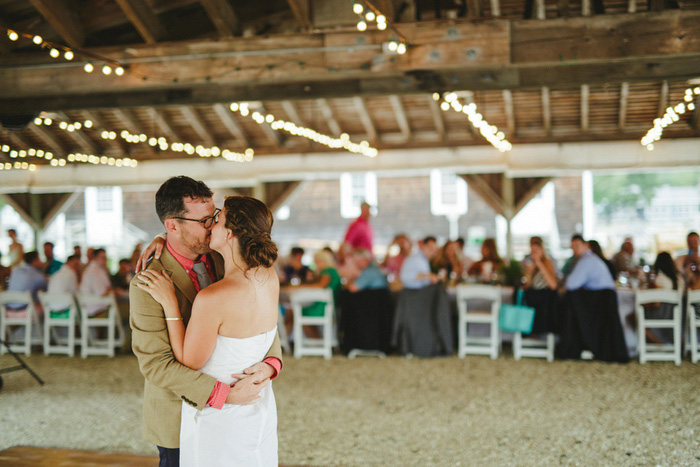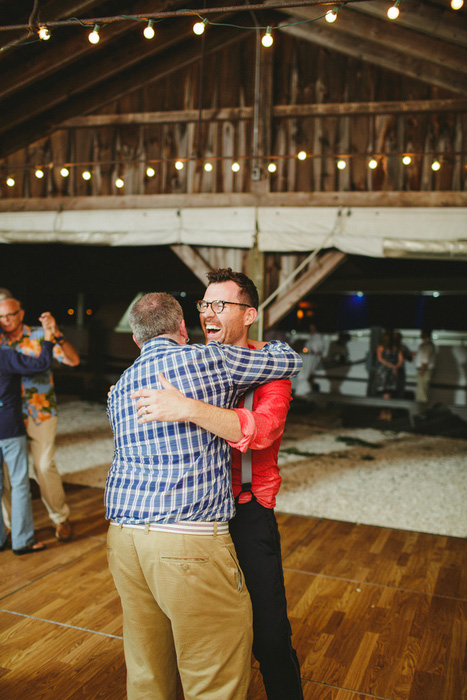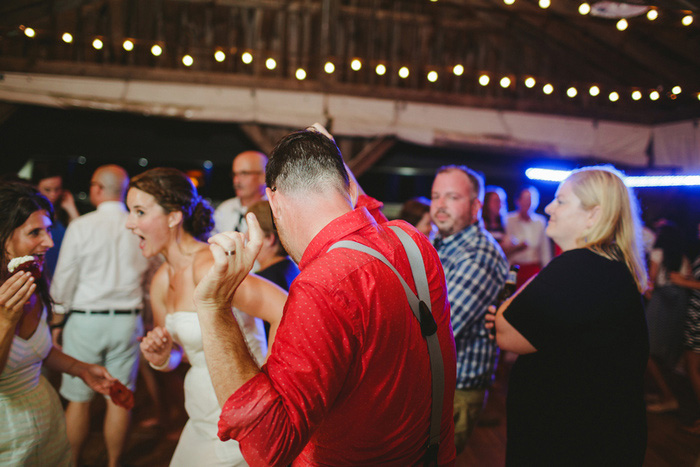 What advice do you have for couples who are considering an intimate wedding?
Do it. Don't succumb to the pressure of others. We realize that your family and friends' opinions matter, but it is your day. The memory of your wedding should be shared with the most important people in your lives. Also, have fun! After all, it is one big party, celebrating you and your best friend.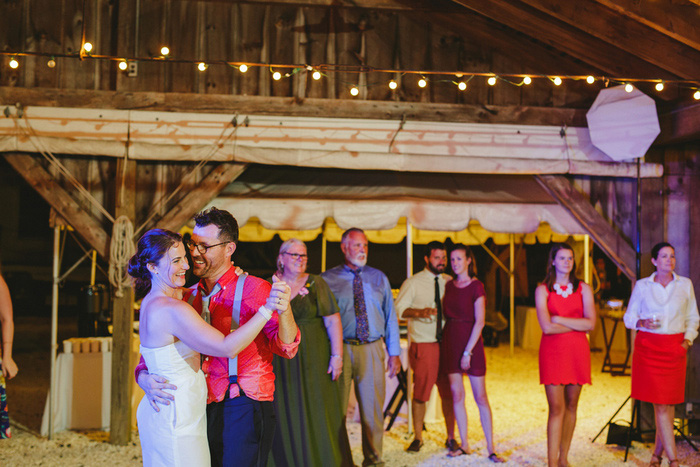 Vendors:
Ceremony Site: Argia Cruises
Reception Site: Mystic Seaport
Wedding Coordinator: Jenna Landon of Coastal Gourmet
Catering: Coastal Gourmet
Desserts: donuts by Allie's Donuts
Photography: Daphne & Dean
Band: Happy & the Moonshine
Flowers: Allyson Hart
Bride's Dress: J. Crew
Bridesmaids: J. Crew
Groom's attire: J. Crew
Groomsmen's attire: J. Crew
Hair: Kate Woodworth of Home Wellness Salon & Spa
Makeup: Shelly Dolan of Jennie Fresa Brow & Beauty Bar