Goodbye 2019, hello 2020! Besides bringing about a new decade, the New Year brings engagements, wedding planning, and better-than-ever wedding tends.
Do you have your wedding planned with perfect 20/20 vision (see what we did there?)? These inspiring wedding trends may just change your picture of the ideal wedding. Dreamy décor, darling details, dazzling destinations… 2020 is sure to be an iconic one when it comes to weddings!
From bold and beautiful color palettes to screen-free wedding ceremonies, couples will soon be seeing these 2020 wedding trends everywhere.
Sustainable Weddings:
Your wedding day will be up there as one of the most special days of your life- but that doesn't mean it should be the most wasteful. Disposable decor, unwanted gifts and frivolous favors all add up, and it's not uncommon for a wedding to produce hundreds of pounds of waste.
Fortunately, more and more couples are opting for an eco-conscious approach to their wedding day, and there are now a plethora of ways to keep your wedding green- in more way than one we might add, as many eco-friendly options are also budget-friendly.
From choosing ethical engagement and wedding rings, to booking an eco-friendly wedding venue to planning a waste-free reception, there are so many ways to reduce the environmental footprint of your wedding.
Non-Traditional Wedding Dresses and Attire:
Traditional white wedding dresses will forever be beautiful, but more and more brides are seeing the appeal of bolder, often colorful wedding dresses. Whether you'll be saying your 'I dos' in a quaint, historical courthouse or a breathtaking white chapel, there's always room for a nontraditional wedding dress.
From vintage-inspired show-stoppers to enchanting tulle gowns, there are so many gorgeous and unique options for the the alternative bride.
Of course, the groom can join in on the fun as well. Mismatched looks, colorful suits and less-than-tradition wedding shoes (sneakers in place of dress shoes? Yes please!) are all trending options for him.
Bold Color Palettes:
Your wedding day will be filled with fun and celebration, and the previously trending white-on-white or black and white wedding color palette may not be the best options to complement that, as they can set an overly formal tone.
When choosing your color palette, think bold. Pink, blue, yellow, orange; the bolder the better! The key to pulling off a bold color palette is to maintain a cohesive look throughout all of your wedding details. Be sure to keep tones consistent, from florals to table settings to attire.
Unplugged Weddings:
An unplugged wedding means asking guests not to use devices either during the ceremony or for the entire wedding, as well as refraining from posting images online until after the wedding. When you opt for an unplugged weddings, your guests will be fully present with you on your special day and your photographer won't have to worry about a guest's iPhone blocking your face in what would've been the perfect wedding ceremony shot (seriously- do a quick search of "unplugged wedding" and you will read countless anecdotes from wedding photographers of guests getting in the way of wedding photos because they wanted to snap their own photo with a phone!).
Remind your guests to stay off of their screens and be fully present during your special day with this unplugged wedding sign from TheKPStudio.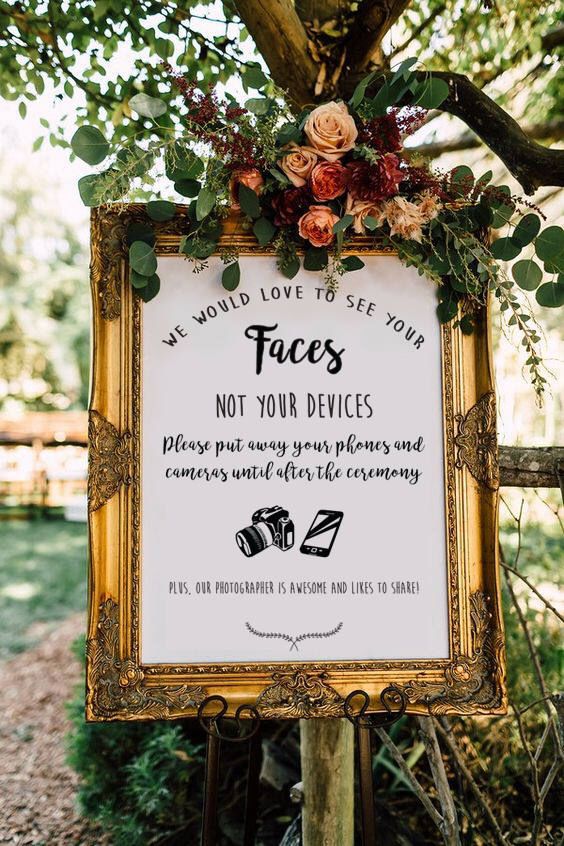 Small Weddings:
Spoiler alert: we love intimate weddings, and we're not the only ones either. More and more couples are choosing to keep their wedding guest lists ASAP (as small as possible),and there are many reasons why you should too.
A smaller guests list allows for you to meaningful interactions with each and every guests, rather than the rushed greetings that come with larger guest lists. Plus, less guests means less costs, giving you the opportunity to spend more on special wedding details, like a five-star meal or a luxurious wedding venue. Many couples opt to save the extra cash for an epic honeymoon at their dream destination- Paris? Oui, Oui!
*This post contains affiliate links.