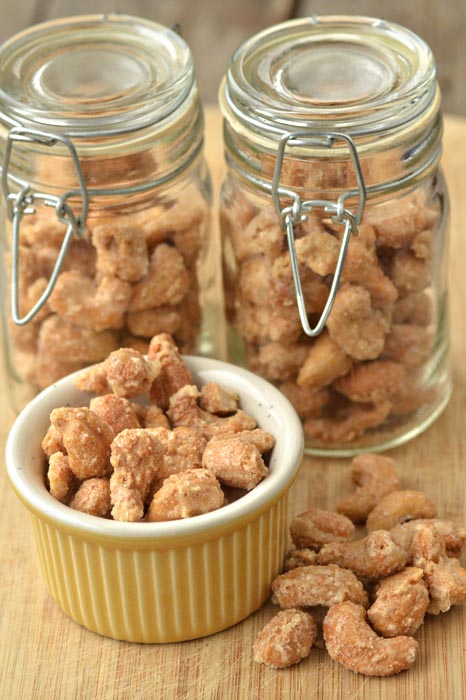 Candy coated cashews. Is there a more perfect edible DIY wedding favor?
Whip up a big batch in no time and serve them up in jars, cello bags or paper cones. Just be careful: they are highly addictive! You've been warned:)
If you don't like cashews (is that even possible?) you could use pecans or walnuts.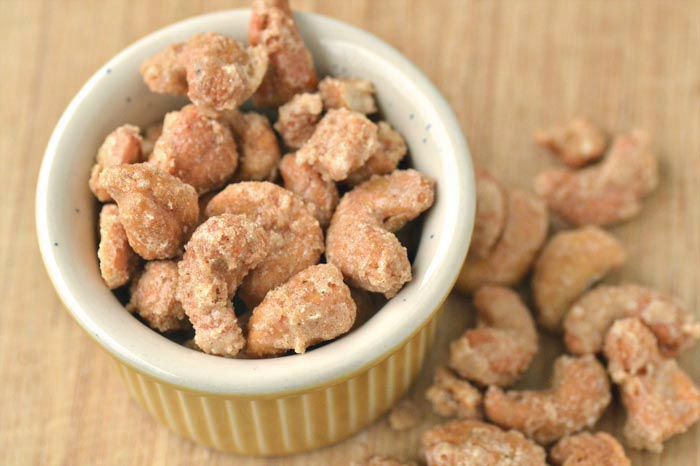 Ingredients:
2 egg whites
1 tablespoon vanilla
1 pound cashews (I buy mine at Costco. Super fresh!)
1 cup white sugar
3/4 teaspoon salt
1/2 teaspoon ground cinnamon
Preheat oven to 250 degrees.
Mix sugar and cinnamon in a bowl. Dump mixture into a Ziploc bag. Set aside.
Place egg whites and vanilla in a small bowl and whisk until frothy. I used a stick blender.
Pour cashews into egg mixture.
Stir nuts until evenly coated.
Dump cashews into bag containing sugar mixture.
Shake until nuts are coated.
Spoon cashews onto a greased baking sheet. (Make sure you grease it well or the nuts will stick!)
Bake for one hour, stirring every 15 minutes.
Once the nuts have cooled, place them in tins, jars or bags and give out as favors at your wedding! Perfection!