Greta and Caleb go way back. In fact, Greta had a crush on Caleb since they worked together on a project when she was 11. After spending several years apart, the two reunited and Caleb finally kissed her. One year to that day, the couple eloped to City Hall in San Francisco.
"Marrying my best friend was a dream come true, and making it such an intimate ceremony for just the two of us was so special, it was the best decision we could have made," said Greta.
They scheduled the earliest available time for their ceremony, and spend the rest of day exploring the city with their photographer, Kyle + Tori from  Kyle Loves Tori Photography.
Thanks to Kyle Loves Tori Photography for the breathtaking images!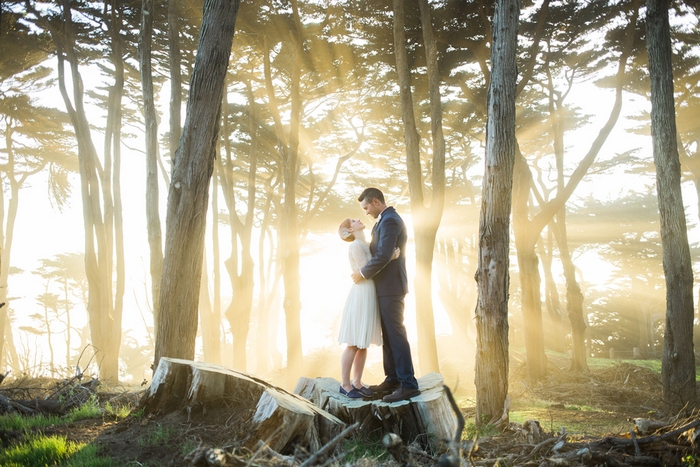 Greta, 26 & Caleb, 27
Location: San Francisco, California
Wedding Date: November 9, 2016
Number of Guests: 2
Wedding Cost: ~ $3,000-$4,000
Wedding Ceremony Location: San Francisco City Hall
Wedding Reception Location: We had two separate small parties for our families, it made it easier for them travel-wise. We had one in Utah, where my family lives, and the other in Colorado, where we're from, and where his family lives.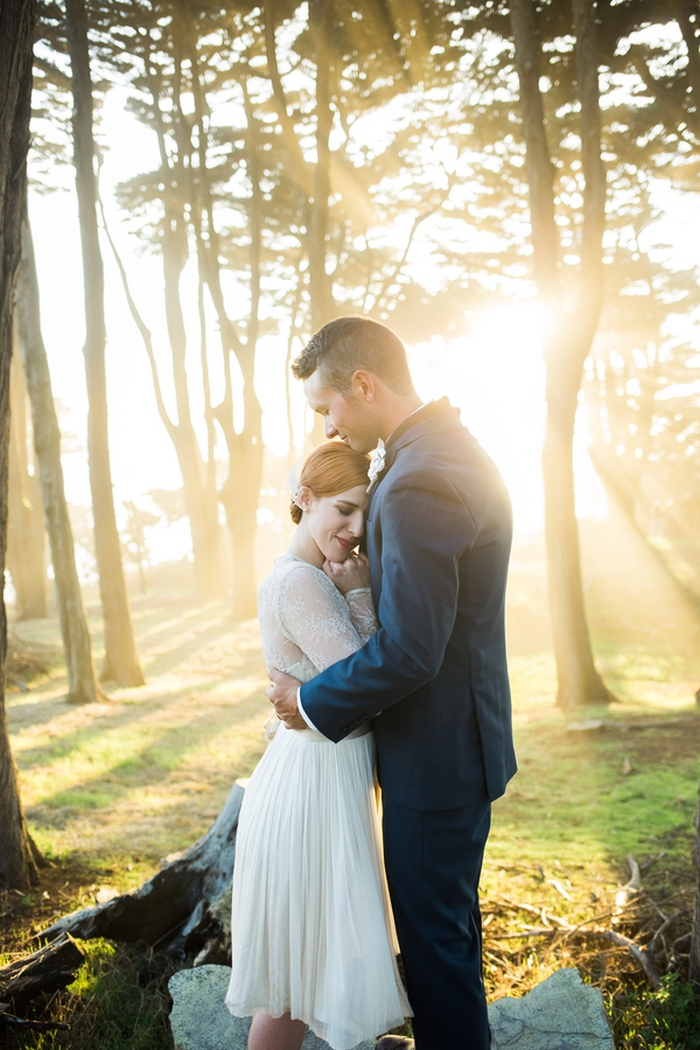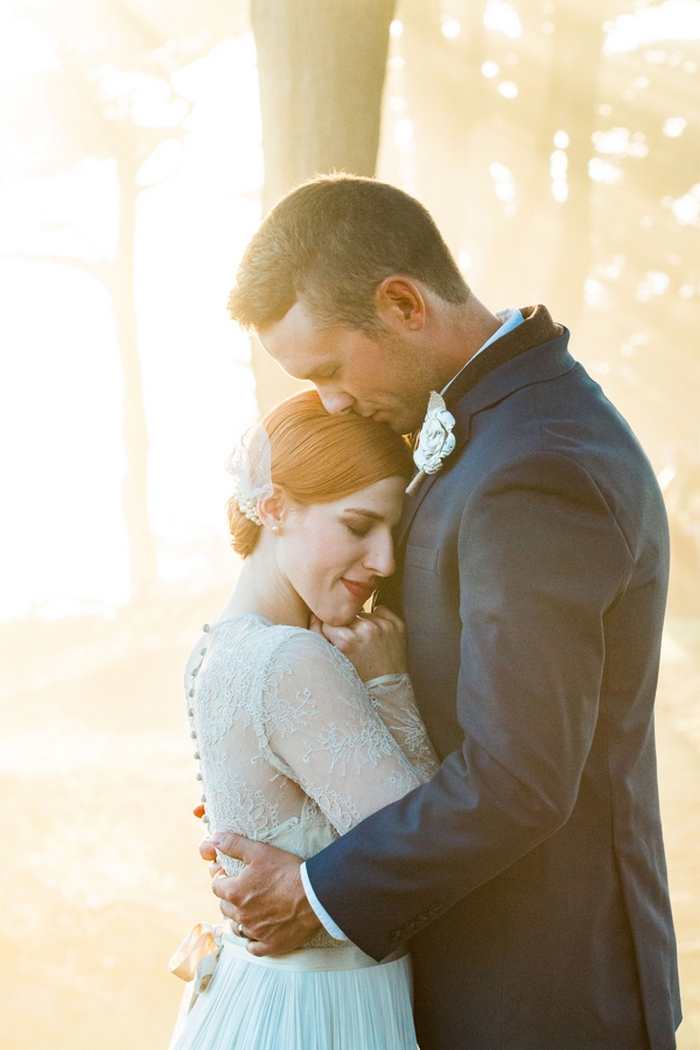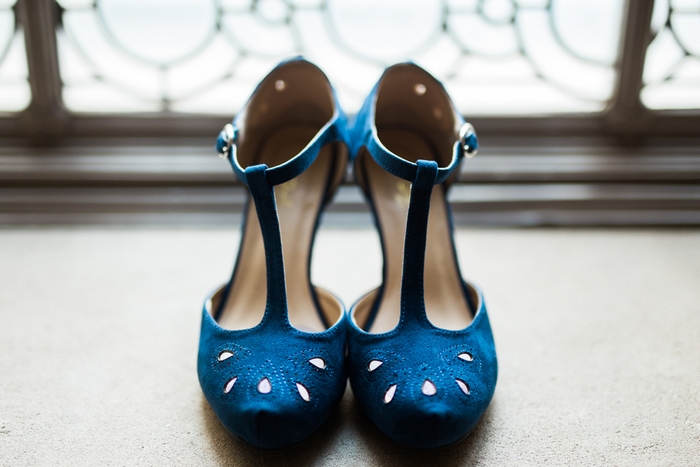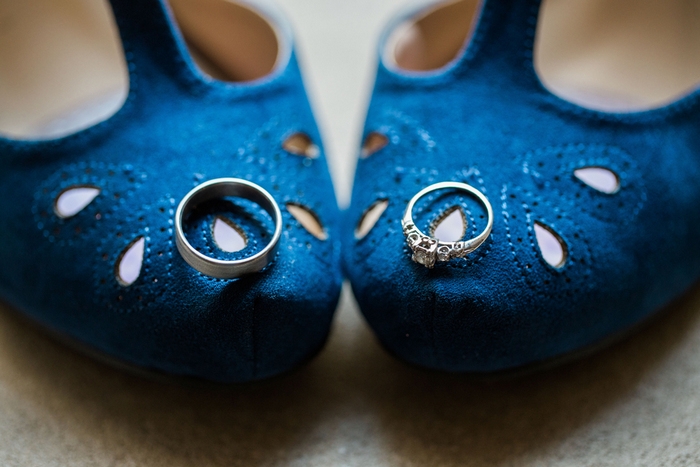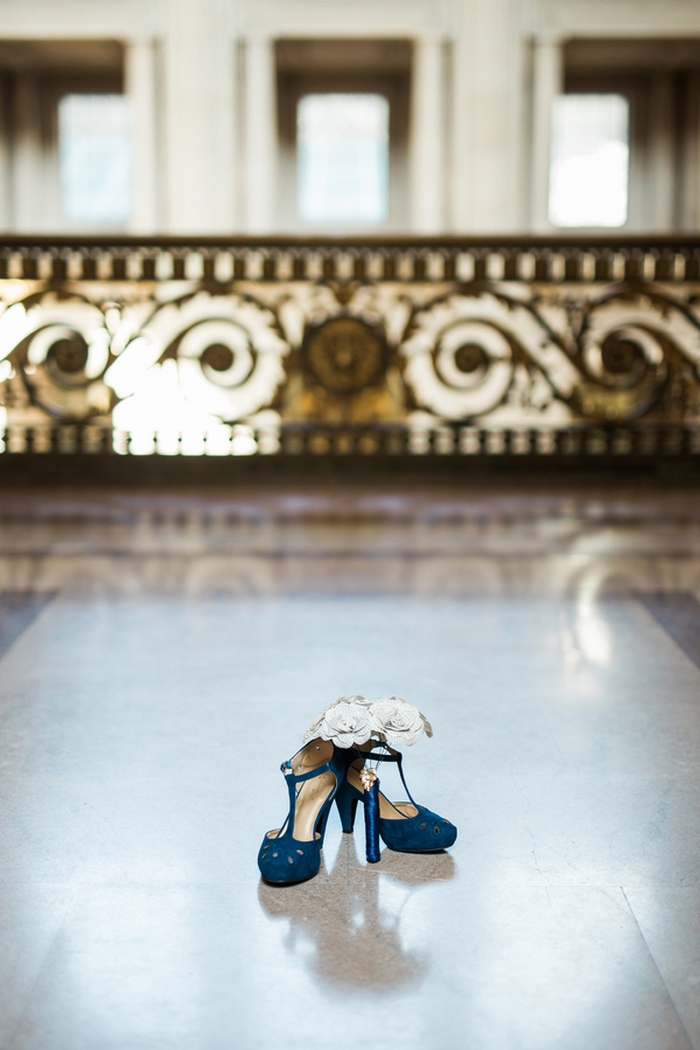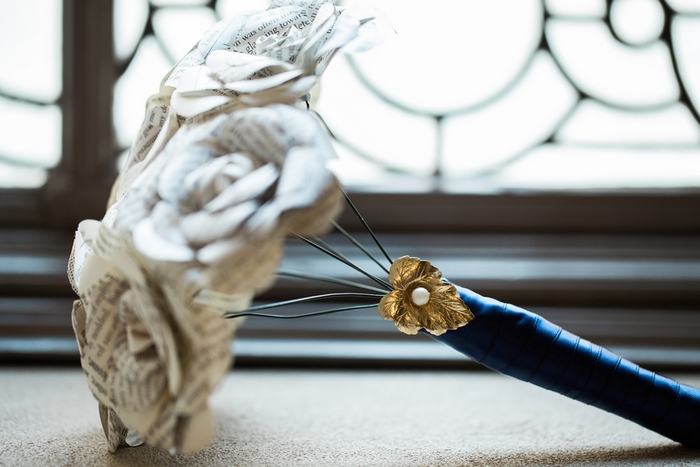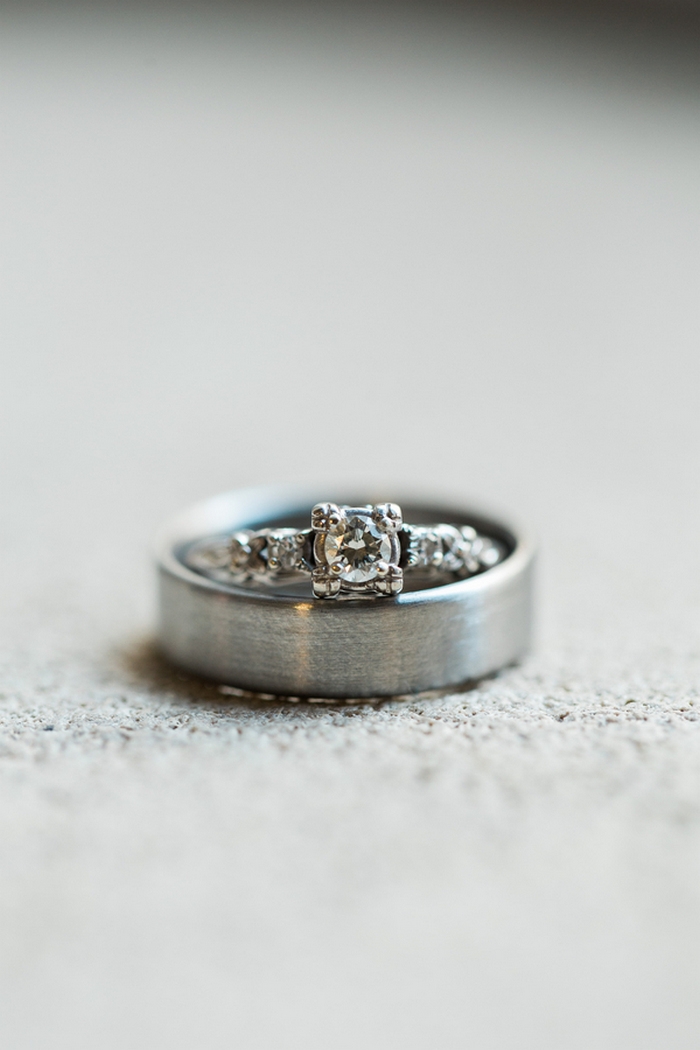 Why did you have an intimate wedding?
The thought of having a big wedding wasn't something that excited either of us, we just wanted to be married, but still wanted it to be special. So when I suggested eloping to San Francisco, Caleb was very much on board with the idea.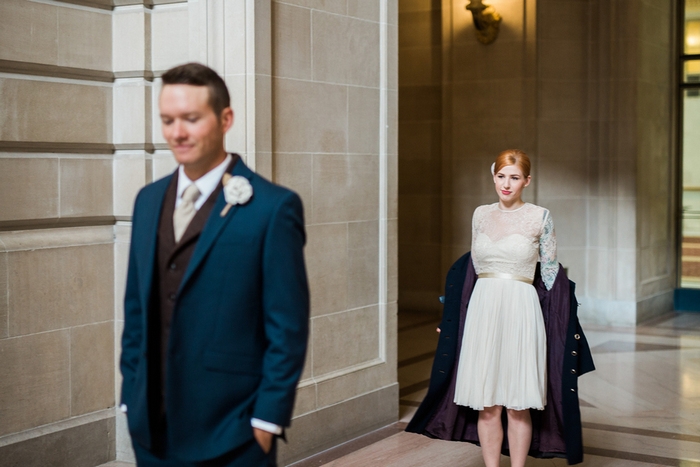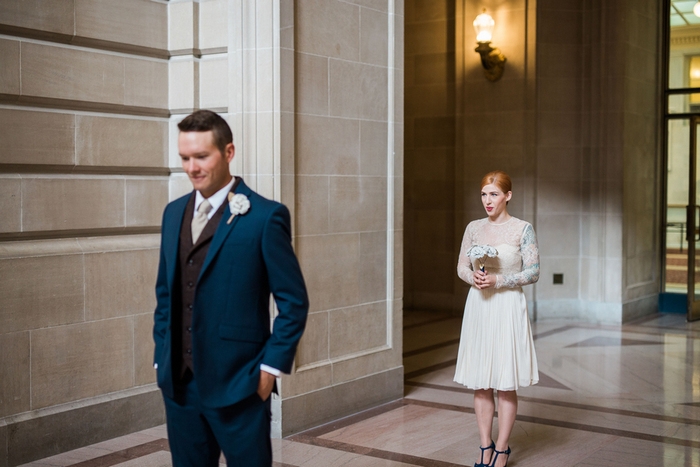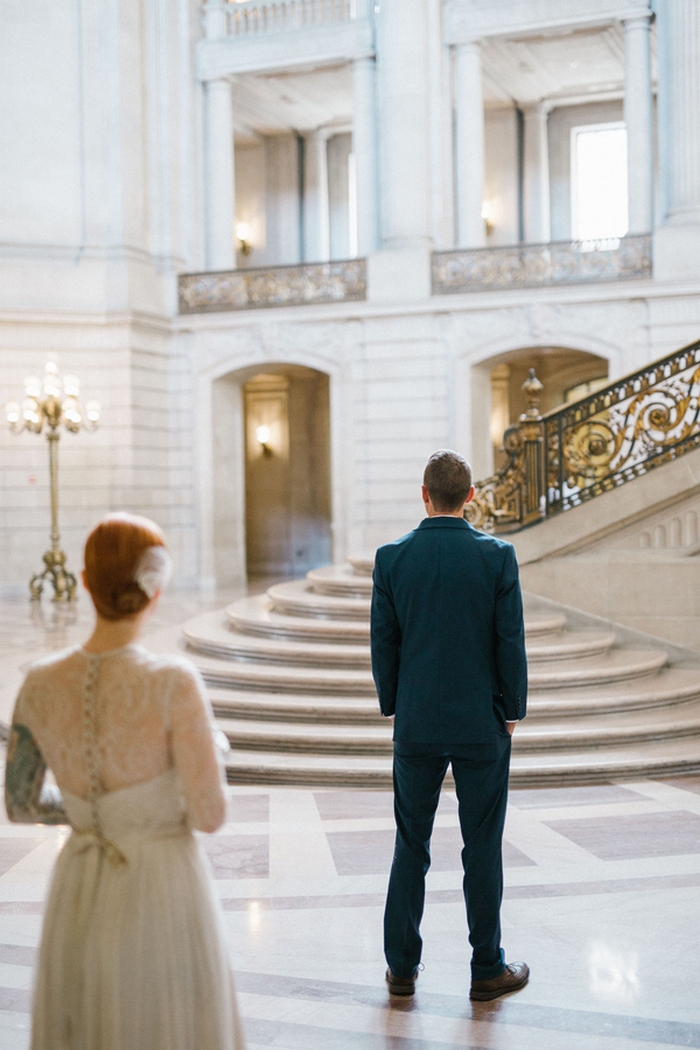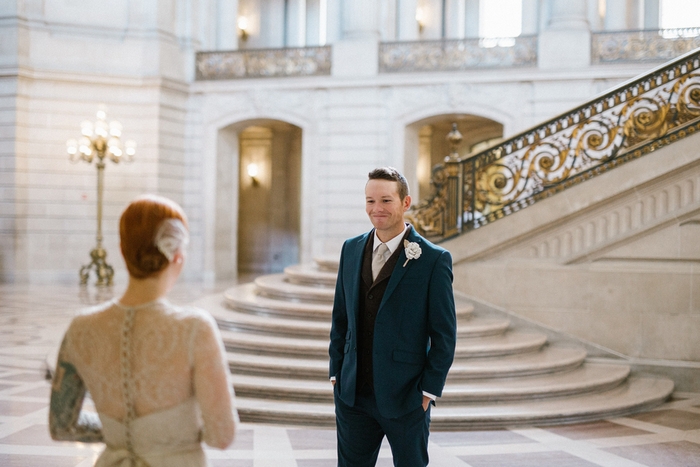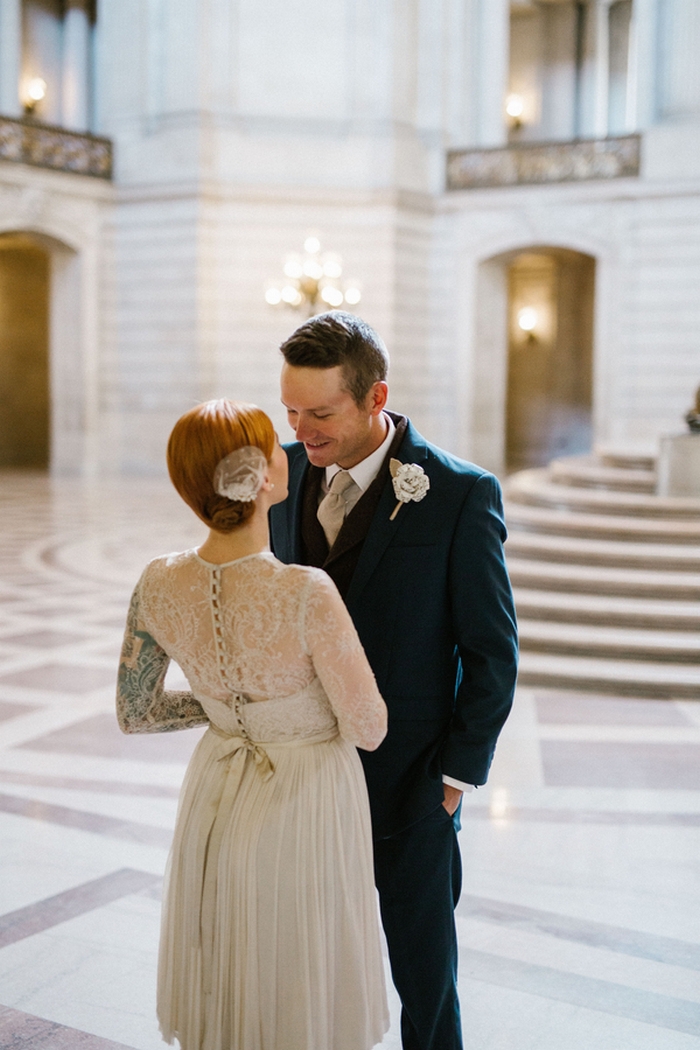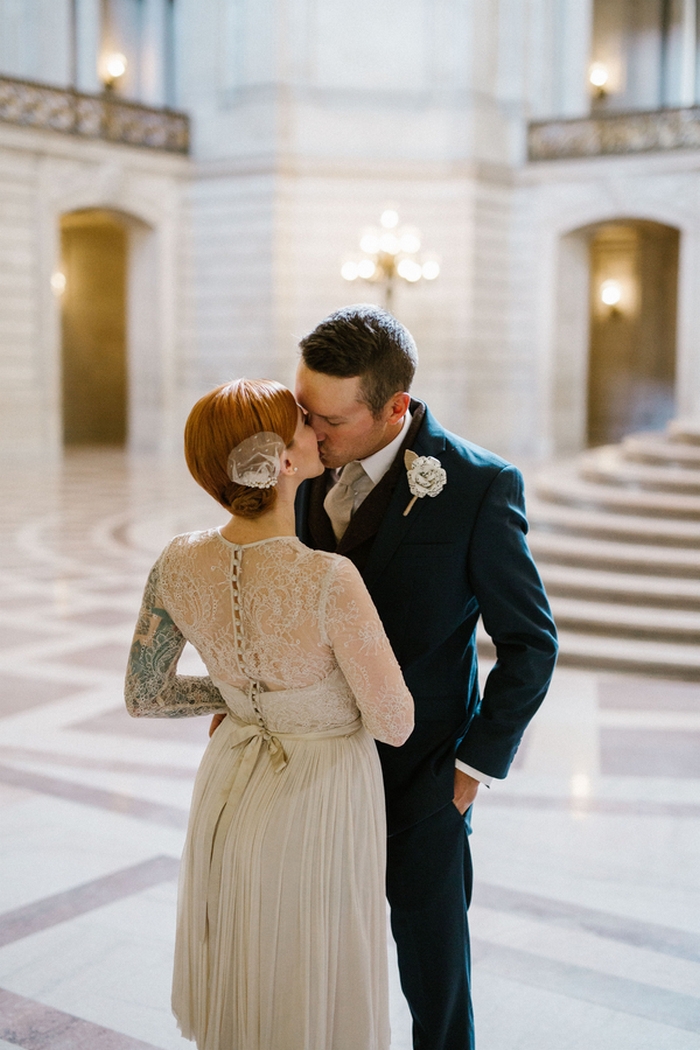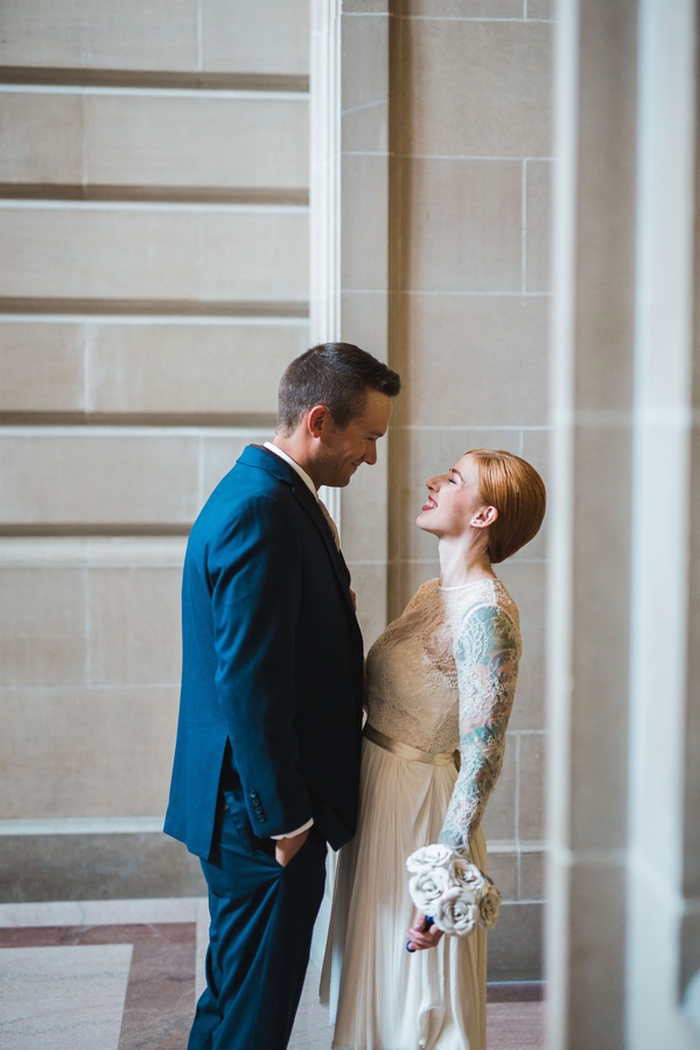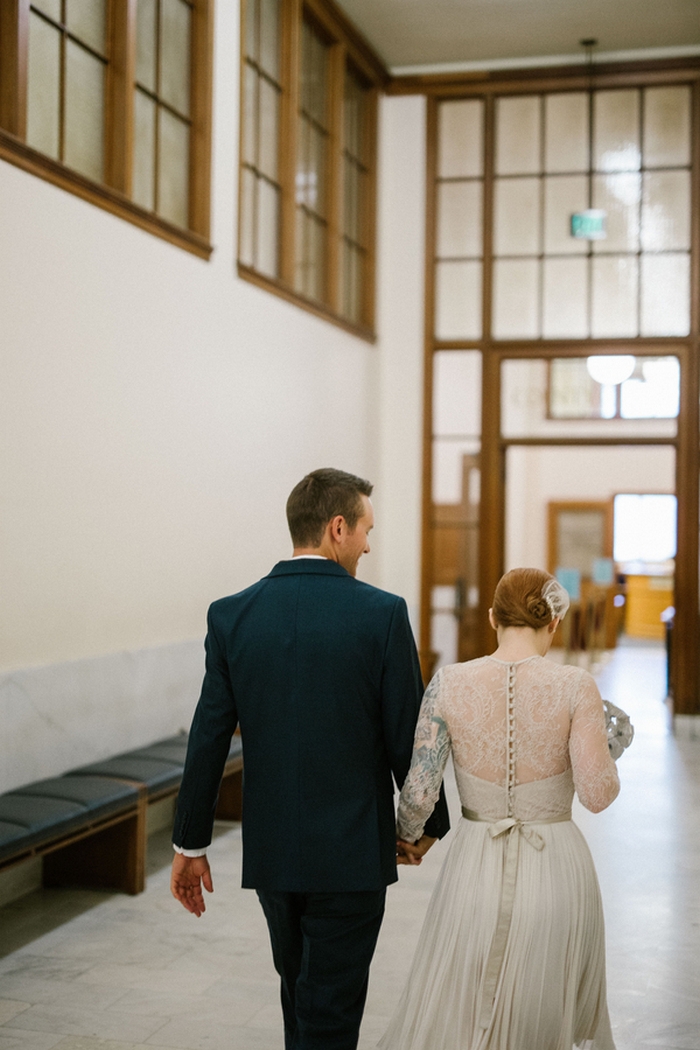 What are some the challenges that you faced planning an intimate wedding?
To be honest, there weren't many. I planned the entire wedding in the span of two months, so the time crunch was the most difficult. Getting everything together by a certain date, booking travel, and making ceremony/marriage license appointments at city hall. But even with that timeline, there wasn't much stress.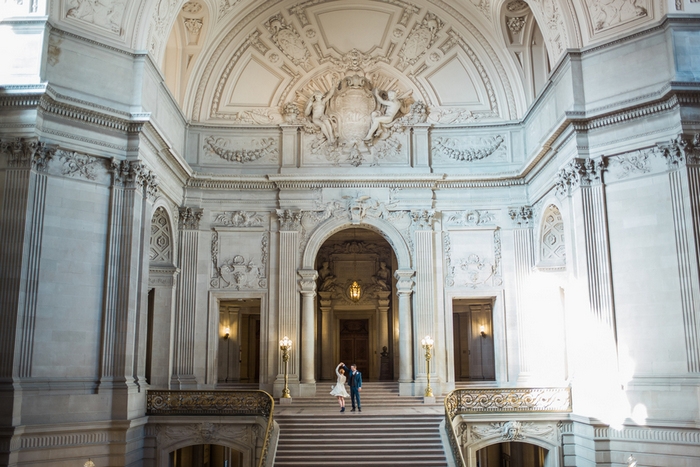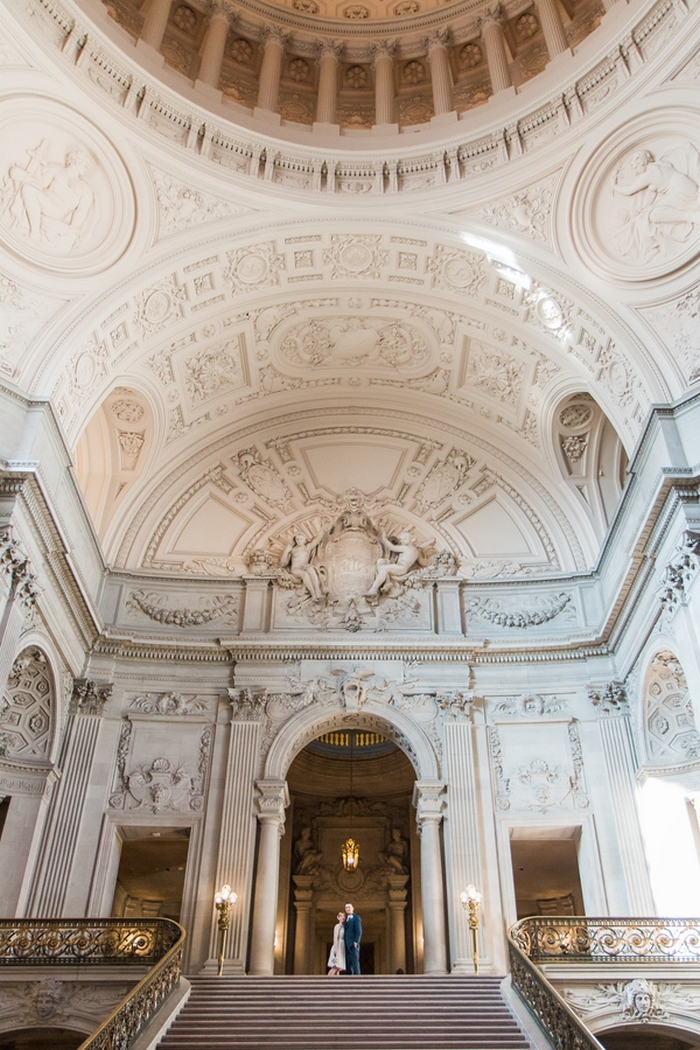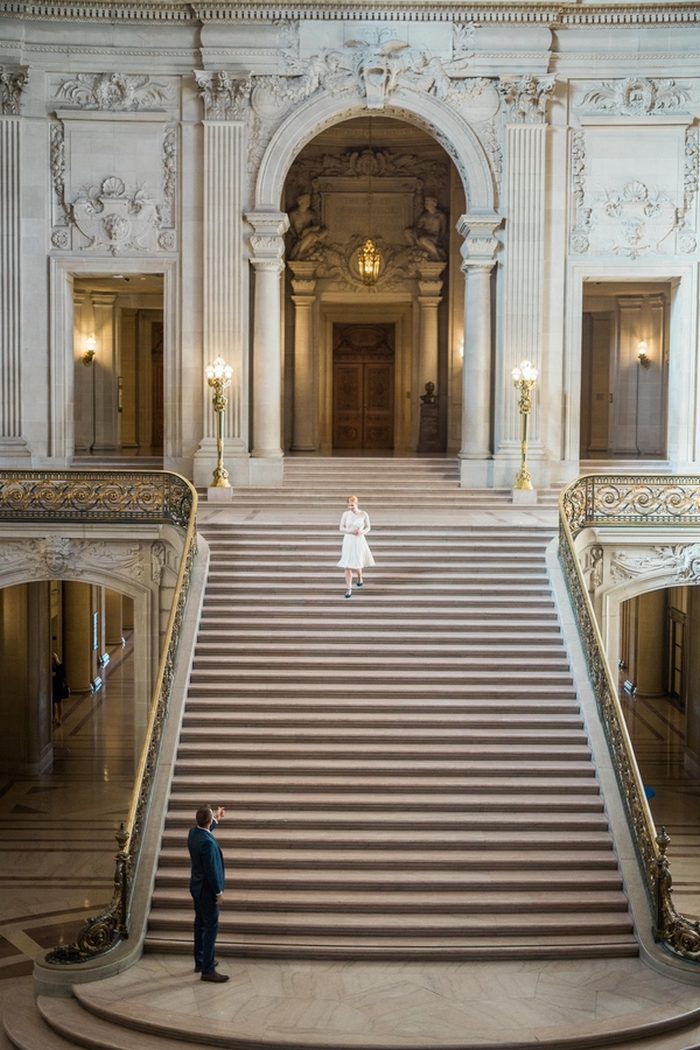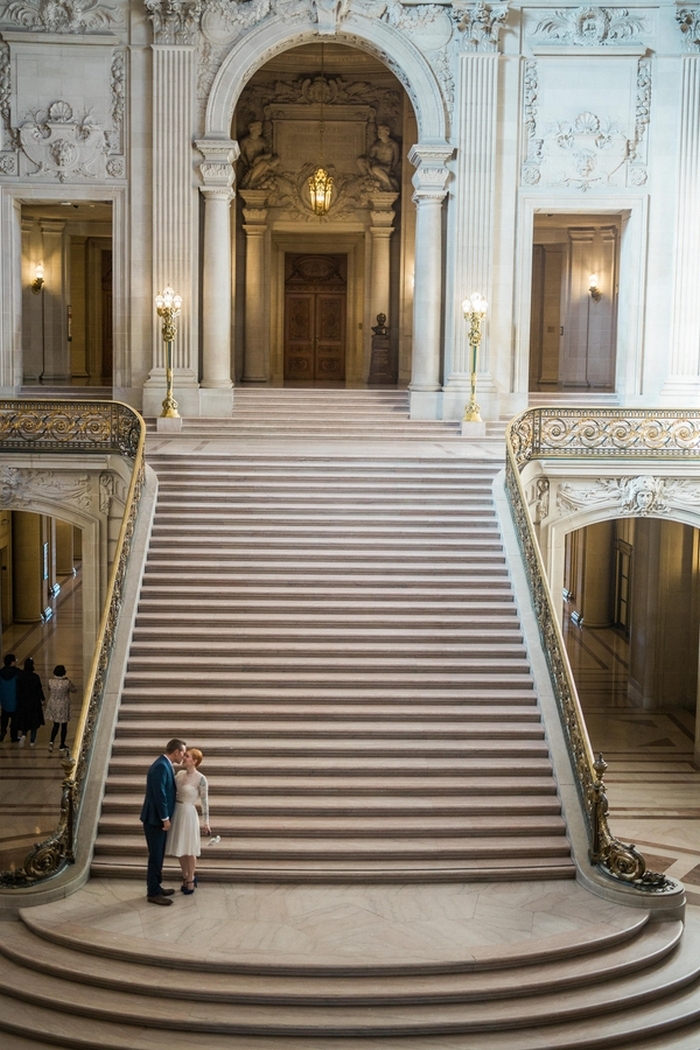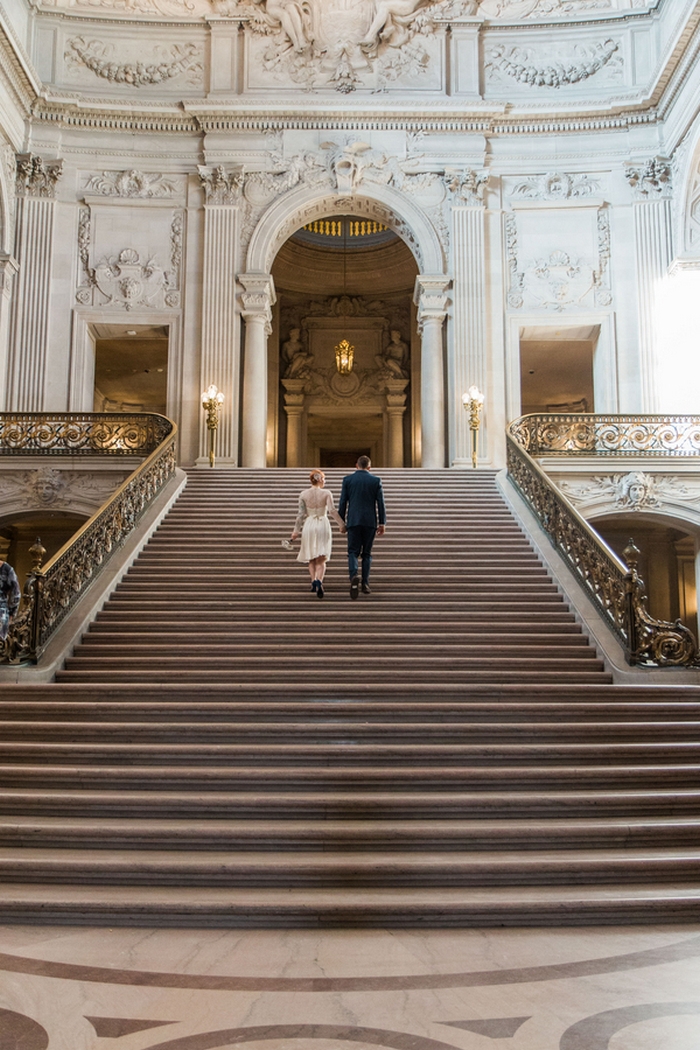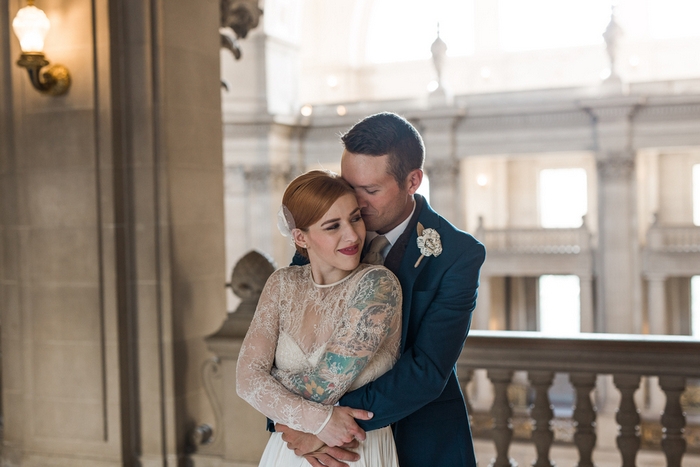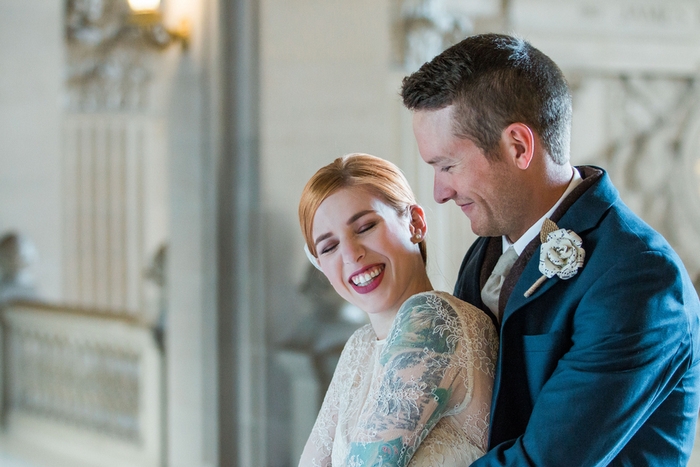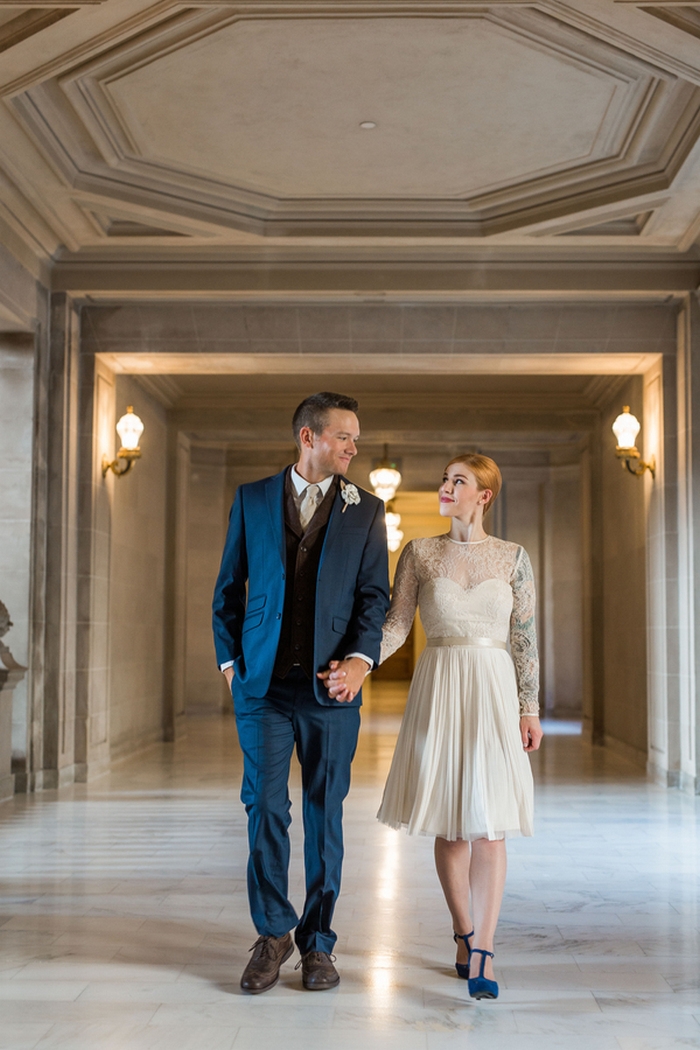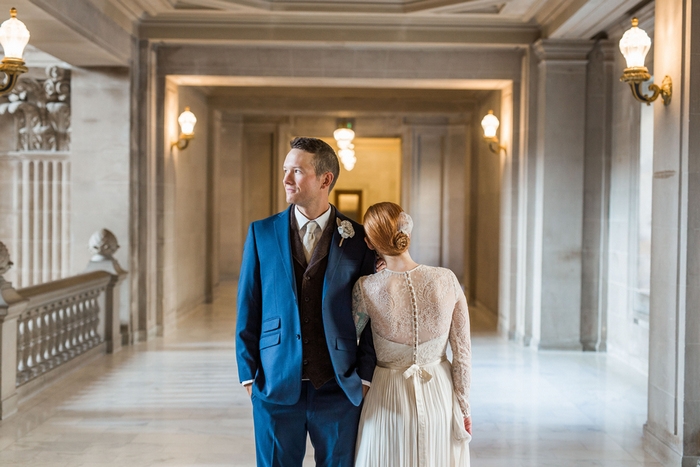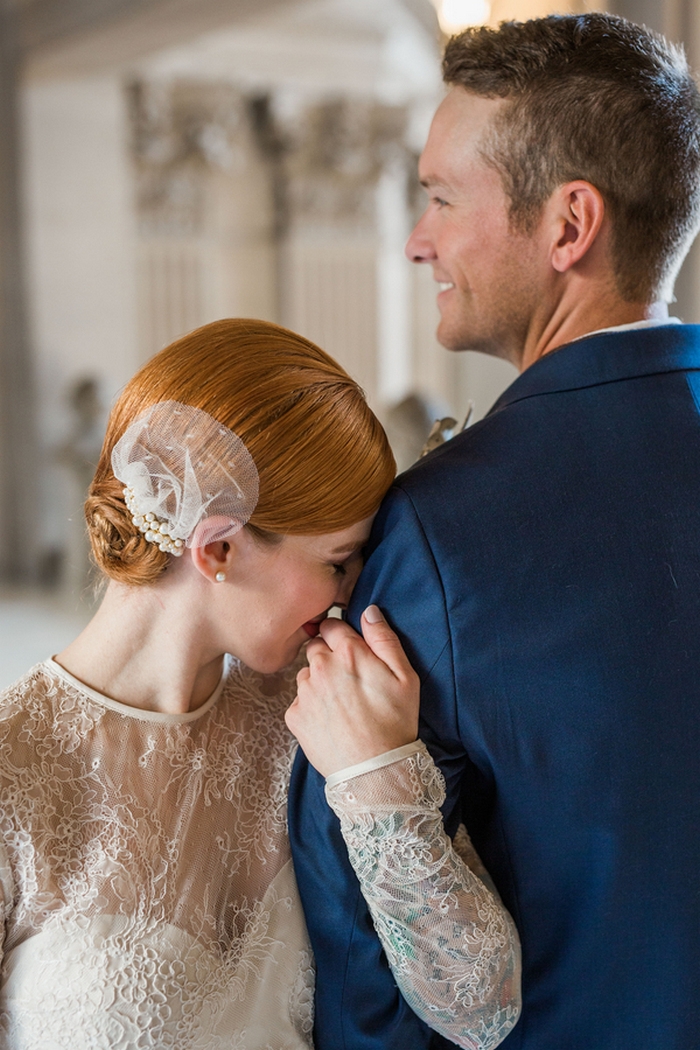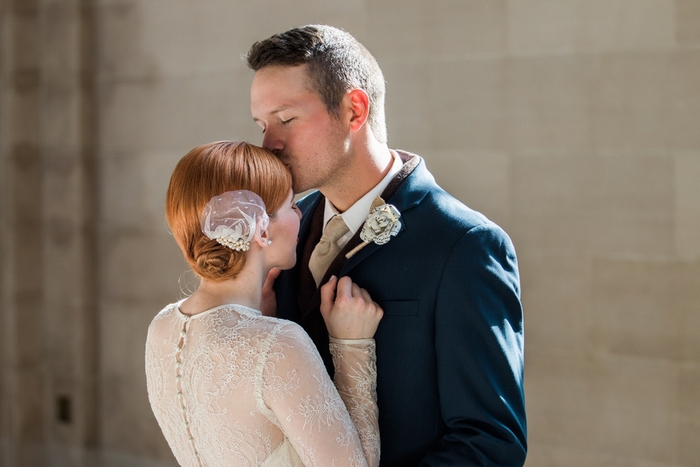 Was it difficult to pare down the guest list?
No, I knew I wanted my best friend there to be my maid of honor, and Caleb had his younger brother be his best man. Other than that, we wanted it to be just us.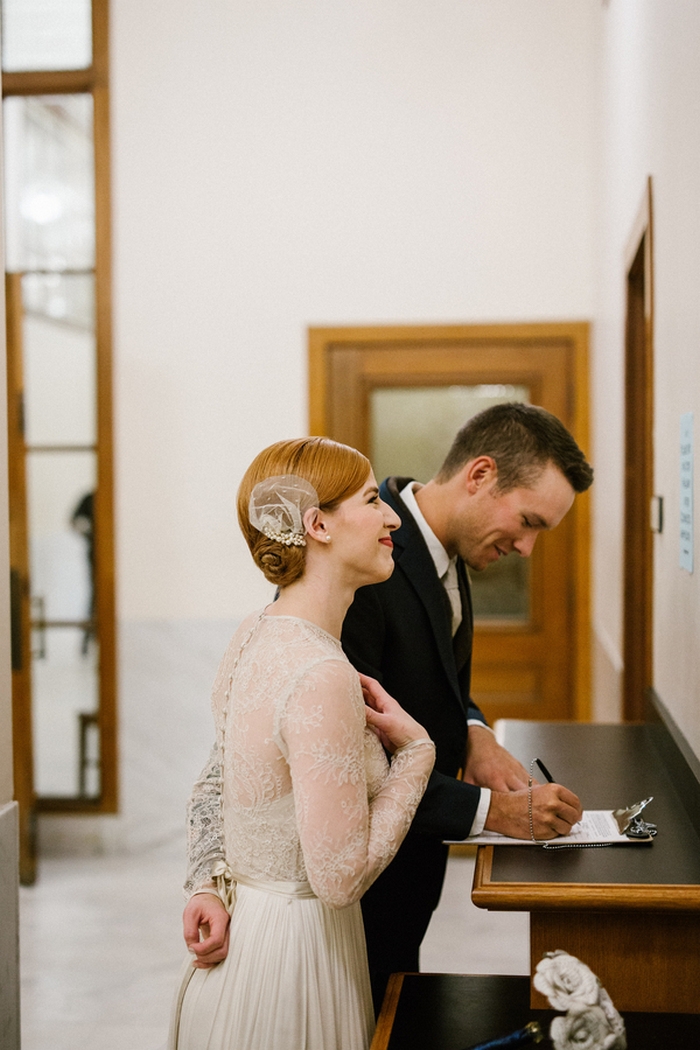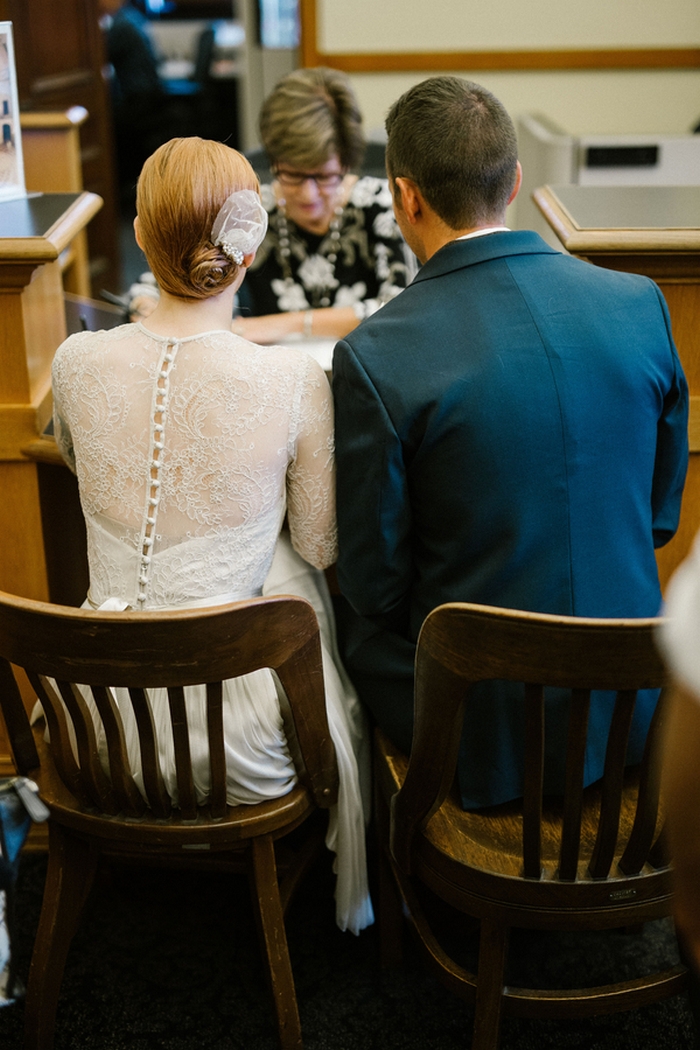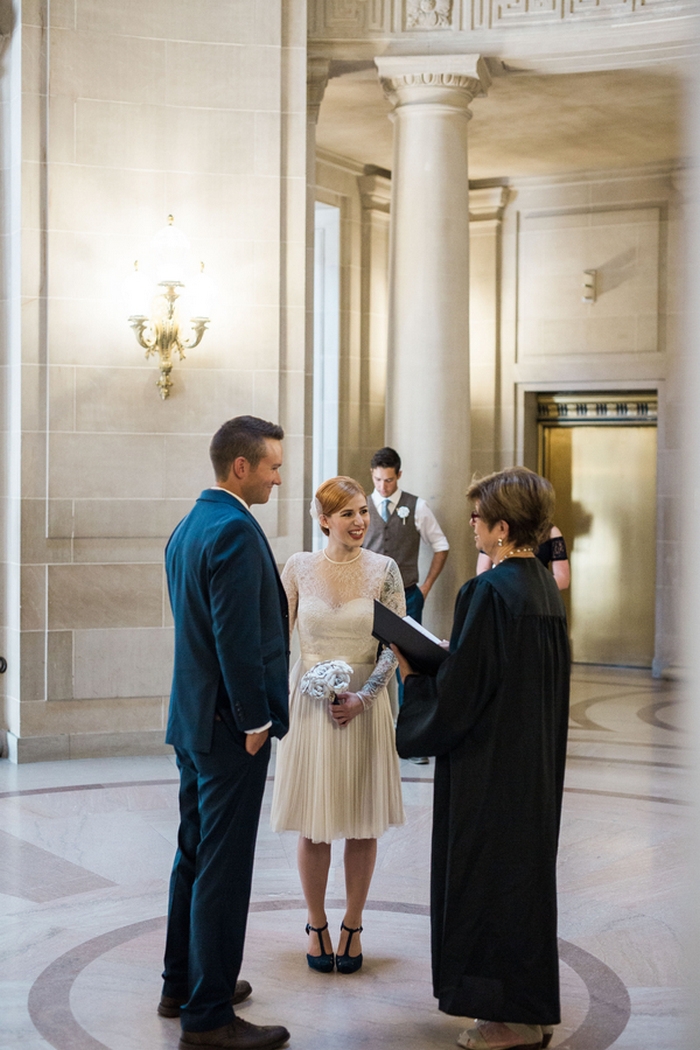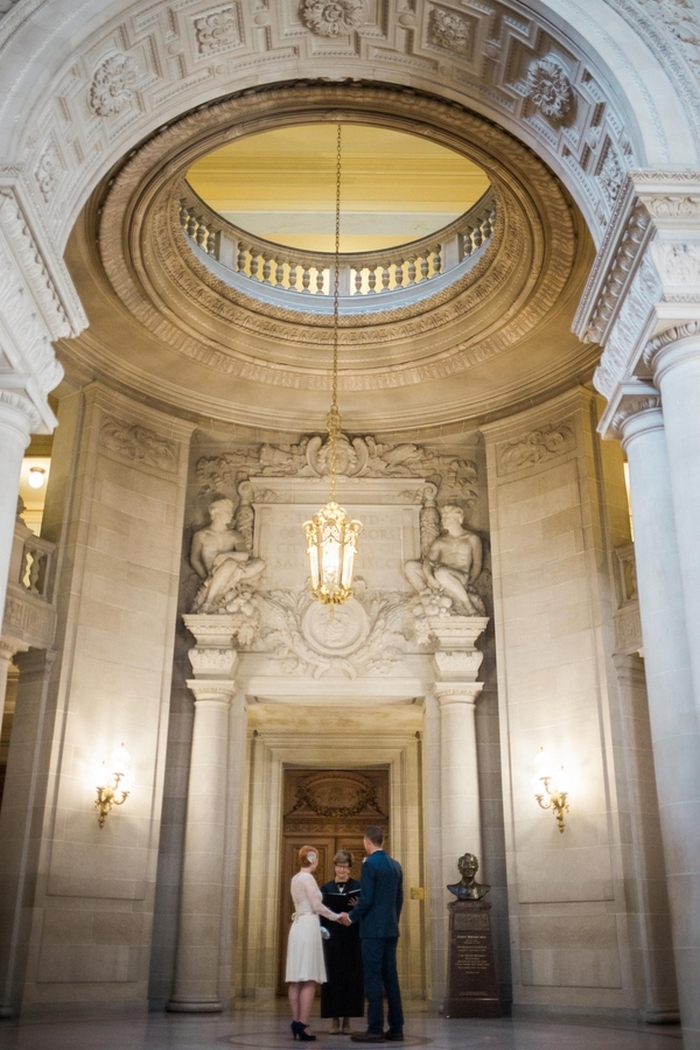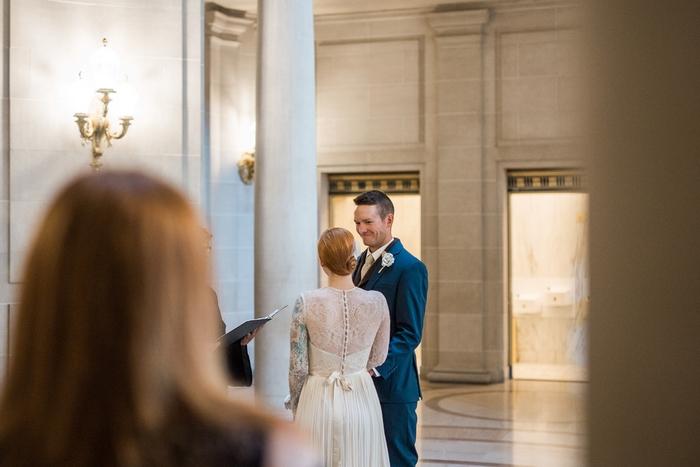 Did you have any 'issues' with the small guest list from friends and family? If so, how did you address them?
We really didn't, we told both of our families we were eloping, and they were all very excited for us.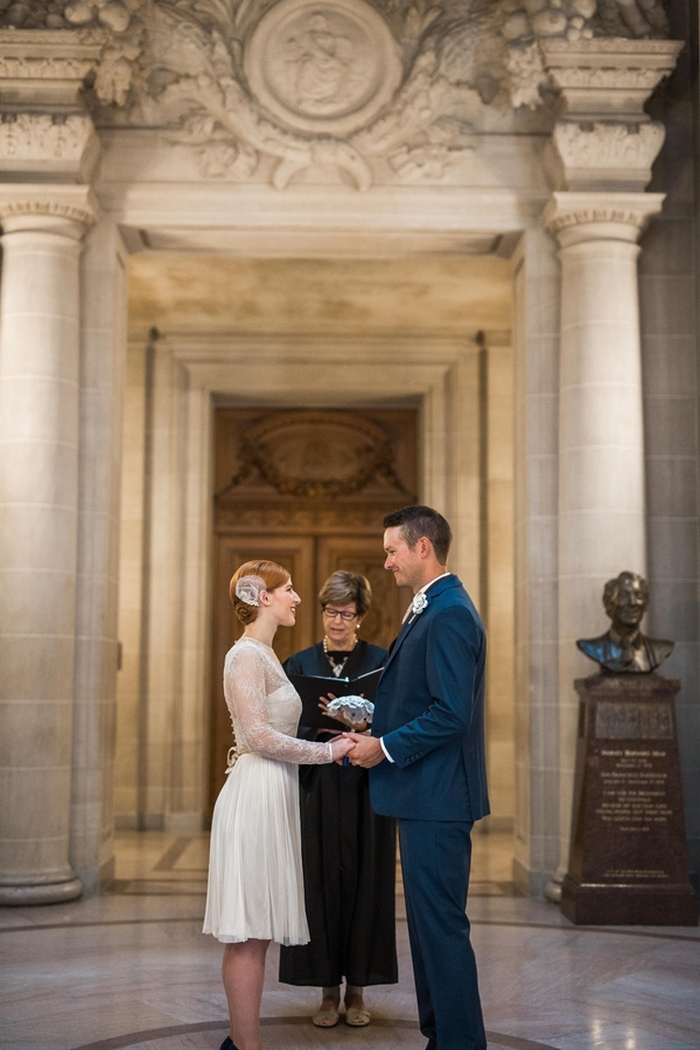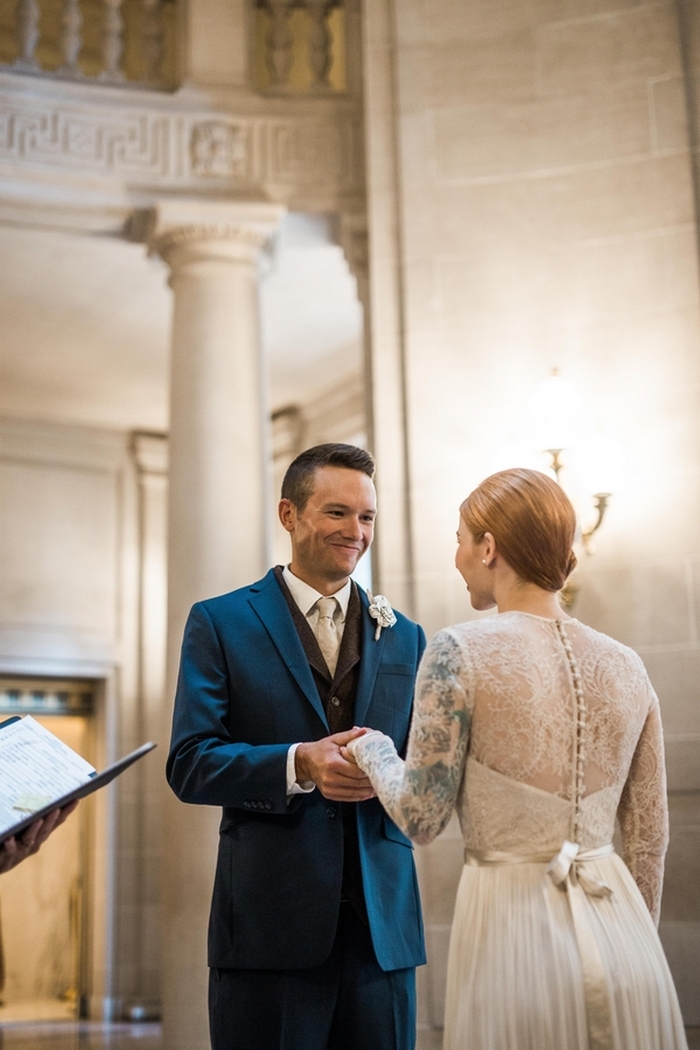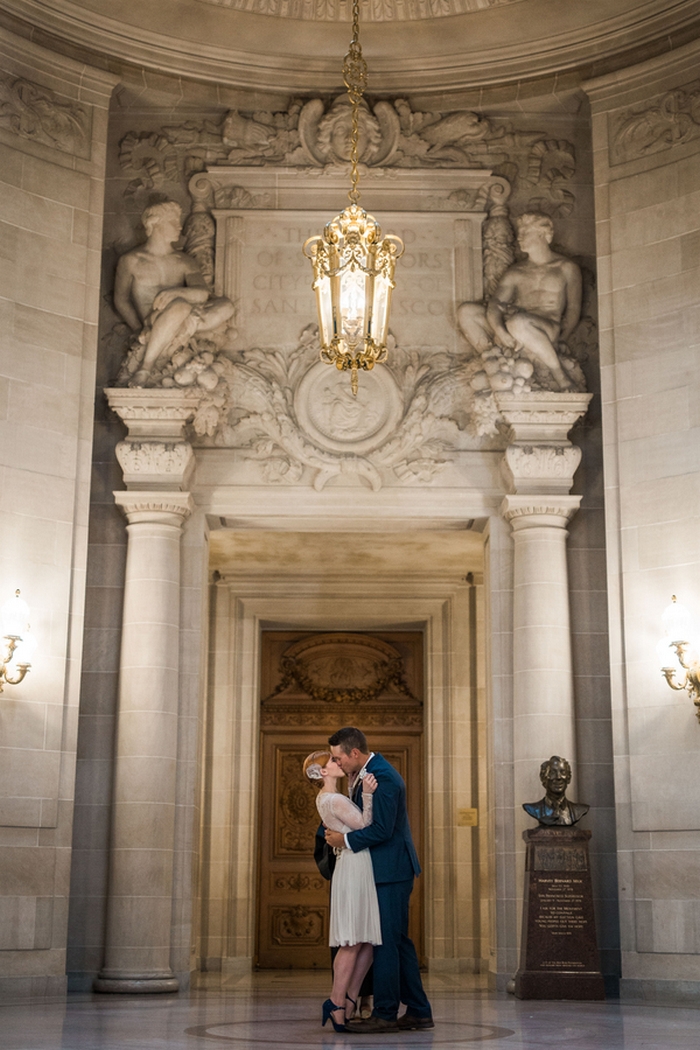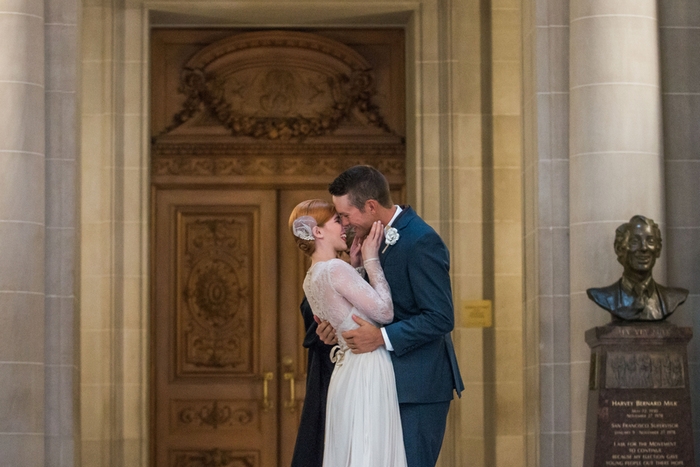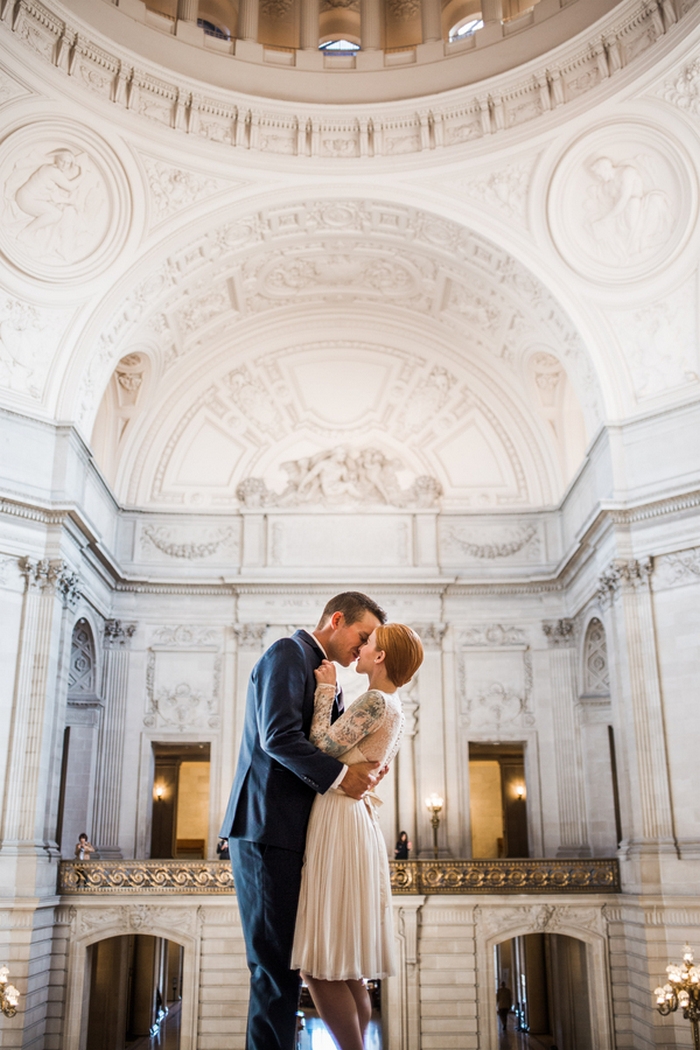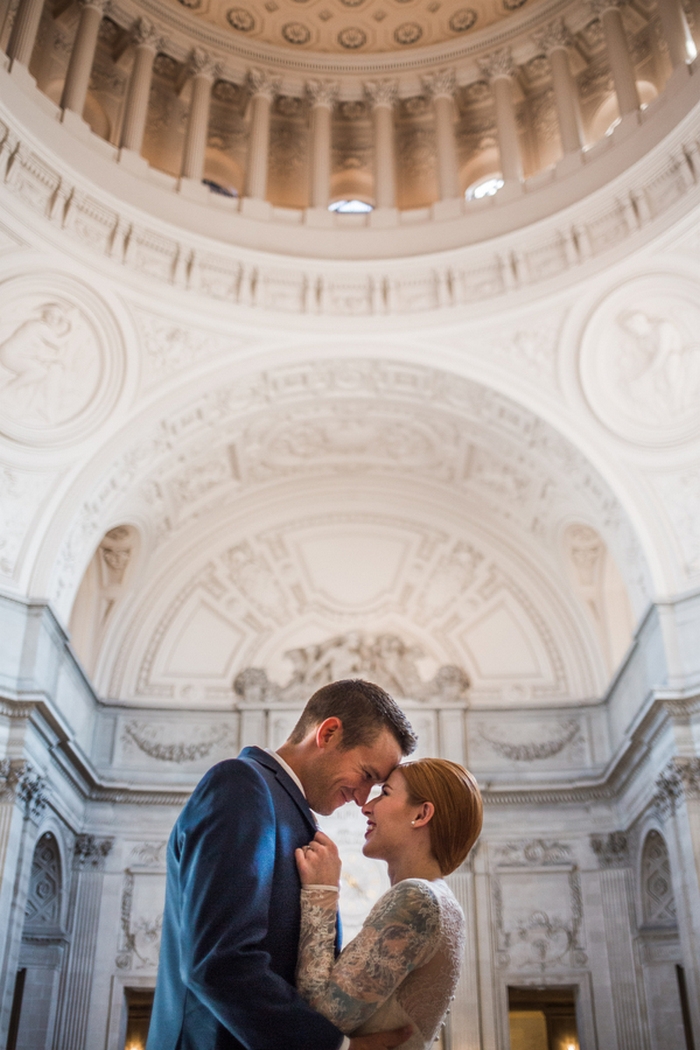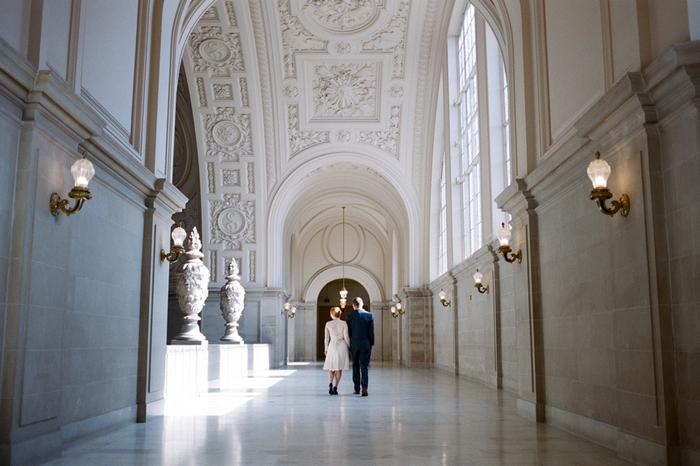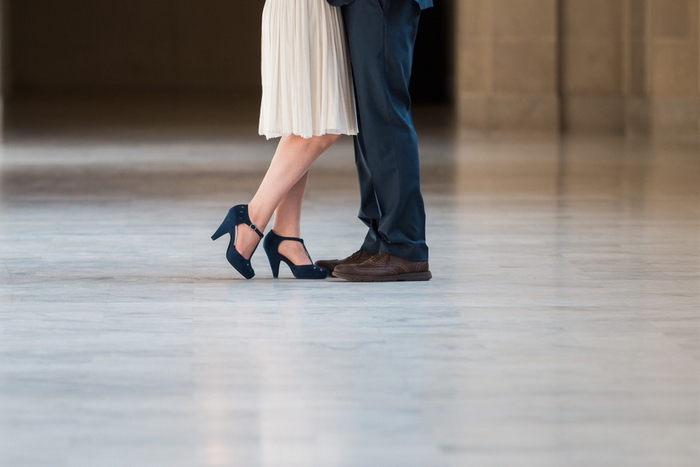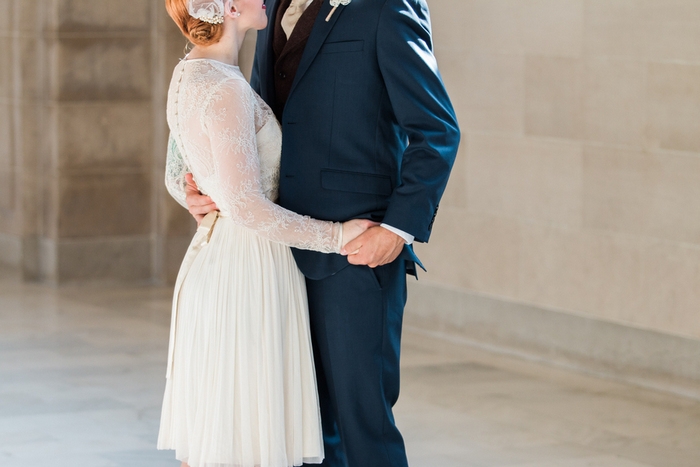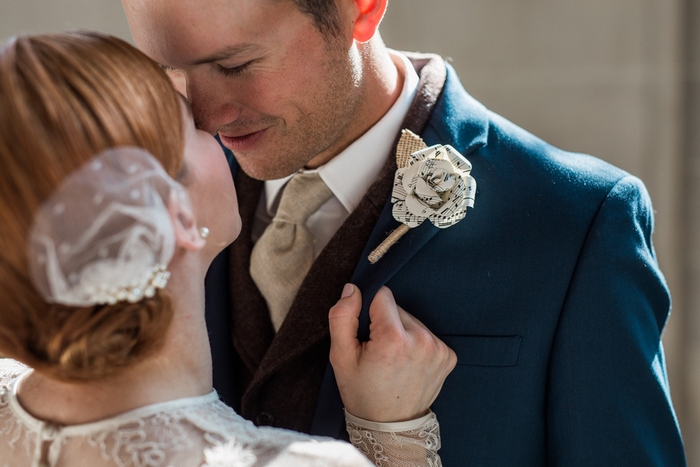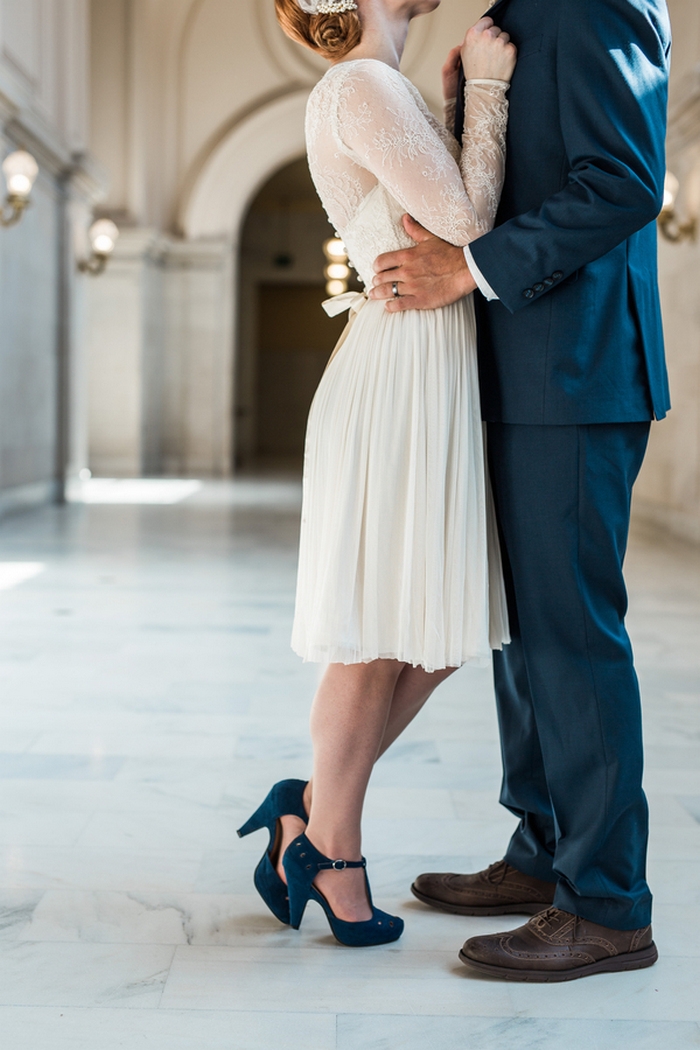 What were the highlights of the ceremony?
The entire day was simply exquisite. I wore a coat over my dress so Caleb wouldn't see it until we got to city hall, and seeing his face light up when he finally did see me as a bride was something I'll never forget. I used a piece of my mom's wedding dress to make my small veil, and put a pin on my bouquet that I borrowed from my mother in law. There were a lot of meaningful little details like those that I love. The ceremony itself was beautiful, and a bit surreal to me. Caleb and I have known each other for nearly fifteen years, but didn't start dating until exactly one year prior to our wedding day. Marrying my best friend was a dream come true, and making it such an intimate ceremony for just the two of us was so special, it was the best decision we could have made.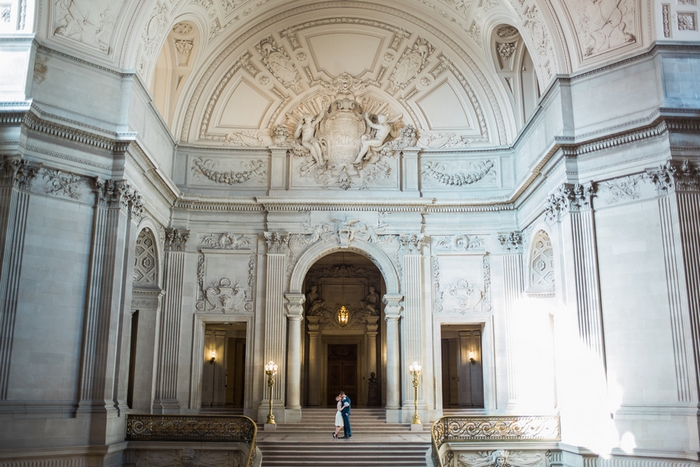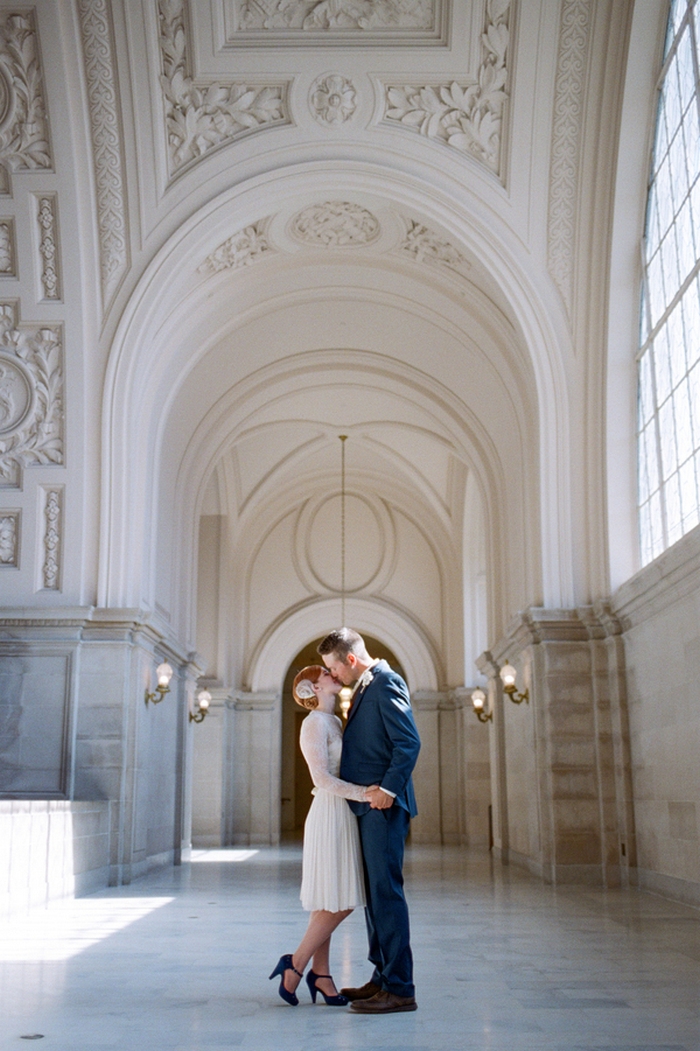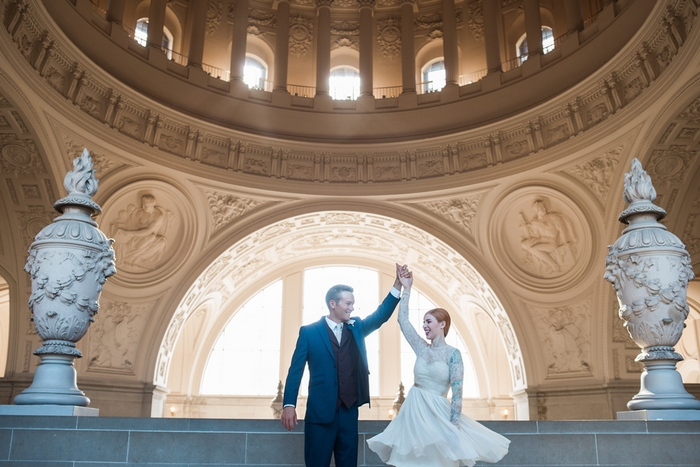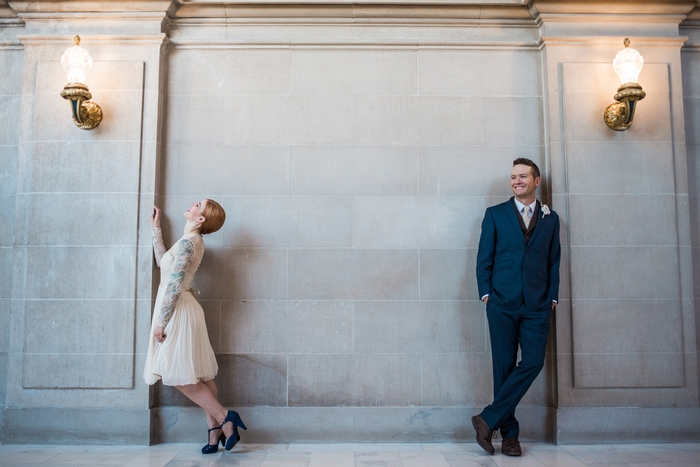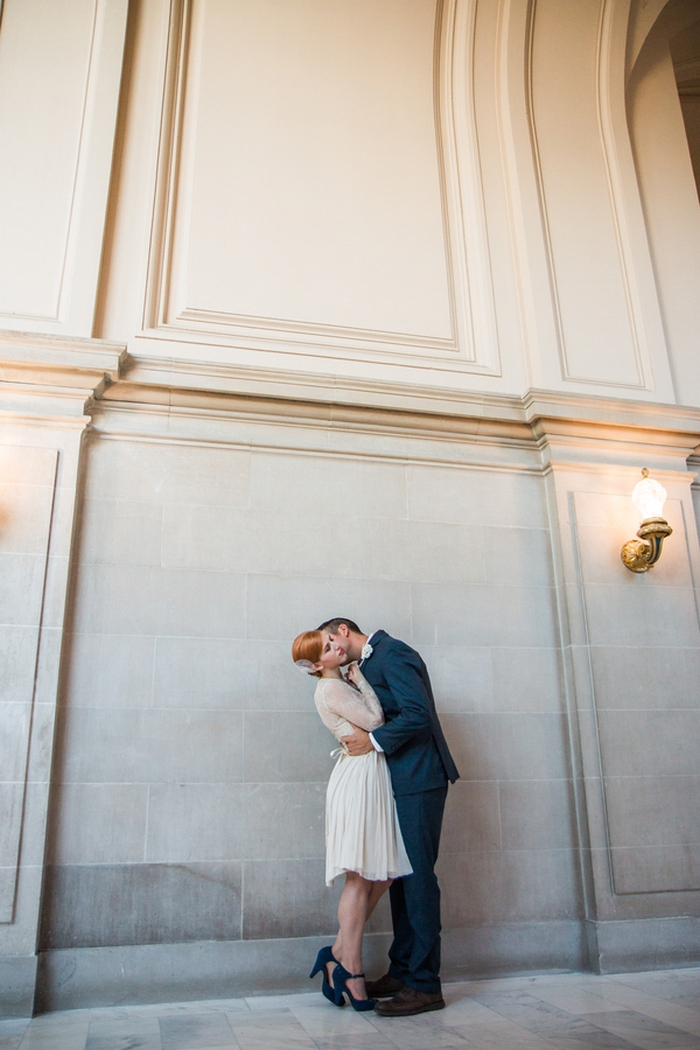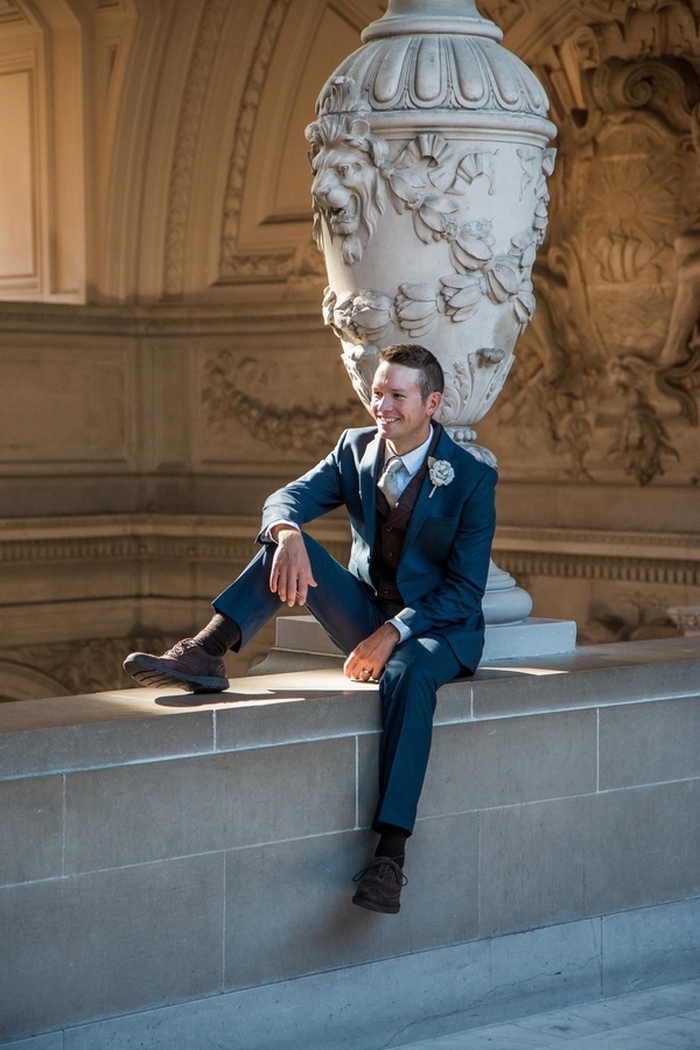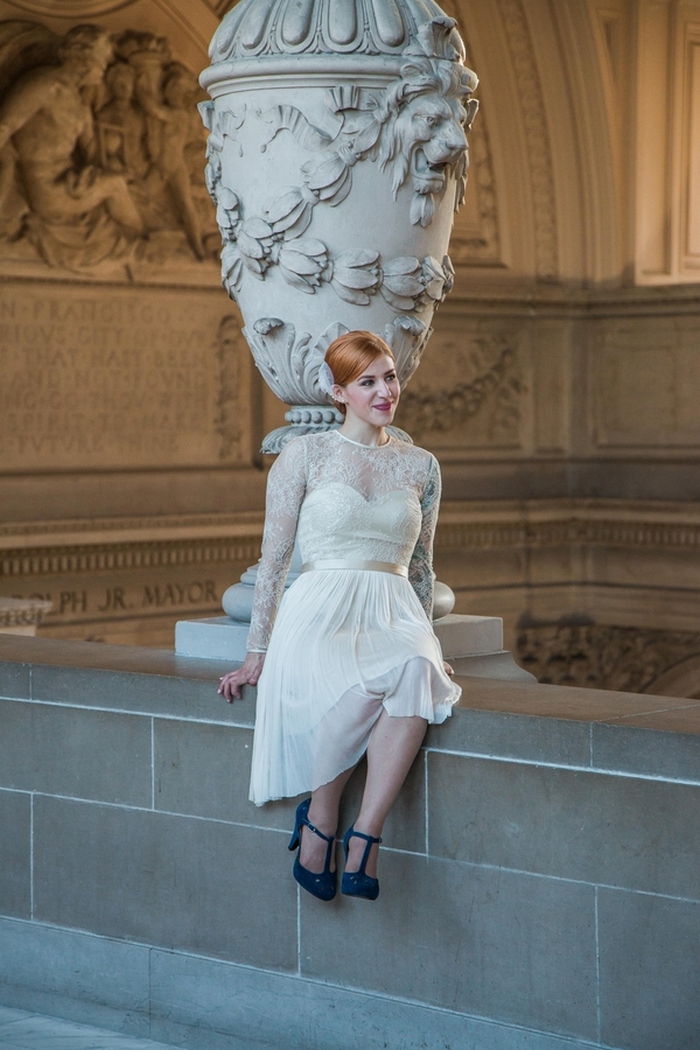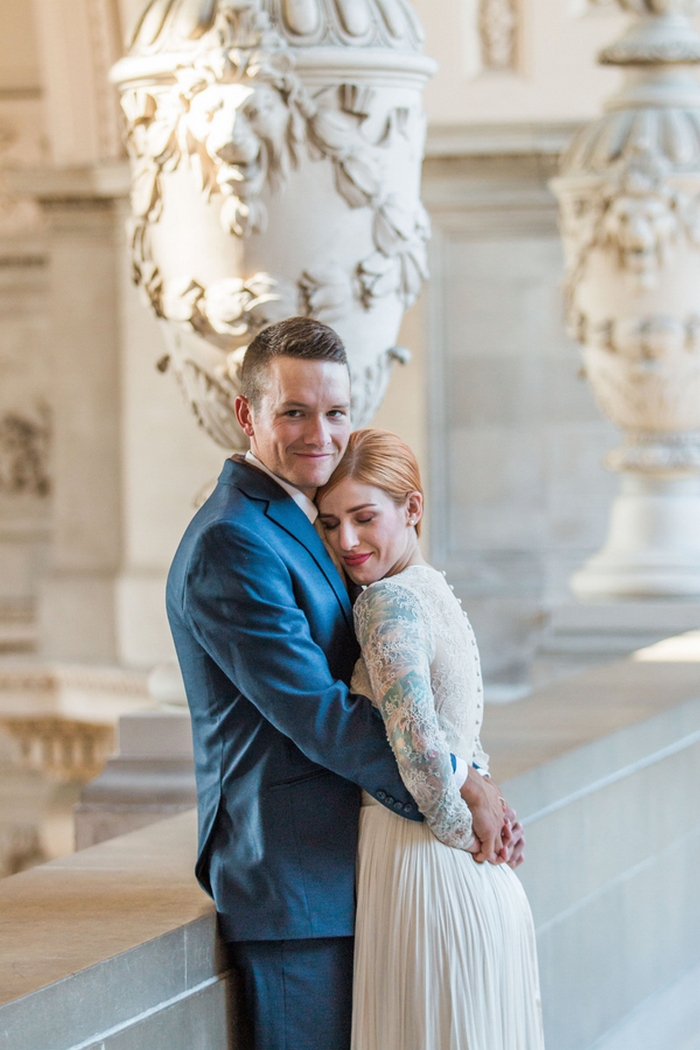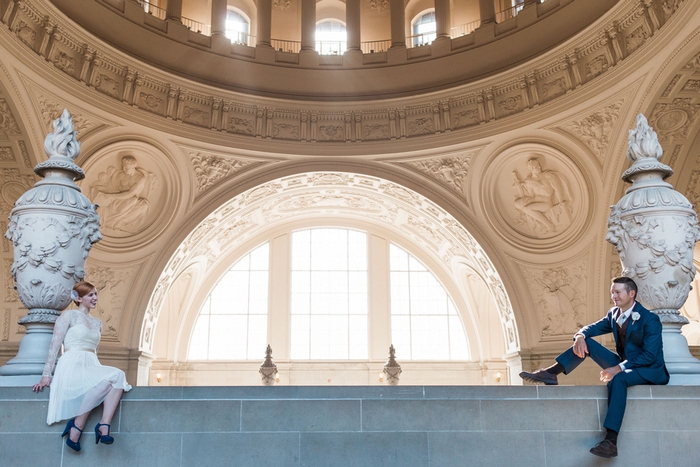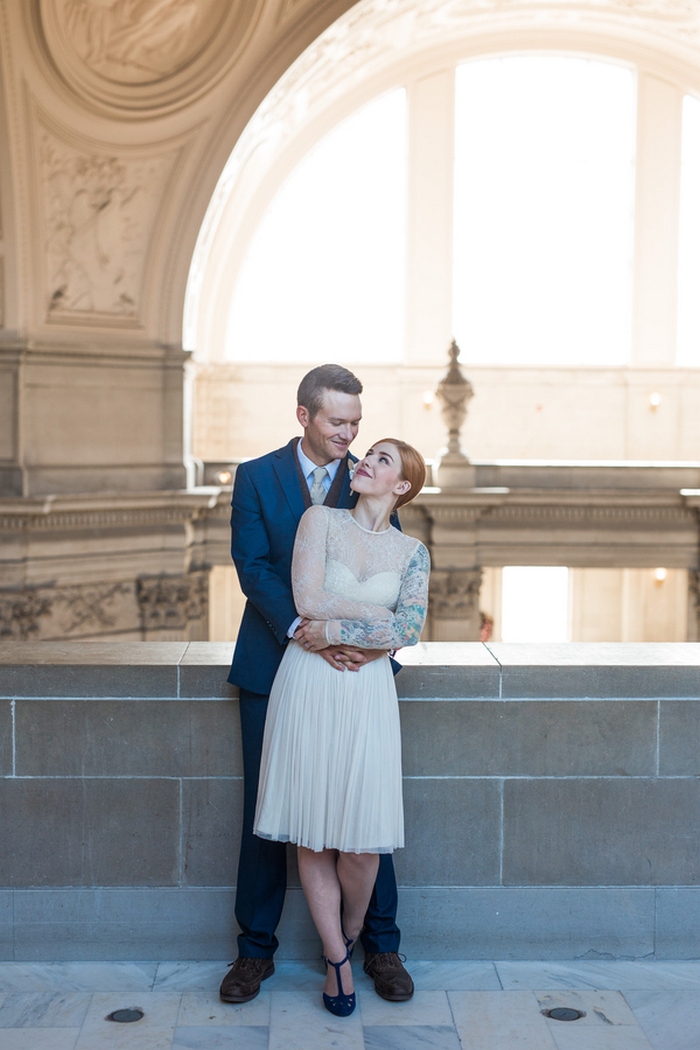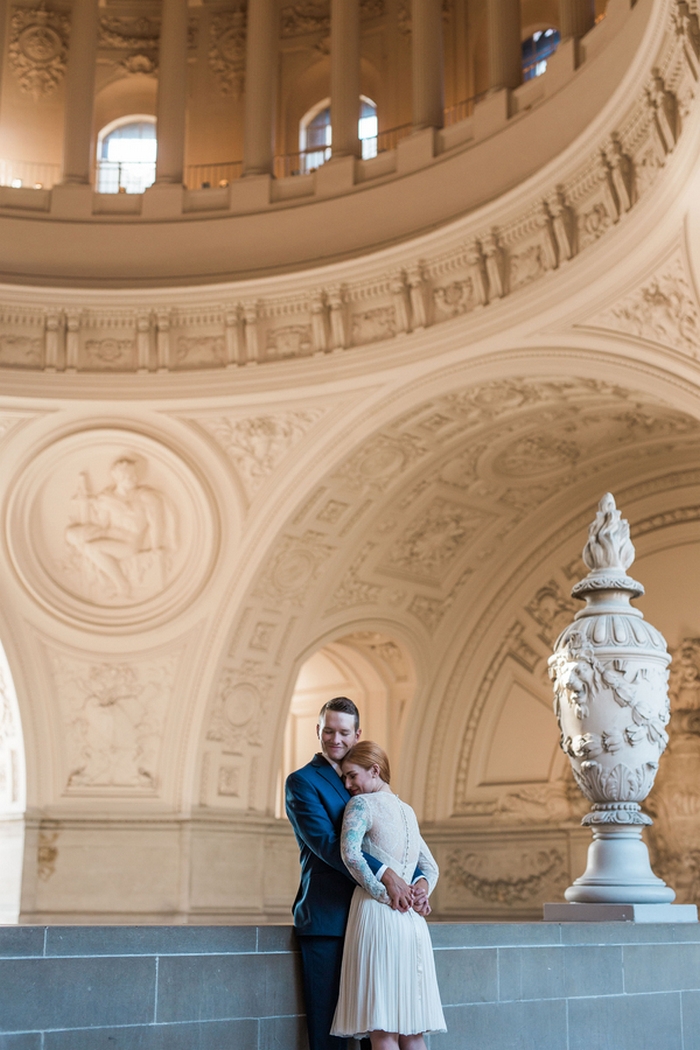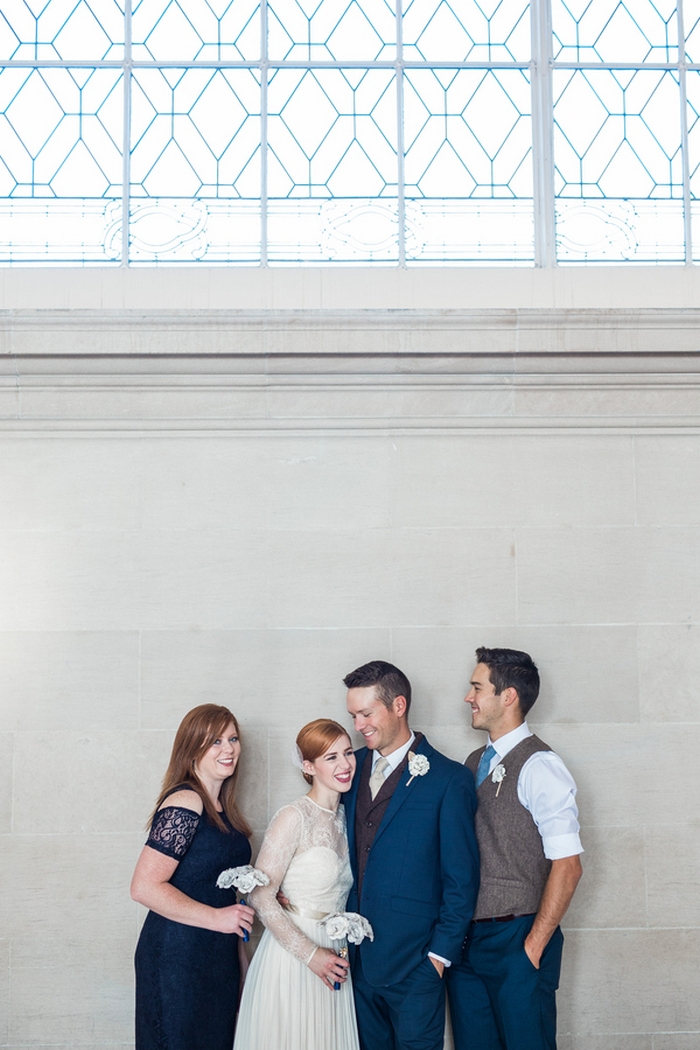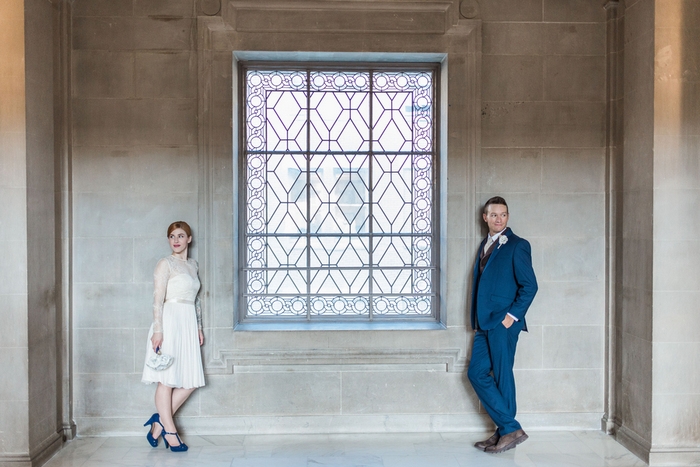 What were the highlights of the reception?
We didn't have a reception the day of, but we went to a little cupcake shop after city hall, to get cupcakes in lieu of a wedding cake, which I loved. We spent the rest of the day exploring San Francisco, there wasn't a whole lot of planning for that beforehand. Our photographers had researched a few places they wanted to take pictures, so we just went wherever they suggested, mostly. And every location we visited was completely gorgeous, even the weather was perfect. I can't imagine our wedding day turning out any better.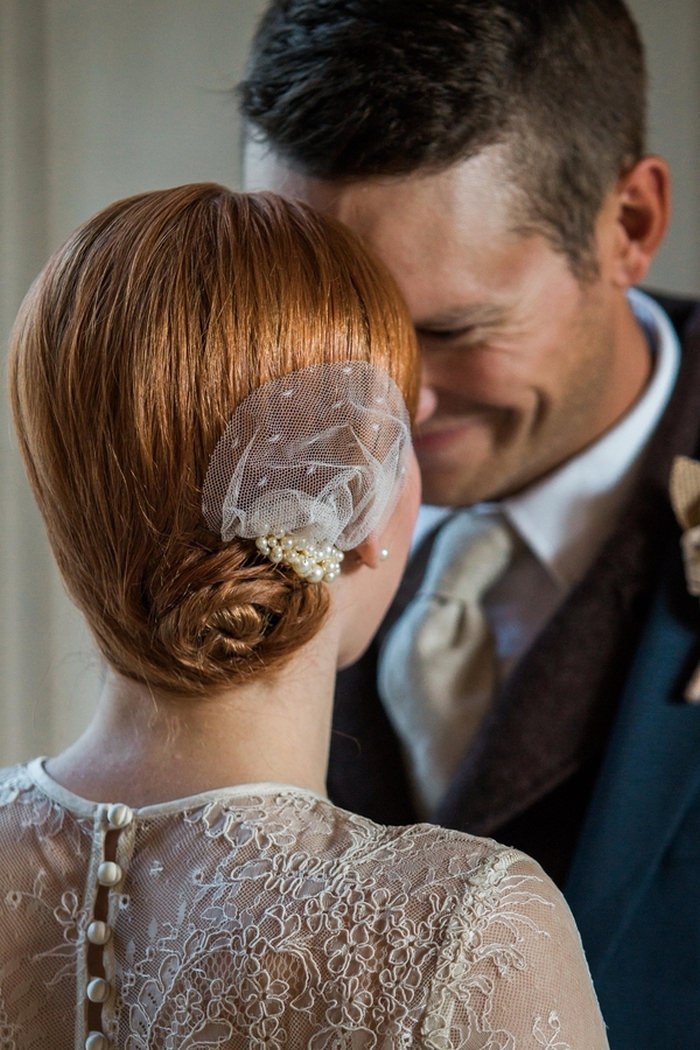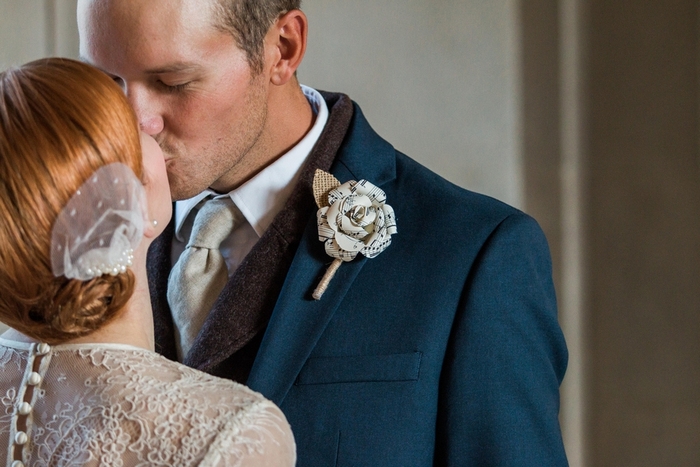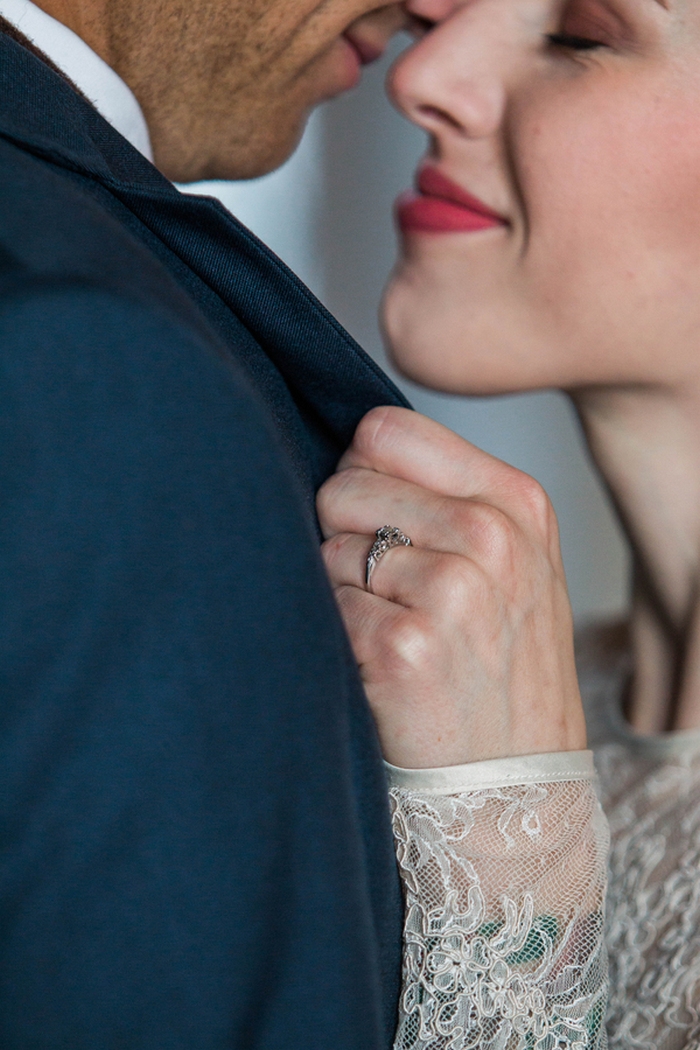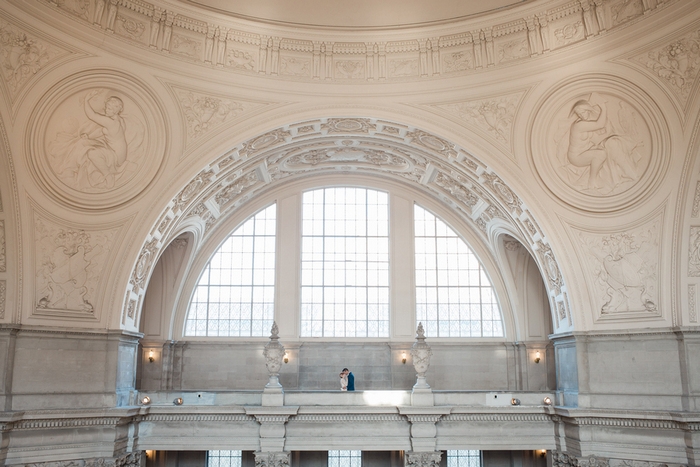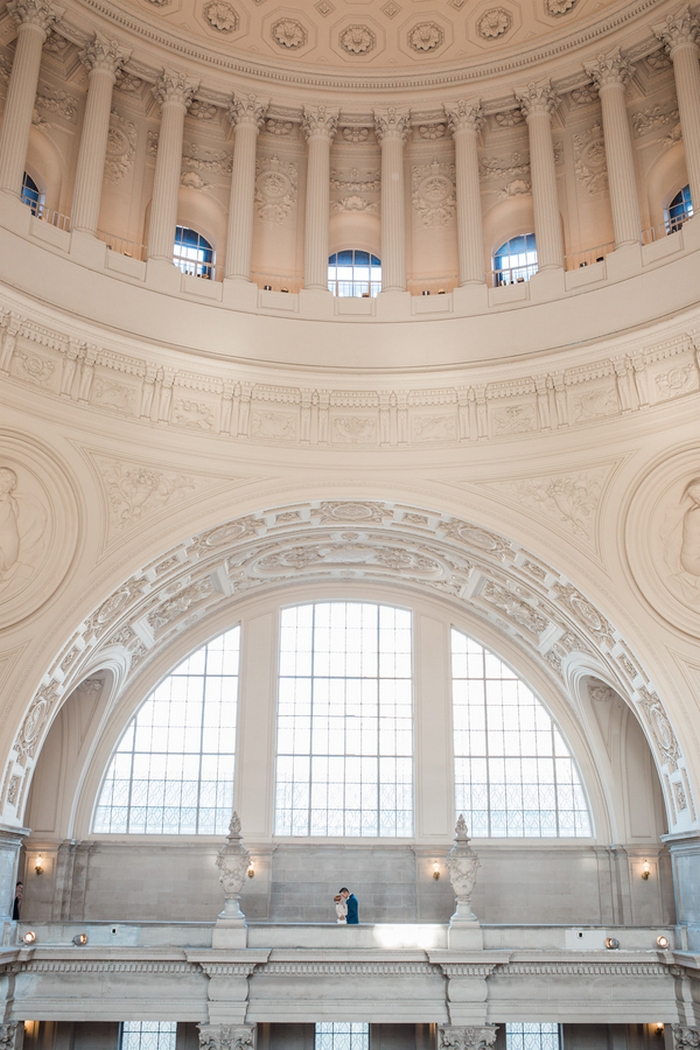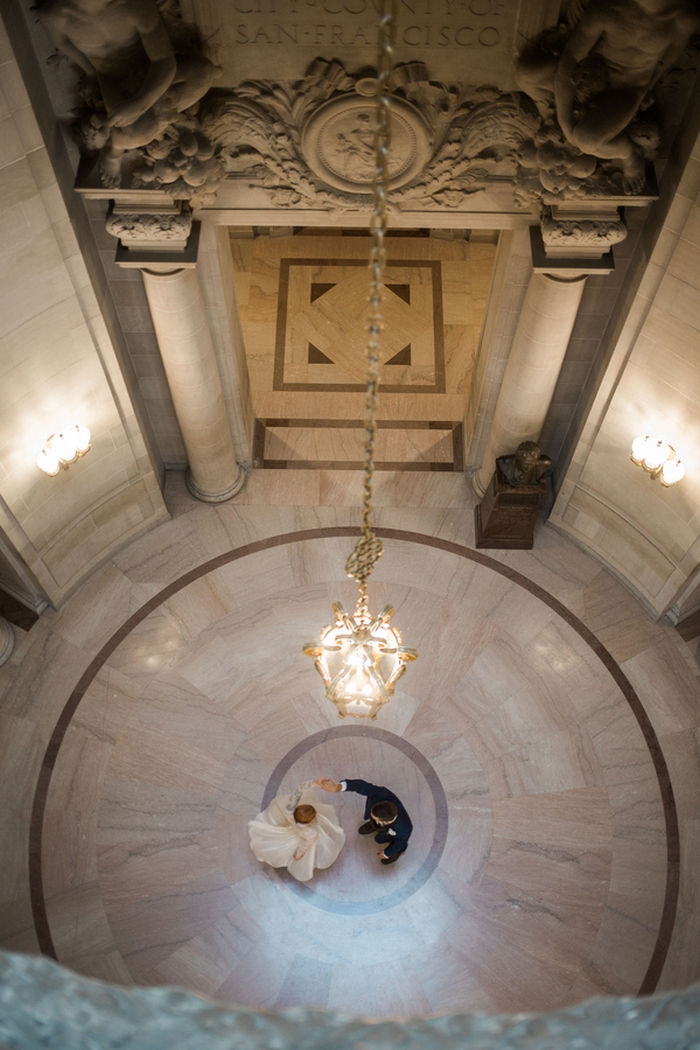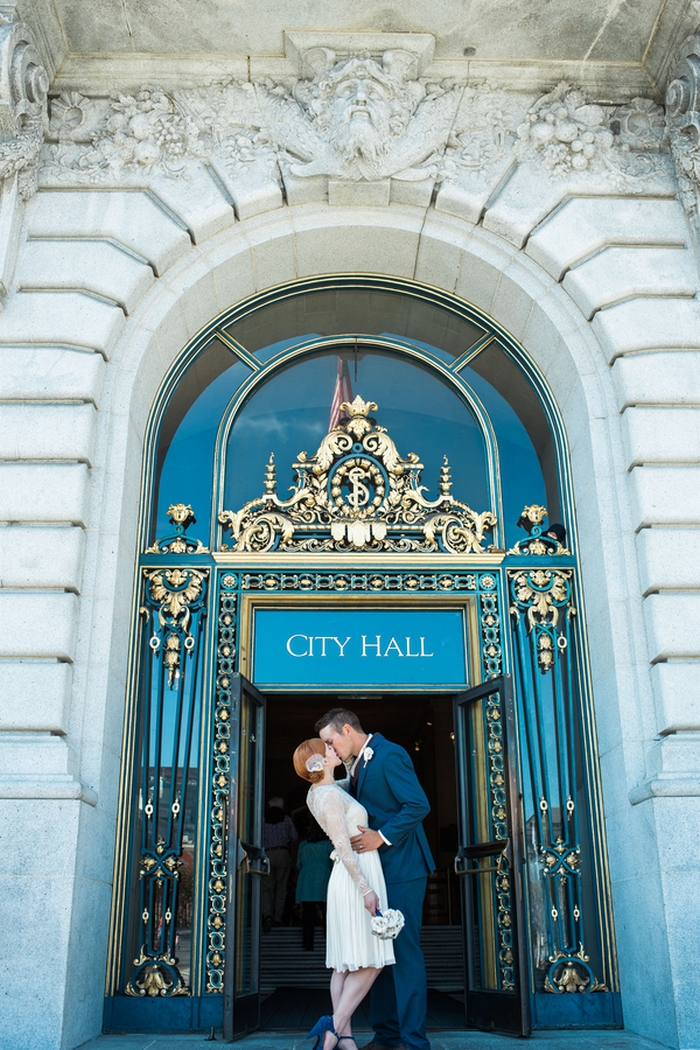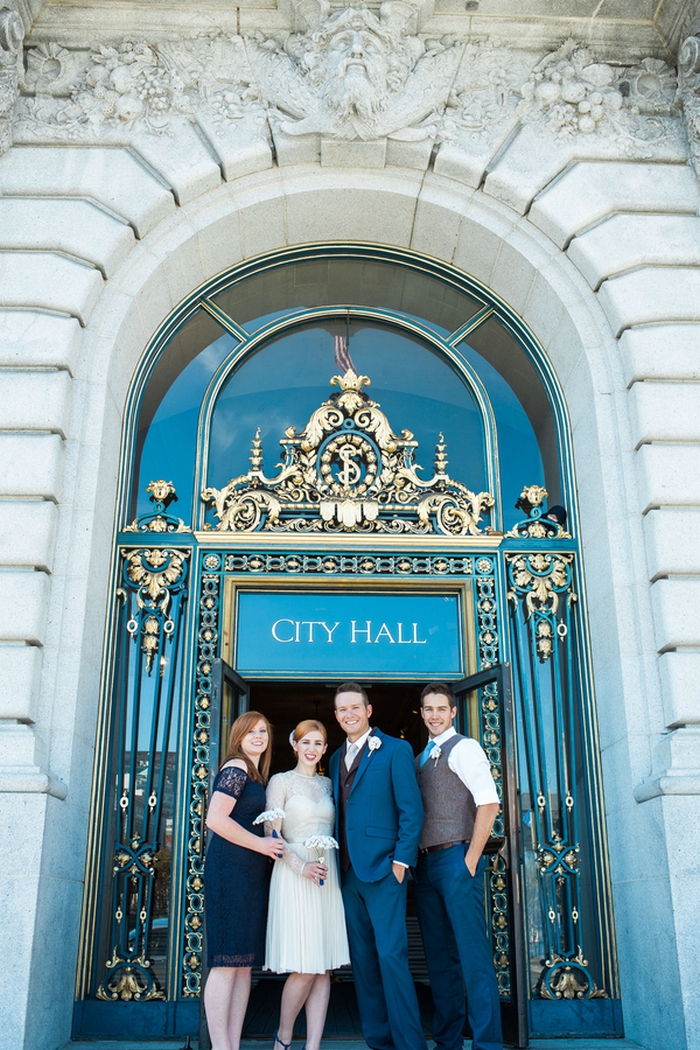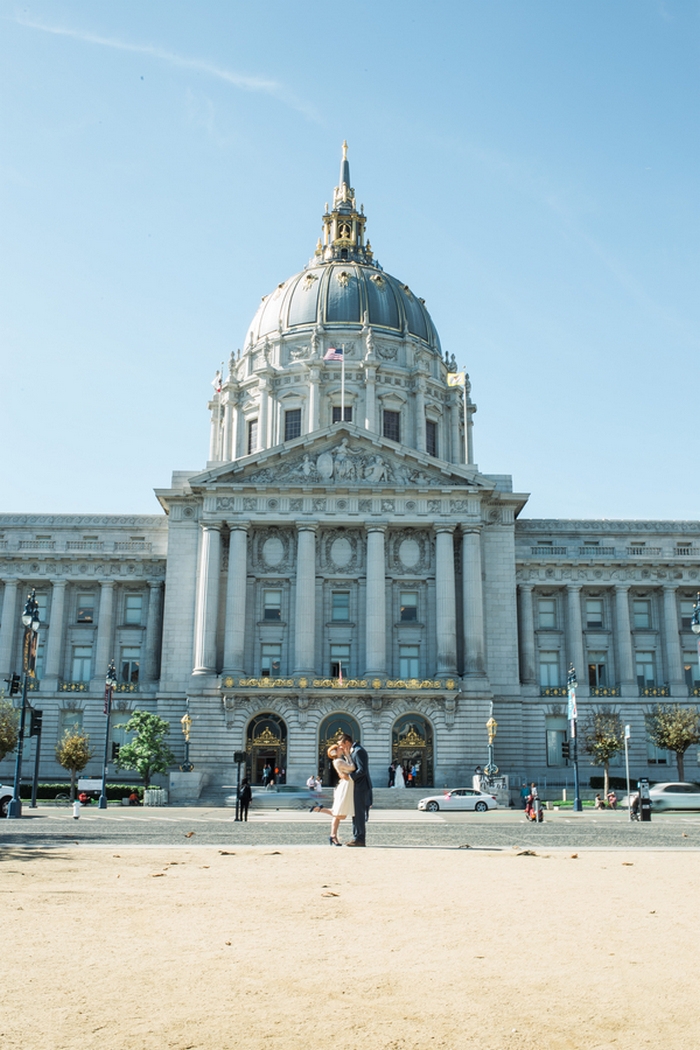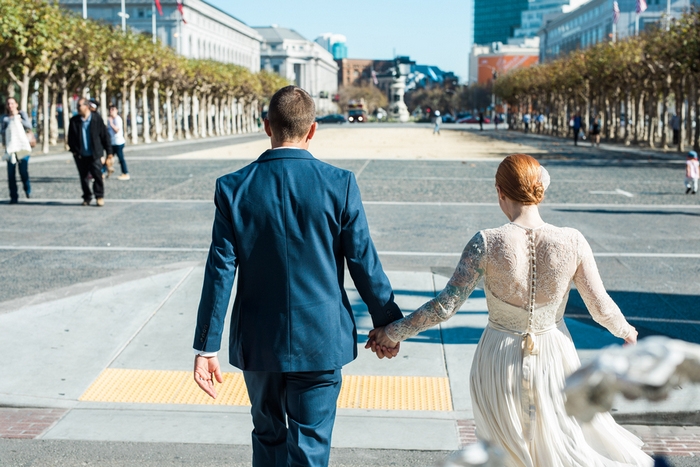 What was the best thing about having an intimate wedding?
It was such a low stress way to do it, and so much fun. There was no worrying about making anyone else happy. We were able to focus on our love for each other, instead of a party. We got to be spontaneous, and do exactly what we wanted. We didn't have to worry about guests, or entertaining. Instead it was an entire day of adventuring, and it was entirely wonderful.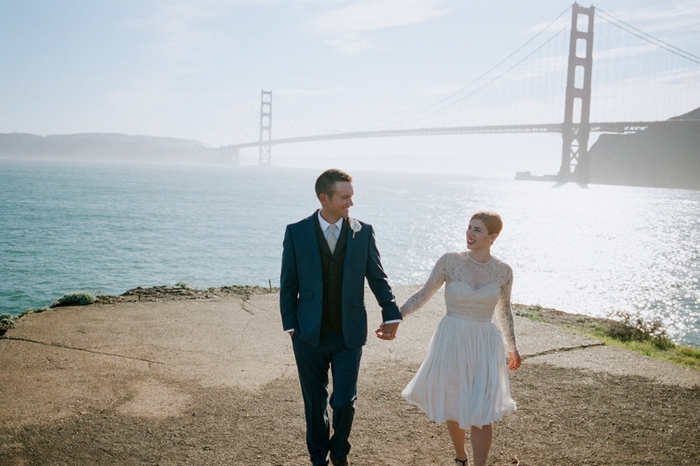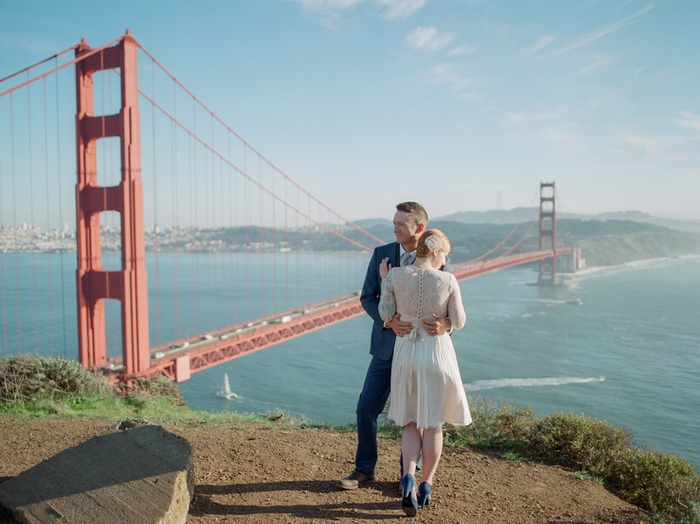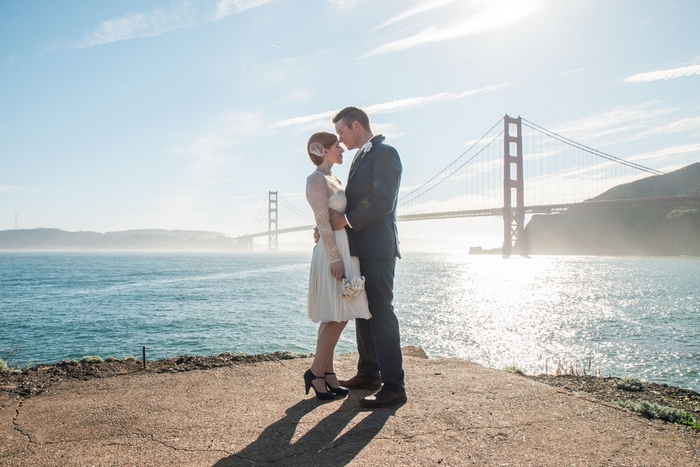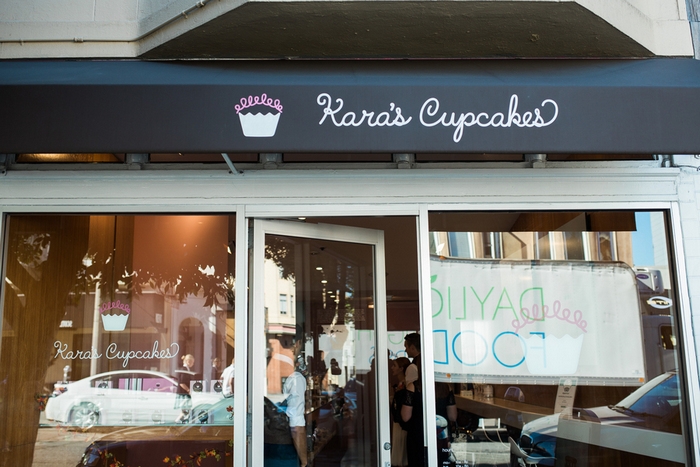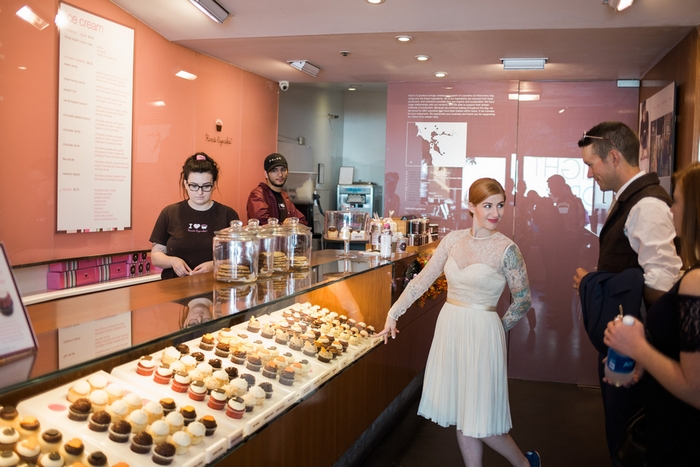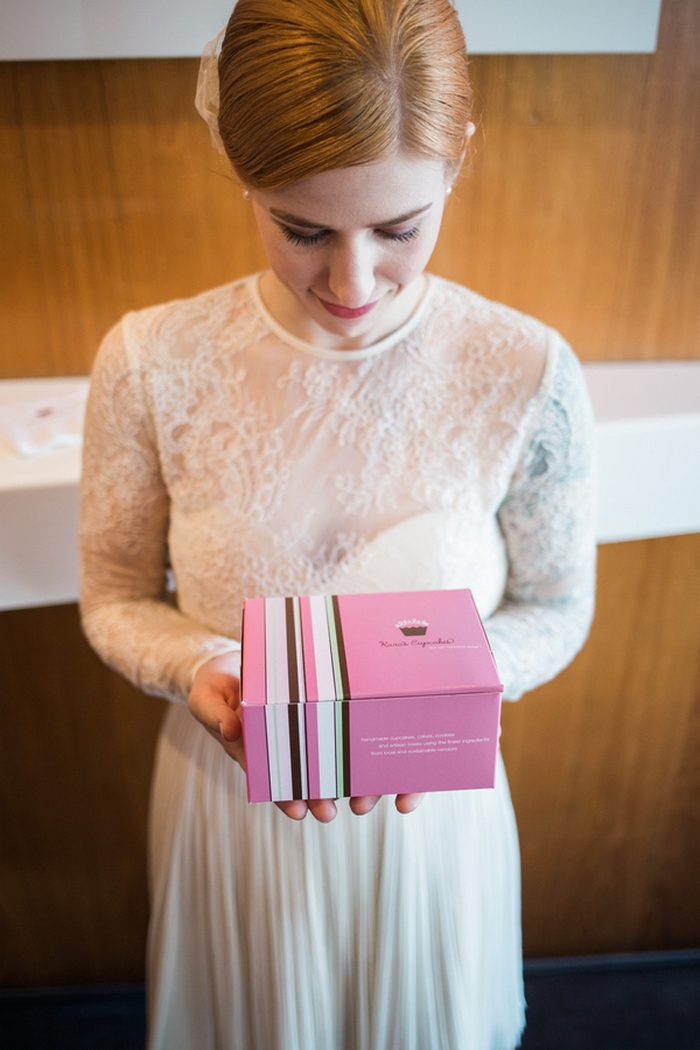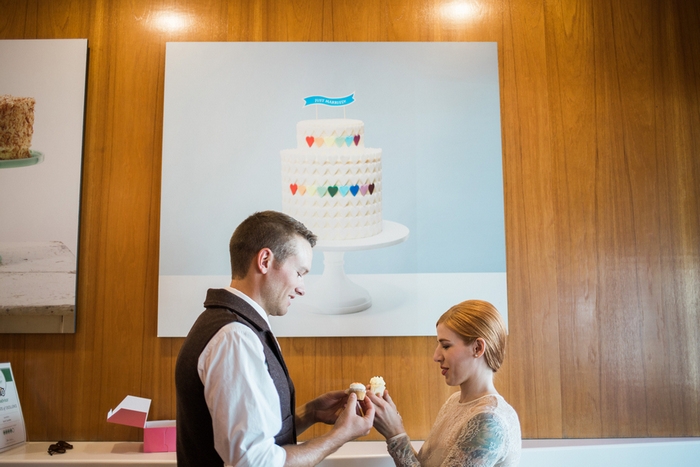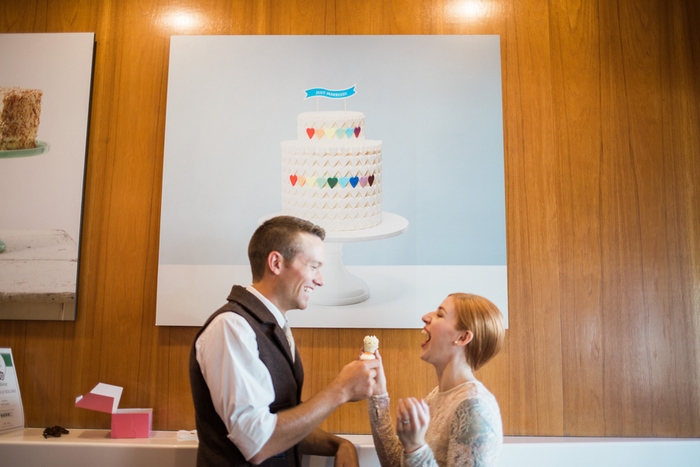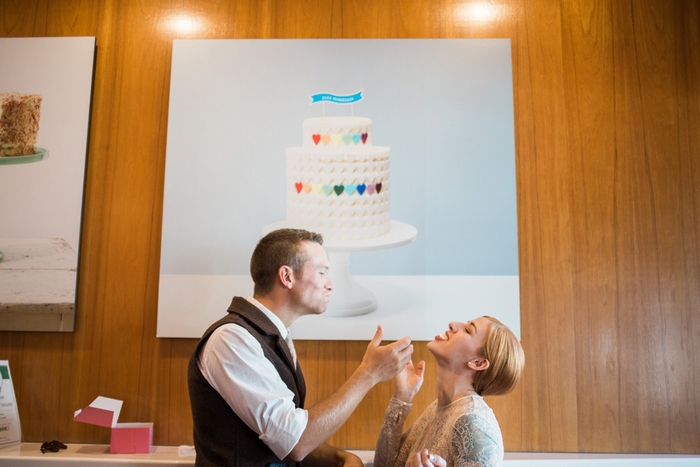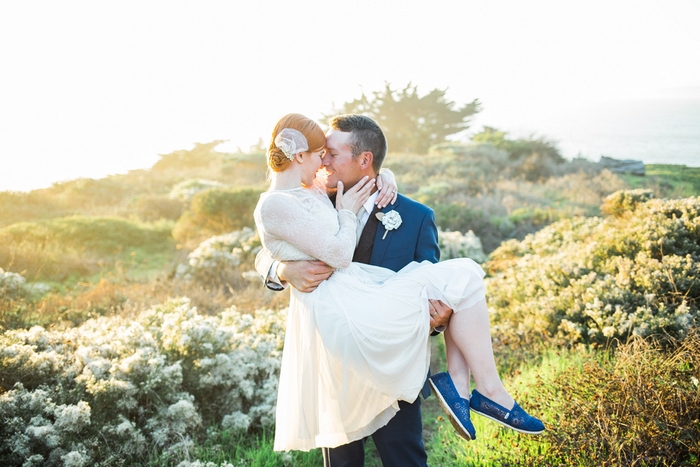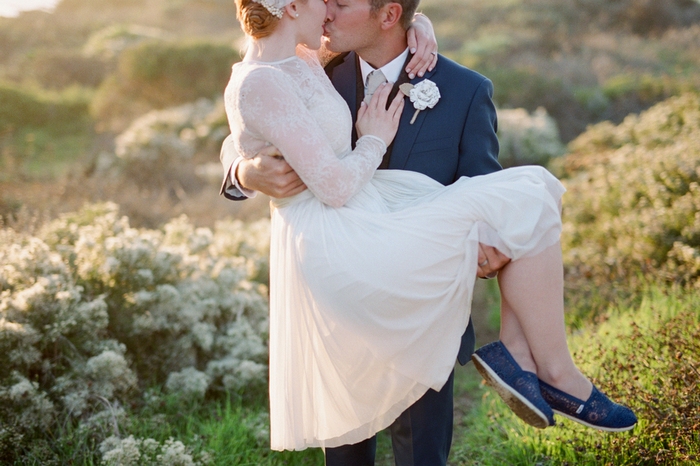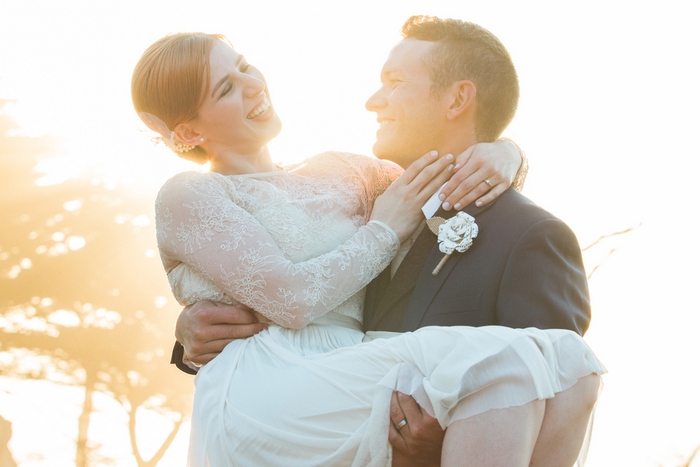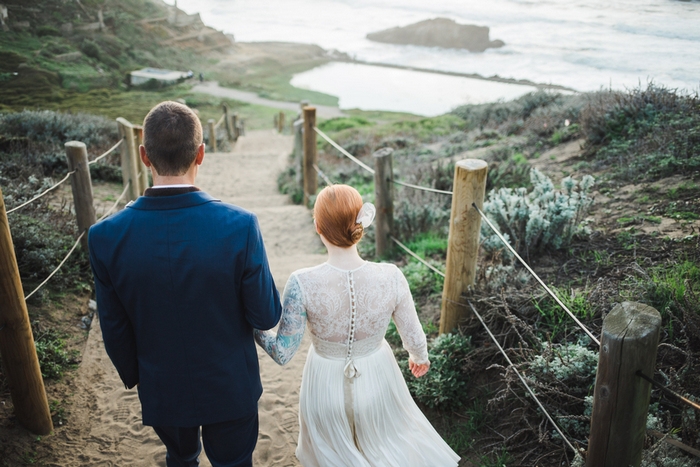 What advice do you have for couples who are considering an intimate wedding?
If it's what you really want, then do it. It's your day, and it is not about anyone else. Don't invite people you would otherwise feel obligated to invite, have as many, or as few people there as you want. Do whatever will make you the happiest. Create something that represents both of you, incorporate things that you love, include meaningful details. Don't feel like you have to limit yourself. Just because it's small, doesn't mean you can't have your dream wedding.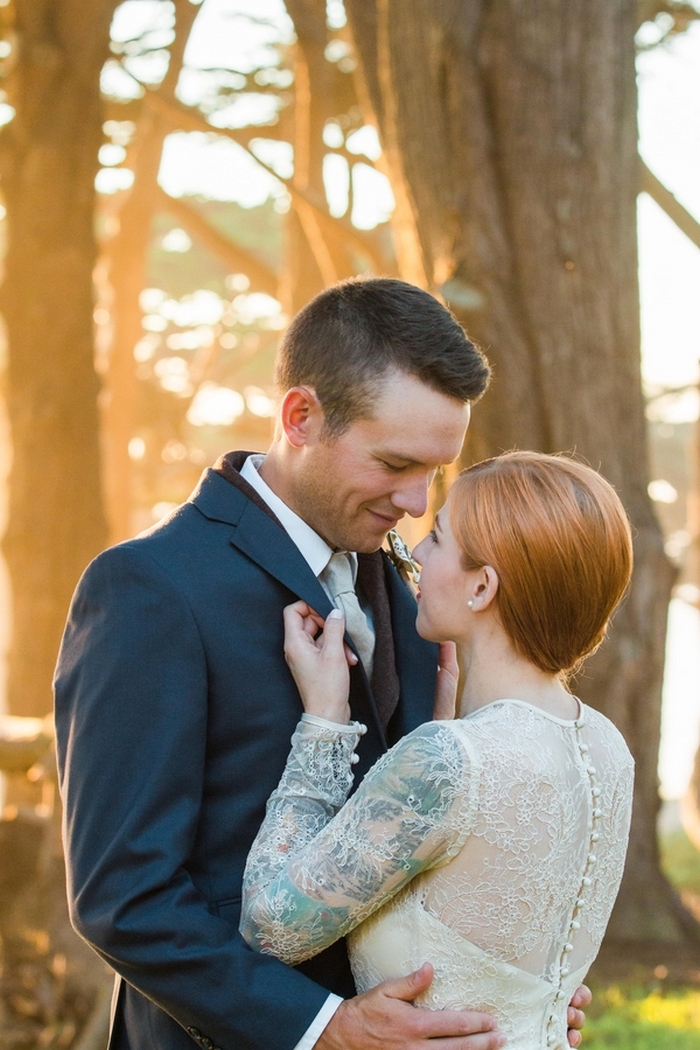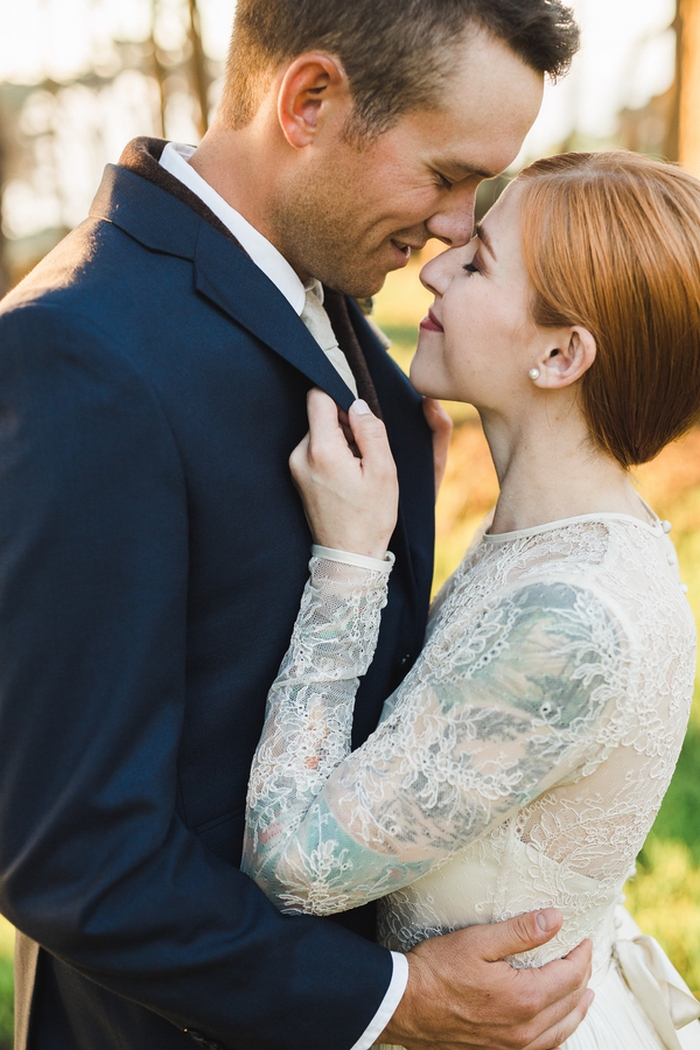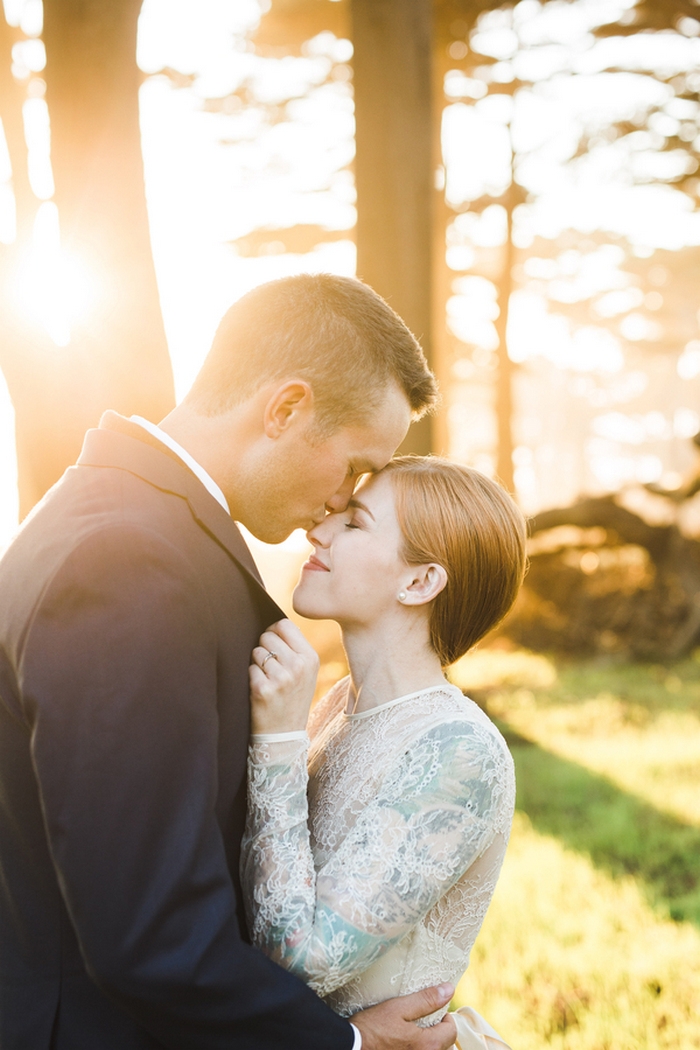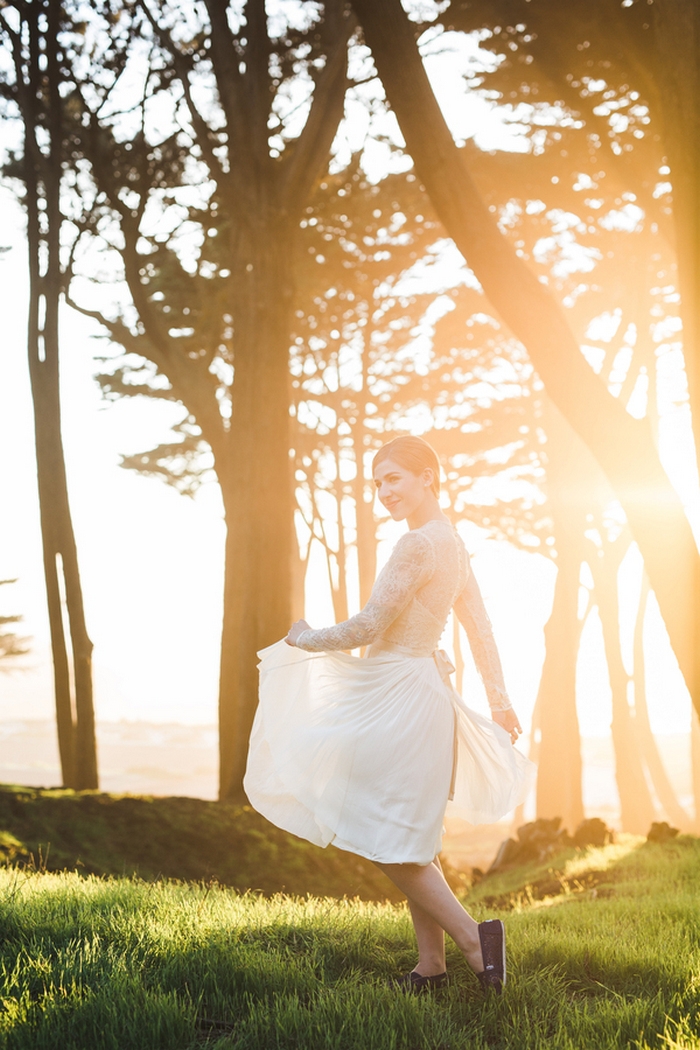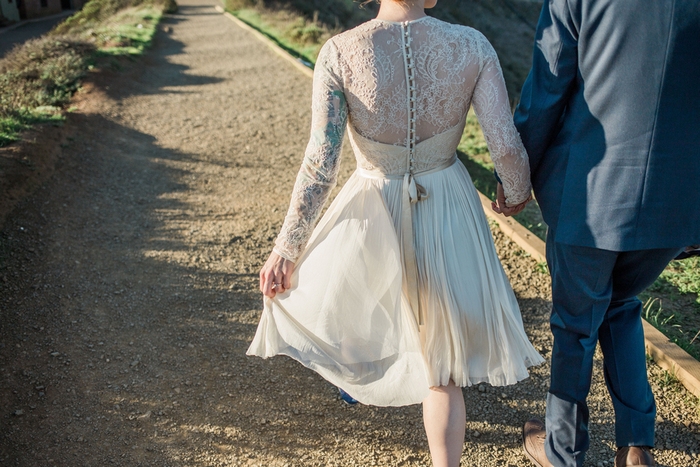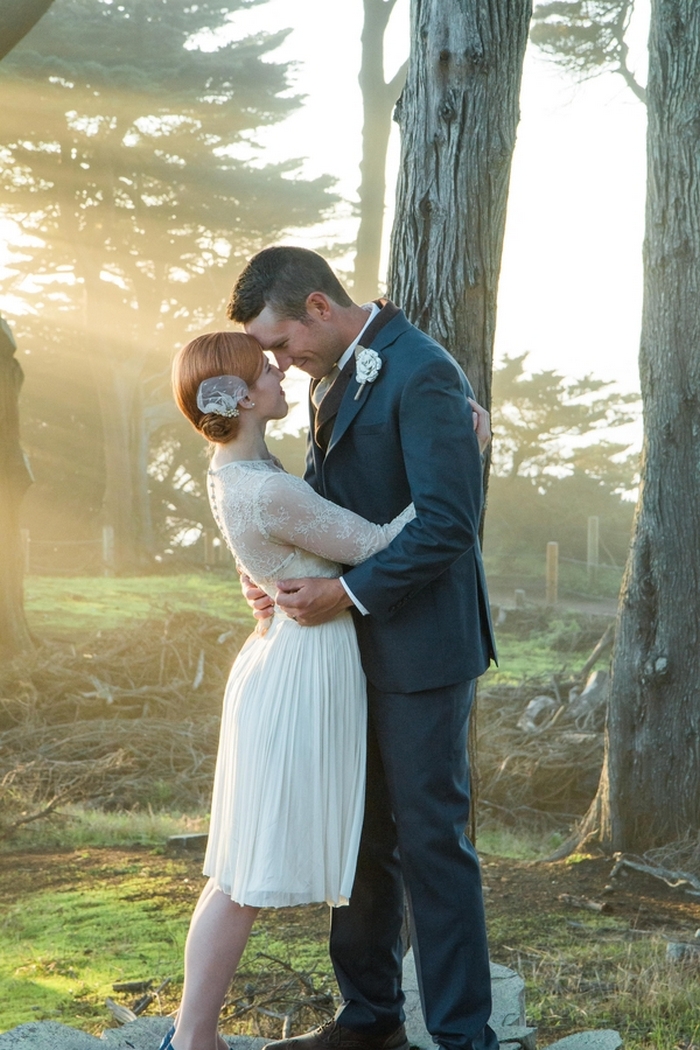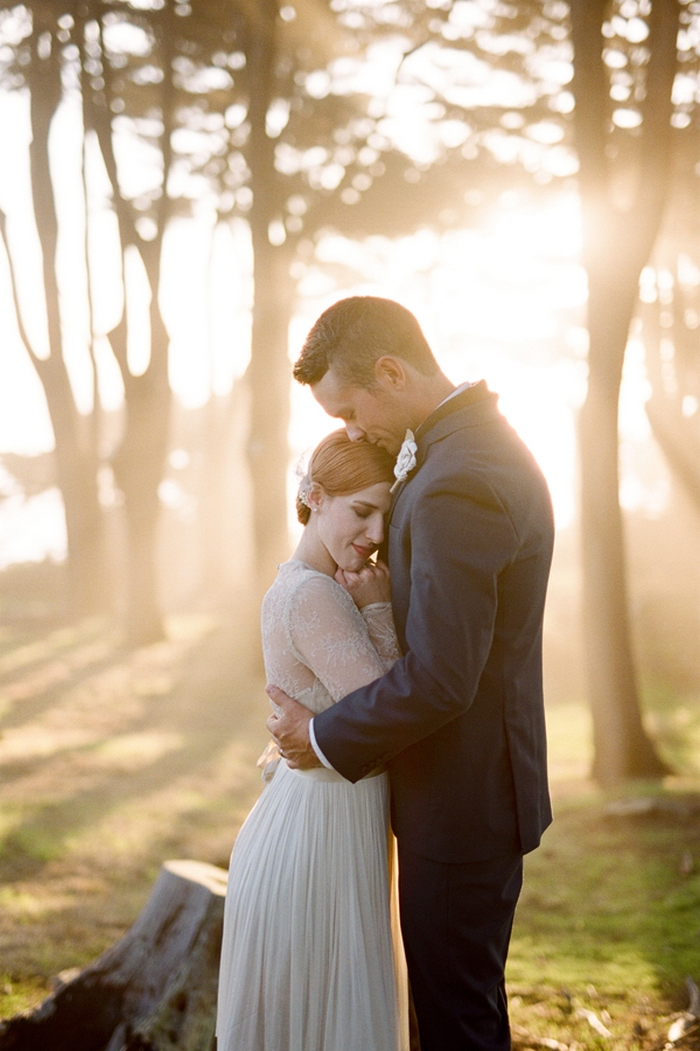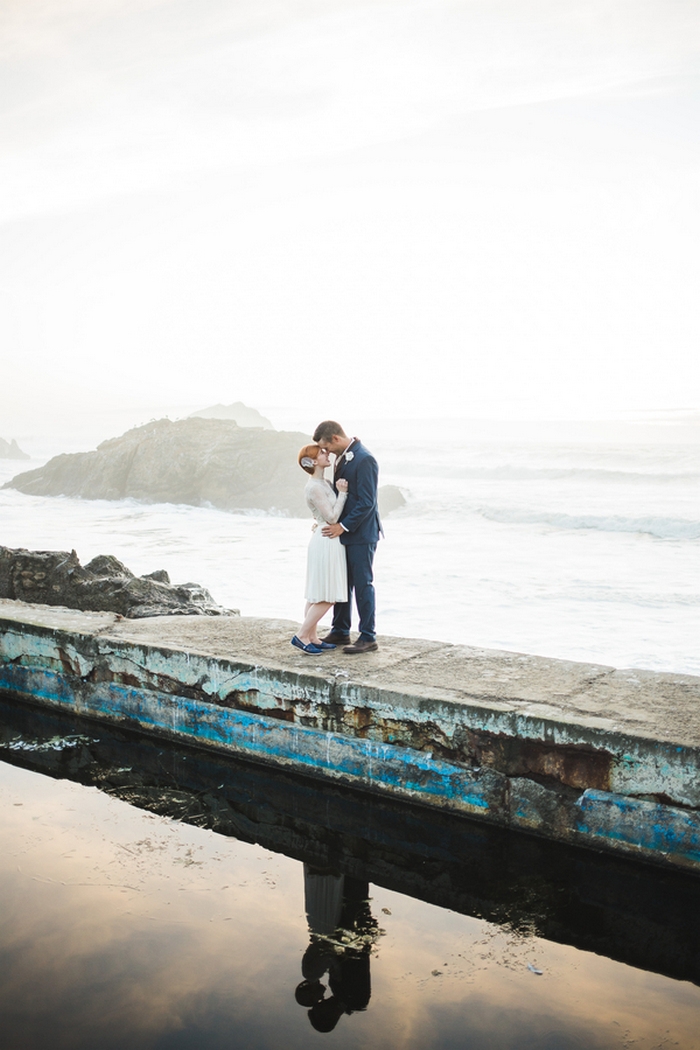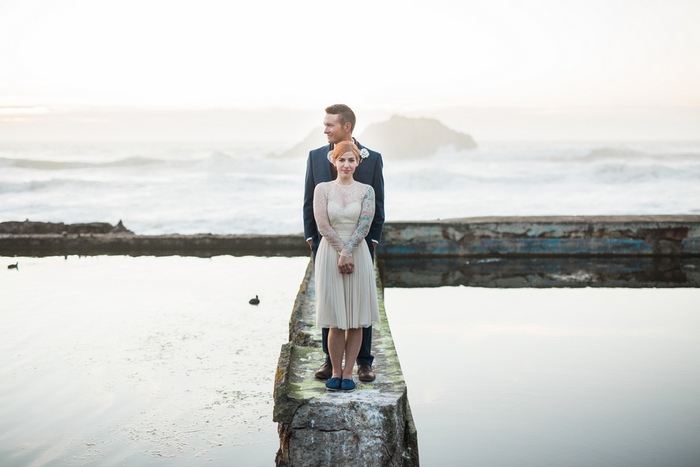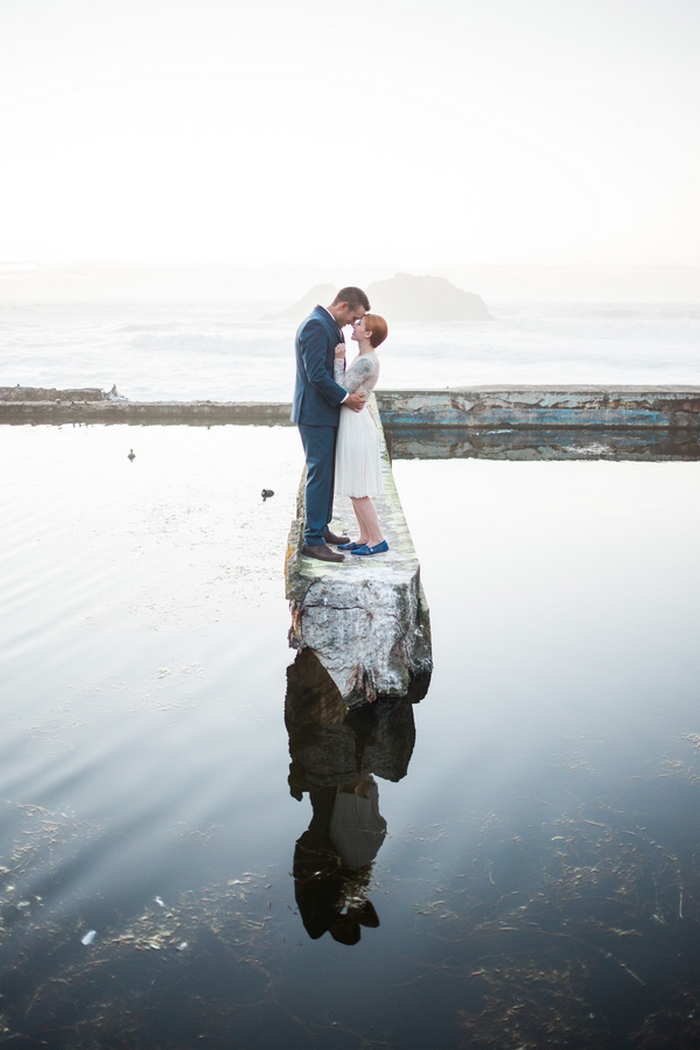 Vendors: 
Photographers: Kyle & Tori Sheppard, Kyle Loves Tori Photography
Venue: San Francisco City Hall
Bride's Dress: BHLDN Catherine Deane Waterfall Dress
Bride's Shoes: Modcloth.com/Toms.com
Bride's Haircomb (minus veil): Element4YouShop, Etsy
Groom's Outfit: Suit: Burlington Coat Factory; Vest: OutlandUSA.com; Tie: PearlBeachTreasures, Etsy.
Bride's Ring: JandHjewelry, Etsy
Groom's Ring: JLFabrications, Etsy
Paper flower bouquets, and boutonnieres: HBixbyArtworks, Etsy
*This post includes affiliate links.
Save
Save
Save
Save
Save
Save
Save