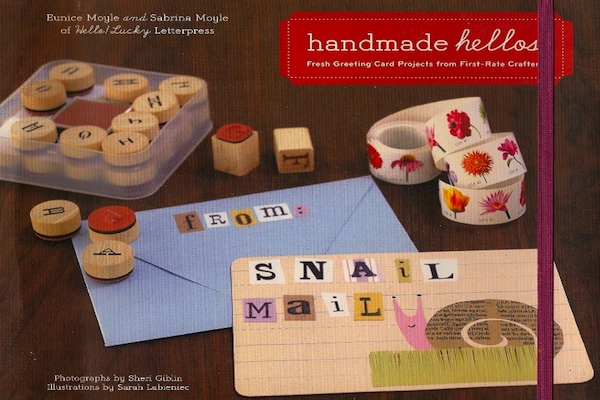 I refuse to believe that snail mail is dead – neither do the creators of Handmade Hellos: Fresh Greeting Card Projects from First-Rate Crafters
, a book that offers both inspiration and instructions to create fabulous stationery.
If you are in need of  cute and crafty thank you cards, invites, or bridesmaid cards for your wedding, look no further! Handmade Hellos
features DIY tutorials for twenty-seven unique card projects. Although the projects are for a variety of occasions, many the projects could easily be modified to be wedding specific. The projects range in levels of difficulty and involve a variety of materials. Handmade Hellos teaches you to collage, screen print, string a garland, make pop-ups, use a Gocco machine, embroider, bind a booklet, emboss, stencil and stamp just to name a few.
Handmade Hellos
is the first book by Hello!Lucky creators (and sisters) Eunice and Sabrina Moyle, their second book Handmade Weddings: More Than 50 Crafts to Personalize Your Big Day
was just as much a hit as their first. Their style is clear and easy to follow. The Moyle sisters gathered their favorite fellow paper crafting artists to contribute the projects in this book.  At the end of each of their projects, you can read more about each of the artists – from their favorite crafting tools, to fun facts.
Creating a handmade card is a soul-satisfying endeavor – it's also a cost-effective one. As the sisters say: "The abundance and affordability of supplies are a huge part of why we love making cards by hand. Why buy a $9, albeit charming, birthday card from a boutique when you can achieve the same "aww" factor yourself for next to nothing?" Agreed!
With a grading system in place, the authors have created a guide to help you know how much time to set aside for each project. A "basic" grade would mean that the project is easy and doesn't require much skill or practice. Generally cards that are rated as basic will take fewer than half an hour to make. Bonus: these are also great cards to try making with kids.
"Moderate" projects need to be done with a little more focus and concentration and there are more steps and techniques needed as well (like tracing or sewing on a button). These projects usually take around one to two hours to complete.
The "advanced" projects are for the "motivated card maker" meaning that to make them look their best you will need more hand-eye coordination and patience. You may also need to learn a new skill such as silk-screening or block printing. They suggest that you set aside at least an afternoon to make these cards. The benefit with these cards however, is that you learn a new skill set that you can use for future projects as well!
I have to say that I generally would not describe myself as having the steadiest hand or the best hand-eye coordination, but I made the "Paper Portrait Friendship Card" (which is an advanced project) as a donation for a fundraiser a while ago and I was able to make these look like how they described and they turned out beautifully. Here is my finished product. This project is based off of using a photograph of someone and then cutting out and layering the paper to look like that person in paper form. I used photos taken on a research trip and made these paper card replicas of the children from the photos. It took some practice and making it detailed was difficult, but I couldn't have been happier with the end result!
Handmade Hellos is designed so that each project offers  a clear step-by-step guide with enough instructions that don't leave you reading and re-reading thinking that you've missed something. The book also comes with all the templates you may need, as well as a section in the back with suggestions for any materials or tools you may also need and further technique instructions.
Handmade Hellos is a great inspirational tool for cards that you may need for you wedding and for everyday after that.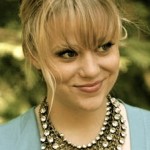 Rebekah is a DIY obsessed, wedding and event design wizard who loves hunting her bay area   homeland for clever craft ideas, vintage gems, bargain buys, new pieces for her vintage rental line  and blogging inspiration. She and her husband live and write in Oakland. Read her blog.