A little (okay, a lot) of rain couldn't damped the spirits of Heather and Darren on their wedding day! The couple said their 'I dos' in the stunning Maroon Bells Amphitheater in White River National Forest surrounded by 12 of their nearest and dearest. After the ceremony, they had a fantastic reception at the The Limelight Hotel filled with gourmet food and a game of giant Jenga.
Thankfully, Teresa Woodhull Photography was there to capture this breathtaking wilderness wedding.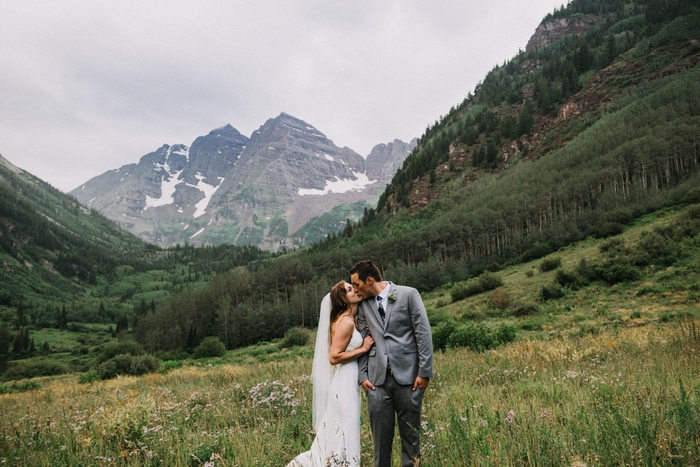 Heather, 28 & Darren, 31
Location: Aspen, Colorado, USA
Wedding Date: August 8th, 2017
Number of Guests: 12
Wedding Cost: $6,000
Wedding Ceremony Location: Maroon Bells Amphitheater, White River National Forest
Wedding Reception Location: Limelight Hotel, Downtown Aspen, CO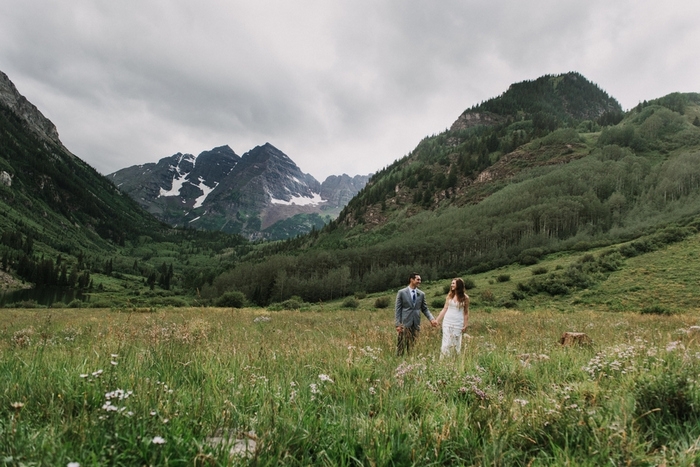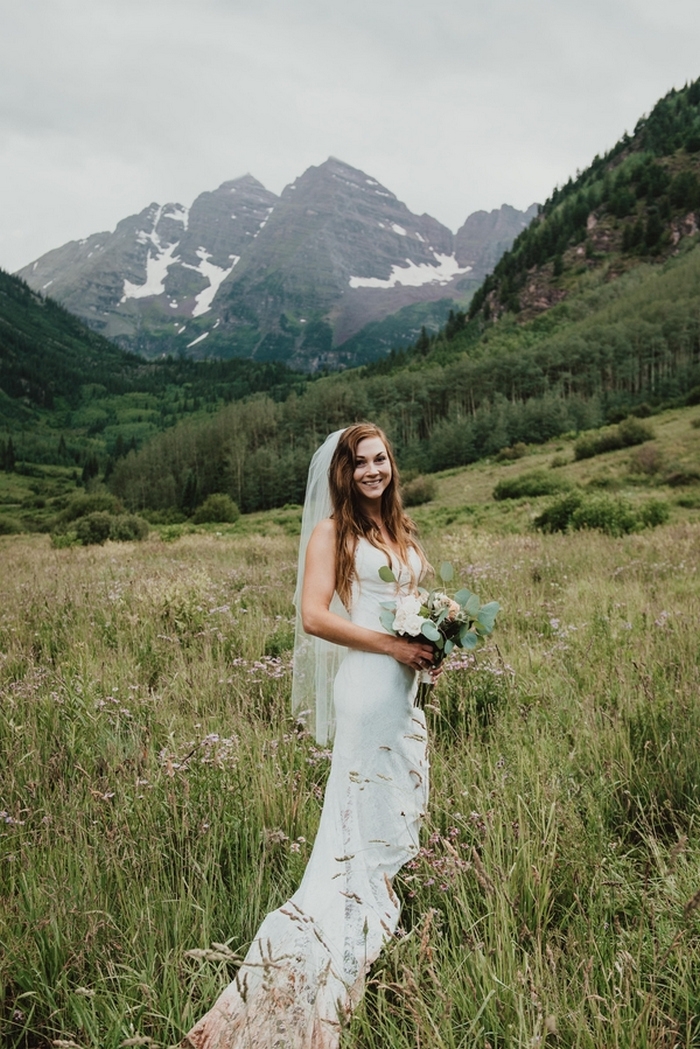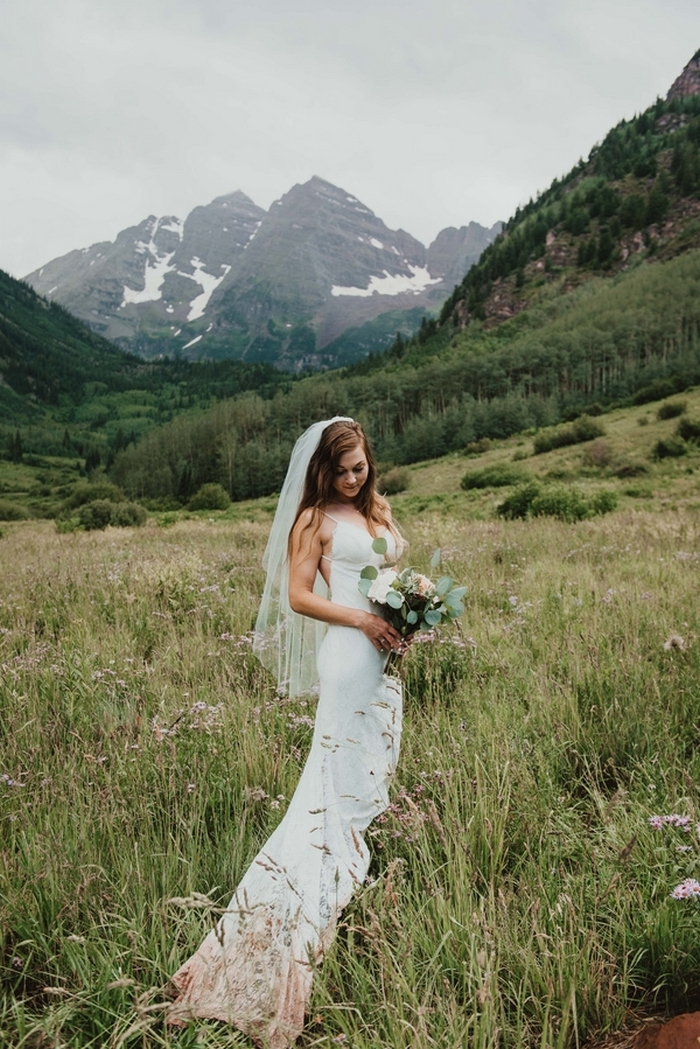 Why did you have an intimate wedding?
A few reasons…we didn't want to be burdened by the cost of a big wedding, since we knew we wouldn't have much help from family. Additionally, we had already been engaged for a year and talked about getting married without bothering with actual planning. Being frantically excited to become husband and wife and disastrous with logistics, we decided to set a date for two months later. Only our immediate families and a couple close friends were able to travel to Aspen on such short notice.  Lastly, I fell in love with this gorgeous sub-alpine location (and several others like it) that are operated by the U.S. Forest Service and have strict guest limits.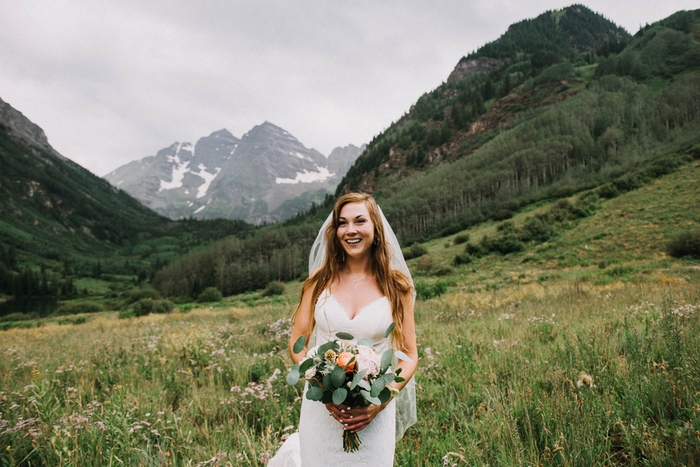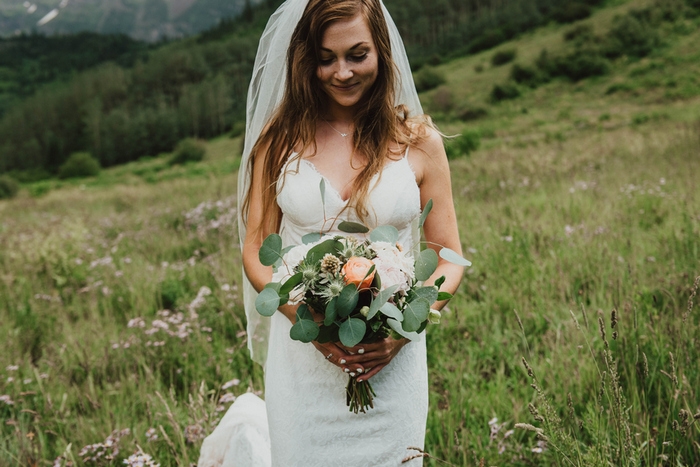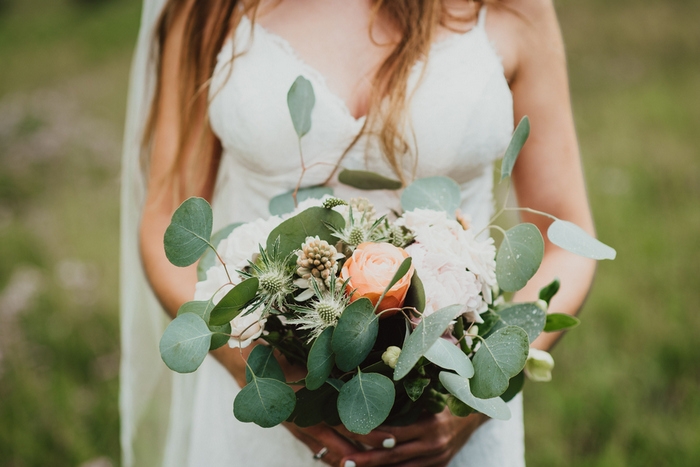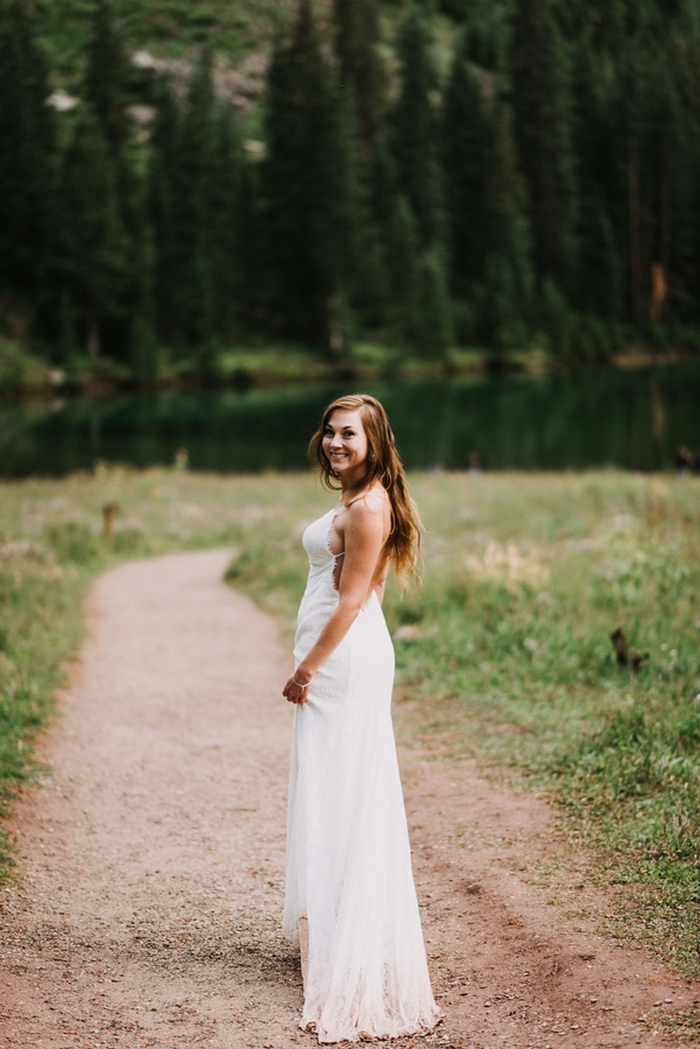 What are some of the challenges that you faced planning an intimate wedding?
My now-husband felt distressed about inviting some people and not others, but only because of the perceived formality of receiving wedding invitations. We had almost all of our best people there with us the day of the wedding. Ultimately, it worked out great, because a smaller group of people is easier to coordinate extra-wedding activities with, like hikes and happy hours. Another obvious challenge is money. While our ceremony location only cost $200, the reception was at a hotel with food/beverage minimums. If you decide to use a professional venue like a hotel to host your event, you may still spend more than you think for a small party. Regardless, I have nothing but tremendous things to say about The Limelight Hotel in Aspen. They were dog friendly, moved us to a covered patio to accommodate the rainy weather, set up all of our decorations and a slideshow projector, and the food/bev was outstanding. We didn't have to worry about a thing while we were there. The bill, while expensive, was straightforward with no surprises and matched the quality of service we received.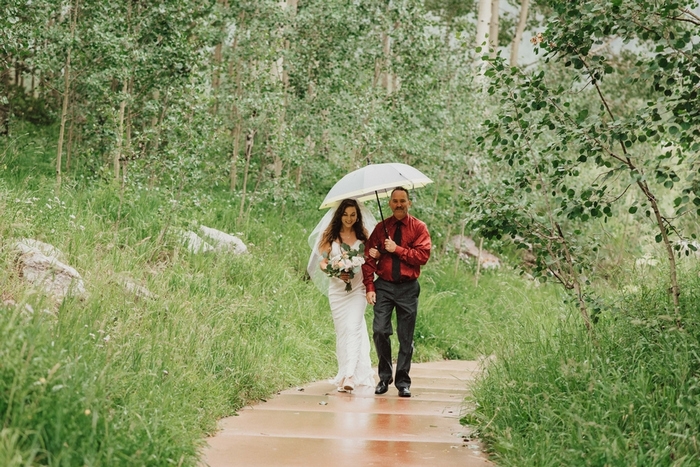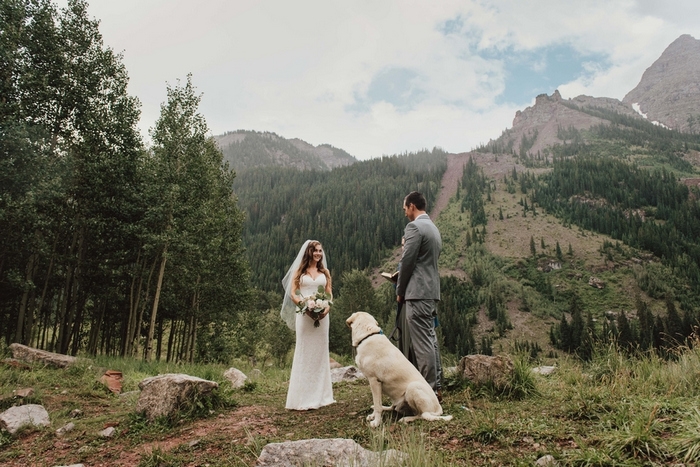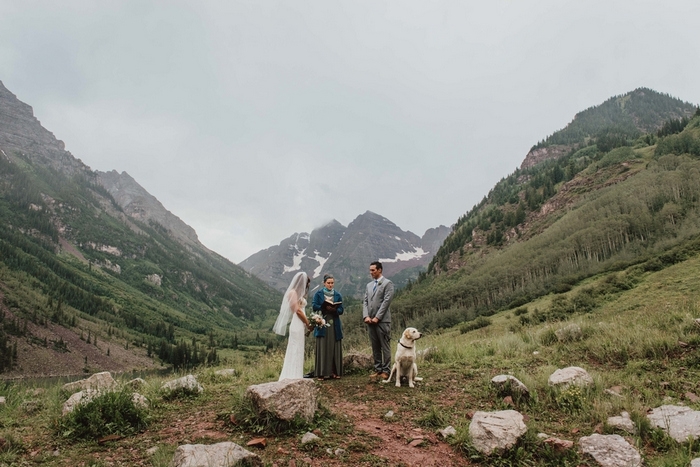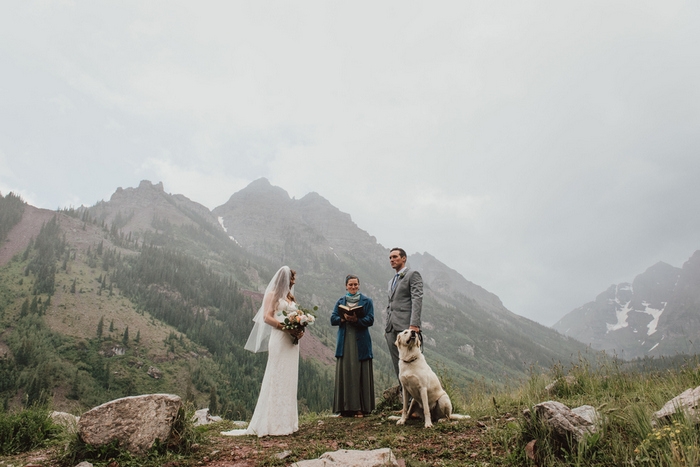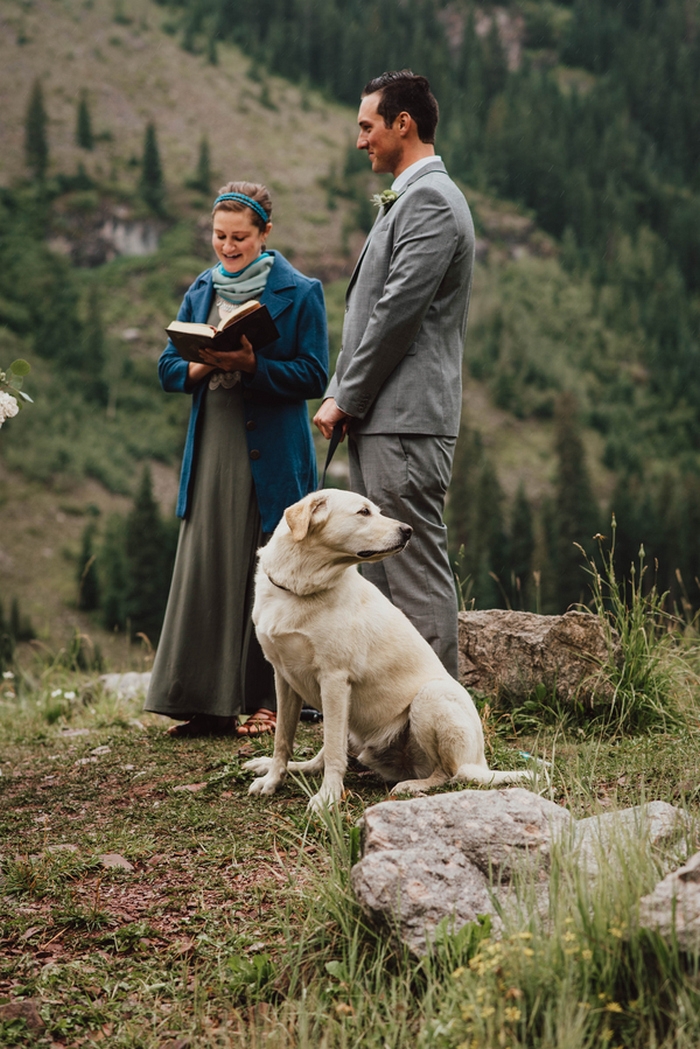 What were the highlights of the ceremony?
It literally poured sheets of rain throughout most of the ceremony. The pictures are crazy beautiful and added an element of authenticity to the summer mountain setting. One of my dearest friends officiated and spoke beautiful words of union. It was secular, sweet, and she taped her script to the inside of Charles Darwin's Origin of Species. Having our dog B with us (in his adorable blue bow-tie, aw!) made it extra special.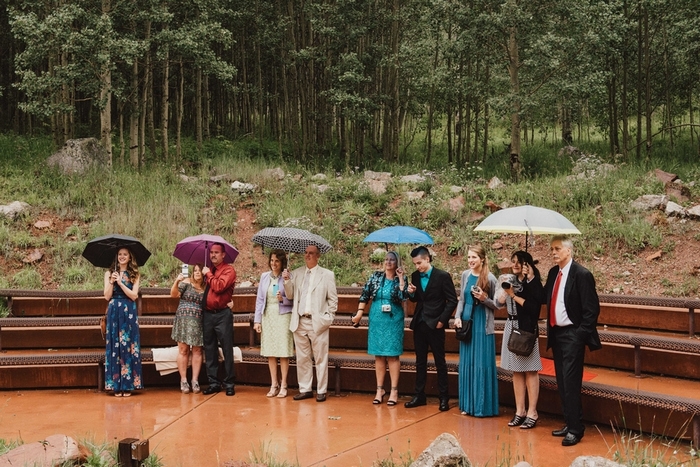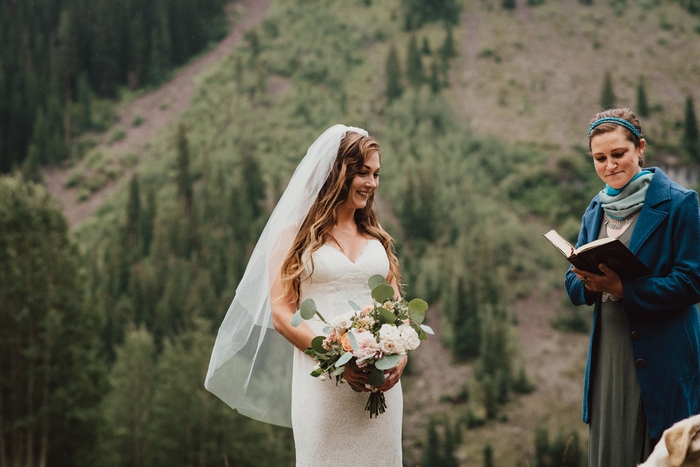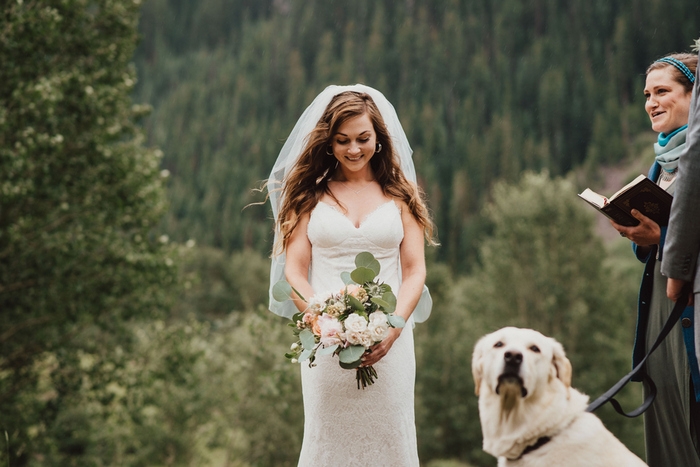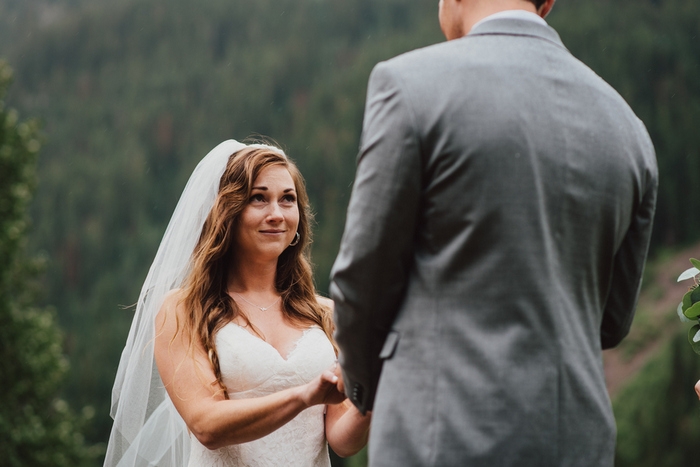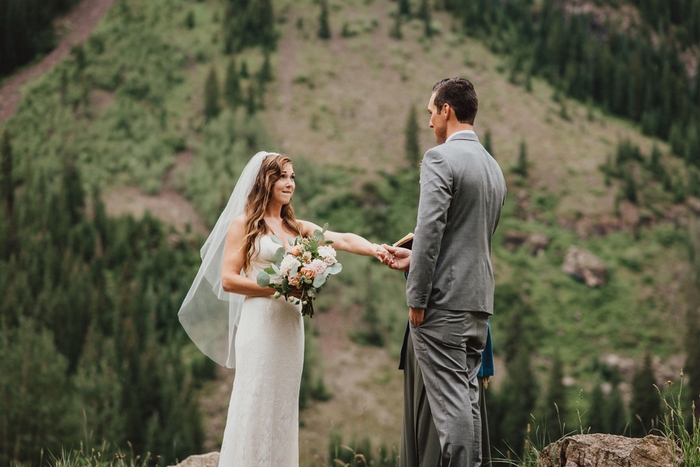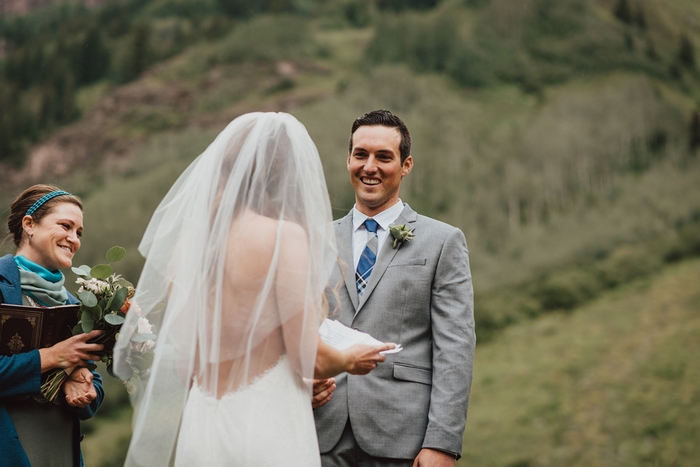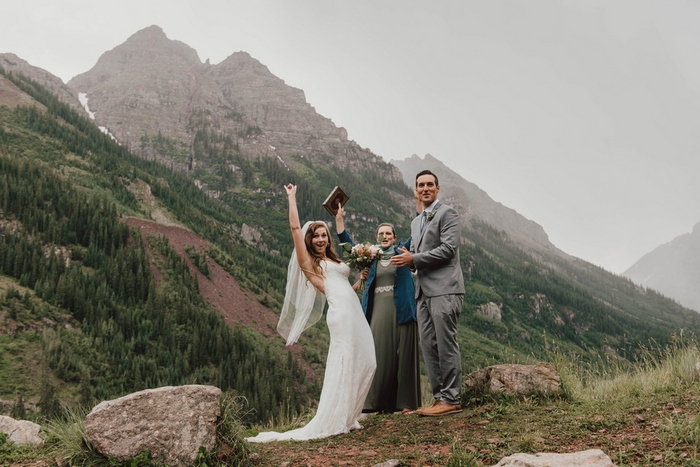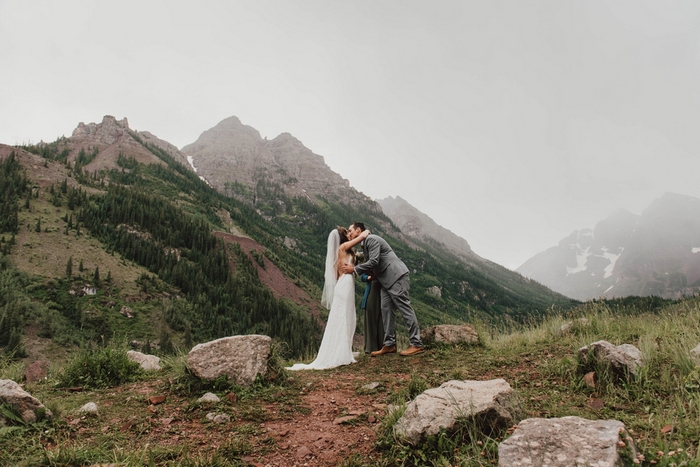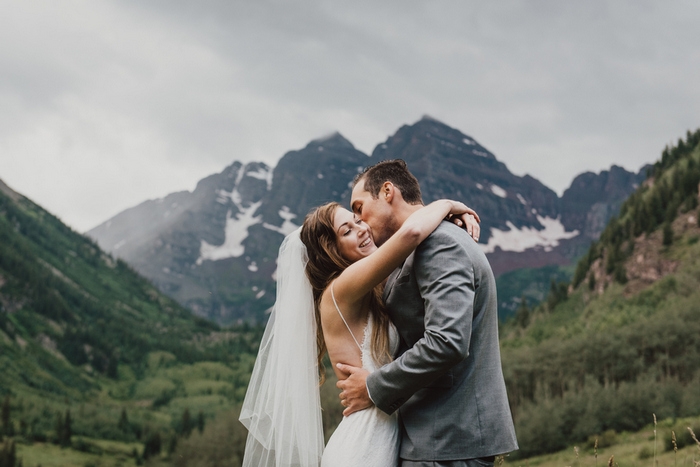 What were the highlights of the reception?
Well, the food for starters. The Limelight Hotel does not mess around. The slideshow of pictures of Darren and I growing up as kids was a huge hit. Giant Jenga was also fun. Someone (everyone) fed our dog B too many appetizers and he barfed on the party patio. Getting drunk around the fire pit and having too many pictures taken of my happy-ugly cry face was hilarious. We all regrouped for an after-party at the Wildwood Hotel, somehow. It was a fantastic night.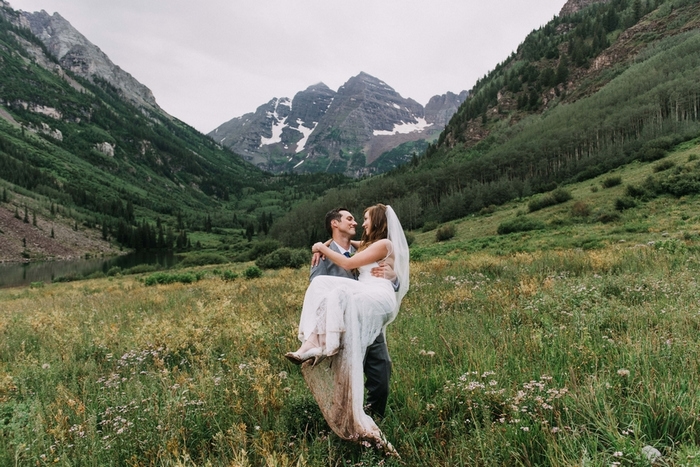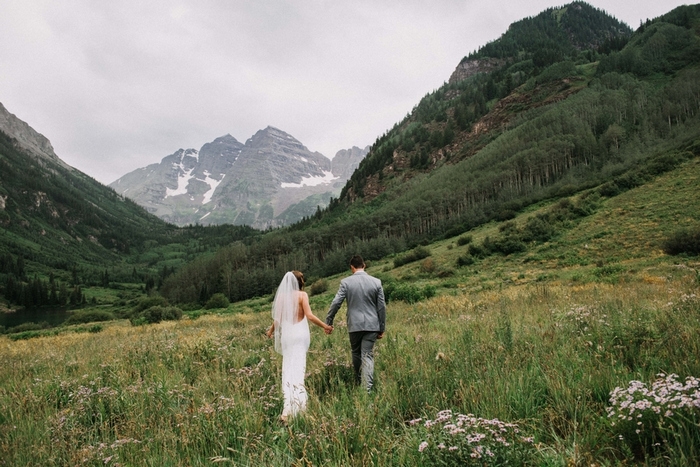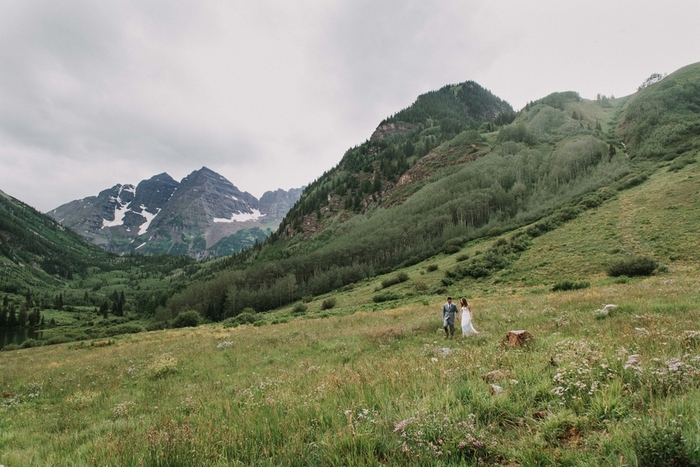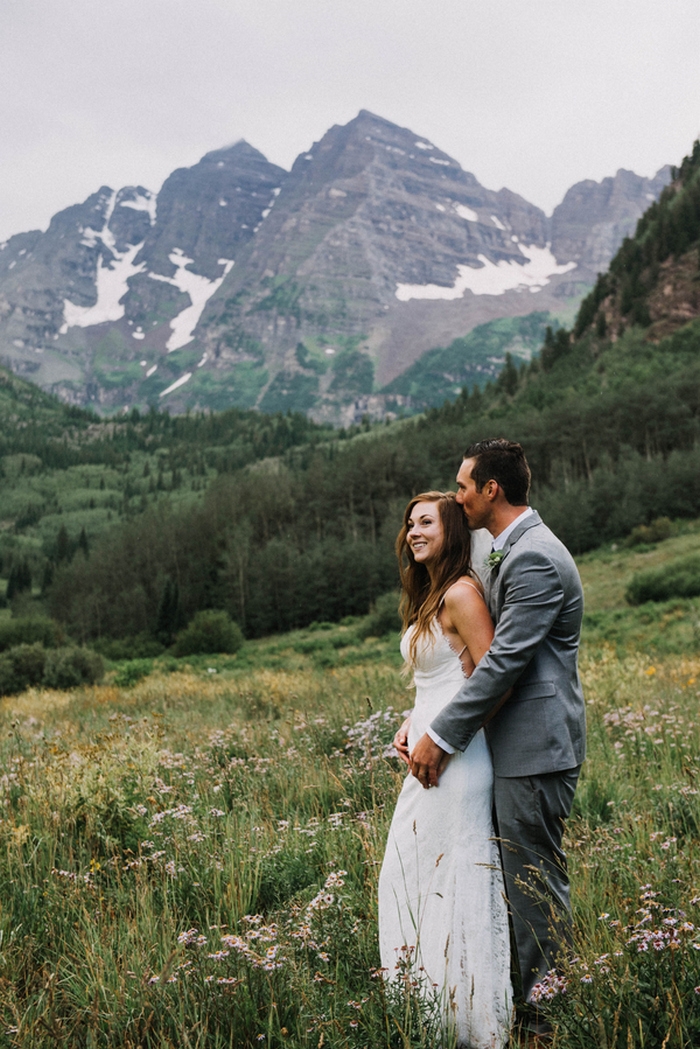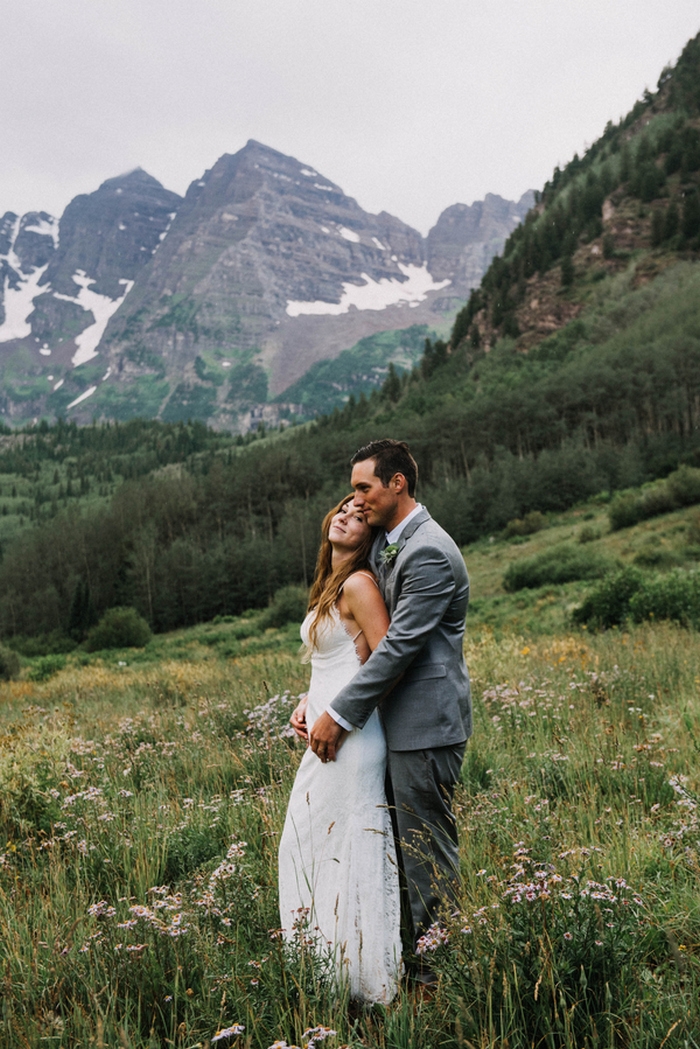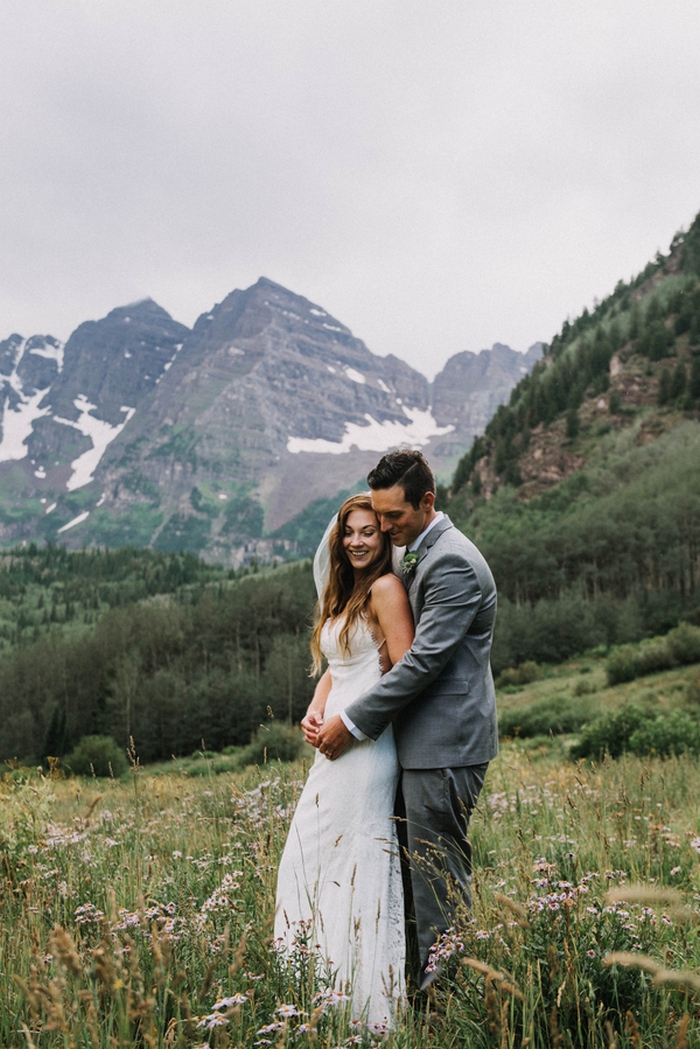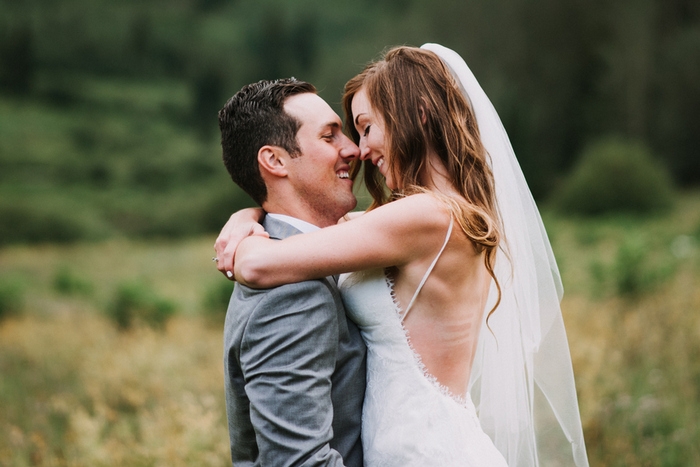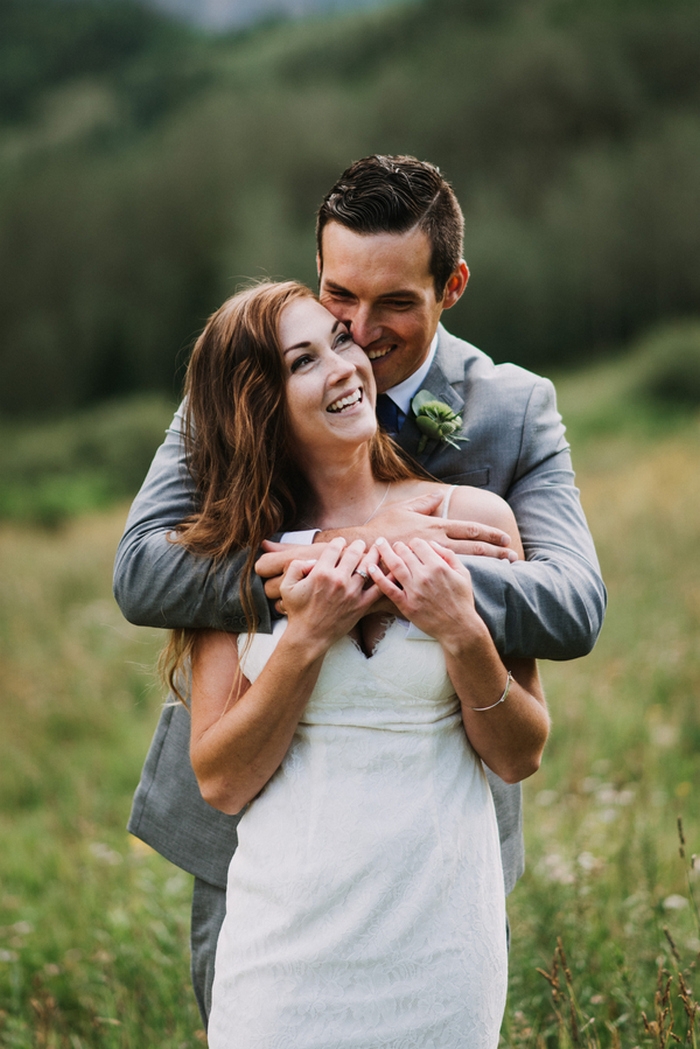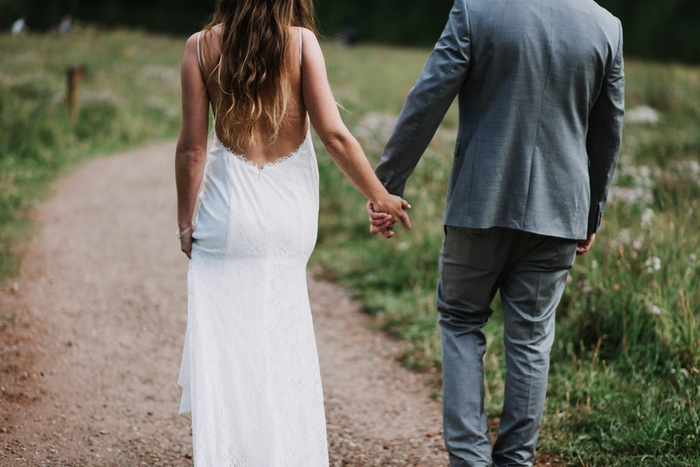 What was the best thing about having an intimate wedding?
We were able to do extra activities with our guests, like hiking, mountain biking, hot tubbing, and meeting up in town for food and drinks. It was pretty low stress overall, the antithesis of most large weddings I've been to.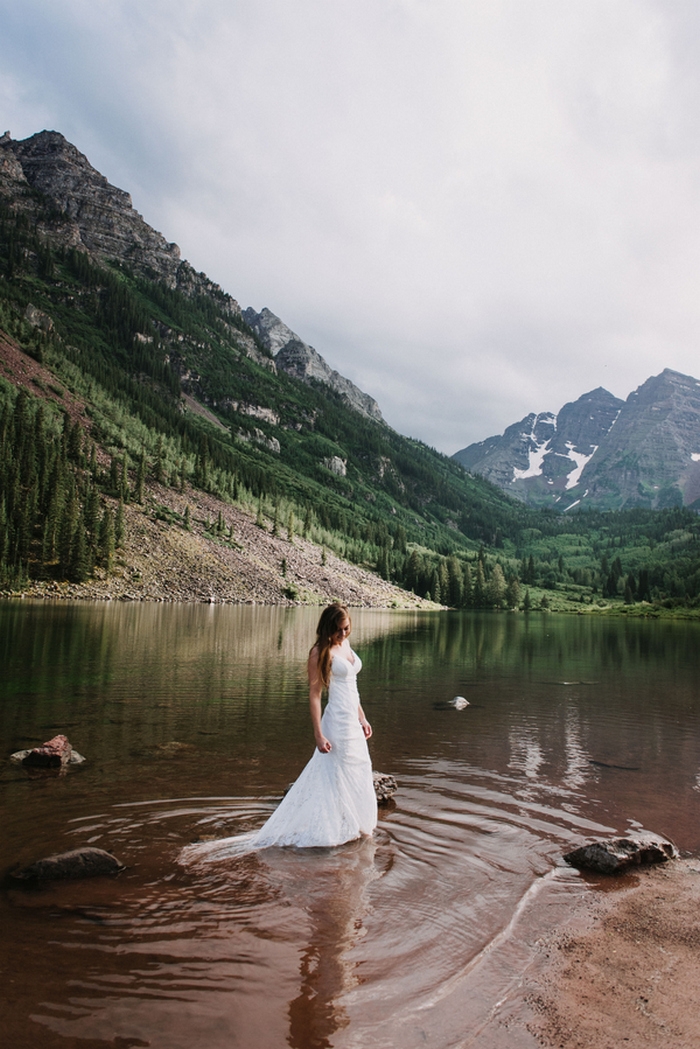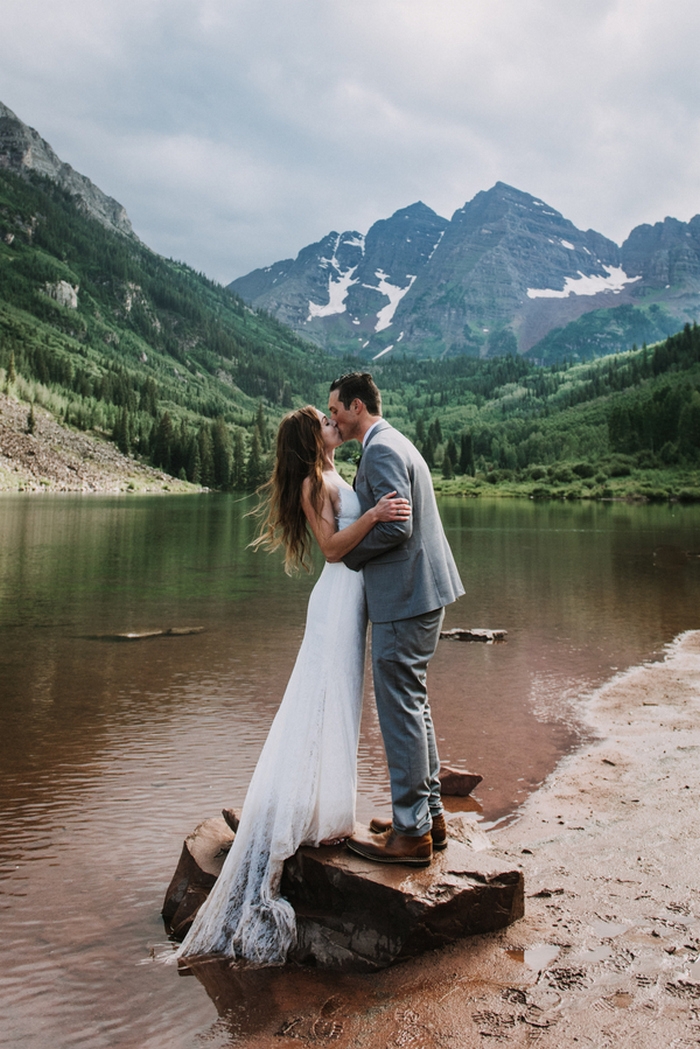 Vendors:
Photography: Teresa Woodhull Photography
Reception Venue/ Food & Drink: The Limelight Hotel 
Ceremony Location: White River National Forest 
Guest Transportation: Colorado Mountain Express
Bride's Dress & Shoes: David's Bridal
Groom's Suit: Express
Accommodations: The Westin Snowmass Resort