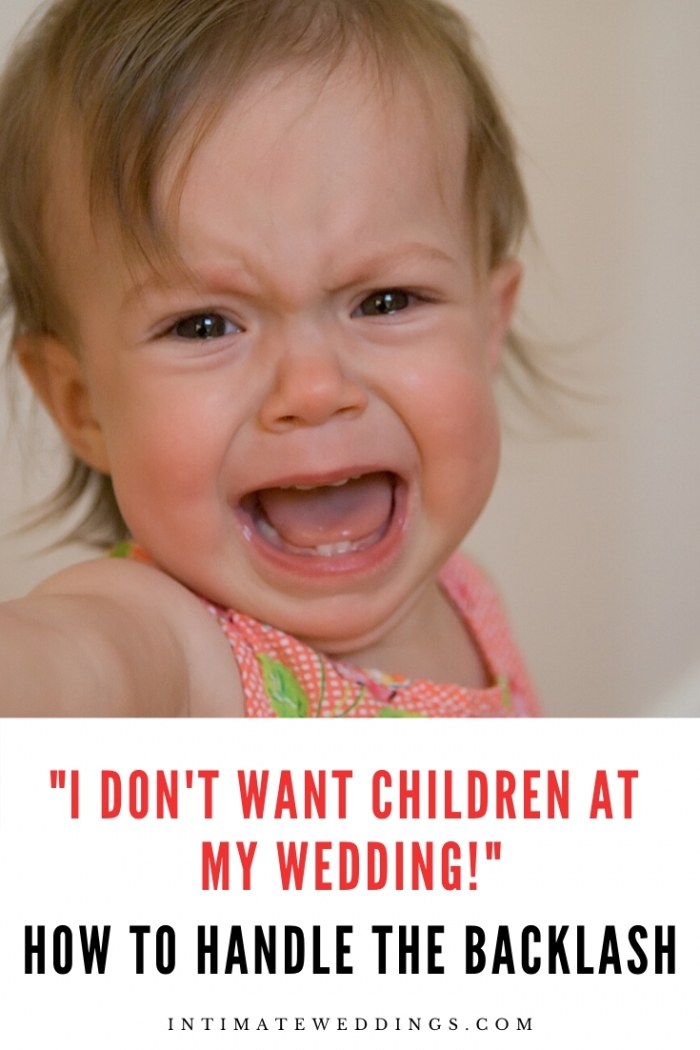 If you love the idea of having children at your wedding, that's awesome! Go ahead and invite as many kids as you want! You can bet they'll look adorable all dressed up, and they'll probably bring an element of sweetness and spontaniety to your wedding that only kids can offer.
We had kids at our wedding – there were only three – but I wouldn't have had it any other way. That said, I understand why some couples opt for a 'no children wedding.' Couples generally spend months orchestrating their weddings – not to mention saving for them. Along comes one tantruming toddler during the wedding ceremony, and Kaboom! the vibe is turned upside down. Some couples can roll with it, others not so much.
Kids are unpredictable. They cry. They make messes. They bump into things and are known to stick their fingers into places that they shouldn't (i.e. cake, nose, you get the picture.) And the fancy pants dinner in front of them might just go untouched.
Also, sometimes adults just want to be with other adults. And that's okay. So many parents don't allow themselves to take a break from their kids they forget what it's like to let loose with other adults. An adult only event will give them permission to let their hair down and have some kid-free fun.
This is all well and good, you say, but how can I break it the people on my guest list? It's true that as soon as you mention that kids will not be permitted at your wedding, some of your invitees might secretly scorn you. Namely, the ones on your guest list who can't imagine leaving their little ones back at home with a babysitter. Some of your guests will be perplexed about your decision and they might even challenge it. They might even argue that it's anti-family not to invite children and that weddings are all about family.
If you are sure you want a 'no children wedding', how do you ensure that your adult guests won't bring their offspring?
Whether your motives for going kid-free are a limited guest list, or trepidation that crying babies, tantruming toddlers and playful preschoolers will wreak havoc on your wedding day, here are some ways to get the message across to your guests that kids aren't invited:
• Prior to sending out invitations, give friends and family who have kids a call to let them know that a wedding invitation is on the way and that you have opted for a 'no children wedding'. That will give you them opportunity to field questions and you the chance to let them know that you are having a small wedding and that your guest list is limited. It will also give them the time to line up babysitters.
• Wedding etiquette experts say that it's tacky to write 'no children' on the invites. Instead, state on the RSVP card that it will be an 'adult reception'. Another way of saying this is to write the following on the RSVP card: "We have reserved_ seats in your honor" and just include the number of adults.
• Be firm. If you cave at your sister's request to bring her toddlers, and your friend's preschoolers were forced to stay with babysitters, this could be a recipe for disaster. Ultimately, someone will view this as unfair and will consequently feel hurt!
One way to please your guests with children is to hire babysitter or two at the wedding venue. Have the children in a separate area, where they can do fun activities such as crafts and games. One word of caution: some kids get severe separation anxiety and will not take to this idea very well. Keep this in mind when you are pursuing this option.