Surrounded by the breathtaking views of the Big Sur Coast and beauty of its redwood forest, Kaitlyn and Matt chose Limekiln State Park in California to begin the next chapter of their lives together.
Eschewing a more elaborate affair, they focused on weaving their distinctly romantic design aesthetic into the fabric of the sweeping rugged landscapes, creating an enchanting setting for their closest family and friends.
Kaitlyn's sister Paige, owner of Paige Nelson Photography, captured Kaitlyn and Matt's most intimate moments and Big Sur's magnificent landscape.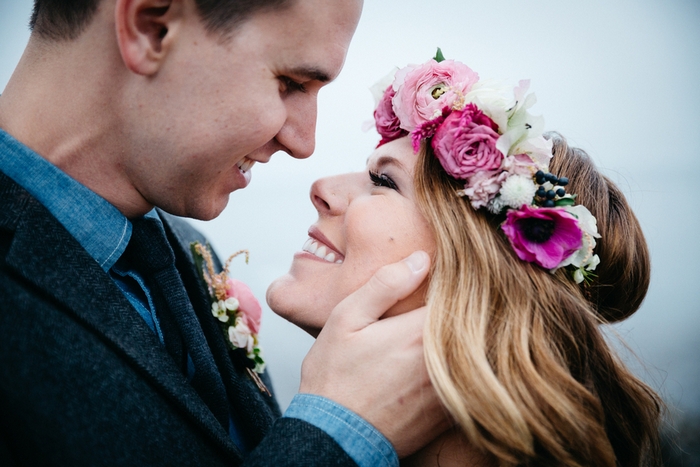 Kaitlyn & Matt
Location:  Big Sur, California
Wedding Date:  Sept. 13, 2015
Number of Guests:  10 including Kaitlyn's best friend who served as officiant, and her photographer sister
Wedding Cost: $10,000, which included a four-night stay at the Treebones Resort 
Wedding Ceremony Location:  Limekiln State Park
Wedding Reception Location:  Nepenth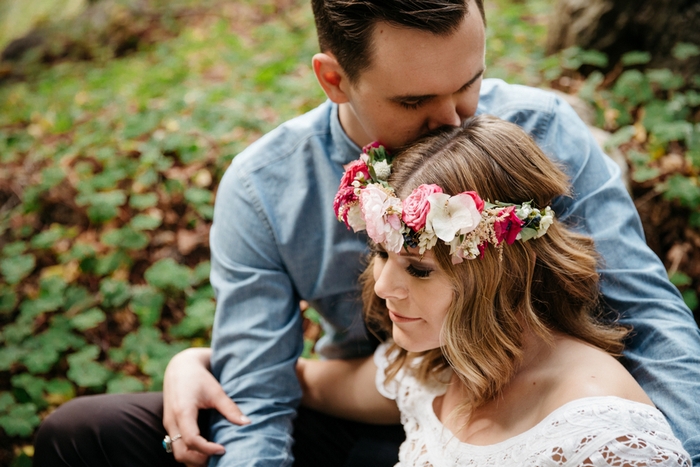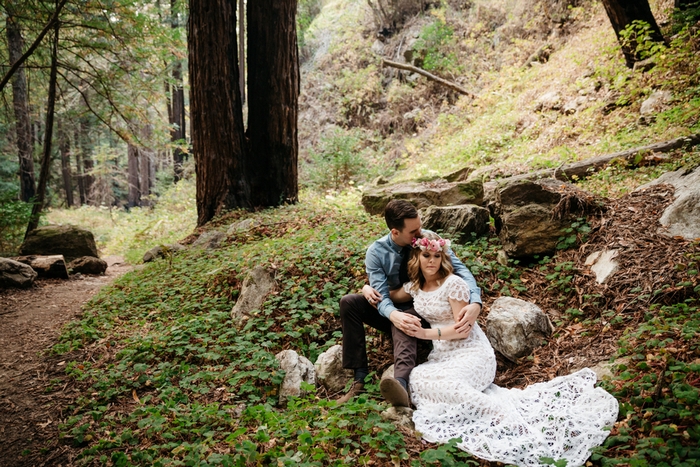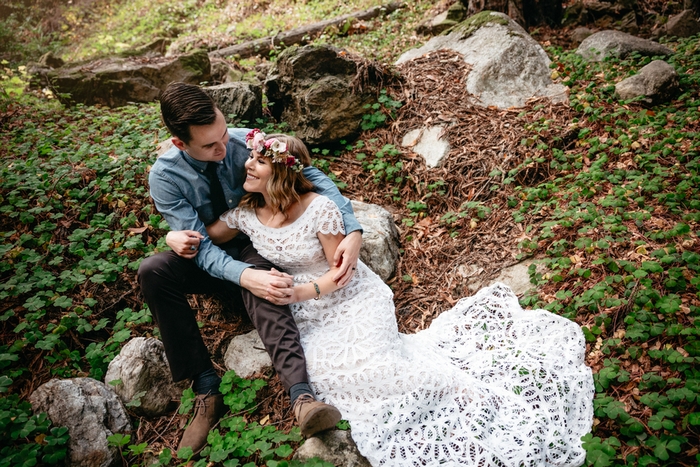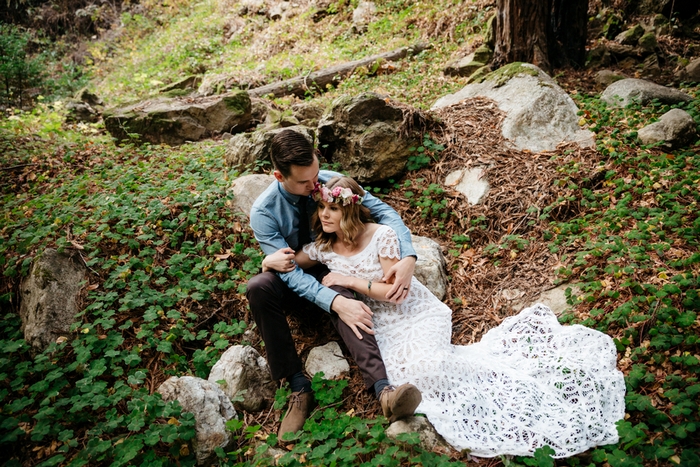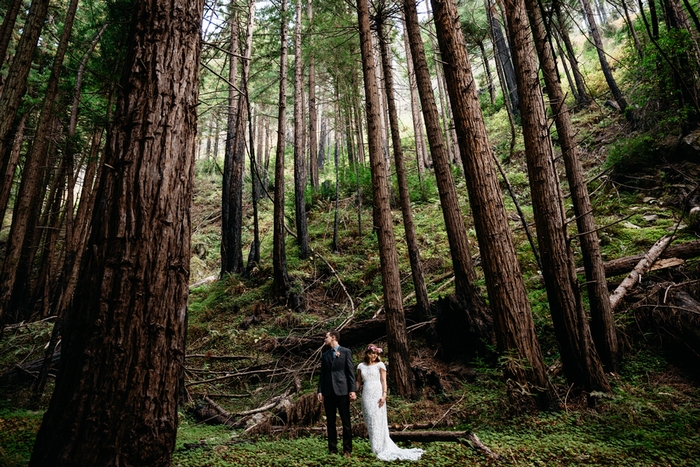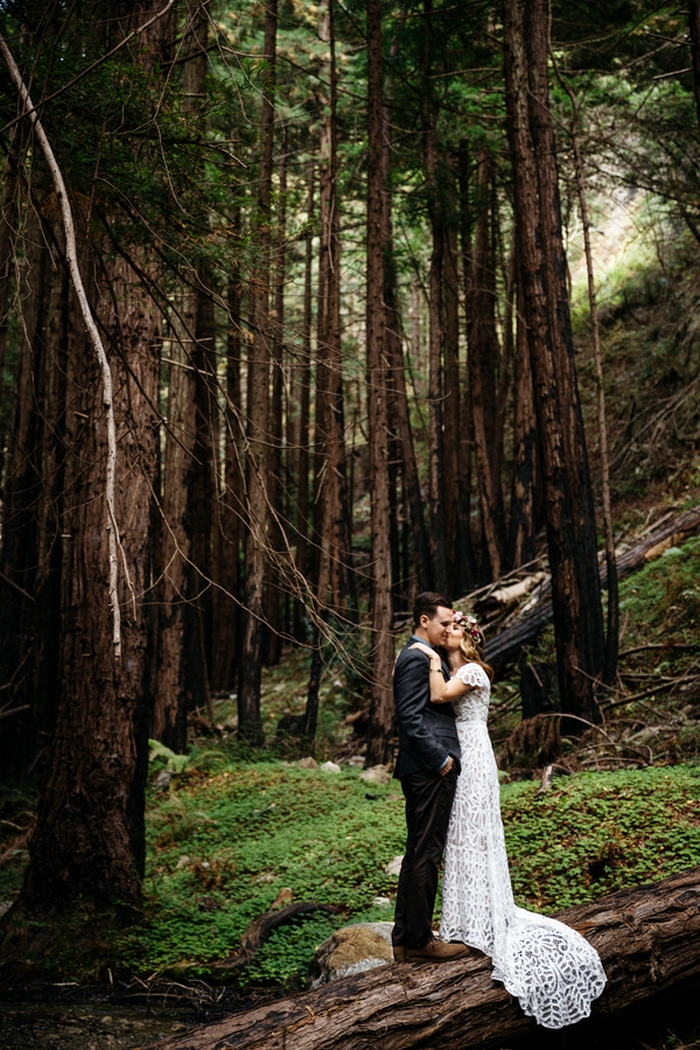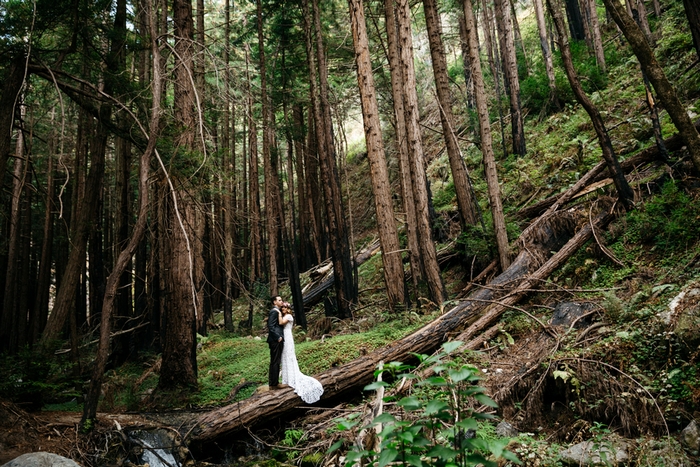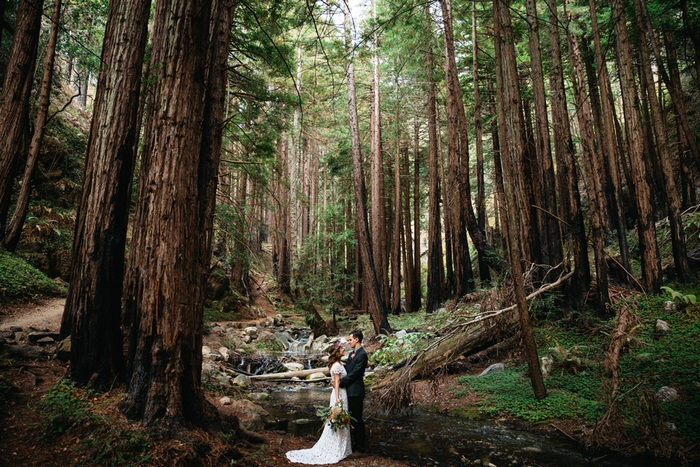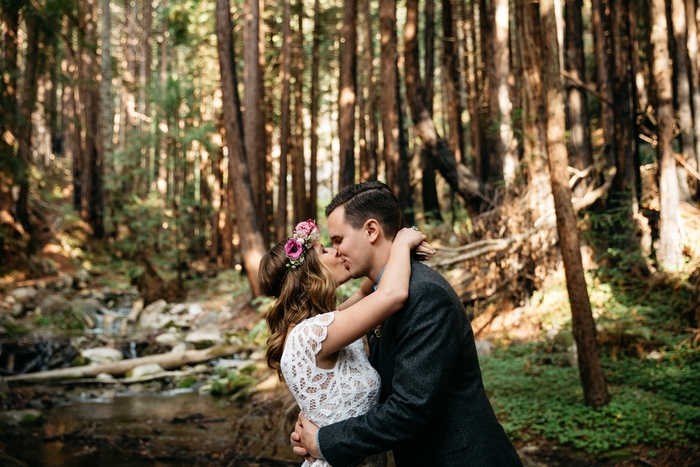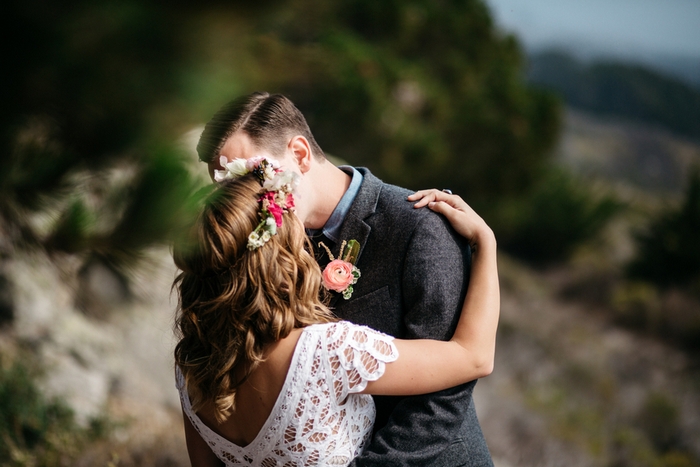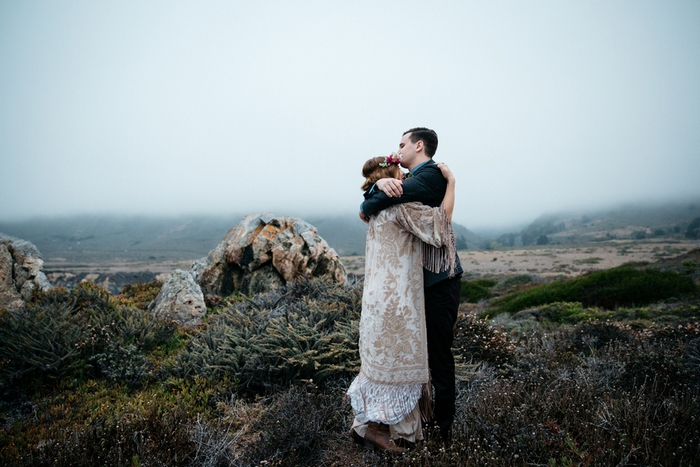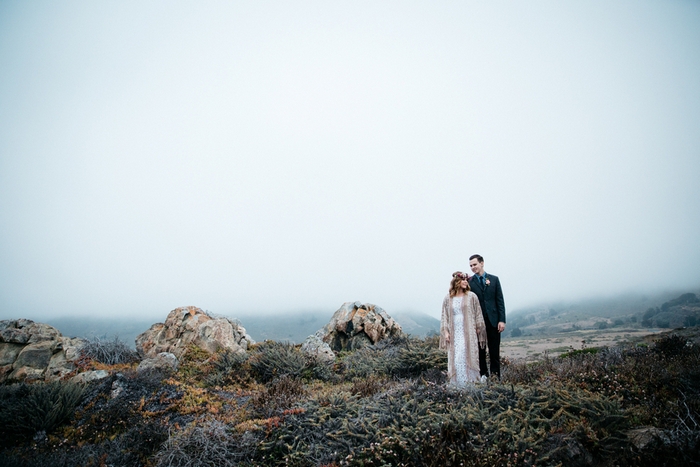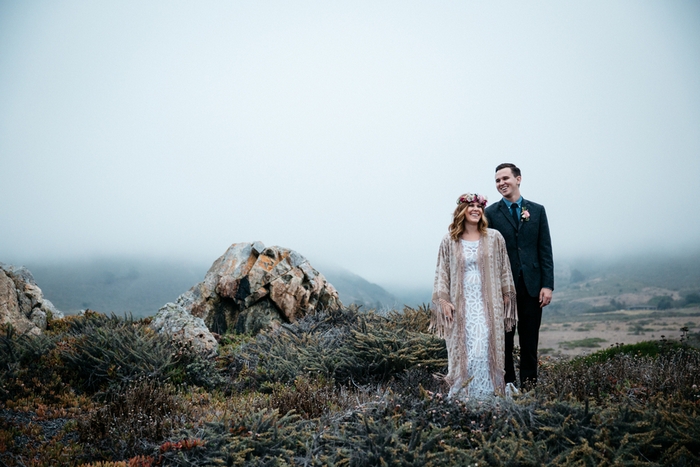 Why did you have an intimate wedding?
Matt and I decided to have an intimate wedding the moment we got engaged. After attending several of our friends large weddings, we decided that just wasn't for us. We wanted our ceremony to focus on getting married, rather than all the commotion that can come with having a big wedding. We debated back and forth between eloping and having just our immediate families there and the more we debated, we liked the idea of being able to celebrate at dinner with our closest relatives after our ceremony. Our engagement was non-traditional from the beginning (mutually deciding to get married with no big proposal and deciding for both of us to wear engagement rings), so it was no surprise to our families that our wedding would be of this sort. Having an intimate wedding is like nothing else – our family members were feeling everything that we felt and they helped create a safe space for us to be us. It also meant a lot less stress and more time together- just the two of us.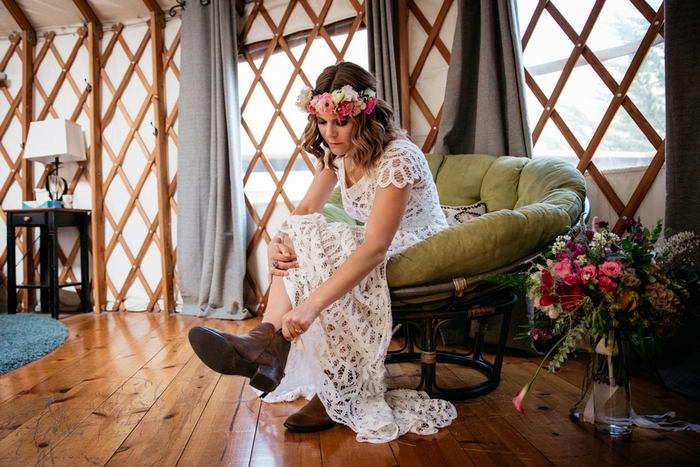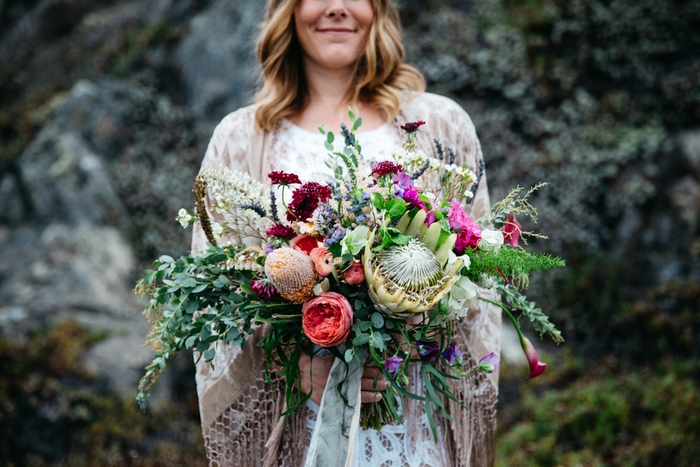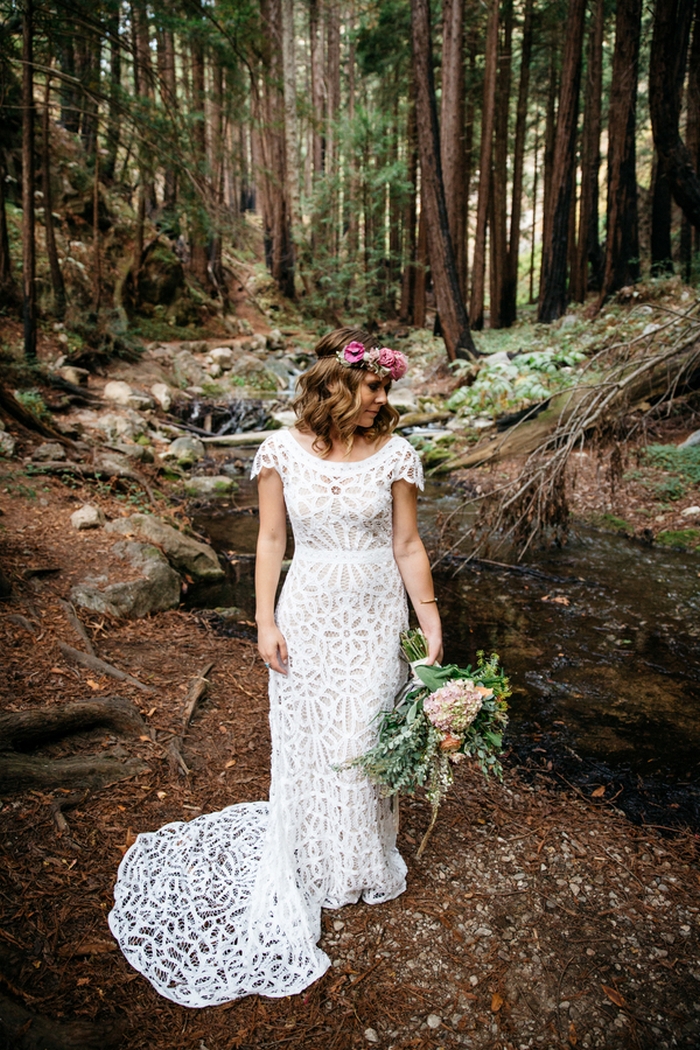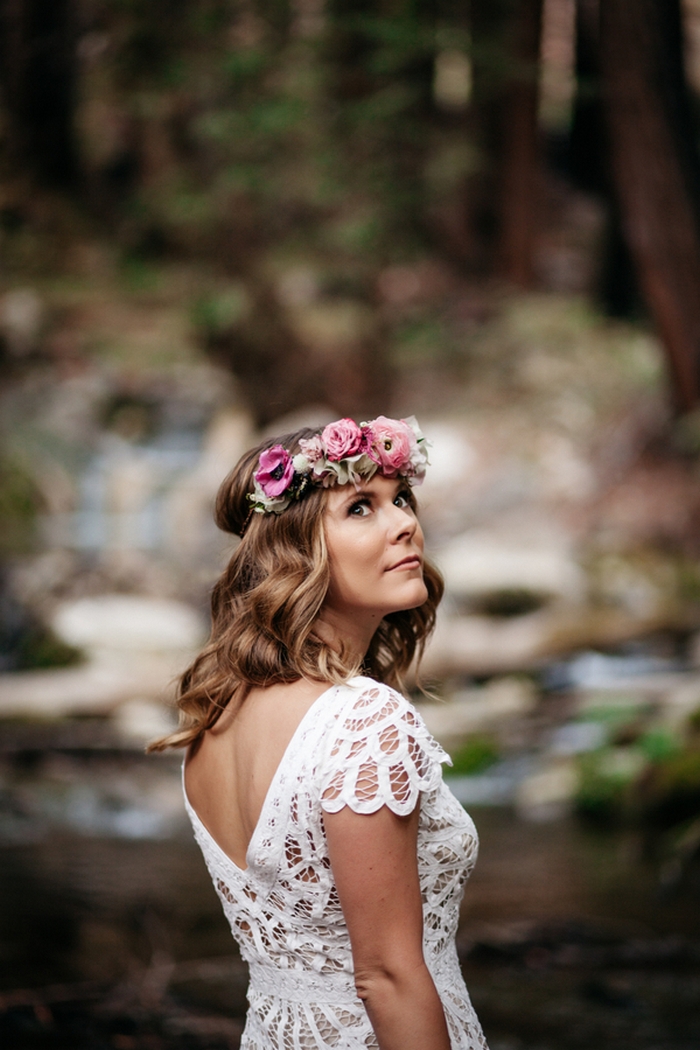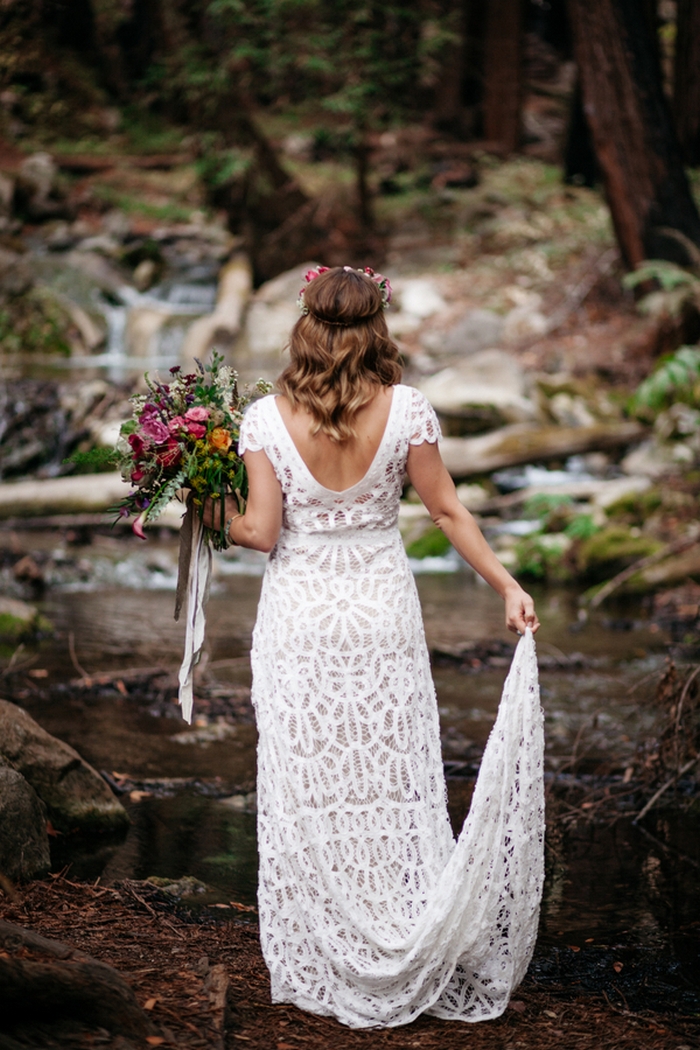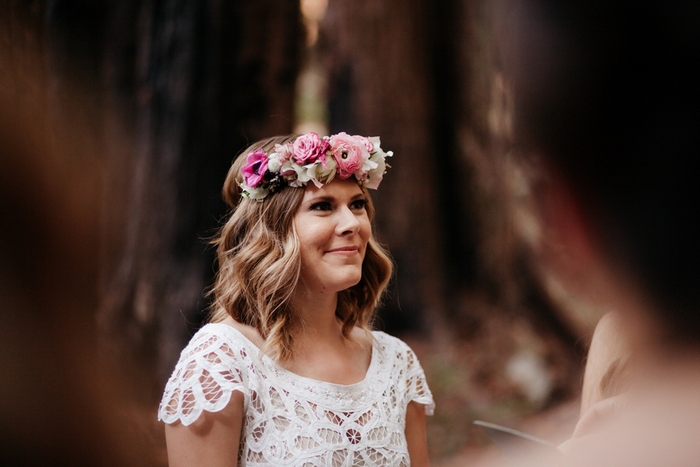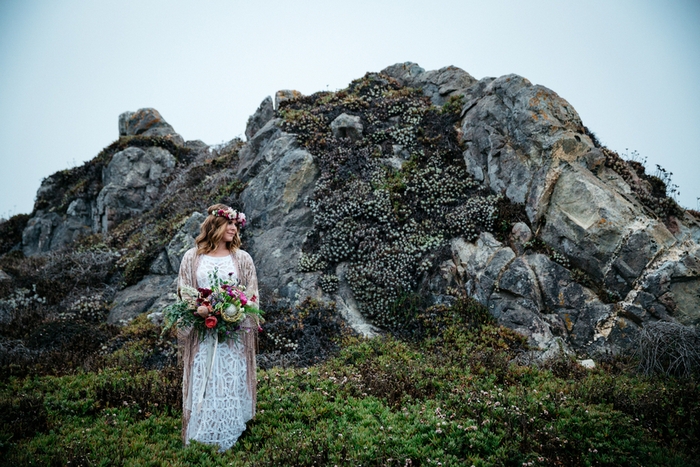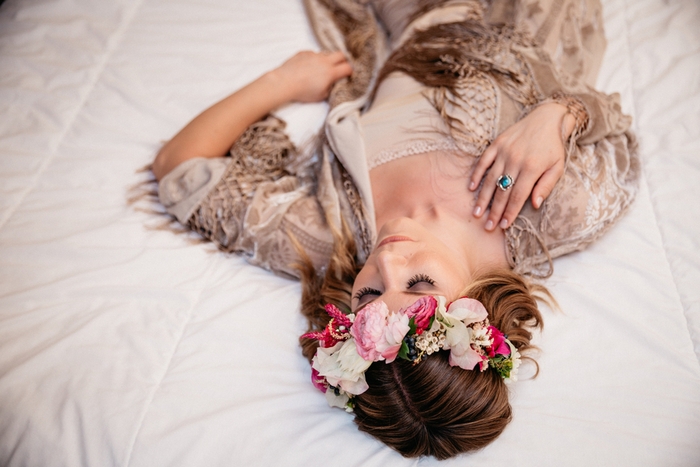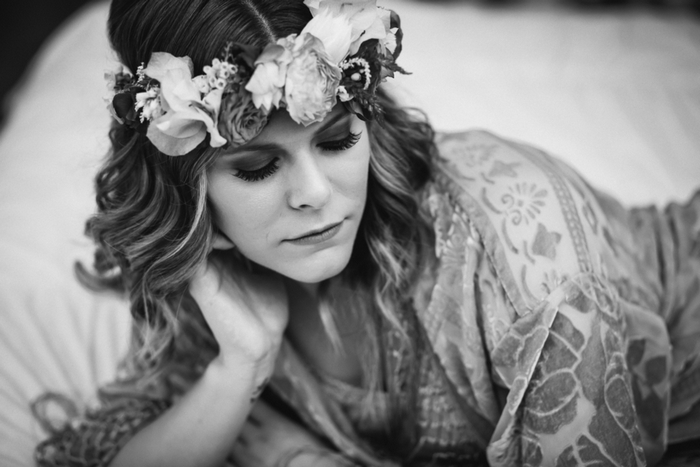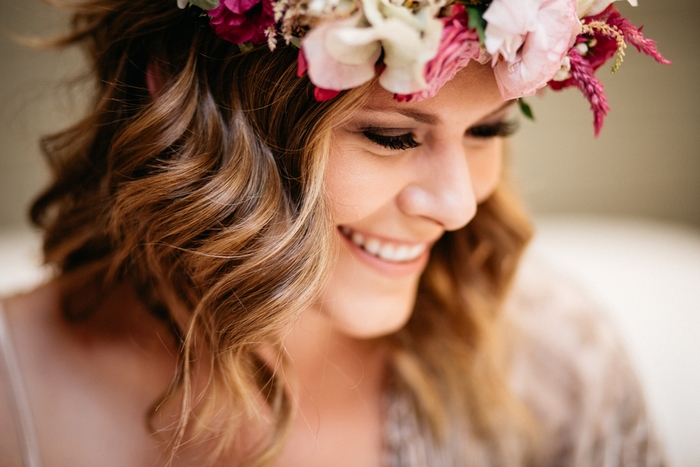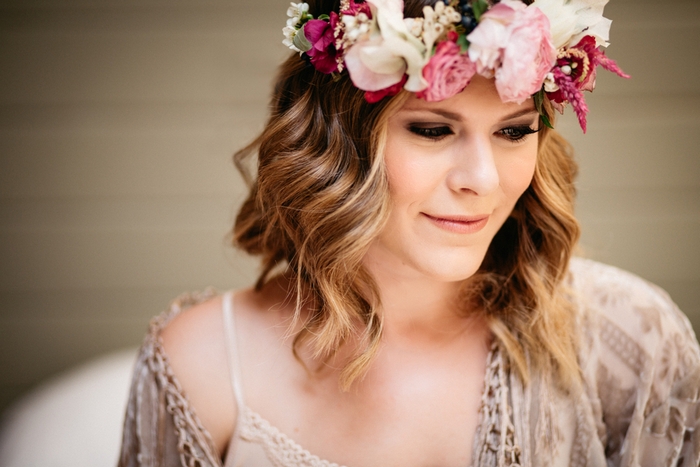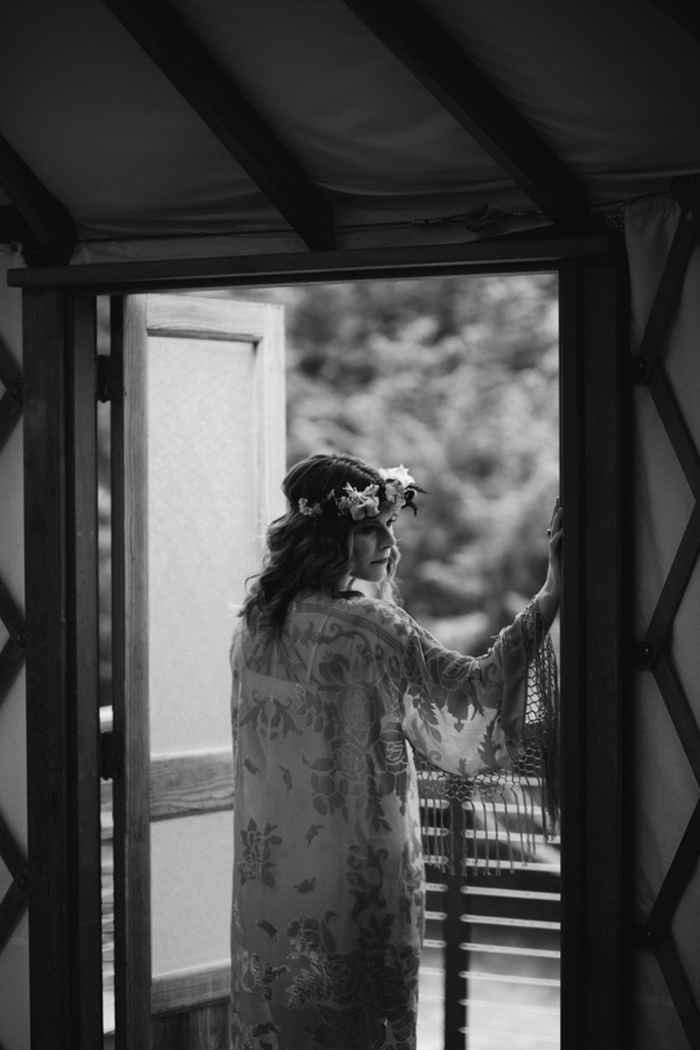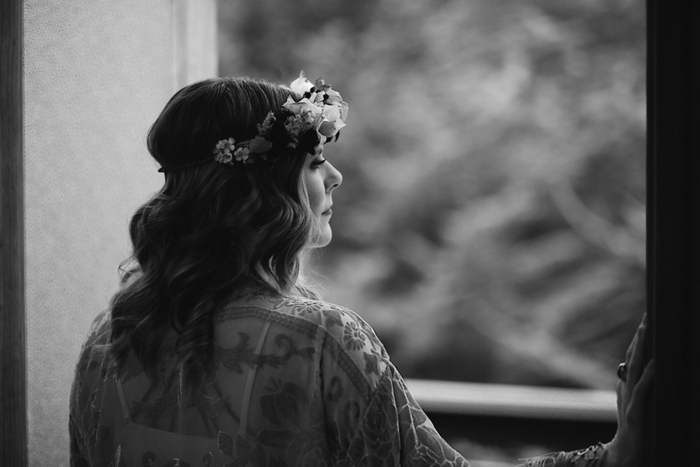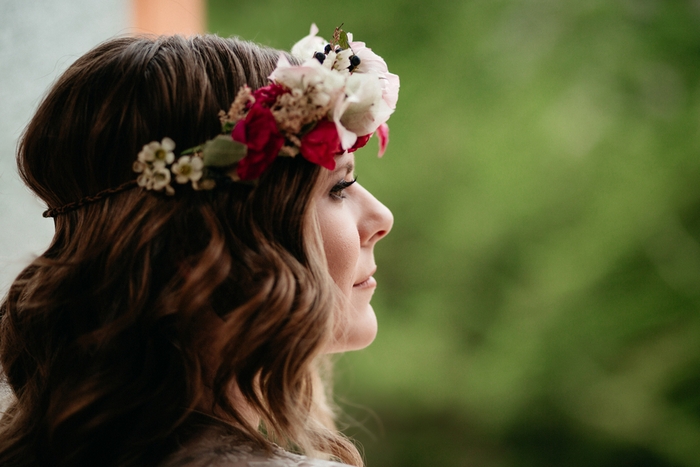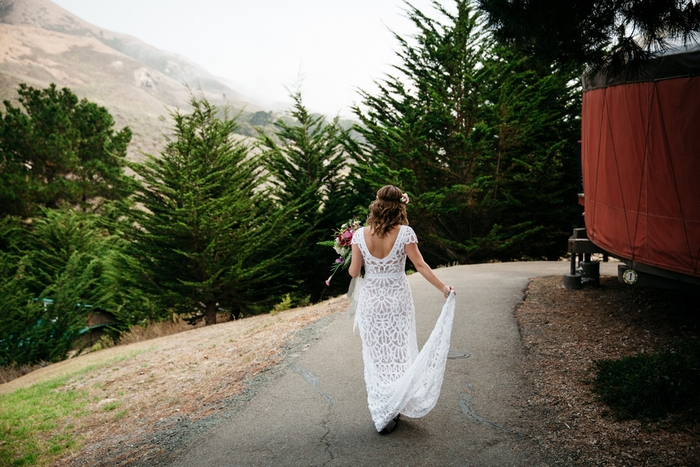 What are some challenges you faced planning an intimate wedding?
We were very fortunate that our family members were supportive of having an intimate wedding and even more fortunate that Matt's father threw us an after party so that our family and friends could still feel included in our celebration. Don't get me wrong, there is still a significant amount of planning to be done for an intimate wedding, especially a destination wedding. My sister and I were worried that she wouldn't have time to be present with us since she was our photographer, but it meant a lot to her that she was there to capture everything and I wouldn't have wanted it any other way.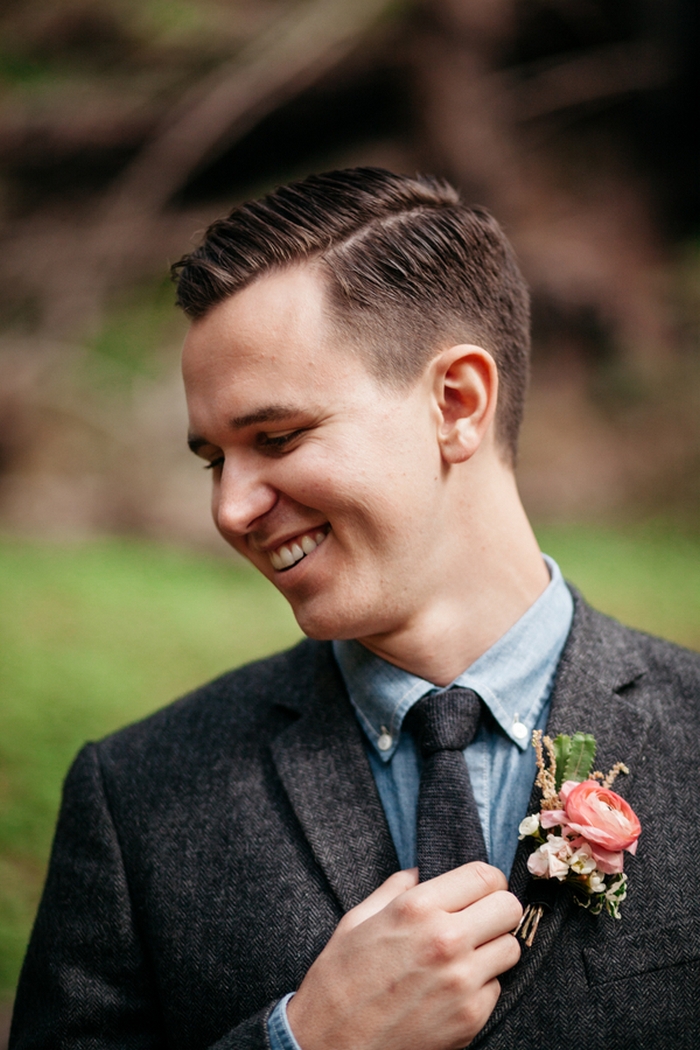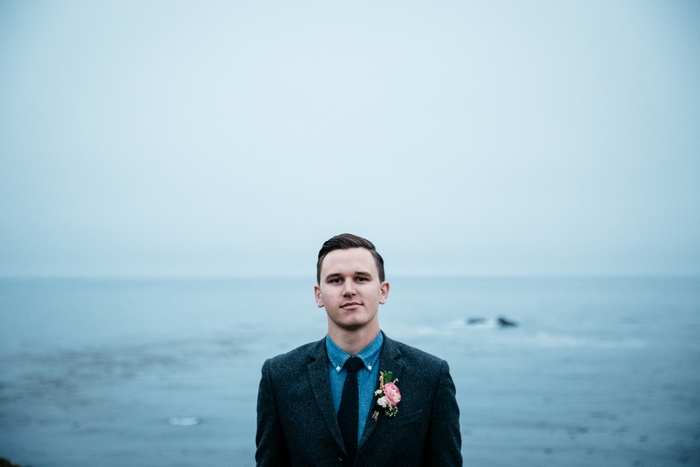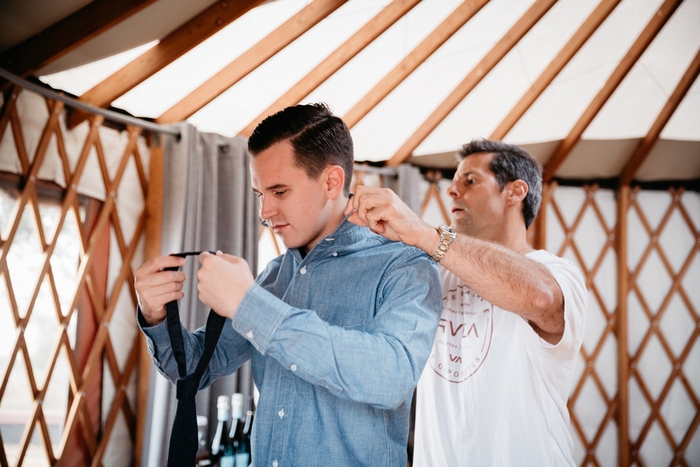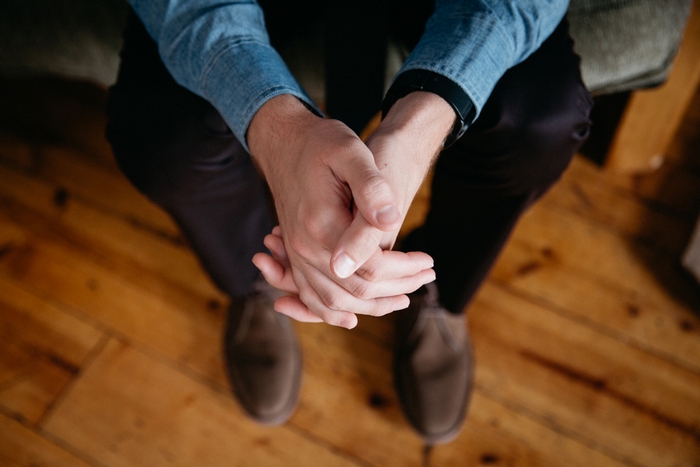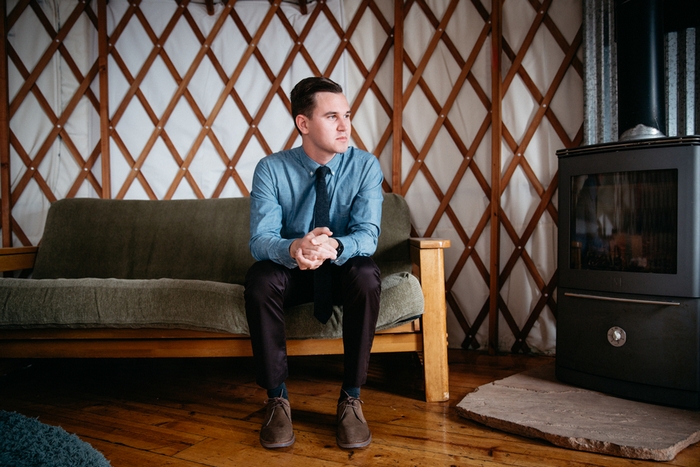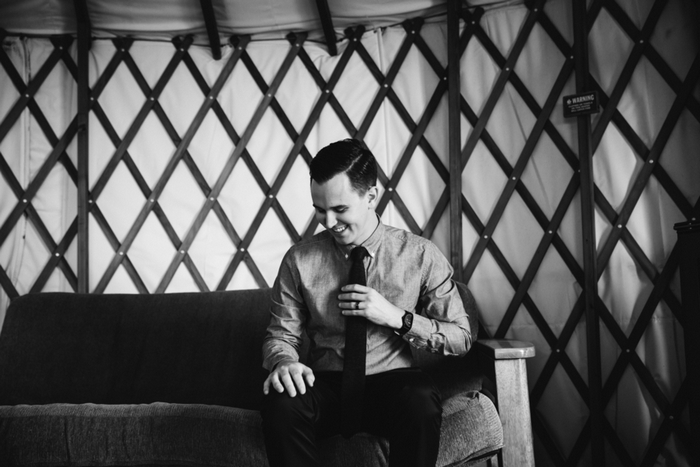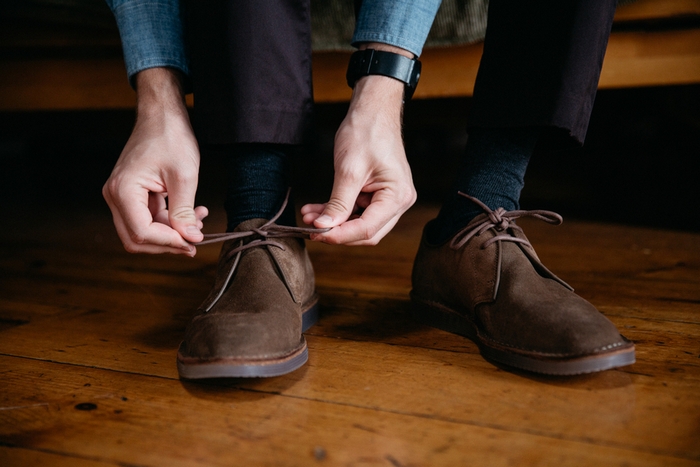 Was it difficult to pare down the guest list?
Matt and I decided to have our guest list be strictly immediate family. We became pretty anxious letting our family members know that their significant others would not be able to join us, but it ended up working out. Our family members were very understanding and sympathetic to what we envisioned for ourselves, so it ended up being a lot more anxiety provoking in our heads than it actually was.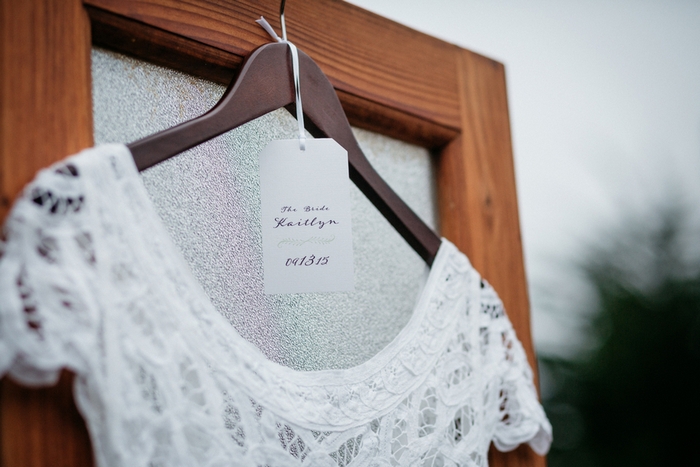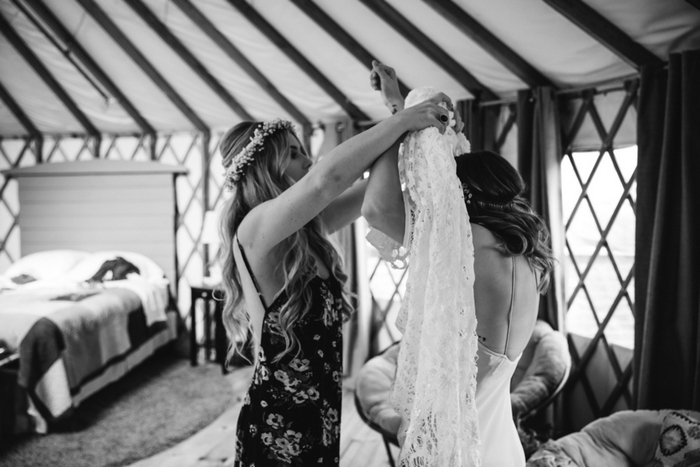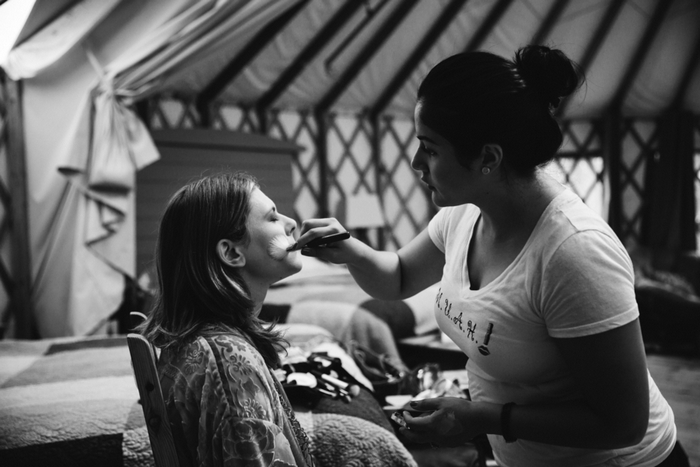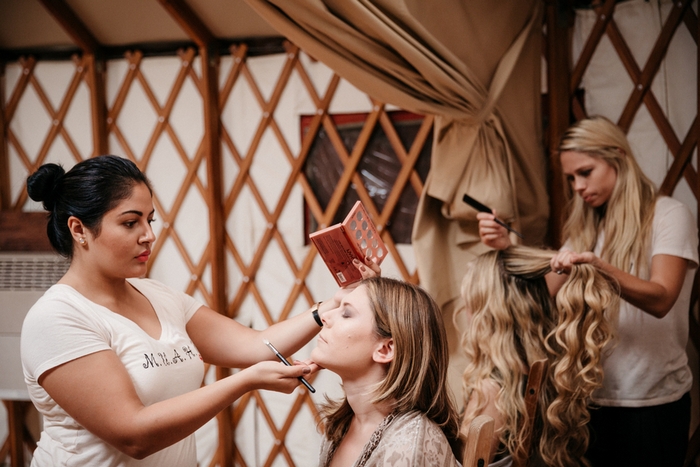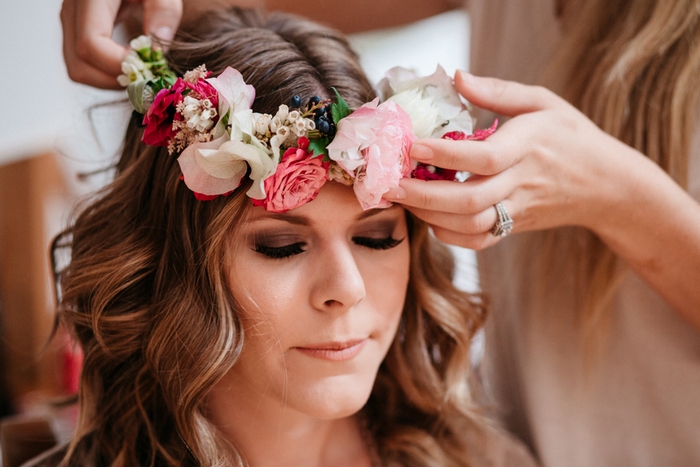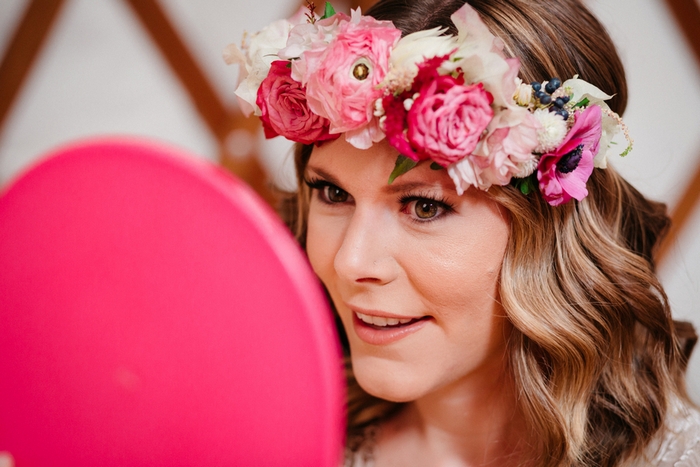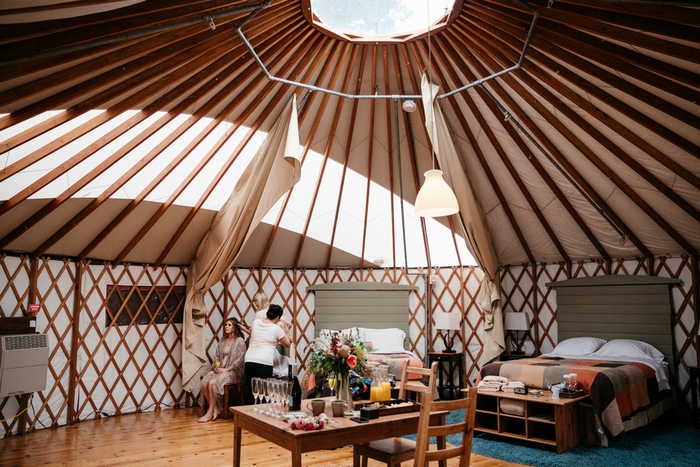 Did you have any "issues" with the small guest list from friends and family? If so, how did you address them?
We anticipated that more of our friends and family would be disappointed that they were not able to attend our ceremony which is why Matt's dad offered to throw us an "after party" at his house. We showed pictures and emailed everyone our wedding video so that they could feel apart of it in a small way. We feel this really helped to ease the blow that they weren't there.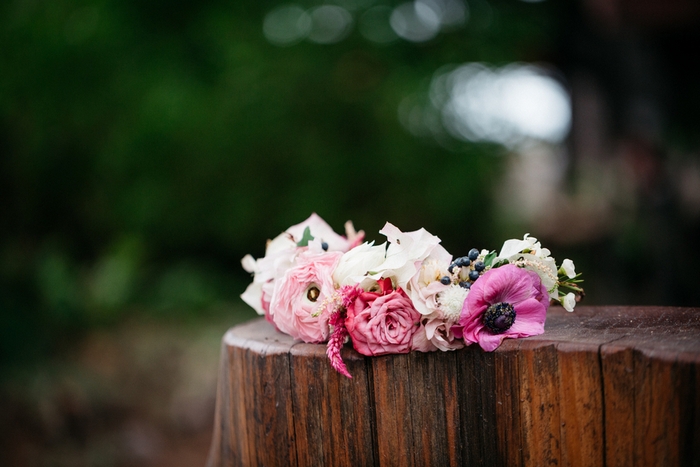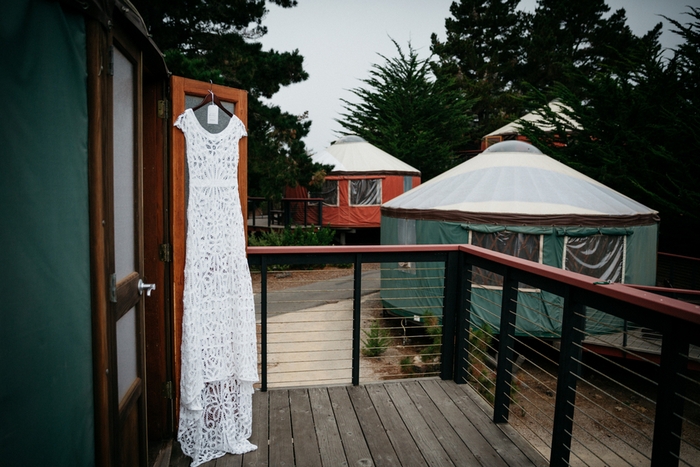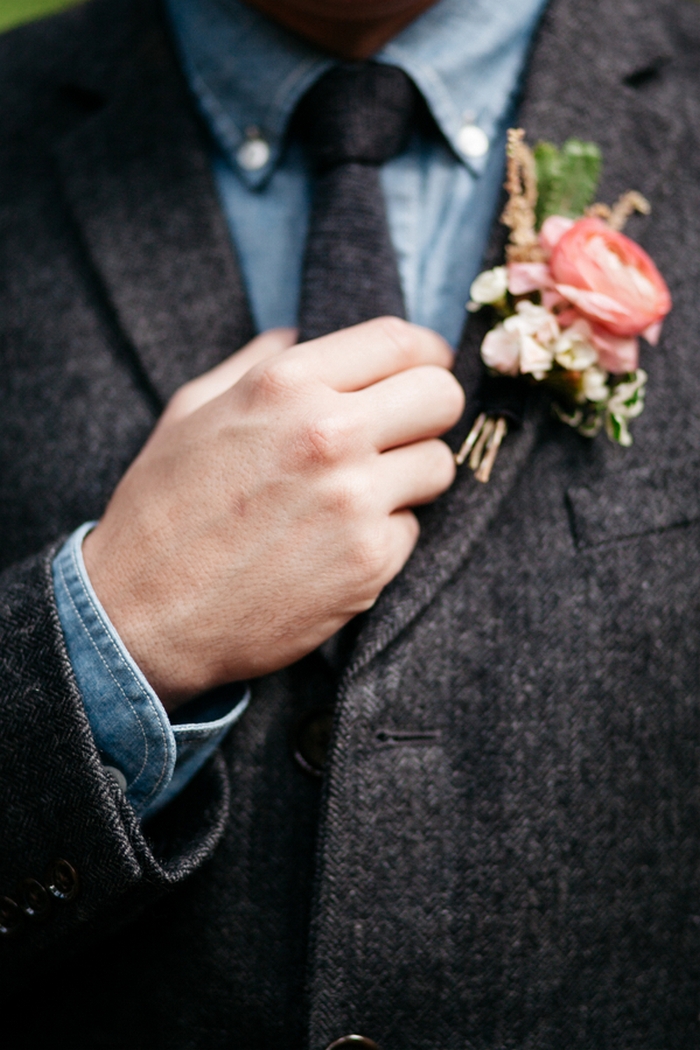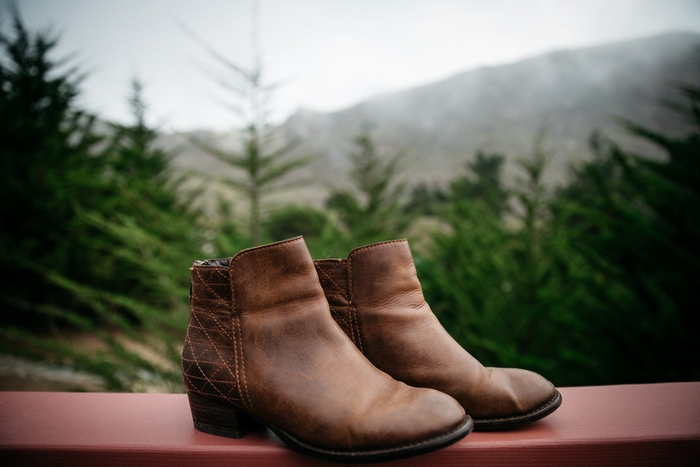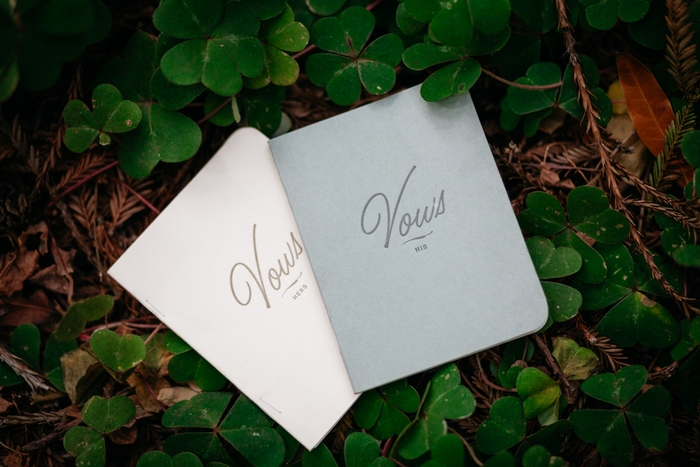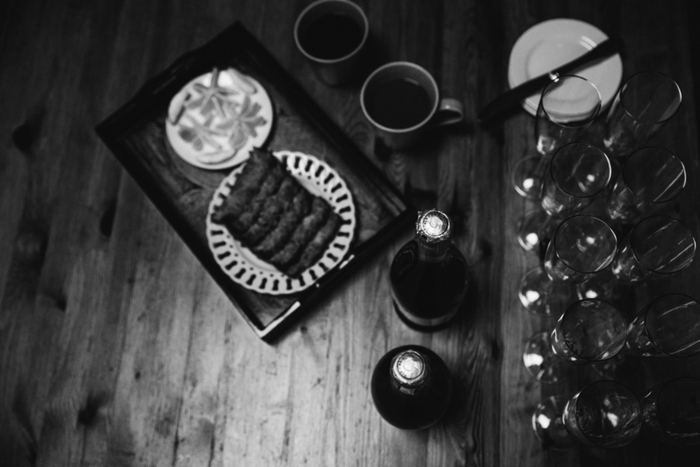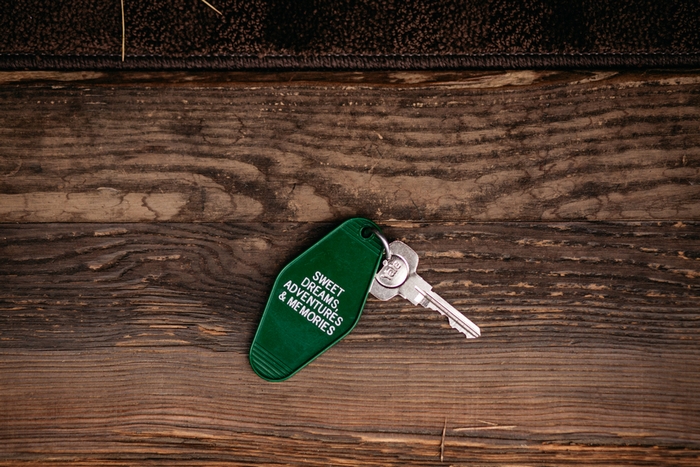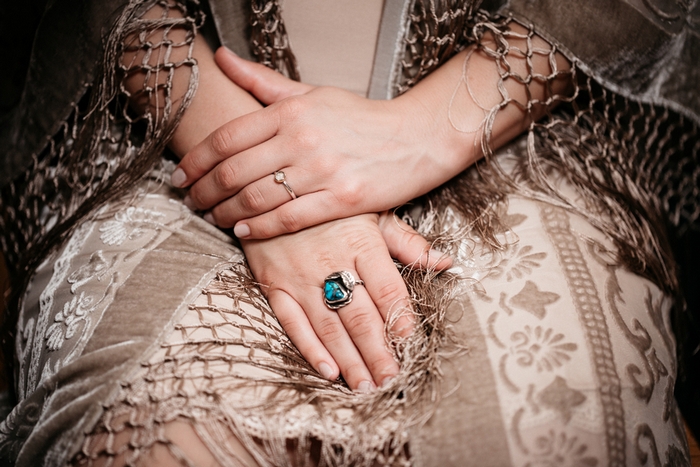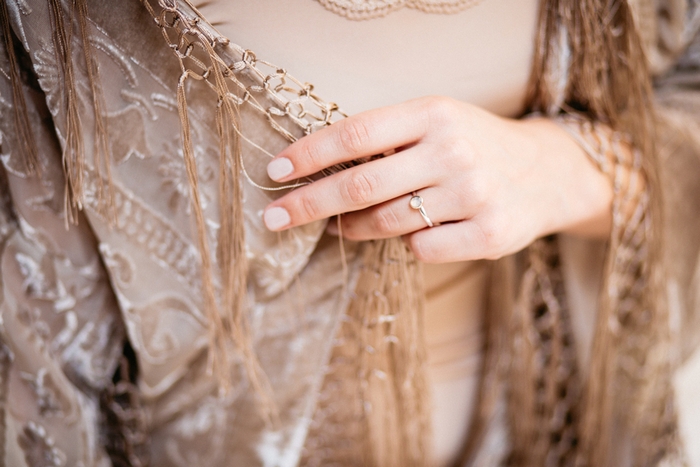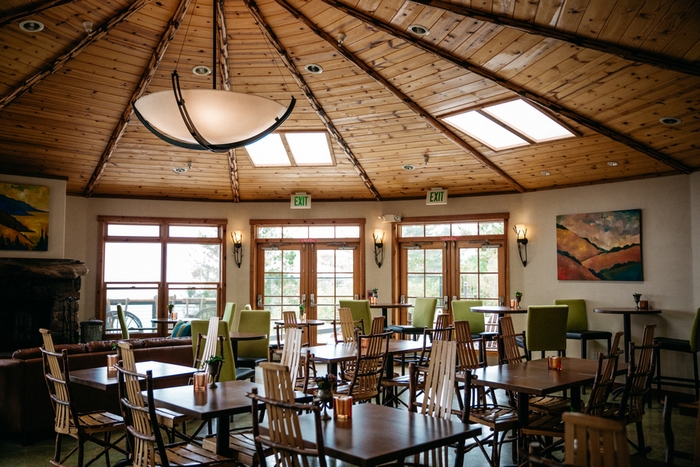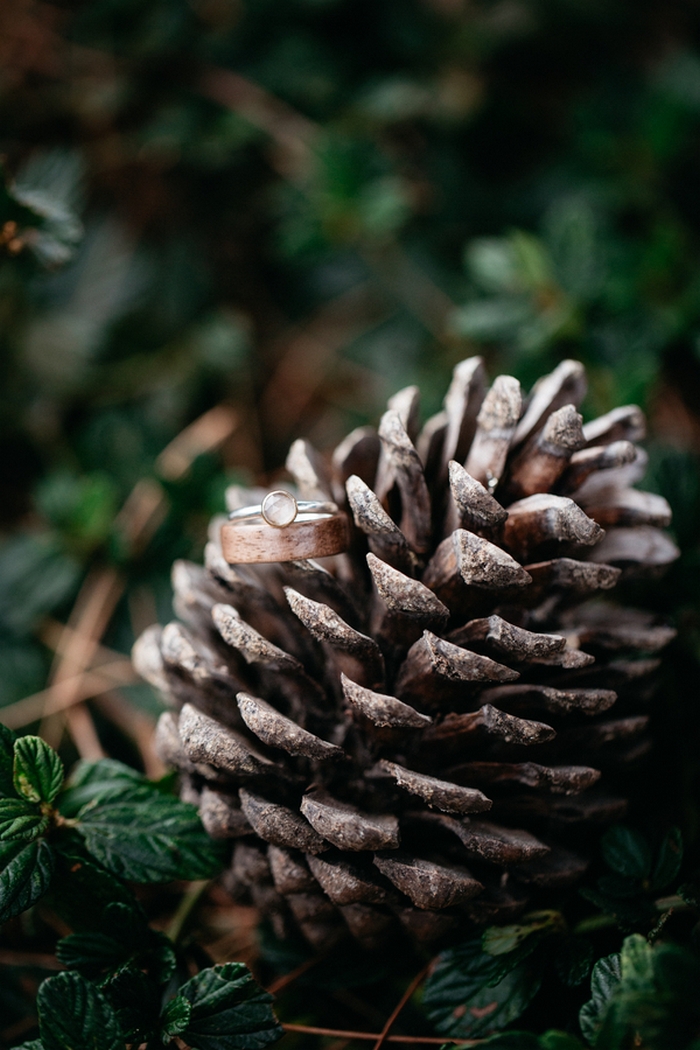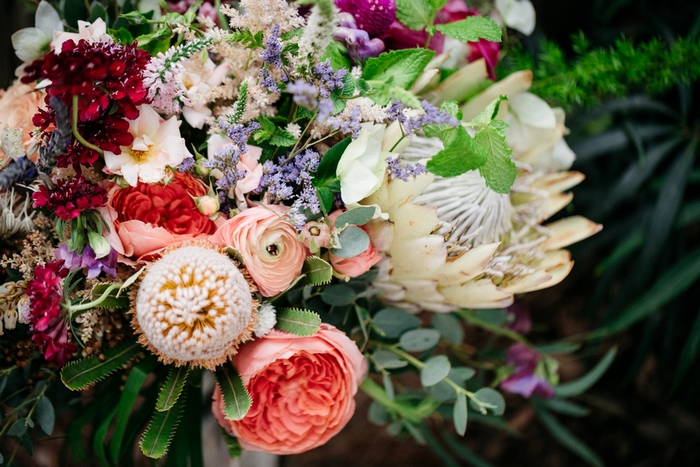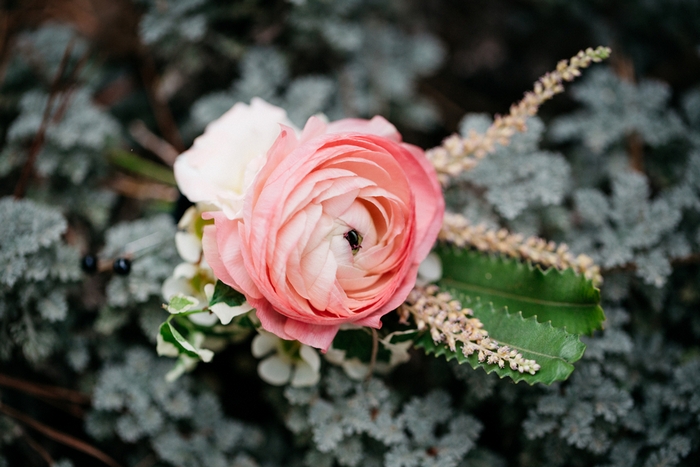 What were the highlights of the ceremony?
Where to start? Matt and I hiked around a couple days before the ceremony date to scout out possible locations. I think doing this made our ceremony that much more special because hiking around is a memory I will cherish forever. We were in a fairy tale forest, by a stream, literally circled by our closest loved ones. It was such a magical ceremony that included my best friend officiating for us, a reading from Matt's mom, ring warming, and many group hugs. Matt and I felt so close and so connected to each other. It was perfect (to put it into one word).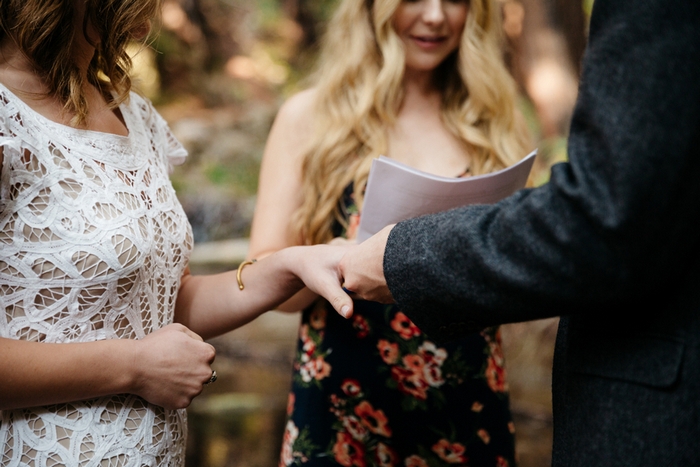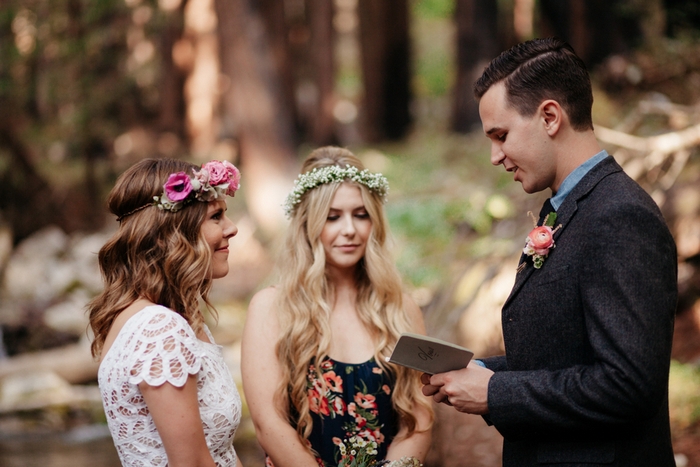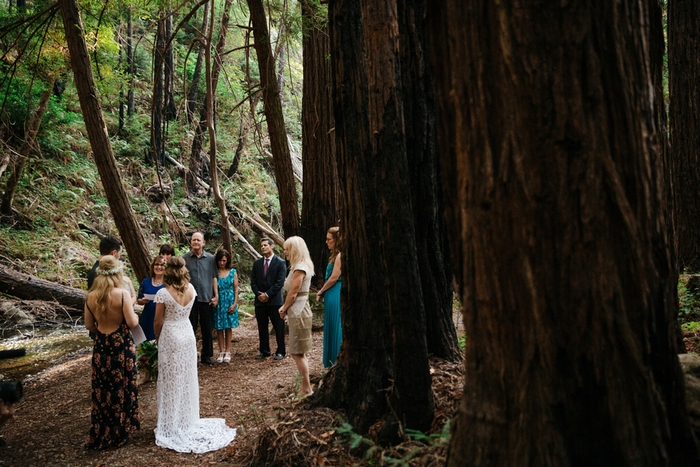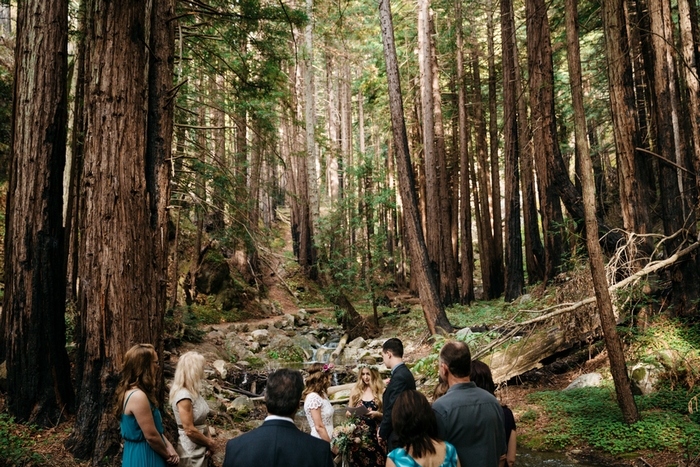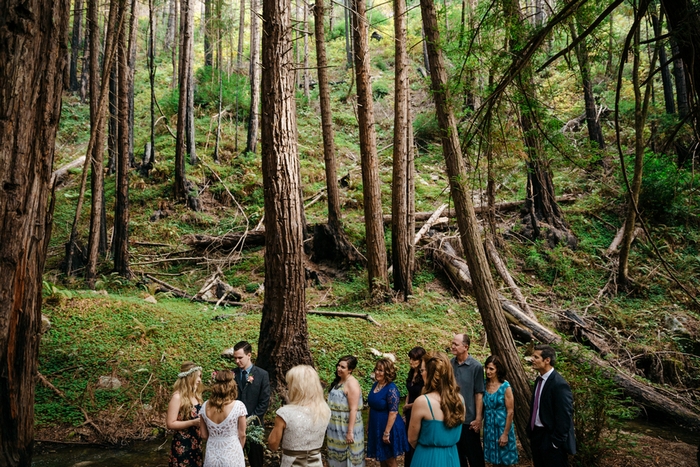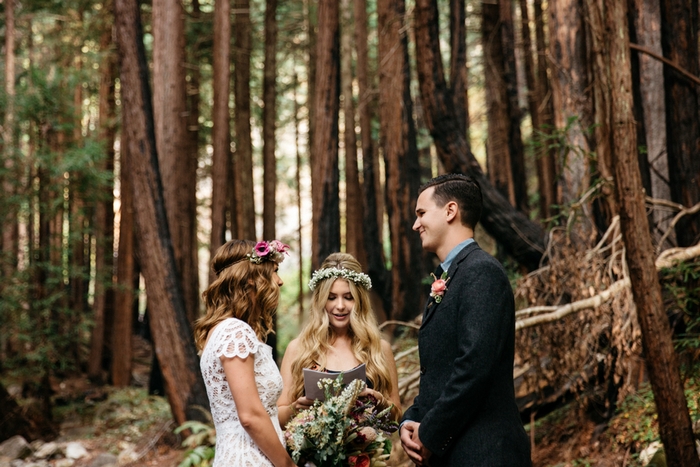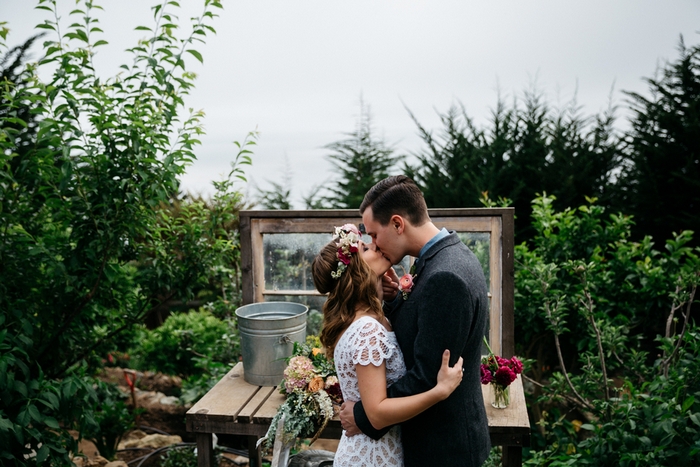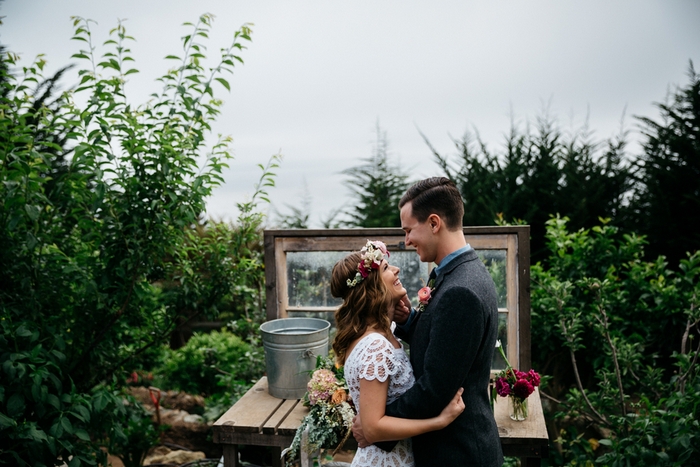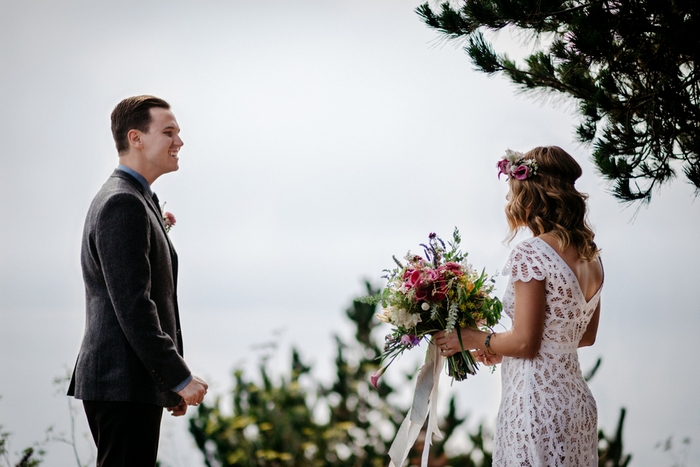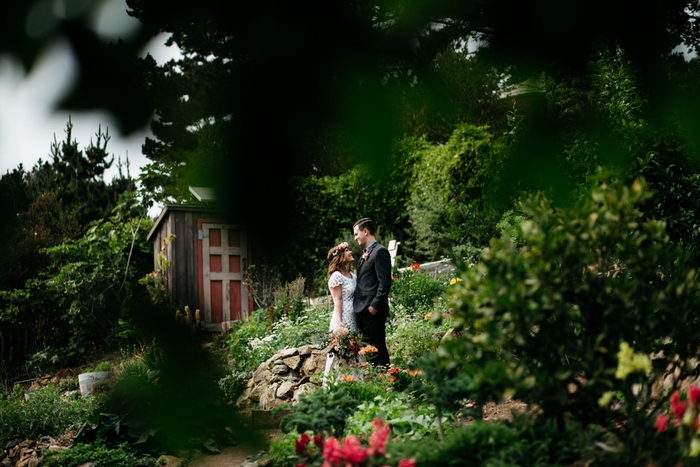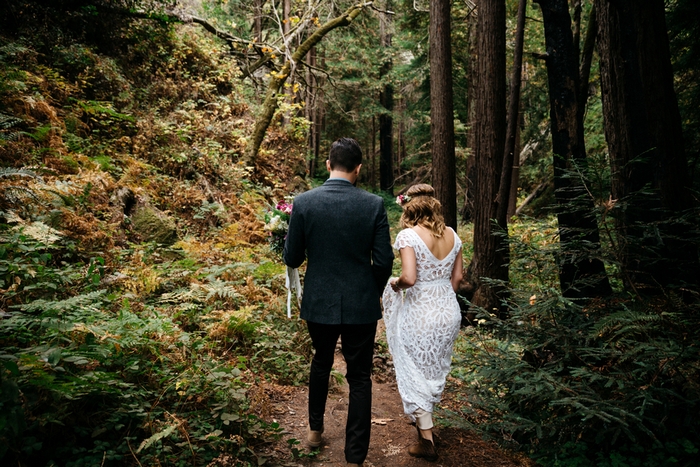 What were the highlights of the reception? 
My sister-in-law surprised us with a table full of beautiful purple flowers and we enjoyed dinner and wine by candlelight. It was truly what we imagined for ourselves and fit "us." We are not necessarily into dancing and the traditional wedding activities, so we splurged on a wonderful dinner, with an incredible view, and great conversations.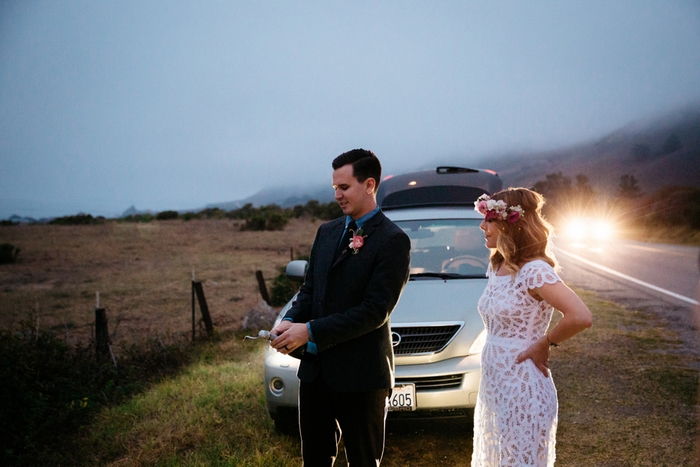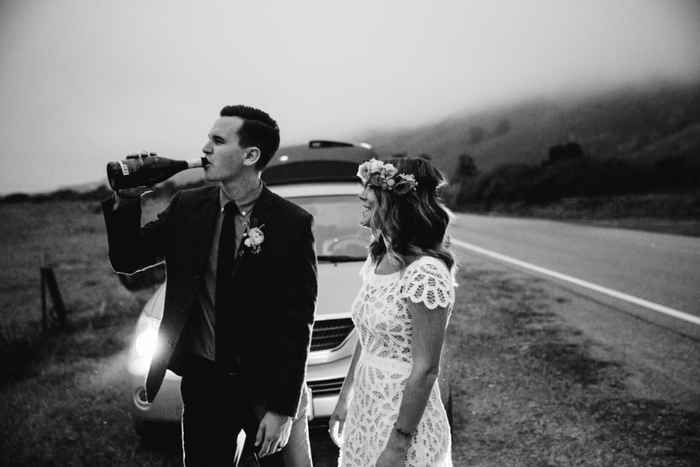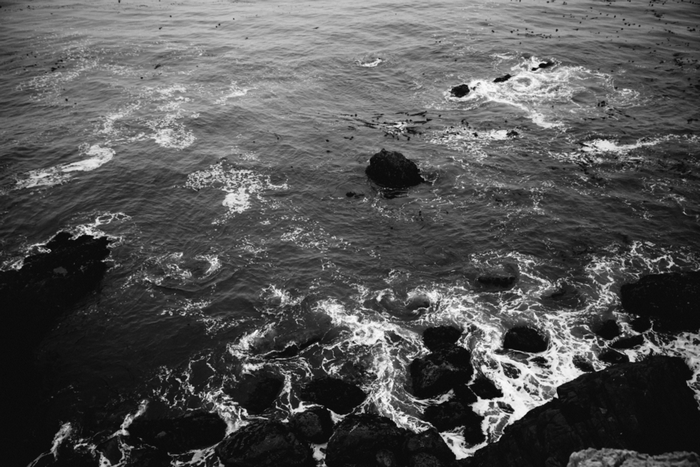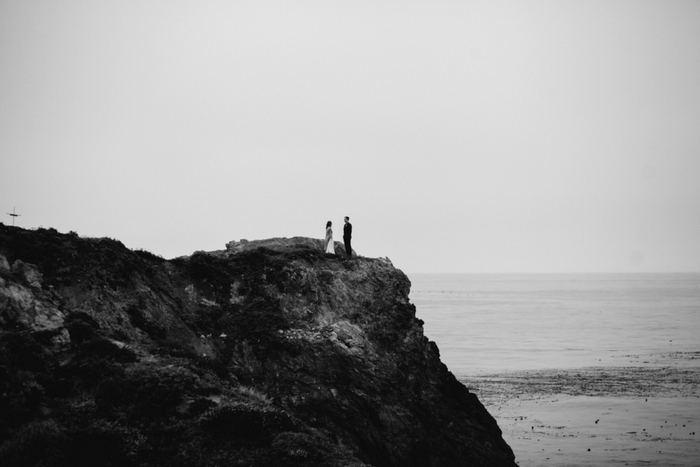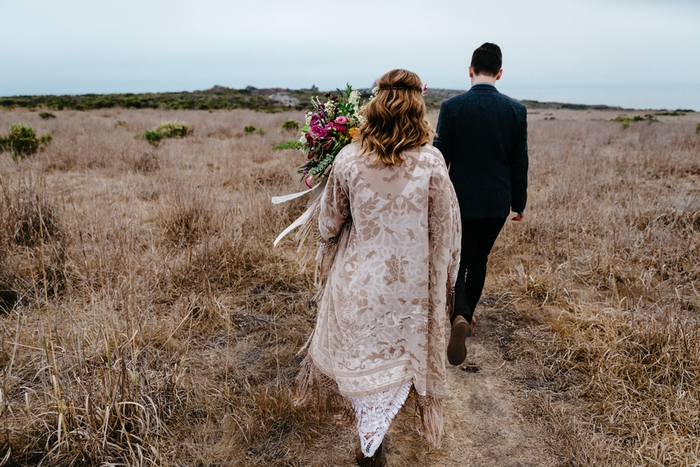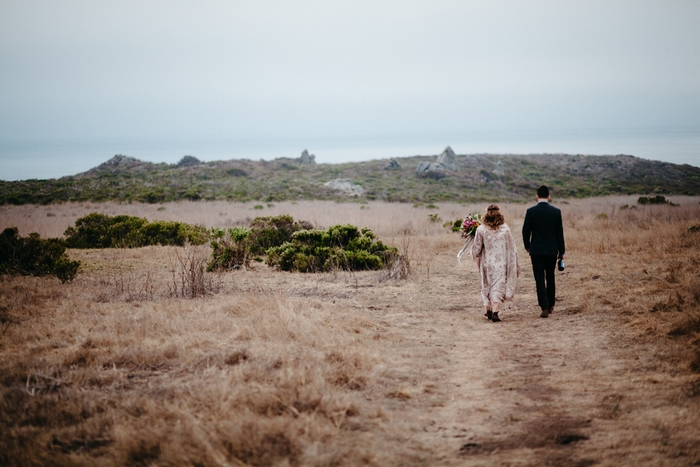 What was the best thing about having an intimate wedding? 
Matt and I have been together for nine years and our goal for our wedding was to remind ourselves why we were doing all of this: to celebrate our love and commitment. This was absolutely accomplished and I'm not sure that it would have stayed the focus if we had a big wedding. The best thing about an intimate wedding is that there is no precedent for how things "should be." Although there will always be nerves and stress leading to any type of wedding, on the day of we did not have to think about the details and had time to just relax and be present together.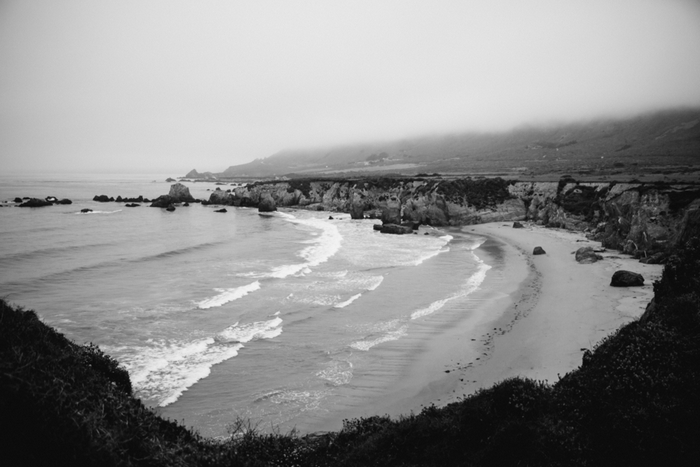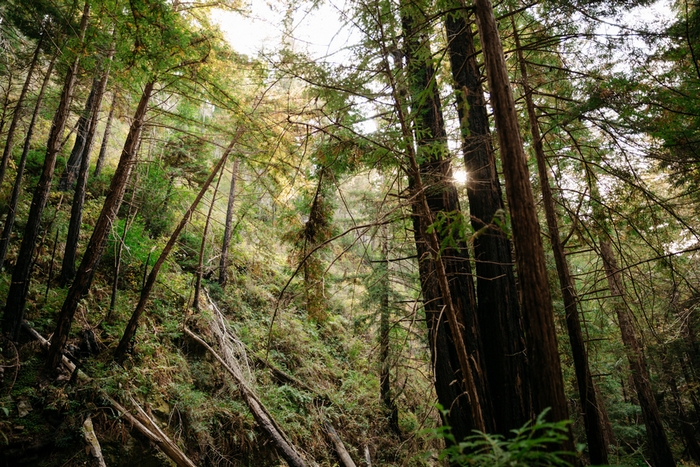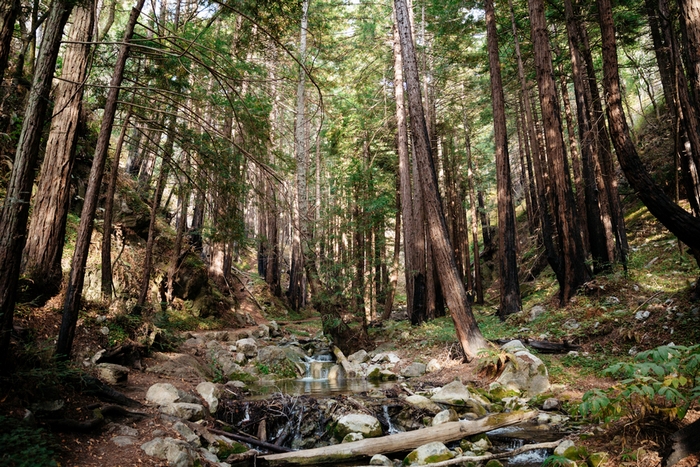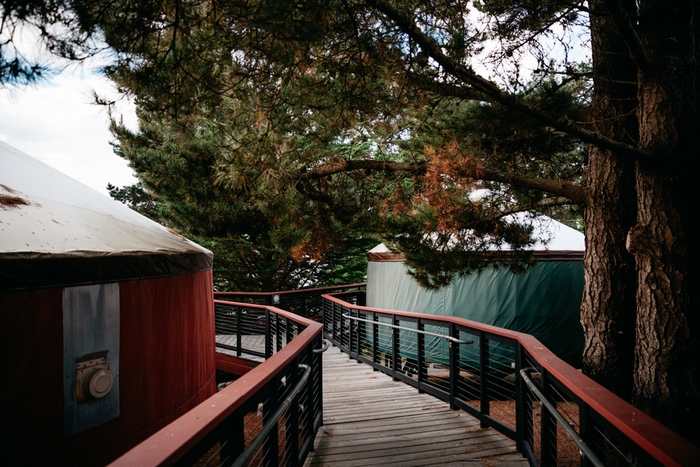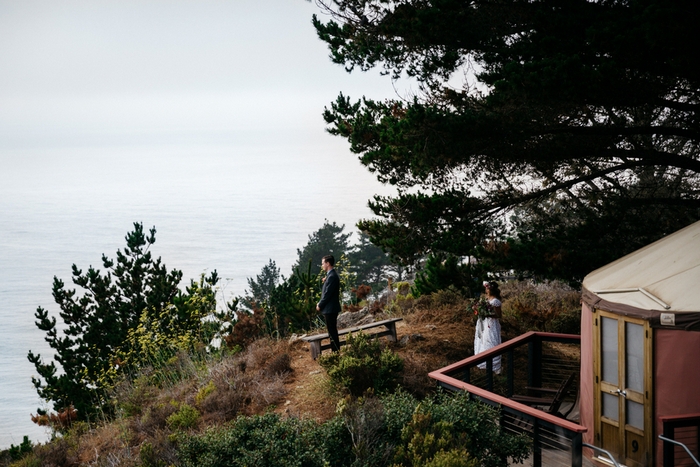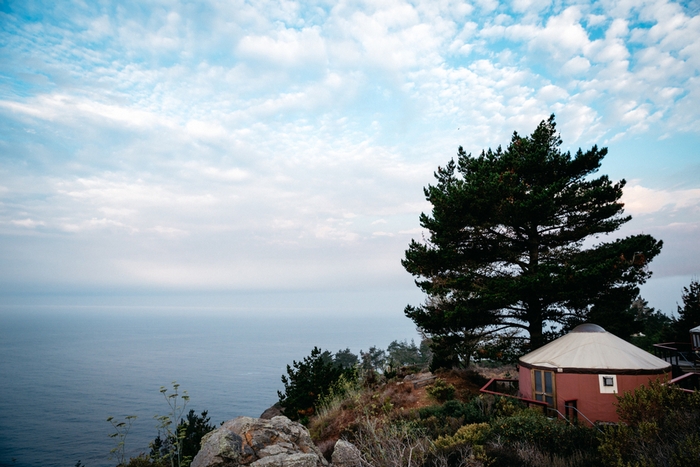 What advice do you have for couples who are considering an intimate wedding?
DO IT! Be yourselves, do what you want, and don't worry so much about what other people want for you. In the end, all that matters is who you are marrying.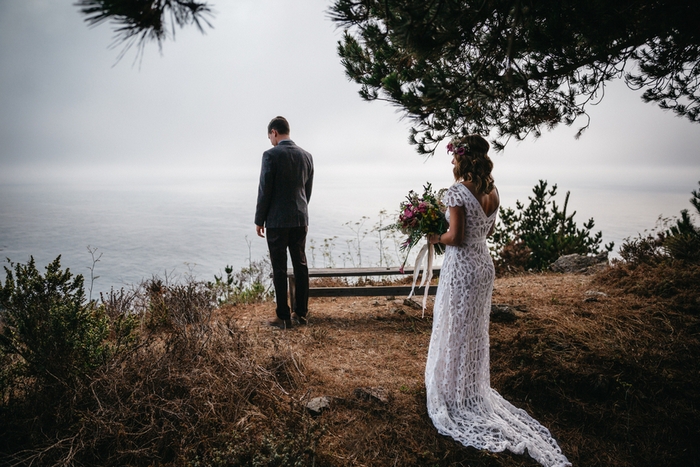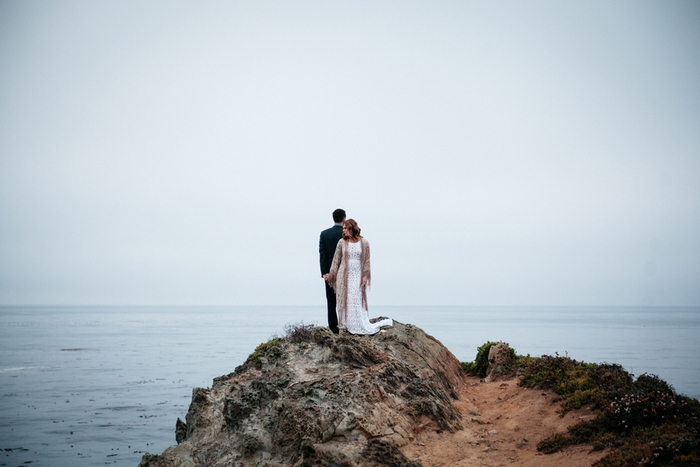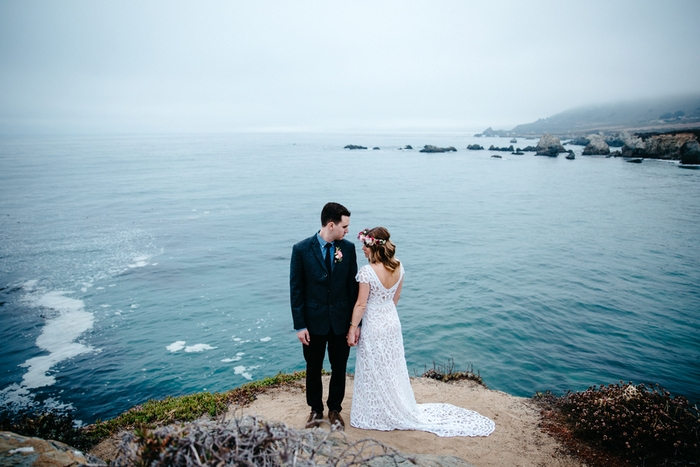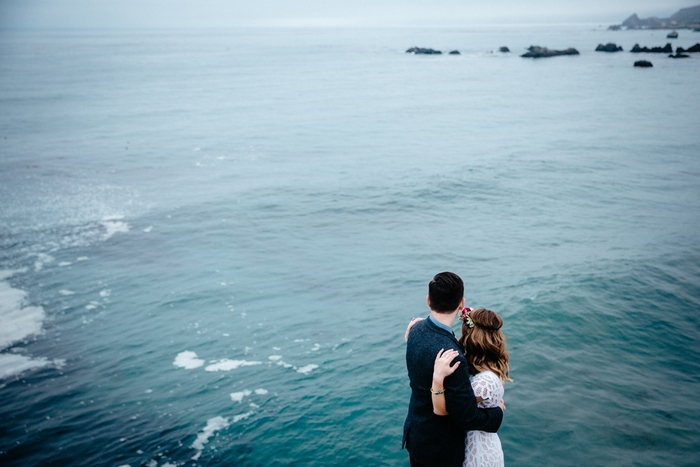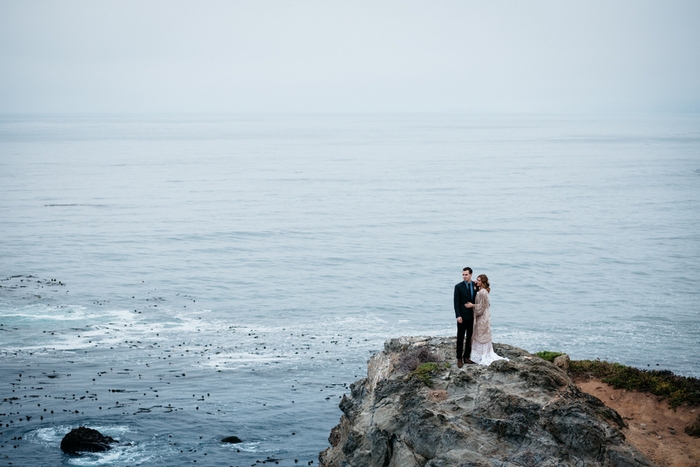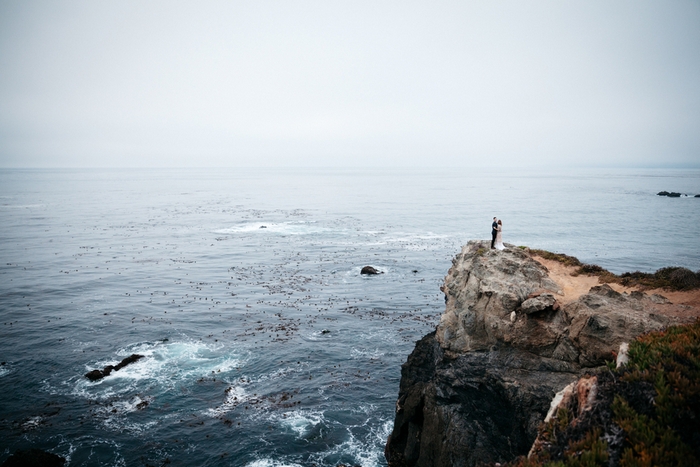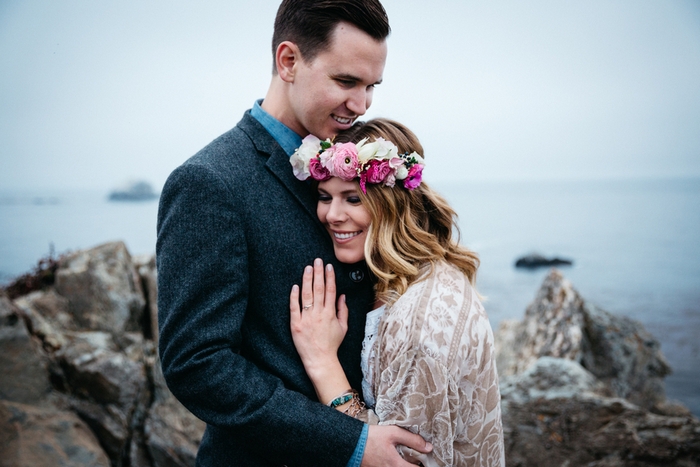 Vendors:
Photography:  Paige Nelson Photography
Videography:  Whitney Justesen Photography
Make up/Hair:  MUAH Make Up and Hair
Florals:  Christine Cater Florals
Dress:  Rue de Siene