Free-sprited couple Lee and Kelly met in a Paris hostel while travelling, and have spent most of their relationship flying back and forth between her home in the U.S. and his in the U.K. before choosing to settle down together permanently in the United States. Faced with the overwhelming logistics of organizing a wedding for all their international family and friends, they opted to elope – just the two of them – instead.
With few expectations of how things should go and minimal planning, save for their city hall time slot, they let their wedding day unfold organically as they roamed San Francisco's beautiful city hall with their photographer Clara Rice in tow, and celebrated their newlywed status with a champagne toast!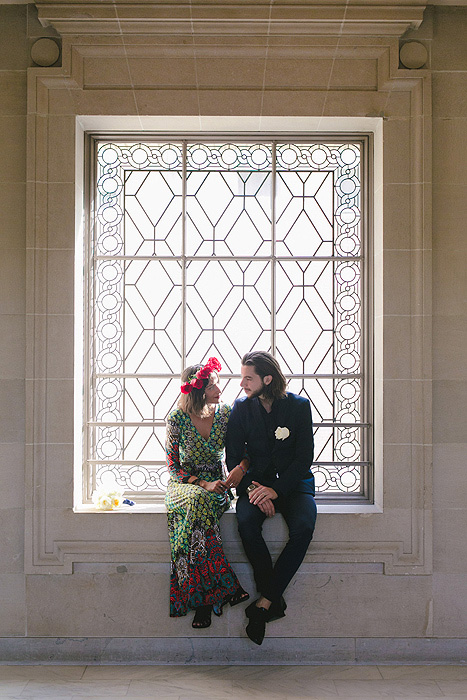 Kelly, 28 & Lee, 26
San Francisco, CA
Wedding Date: October 23, 2014
Number of Guests: 0
Total Wedding Cost: $1,049
Breakdown of Costs: Bride's outfit – $70 dress (BCBG shoes and jewellery already owned); Groom's outfit – $45 for jacket, shirt and shoes (trousers and belt already owned); Bride's ring – $250; Groom's ring – $147; Flowers & flower crown material – $23; Props (vintage suitcase and iron Eiffel tower) – $14; Travel/transport – $300 ($240 rental car + $60 gas); City Hall parking – $5; Paperwork (marriage license and registry costs) – $164; Photographer – $0 (exchange of services – Lee traded his graphic design work in exchange for 3-4 hours of photography. Our photographer was also our only witness and signed our marriage license!); Champagne! – $35
Wedding Ceremony Location: The Rotunda, San Francisco City Hall
Wedding Reception Location: No reception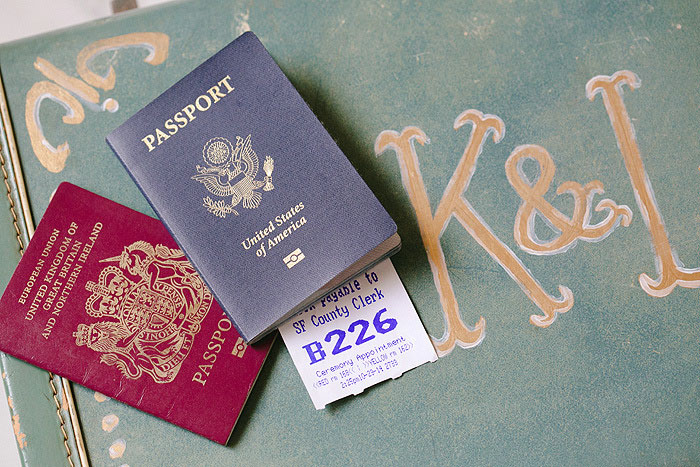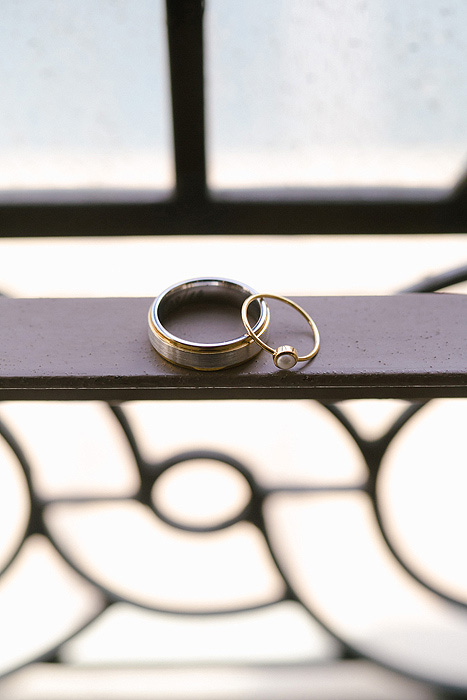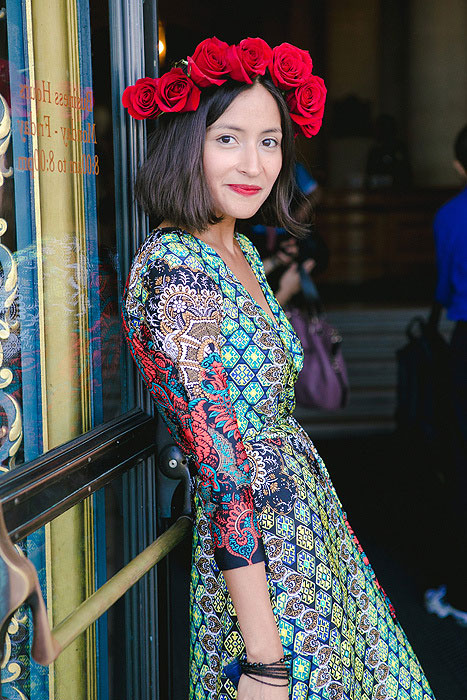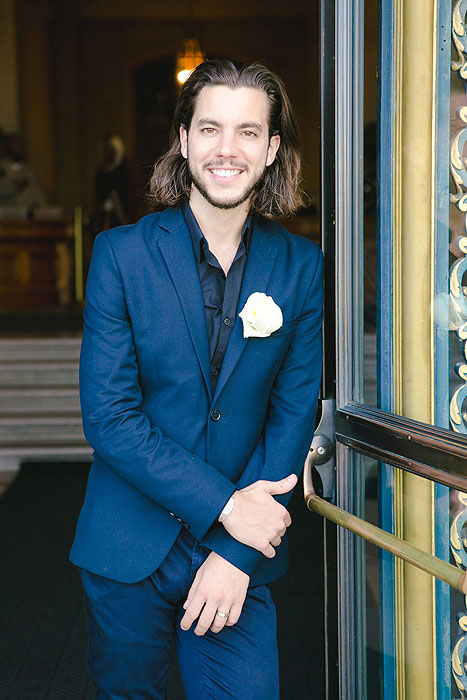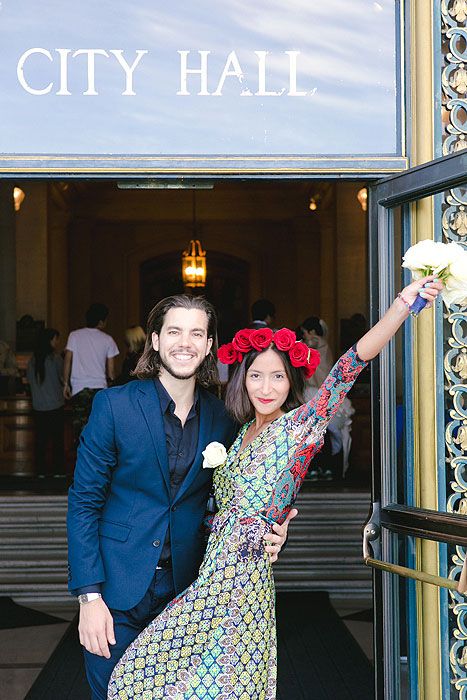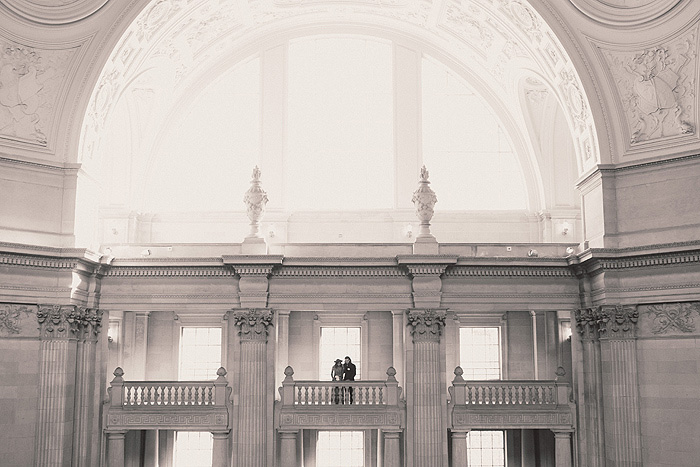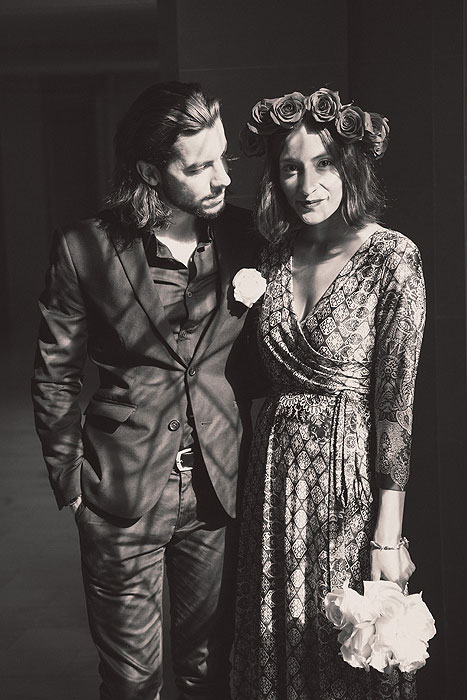 Why did you have an intimate wedding?
Lee is from England and Kelly is from Santa Barbara, California. We met each other in a Paris hostel while both traveling Europe. After endless flights back and forth between the EU and the US, we eventually decided to remain State-side and so the logistics of planning a big wedding here with both families and all of our friends seemed too large of a task to take on at this point. We opted for an intimate "just you and me" wedding as we knew not everyone would be able to make the trip with short notice and we didn't want to leave anyone out. Based on the intimacy of how we met and the way our lives have been together so far, we wanted to share this special moment with each other only and not have to worry about all the other details that come along with a large scale wedding. We plan to have a full family/friends celebration on our 1 or 2 year anniversary which we will then also try to keep fairly small and intimate, just focusing on the important things like great company, food, wine, and a special atmosphere.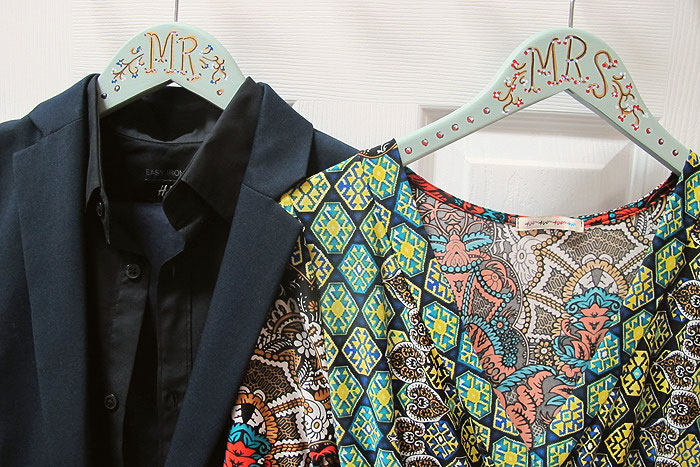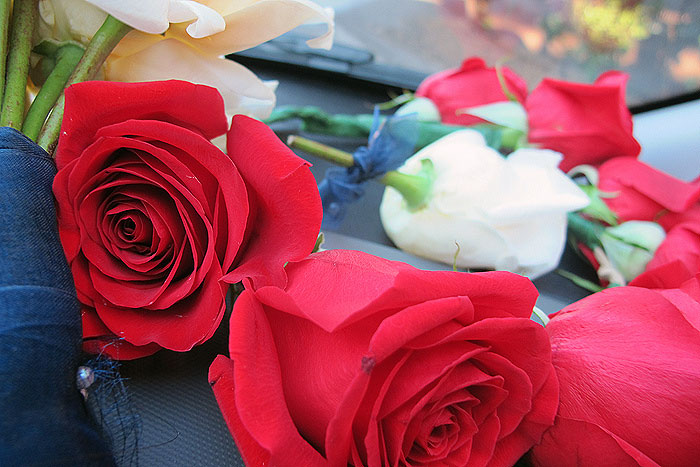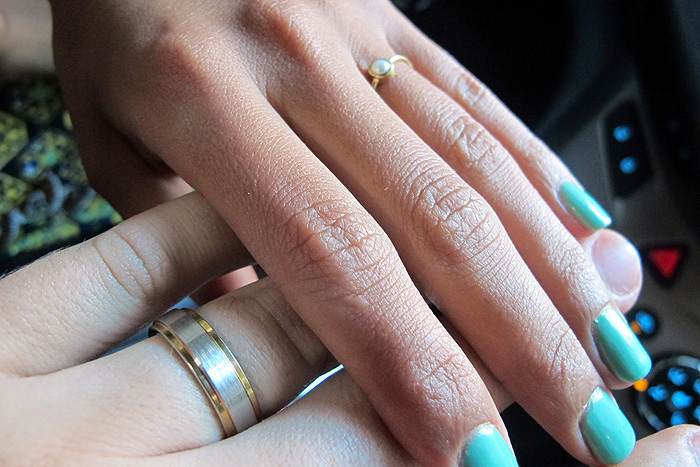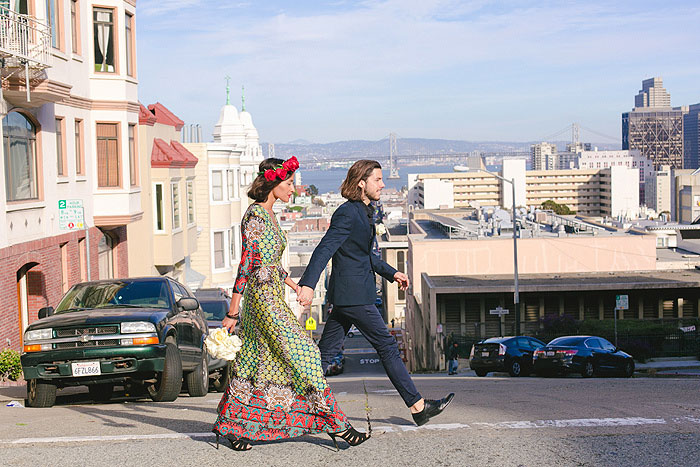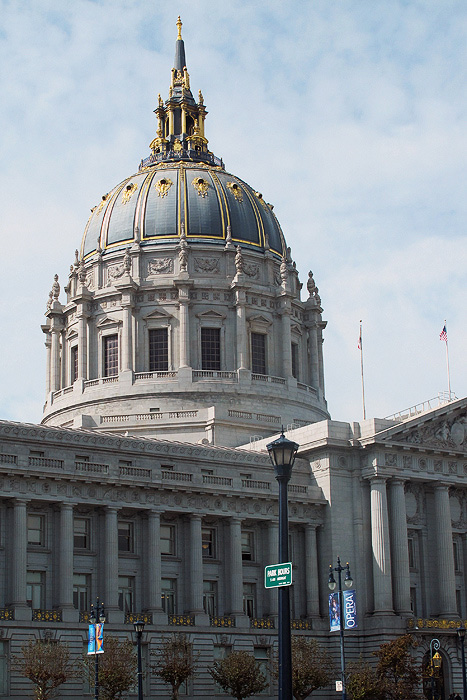 What are some of the challenges that you faced planning an intimate wedding?
The main challenge for us, as well as a lot of other people in a similar situation to ours, is trying to explain to family that they will not be there! And also explaining why we are not following traditions. It can be tough to make them understand, but you have to remind yourself that this day is about you and your significant other.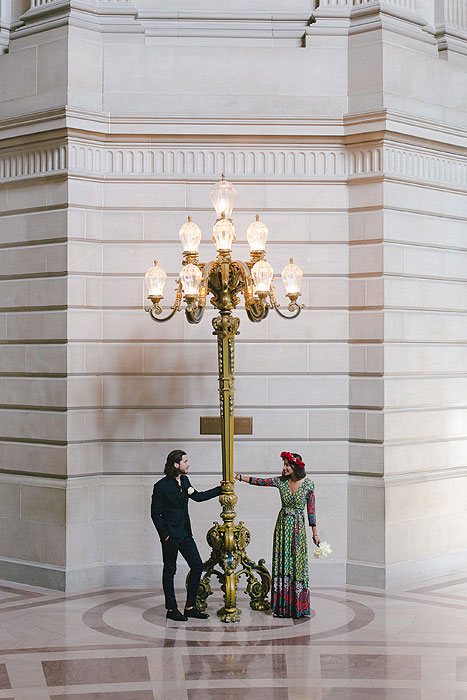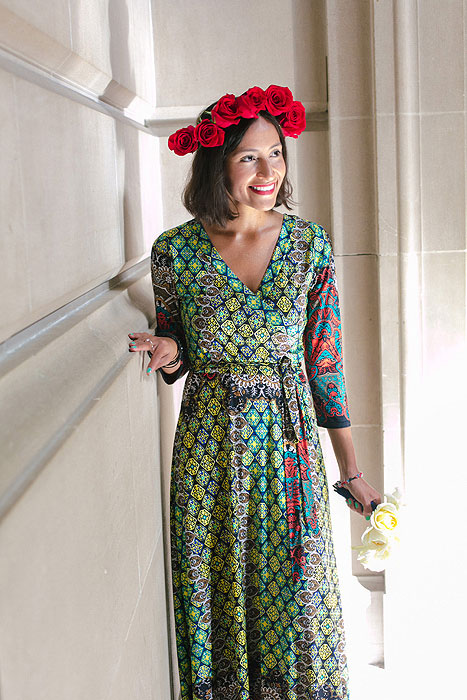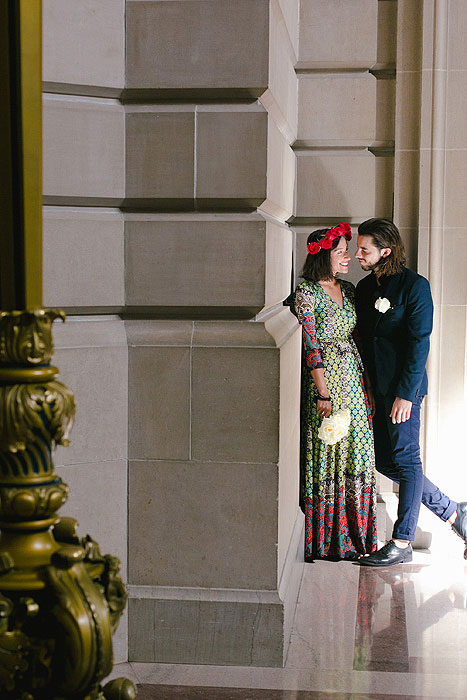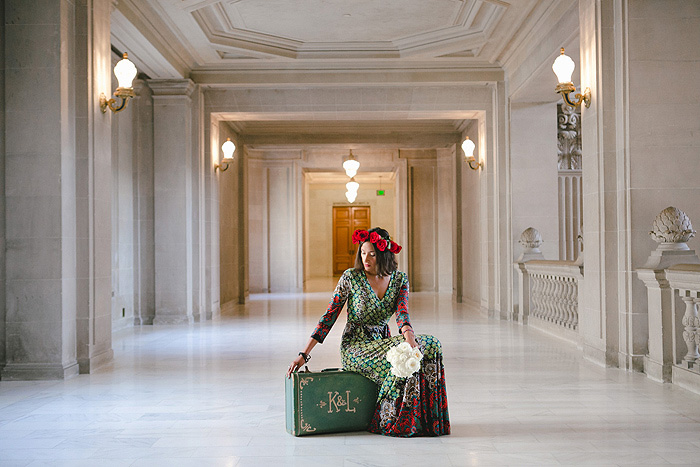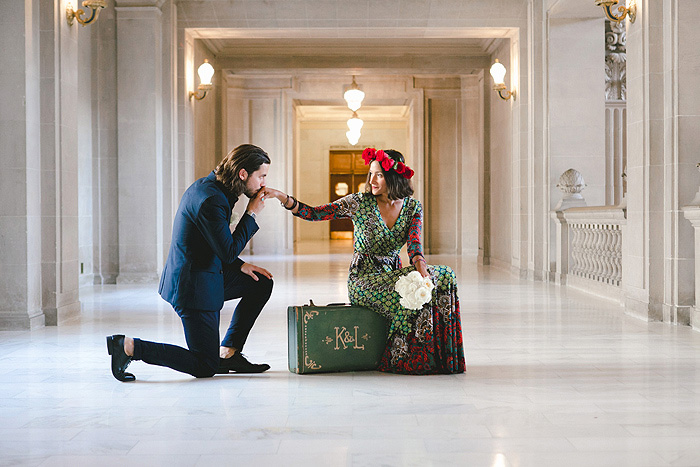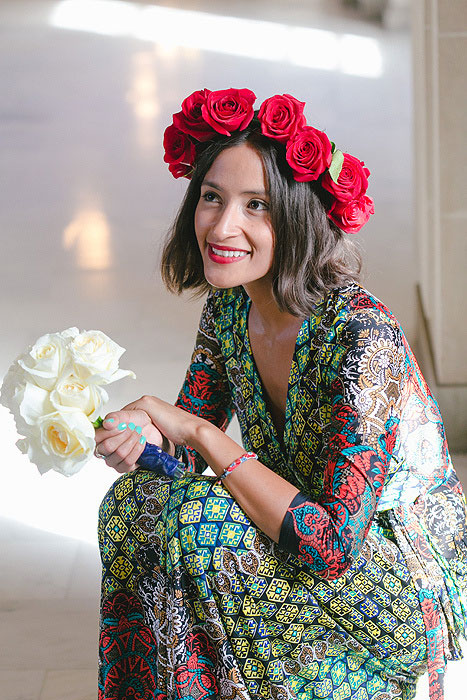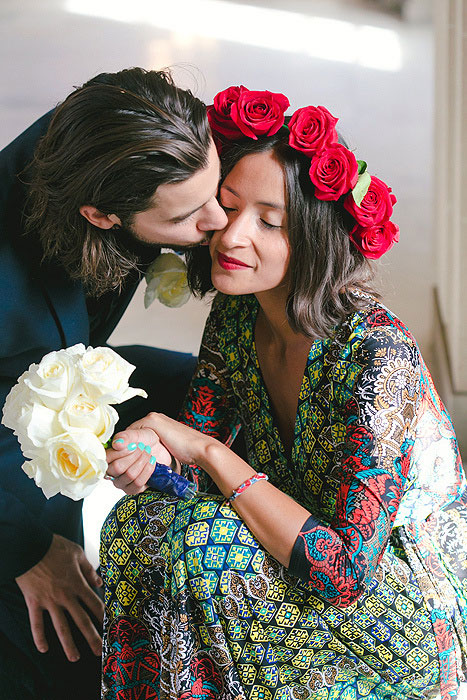 Was it difficult to pare down the guest list? 
No, it was a breeze as we chose to have no guests.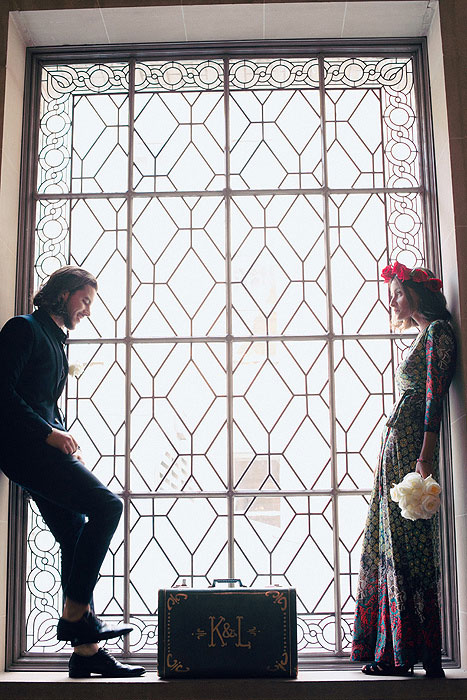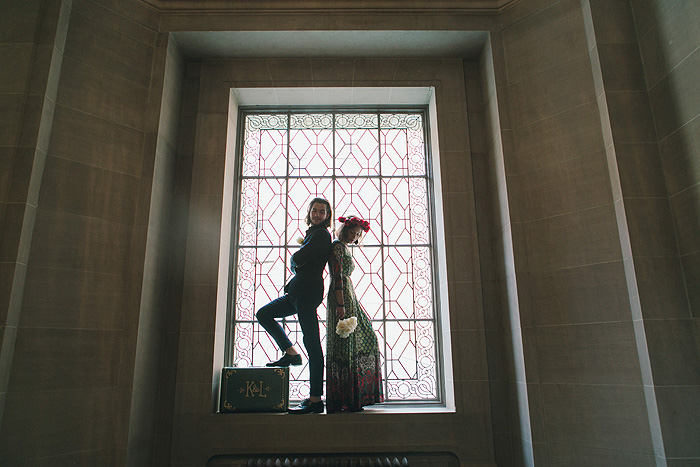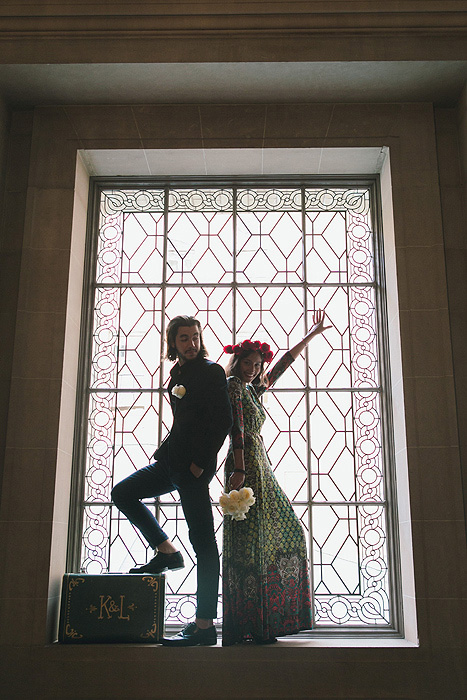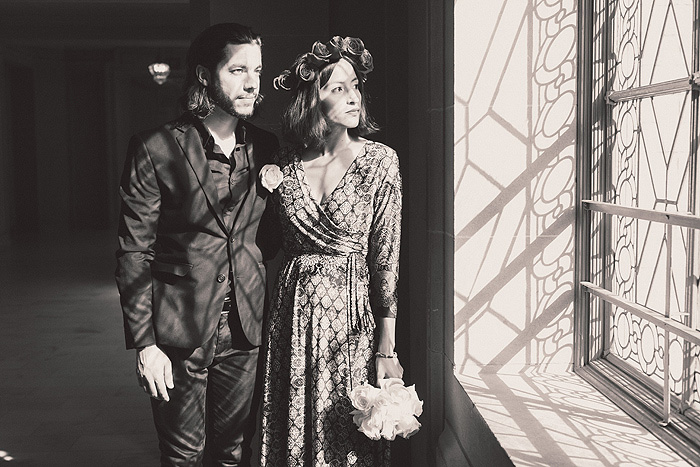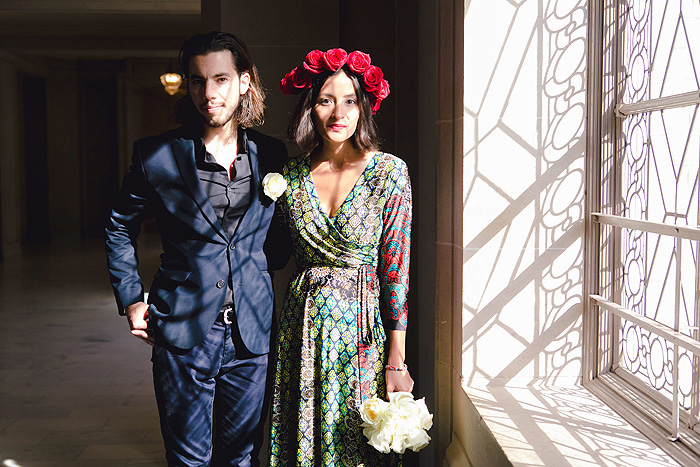 Did you have any 'issues' with the small guest list from friends and family? If so, how did you address them?
Not yet!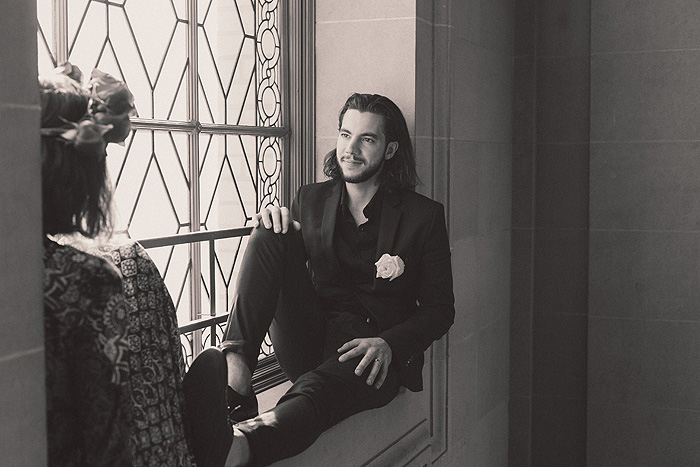 \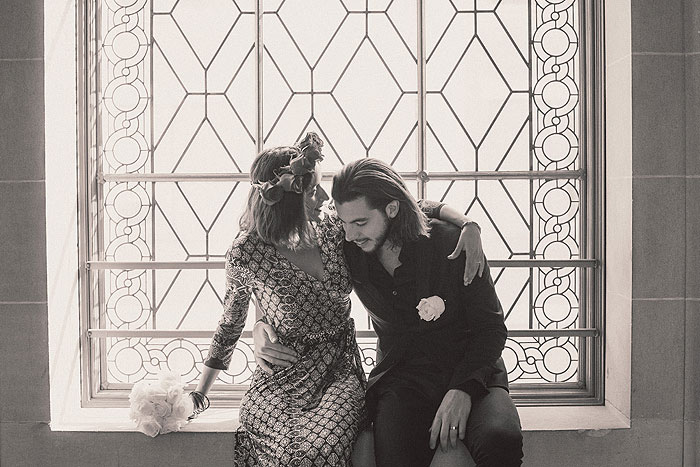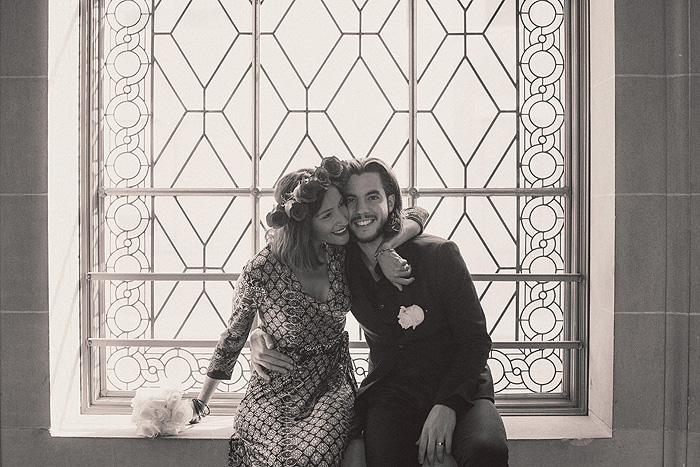 What were the highlights of the ceremony?
The whole day of our ceremony was one big rush! But it had a very fun, exciting feeling to it; it was not stressful at all. From morning coffee, to buying materials for the flower crown, bouquet and boutonniere which Kelly finished making just 1 hour before our City Hall time slot!; to hopping in the car and driving into SF, meeting our photographer, going through City Hall security and seeing the inside of such an amazing building for the 1st time – which reminded us a lot of where we met in Europe – everything had a special aura about it. We knew that this was exactly what we wanted. The main highlight for us, if we had to pick just one would be roaming around this beautiful building as if we were in a magazine photoshoot with our vagabond style props and incredible photographer Clara who captured the vibe of the day perfectly.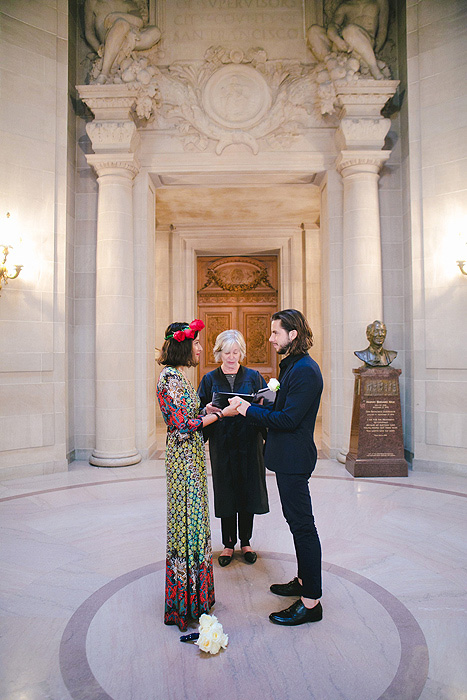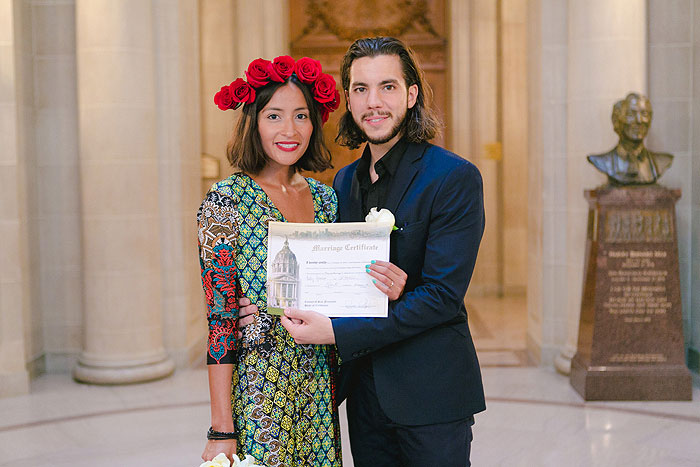 What were the highlights of the reception?
There was no reception! Just a champagne toast afterwards.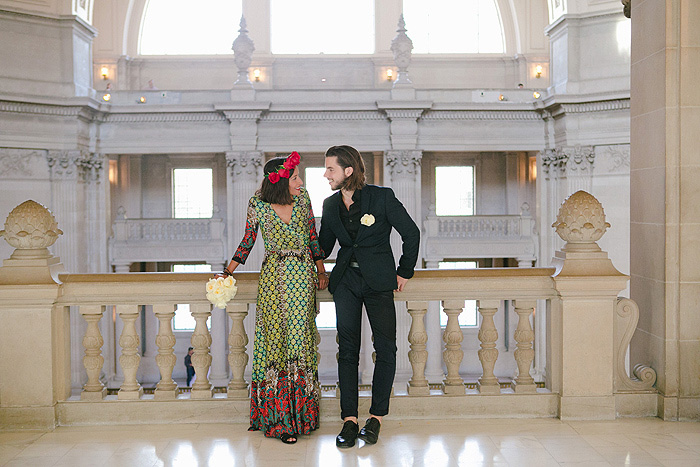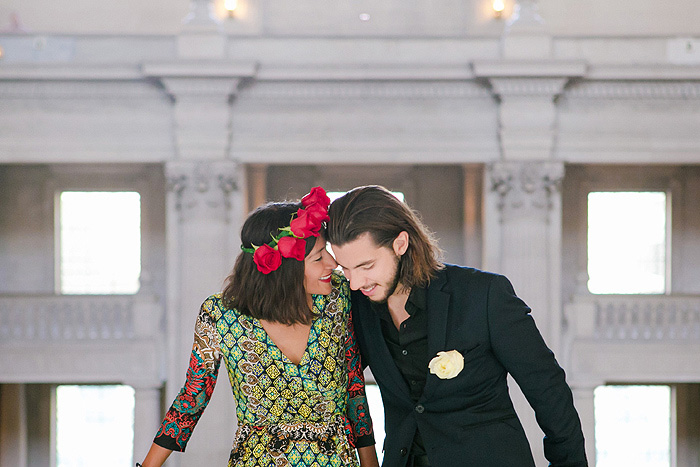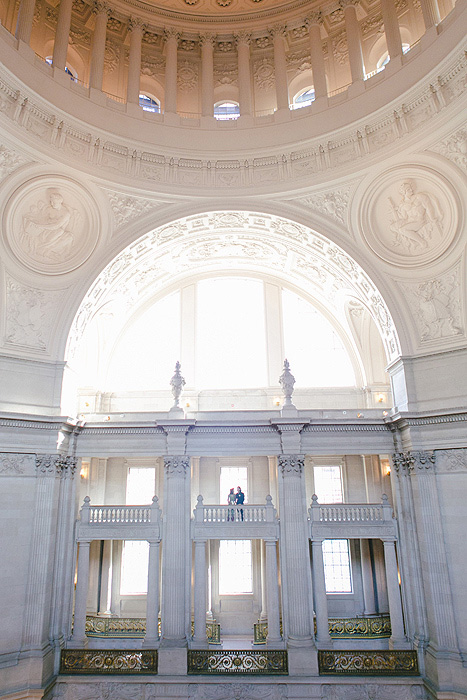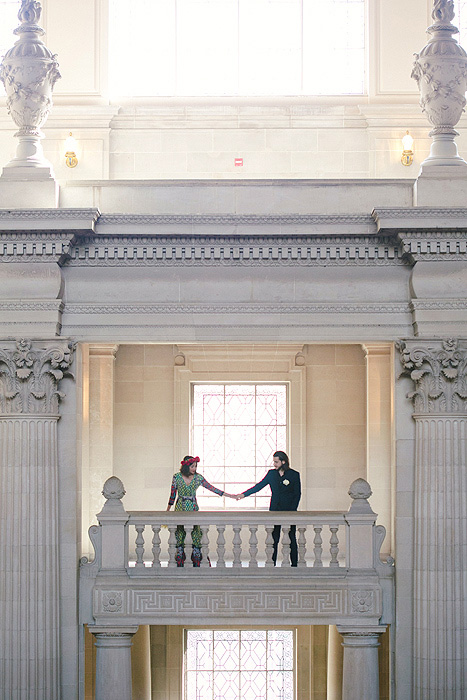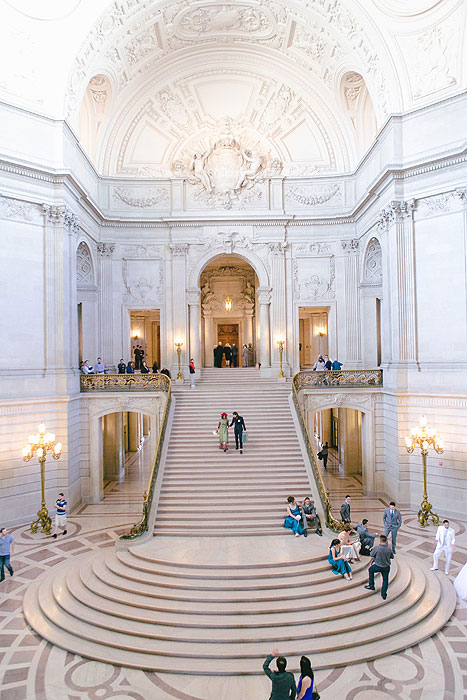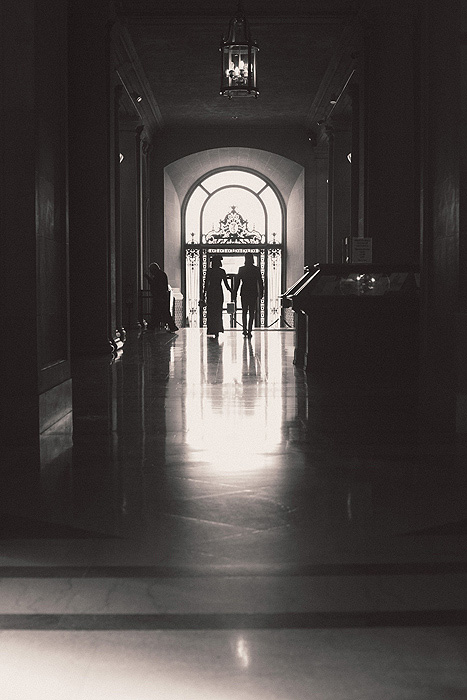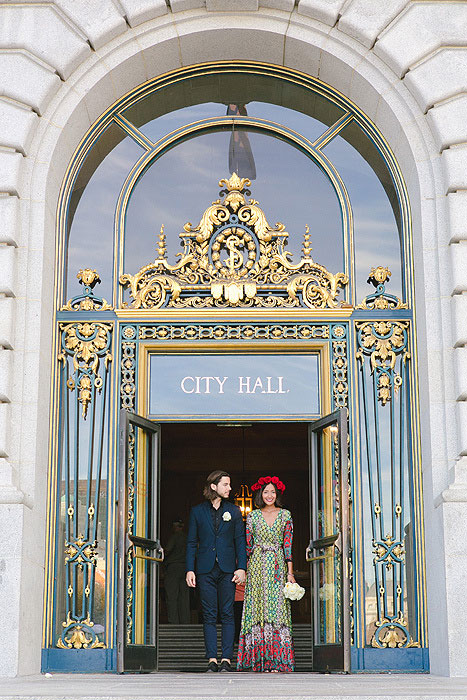 What was the best thing about having an intimate wedding?
No worries! We literally just had to show up and take it all in. There was no pressure to make sure that everything was going as planned because there was no plan! No expectations = a great time. Having an intimate wedding made the whole thing a lot more special and personal for us.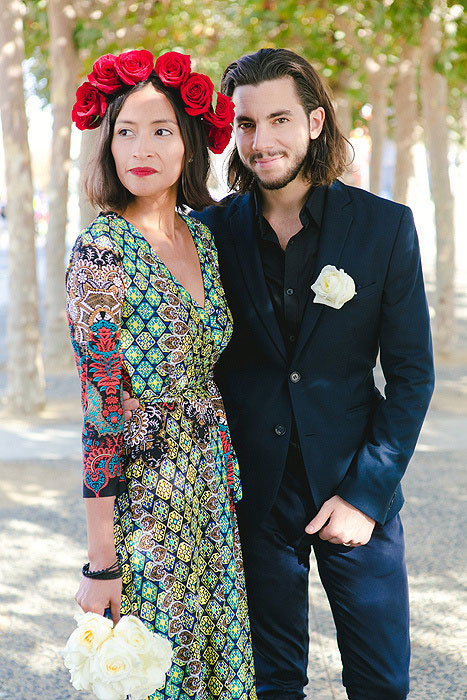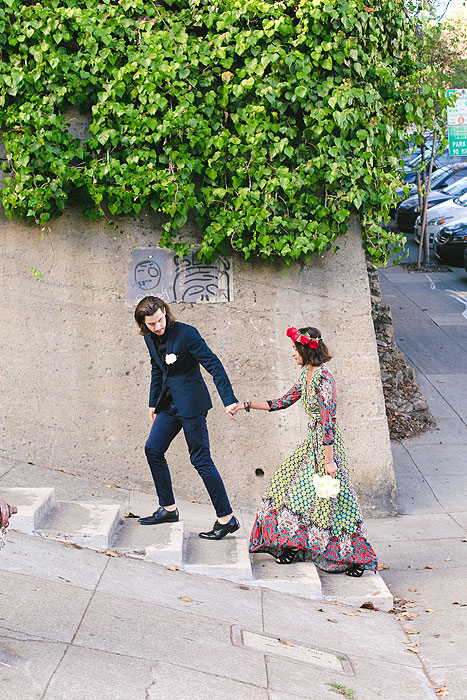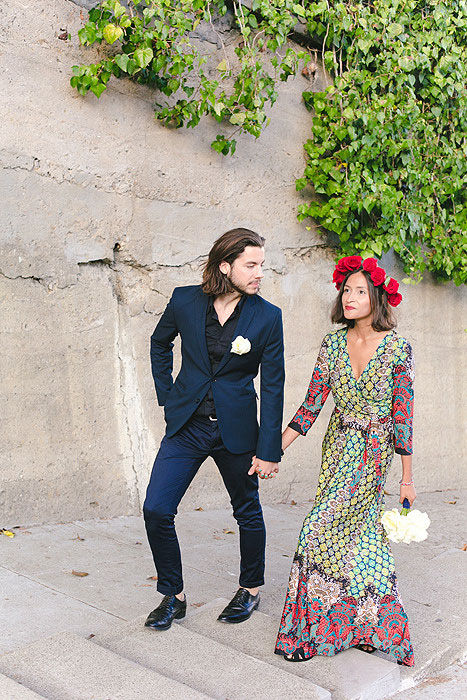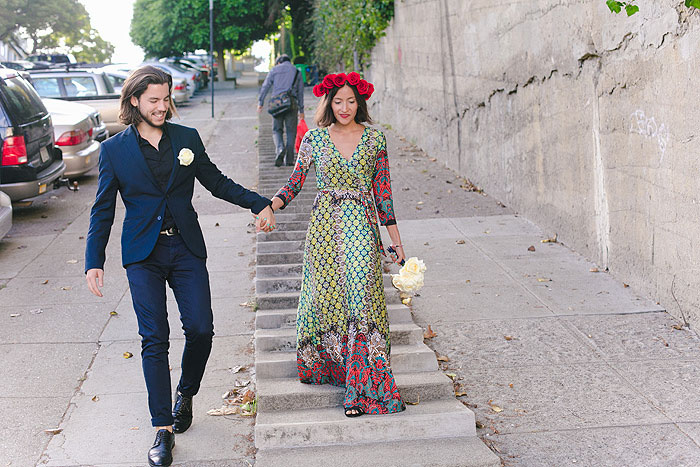 What advice do you have for couples who are considering an intimate wedding?
Firstly, don't plan too much! We told our photographer to just document our day as it unfolded and to do whatever felt right. So the main thing for other couples, is to do whatever feels right for you. Know that you are not trapped by traditions and people will always chirp in to give you their two cents on what they think is right, but it is YOUR small big day and you can choose to celebrate it however you wish. If you remain positive and up-beat about it, keeping everything fun, you will have a very rewarding day of memories. If it feels right, just do it, you don't need a reason.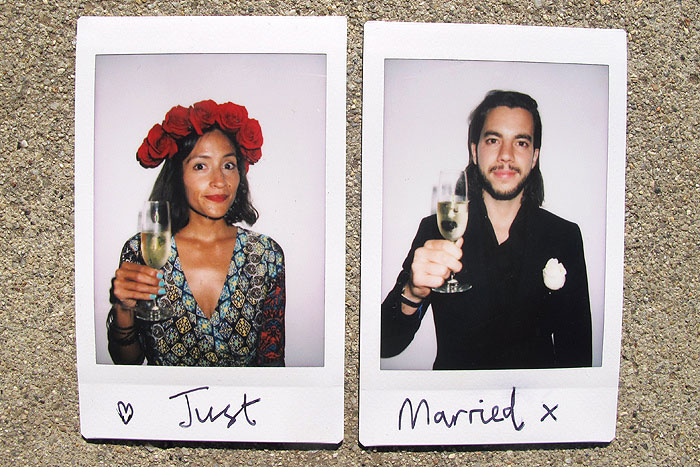 Vendors:
Bride's Dress: Tua Tua from Lovebird boutique

Flowers: Trader Joes

Grooms Outfit: H&M (jacket, shirt), Zara (trousers), Bufalo exchange (shoes)

Bride's Ring: Etsy

Groom's Ring: Etsy

Photographer: Clara Rice

Vintage Suitcase: Thrift store (hand painted by Lee)

Iron Eiffel Tower: World Market