Kristin and Greg have never been traditional, so when they broke the news to their friends and family that they were having a small wedding, no one was surprised. An intimate wedding, set in the scenic backyard of the Cooper Spur Mountain Resort, was an affair that simply suited this outdoorsy couple.
Shelley from Shelley K Photography not only captured Kristin and Greg's wedding beautifully, but suggested having an 'unplugged' event; a decision the couple highly recommends!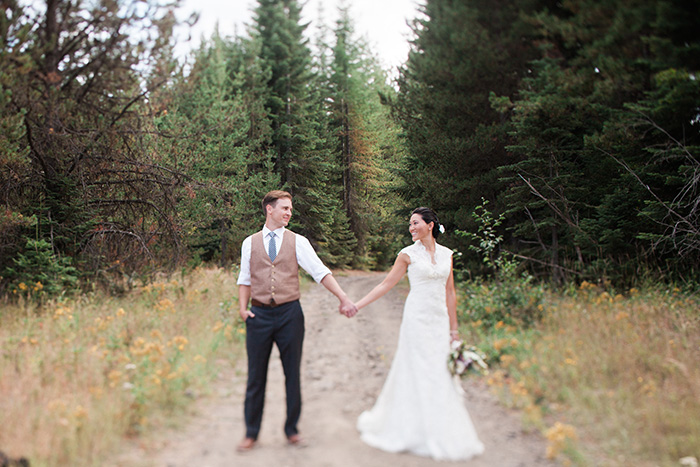 Kristin (typically goes by "Hoku") &  Gregory

Location:  Mount Hood, Oregon
Wedding Date:  August 9, 2015
Number of Guests:  21 Adults, 7 Children
Wedding Cost:  <$5,000 (including cost of one night stay for each wedding guest at resort)
Wedding Ceremony Location:  Cooper Spur Mountain Resort Log Home's backyard
Wedding Reception Location:  Cooper Spur Mountain Resort Restaurant:  Crooked Tree Tavern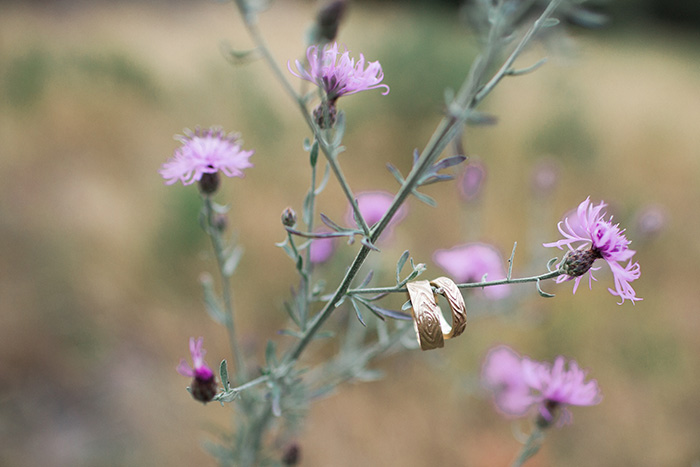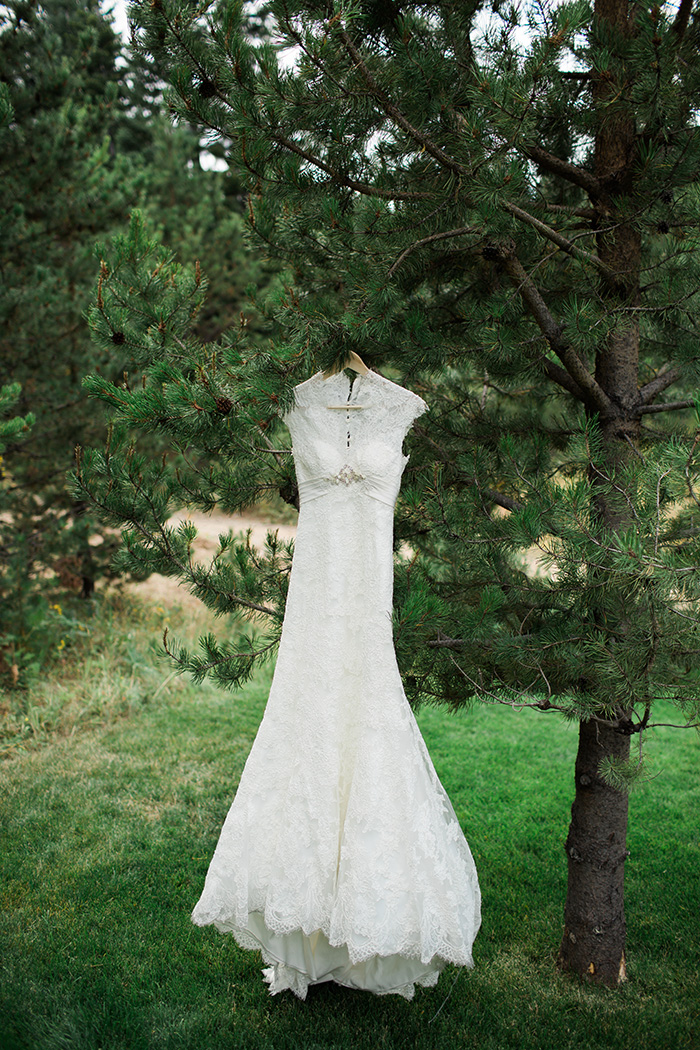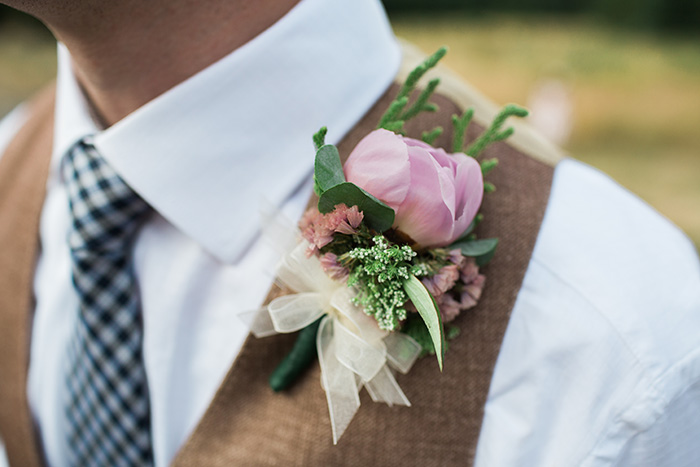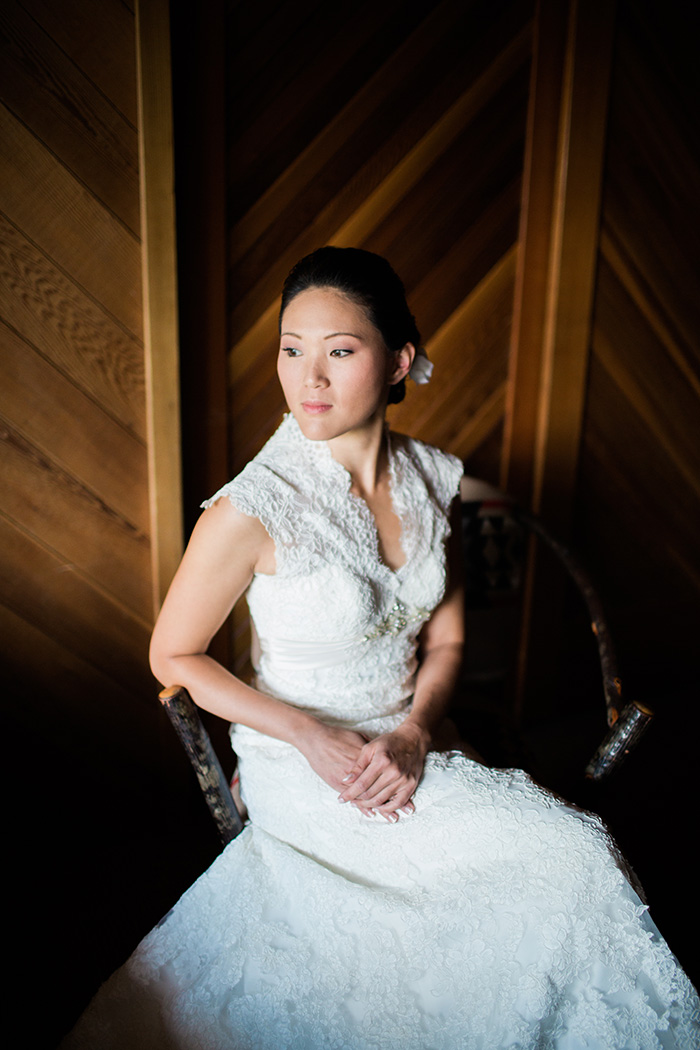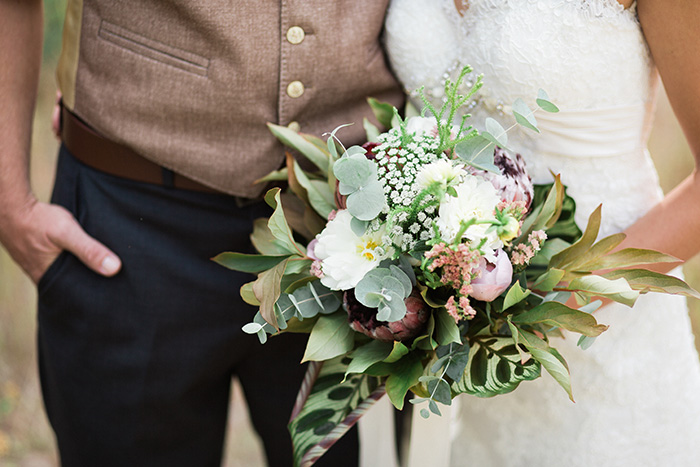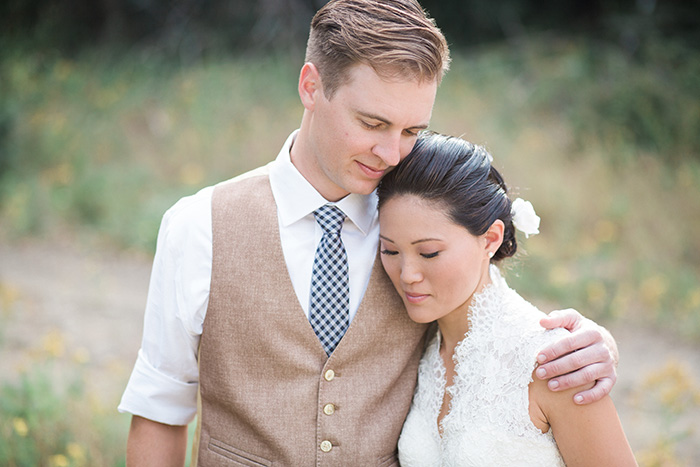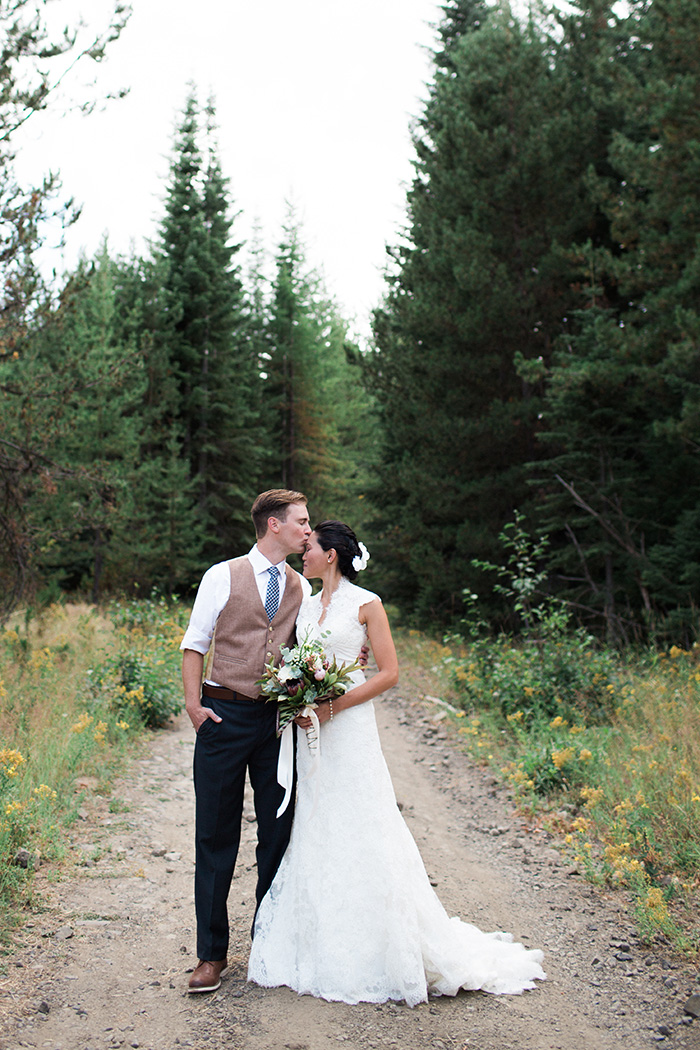 Why did you have an intimate wedding?
We officially got married a few years ago in an even smaller ceremony atop Rocky Butte in Portland, Oregon.  We had fellow park goers as witnesses and an officiant from Craigslist!  It was a wonderfully casual event, but we did miss our families and friends and soon agreed to have an actual ceremony and reception at a later date. We whittled our guest list down for a small, cozy shindig. Despite a tight budget, we wanted to be able to spoil the few guests that we had- to show them the best of what we love about the Pacific Northwest.  Most details were personalized and customized to each guest. We chose Cooper Spur Mountain Resort for several reasons; the trail to Cooper Spur is one of our favorites as is the North side of Mt. Hood,  the resort is somewhat isolated allowing for an experience steeped in the richness of quality time and fresh mountain air.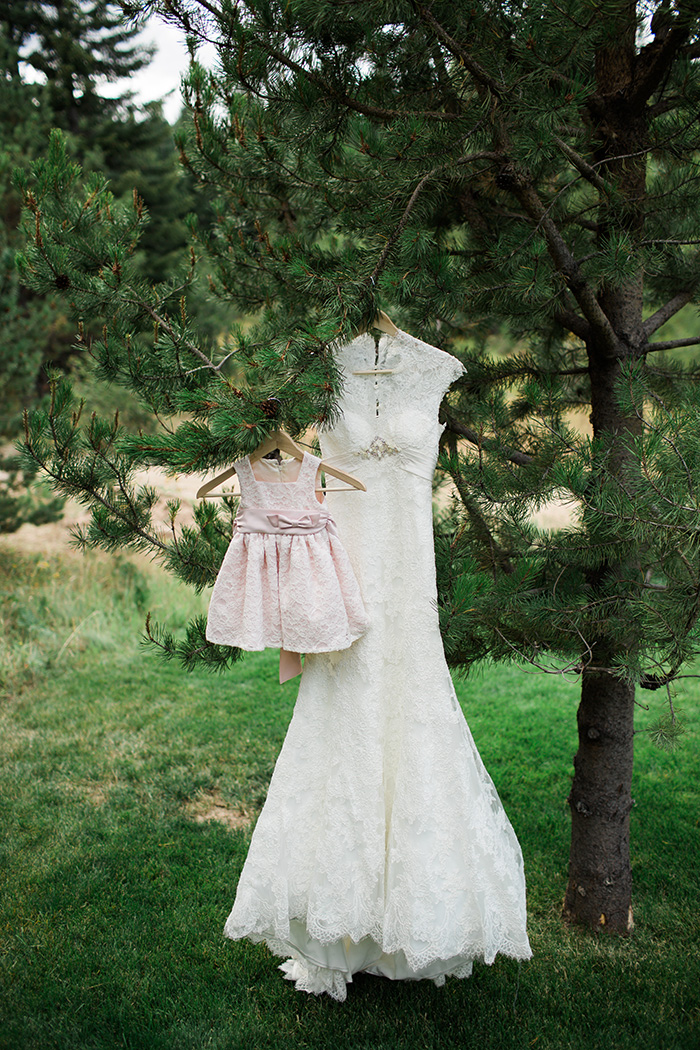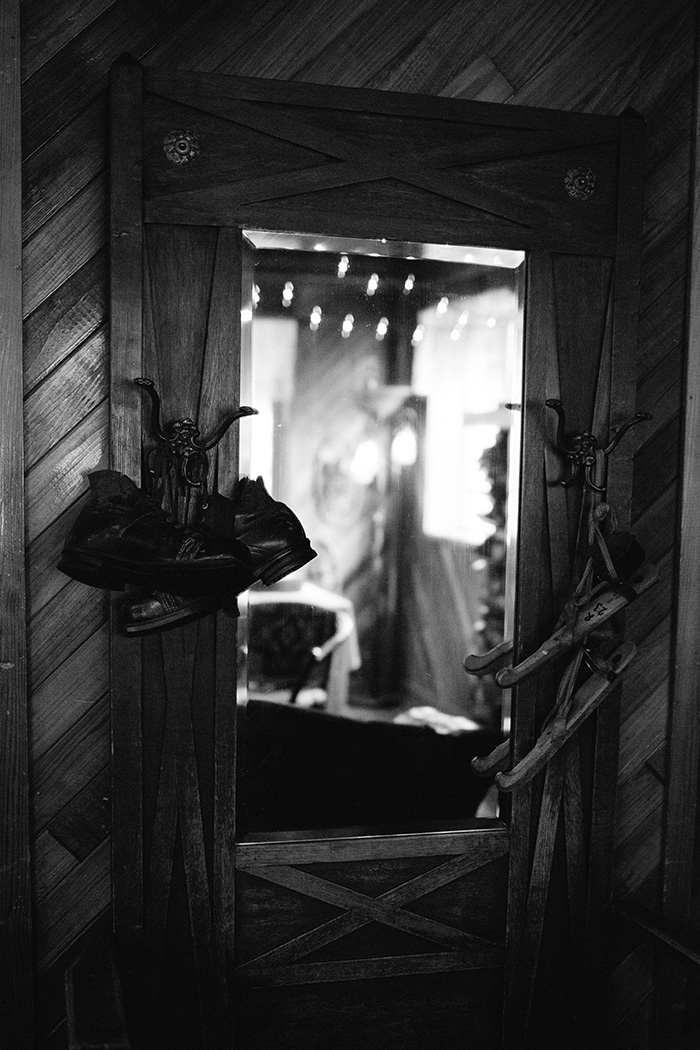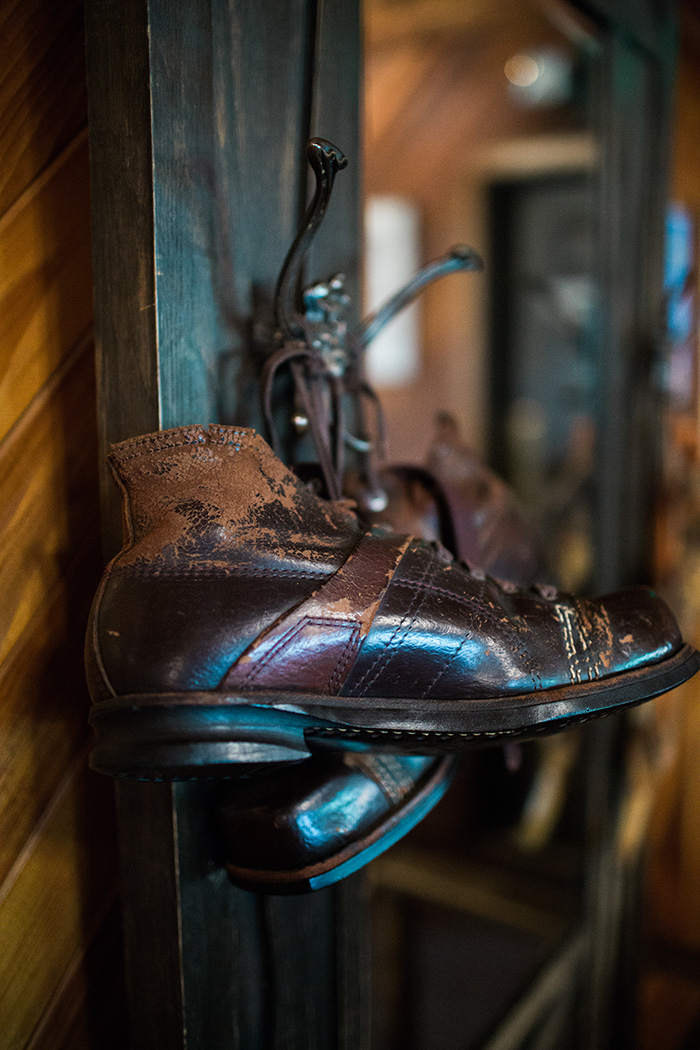 What are some the challenges that you faced planning an intimate wedding?
The most challenging part was not including some of the most important people in our lives.  Both sets of grandparents and most aunts and uncles were not in attendance.  While we missed them immensely, these are the people who understood the most.  They were kind, and gracious and so respectful about this choice.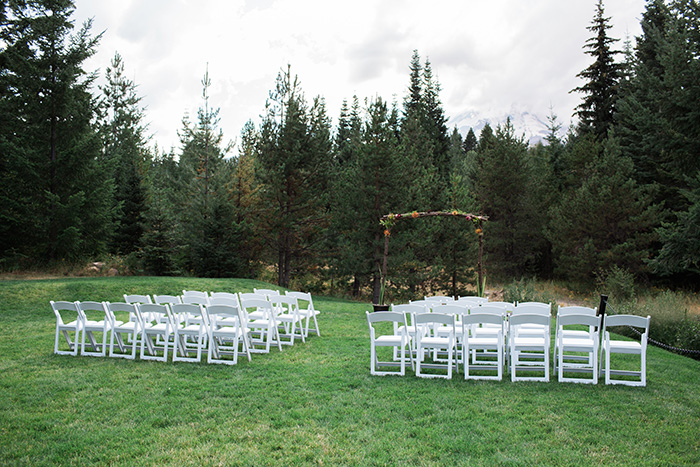 Was it difficult to pare down the guest list?
Absolutely.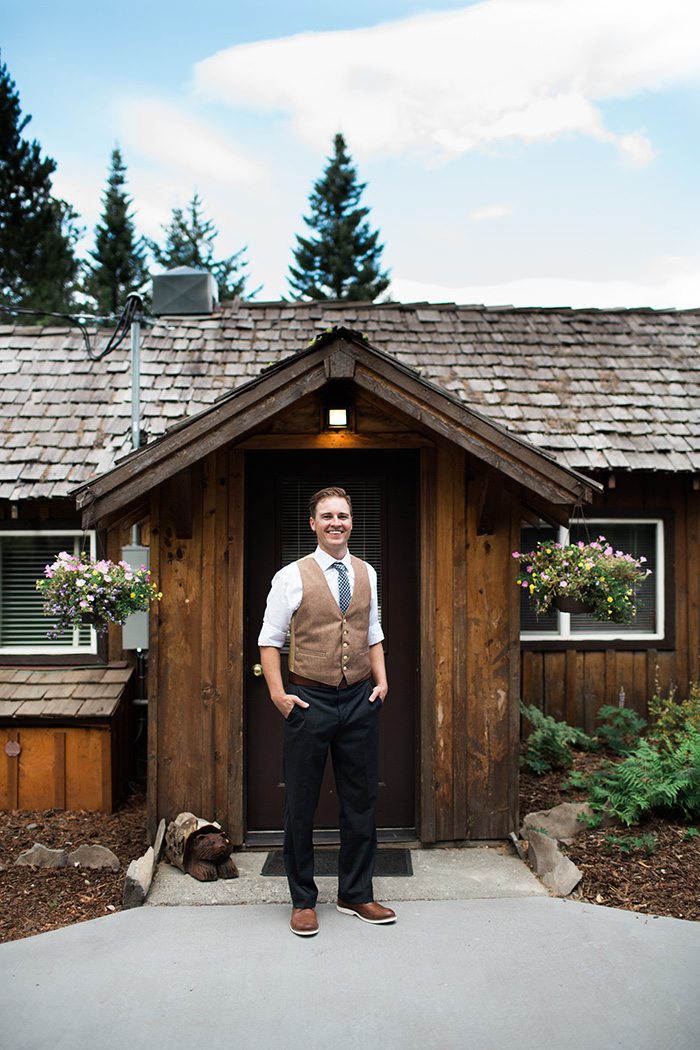 Did you have any 'issues' with the small guest list from friends and family? If so, how did you address them?
We received no concerns from friends and family who were not in attendance.  Our story has been one of a series of untraditional paths, and the event of our wedding was no exception.  I don't think the choice to have a very intimate wedding was surprising to any of our closest people.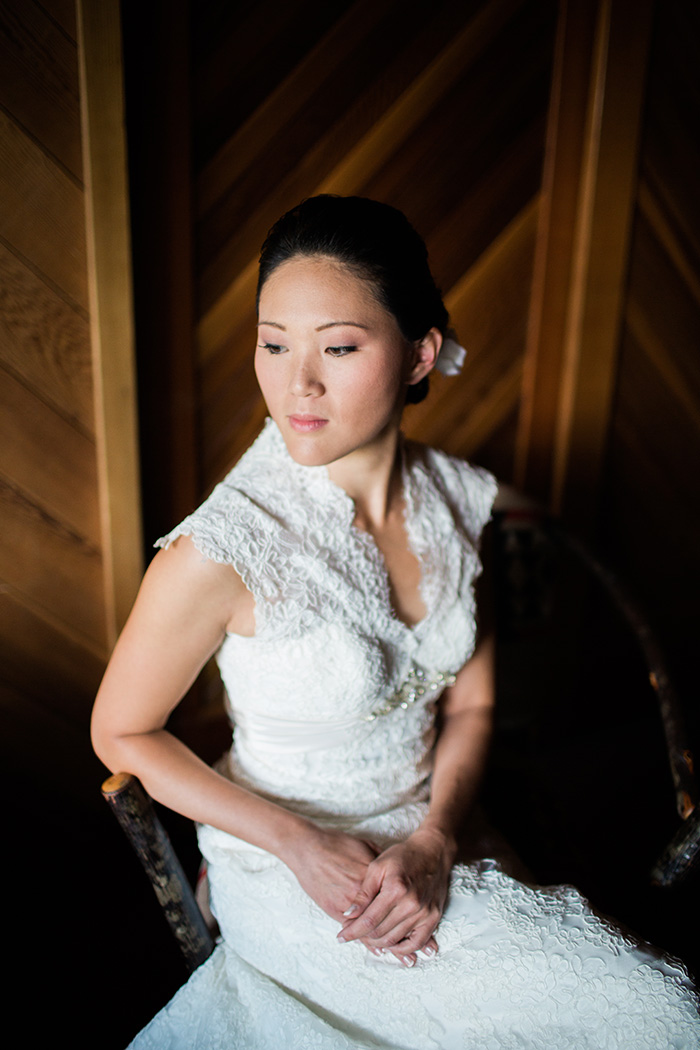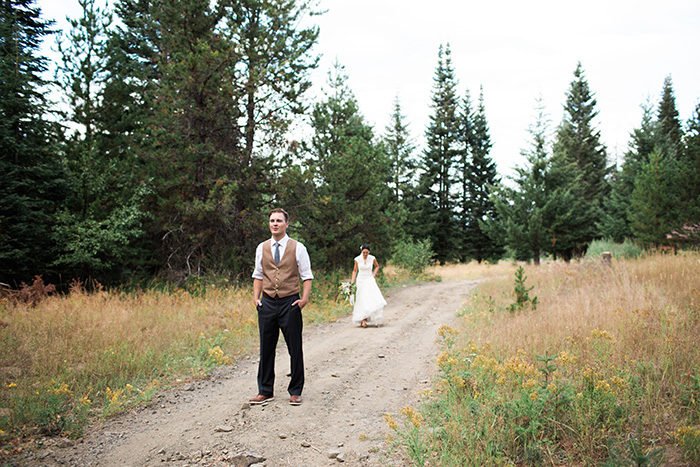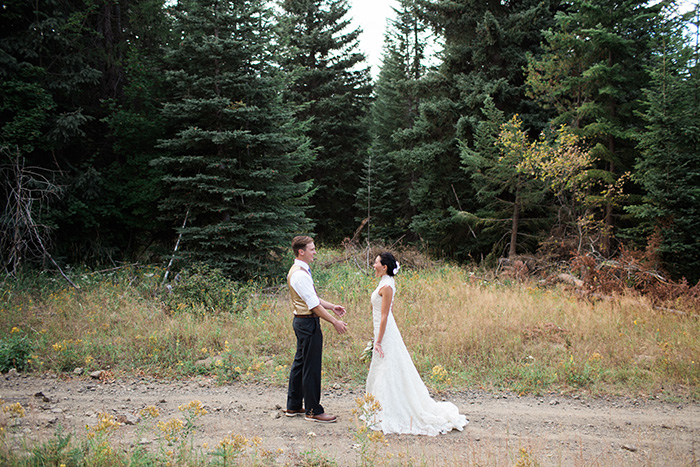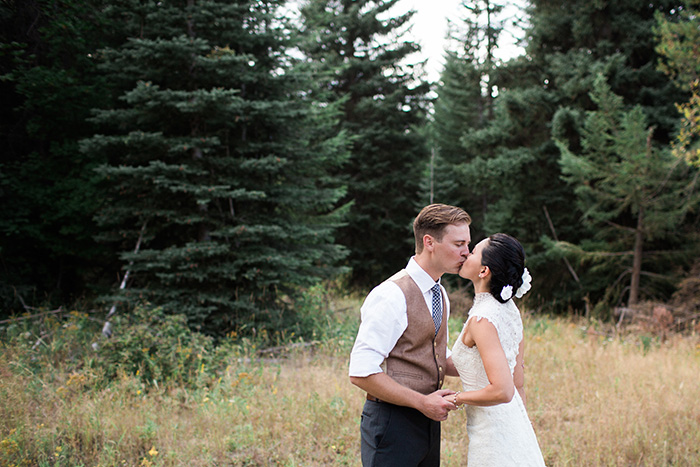 What were the highlights of the ceremony?
Even before the ceremony, we met for a group caravan from Portland to Hood River, Oregon, stopping once for a planned visit to The Gorge White House.  There, our kids ran the fields full of flowers and fruit trees, adult guests sampled local beer and wine and departed with a box of fresh orchard fruit and a bottle of pear wine.  We provided brown bag road lunches and goody bags to all of our guests- packed with our favorite local treats, intended to last the through the weekend since we were at a fairly isolated resort location.  (Contents of bag:  Fresh purple carrots, pears, apples, peaches, salsa, chips, artisan salami, bread, nuts.  Kids goody bags also included age appropriate toys, snacks, books and mess-management items). Hoku's Mother designed and printed programs for the weekend- including driving directions, radio stations, local attractions, maps and special requests.
Our great friend, Annette Compton was the "Ceremony Organizer".  She shared the officiant duty with both of our moms.  They each spoke and read from an absolute place of joy and wisdom and kindness.  Each of these women know Greg and Hoku- inside and out and we were so honored to stand under the arbor together on that day.  It felt like we were friends, sharing in love together.
Our mothers brought soil from each of our childhood homes (Greg's mother asked the current owners of Greg's childhood home for permission!) to add to that of their current home of Portland, Ore in a tree planting ceremony.
Our friends, JoAnne and Chris handmade the beautiful arbor and all of the ceremony and reception decor- including details like the wedding cake and speakers for music.  They pilfered acquaintances' trees, borrowed friends' supplies and spent countless evenings, poring over the details of our event.  They interpreted our lifestyle, story and dreams and wove that into a vision for our wedding day that was largely a surprise to us until the actual event!
Hoku's Mother designed and arranged the bouquet, flower girl basket, and boutonniere.
Our guests lined the aisle, side by side.  Hoku saw each and every one of our guests as she walked down the aisle, arm in arm with her father.  She was literally surrounded by their most cherished friends and loved ones.

We proclaimed vows to each other, but also addressed our guests- promising to live in their example.
Our rings were made by an artist in Bend, OR.  He melted the gold from the rings our Mothers gave to us (their engagement rings) to create a custom, one-of-a-kind design that we collaborated on.  He designed our rings with inspiration from topographical maps and the bark of a tree- elements of the outdoors that are very personal to our bond.  Our rings speak of the adventure of finding our own paths, but always respecting the work and love of those around us.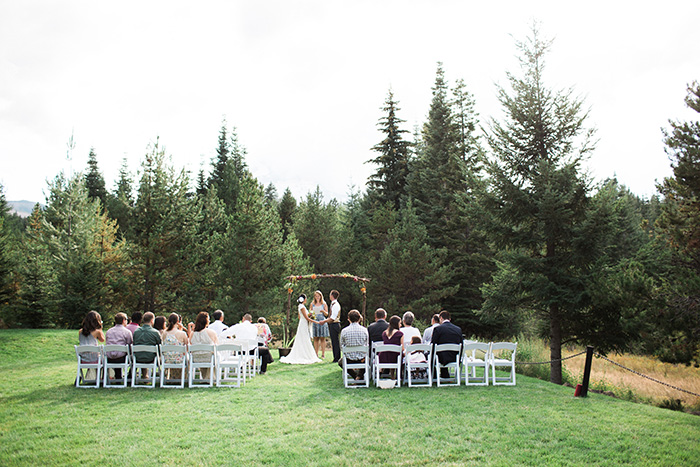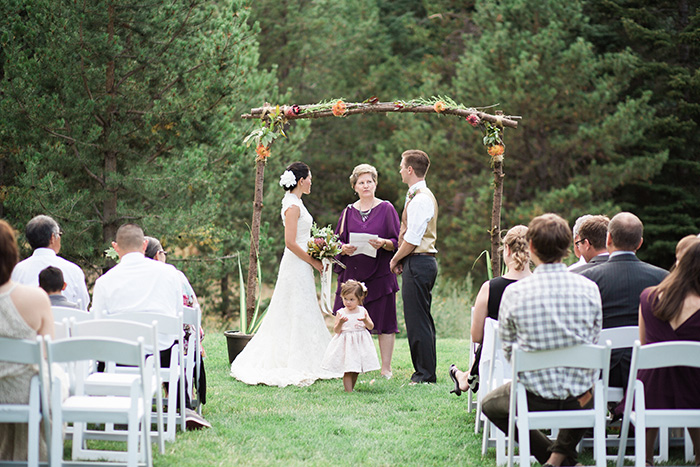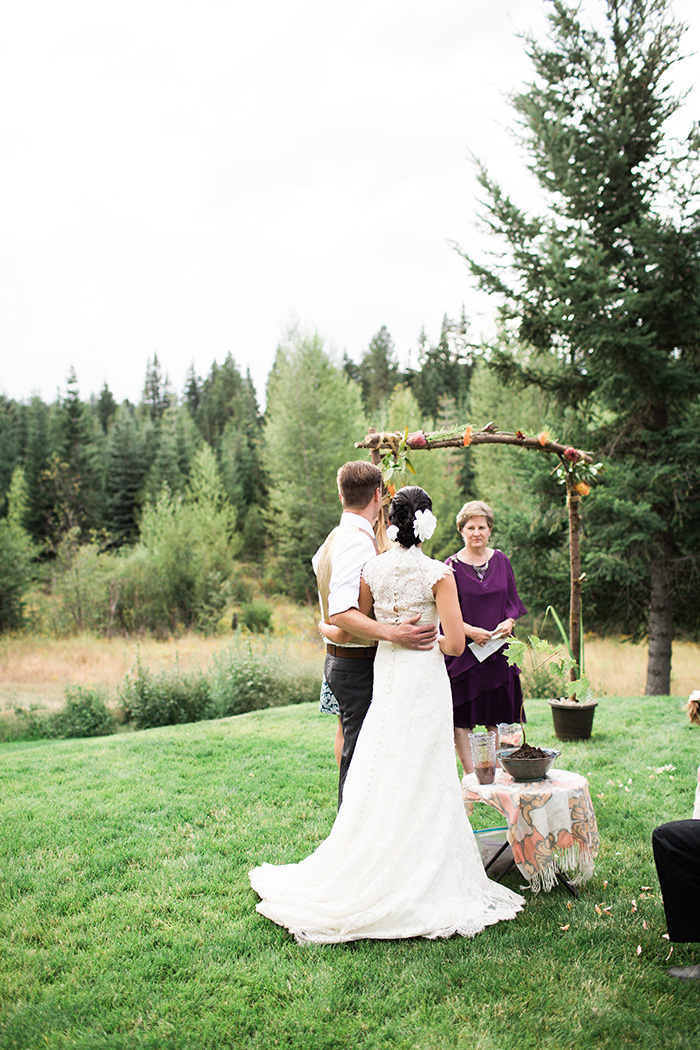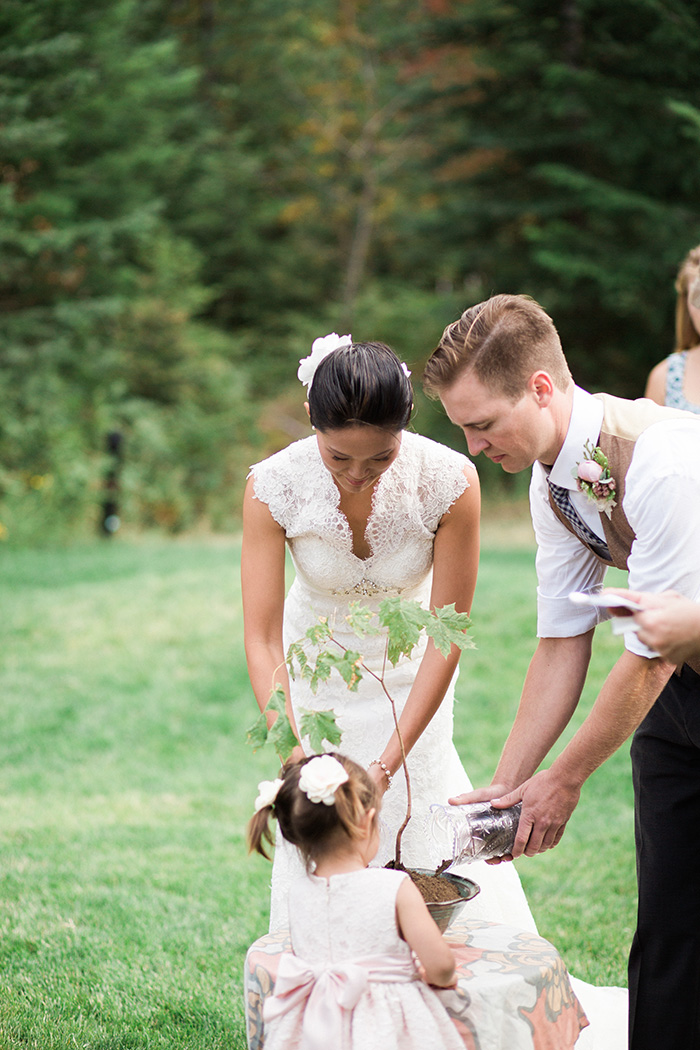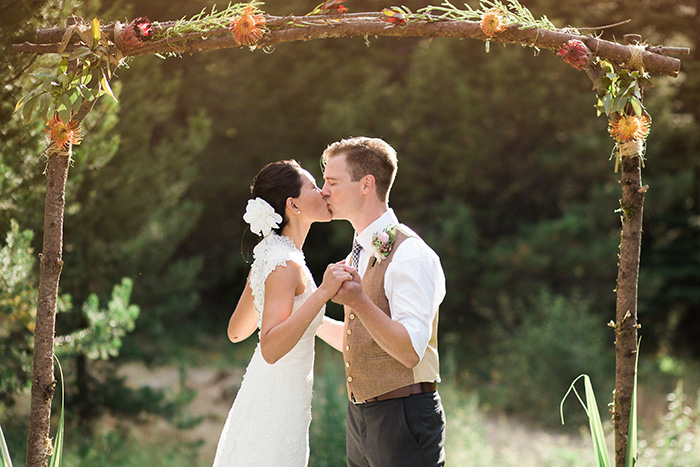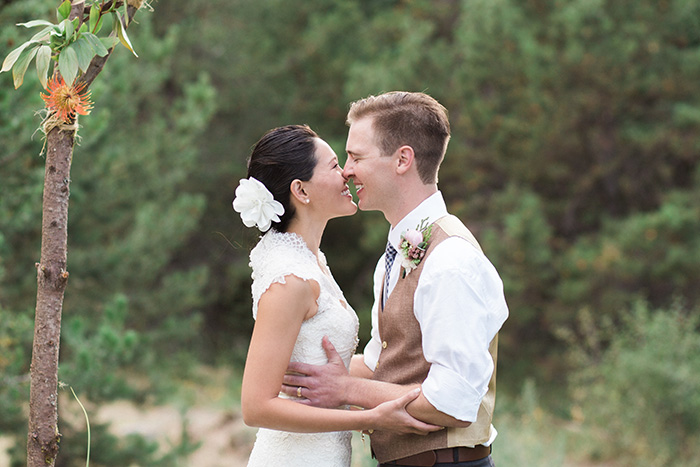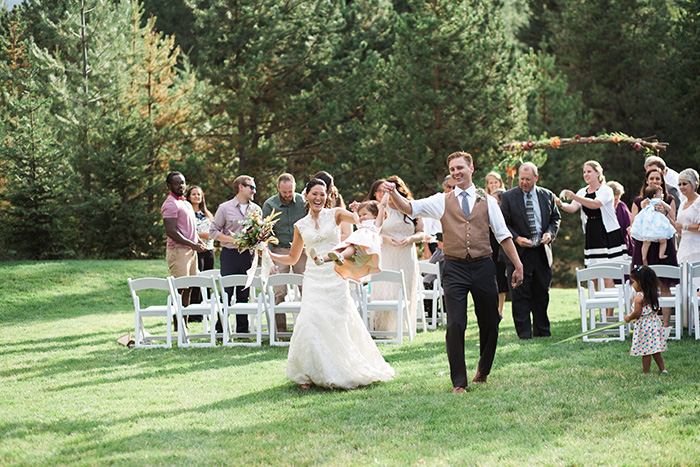 What were the highlights of the reception?
Speeches by each of our siblings- including one by Greg's Sister Kate, who was the matchmaker- nearly 8 years ago!  Kate and Hoku were college roommates.  Kate was instrumental in the initiation and continues to be a significant factor in the continued development of our story.  
Several of the children in attendance arrived from Eastern Time Zones.  For the sake of these, we kept the reception short.  However, our close friends hosted an after party in their cabin.  There was keg, wine, games, music and fantastic company!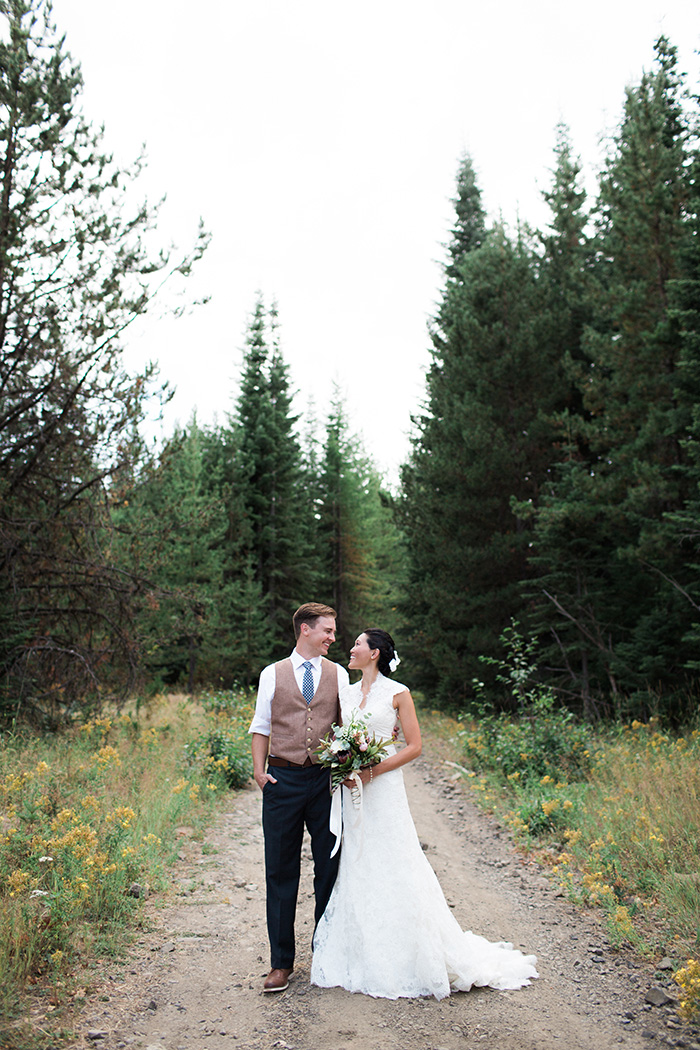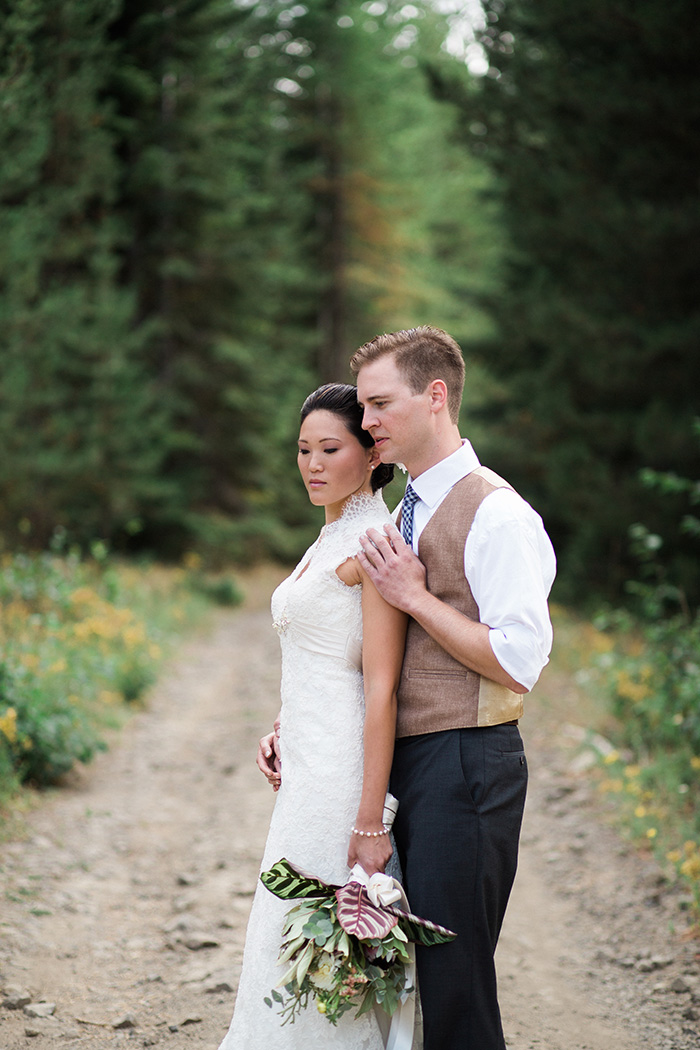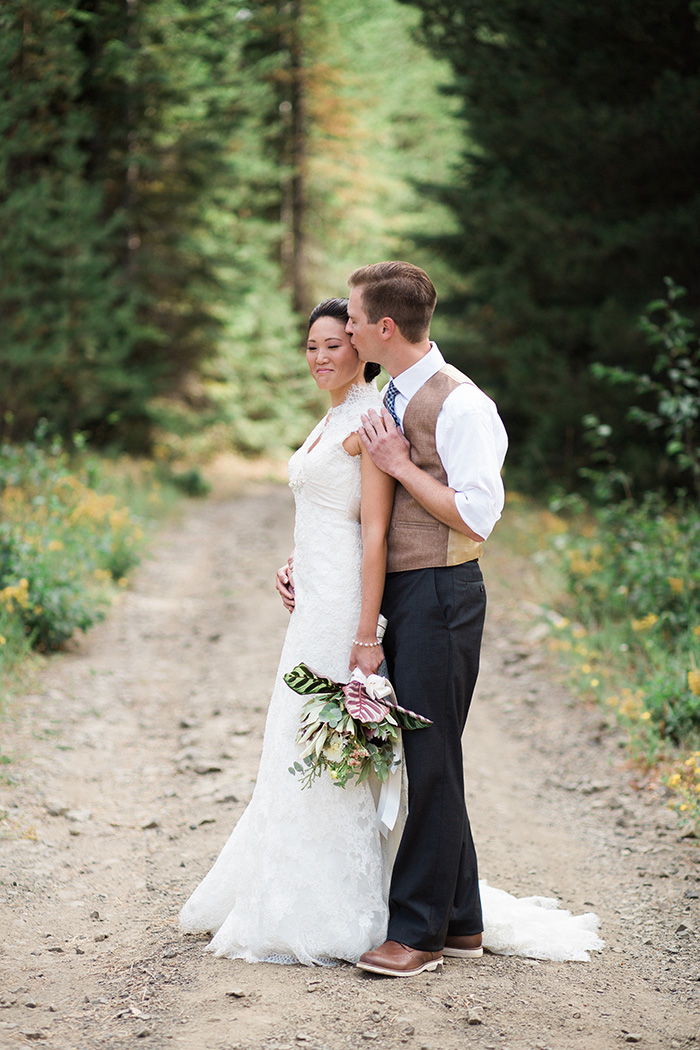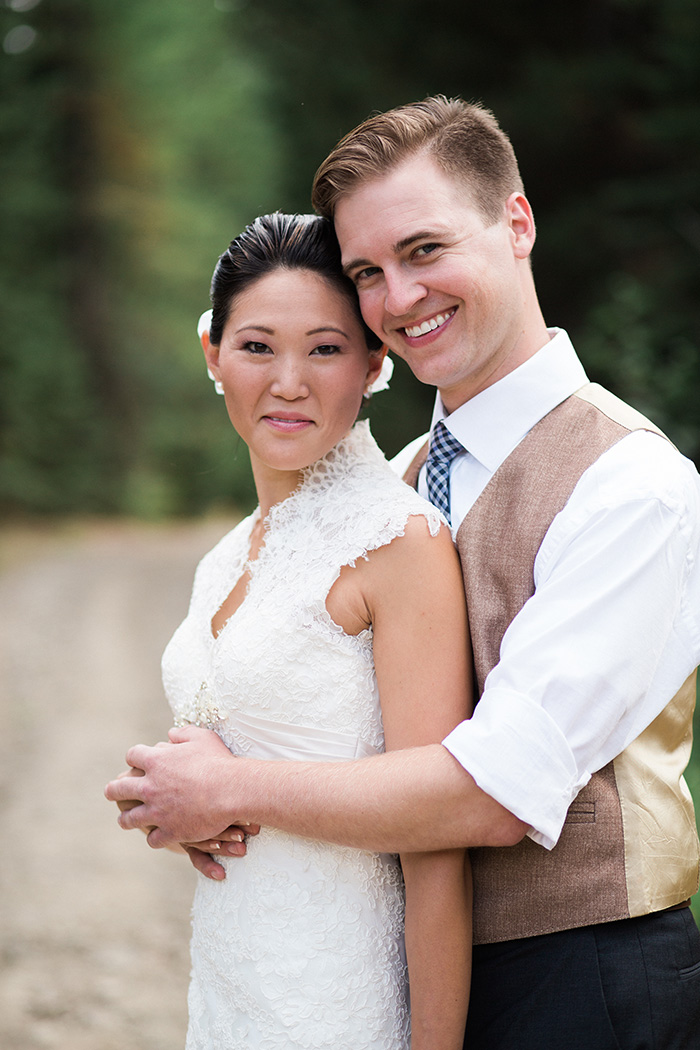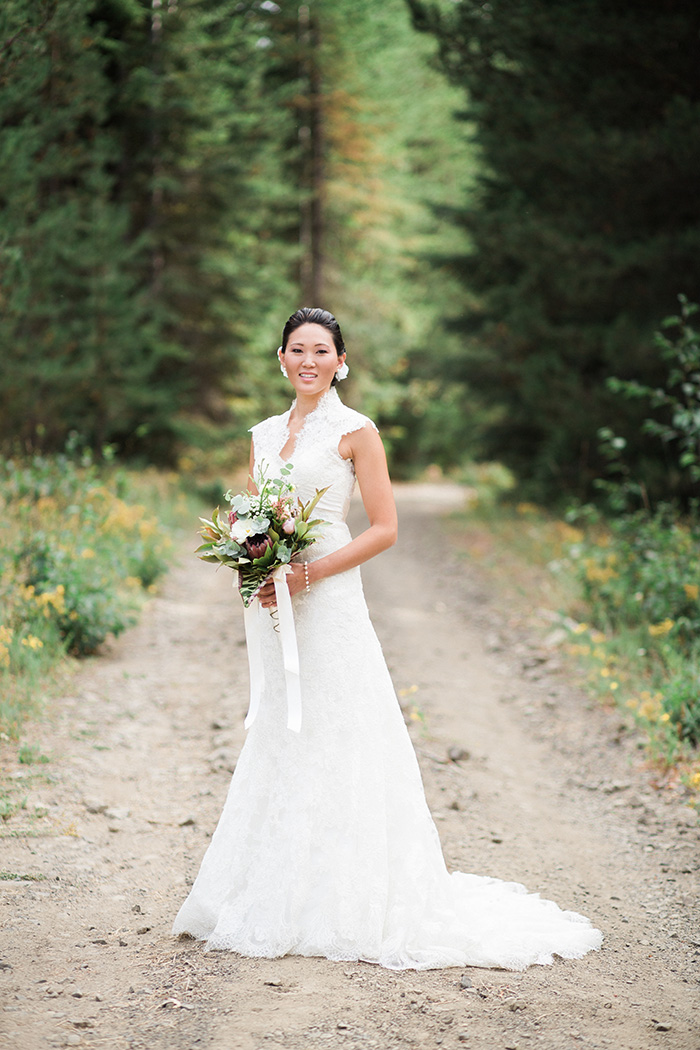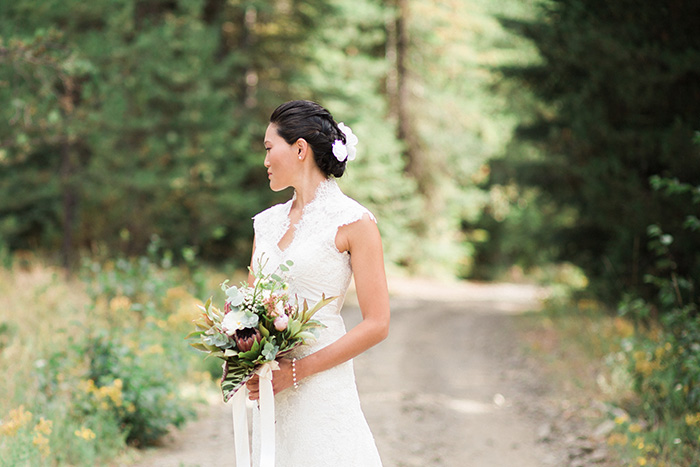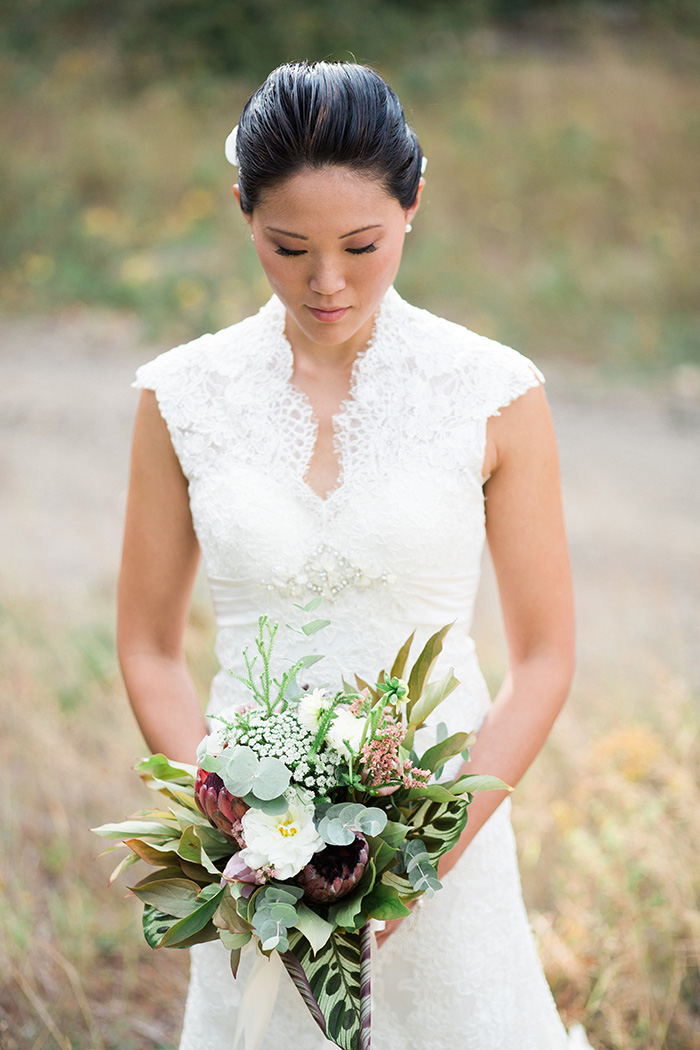 What was the best thing about having an intimate wedding?
We got to really spend time with our guests.  With a small guest list, we had the time, energy and budget to customize the experience.  Many of our guests had significant responsibilities in contribution to the weekend event, and those many hands made light and easy work for us!  
Hoku's family hosted homemade meals for the remainder of our stay (2 nights) at the log home for all guests.  We went on hikes and lake visits with our families, enjoyed the hot tubs in a downpour and basically ran amok for a weekend!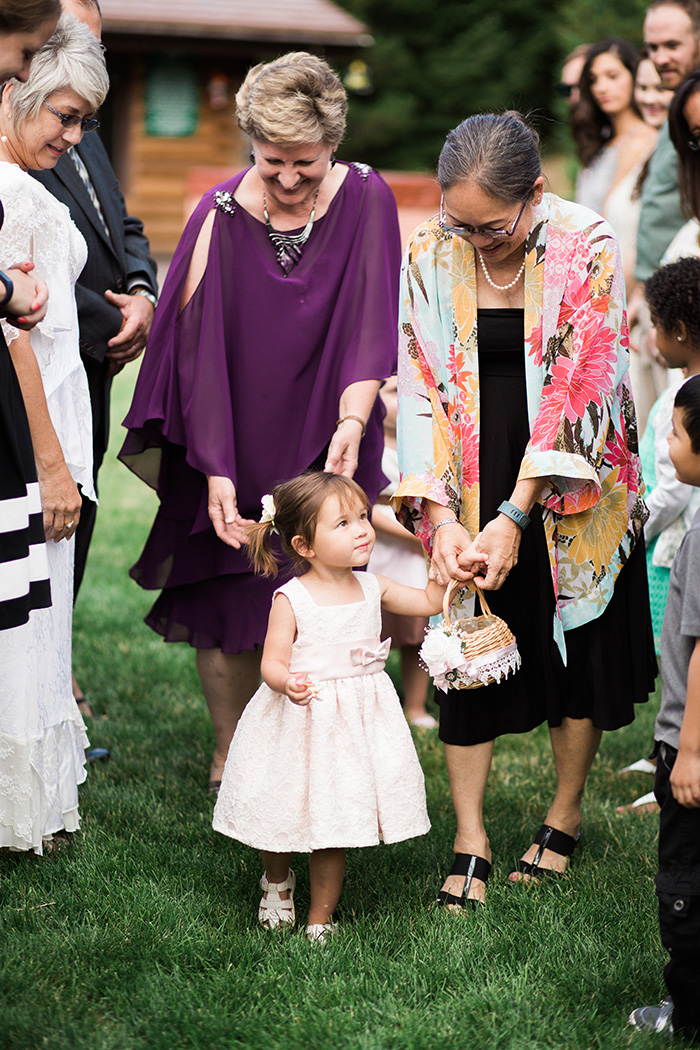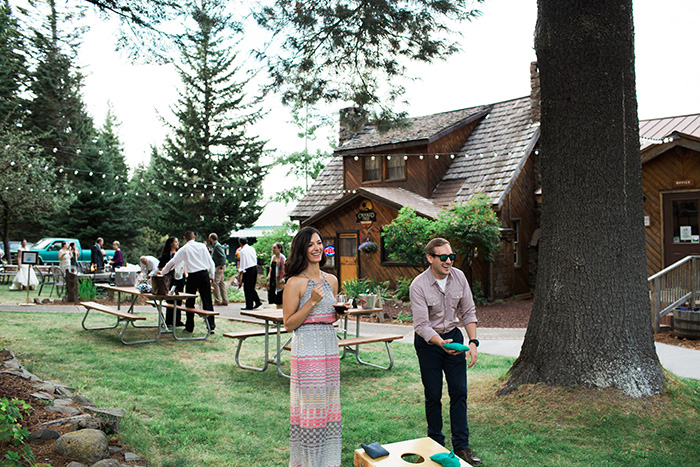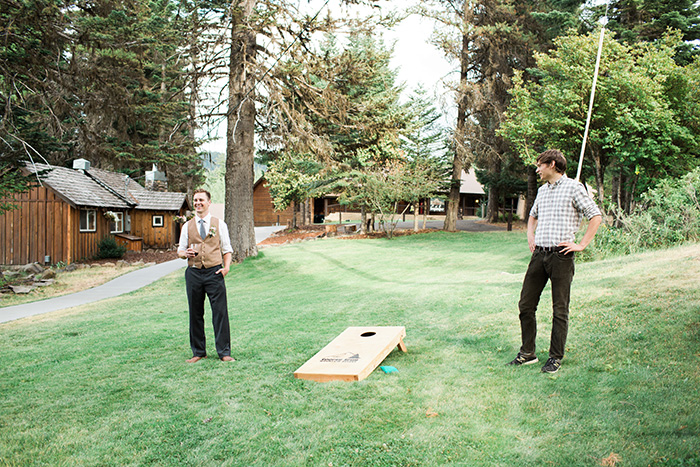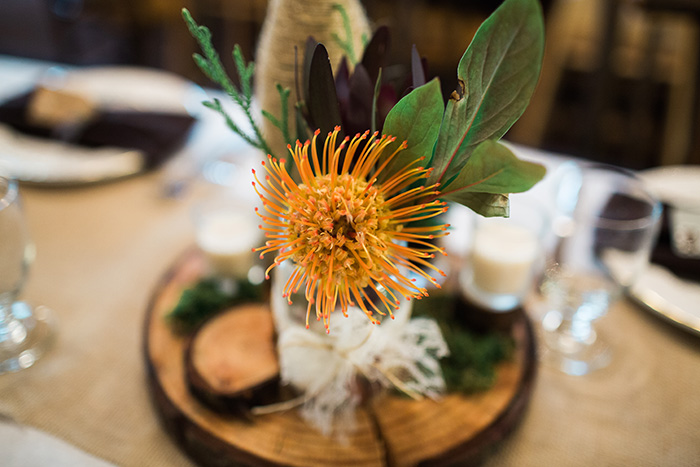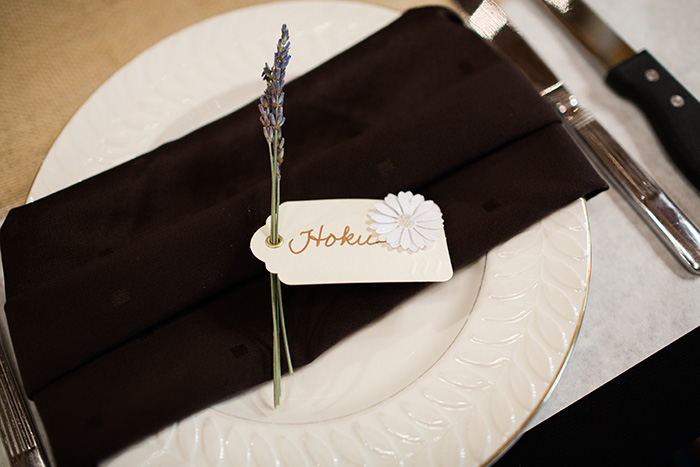 What advice do you have for couples who are considering an intimate wedding?
Before you begin planning, identify your priorities.  What will you remember most about your wedding day?  Make your decisions with integrity to those priorities and all will be well.  
Vendors:
Photographer: Shelley K Photography (who smartly recommended an "Unplugged" event!  ZERO regrets there)
Venue: Cooper Spur Mountain Resort- Crooked Tree Tavern