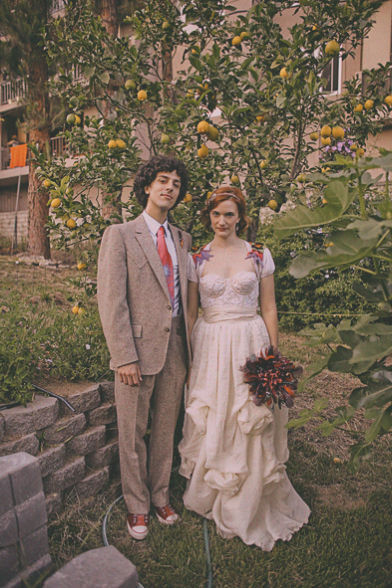 Wedding blogger extraordinaire Dana LaRue, aka Broke-Ass Bride, needs a little help right now. And you can make a difference.
Dana has chronic autoimmune diseases that require frequent surgery (she's had 11 operations in the past 9 years) and regular ongoing medical care. When she was 19 she was diagnosed with an autoimmune disease called Uveitis which causes her immune system to doggedly attack her eyes, resulting in inflammation, visual disturbances and blurriness. It is incurable and will cause blindness if left untreated.  She also has a very rare deep-tissue form of a disease called Granuloma Annulare, causing a different type of inflammation in her foot.
The medical expenses to deal with these diseases are the primary reason she and her hubby are "broke-ass",  she says.
She recently learned that she needs surgery in her left eye, costing $18,000.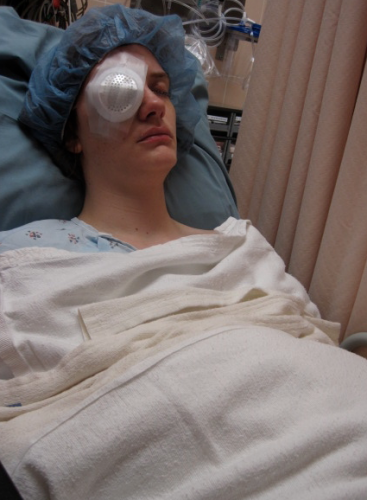 To help raise money for her medical expenses, she is holding an online fundraiser called Dishing for Dana: bad-ass bloggers cooking comforts for a cause.
Dana is in the process of compiling comfort food recipes and stories from "the most bad ass bloggers and beyond". Make a monetary donation towards her medical expenses and you will receive a password to access the full recipe database. (Donate big and her rapping hubby will create a personalized rap for you or your business! See other incentives here.)
To help raise money for Dana, for the next week I will be donating 15 cents for every new "Like" I receive on the Intimate Weddings Facebook Fan page. As I write this we have 1, 111 likes – so any new likes from now until April 30, 11:59 pm Eastern will count. (We capping it at $500 US.)
So come on over to FB and Like Intimate Weddings on Facebook. (Remember – we're giving 15 cents for each new 'Like')
You can also donate to the cause yourself. Even small amounts can make a difference!
First Photo: Chennergy Wedding Photography