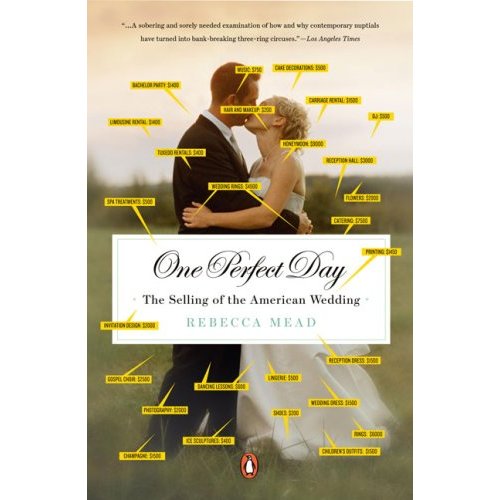 Before you drop $25,000, or even $5,000 for your Perfect Day, Read Rebecca Mead's expose of the American wedding industry, One Perfect Day: The Selling of the American Wedding.
One Perfect Day is an excellent read for couples who have recently become engaged. In fact, all 'thinking' brides should read this book as a primer to wedding planning – well before the venue is booked, and the dress is found.
One Perfect Day
digs deep into the core of the wedding industry. It gives a behind the scenes look inside an industry that is as sophisticated in manufacturing and marketing fairytales as Walt Disney. (Not surprising Disney is one of the big players in the industry.)
In her quest to understand the American Wedding, Mead travels across the country, attending insider events and meeting with wedding professionals from all facets of the industry – from wedding planners, to officiants, to videographers. The revealing conversations she has with many wedding professionals gives the reader an understanding of just how 'valuable' the bride has become in recent years. As one wedding professional put it, she is "a marketer's dream."
Mead also travels to a factory in China, where bridal gowns are manufactured for market in the U.S. Her sobering account of the factory conditions and the daily drudgery of the mostly female laborers (they make on average $150 per month working 6-7 days a week) give insight not only into the wedding gown industry – but 'Made in China' as a whole. (The question remains, how do we as consumers avoid it when there's little choice of anything else?)
Mead also challenges the accuracy of the $27,852 price tag placed on the average wedding: a number, she explains that is issued (and promoted) by a major company that publishes bridal magazines.
What's the advantage of promoting the $27,852 price tag? Mead argues that if a bride is told repeatedly that is the average cost of a wedding, then she believes that spending nearly $28,000 is perfectly acceptable.
One Perfect Day
is an essential read for anyone who wants to create a wedding with authenticity. There's a good chance that after reading it, a bride will ask herself: Is this the wedding that we really want, or is this the wedding the big white wedding machine has hypnotized us to have? As Mead points out, even the best of us can fall under the glittering, fairytale spell of the American Wedding.