Vintage teacups and teapots are a great affordable detail to add a little touch of whimsy to a tea party wedding.
The patterns of the china immediately add visual interest before you've even put anything in them! Their delicate shape make them perfect pieces to add feminine details to whichever area you're dressing up.
This teacup cake topper is so adorable, not only is it creative, but adding the topper and flowers makes the simplistic cake stand out more and helps pop the detailing in the china pattern and colorful flowers.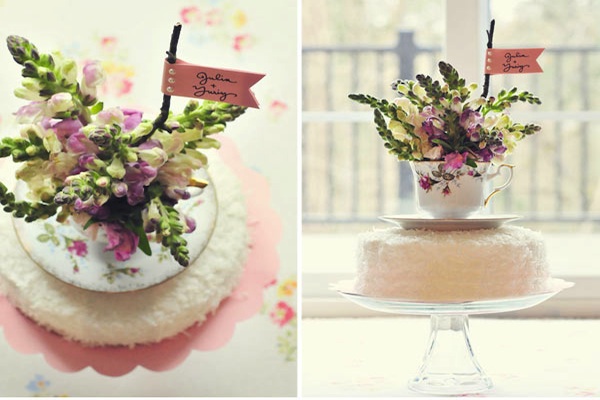 I love mismatched china, mixing it together makes shopping for it a lot easier! You can pick basic color palletes that you like then search at thrift stores and flea markets and not be held back by a particular pattern. These cupcakes in the teacups are great for a tea party wedding because you don't have to cut any cake and it makes serving so easy!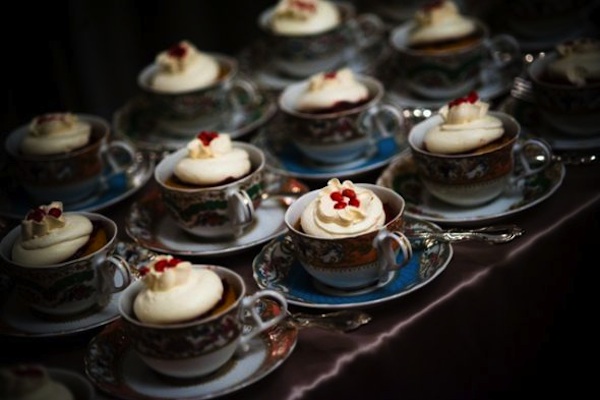 I love ring pillow alternatives, and this is one of my favorites!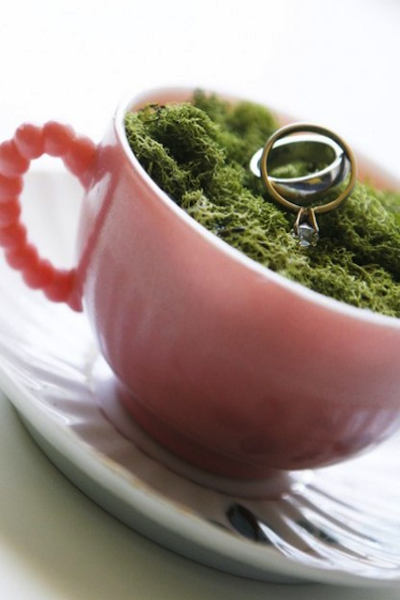 These are fantastic teacup place settings and they can be used as favors for your tea party wedding!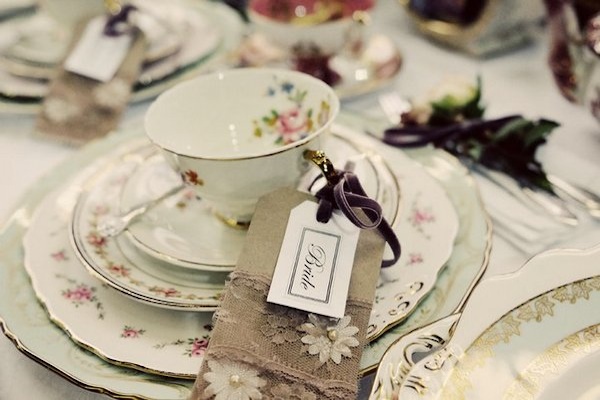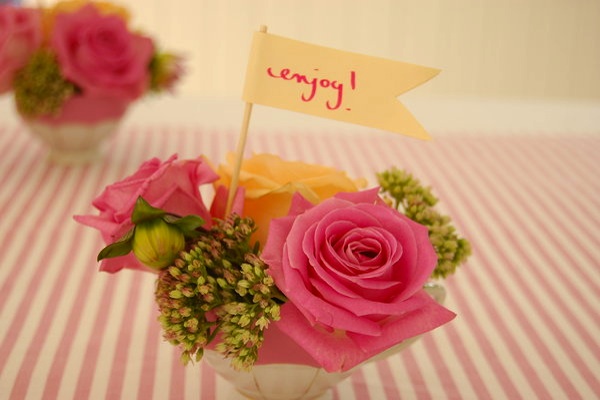 Stacked teacups with mismatched patterns and only a few flowers make for great centerpieces. Teapots make fantastic vase alternatives! Again, with the patterns of the china the flowers can stay very simple.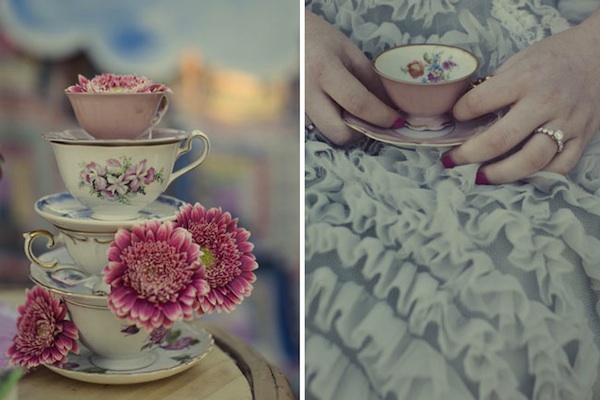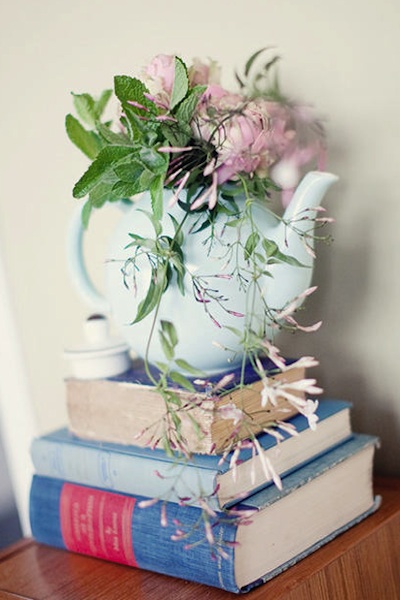 These teacup candles and succulents are amazing DIY favor ideas! They're memorable, unique and if you shop around can be affordable.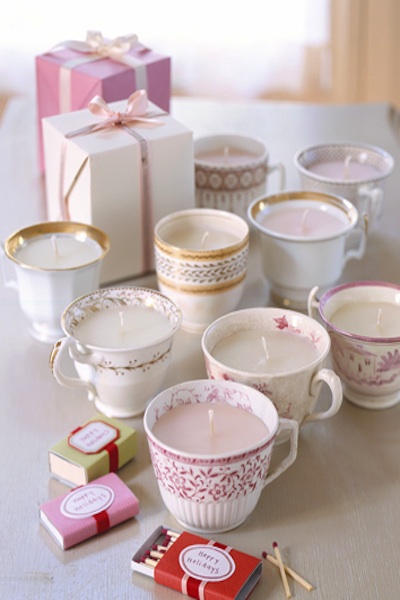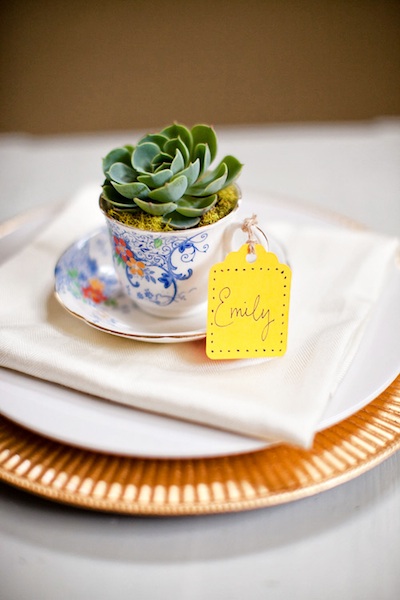 And don't forget this tutorial for homemade bird feeders make from vintage teacups. These fit in perfect with a tea party theme!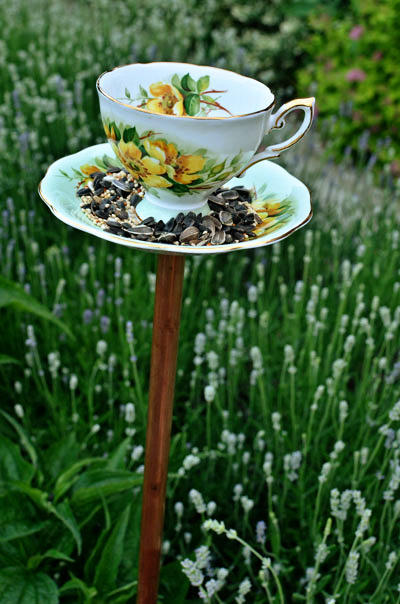 For the best use of vintage teacups and teapots mix patterns, start ahead of time so that you can stock up enough for your guests and chose only a few areas you want to incorporate them into. Thrift stores, ebay and flea markets are best to find great teacups and teapots. Flower arrangements can be affordable and simple when used with vintage teacups and teapots, they make great favors, or an amazing way to start your own collection for after the wedding!
Photo One: ruffledblog.com; Photo Two: wedding-cupcakes.org; Photo Three: emmalinebride.com; Photo Four: theweddingcommunityblog.wordpress.com; Photo Five: ProjectWeddding.com; Photo Six: greenweddingshoes.com; Photo Seven: designspongeonline.com; Photo Eight: sandiegoabc.com;  Photo Nine: MarthaStewart.com; Photo Ten: Intimate Weddings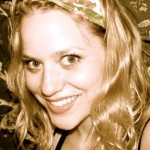 Rebekah is a DIY obsessed,wedding design wizard who loves hunting her bay area homeland for clever craft ideas, vintage gems, bargain buys, and blogging inspiration. She and her husband live and write in Oakland. Read her blog