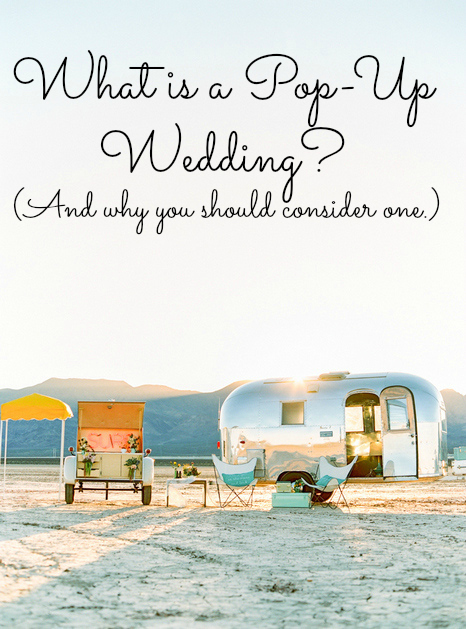 Until a few weeks ago I had never heard of a pop-up wedding. It was a friend of mine (she ran off to Vegas to get married) who told me all about this new trend.
"You basically just show up," she said. "If you don't want the stress and the cost of a traditional wedding, it's perfect!"
I wanted to learn more, so I asked almighty Google: "What is a pop-up wedding?"
What I discovered is that not all pop-up weddings are the same, but they do have a common purpose: to make it easy for a couple to get married, and to make it less expensive.
Pop-up weddings truly are perfect for couples who simply don't have the cash to pull out all the stops on their wedding day. They are also ideal for couples with other priorities, such as travel.
And because not all of us dig wedding planning, they are a great option for couples who don't want to invest months orchestrating an event.
Some pop-up weddings are like fancy elopements with no guests. Australia's The Pop Up Wedding describes their service like this:
"We find the coolest venue, the hottest photographer, really creative stylists and florists and a rocking celebrant and put them all together so for one hour you can have your dream wedding with no fuss, no stress and a few guests."
Perth Pop-Up Wedding, also in Australia, allows up to 16 guests, and lets you choose from eight different venues.
"We provide an incredibly stunning and romantic venue with three inspiring and uniquely styled ceremony options … a beautiful mini bouquet, Perth's most awarded celebrant… your Marriage Certificate, celebratory champagne and cake for you and your guests and photographs of your ceremony followed by a short portrait session as husband and wife with one of Perth's most sought after photographers…"
Thankfully, you don't have to go all the way to Australia to have a pop-up wedding. The trend is catching on in North America.
Victoria Hogan's Flora Pop offers pop-up weddings in Las Vegas. Today, we're featuring an interview with Victoria, along with a gorgeous desert styled shoot by Gaby J Photography highlighting Flora Pop's Pop-Up Wedding Chapel (that's Victoria in the photos).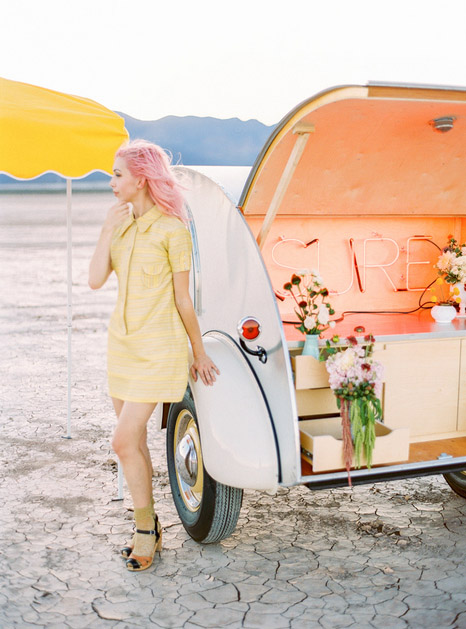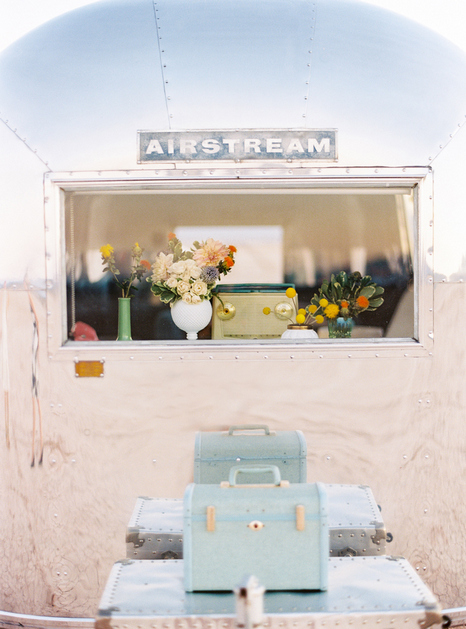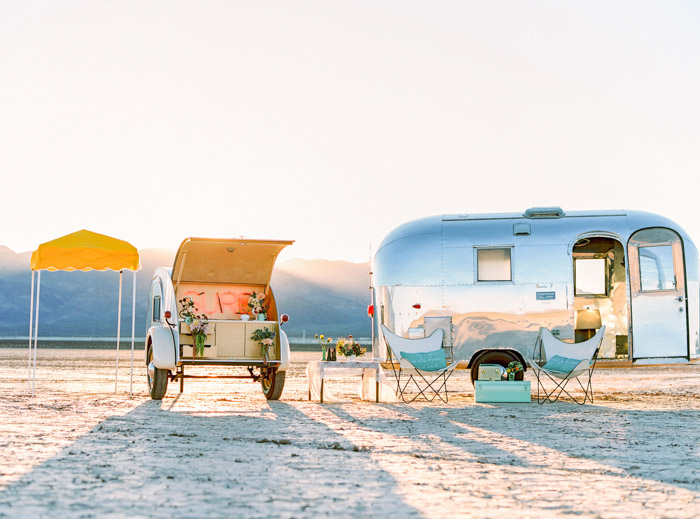 What is a pop up wedding?
A pop-up wedding is much like an elopement. A short & sweet ceremony usually consisting of the couple, their witness & myself. Endless natural landscapes for backdrops & vintage neon signage are a favorite of couples that I work with. I'm a floral designer & recently acquired the ability to officiate these ceremonies that I create with my mobile altar. I built by hand the Teardrop trailer in the photos. It's modeled after a 1950's Kenskill trailer & comes complete with neon signage, flowers & for the adventurous couple, a full sized bed in the cabin should they want to continue their honeymoon in nature.
I opened the flower shop two years ago and I do gardens & weekly flowers for businesses in town. The Teardrop was intended to be my mobile flower stand, but after some thought it just didn't feel right. I kept brainstorming & one day it hit me: I can do it all! Officiate, flowers, ceremony, the works. It became a very stress-free solution for brides because the price is right, the planning is finished, they just have to show up & have a great time!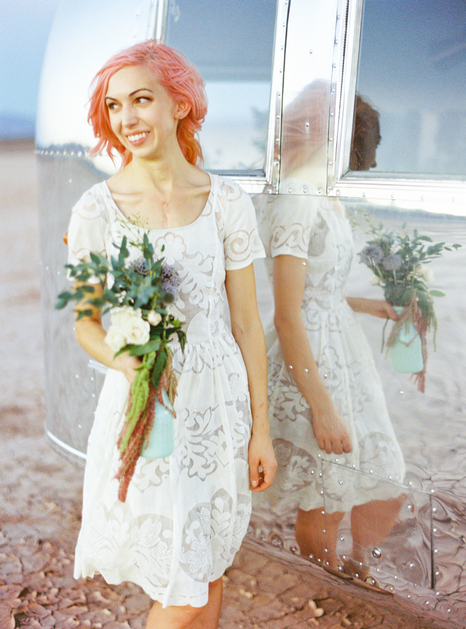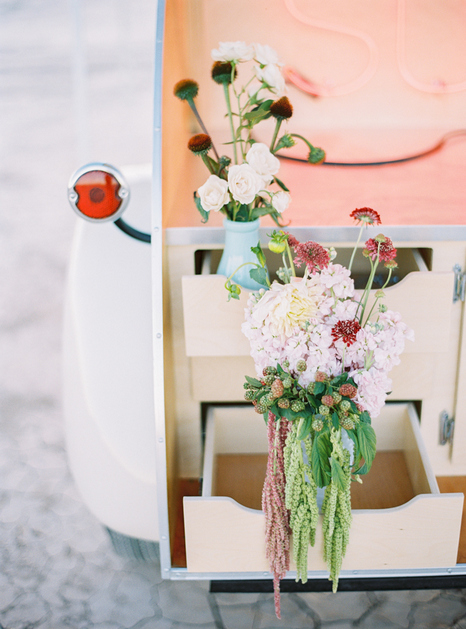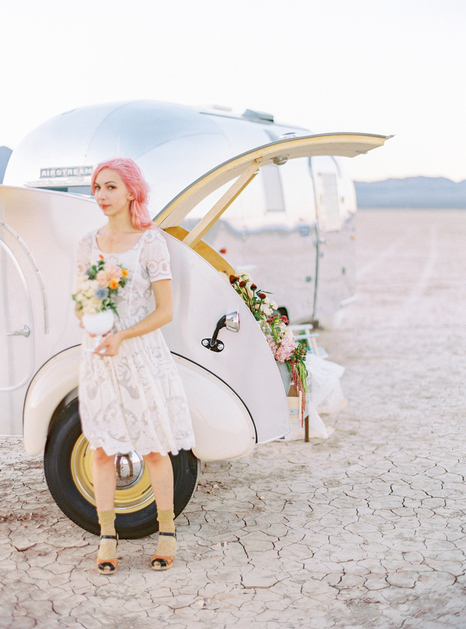 Why are couples choosing pop up weddings?
Large scale weddings aren't for everyone. A lot of the couples I work with would rather spend money on their honeymoon, instead of a ceremony that isn't really about them. My pop-ups are all about the couples & the love they share. It's really a sweet & genuine moment.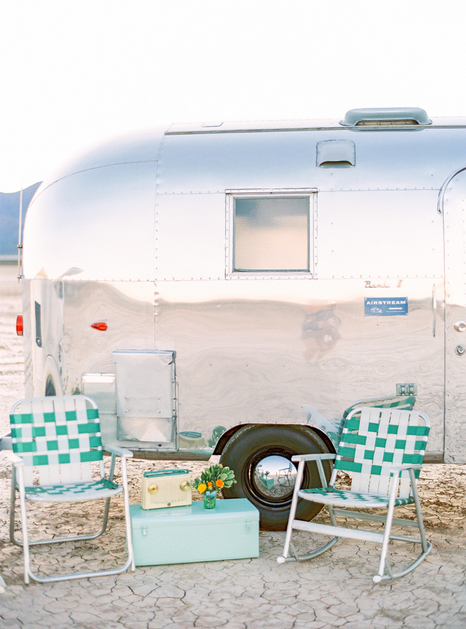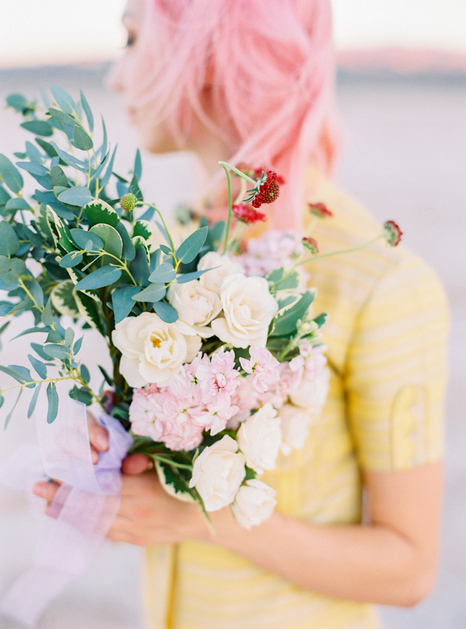 When did you start Flora Pop's Pop Up Wedding Chapel?
I started this only about 4 months ago.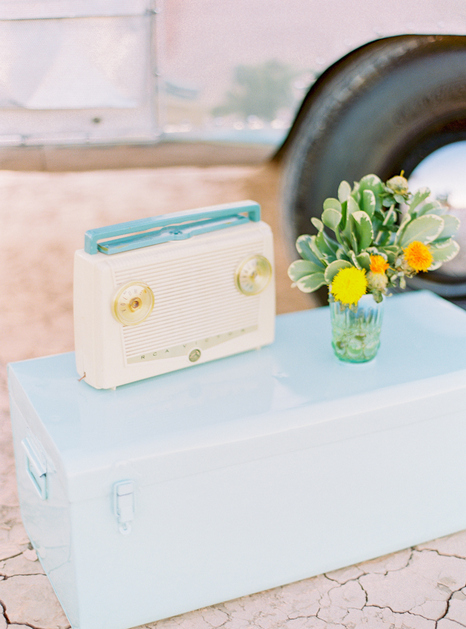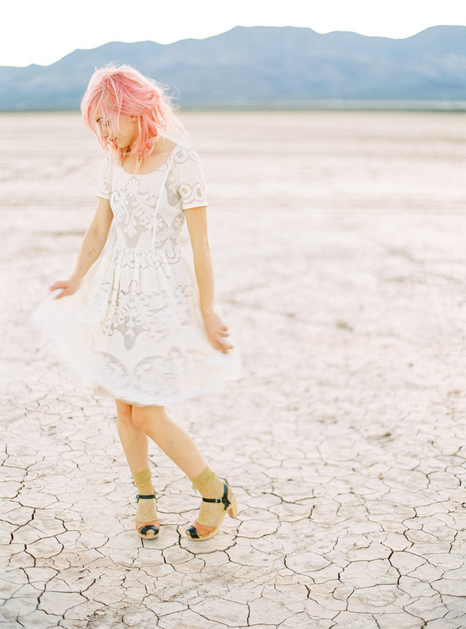 What's the cost?
Packages in-town start at $550. Out of town trips to remote desert locations go up in price depending on the location. There is a dry lake bed just outside the city limits. (The images were taken there.) These packages start at $1200. Flowers are extra & I have a list of preferred vendors for vintage bridal hair, specialty mixologists, custom rings, donuts & vintage airstream add-ons.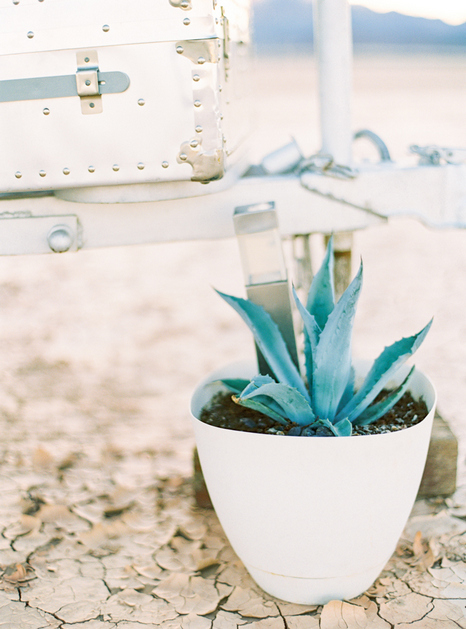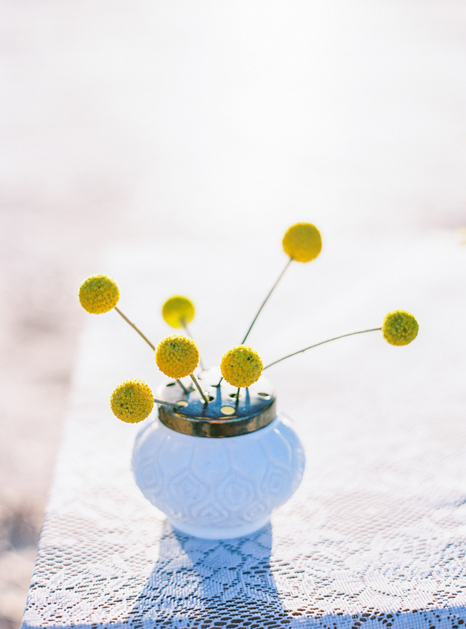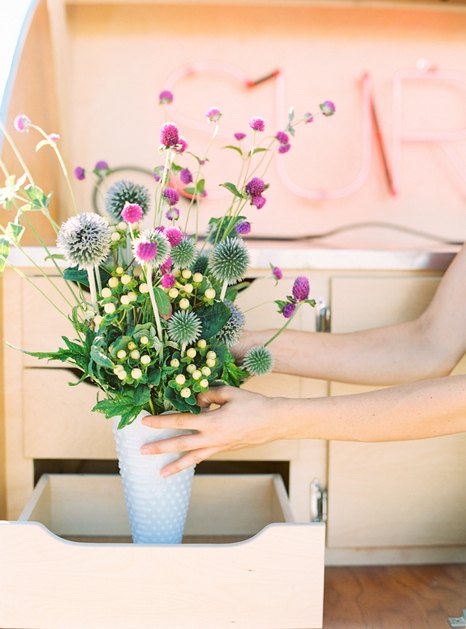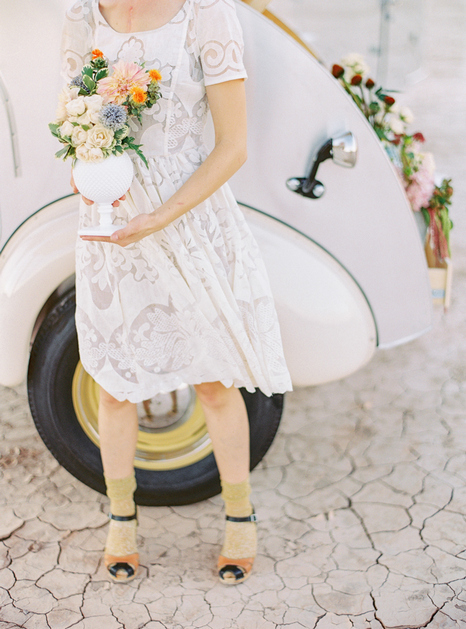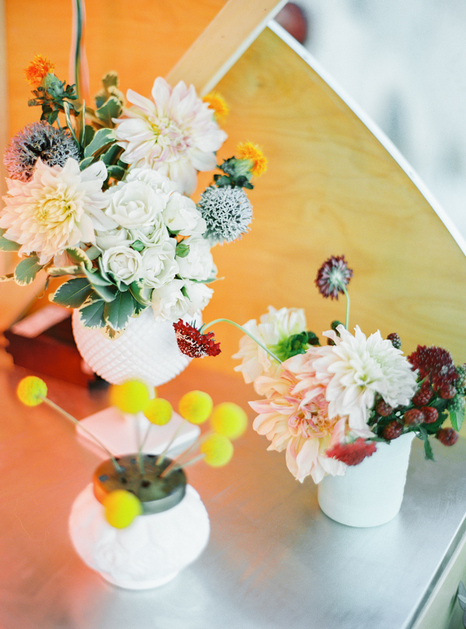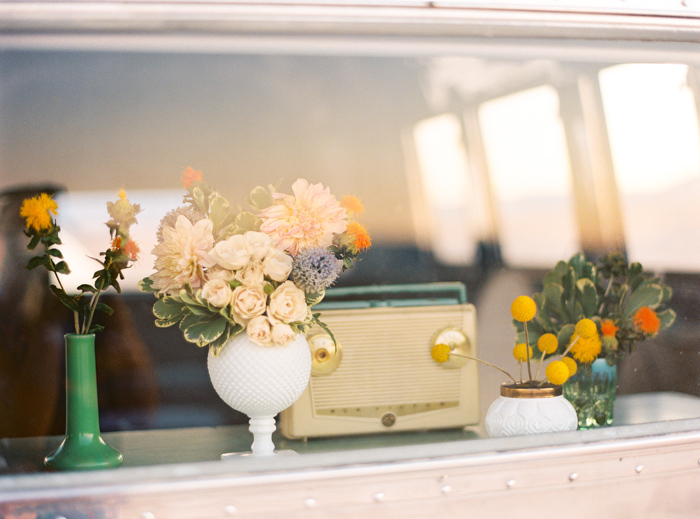 Is this trend catching on?
Yes, I have bookings all the way until 2017. I have weddings every week & the interest is growing rapidly.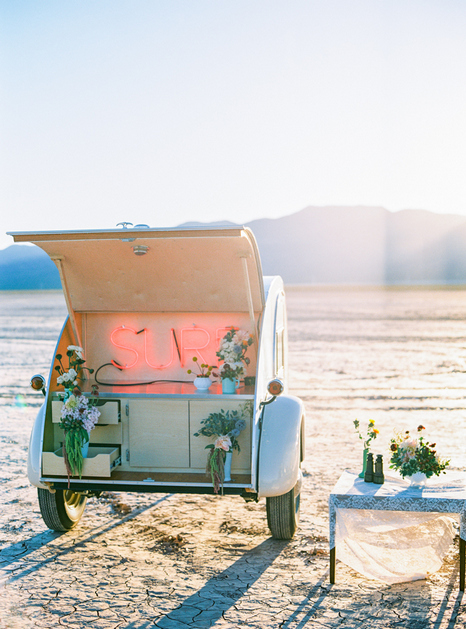 Photos: Gaby J Photography