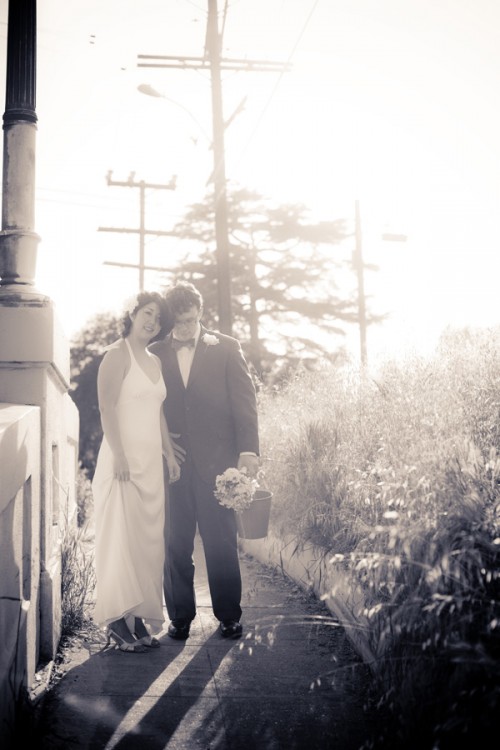 Adina, 29 & Whitman, 29
Los Angeles, California
Wedding Date: March 31, 2009 (10 year anniversary from their first kiss)
Number of Guests: 3
Wedding Cost: $7,000 (includes rings, dress, suit, officiant, flowers)
Wedding Ceremony Location: Silverlake, Los Angeles at bride's great-grandmother's garden
Wedding Reception Location: The SmogShoppe, Culver City on June 27, 2009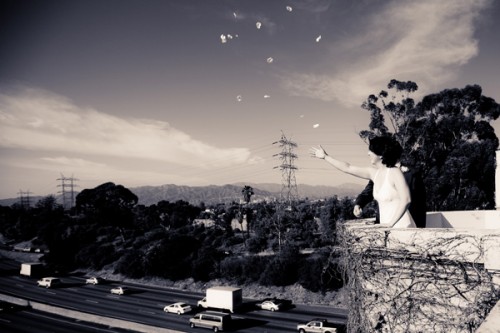 Why did you have an intimate wedding?
Whitman and I have been together for so long, it was as if we were already married.  We wanted to have a private ceremony because we wanted to keep it simple and intimate.  Having too many people around would be distracting to both of us and we wouldn't be able to enjoy ourselves.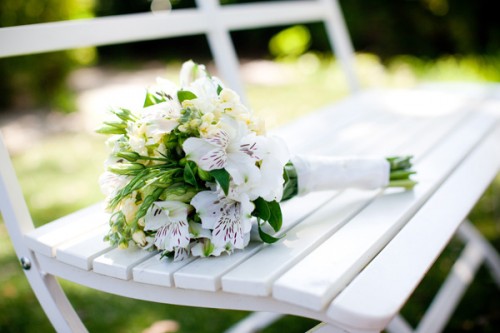 What are some the challenges that you faced planning an intimate wedding?
I had a lot of fights with my family who didn't really understand.  My great-grandmother was still confused about us actually being married after our ceremony because Whitman's family wasn't there.  She was very concerned that we needed to rent tables and chairs and how is everyone going to fit in her yard.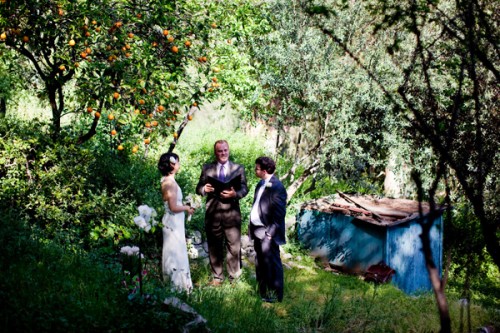 Was it difficult to pare down the guest list?
Not at all because I was having a reception with friends and family later on in the summer.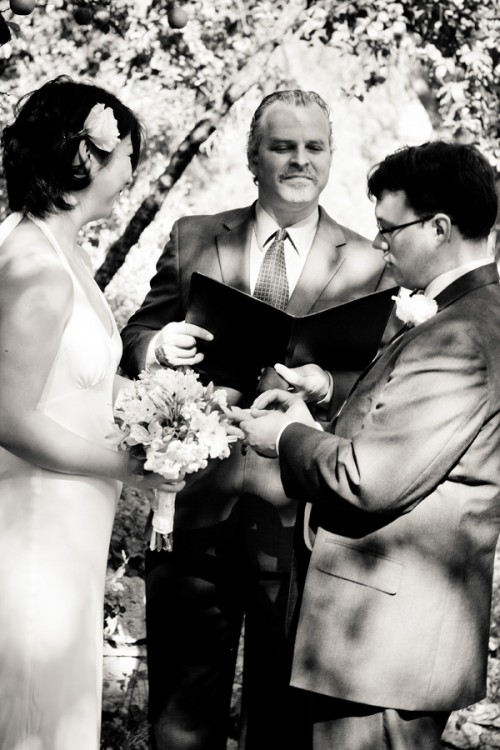 Did you have any 'issues' with the small guest list from friends and family? If so, how did you address them?
The major conflict was when Whitman and I really wanted to have the ceremony to ourselves, the officiant and the photographer.  But it was really important to my mom, my grandmother, and great-grandmother that they got to watch the ceremony.  I felt that it wasn't fair to have them there when none of Whitman's family was present, but we ended up compromising and my side was able to watch from a respectable distance.  The officiant was super cool and talked loud enough so they were able to hear what was going on.  Again, it was going to be distracting to Whitman and I if my side was standing over our shoulders.  I know that sounds terrible, but both our families have a very strong presence.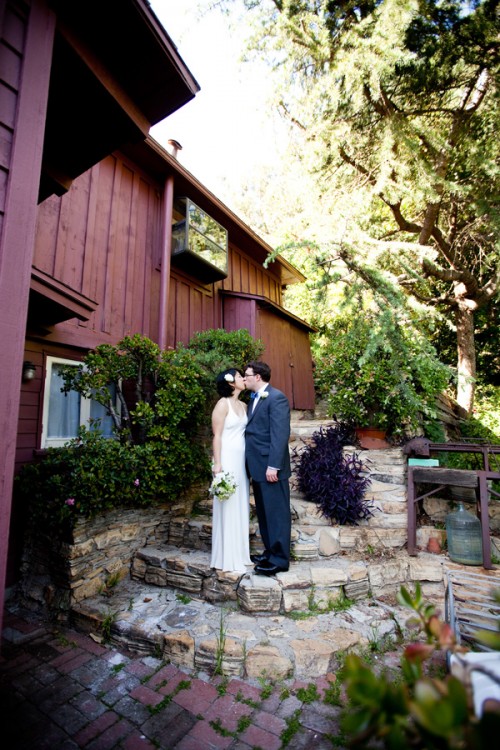 What were the highlights of the ceremony?
I felt like the ceremony was very sentimental.  I made my own bouquet, I helped Whitman tie his bow-tie, we made our own wedding cupcakes (Suthi, our photographer, saved the cupcakes because the first batch didn't bake well), the ceremony was were I grew up and played as a kid, everything was special specifically to us.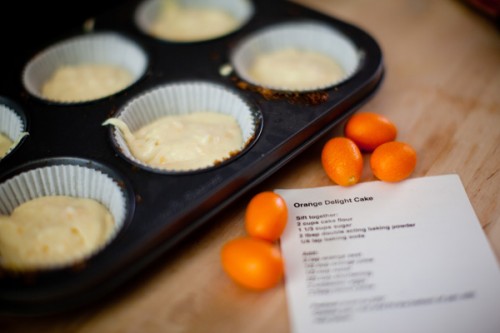 What were the highlights of the reception?
I got to see a lot of friends and family who came from out of town.  It was like having a party with all the important people in your life!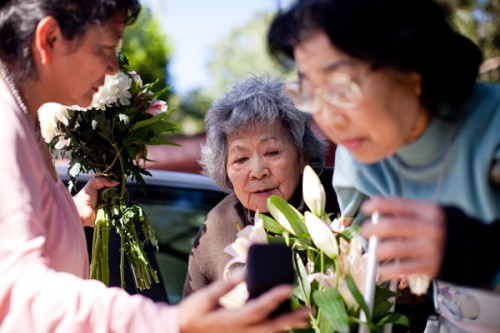 What was the best thing about having an intimate wedding?
Having Suthi as our photographer helped capture how giddy and goofy we were.  The day was kind of awkward for Whitman and I (especially during our first dance, think of junior high dances) but Suthi was able to get details and expressions that are so important to us in remembering that day.  People who see our wedding photos can tell exactly how happy we both are and photos help them experience our ceremony in a very candid way.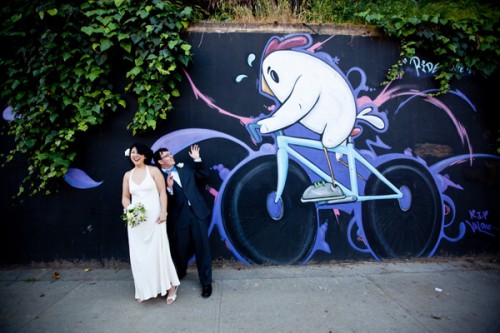 What advice do you have for couples who are considering an intimate wedding?
It's tricky dealing with family who might be hurt by being left out.  Your wedding is as important to them as it is to you but ultimately, it's YOUR wedding.  Family members usually feel more entitled to be there than friends do.  Some families will take it better if you sit them down and just be honest and explain that you want to have a private wedding.  But sometimes you just need to just do it your way and then deal with the consequences afterwards.  The main thing is that people are going to have hurt feelings regardless because they are being excluded, so if you and your fiance can live with your decisions, be strong and stand your ground.
People are trying to save money instead of spending it on a lavish wedding.  Instead of going to the court house, you can hire an officiant and have your ceremony in a more sentimental place.  Some places require a permit or you have to pay a fee, so do your research and find out the details before it gets too close to the ceremony date.
Always allow more time than you think you'll need to get ready!!!  Crazy stuff likes to happen at the last minute so it makes sense to be flexible and spontaneous.
I would highly recommend having a professional photographer (even if you're going to the court house).  A photographer can work wonders in making the day more special as long as they are the right fit to your style and personality.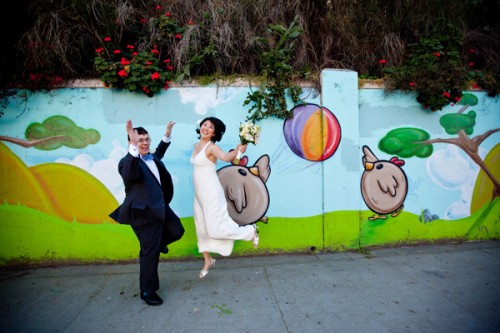 Vendors:
Photographer: Picotte Photography
Reception Venue: The SmogShoppe, Culver City
Bridal Bouquet: DIY
Wedding Cupcakes: DIY