When I hear the word 'corsage' I'm instantly transported back in time to the high school prom I didn't attend. The smell of carnation and baby's breath fills my nostrils, along with a hint of rose. And then I am reminded of elderly ladies in church.
The corsage does not have a sexy image.
But corsages ain't what they used to be.
Although fresh flowers are still an option, many creative brides and grooms are turning the corsage on it's head – using everything from felt and ribbon, to berries, leaves and acorns.
Here are a couple of DIY corsage ideas that I thought were fun!
Planet Mithi made ribbon brooches instead of traditional corsages for the members of her wedding party, and also for her immediate family.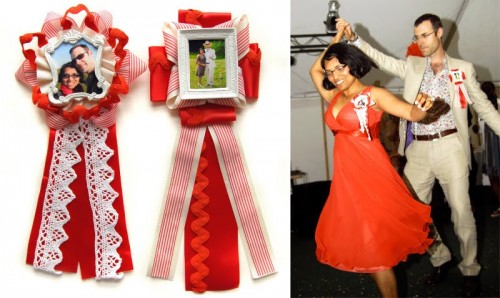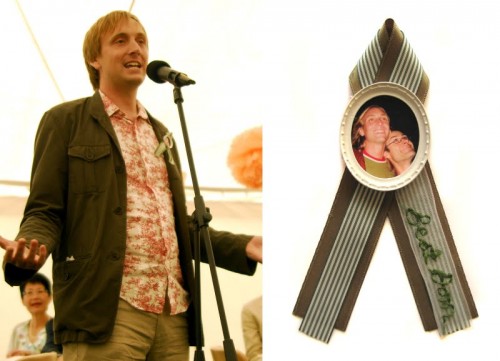 She writes:
"The photo frames are little dollhouse frames that I spray-painted white. The whole thing is stuck/sewn to a backing piece of felt onto which I attached a safety pin. Fairly straight forward you would think – but it took a long time: sourcing the right colours and combinations of ribbons; doing all the sewing – especially sewing all the names on; sourcing all the photographs; and just in general putting it all together."
But Planet Mithi says it was worth the effort.
"I am SO happy with these," she says, adding that she is going to frame some of them.
Mark Montano's The Big-Ass Book of Crafts
created an Urban DIY Corsage that's worn around the wrist and made of recycled materials.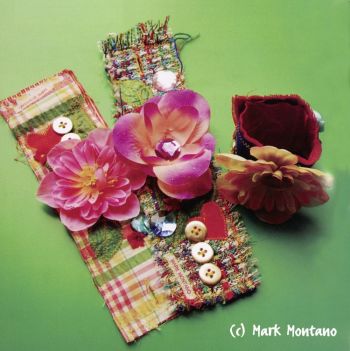 Get the full instructions on how to make an Urban DIY Corsage over here.
And then there is always Martha who offers some lovely DIY corsage ideas in her book Martha Stewart's Encyclopedia of Crafts: An A-to-Z Guide with Detailed Instructions and Endless Inspiration
. I bought this book a few months ago, and it's a must-have for anyone with a penchant for DIY. There are oodles of craft projects that can be incorporated into your wedding.