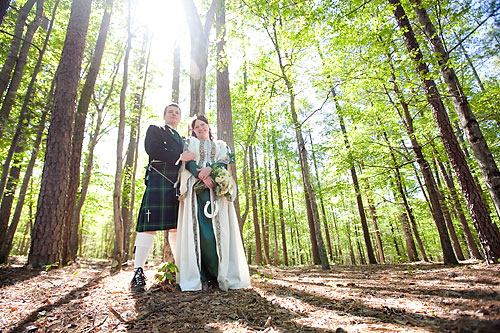 Christine, 39 & Tim, 42

Raleigh, NC
Wedding Date: April 11, 2010
Number of Guests: 45
Wedding Cost: $7,300, including officiant, photography, shelter rental, event coordination, flowers and decorations, chair rental and setup, kilt rental, custom dress, hair for 4 people, limousine, horse and carriage, bagpipes, full buffet dinner and bar.
Wedding Ceremony Location: Umstead Park, Reedy Creek Picnic Shelter #1, Cary, NC
Wedding Reception Location: Tir na nOg Irish Pub, Raleigh, NC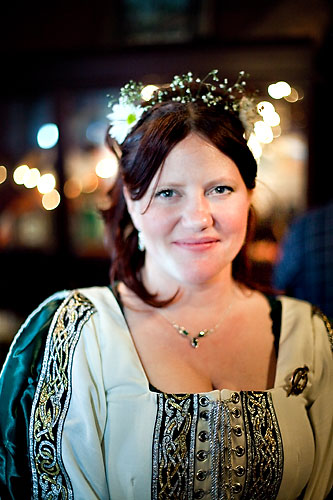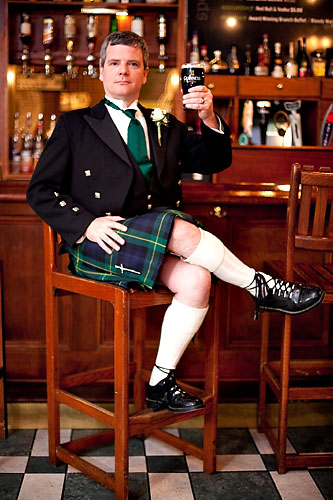 Why did you have an intimate wedding?
This was a second marriage for each of us, and we wanted to do something less traditional this time that had special meaning for the two of us.  We wanted places and things that had special meaning for us, even if nobody else  quite understood.  We knew we wanted to get married outdoors, and that we didn't want to have a  'wedding-y' wedding.  Something fun, memorable, and unique, just like we are.  Having an intimate wedding allowed us to put more of  'us' into the wedding,  making the day extra-special.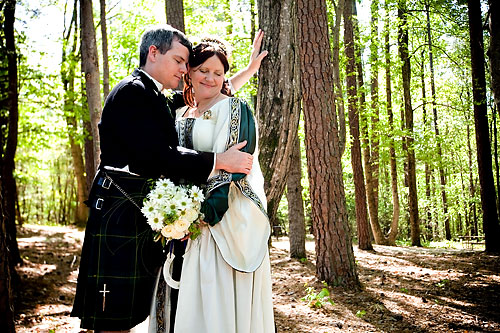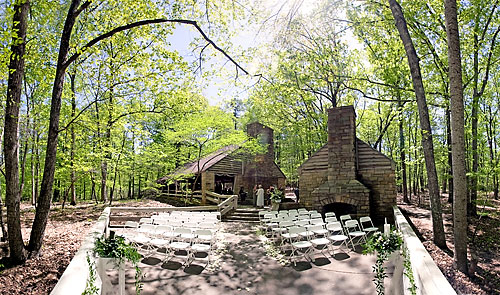 What are some the challenges that you faced planning an intimate wedding?
The guest list is always a challenge when planning a smaller event. You don't want people to get their feelings hurt, but at the same time, you want to stay within your budget and venue space availability, and still keep it small enough that you can spend time with your guests without feeling rushed.  We also had given ourselves about three months to plan, so there was a time constraint as well.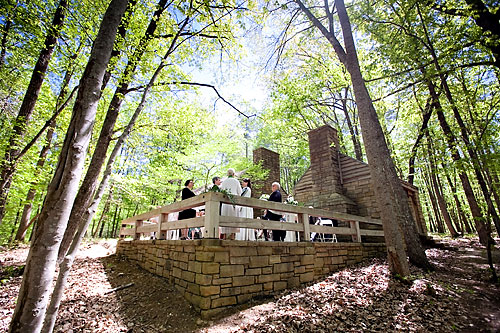 Was it difficult to pare down the guest list?
Yes and no.  We originally wanted it to be much smaller than it was, but then the list exploded…a little.  It worked out in the end, but caused some stress at the time.  One trick we used was to send invitations out in waves.  We had 3 waves of invites just to ensure we didn't go over the limit for the room, and we gave our guests enough time to respond before sending out the next wave.  We did have a few people in the first wave that we were sure wouldn't come but that "had to be invited anyway", and it backfired.  It's amazing how a wedding really brings friends and family together.  Still, it all worked out in the end.  We kept a spreadsheet that Chris found on http://theplunge.com, which allowed us to track number, probabilities and details across our guest list.  It helped a lot!  The list is customizable too so that you can add additional columns to track other details that are unique to your wedding.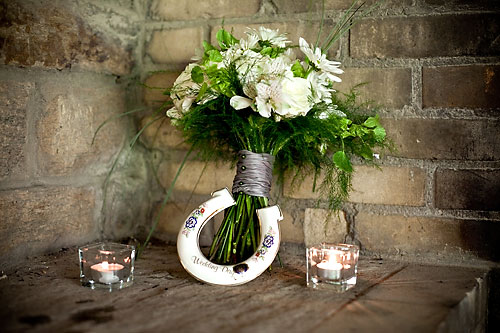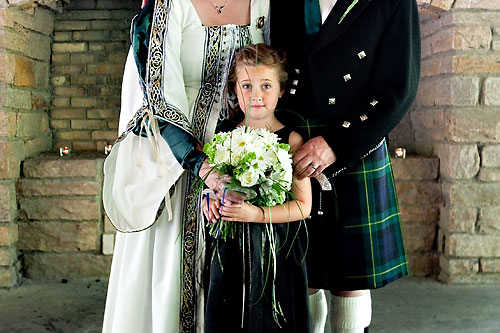 Did you have any 'issues' with the small guest list from friends and family?
Only a few.  Most everyone understood that we were planning something small and intimate and didn't get too upset.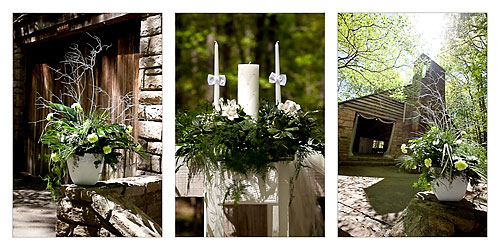 If so, how did you address them?
Through conversation and reassurance.  We explained that it was the size of the venue that was forcing us to keep the guest list down.  We also invited some local folks to join us at the pub after the food part of the reception was over.  Sort of a "Come have a drink with the new couple" event, or as Tim called it "come get boozy with us".  It worked out really well!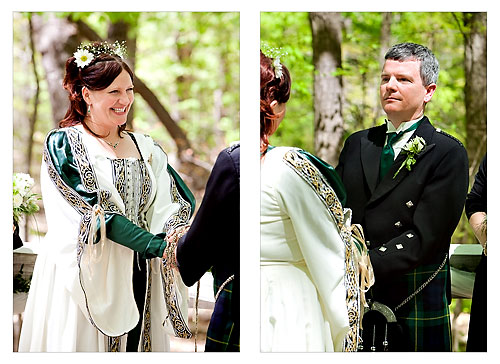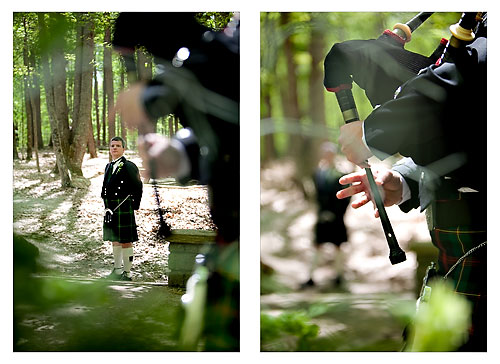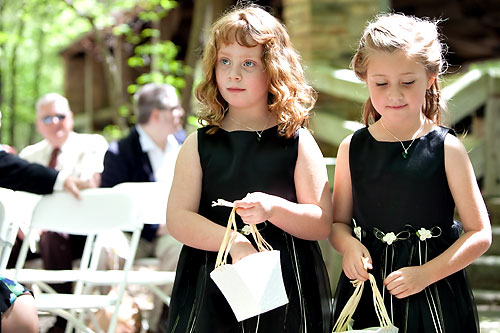 What were the highlights of the ceremony?
Everything 🙂  We had a Celtic-themed outdoor wedding at a state park.  The combination of the stone work at the picnic shelter, and the new spring growth really gave the setting an "Old World" feel that definitely comes out in the pictures. The weather was unbelievable and our team worked extremely well together to make it all fall in place.  It was so nice to have everyone together to share our moments with us.  Tim and I worked together with our minister to develop a ceremony that was customized for us with a lot of unusual touches that lent themselves to laughter, happy tears, and at least one moment of "awwwwwwwwwwwwwwwww".   Several of our guests commented that they thought ours was the most romantic ceremony they had ever been to.  Having worked on it so much really made it ours. We were able to "feel" the vows we were saying.  It added a lot of emotion to the ceremony and everyone could feel it.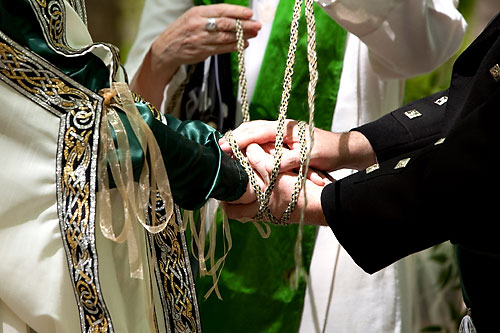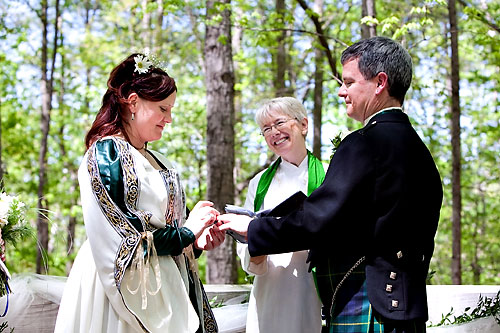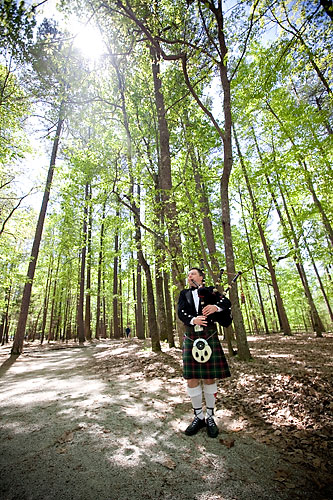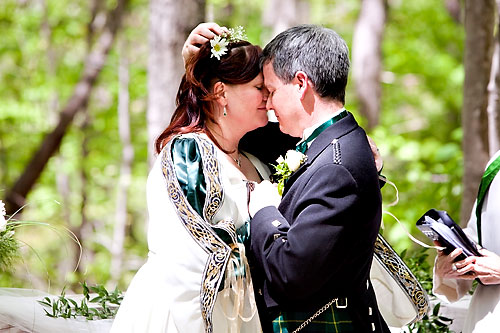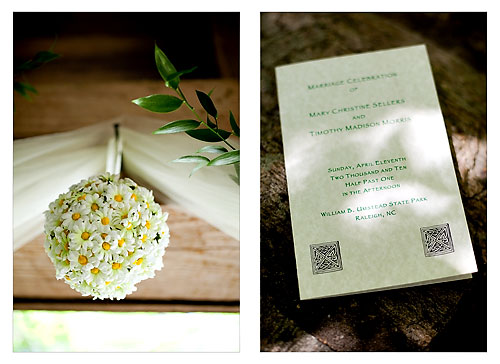 What were the highlights of the reception?
Excellent Irish food, beautifully decorated room, no assigned seating, lots of energy and laughter, Tim singing with the Celtic pickup band and inviting me to dance as we were serenaded by the musicians.  Annie from Tir na nOg did a fantastic job with everything.  The little extras and so much love that went into the planning and preparations made us feel more like family than clients!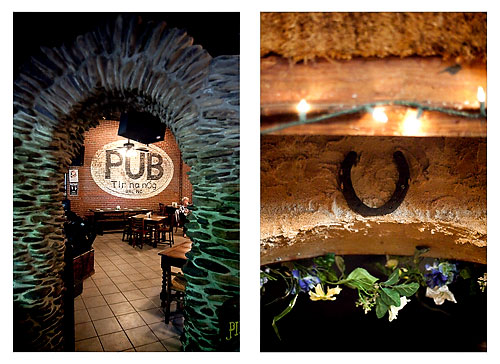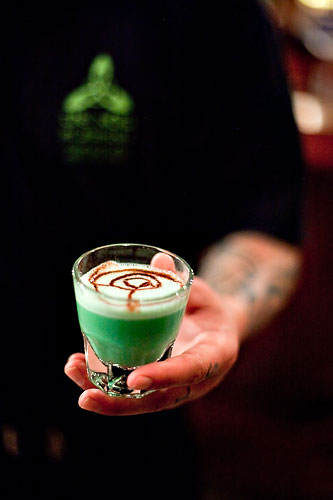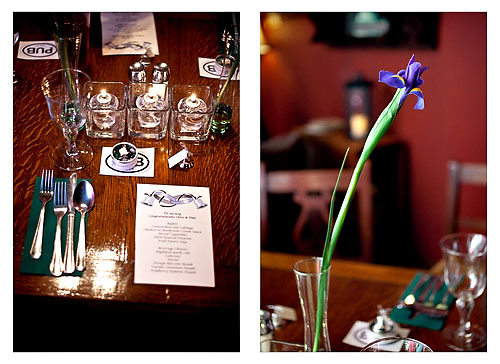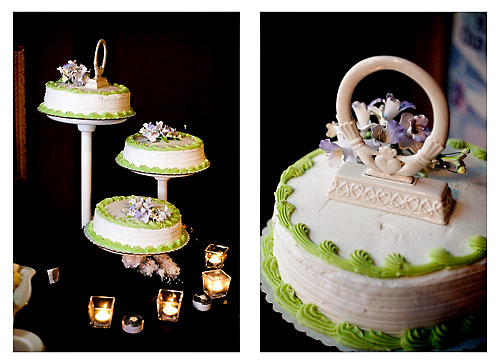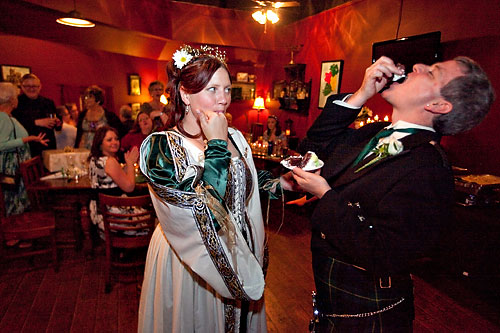 What was the best thing about having an intimate wedding?
Time! Time to enjoy and socialize and remember – the day did not go by in a blur.  We got to spend time with everyone who was in attendance. Also we had a rehearsal picnic the day before where we rented out one of the picnic shelters and had a relaxed picnic for all of the out of town guests after the informal rehearsal with Tamera, our event planner.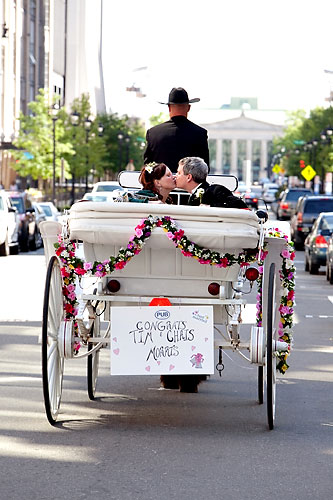 What advice do you have for couples who are considering an intimate wedding?
Make it your day.  Think about how you would like to remember it 5, 10, 15 years from now, and don't worry as much about how other people think it should be.  If there is a something that is special to you, research it and see if somehow it can be incorporated into your day.  Trust yourself!
Don't be afraid of big changes if something just isn't working.  We ended up changing ministers halfway through the planning.  It was a stress at the time, but in the end Robin was a much better fit and we honestly can't imagine things having worked out more perfectly.
Plan things yourself, but definitely get someone like Tamera to coordinate the show.  We got engaged on New Year's Eve, and officially started planning in February.  By the time we had all the big pieces figured out (locations, date, photographer, etc.) we knew we needed someone to help us put it all together seamlessly.  Tamera took care of the logistics , the flowers and decorations, followed up with all of the vendors, and ensured that the day unfolded without a hitch.  She kept stress to an absolute minimum on our wedding day so that we could enjoy it!
Make sure you pick a photographer that not only takes "pretty pictures" but that does so in a "voice" similar to yours.  You are going to want picture that not only will you look at years down the road, but that you'll still be able to feel the emotions when you do.  Craig did a magnificent job.  We couldn't have gotten more lucky when we found him.
A quick note from the groom: Guys, the joke is that our entire job is to show up "on the right day, at the right time, in the right place, sober enough, to say 'I Do!'"  I recommend being a bit more involved than that.  Even though Chris did the lions share of the work on this, taking an active part in the planning definitely made it a special day for me too.  Plus I had a good grasp of the stress that the planning was putting on her and I was able to help take some of it off, or just hold here when there really wasn't anything I could do.  Also, though, be ready to kinda stay out of her way.  Sometimes they are just going to do it themselves come hell or high water.
Our deepest thanks to everyone on our team.  We REALLY couldn't have done this without all of you.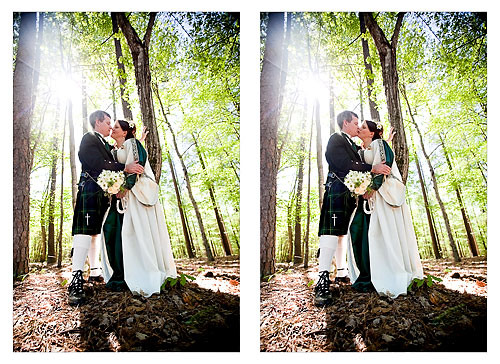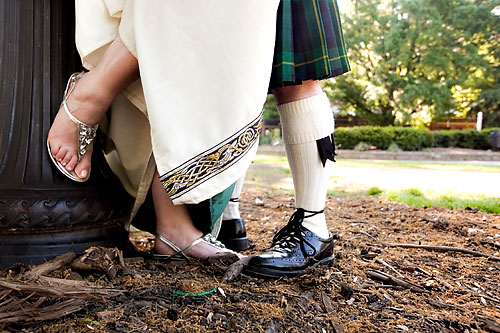 Vendors:
Hairstylist: Scott Anderson
Bagpipes: John Schodtler
Reception: Tir na nOg
Event Planning and Flowers: Tamera Davis
Minister: Robin Renteria
Photographer: Craig Carpenter from Luster Studios