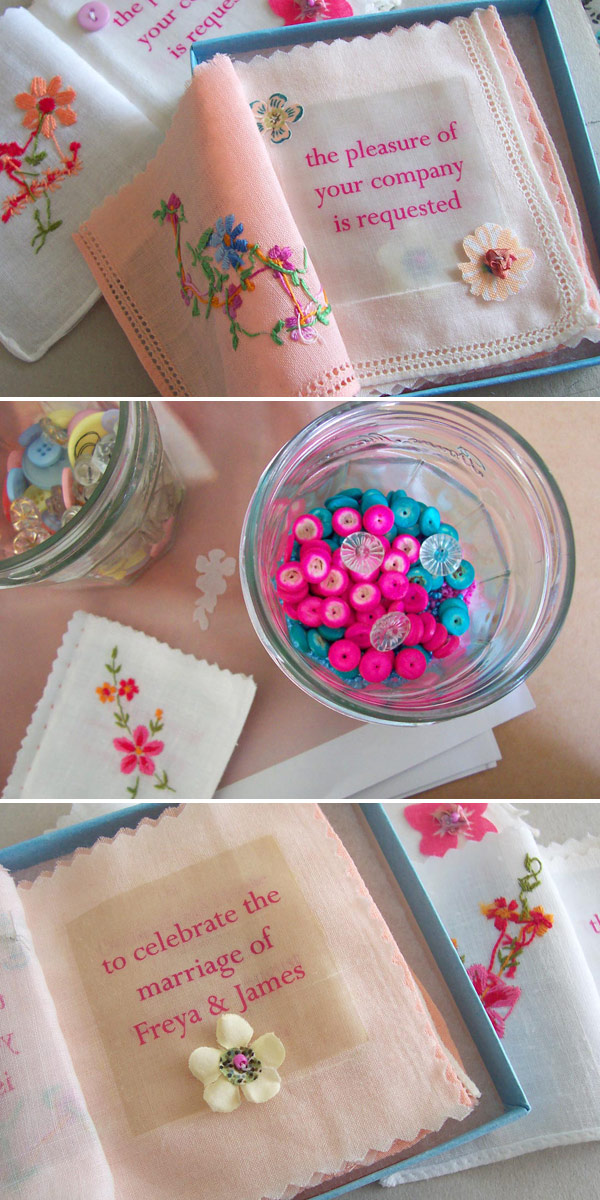 My Danish grandmother did beautiful embroidery work. I still have many of her pieces tucked away in my linen closet.  I don't use them – but I would never part with them because they remind me of her.
Embroidery really epitomizes what so many of us love about 'vintage' and old-fashioned. It reminds us of our grandmothers, and of a time when handmade was the norm. A time when computers and gadgets didn't monopolize our free time, and a needle and thread were the perfect way to relax.
The thing with vintage embroidered linens is that you can often buy them at second hand stores for a song. But what do you do with them?
You make wedding invitations!
UK stationery designer Vicky Trainor uses vintage embroidered linens in her fantastic "Made with Love" wedding invitation collection. She also adds some of her own embroidery.
"I have a degree in Fashion/Textiles – specialist Embroidery – so it is great to be able to use a slight hint here and there," she says.
Using vintage linens, appliqued  florals, buttons, beading and embroidery Vicky creates linen wedding invitation booklets that are not only unique – but downright delightful. She will also be offering favour sewing cases, embroidered table numbers, lavender bags, linen and ribbon place ties, and name chair back ties to go with the collection, which will be available in January 2011.
The boxed booklet invitations start at $14.50 USD each – which isn't a huge splurge if you are have a tiny guest list!
Photos: Rock My Wedding