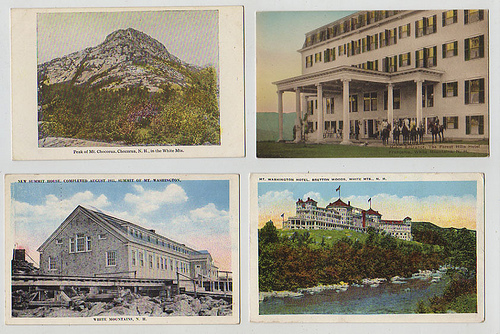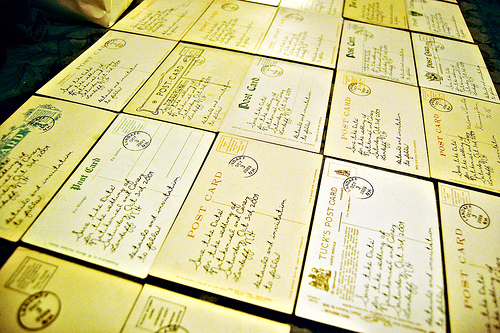 Are you looking for creative DIY save the dates? Check out the fabulous DIY save the dates that Carey and Nathan made from vintage postcards.
The couple is having an intimate wedding  with 55 guests in New Hampshire. They wanted to create save the dates that had a personal touch.
"We wanted something unique, vintage, old world, interesting. Something that gave a little preview of what New Hampshire and our wedding will be like," says Carey.
The solution? Vintage postcards! And the couple found just what they were looking for on eBay.
"We ended up finding over 60 postcards from 1930-1940s era on ebay! And, better yet they were all from the White Mountains in New Hampshire where we are getting married. It was perfect," says Carey, adding that the postcards cost about $25 (or forty cents a card).
Nathan created two stamps for the back of the cards. One was a request for the guests to save the date (October 3, 2009), and the other was a signature post mark for the wedding date.
The couple created the text graphic in Illustrator (but it can also be done in Microsoft Word or Photoshop) and ordered the stamp from www.rubberstamps.net. (Just in case you are wondering, the handwriting on the stamps is a font called Bell MT.) The stamp cost $24.95 and the self-inking postmark stamp cost $18.95. (The couple points out that they have used the postmark stamp on many different pieces in the wedding decor.)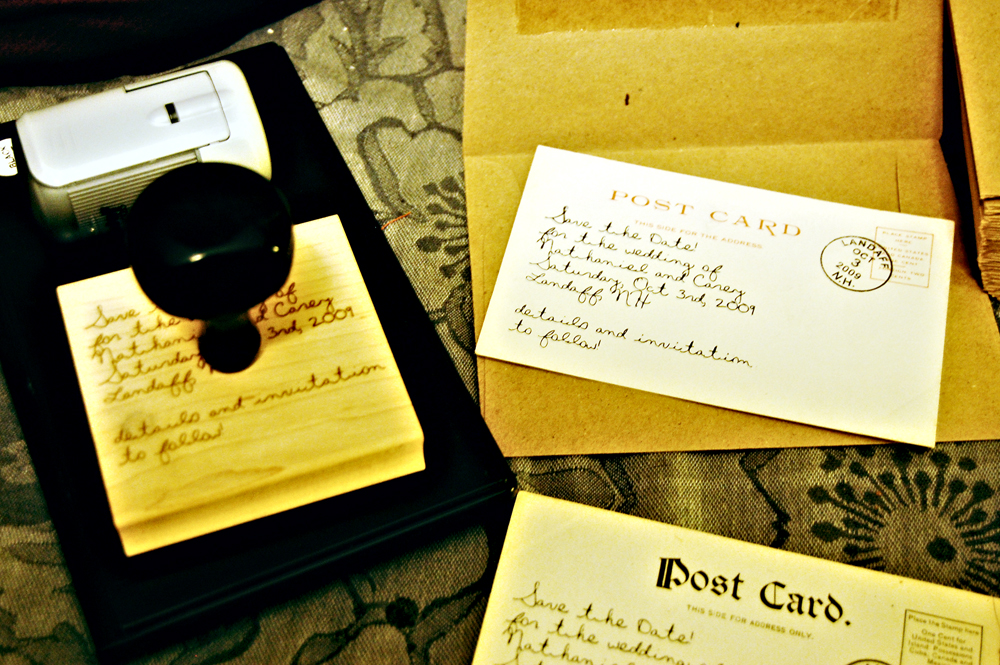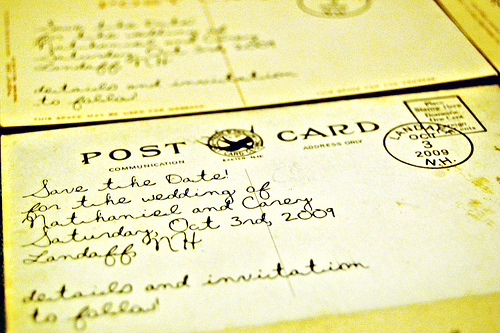 The couple mailed the postcards in recycled brown envelopes because they didn't like the look of the invitee's addresses next to the stamp.
In total, the project cost $90 including envelopes/postage.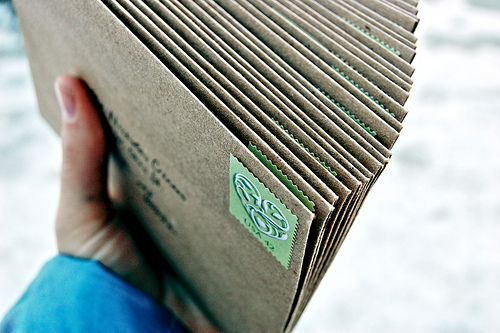 What's the reaction from guests?
"They loved them! Everyone received a different postcard so the most fun was talking to the guests afterwards and hearing their unique reaction to their postcard. Since we are having a small wedding  I was able to be a little more personalized with who received each postcard. I really wanted to evoke the feeling of New Hampshire and the White Mountains to our guests who have never been to New England. I hear it worked! Everyone is excited for the big day, and the beautiful colors that fall in New Hampshire promises," says Carey.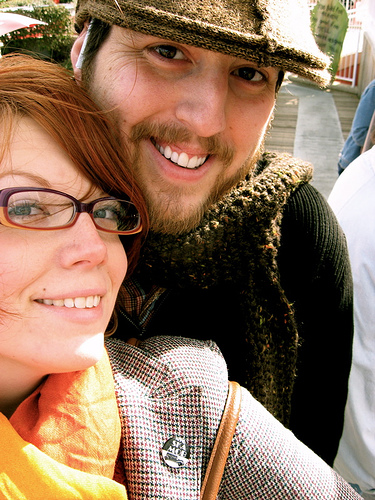 Photos: Carey Kirk