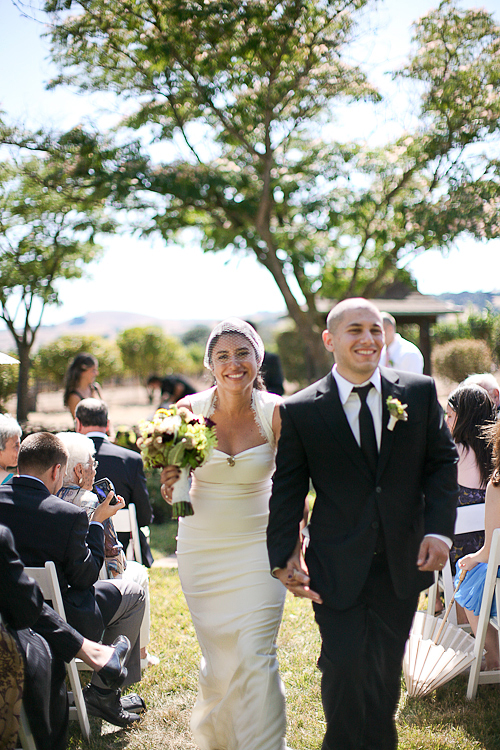 Rachel & Michael
Sonoma, California
Wedding Date: August 15, 2009
Number of Guests: 32
Wedding Ceremony Location: Private residence in Sonoma, CA
Wedding Reception Location: Private residence in Sonoma, CA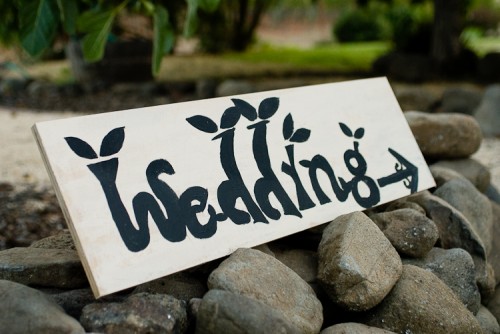 Why did you have an intimate wedding?
We chose to have an intimate wedding because we are both from New York City and our friends and family still live there. Mike and I live in Los Angeles now but everyone lives back east. My family and Mike's family made a vacation out of it and stayed in Sonoma for a week after the wedding. For others, they rented houses or stayed in hotels for the night. We had some guests drive from Los Angeles and San Francisco but we understood that flying across the country from the East coast was expensive and a lot to ask of people. We both wanted the day to be happy and fun and not to be stressful or rigid. We left the seating up the guests, had music on an ipod playing but did not expect people to dance, offered many places for people to sit and relax (i.e., with their feet in the pool, on the lawn, in a hammock or walking through the vineyards).  It was important for us for people to simply enjoy themselves. We did not register for gifts, have a big engagement party or even have a bridal shower. We had small bachelorette/ bachelor parties, mine was in Calistoga with my maid of honor and the groom went to Vegas with 10 of his friends.  An intimate wedding fit our personalities and styles.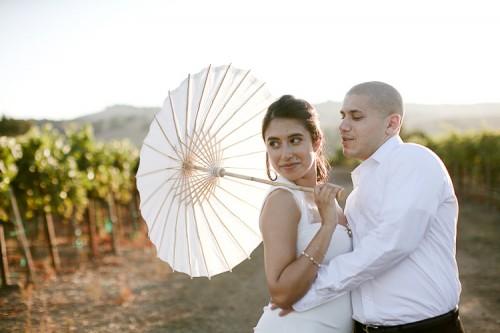 What are some the challenges that you faced planning an intimate wedding?
One of the difficult parts of planning an intimate wedding was finding the location. Many of the venues in Sonoma were designed or equipped for 100+ guests and many of the homes for rent were not available for weddings/ parties. The fact that we only had 32 people made it easier because many homes were willing to allow a "party" or wedding for this small size however the hotels/ larger places were immediately crossed off the list. When you plan a bigger wedding many times places offer discounts or deals if you have more people so that was difficult because we had such a small group. Finding places for our guests to stay was also difficult because we did not rent our blocks of rooms in hotels. In the end, everyone found places to stay and it all worked out.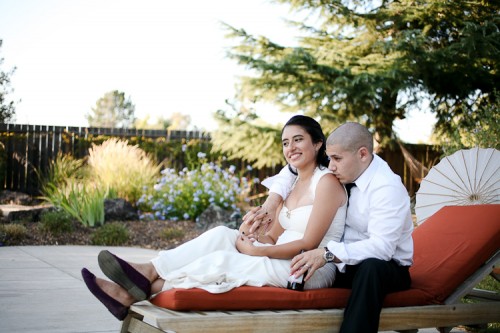 Was it difficult to pare down the guest list?
Paring down the guest list was difficult and there were more people we would have loved to invite however in the end I believe that we made the right choice. It was difficult because we were limited by our venue (under 40 people) and the cost both for the catering and the cost involved in asking guests to fly and stay over in Sonoma were factors we took into consideration.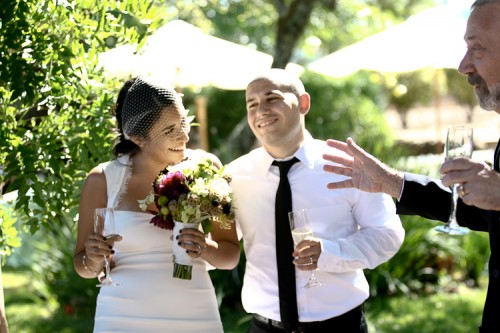 Did you have any 'issues' with the small guest list from friends and family? If so, how did you address them?
No. Everyone understood what we wanted, and they were supportive.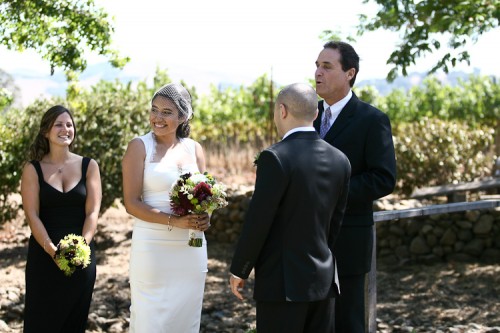 What were the highlights of the ceremony?
Even though our vows were short and direct, they were memorable and one of the highlights of the ceremony. Expressing out loud in front of family and friends our commitment to each other was moving. The weather was perfect and not too hot. There was a nice breeze during the ceremony. Our wedding was during the afternoon so we had time in the morning to relax.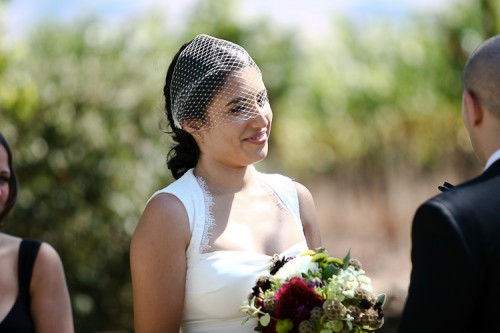 What were the highlights of the reception?
After the ceremony we had champagne toasts where my father and maid of honor gave speeches. The groom's father as well as other friends gave beautiful speeches. Since Mike and I have been together for 10 years, the toasts and words were very poignant and heartfelt sometimes bringing back memories we had forgotten. After the toasts were went into the vineyards behind the house to explore, taste the grapes and take pictures. We had delicious cupcakes instead of a traditional cake, which worked out nice because we took many home with us to enjoy after the wedding. When many of the guests had left we all jumped into the hot tub at the house and relaxed after the long day.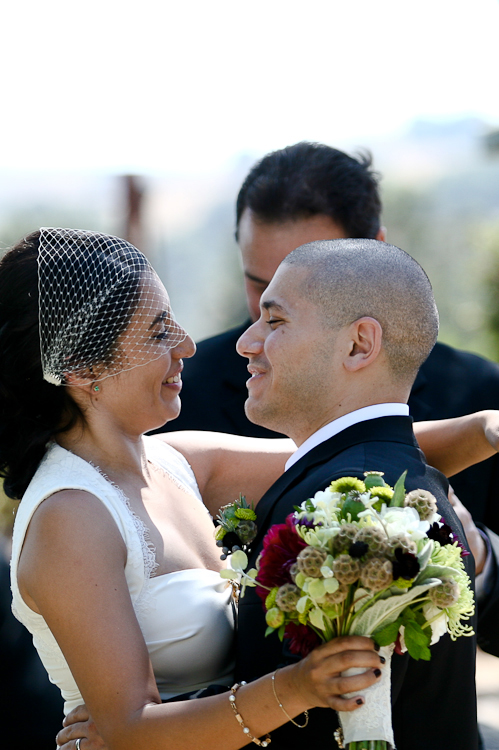 What was the best thing about having an intimate wedding?
Having an intimate wedding allowed us to relax and enjoy our wedding with close family and friends. We got the chance to spend time with everyone and not feel like we did not have the chance to speak/ spend time with our guests. It allowed us the flexibility of finding the perfect location (a home in Sonoma where our parents could stay), the ability to have a buffet style/ more casual dinner and most importantly to make our wedding feel like a backyard garden dinner party. Our guests commented that they enjoyed our wedding and marveled at how relaxed it was. This was our goal and I think we achieved it.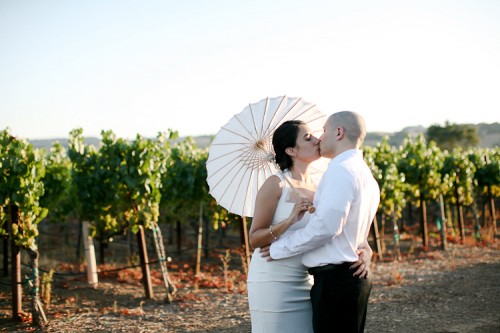 What advice do you have for couples that are considering an intimate wedding?
For anyone considering an intimate wedding I say go for it. It was the best decision we made and we loved every second of it.  Having an "intimate wedding" does not mean cutting out things, in fact I believe it allowed us to be more creative and enjoy the planning process. My advice for couples is to invite who you want to be there, enjoy the planning process, relax and enjoy your wedding with family, friends and people you love.
Photos: Jen Harris Photography
Vendors:
Photographer: Jen Harris Photography
Ceremony site: Private residence in Sonoma, CA
Reception venue: Private residence in Sonoma, CA
Flowers: Viola Floral Designs, Sonoma, CA
Cake: Sweetie Pies, Napa CA
Wedding dress: Nicole Miller
Bridal accessories: Floral clip by Butterfly Enchantress on Etsy, emerald earrings my parents had made for me, birdcage veil- Etsy and ballet flats by Dessy.
Officiant: William Rousseau, deputy marriage commissioner
Favors: Parasols by Luna Bazaar
Hair and make-up: Leticia Ontiveros, Beehive Sonoma Salon, Sonoma CA
Rings: Wanna Buy a Watch in West Hollywood, CA