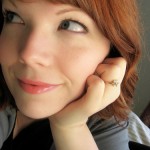 By Carey, IW Bride Blogger
Nathan and I have always known we wanted to get married in New Hampshire. At least I can't remember ever talking about any other place to marry. After realizing that atmosphere (fun, festive, and family) was really important to us, we decided that having our ceremony and party at a home would be the best idea.
I started looking at
bed and breakfasts
and other sites that may host weddings in
New Hampshire
. We were originally put off by having other people decide what and how the day should feel/look like and having them make us choose from
their
list of vendors. Yuck. I know in the end it's going to be a lot more work for us, but we really want to be the ones that make all the decisions. We both think we can create a beautiful day about us, and the people we love with a simplistic
do-it-yourself approach
.
We ended up finding the perfect spot in the mountains of New Hampshire. We get the entire house for 7 days which gives us plenty of time to set up, enjoy, and then relax afterwards. I love how perfect the house feels. It is taking up a pretty big portion of our
budget
and because of this we don't have to spend as much on actual decorations. I think the house speaks for itself. We will have access to the inside and outside during the actual wedding day (October 3, 2009). And, it really feels like me and Nathan. Cozy, warm, familiar, inviting, rustic.
Just what we were looking for. It's in a great location for those that do not live in New Hampshire. There is so much to do so close by! Most all major attractions can be found within a 45 minute drive. The scenery is so beautiful! The air so fresh! When we went this past August to visit family Nathan and I both fell in love.
We're so excited to let everyone know this is the place we will become husband and wife!