Sherry and John are something else! If you are looking for inspiration to have a DIY Wedding, look no further. Their intimate, at-home wedding was chock full of unique DIY touches that not only kept their costs down, but made their backyard wedding extra special. BTW, if you ever need any helpful tips on home remodeling, check out their website called ThisYoungHouse.com, which chronicles the remodeling of their Richmond, Virginia home. Great stuff!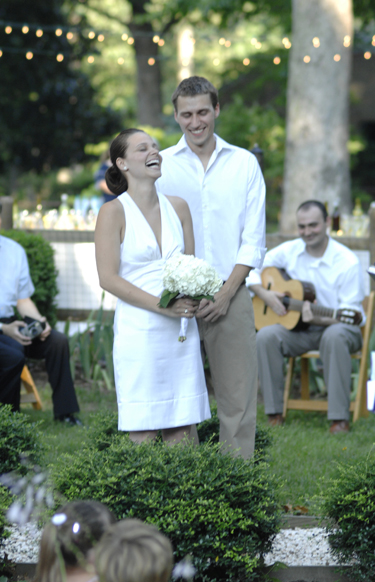 Sherry, 25 & John, 25
Richmond Virginia
Wedding Ceremony Location: Backyard of home
Wedding Reception Location: Backyard of home
Wedding Date: July 7, 2007
Number of Guests: 75
Wedding Cost: $3,995
Rundown of the wedding budget:
Venue: Free (backyard)
Music: Free (family friend played ceremony music on guitar)
Photography: Free (brother-in-law is a photographer)
Officiant: Free (cousin got certified)
Food: $500
Wine & Drinks: $100
Cupcakes & S'mores: $125
Table & Chair Rentals: $350
Centerpieces: $70
Save The Dates/Invitations/Thank Yous (with postage): $260
Favors: $75
Servingware: $250
Fabric For Tablecloths & Runners: $300
Lighting & Candles: $120
Flip Flops/Photo Clothesline/Welcome Sign: $75
Mosquito Sticks/Candles/Spray: $50
Bouquet: $20
Attire: $500
Photo Booth: $1200 (the one big splurge- and so worth it)
TOTAL: $3995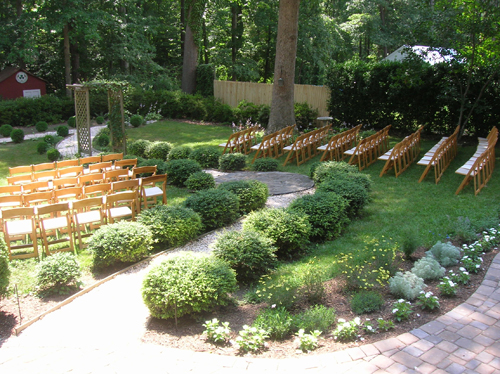 Why did you have an intimate wedding?
We knew we wanted to do something personal and meaningful and we've always been pretty DIY focused (as demonstrated by our crazy DIY home makeover), so we thought something special for our close friends and family would allow us to savor every second instead of stressing and spending beyond our means. Sure, it was still a lot of work, but keeping the wedding guest list down allowed us to focus on a bunch of small details that we never could have incorporated if we had gone with a mammoth sized event. And of course we couldn't have had it in our backyard if we had a big wedding, and that was one of our favorite parts of the whole thing.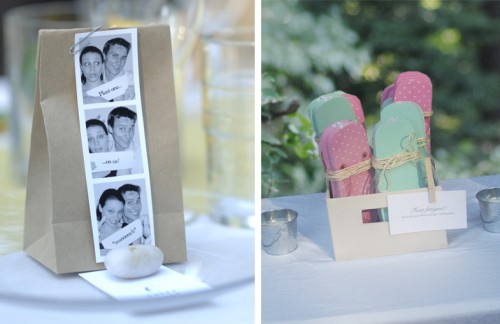 What are some the challenges that you faced planning an intimate wedding?
I don't know that planning something intimate had challenges other than the fact that because it was a smaller wedding we decided to go above and beyond when it came to personalizing everything. From hand-making welcome packets for everyone at the hotel, to providing sweet little garden flip flops for anyone with sore feet during the reception, we tried to create a warm and welcoming environment that was festive and memorable for all of our lovely guests. Many of our relatives and friends were traveling a long way to come see us, so we wanted them to have fun and feel appreciated!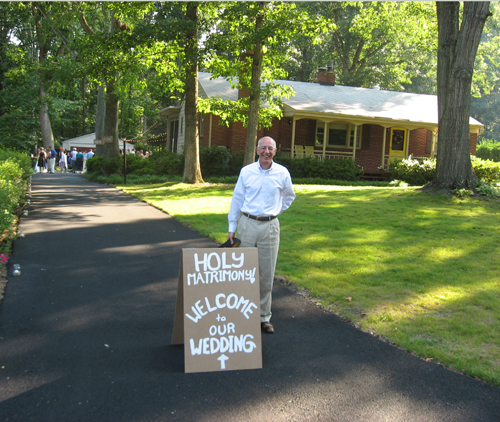 Was it difficult to pare down the guest list?
It was actually quite a challenge, but our advice is just to keep going back to your vision for the day. Every time we felt bad about cutting down the list, we went back to what we really wanted our wedding to feel like, and we were so glad that we didn't just give up because our wedding would have instantly morphed into something that wasn't at all what we wanted. Stick to your guns and you'll find a way. And you'll be rewarded with the wedding you always wanted. Eye on the prize, baby!
What were the highlights of the ceremony?
When our siblings read excerpts from our yearbooks it was super hysterical and memorable (you can read more about that on our blog). We looked for poems or readings that felt like us to no avail, so pulling out our yearbooks was a great way to inject more of "us" into the ceremony, which was actually performed by John's cousin and good friend who got certified just for us.
We also still laugh about how I surprised myself and cried during the vows (John knew I would, I was certain I wouldn't). In watching the video we always laugh about how my voice breaks when I say "husband" so whenever we attend weddings John squeezes my hand when the bride says "take you to be my husband" since it was such a memorable moment for us.
What were the highlights of the reception?
Everything about the reception was a whirlwind. The wedding photo booth was a blast (and lots of people left strips behind for us so we have a big leather bound book full of them). The food was delicious. The cupcakes were divine (one of our super skinny guests later professed to having four). The ambiance of the candles and the string of lights glowing after the sun went down was breathtaking. And the s'more roast at the end of the night was super fun!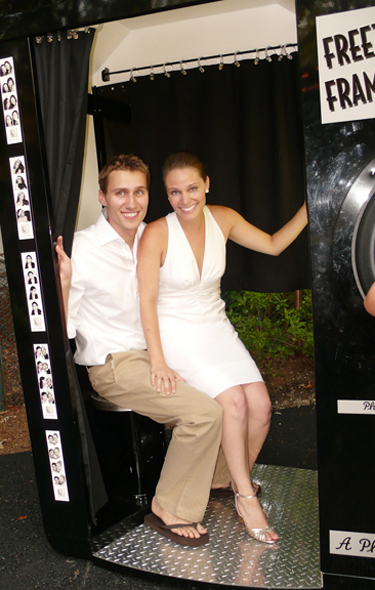 What was the best thing about having an intimate wedding?
We remember everyone who came! It was still a blur of energy and fun but it wasn't like we were saying hi to people we didn't even know and stressing about table numbers and menu cards. We know it's not for everyone, but something simple and sweet was right up our alley, and it allowed us to take care of everything from the food to the wedding favors ourselves. – which is pretty crazy now that we think about it. We self-catered a wedding for 75 people at our own house and printed everything from the save-the-dates to the invitations on our home computer! We strung up all the lights and made the tablecloths ourselves with fabric from the store. We even purchased all the glassware from Ikea and made the centerpieces with fruit from the grocery store. The wine bottles that were used to serve mint lemonade and sweet tea were collected from a local wine shop and my diy wedding bouquet was thrown together minutes before the ceremony with $4 grocery store hydrangeas. I even purchased my dress 48 hours before walking down the aisle for under $200! How crazy was I? But we wouldn't have it any other way!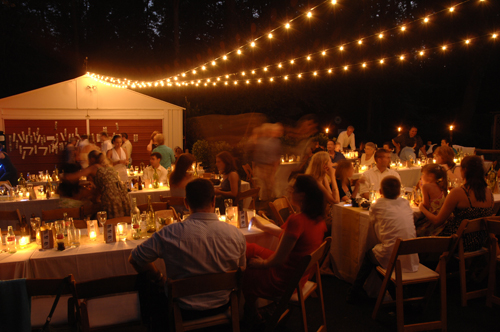 What advice do you have for couples who are considering an intimate wedding?
I just can't stress enough that you have to let the vision that you have for your dream wedding be your guide. Don't let family or expectations or anything else pressure you into doing anything that doesn't work with your ultimate vision. That's how people who want to get married outside at a park in a short dress end up in a country club wearing head to toe lace! Definitely follow your heart (as corny as it sounds) and you'll have zero regrets. You want to be in love with your husband AND your wedding day. For weeks we just pinched ourselves and said "I can't believe we pulled it off."
Read more about John and Sherry's wedding here.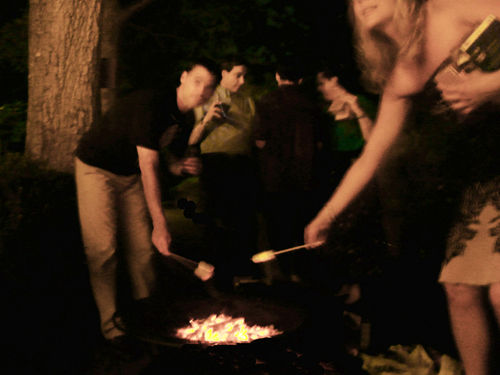 Vendors:
Photo Booth: Freeze Frame Photography here in Richmond, VA
Cupcakes: Ukrops Cupcakes (famous around these parts- yet so inexpensive)
Dress: Off the rack at Arden B . Never shopped there before, never shopped there since.
John's Outfit: Banana Republic with Target flip flops (oh and I surprised the groom and his two best friends with tuxedo t-shirts that they donned for a few funny photos during the reception).
Glass Plates and Cups and Silverware: Ikea (we learned that it was actually cheaper to purchase serving ware rather than rent it, and we got to donate it after the wedding to feel good about ourselves and for a write-off).
Chair & Table Rentals: Party Perfect in Richmond