Suzi and Kevin decided early on that they wanted a small and intimate outdoor wedding on the rugged west coast near Tofino, British Columbia. While they would have loved to celebrate with all of their family and friends, a large wedding wasn't feasible due to the location, nor was it desirable, and opting for an immediate family-only ceremony and reception made it easy for the couple to pare down the guest list. In order to still be able to share their day with all their loved ones that couldn't be there, the couple hired the incredible Tomasz Wagner to capture every beautiful detail and moment on both film and video for them; the results are simply stunning!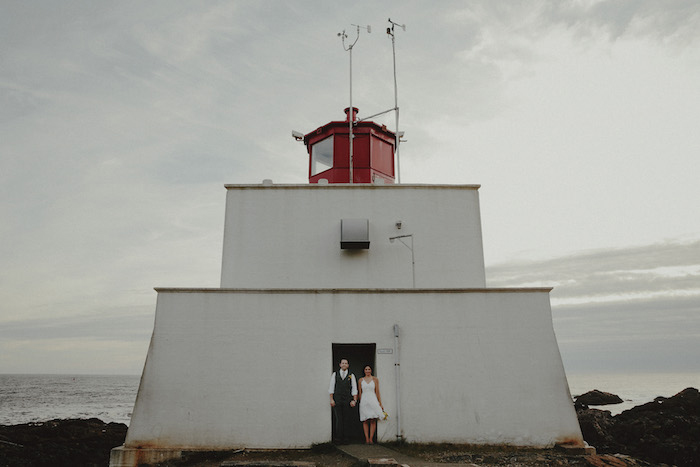 Suzi, 32 & Kevin, 38
Ucluelet, B.C.
Wedding Date: September 18, 2013 (on the date of the Harvest Moon)
Number of Guests: 9
Wedding Cost: Between $7,000-9,000
Wedding Ceremony Location: Wild Pacific Trail Lookout, near Ucluelet, B.C.
Wedding Reception Location: Black Rock Resort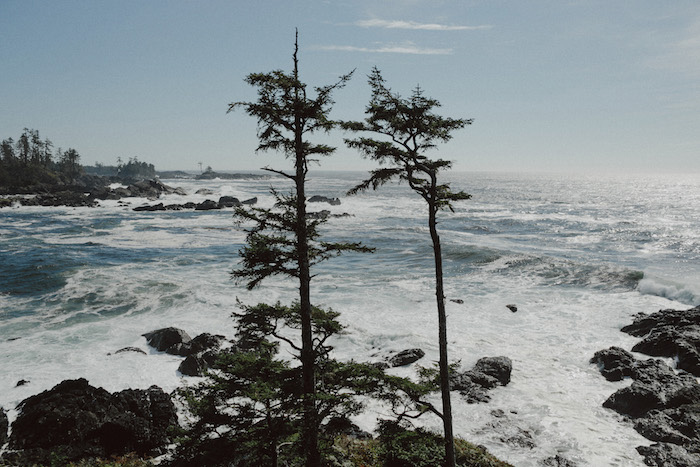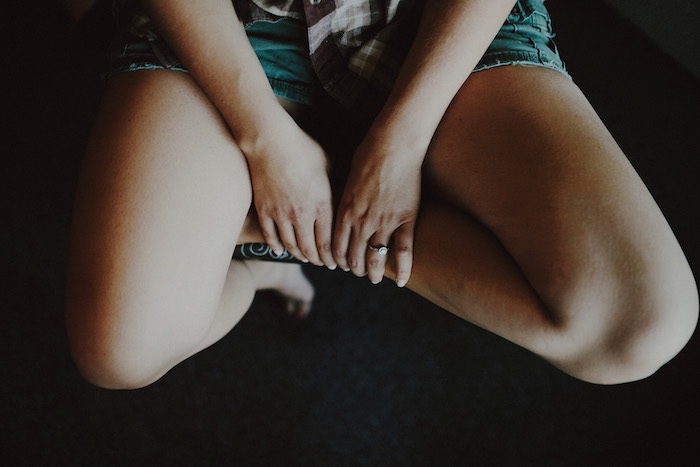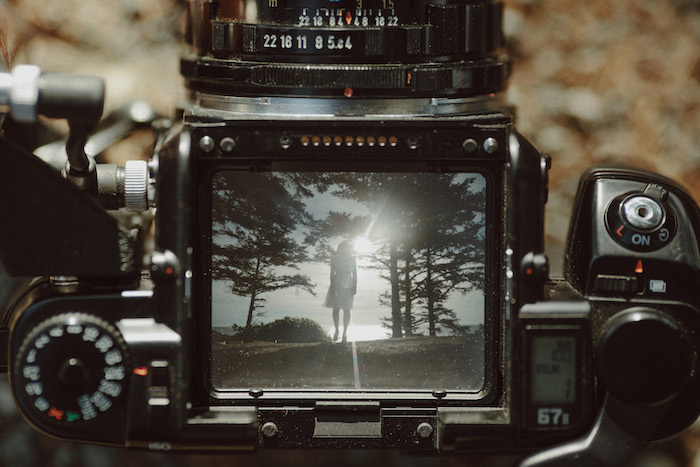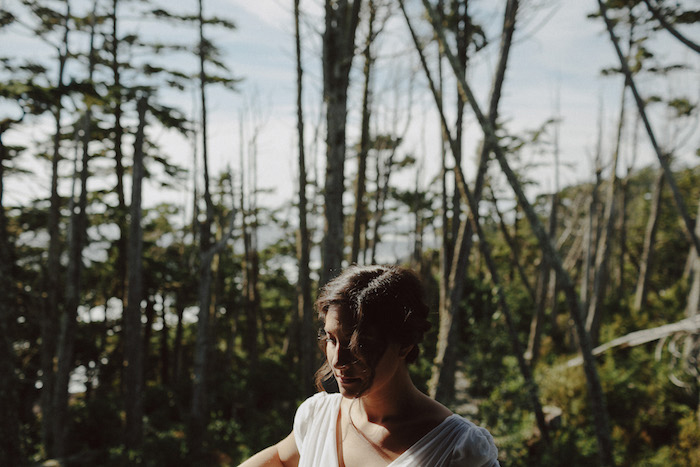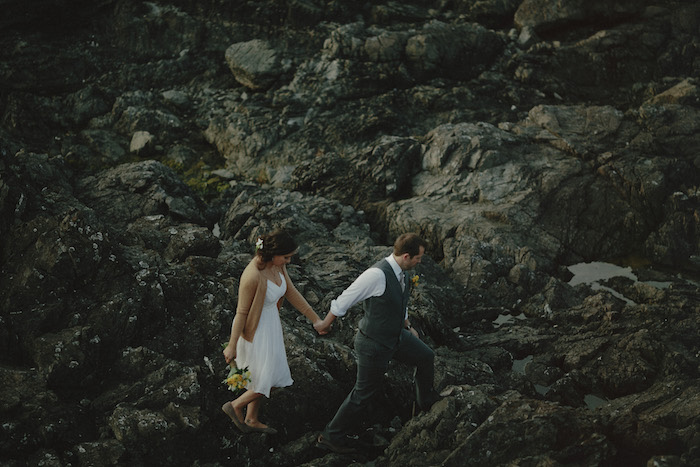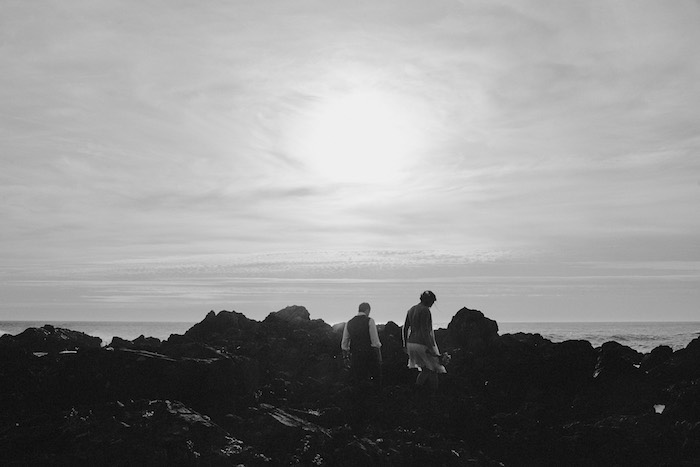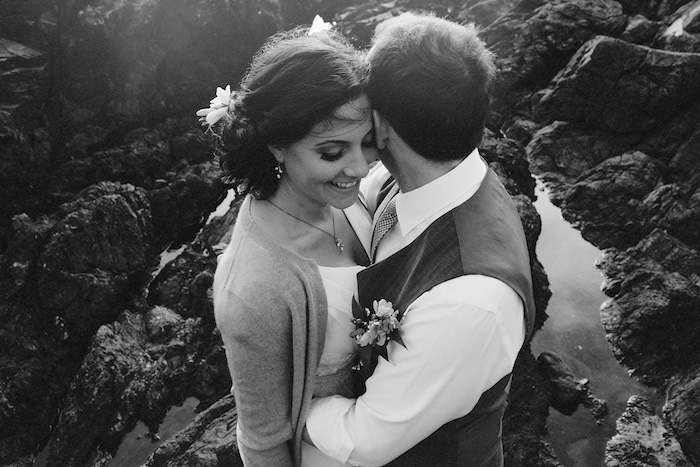 Why did you have an intimate wedding?
The idea of keeping our wedding small and intimate was really appealing to us; there was money to be saved, of course, but more importantly, we felt like keeping it small would allow us to appreciate every little moment for what it was and not have it lost in a grandiose event. From day-one, we had talked about not only going small, but having it outside, rain or shine, in the area around Tofino and Ucluelet, which is rugged west coast at its best, and not necessarily conducive to large groups.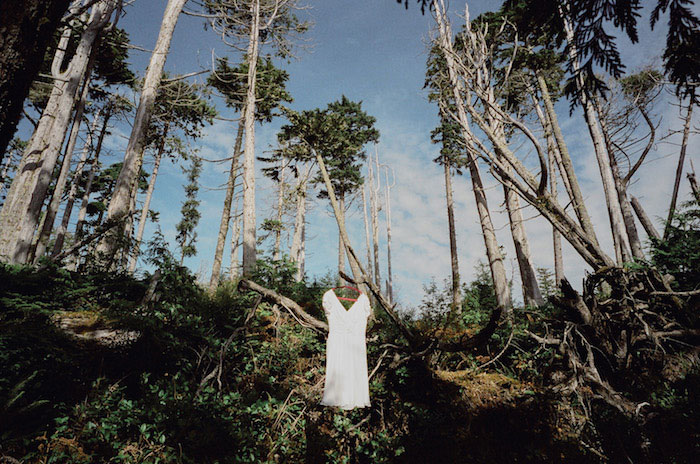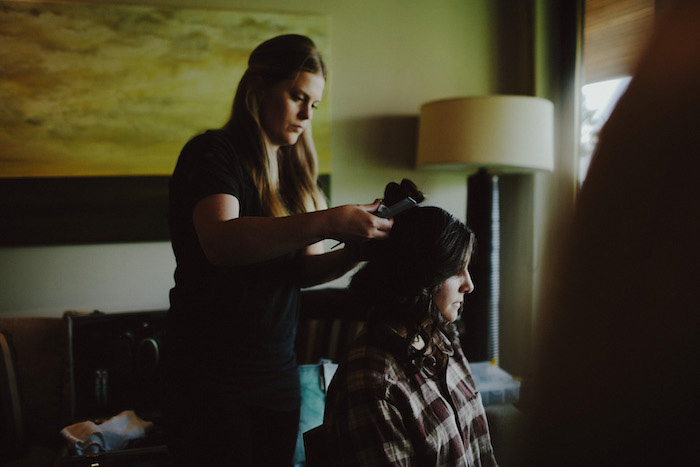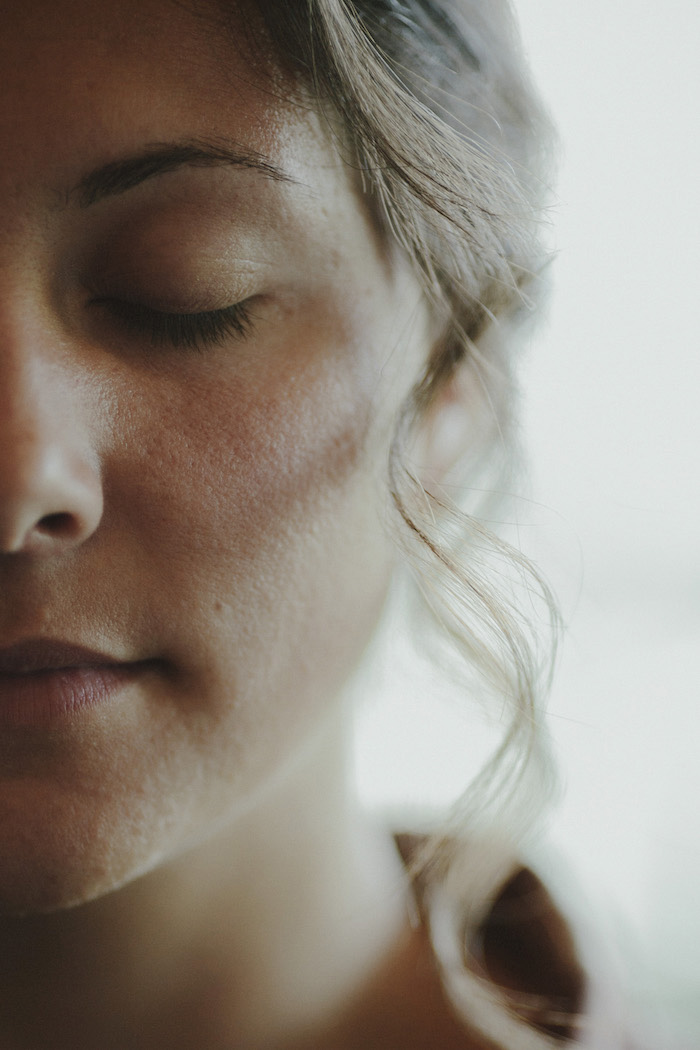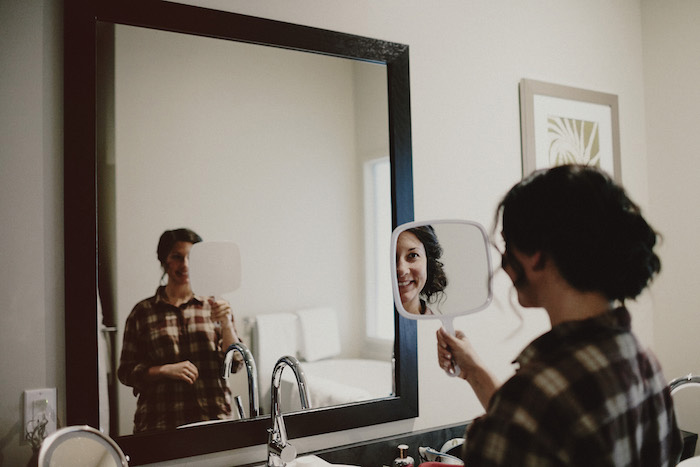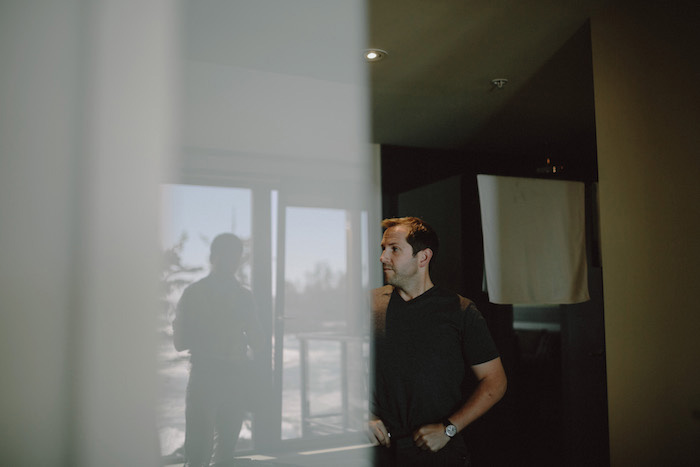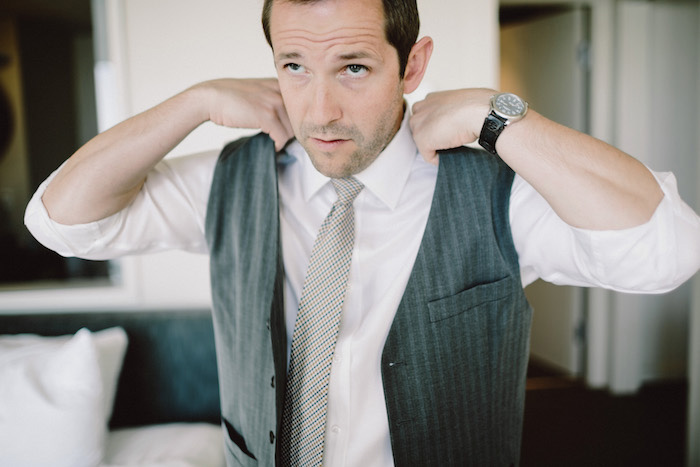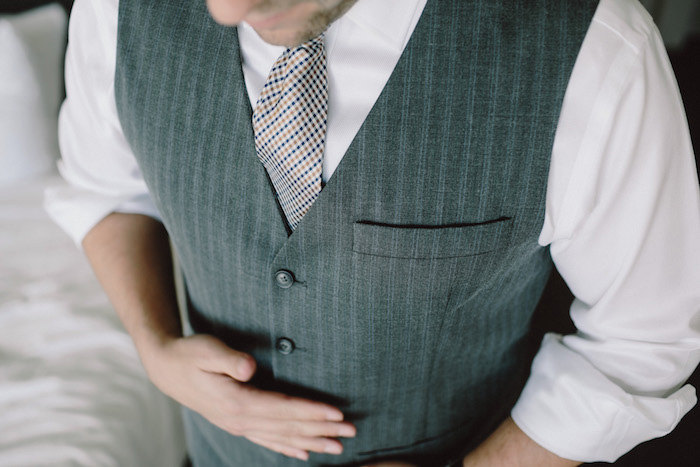 What are some the challenges that you faced planning an intimate wedding?
The biggest challenge we faced was deciding how big or small to make this wedding. Obviously, we would want all of our friends and family to be there, but the idea of keeping things small and intimate was really appealing to us.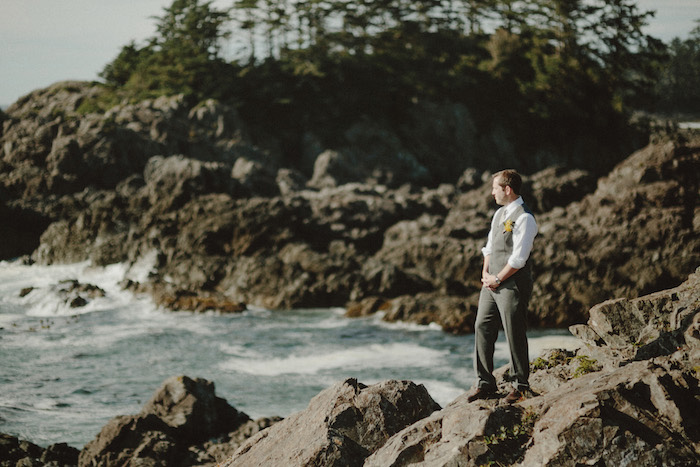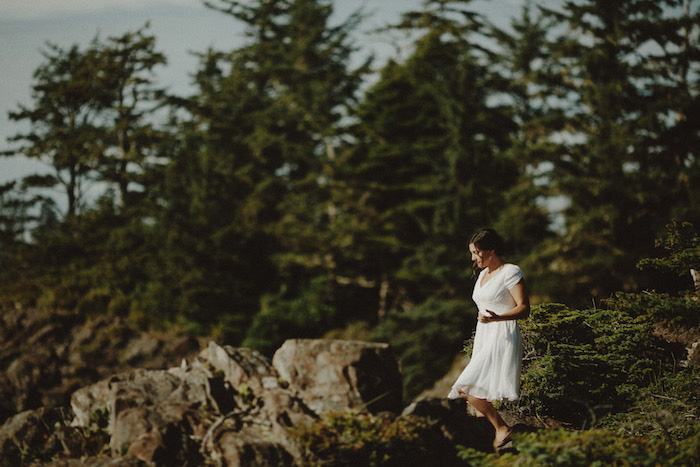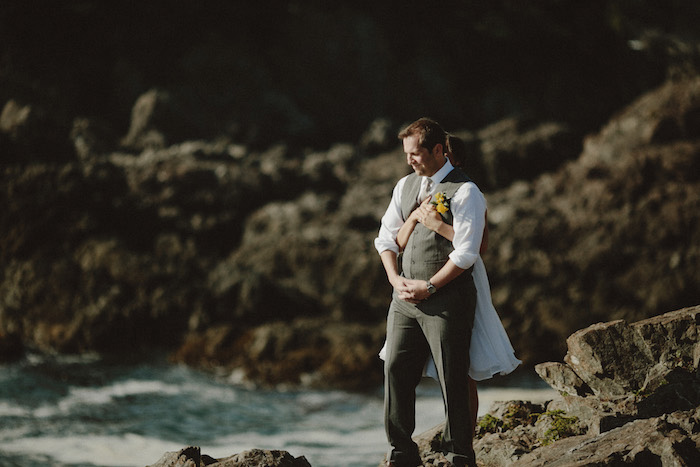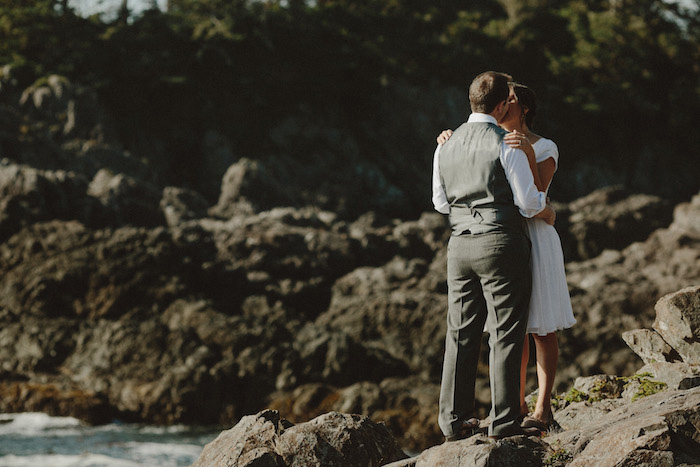 Was it difficult to pare down the guest list?
As soon as we decided to make it immediate family only, it was pretty straightforward to know who would be attending. Obviously, we would have loved to share our day with all of our friends and family, but that's why we decided to get our photographer Tomasz Wagner involved, so we would have something really special to share with everyone in our lives.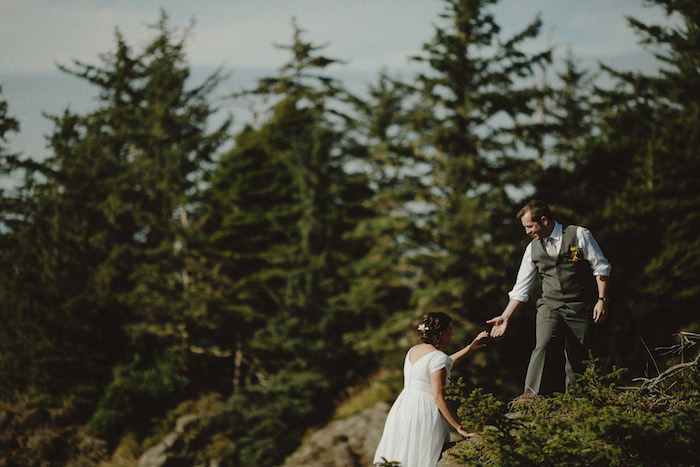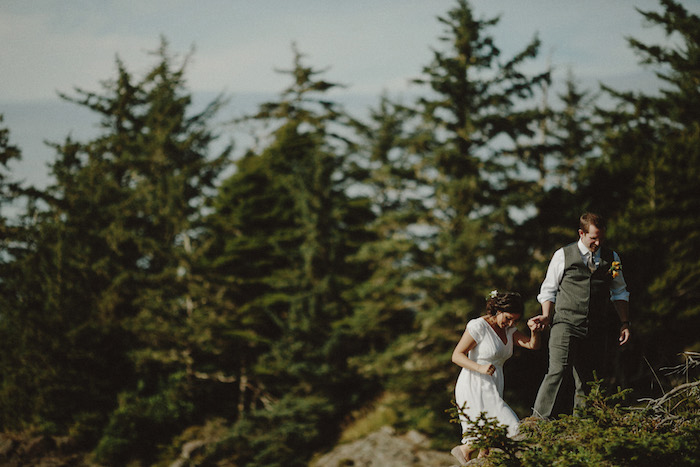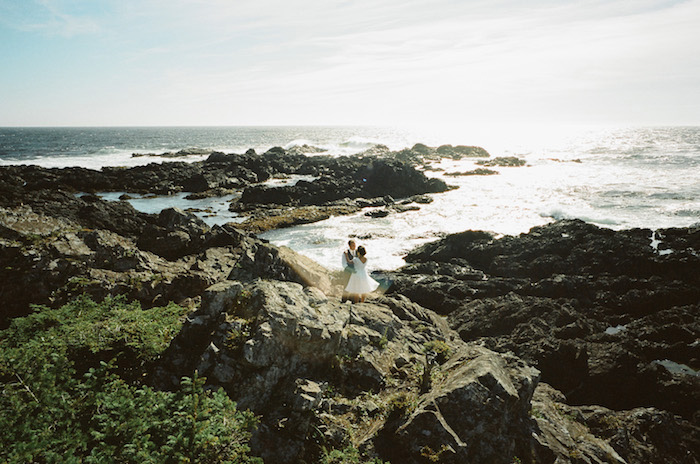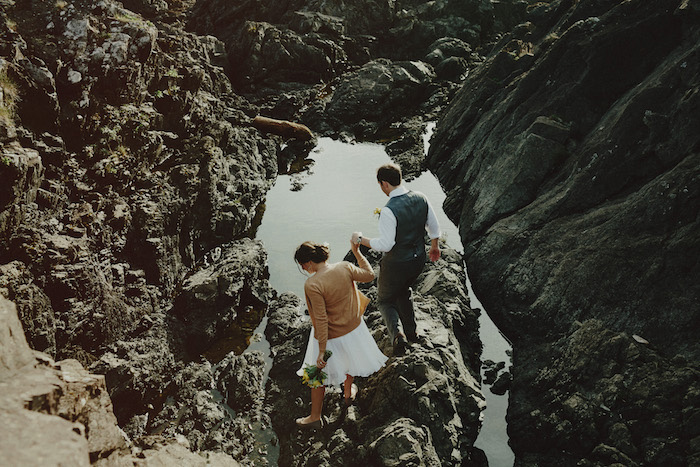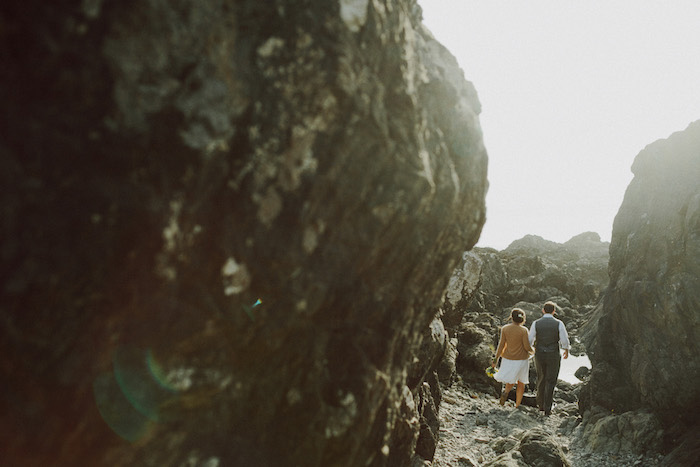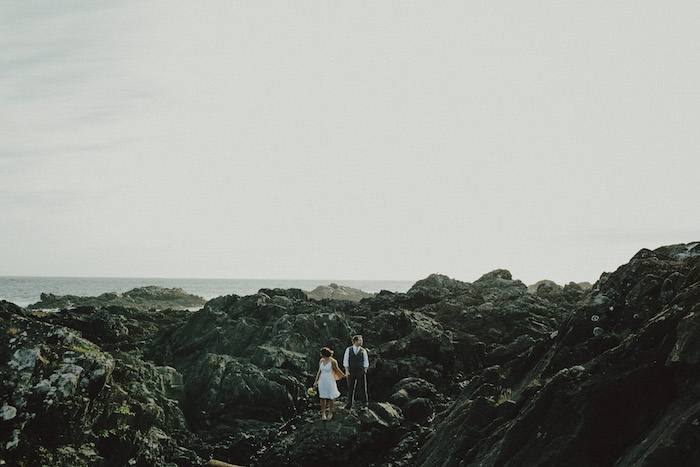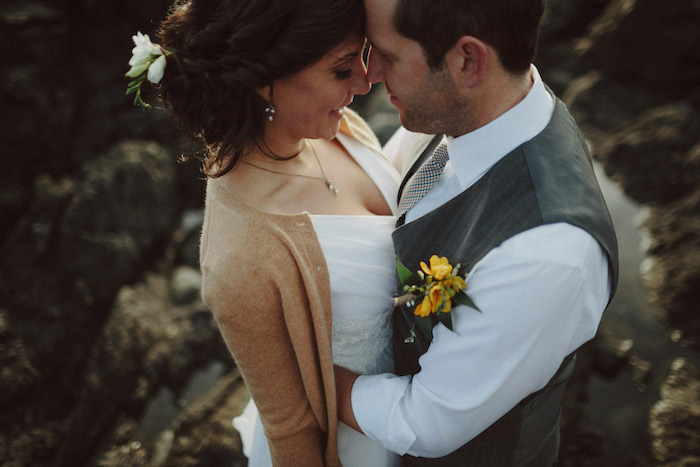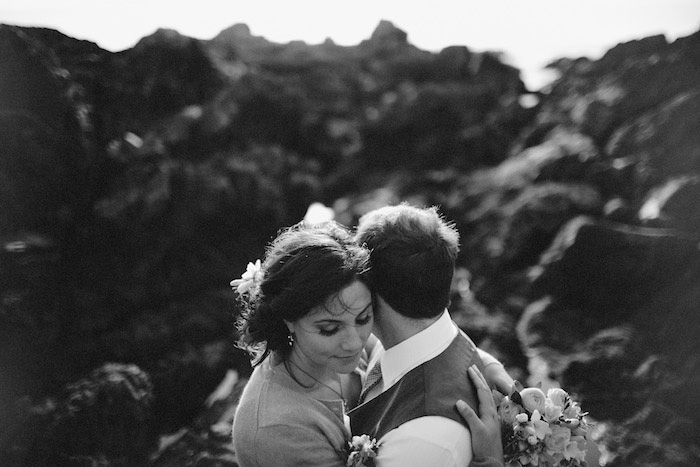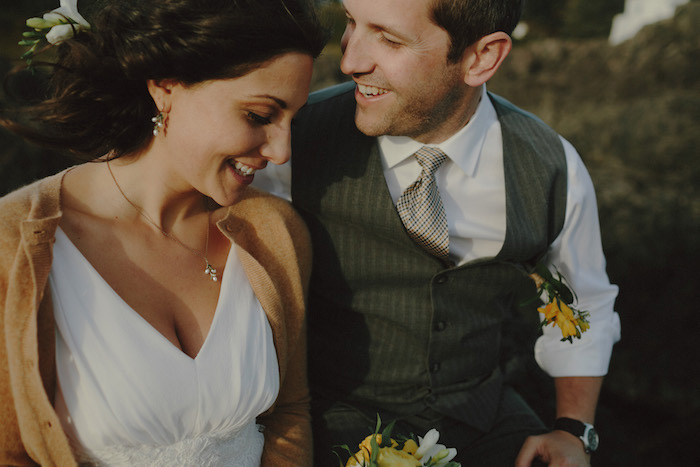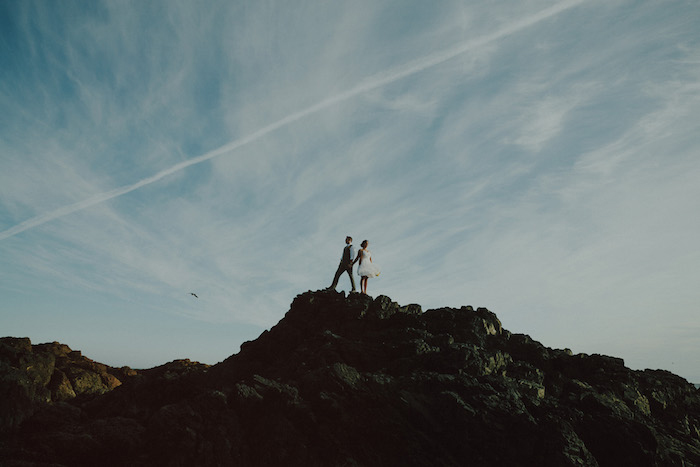 Did you have any 'issues' with the small guest list from friends and family? If so, how did you address them?
No issues! Some friends and family sent along small messages for my mother to read out at dinner, so it very much felt like they were involved in the day. If people truly love you, they will support any decision you make.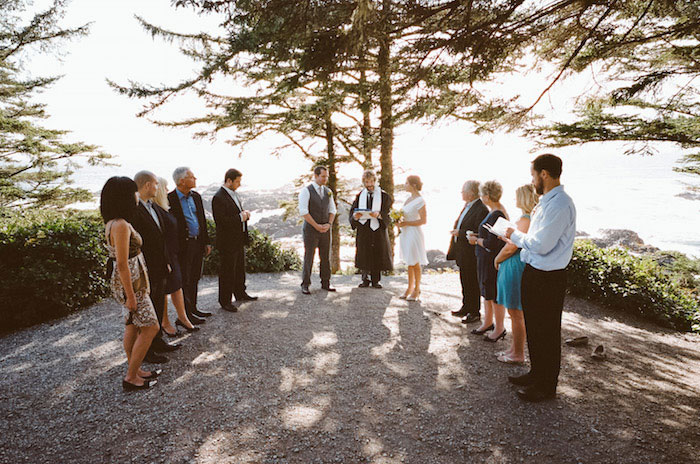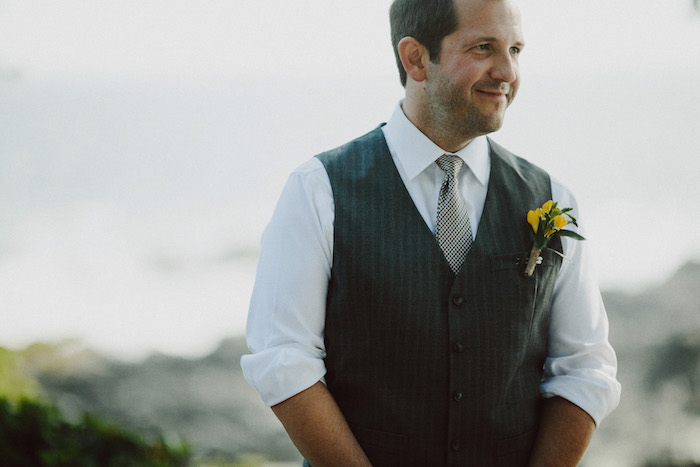 What were the highlights of the ceremony?
Where to start?!? Suzi's flower arrangement arriving on a school bus about 5 minutes before we were to head out to the trail; the enthusiasm of our wedding commissioner, who brought his guitar and surprised us by serenading the group with Neil Young's "Harvest Moon" during our first-look; and the surprise moss-filled clamshell put together by our wedding photographer which my dad used to present the wedding rings were all incredible highlights for us. We also had our family stand in a circle and pass around a small book which everybody read a page from, and we cracked a bottle of champagne afterwards and everyone had a glass to celebrate. The first kiss, however, was the biggest highlight of them all.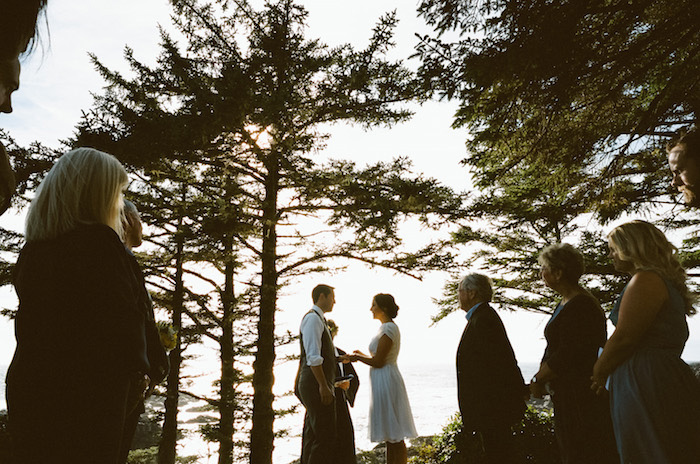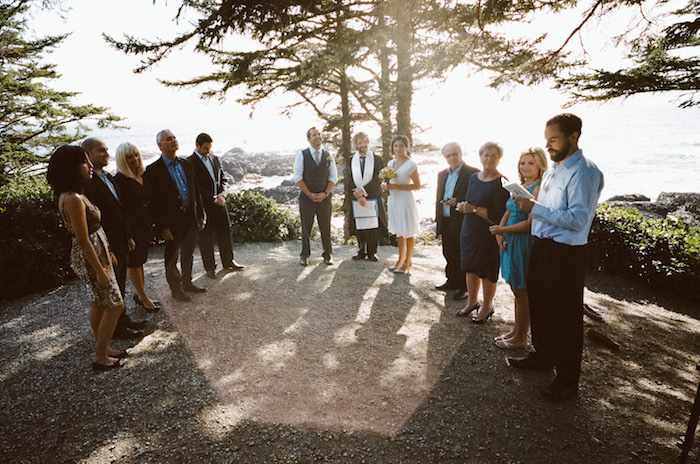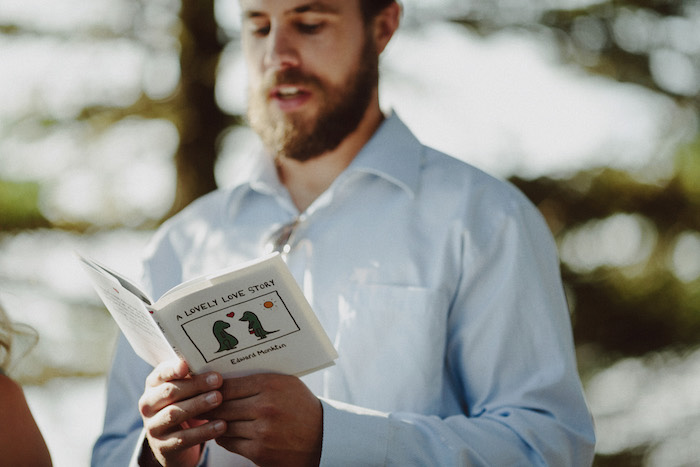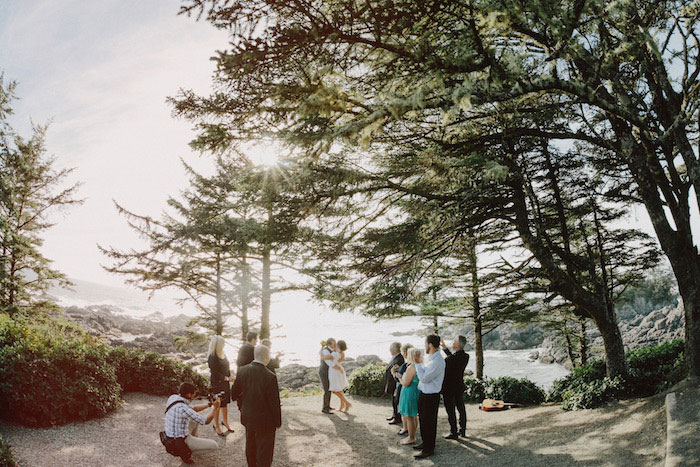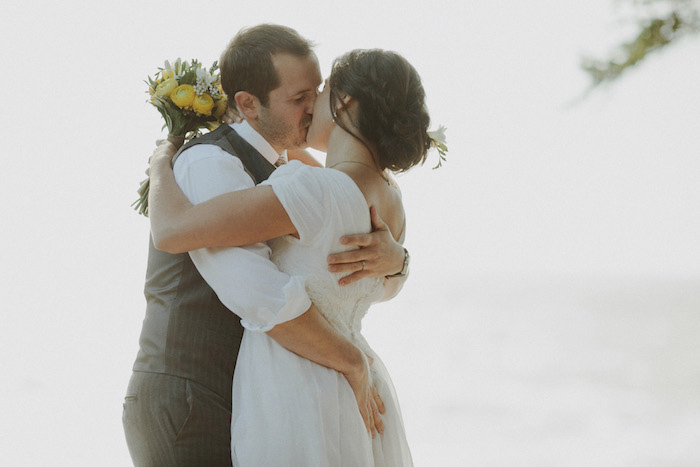 What were the highlights of the reception?
We had our dinner back at the Black Rock Resort in Ucluelet where we were staying. The reception room is located at the foot of a surge channel, so it was a really unique setting. The food was fantastic and the cake was beautiful; we had it modelled after a log stump with our names "carved" into it. As I mentioned, my mother read out some great messages that had been passed along by some of our friends and family, which was a nice way to incorporate them into our big day.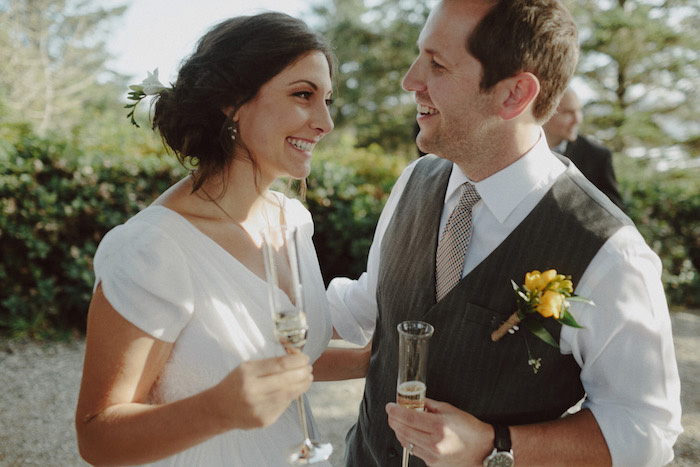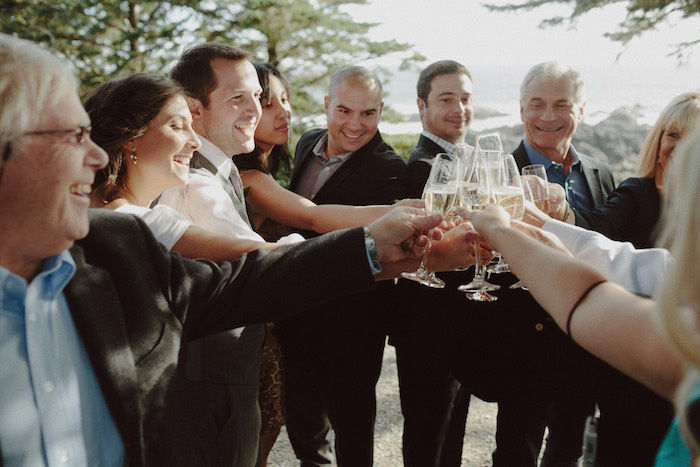 What was the best thing about having an intimate wedding?
We were really able to relax and enjoy the intimacy and serenity of our day.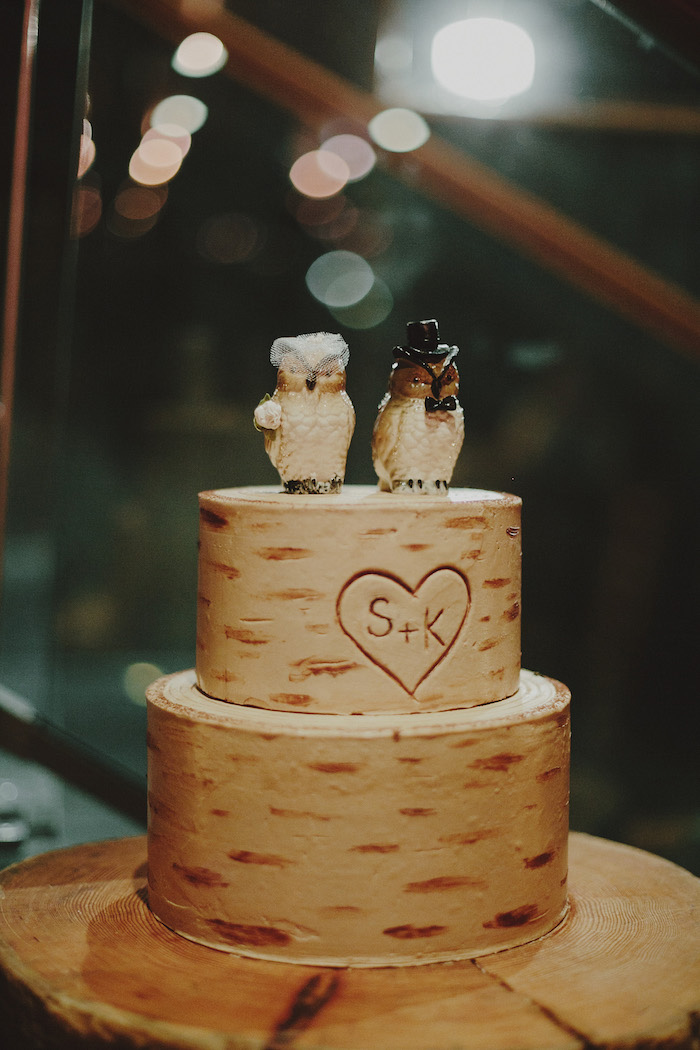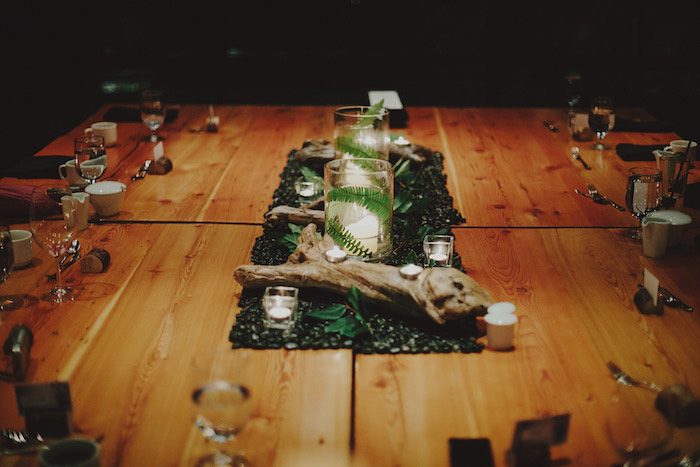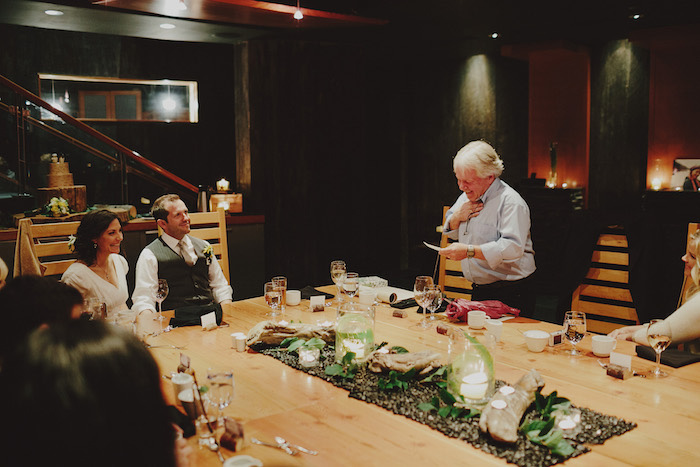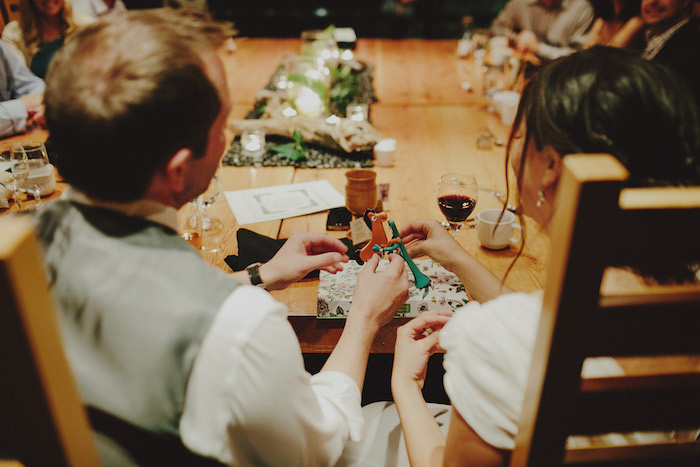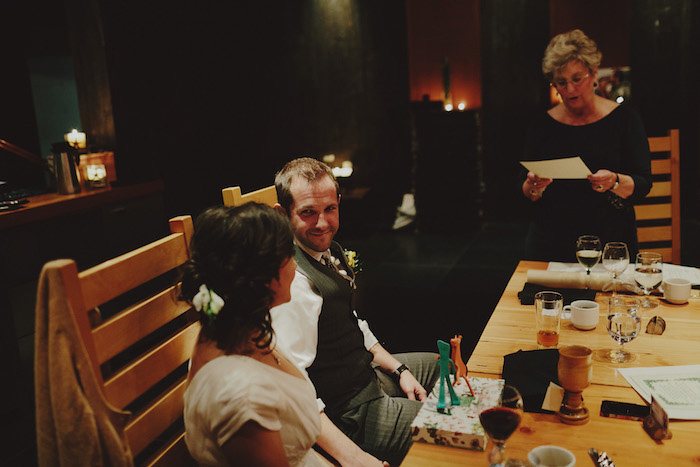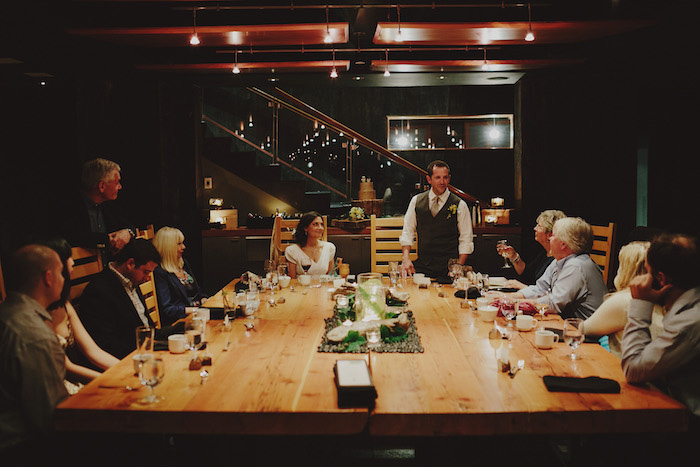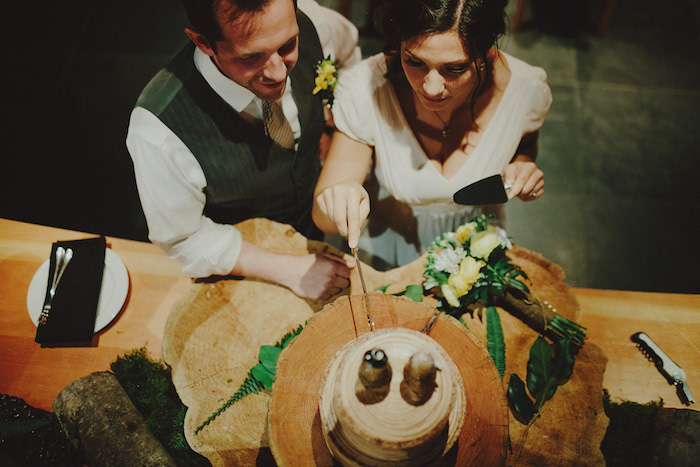 What advice do you have for couples who are considering an intimate wedding?
Do it. Like I said, the people who really love you will support your decision to do so. It may sound selfish, but make the day about yourselves. You'll save money, you'll be able to relax in the months and days leading up to the wedding, and you'll be able to keep things manageable and loose. Enjoy!