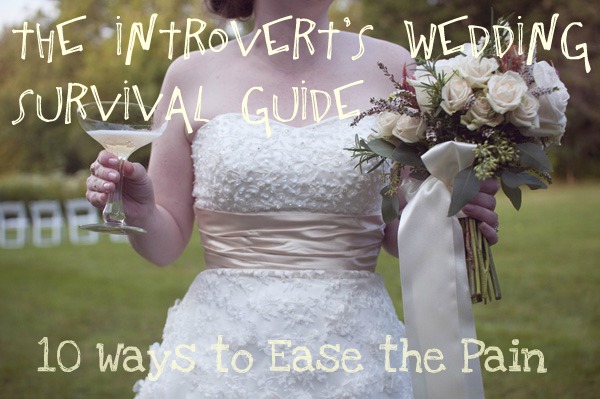 I am an introvert. I spend copious amounts of time pounding away at my computer with no one around- aside from two bored dogs at my feet and a lazy, loveable cat on my lap. Life is good. I love spending time with my nearest and dearest and I am fiercely loyal to them, but my passions are solitary: writing, visual art, photography, reading, sea glass.
Which is why, in so many ways, I dreaded my wedding.
Weddings can be hell for introverts, because, well, so much of it involves socializing. There's nothing that introverts dread more than having to make small talk with people they don't know very well. Prolonged exposure to this type of interaction can be draining beyond words.  And being the center of attention for an entire day – that's enough to push many introverts over the edge (and into the martinis!) Then there are those pesky things called speeches.
But there are ways to not only survive your wedding as an introvert, but make it truly joyful experience. How?
1. Have a small wedding!- Scaling back your guest list to only the important people in your lives will go a long way in easing your anxieties about having to interact with people you don't know very well.
2. Elope – If the thought of having to perform even in front of family and friends is cause for anxiety – why not elope with just the two of you? Or just invite your best friends and/or your parents to share your special day. There are heaps of couples featured in the real weddings section who have eloped. Let them inspire you!
3. Nix the Speech – Don't want to give a wedding speech or even a toast? Don't! I wrote a short poem for my husband, but I told myself before the wedding that it was okay if I just gave it to him in private. I ended up reading the poem at the reception (a couple of glasses of wine can work wonders!), but a long-winded speech would have been out of the question for me.
4. Realize You Are Not Alone – Did you know that 1/3  of the population is considered introverted? You are not the only one dreading your Big Day! Some of the greatest thinkers and innovators on this planet are introverted (and probably dreaded their wedding day!) Take comfort in knowing that countless introverts have been there, done that – and lived to tell!
5. Forgo the Wedding Weekend – One of the biggest trends in weddings these days is the wedding weekend, where guests arrive at the chosen wedding destination and partake in activities with other guests and the wedding couple – all weekend long. Many couples  love this idea because they get to spend time with their guests. If you are only having a handful of guests at your wedding, this could be a great option for an introvert – but if you guest list is full of people you don't know very well, a wedding weekend could be a dread-inducing experience.
6. Minimize Pre-wedding and Post-wedding Parties – Engagement parties, bachelorette parties, showers, rehearsal dinners, post wedding brunches – it's enough to push even the sanest introverted bride into the Land of Crazy. Why put yourself through the stress? Parties are meant to be a celebration – not something to dread. Minimize them and keep your guest lists small.
7. Delegate – Let your partner do the talking. If your husband-to-be is less introverted than you, let him take on more of a social role in your wedding. This might mean he is the one that makes small talk with guests and thanks everyone for coming out.
8. Let Go of Perfection – Realize that your wedding will unfold as it should. There might be some glitches along the way – maybe even some awkward moments, but you will survive. In the big picture, these imperfections won't matter a bit. Even tripping down the aisle is not a catastrophe! Really.
9. Be Yourself – Love yourself and don't try to be someone you are not. If you feel awkward around people you don't know well and you aren't adept at initiating discussions about the latest weather forecast –  that's okay! Your husband-to-be is crazy about you – just the way you are. And chances are, so are most of the people at your wedding (unless of course, you are having a big fat wedding with a bunch of people you don't know:))
10. Communicate – If you are introverted and your upcoming nuptials are filling you with dread, confide in your partner. Let him know about the things that are causing you stress and let him get into problem-solving mode! Chances are the two of you can come up with a strategy to put the joy back into your wedding plans.
Photo: A Love Supreme Photo