You've probably heard of Depression glass, but do you know its history?
As you probably assumed from its name, Depression glass originated during the Great Depression, and was used as a customer incentive program. Local restaurants and movie theaters, and even large distributors like the Quaker Oats Company handed out Depression glass for free to encourage customers to purchase their product (think cereal box prize, but on a larger scale).
As the years have passed since the Depression, the glass has slowly passed from a cheap novelty item into vintage chic, and value has increased with the demand. These days, Depression glass is a gorgeous way to bring a little history to your wedding, whether by utilizing a family member's collection, or hunting down pieces of your own. Did we mention that it comes in pink?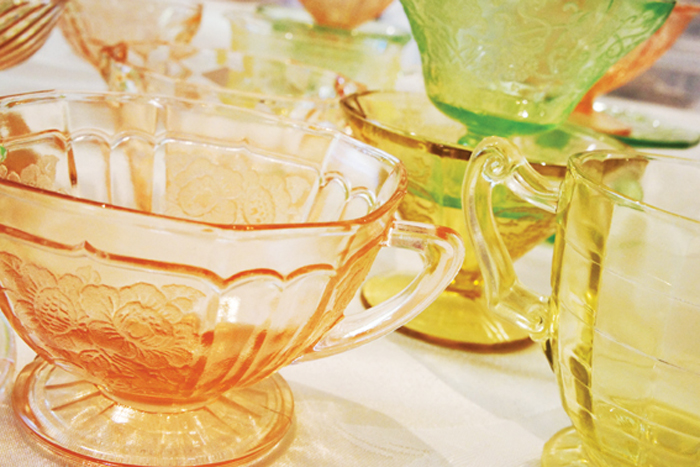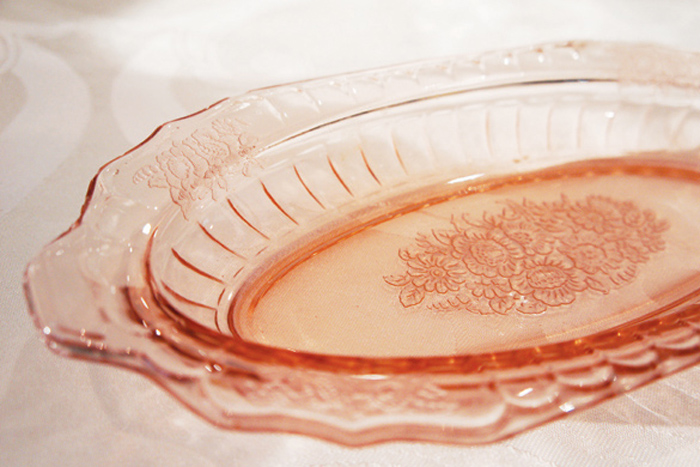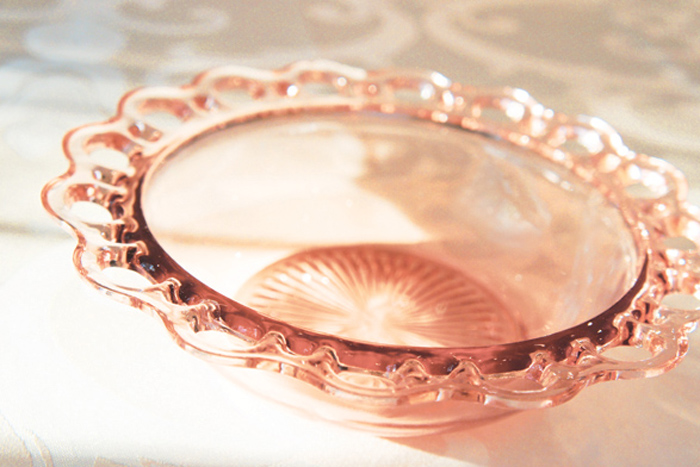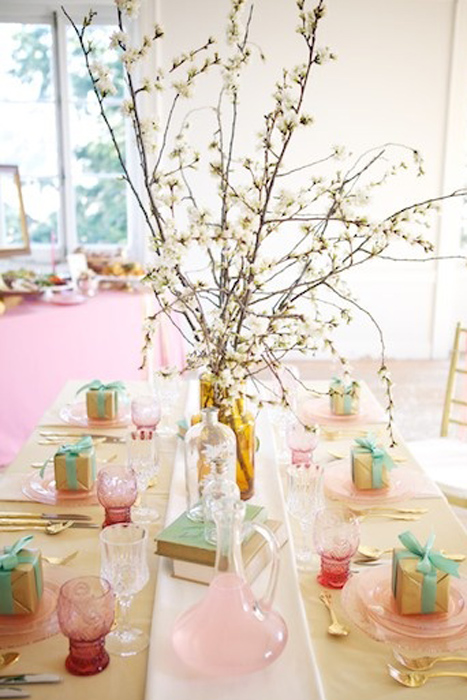 If you are hunting for pieces of your own, you might be disappointed to discover that it is more of a chore to find pieces than you suspected. If you are really in a bind, there are ways to DIY Depression glass (check out tutorials here), but we recommend opting for the real deal if you can. Here are a few places you might improve your luck in finding what you are looking for: thrift stores, antique shops, garage sales, estate sales, Ebay.com, Etsy.com, Current Glass Producers, Wedding/ Furniture Rental Companies.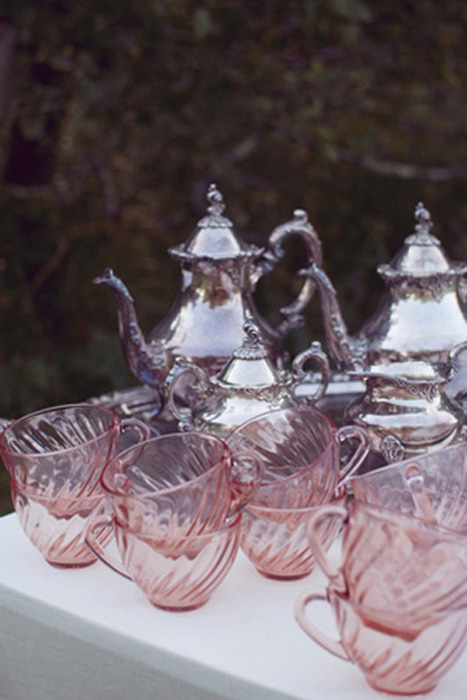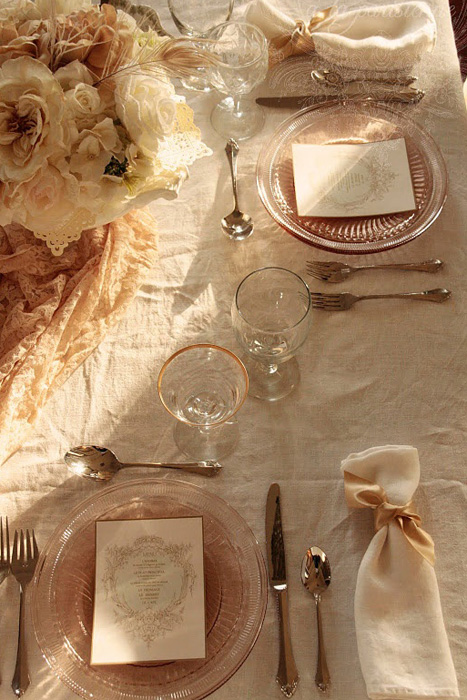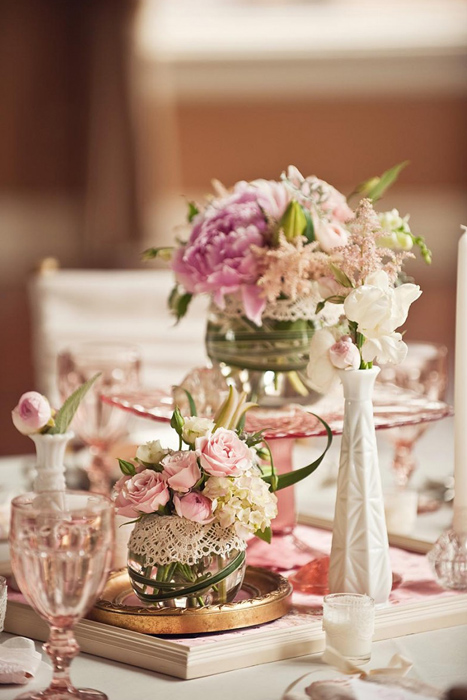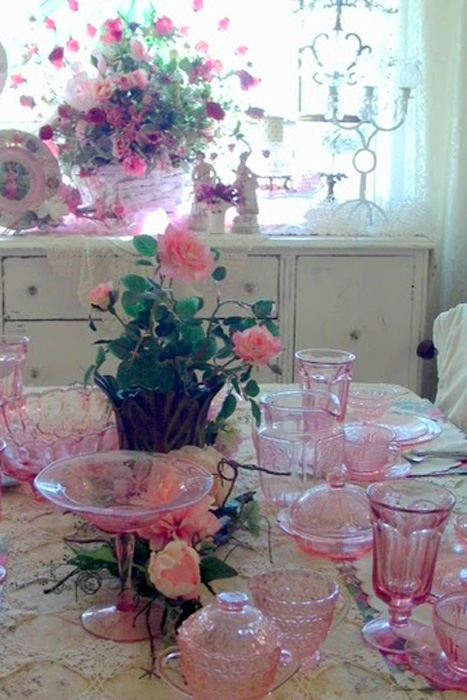 Depression glass can add a layer of history and dimension to nearly any aspect of your wedding. The most obvious application is to use it in your table settings, but you may not be able to collect enough to furnish an entire setting. Mixing and matching Depression glass with china is a great way to offset a shortage, as is using the glass for one piece, such as as drinking glass, rather than for an entire setting. Cake stands are another great way to implement glass in a slightly more subtle way that requires a lot less searching, if you aren't in love with the hunt.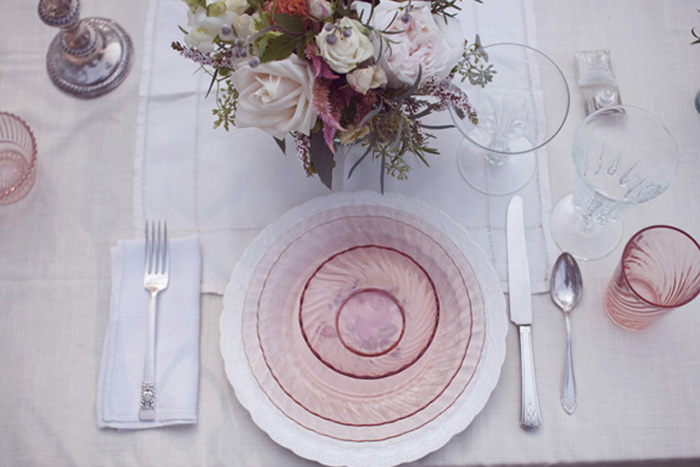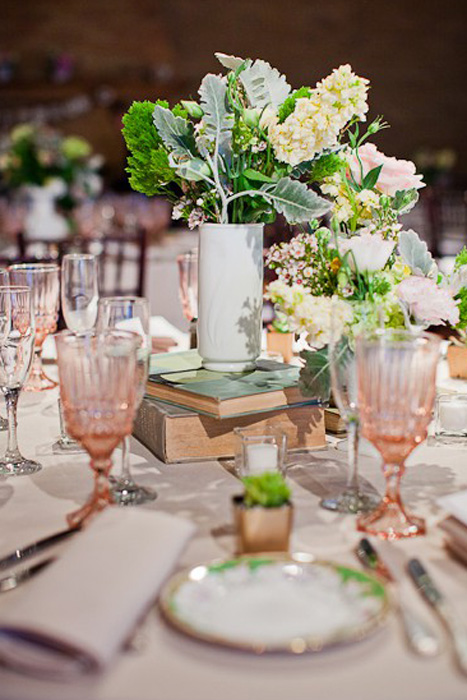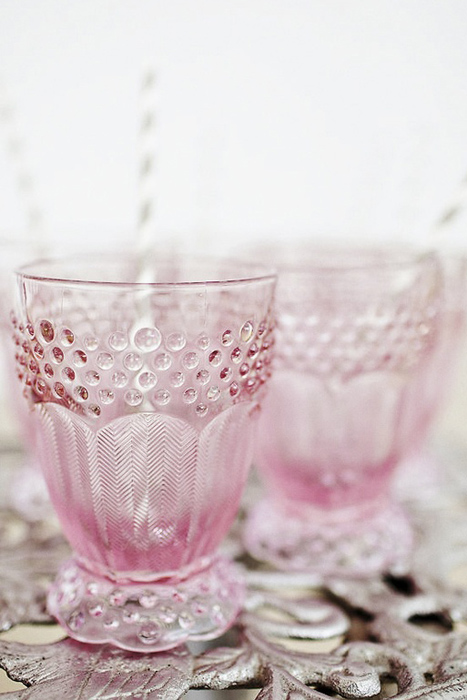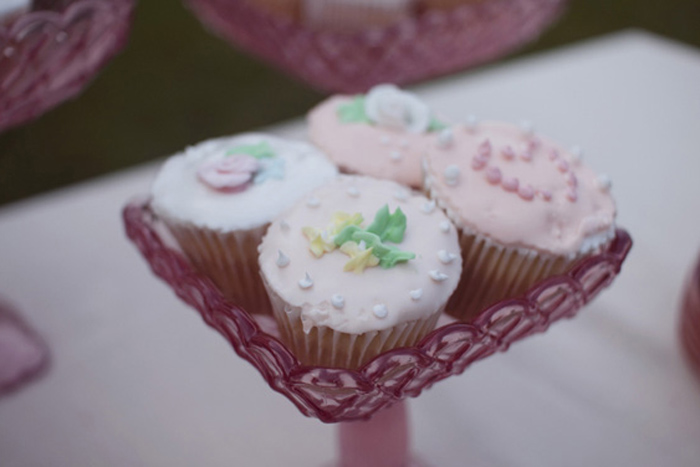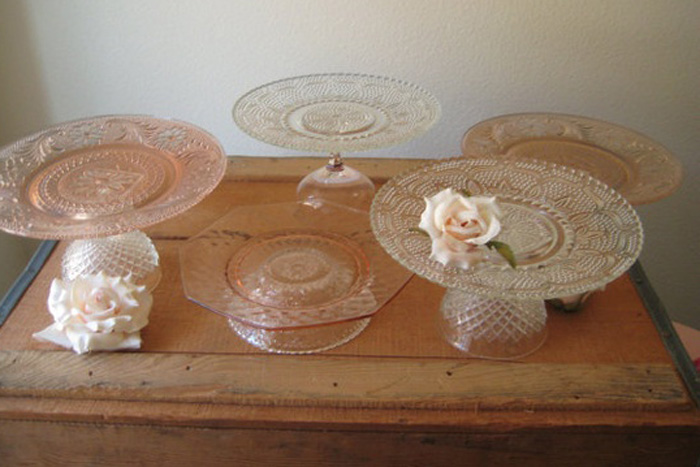 Your new glass collection can also offset your floral arrangements beautifully, whether by acting as a vase or by highlighting your floral tones. The pink Depression glass works especially well for achieving a vintage or shabby chic flavor with your floral arrangements.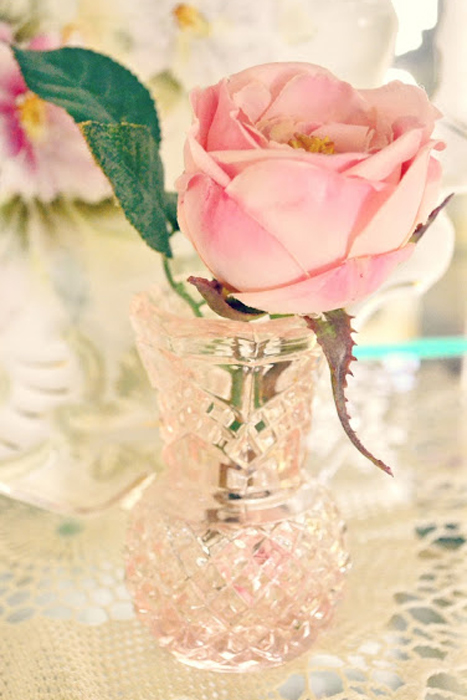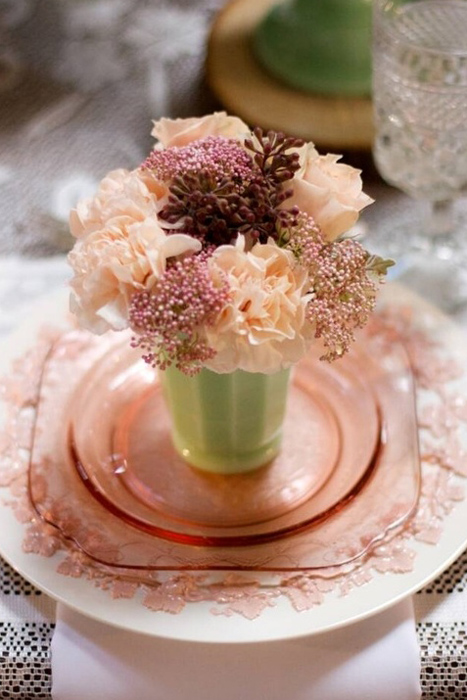 Depression glass be used in a million creative ways. Necklaces? Check. To-die-for plate wall behind cake? Absolutely. If your guest list allows it, you can even give a nod to the old days and send guests home with a Depression glass favor of their own.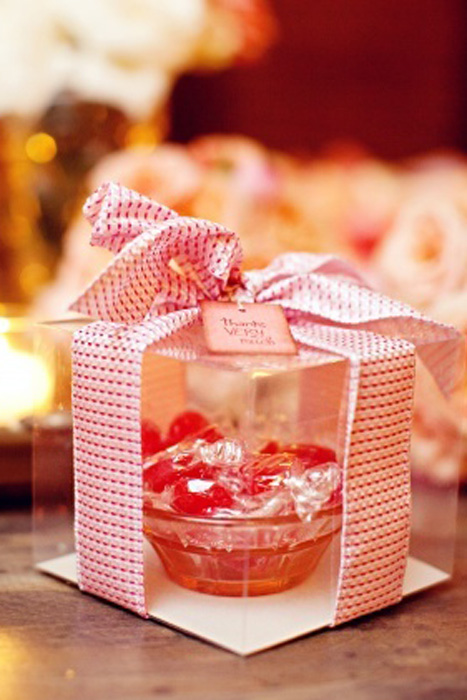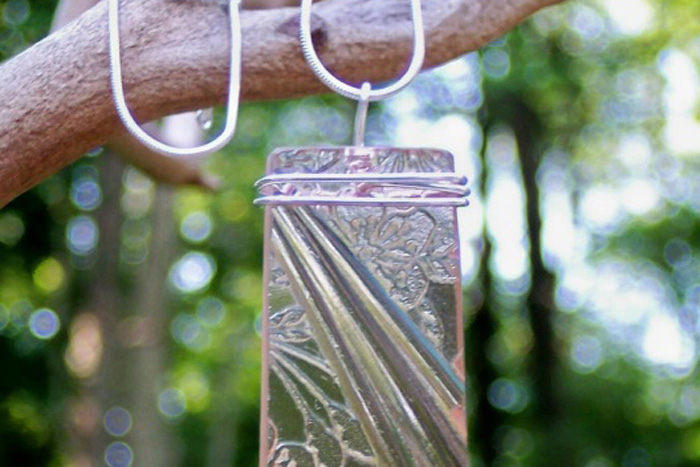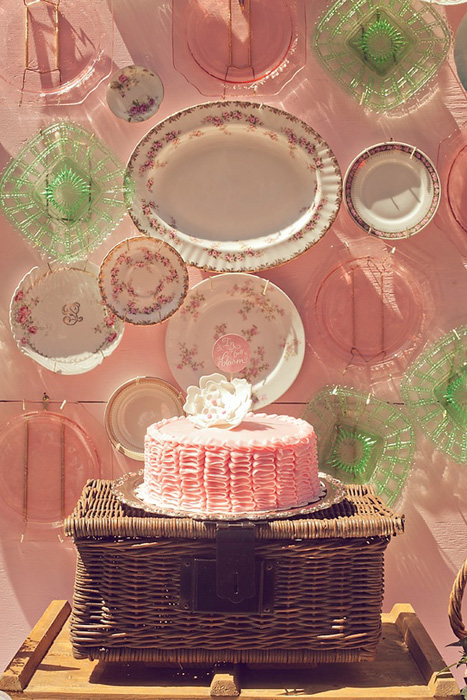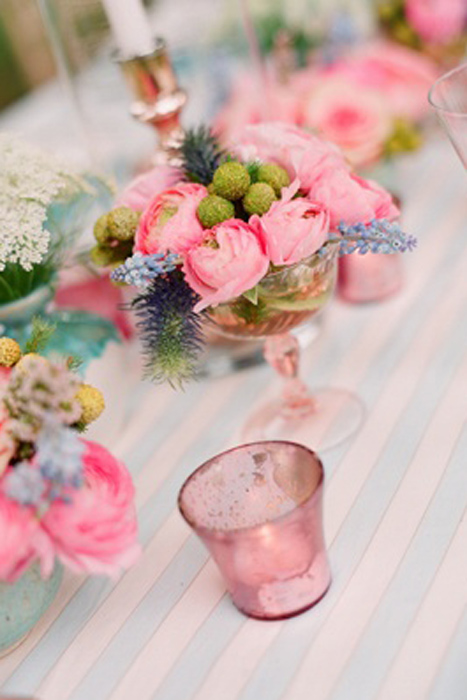 So, let's hear it! What creative Depression glass ideas have you guys stumbled across, or implemented yourselves?
Photo one: vintagedishrental.com; Photo two: vintagedishrental.com; Photo three: vintagedishrental.com; Photo four: glitterandrye.blogspot.com; Photo five: intimateweddings.com; Photo six: ala-parisienne.com; Photo seven: tattietats.com; Photo eight: penny-pennystreasures.blogspot.com; Photo nine: intimateweddings.com; Photo ten: caplanmiller.com; Photo eleven: everlytrue.tumblr.com; Photo twelve: intimateweddings.com; Photo thirteen: etsy.com; Photo fourteen: jenneliserose.blogspot.com; Photo fifteen: pinterest.com; Photo sixteen: marthastewartweddings.com; Photo seventeen: bottledupdesigns.com; Photo eighteen: blog.hwtm.com; Photo nineteen: amuse-bouches.tumblr.com