Summer weddings often get all the glory, and while they can be beautiful and warm enough to keep you comfortable at an outdoor wedding in a strapless dress, winter weddings are where you get to have all the fun with accessories! Keeping warm may be a necessity for a winter wedding, but it also allows for adorable additions to your wedding day attire. Whether you're getting married outside, or you just want to take your wedding photos out in the open snow drifts, winter accessories help show the season and are a great way to off set the fanciness of your wedding clothes.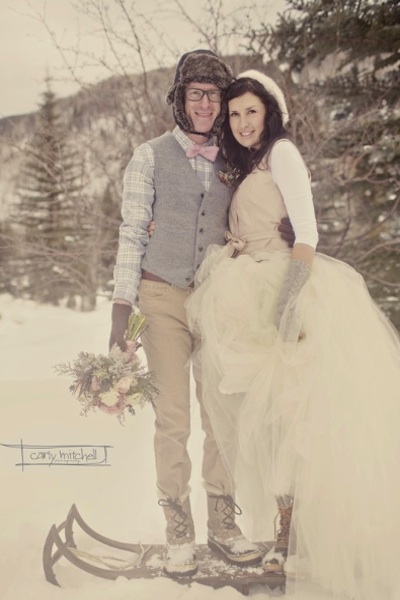 I could not be more in love with the looks of these bundled up brides! Even if you're just wearing these items for your photos it's beyond adorable and I love the juxtaposition between the fancy dresses and the cozy warmth of the coats and scarves.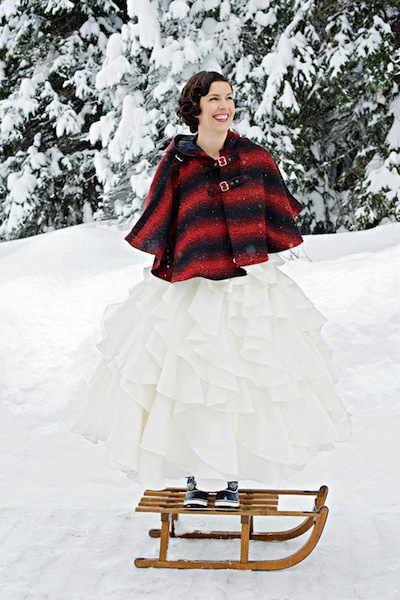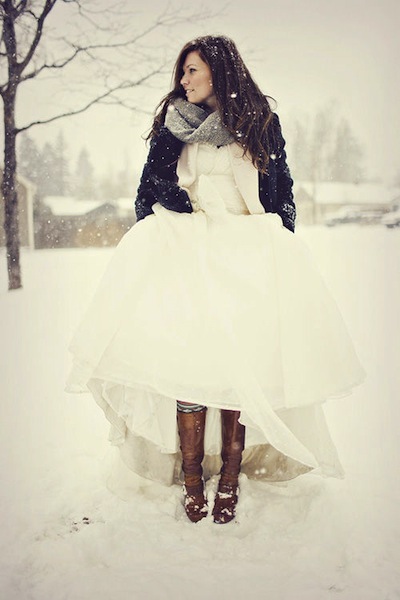 An interesting alternative to the bridesmaids dress in a winter wedding is to have all of your bridesmaids wear matching coats. I love these coats that have a dress-like shape. Another winter wedding difference could be to carry fur (or faux fur) muffs in lieu of bouquets. A bonus for these alternatives is that your bridesmaids really will use these again!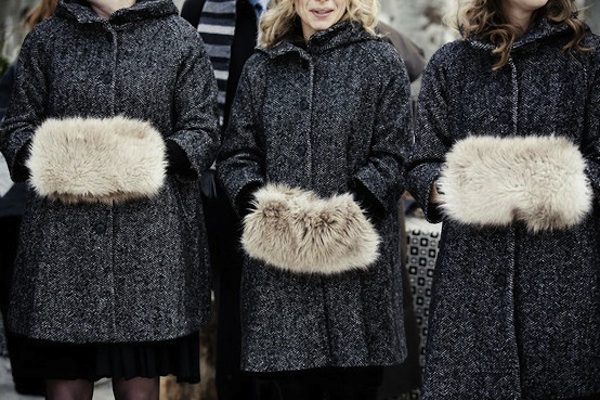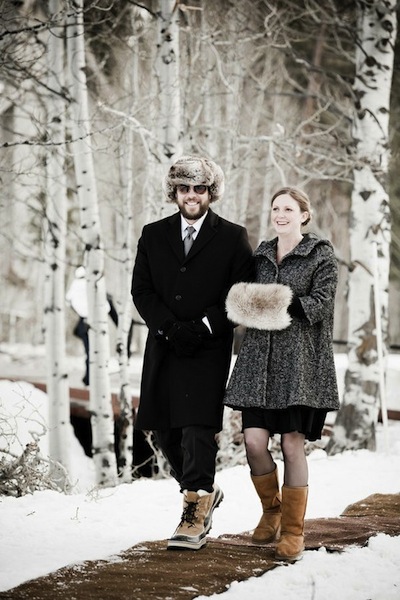 Boots are another fun accessory to wear while outside. The above couple outfitted all of their bridesmaids in Uggs which keep you warm and are much better than heels for walking through snow! This bride also wore them, and how cute is her flower girl in her matching mini pair?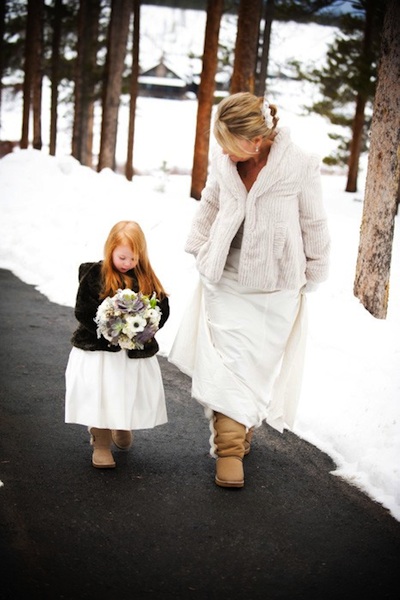 If you want slightly more formal boots you can opt for a white pair that is the closest outdoor alternative to heels.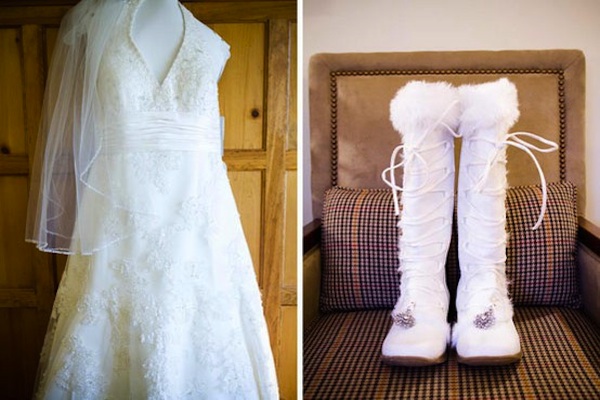 Don't forget your groom! Men's attire can also be adjusted to the season as well. Lighter suits of other seasons can be traded in for thicker suits of wool or felt and wool coats which can still look formal but keep your men warm at the same time. If you're open to it, your groom could even wear a fur or wool hat.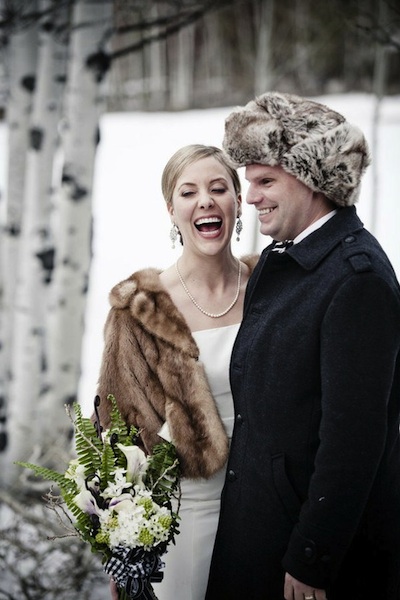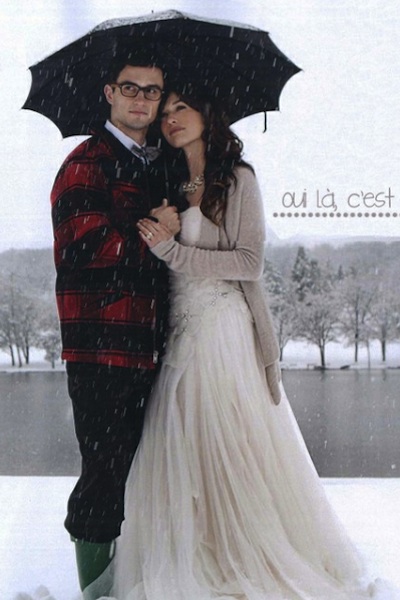 If so much of what makes a wedding is "in the details" then we can't forget the little winter accessories like tights and mittens. If you're brave enough to have a winter wedding while wearing a shorter dress tights are going to be a must! This design looks like it will still keep you warm, but has a delicate design perfect for a bride.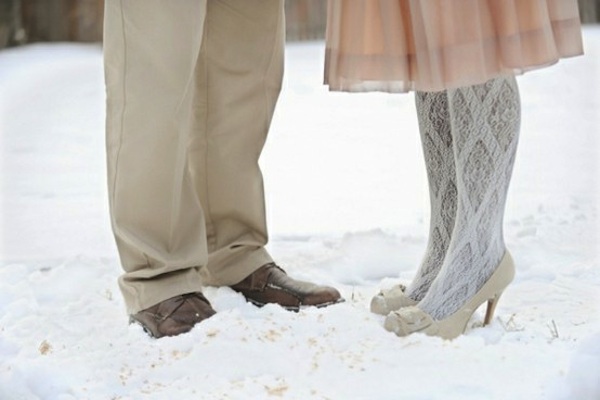 Mittens are another accessory that is not only pretty, but also serve its purpose.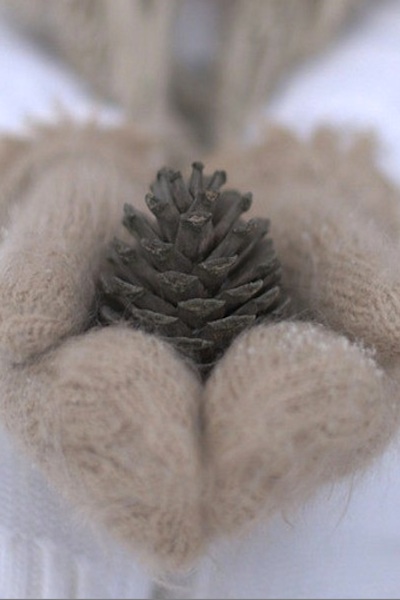 So, do you still think summer weddings have all the fun? These winter accessories will make your wedded winter wonderland look like the cozy affair you've always dreamed of.
Image One: etsy.com; Image Two: stylemepretty.com; Image Three: stylemepretty.com; Image Four: stylemepretty.com; Image Five: stylemepretty.com; Image Six: stylemepretty.com; Image Seven: luxemountainweddings.com; Image Eight: stylemepretty.com; Image Nine: desideespourunjolimariage.com; Image Ten: ruffledblog.com; Image Eleven: favim.com
Rebekah is a wedding designer and stylist. She owns the company A & B Creative, read her blog.