Winter wedding cakes are among some of my favorites. While I do love a delicate flower, or the bright pops of color that adorn spring and summer cakes, it's the sophistication and whimsy of a winter cake that I adore most. For a winter cake you can choose how "wintry" you want it to be, whether it has subtle hints to the season or it is the theme of the cake.
One of my favorite winter wedding cake looks is white on white. Seeing detail on the cake, but it being in the same color as the cake, looks so sophisticated and it evokes the memories of snow. I love the simple additions of the deer and tree as well as the hanging orbs that make you think of the ends of a wooly hat.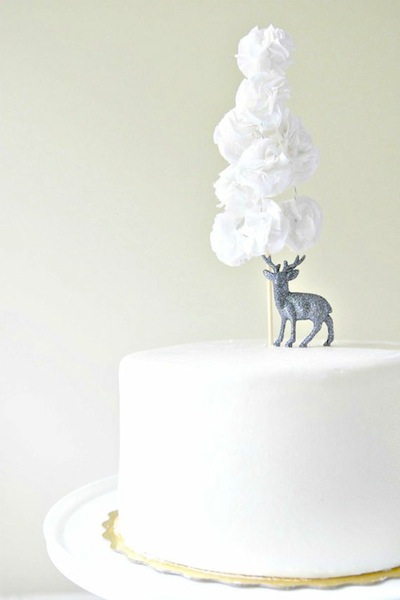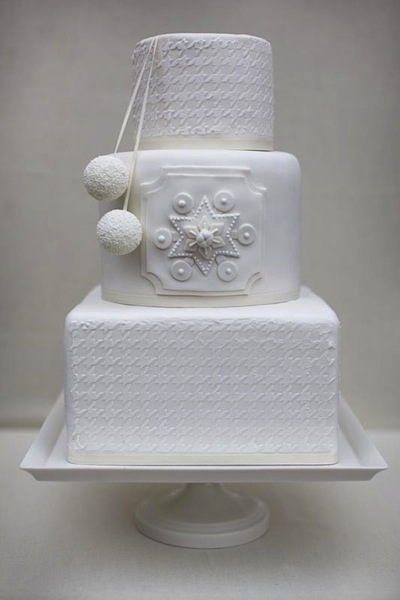 Simple toppers are another great addition to a winter cake. Whether you add a wreath, pine cones, or winter birds, simple details like these come across as having a touch of class even though they're probably very affordable.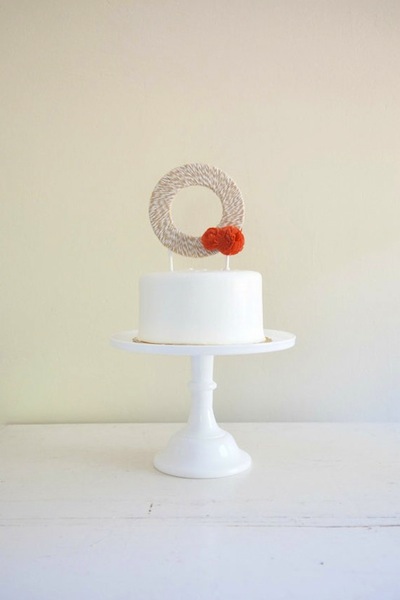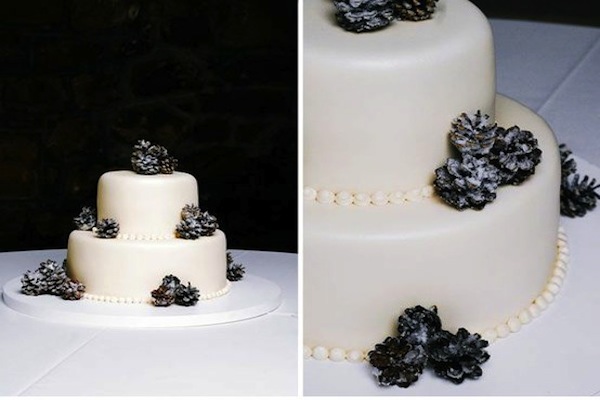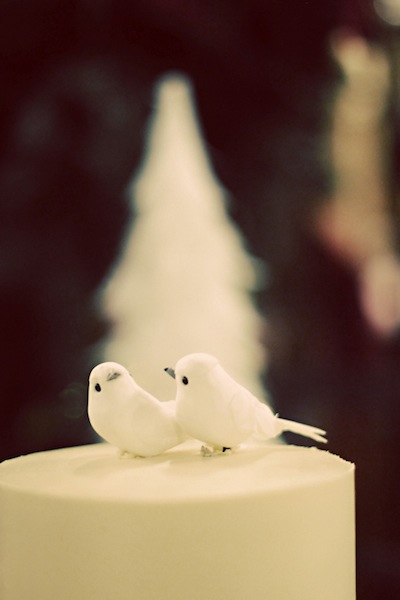 Winter cakes don't have to be all white either, here's a very bright and cheery cake that uses red cardinals as its winter accent.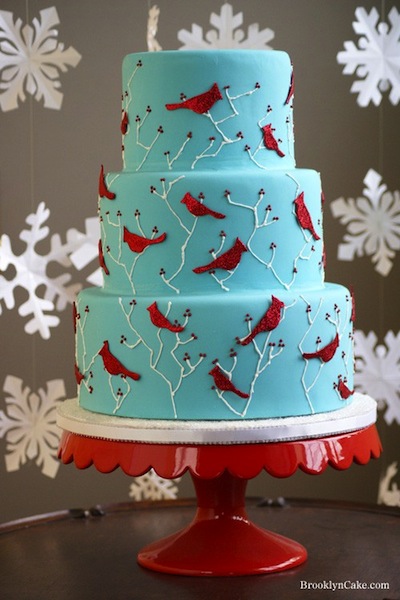 If you're not feeling a cake that's so bright, you could always ease into color by having chocolate details. You still have a snowy white cake, but you bring in a little color with the delicious chocolate accents.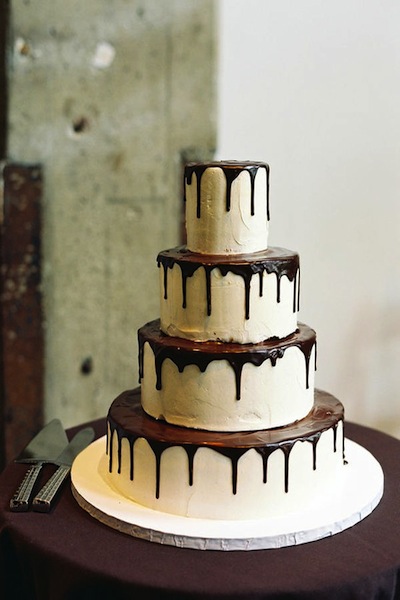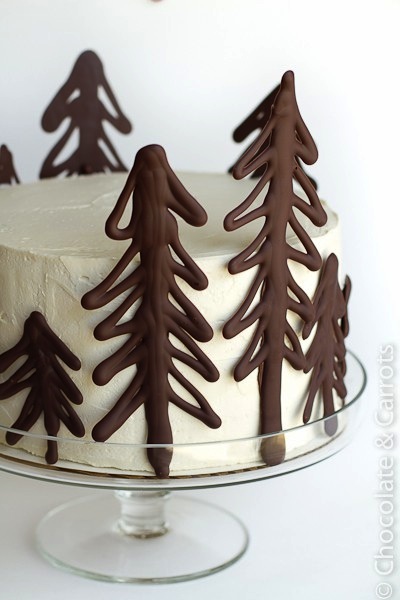 If you want your winter wedding cake to have more of an ambiguous winter theme, you could add some "bling" to it like these two sparkly cakes.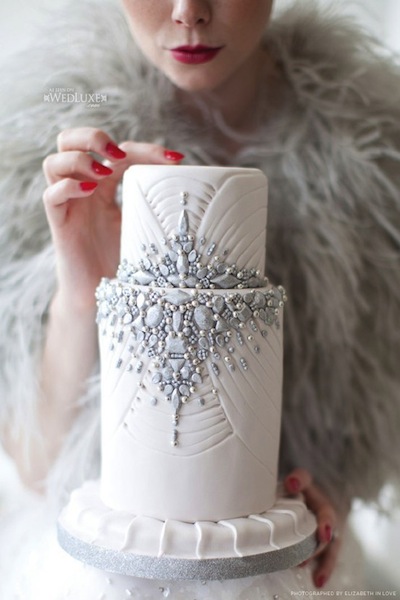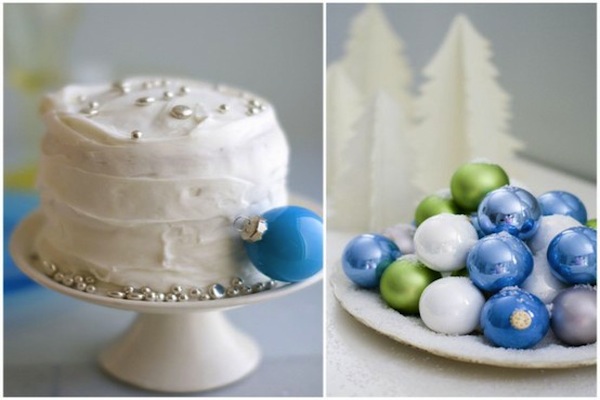 Don't forget that even if you choose to have a somewhat neutral colored cake you can always have the color come from inside. I love this red velvet cake that's hidden inside this stylish white on white cake!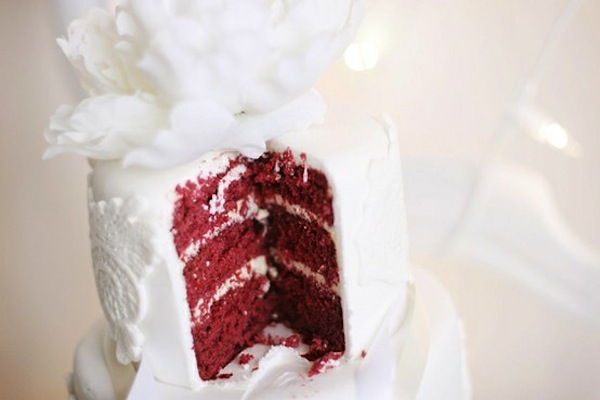 I saved my favorite for last. How amazing, adorable, and hilarious is this snowman winter wedding cake? I love that it is totally chic and not at all cheesy or gimmicky as I've seen some other snowman cakes be. This is perfection for a fun winter wedding!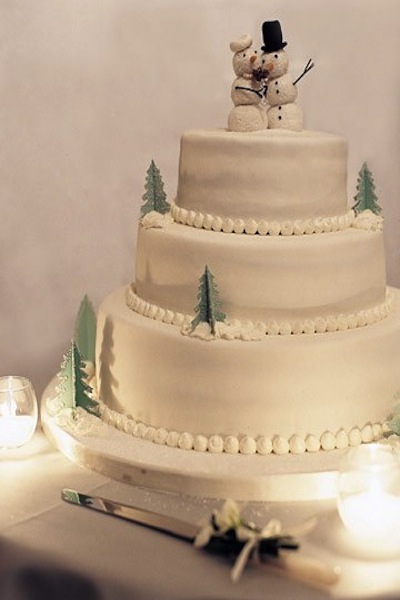 As you can see, there is a winter cake for every style of wedding. Sophisticated, lodge inspired, weather and seasonally inspired, decadent, sparkly or funny. Whatever energy and style you want to bring to your wedding, there is cake to help complete it!
Image One: etsy.com; Image Two: ericaobrian.com; Image Three: etsy.com; Image Four: secrets.rainadawnevents.com; Image Five: unitedwithlove.com; Image Six: brooklyncake.com; Image Seven: stylemepretty.com; Image Eight: Chocolate and Carrots; Image Nine: wedlux.com; Image Ten: holidaywithmatthewmead.com; Image Eleven: savethedate4cupcakes.com; Image Twelve: marthastewartweddings.com
Rebekah is a wedding and event designer and vintage obsessive. She owns the company A & B Creative, read her blog.