Eloping used to mean a no-fuss quickie marriage down at the courthouse. These days, however, eloping has become a much more fashionable affair. Just because you decided to elope doesn't mean you can't look fabulous doing it, right? So whether you're jetting off to Paris, exchanging your vows on top of a mountain, or simply saying 'I do' at city hall, here are 10 great dresses to run away and get married in:
1.  Kenna Lace Dress from Anthropologie
Perfect for: Eloping in the park and a picnic for two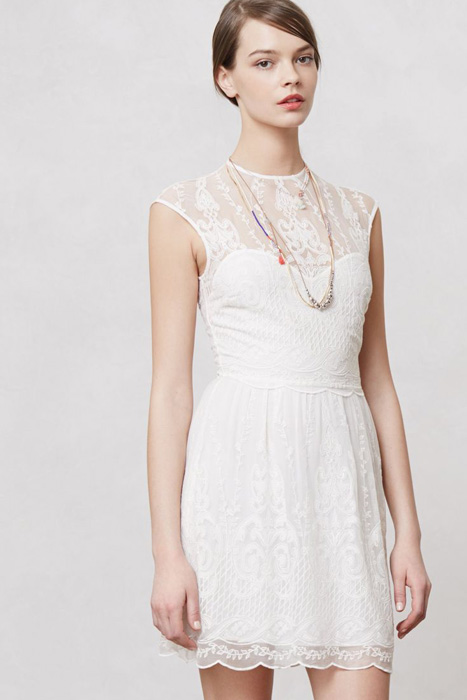 2.  For Emily Wedding Dress from The English Dept.
Perfect for: A tiny chapel in the English countryside and riding off into the sunset on a bicycle built for two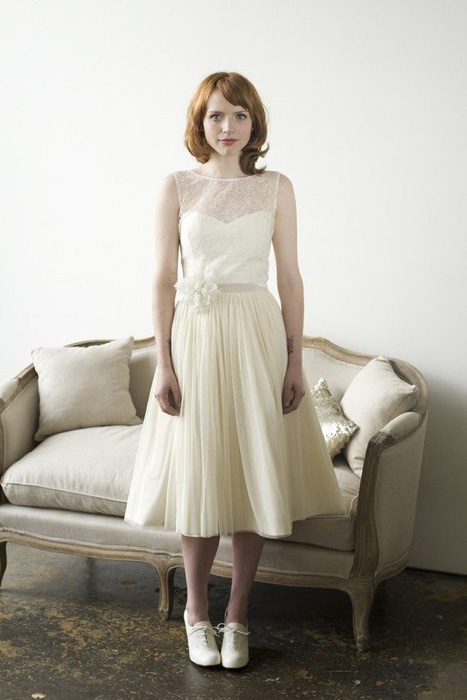 3.  Dolce Vita Val Sunflower Lace Dress from Revolve Clothing
Perfect for: Low key nuptials at home and slow dancing in your living room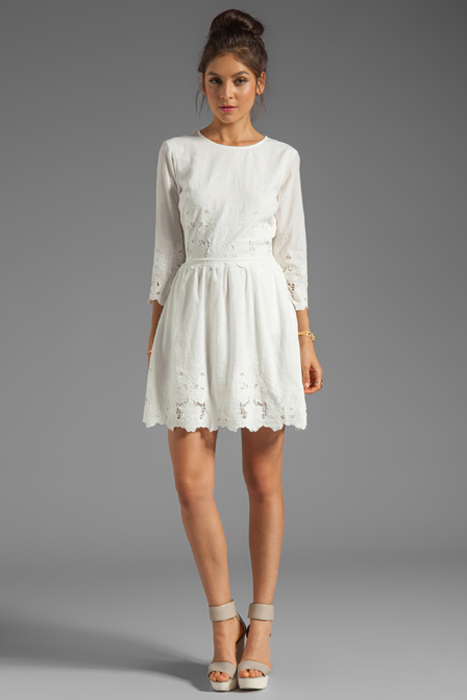 4.  Lee Skirt from Whitney Deal
Perfect for: Saying I do between the stacks of classics at your favourite bookstore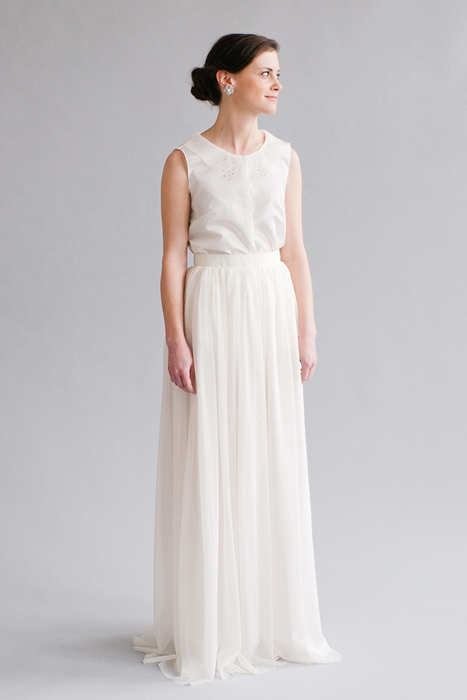 5.  Centau Dress from Free People
Perfect for: The boho bride that's not afraid to wear leather on her wedding day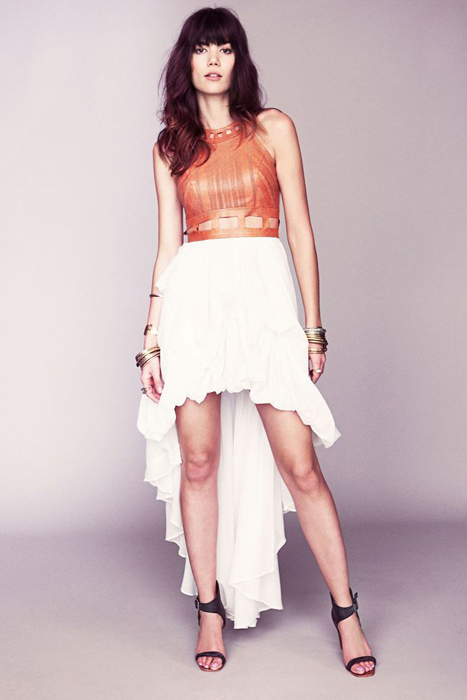 6.  Lucy in the Sky Gown from KT Jean
Perfect for: The Pacific Northwest and pairing with a pair of moccasin booties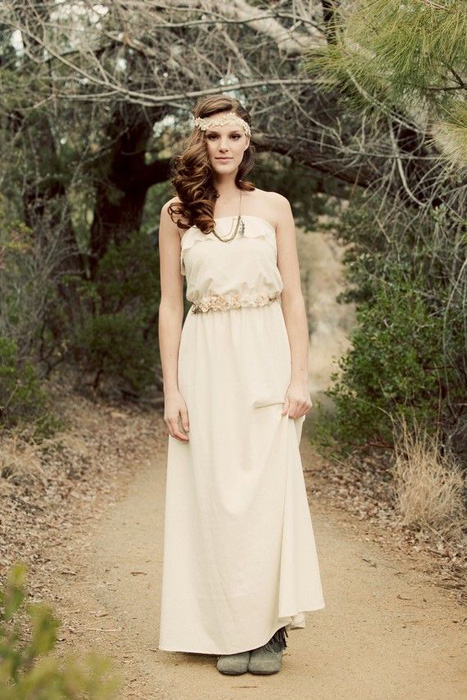 7.  Stone Cold Fox Boardwalk Dress from Revolve Clothing
Perfect for: Beachfront vows and showing off a killer pair of legs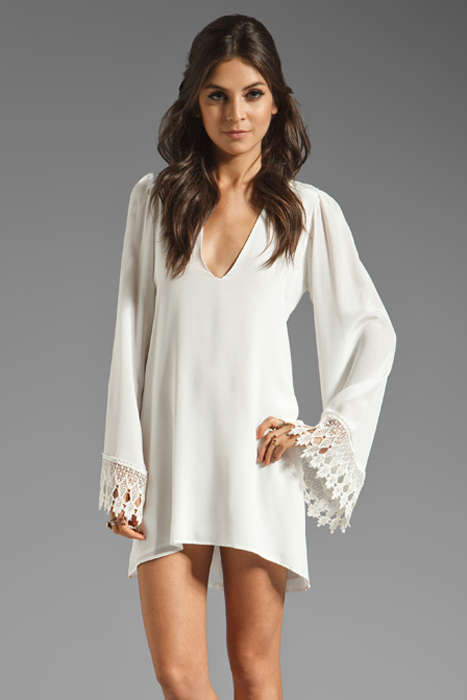 8. Delphine Manivet Adhémar Gown from Select Bridal Boutiques
Perfect for: A first kiss atop the Eiffel Tower and brides looking to splurge a little.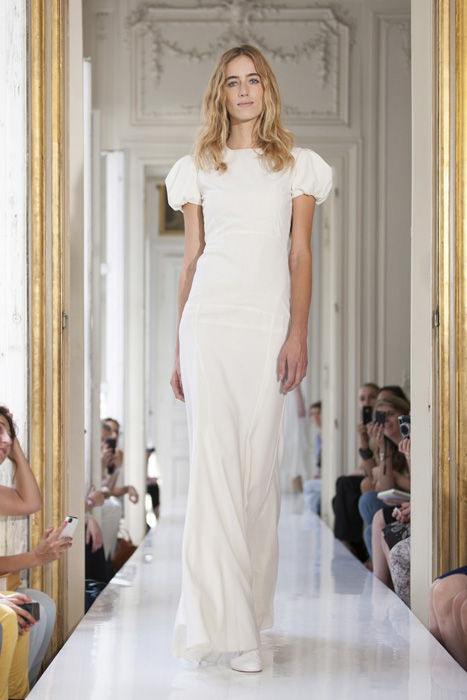 9.  Michael Kors Crepe Dolman-Sleeve Dress from Neiman Marcus
Perfect for: An impossibly chic city hall wedding followed by a romantic candlelit dinner
10.  Tailored Crepe Jersey Suit from Burberry
Perfect for: Okay, so this one isn't a dress, but it shows you that a well tailored suit looks just as fabulous on the bride as it does the groom!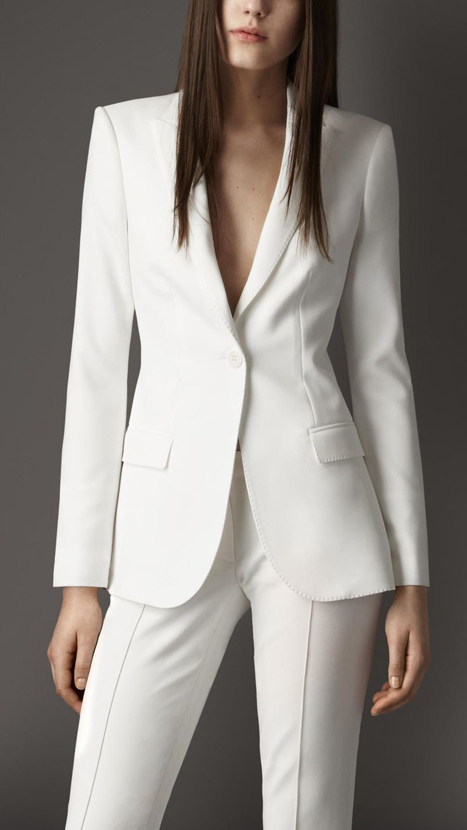 Photo one: anthropologie.com; Photo two: etsy.com; Photo three: revolveclothing.com; Photo four: shop.whitneydeal.com; Photo five: freepeople.com; Photo six: etsy.com; Photo seven: revolveclothing.com; Photo eight: delphinemanivet.com; Photo nine: neimanmarcus.com; Photo ten: burberry.com