Whether it's from Shakespeare, a romantic comedy or a post-it from your other half, love quotes can make us all go weak at the knees.
Using quotes in your wedding decor adds a romantic touch to your big day. Quotes are a subtle way to emphasize the true sentiment of marriage, which can often be forgotten amongst the chaos, dancing and food. Here are 10 ways to incorporate love quotes into your wedding.
1. Handheld Prop 
Handwritten quotes can make for very sentimental photography props. Not only are these shots frame-worthy, they can also be a special gift to your new spouse. If you're having bridal portraits done, then this is a great time to sneak in an image with a love letter to create a nice surprise for your husband (or wife!) when you go through your wedding photographs together!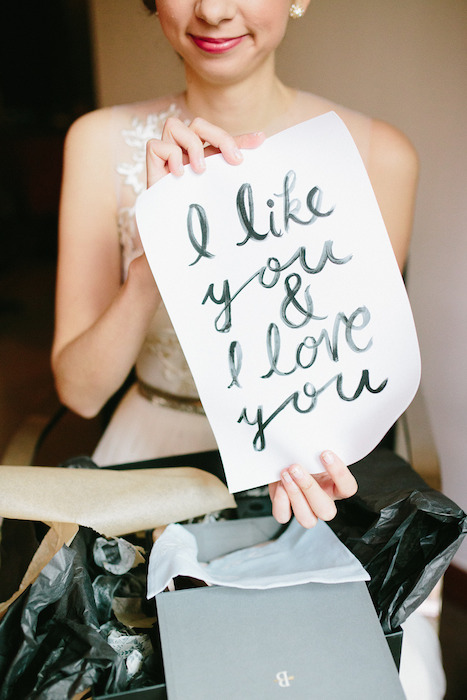 2. Edible Musings 
They're called 'sweet nothings' for a reason. So what better way to share your most romantic words, than on a cake?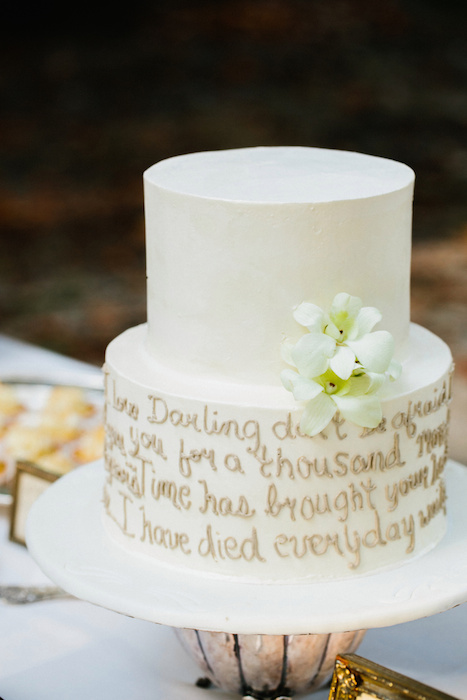 3.  Wooden Display
Quotes on a wooden backdrop with a bold white script, are a nice touch to add to your outdoor ceremony.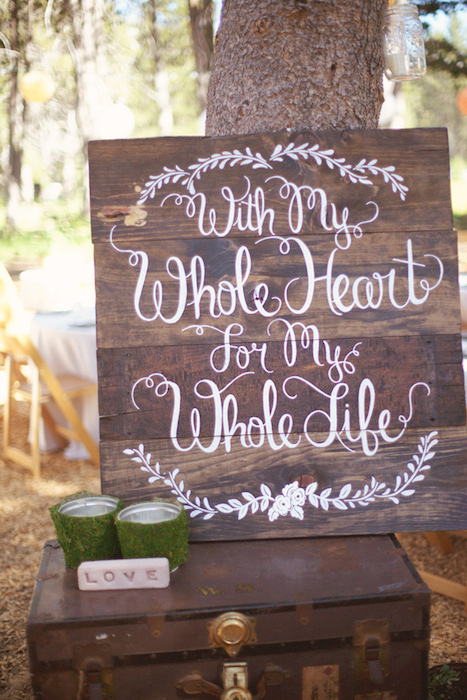 4. Literary Quote

If you're an avid reader but over the used-books-as-wedding-decor trend, then this one is for you. Pull your favorite literary love quotes or letters and place them on signs around your venue.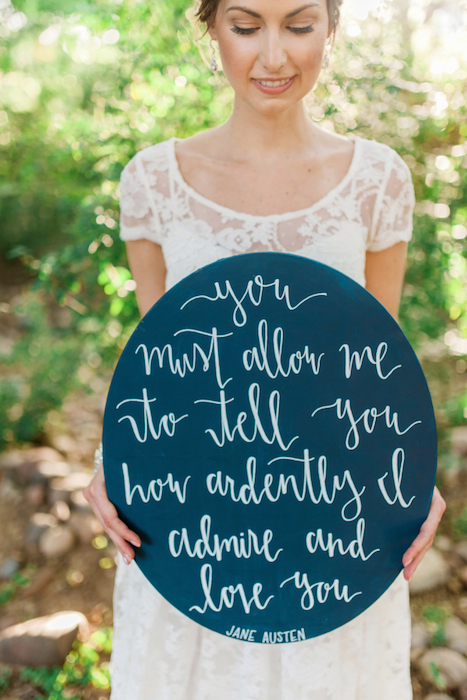 5. Photo Display 
Surrounding a quote with photographs will create an interesting piece in your venue space. You can display engagement shoot photos or old family photos.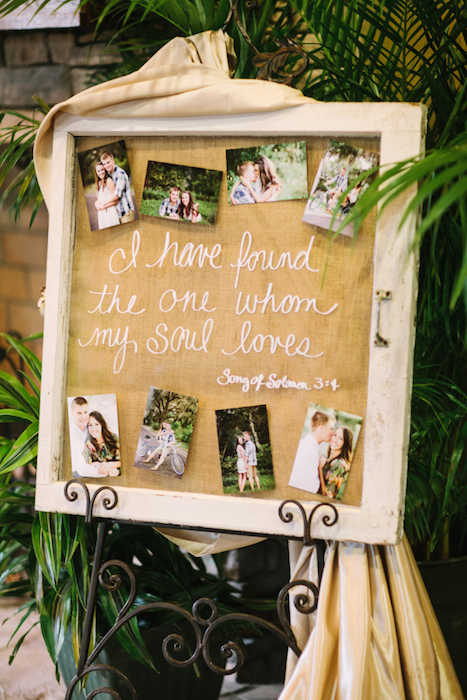 6. Writing On The Mirror 
Mirrors are a lovely canvas for meaningful words. Surely that's what bathroom mirrors were made for? Take it one step further by using antique mirrors as signs.
7. Childhood Inspiration

Some of the best love quotes come from childhood books and films. Their simplicity makes them universal. Wooden palettes are an inexpensive way to display your top picks.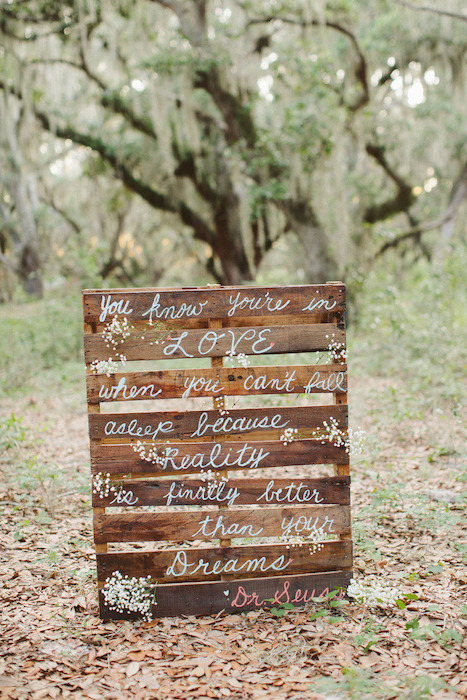 8. Wise Words 
Share some words of wisdom or advice with your guests. These can be in the form of tongue-in-cheek ramblings, notes from relatives or your own thoughts.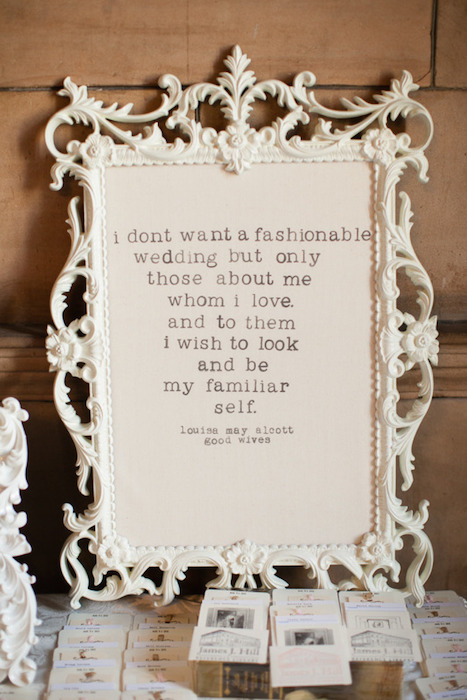 9. Table Decor
Having different quotes at each table is a fun way to differentiate them and add a theme.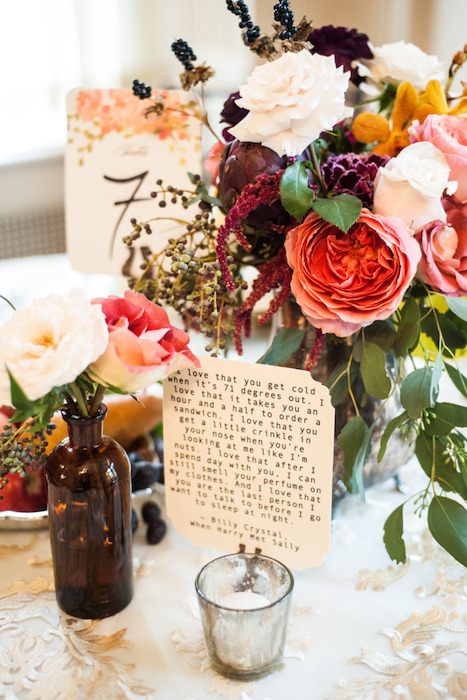 10. In The Theme 
If you're having a wedding themed around a time period, you can use quotes to enhance the look. Finding romantic excerpts from that era will really add to the mood.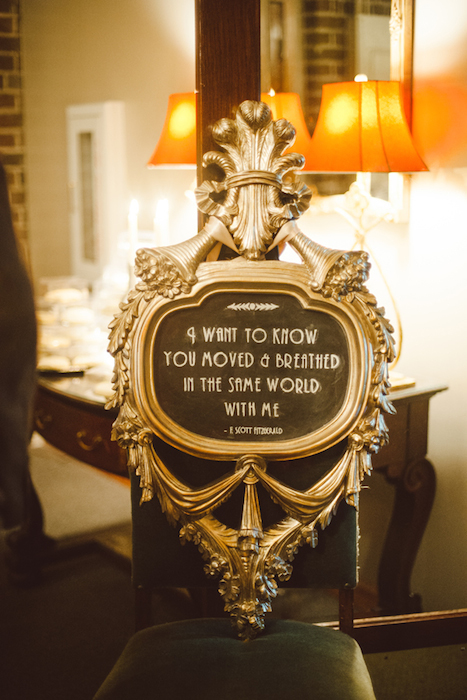 Photo one: katiekettphotography.com; Photo two: pure7studios.com; Photo three: ruffledblog.com; Photo four: berrettphotography.com; Photo five: justindemutiisphotography.com; Photo six: lemagnifiqueblog.com; Photo seven: stylemepretty.com; Photo eight: lauraivanova.com; Photo nine: craig-photography.com; Photo ten: thepinkbride.com