If you want to go from drab to fab, just add a chandelier! Chandeliers can transform just about any raw space into a magical setting.
No matter what look you are going for, whether it's rustic or all-out elegance, chandeliers are one of the most effective ways to elevate your decor. And there are so many varieties! Here are ten of our faves:
1. Driftwood Installation 
The driftwood has a natural prettiness to it, and adds a touch of refinement to a rustic look. The hanging glass spheres with tealight candles are the perfect finishing touch.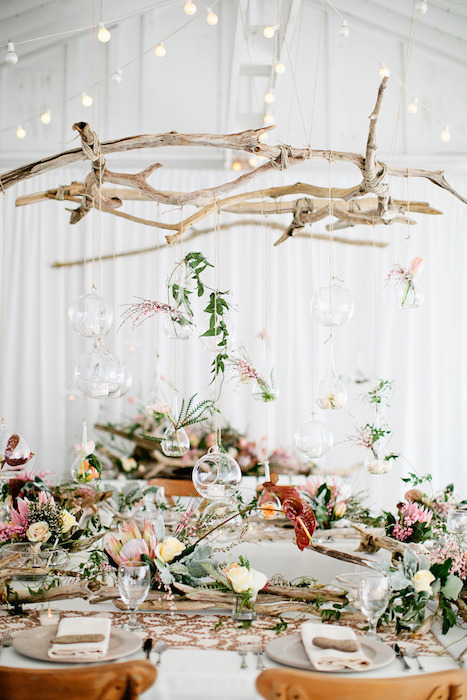 2. Floral Wreath
Keep things simple by hanging a wreath of tiny blooms with lengths of ribbon.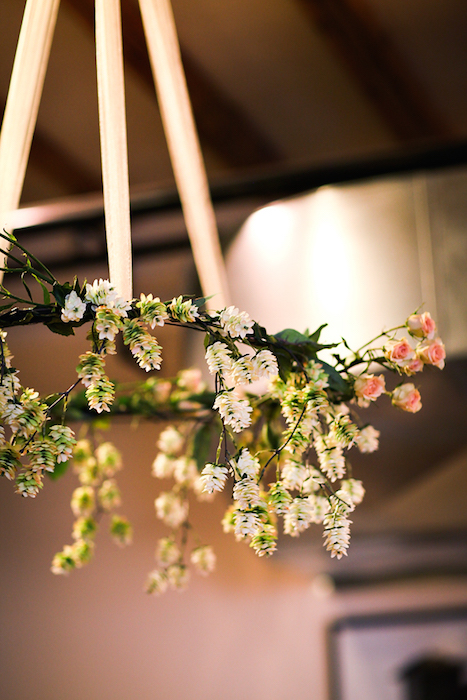 3. Nautical Glam 
A nautical theme doesn't always require blue and white stripes and seaside treats. This hanging ship is an elegant way to add some individuality to a popular theme.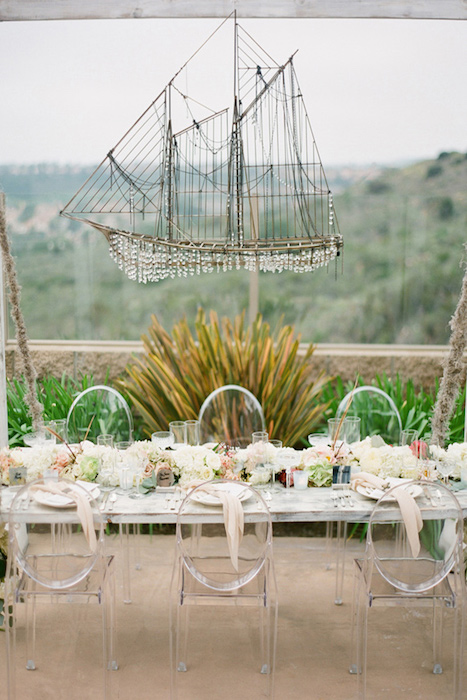 4. Woodland Lighting 
What could be more fitting for a woodland inspired affair than this chandelier? Branches and greenery combine to create a piece that brings the outdoors into your reception.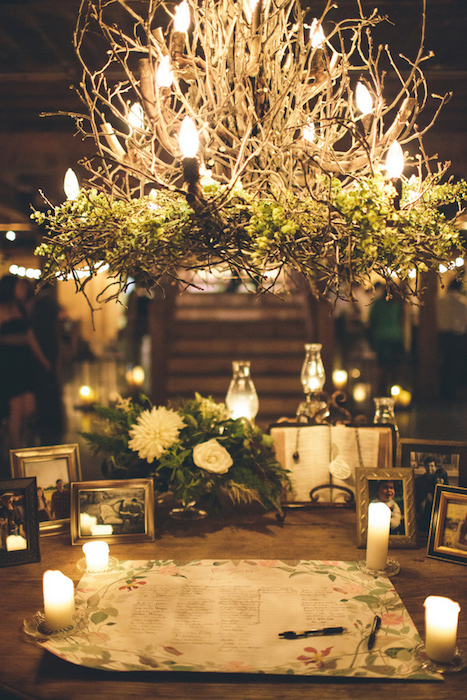 5. Window Light 
You don't have to wear the 'something old' just add it to your decor instead. An old window pane with some leaves and candles placed on top makes for a lovely alternative to a traditional chandelier.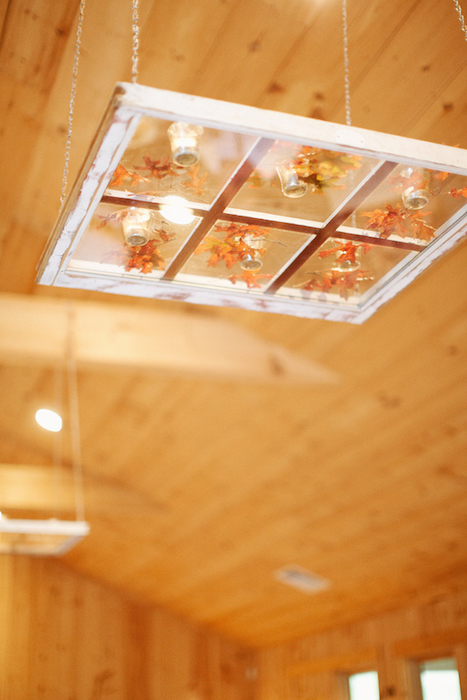 6. Glittered Feathers
Go the DIY route by cutting out feather shapes and customizing them with paint and gold glitter. Hang them up to go with an Art Deco theme.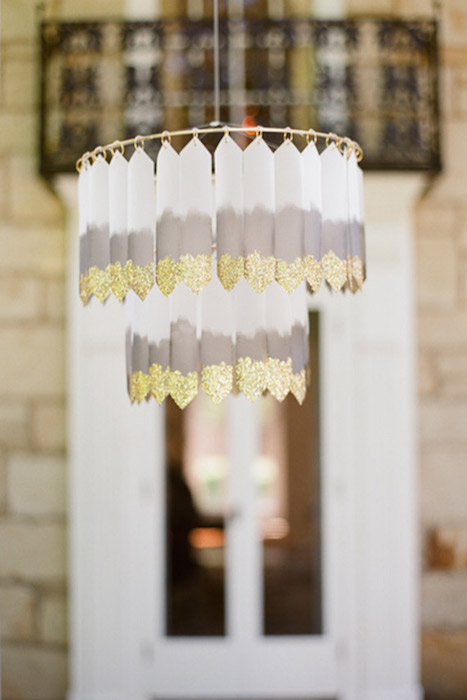 7. Test Tube Florals 
Using flowers for a chandelier is such a gorgeous wedding idea. Using test tubes is a simple yet sophisticated idea with an unexpected twist. Adding fresh blooms will instantly brighten up your venue.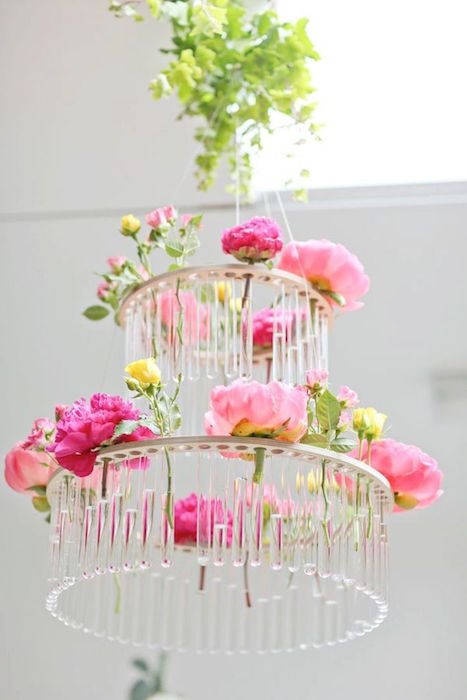 8. Industrial Chandelier 
Chandeliers don't have to be conventionally pretty. If you're not into crystals, then this industrial-style light could be a good option. It will look great in a warehouse space.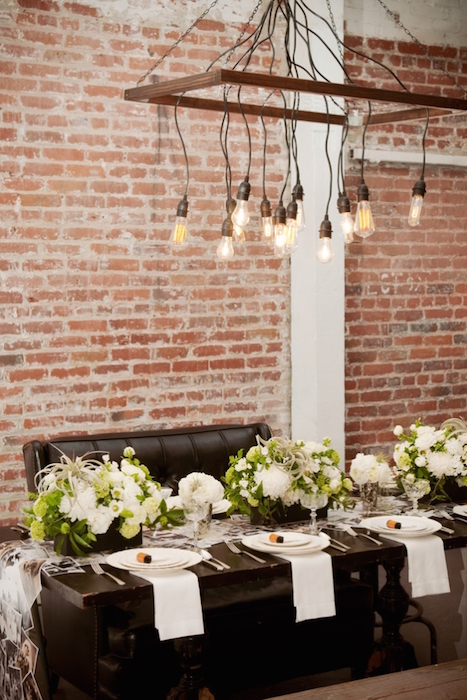 9. Wooden Crate 
This shows how a simple object can be used to create an eye-catching piece. The wooden crate forms the base with crystals and flowers used to create a chandelier effect.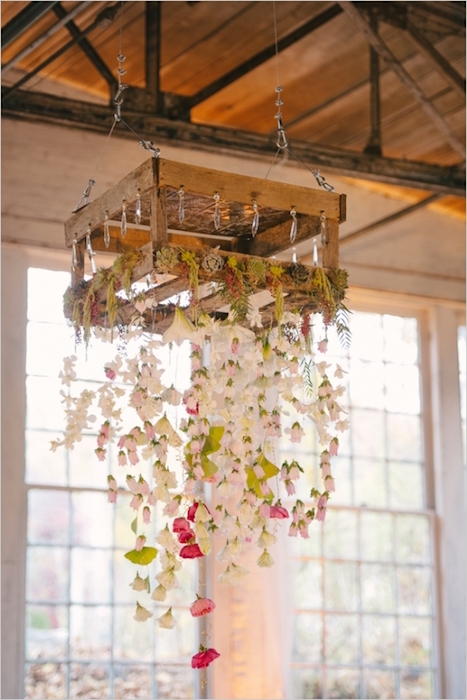 10. Full of Greenery 
A barn with signature wooden beams, requires little decoration. Adding some greenery to the space complements the wood. These chandeliers hanging from the high ceiling have a great mix of abundant greenery and exposed bulbs.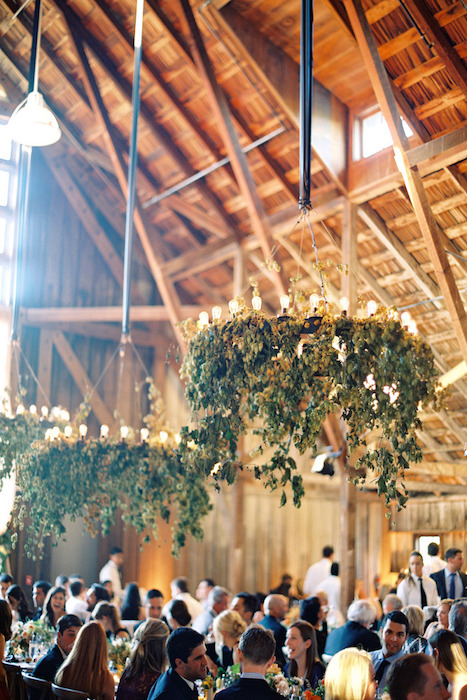 Photo one: kristynhogan.com; Photo two: laurengabrielle.com; Photo three: josevillablog.com; Photo four: lindseyjohnsonphotography.com; Photo five: josh-deaton.com; Photo six: 100layercake.com; Photo seven: onewed.com; Photo eight: ruffledblog.com; Photo nine: weddingchicks.com; Photo ten: josevillablog.com