Take a step back into the Jazz Age with an abundance of rich colors, geometric details and stunning embellishments. Art Deco inspired fashion is a glamorous option for vintage nuptials.
Art Deco is an eclectic design style, that burst onto the scene in 1925 at the Paris Exhibition. The style spans across a range of design forms and is full of diverse influences. There are plenty of elements to draw inspiration from, making it a perfect theme for bridal fashion. Plus, who doesn't want to look like they belong in the pages of The Great Gatsby?
Wedding Dress 
A tubular silhouette was favored during this time and contemporary dresses with a streamlined look will work well. Embellishments are key to capturing this style. Ornate beading and shimmering dresses were worn frequently by the 1920's bride. As Art Deco started to move into the thirties there was an emphasis on the cut of the dress. Bias cut dresses that are molded to the body (hello, body-con!) are a flattering silhouette to look for.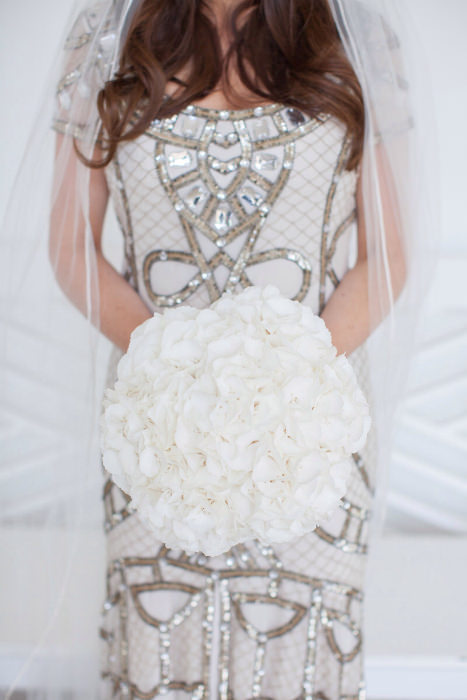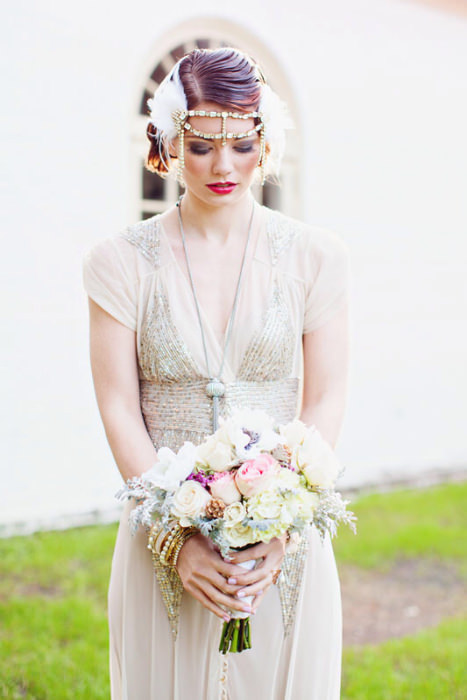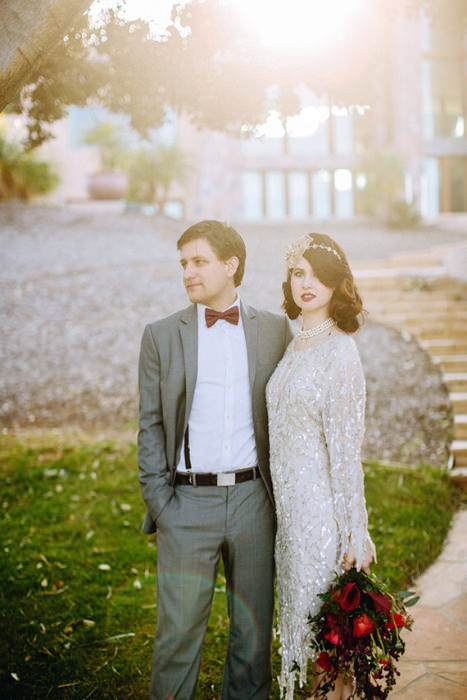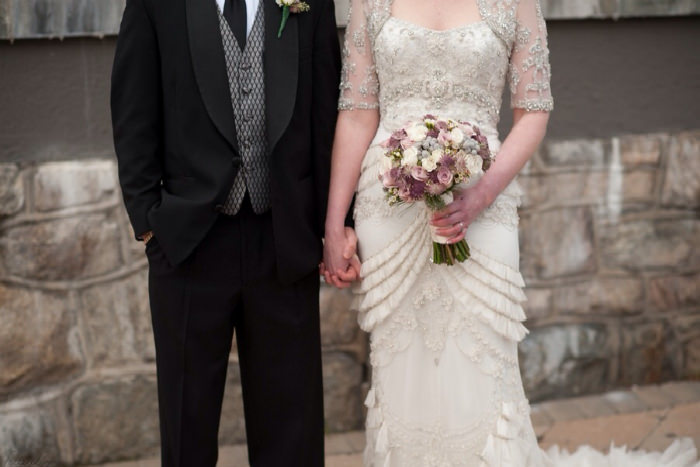 Accessories
Cubism, fauvism, angles, orientalism and African art are some of the sources that Art Deco drew inspiration from. These are great details to look out for when thinking of accessories. We love strong geometric shapes for bridal jewelry. Jeweled headpieces with silver adornments and Juliet-style veils are a great mix of new and old. Delicate feathers and beaded clips are softer additions.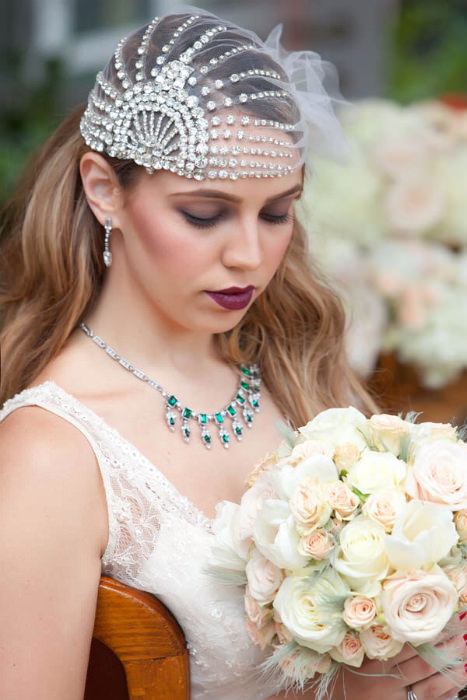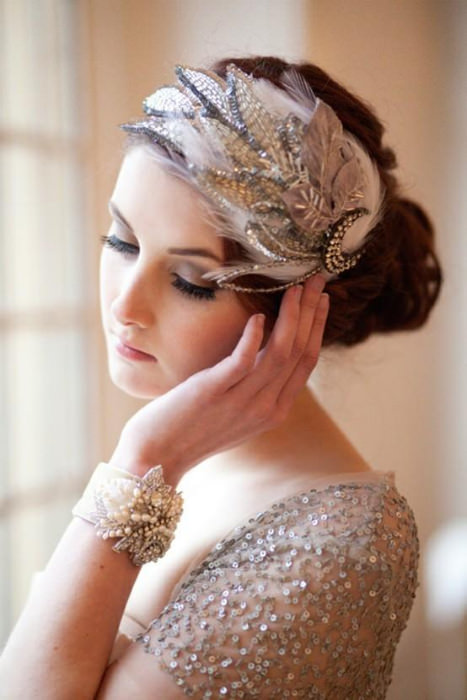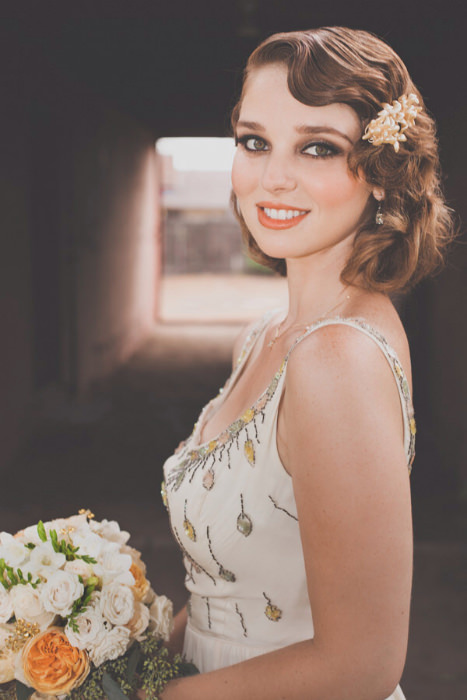 Bridesmaids
Well it won't be any fun if your friends aren't involved in the Deco action too. Flappers were the poster girls of this period, so flapper dresses with dropped waistlines can add some fun for bridesmaids. Likewise, long dresses in rich tones can really complement your wedding colors and up the glamour factor.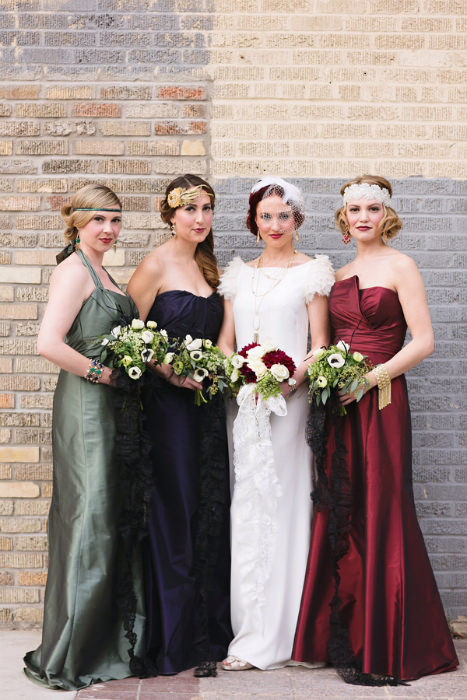 Photo one: rockmywedding.co.uk;  Photo two: thewhitedressbytheshore.com; Photo three: greenweddingshoes.com; Photo four: 100layercake.com; Photo five: art-deco-weddings.com; Photo six: etsy.com; Photo seven: loverl.ly; Photo eight: stylemepretty.com; Photo nine: ruffledblog.com