Carolyn and Jocelyn dreamed of an elopement in the woods, but with both brides being extremely close to their mothers, they knew in their hearts that this wasn't really an option. Instead, they settled on the next best thing; a wedding ceremony in the redwood forest of Big Sur with just nine of their most cherished loved ones. By including all of their guests in the planning and execution of their intimate celebration, they imbued their entire wedding weekend with a true sense of community, and left with their hearts brimming with more love than they could have ever possibly imagined.
A huge thank you to the ladies at Rad + In Love for being on hand to document Caroline and Jocelyn's intimate celebration and for sharing it with us all today!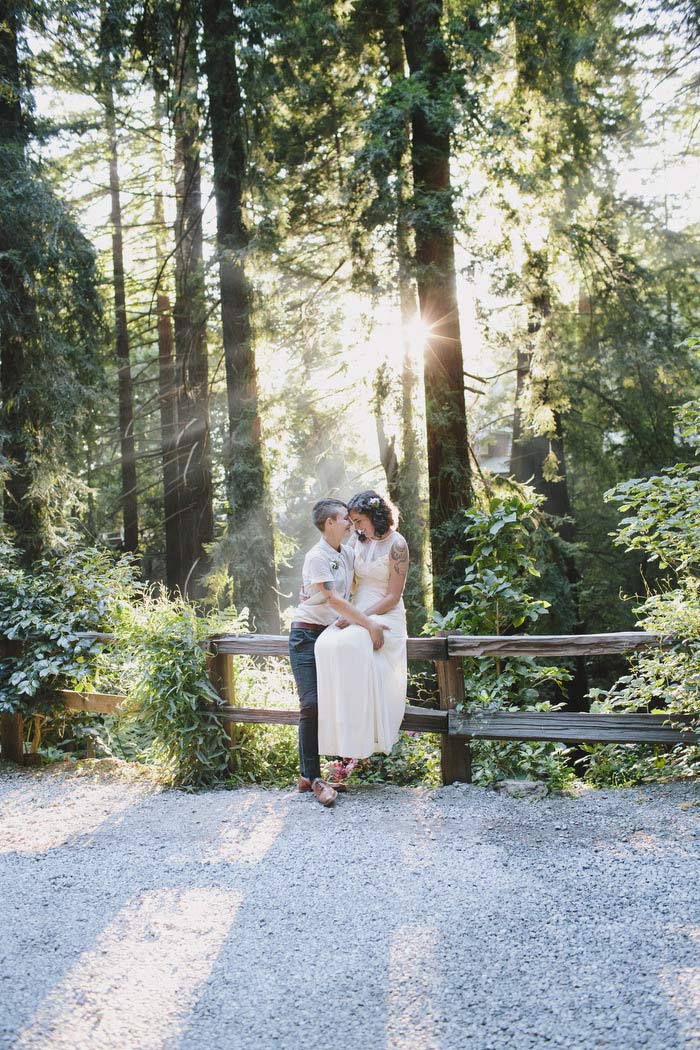 Jocelyn, 27 & Caroline, 27
Big Sur, CA
Wedding Date: August 16, 2014
Number of Guests: 11
Wedding Cost: $10,000
Wedding Ceremony Location: Deetjen's Big Sur
Reception Location: Deetjen's Big Sur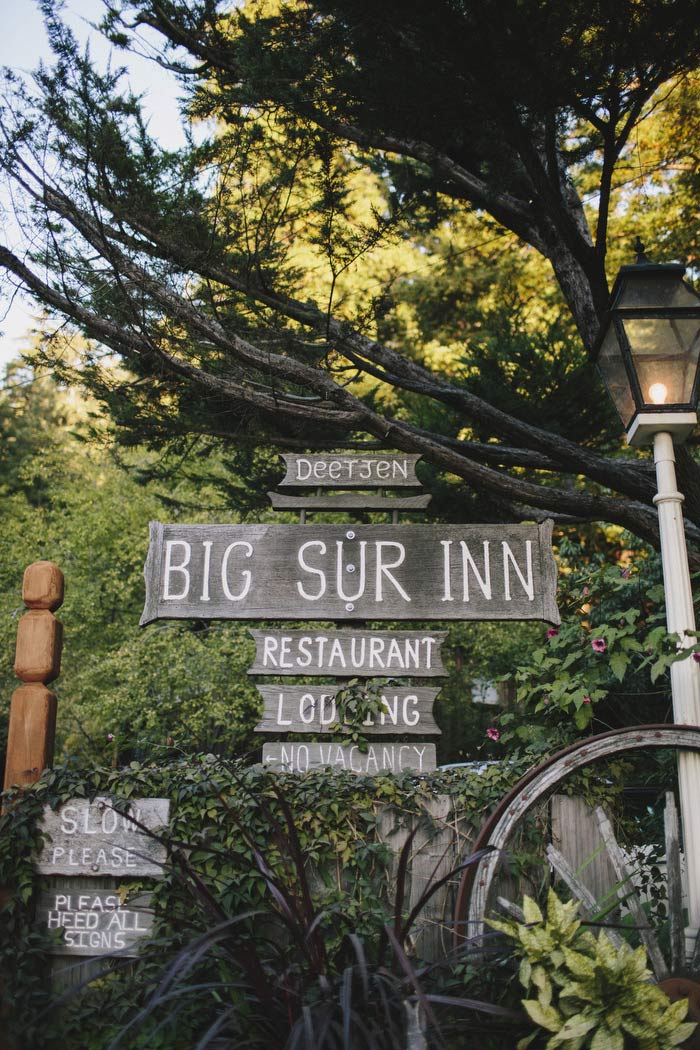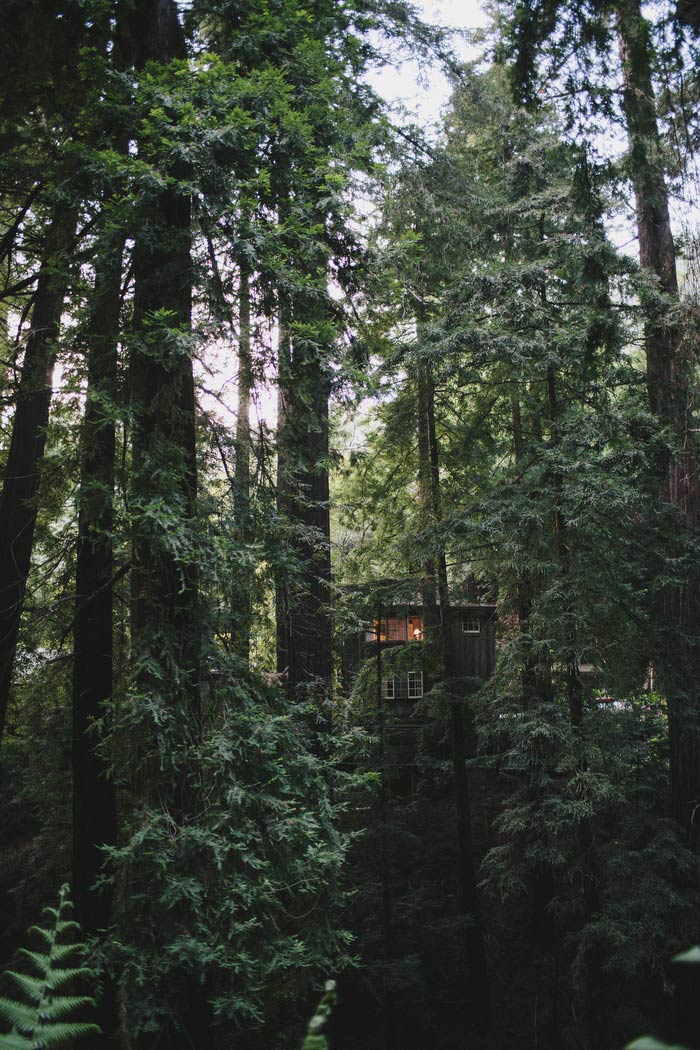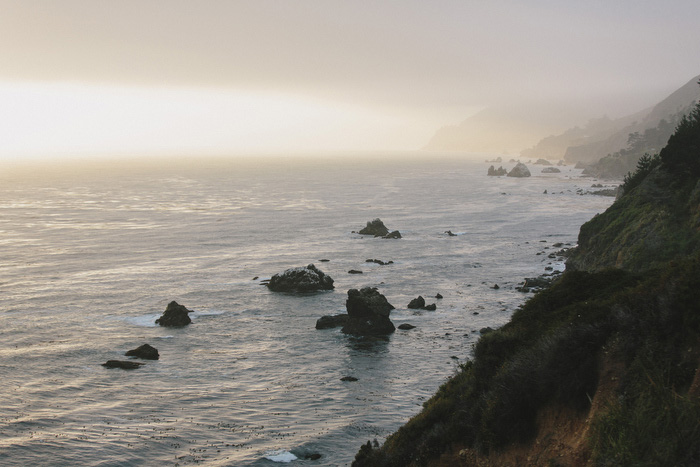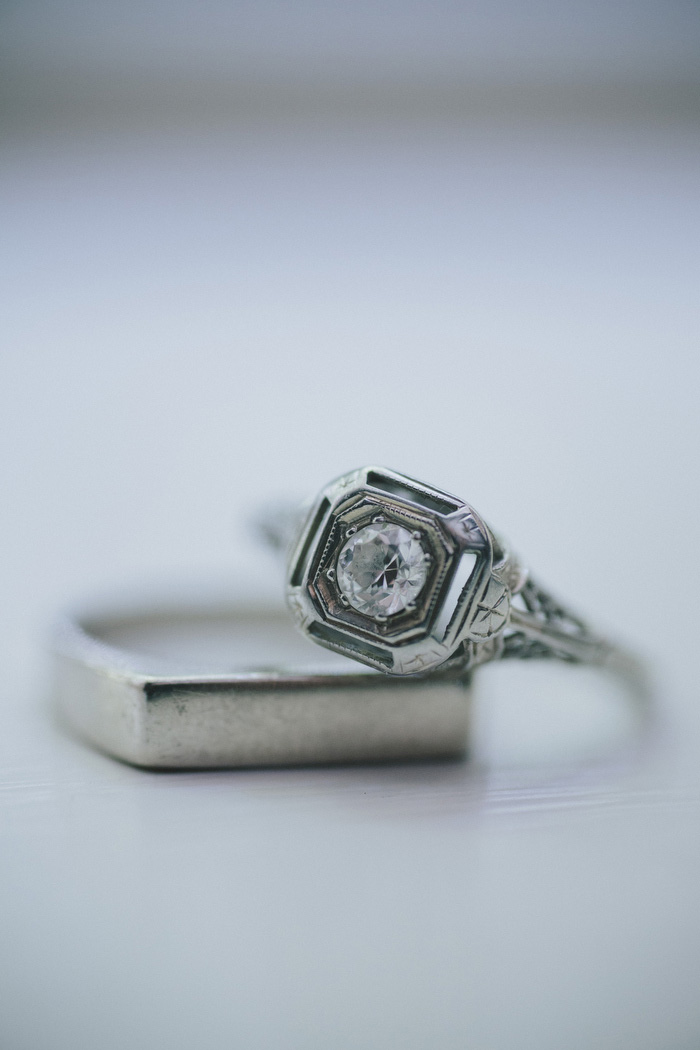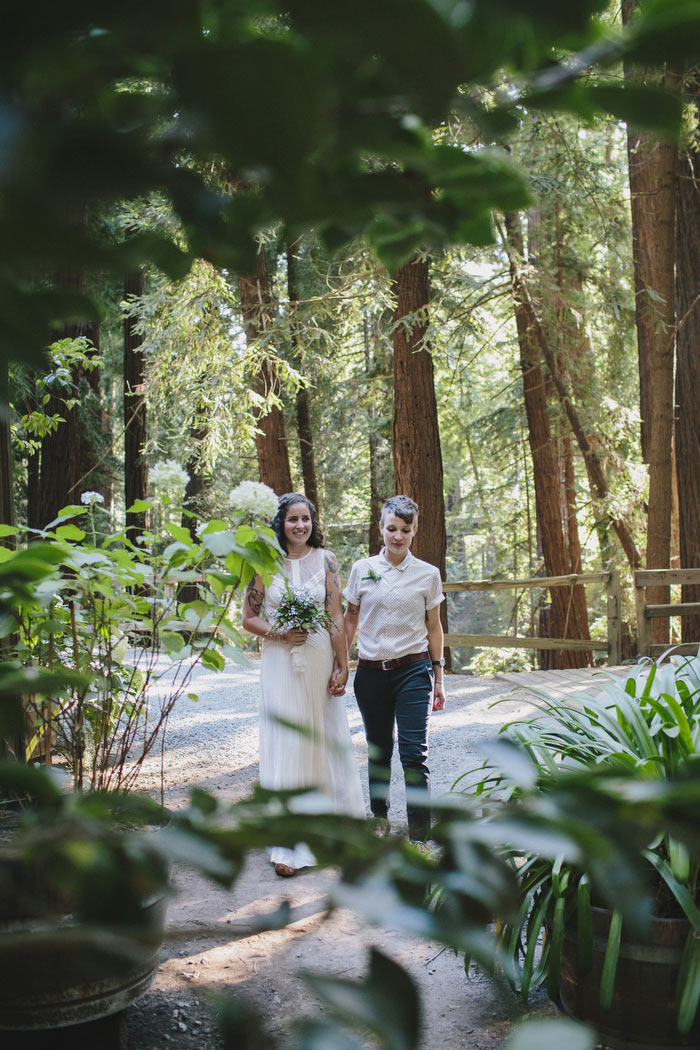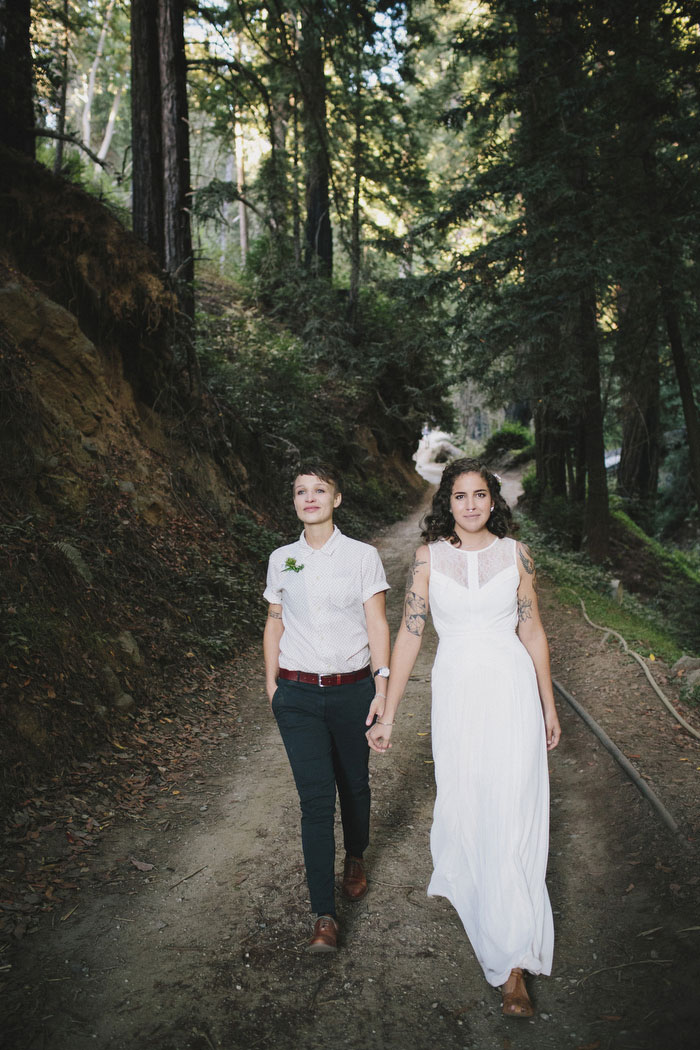 Why did you have an intimate wedding? 
At some point early in our planning process we were forming a rudimentary guest list that hovered between 60-80 people. For some people, this itself would be considered intimate, but one half of this partnership (me) is a sweet little socially anxious introvert. When I admitted to my darling that the thought of attending this (my own) wedding made me sweat, she very kindly and excitedly suggest we re-approach our strategy. Of course, we instinctively thought about the opposite – an elopement! In the forest! But the two of us are hopelessly close with our mothers, and our best friend, and, we ultimately (thankfully) settled on a perfectly select group of our dearests, consisting of parents, brothers, and be sties for a grand total of 9 guests. Having an intimate wedding "felt right" in a few essential ways. It aligned with our politics, which place value on the small and utilizing the talents and gifts of those around us instead of relying on a myriad of outside professionals. We had the luxury of picking and choosing traditions to adapt for our purposes, and which ones to scrap, without needing to explain or justify our choices to a host of backseat drivers. Being surrounded only by people who love us unconditionally and know us intimately created a feeling of unmistakable and indelible closeness. Our wedding was as much for our guests as it was for us. This was something we all made together and experienced together.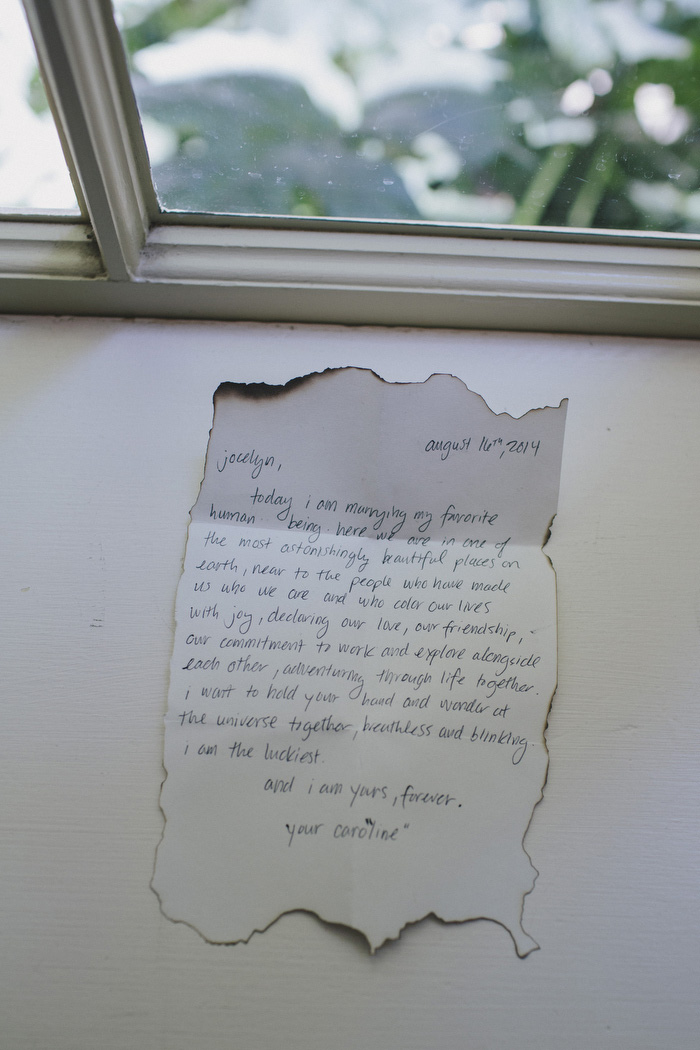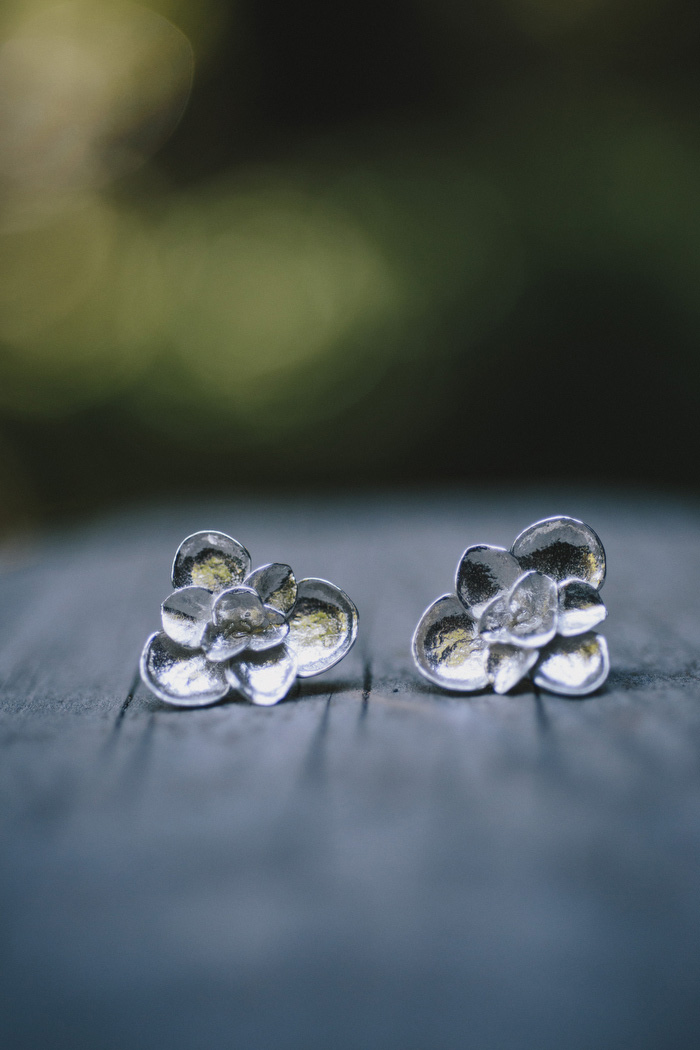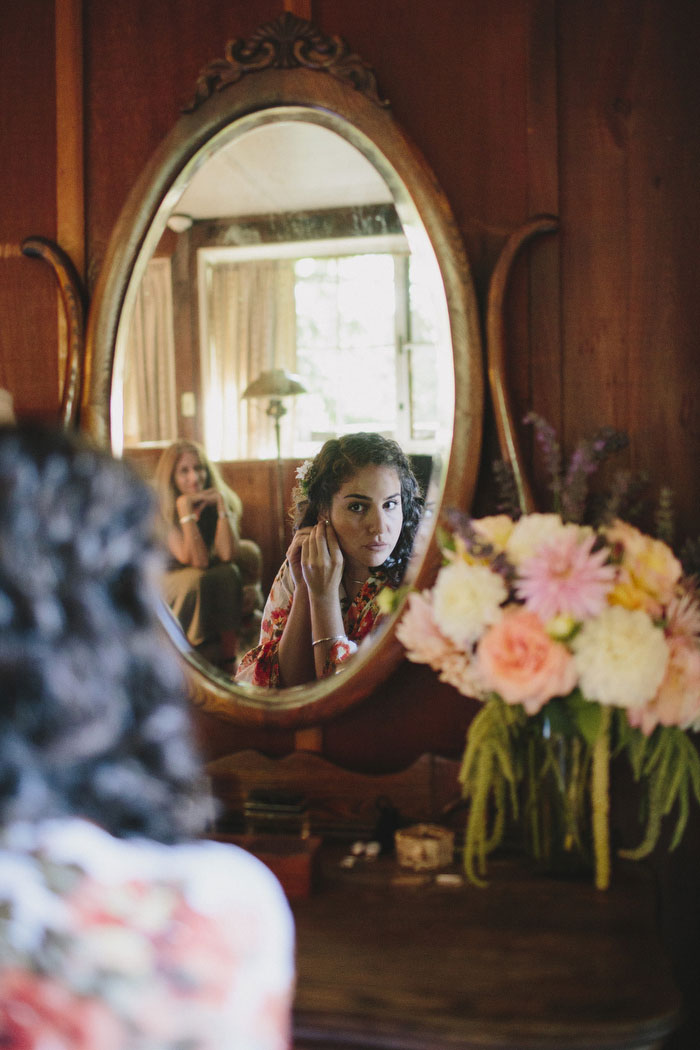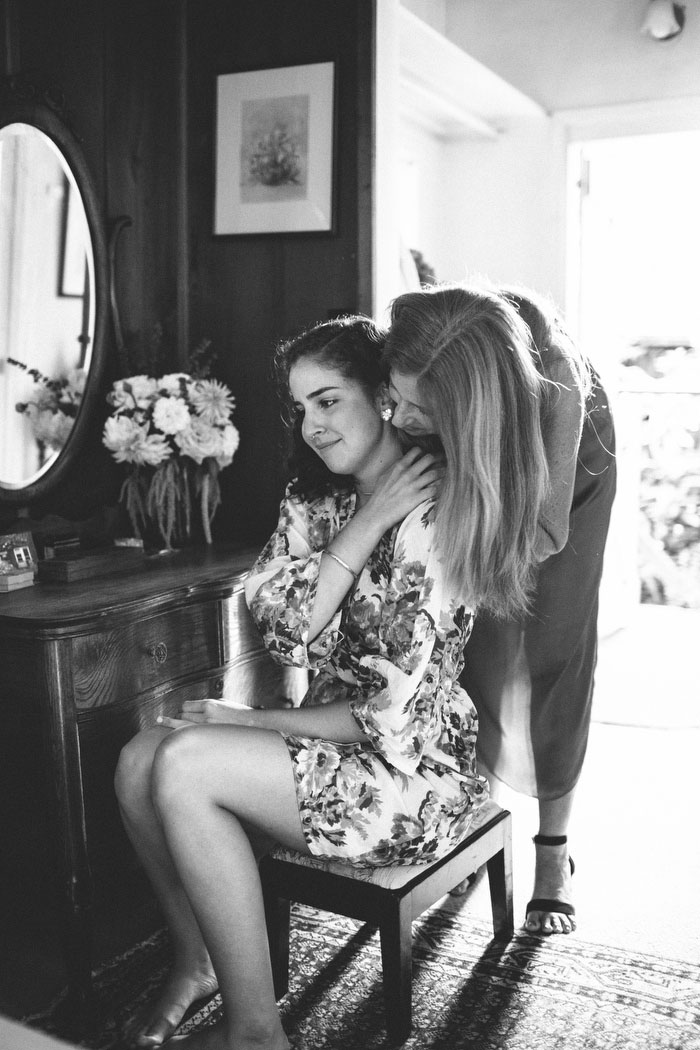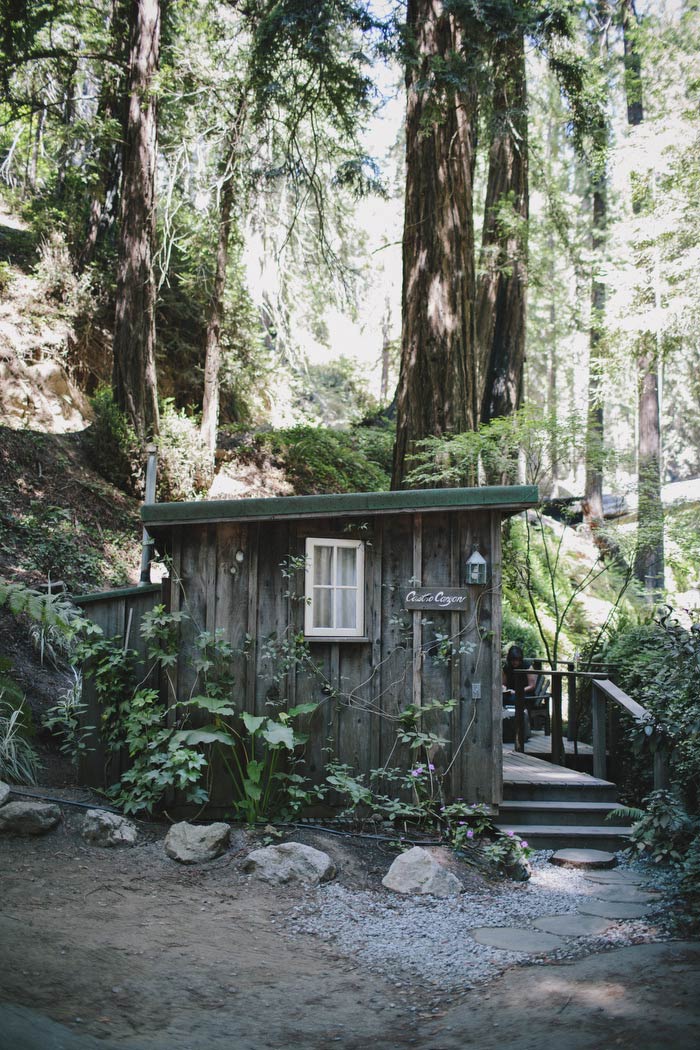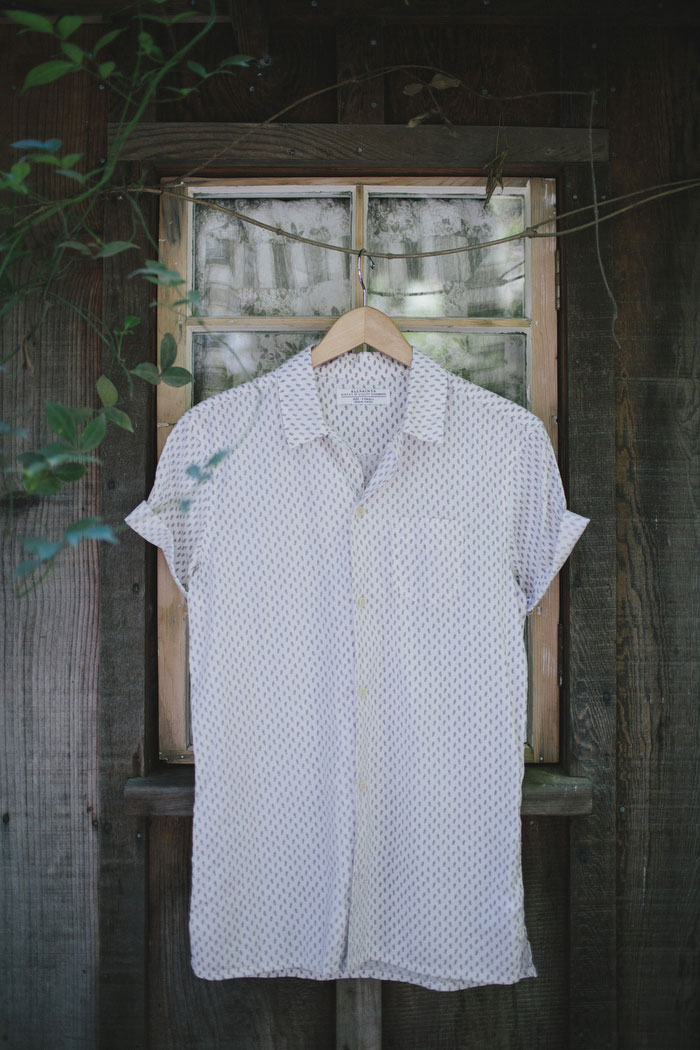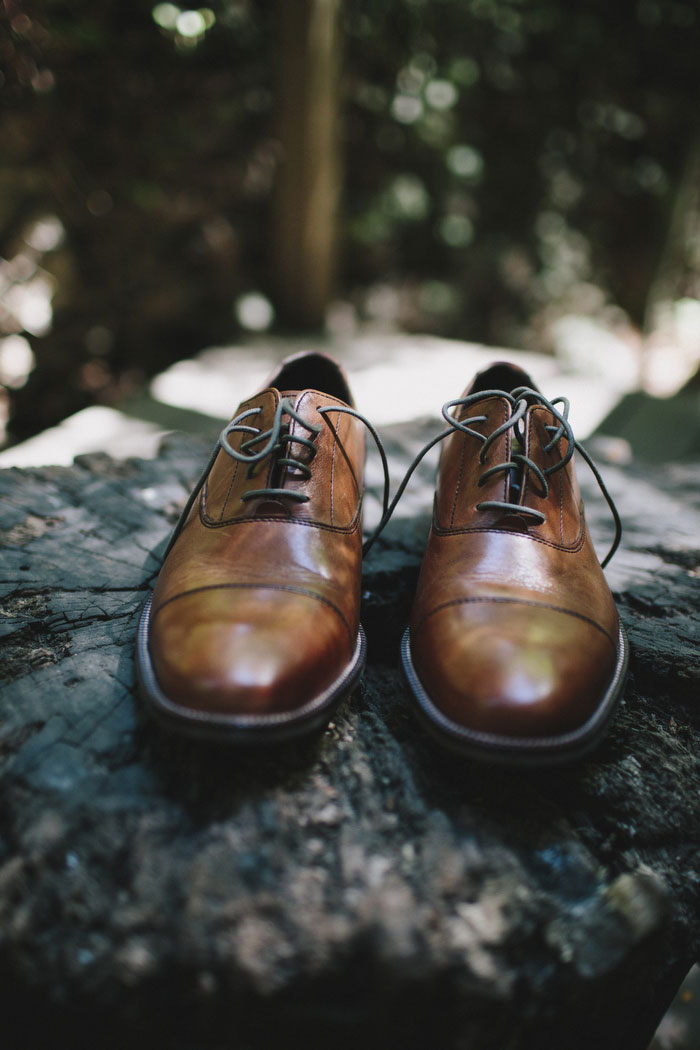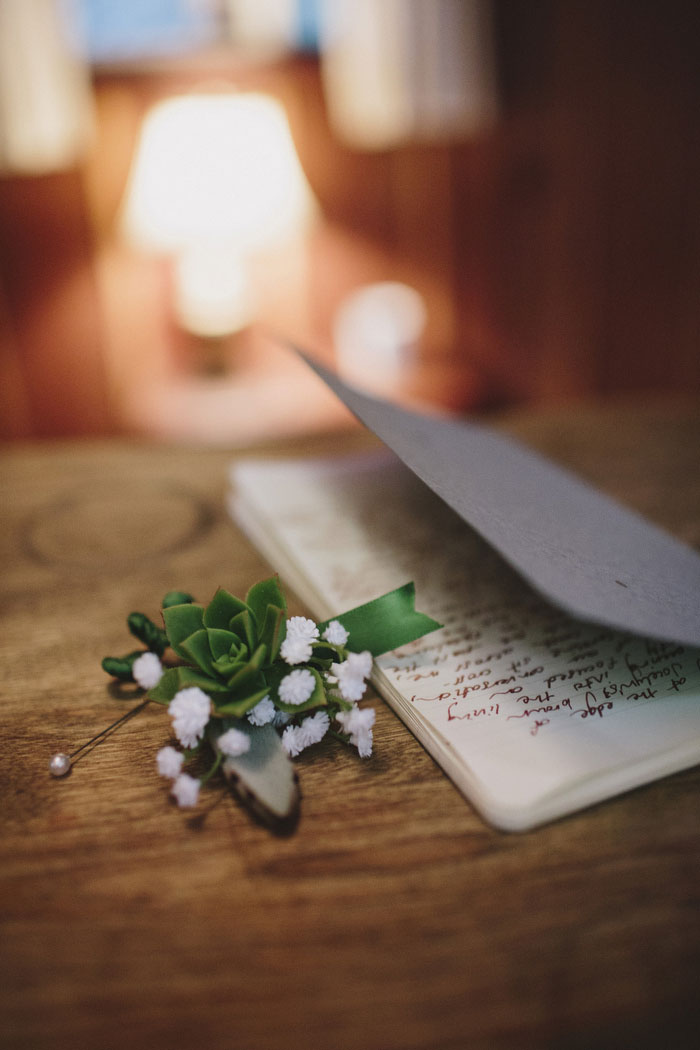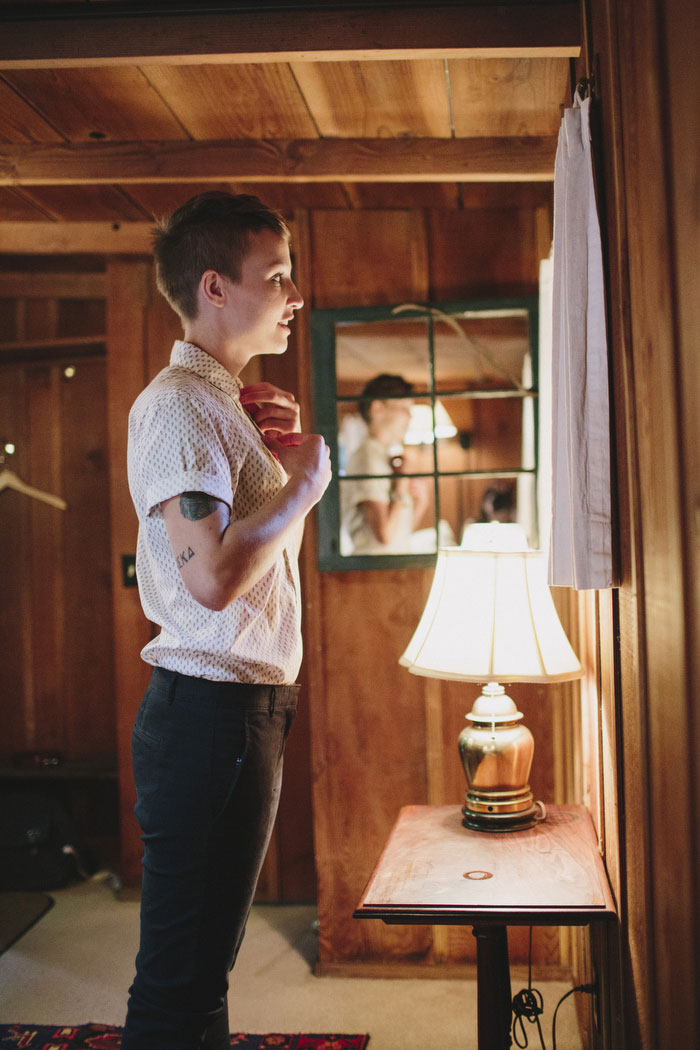 Was it difficult to pare down the guest list? 
Not as difficult as one might expect. When you set the criteria as "people who you'd want in the room with you while you're having a baby or dying", being selective comes naturally. Our worlds are full of people whom we love and know at different levels, and for those folks, there were a couple of post-nuptial dinners and parties that satisfied everyone's desire to celebrate. These smaller celebrations allowed us to connect more closely with our lovies than I'm sure we would have been able to at a larger wedding. Everyone wins!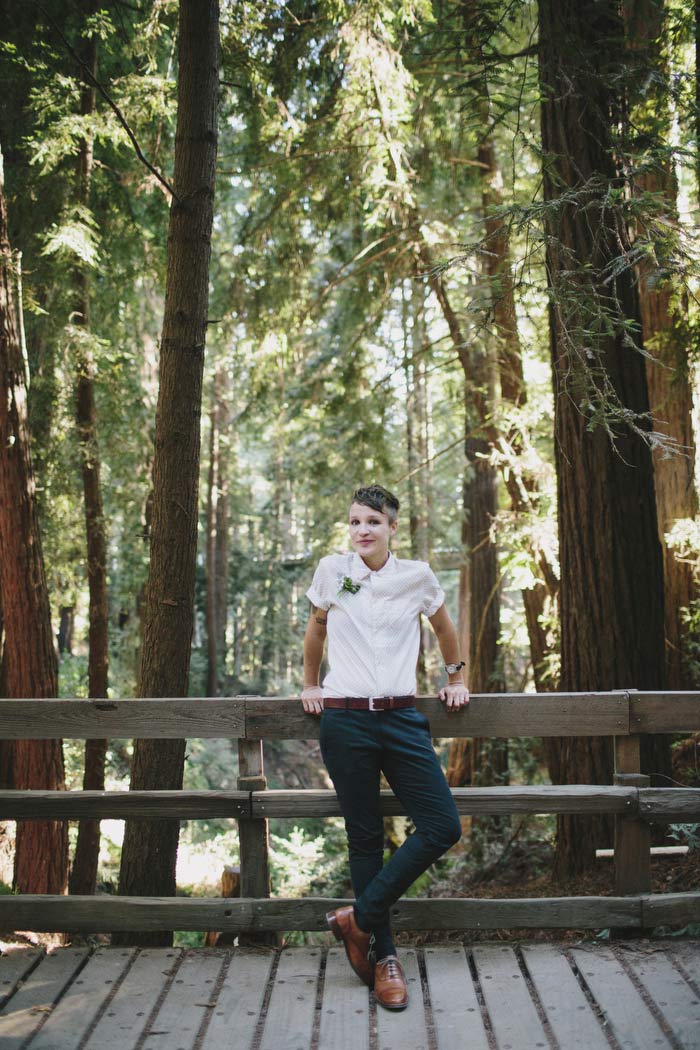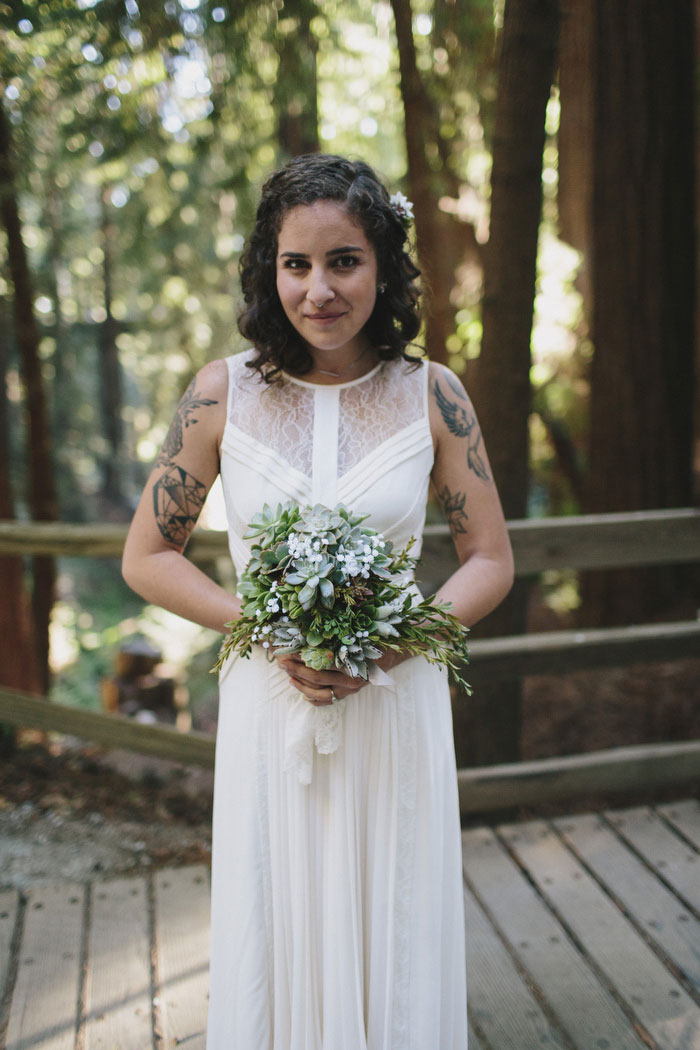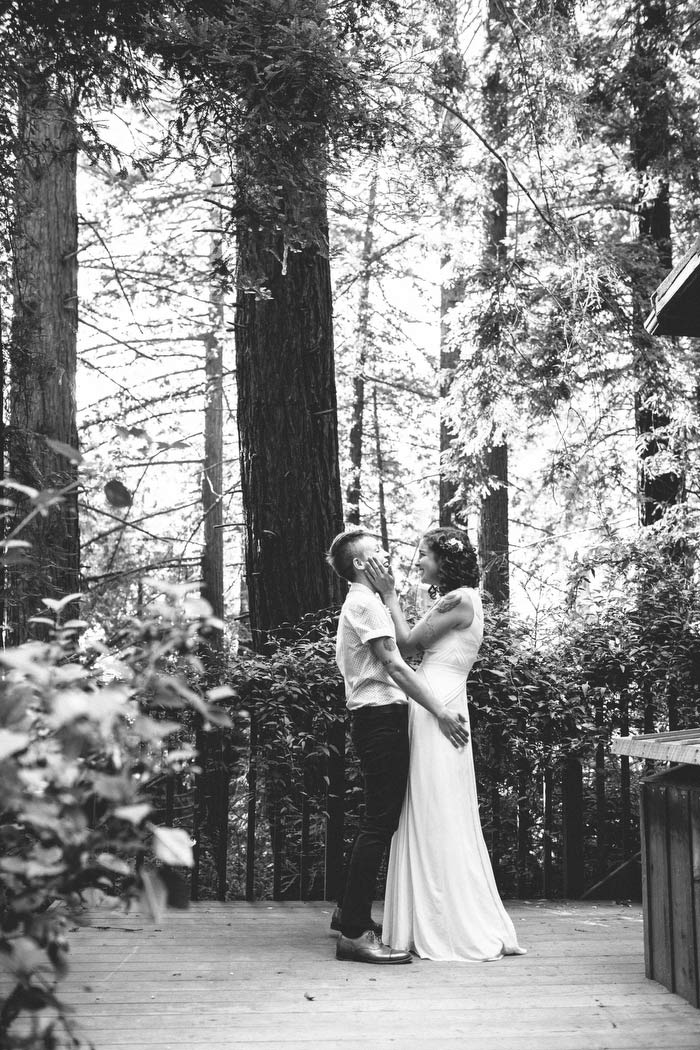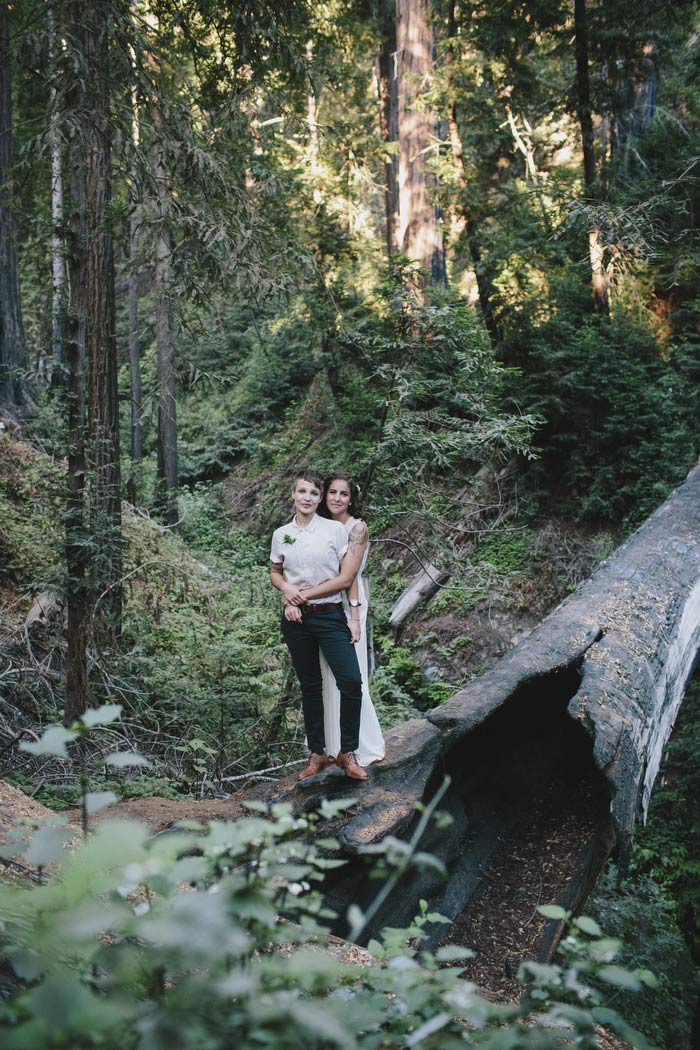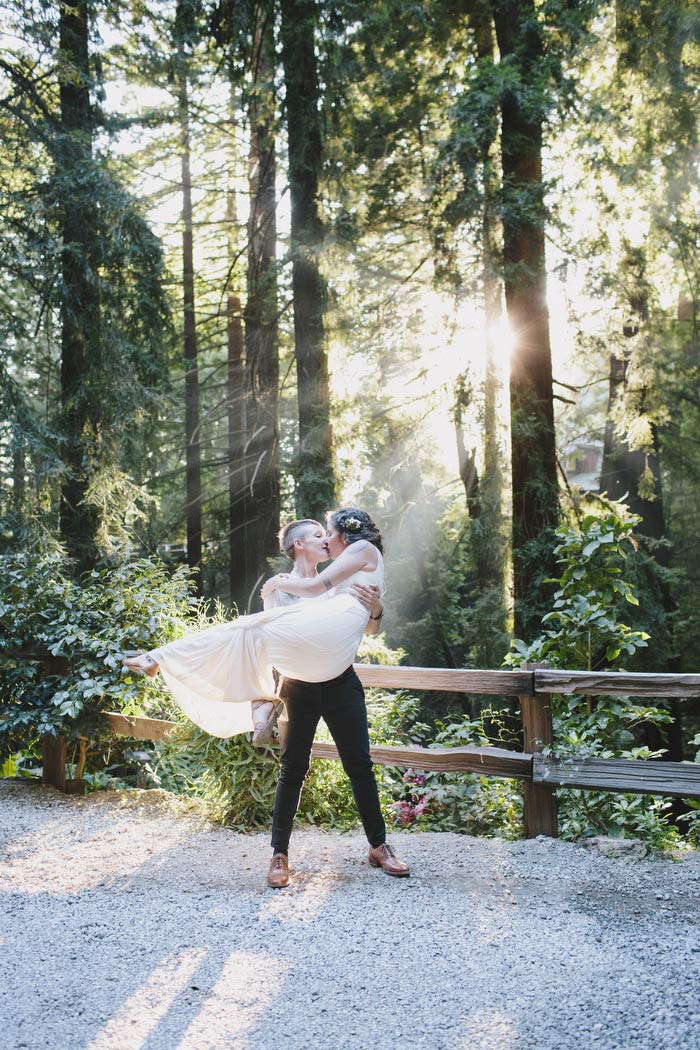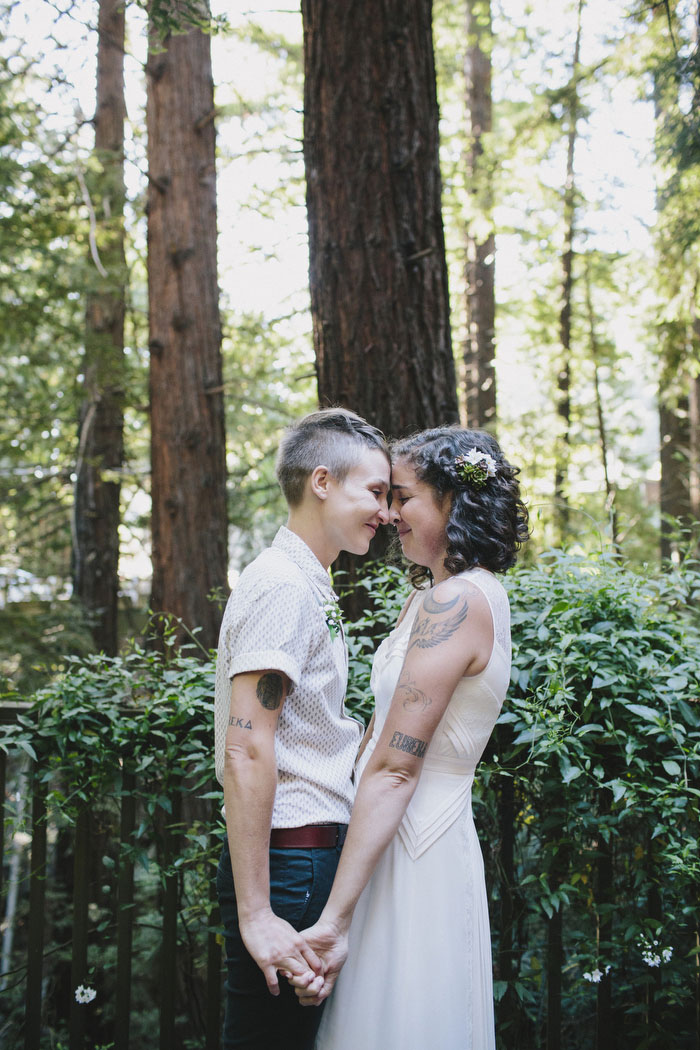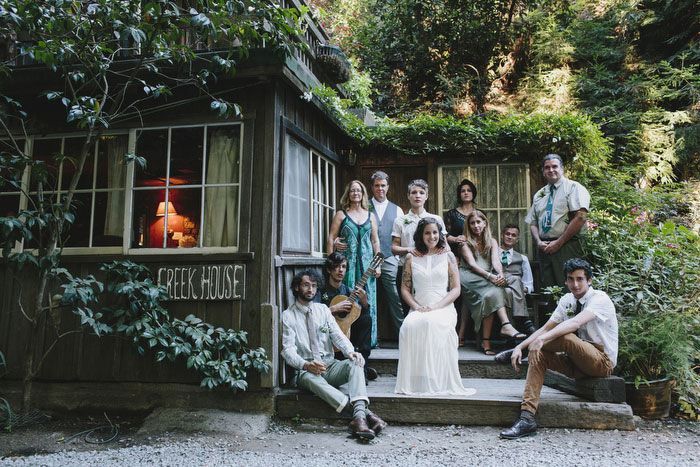 Did you have any 'issues' with the small guest list from friends and family? If so, how did you address them? 
We certainly got the requisite ribbings and pouty faces from various friends and grandparents and aunties, but everyone was ultimately understanding. To an extent, I think we benefited from the queer card! When your choice of partnership is thought of as "unconventional", people are less surprised and are more willing to accept when your other decisions flout social convention. No one is surprised that Jocelyn and I do things our way. Also, I have a suspicion that when your guest list hovers around 20-30, people may have an easier time feeling left out. Nine, on the other hand, is as big as some people's immediate families. It's smaller than a sports team, and it's fewer employees than the average coffee shop. It's hard to have hard feelings about not having given birth to us or seen us through the horrors of high school.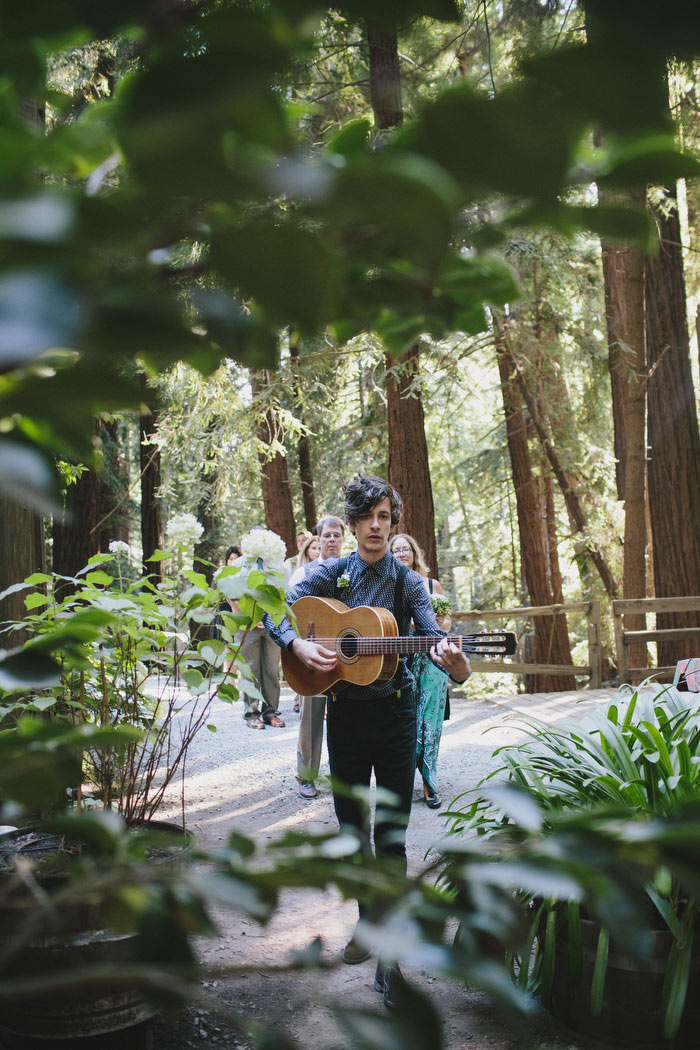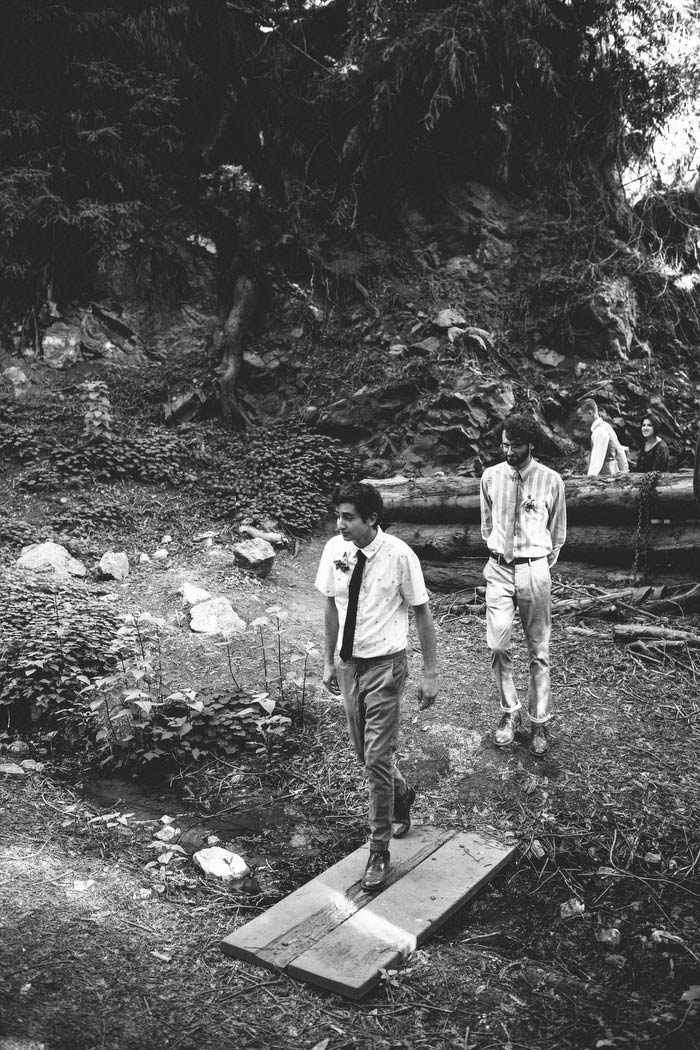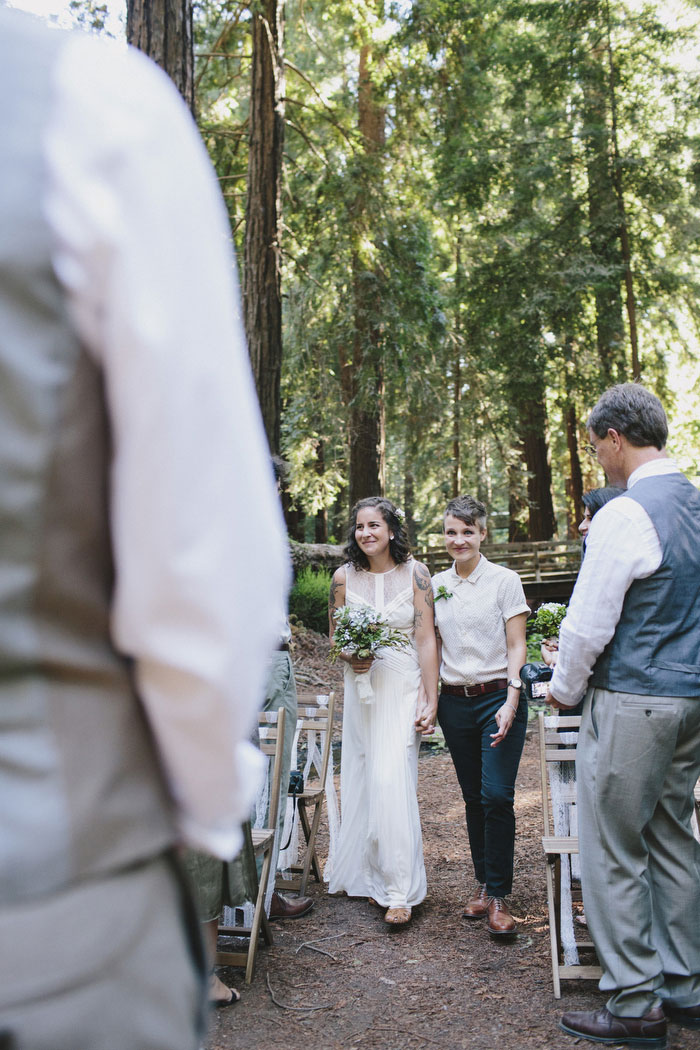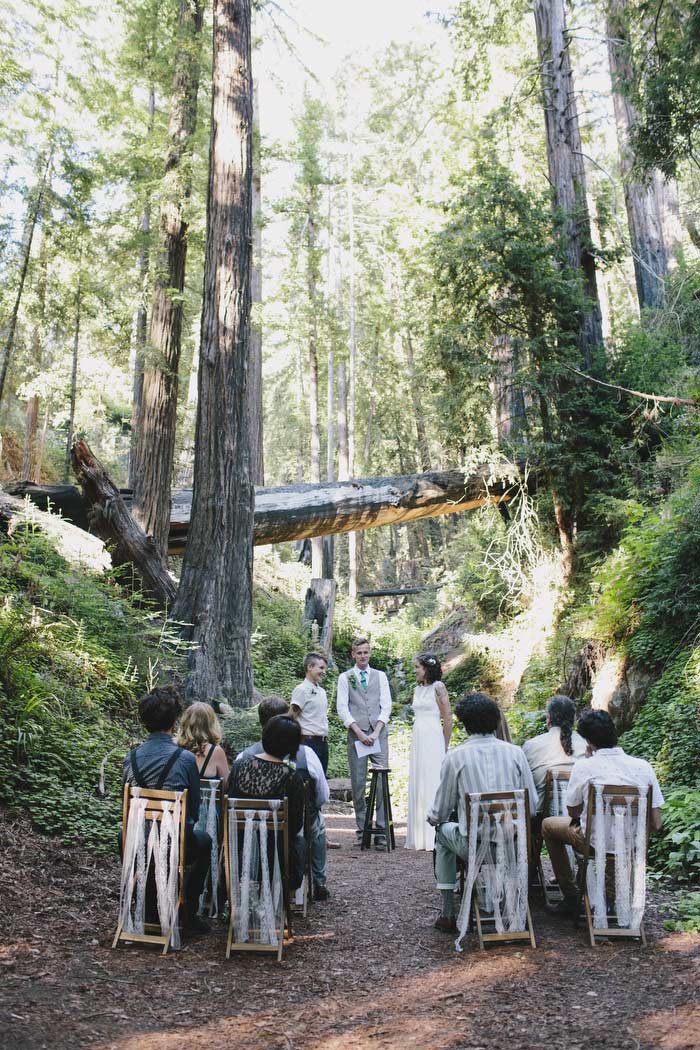 What were the highlights of the ceremony? 
The unparalleled natural beauty which surrounded us created the perfect environment for everyone to "get their heads right" about the commitment Jocelyn and I were making to each other and to the people around us. And, of course, everyone's participation is what made it the loving community experience that it was. My brother lead everyone to our ceremony area playing acoustic Angel Olsen covers on guitar; each of our mothers read original poetry; our ceremony was officiated by our often hilarious and always thoughtful verbal genius friend; and our rings were presented to us by our dearest friend and compound-mate. All this was captured in gorgeously edited video curated for us by Jocelyn's brothers.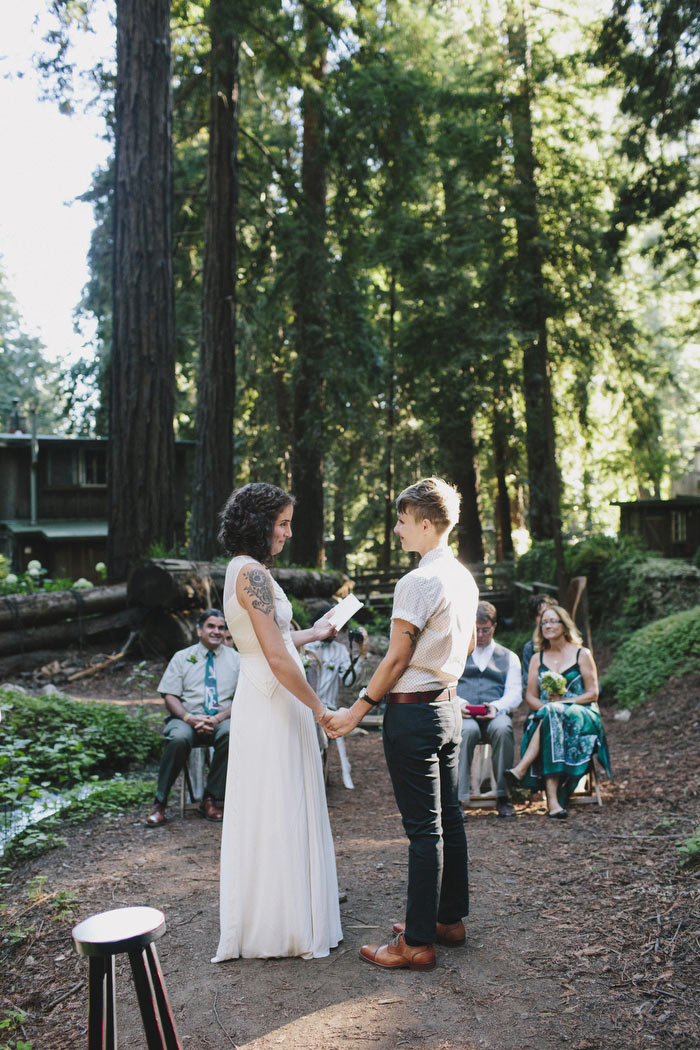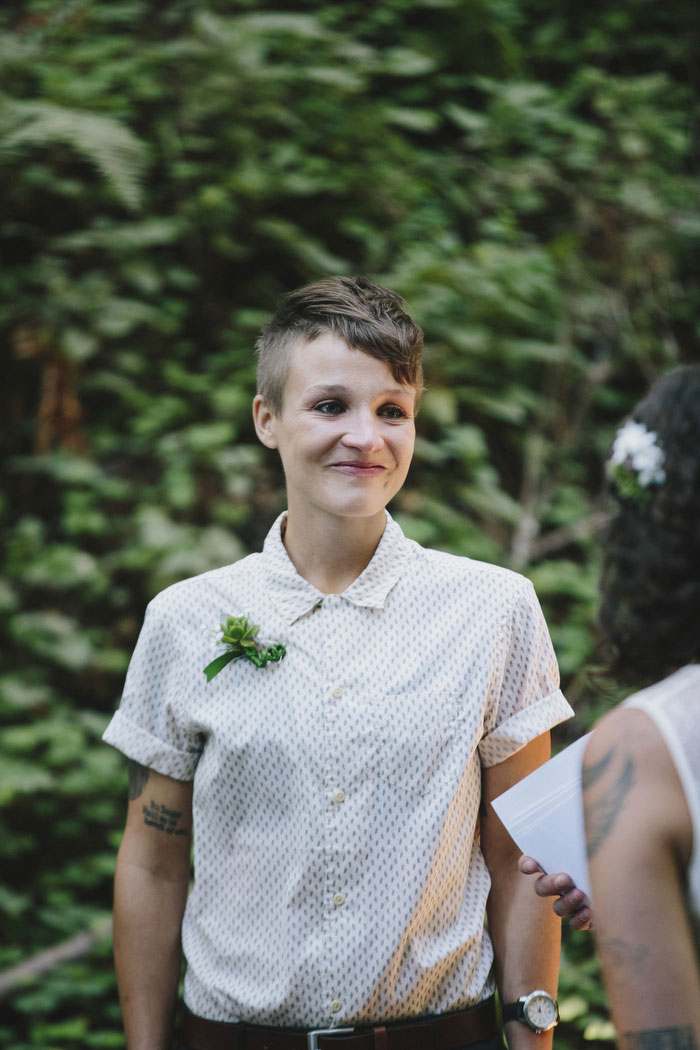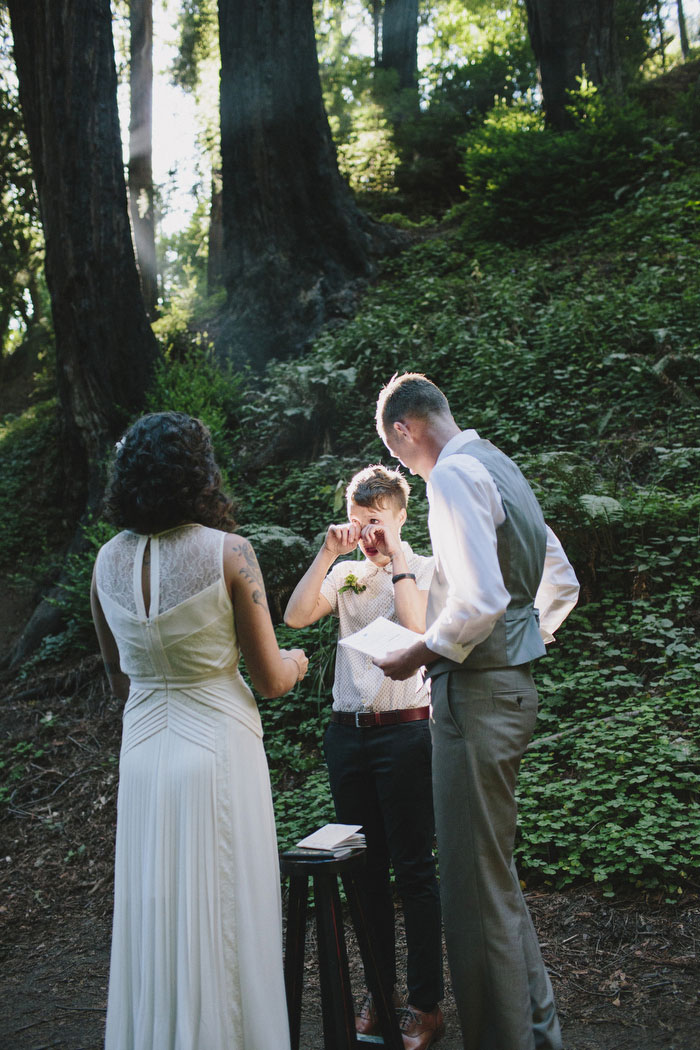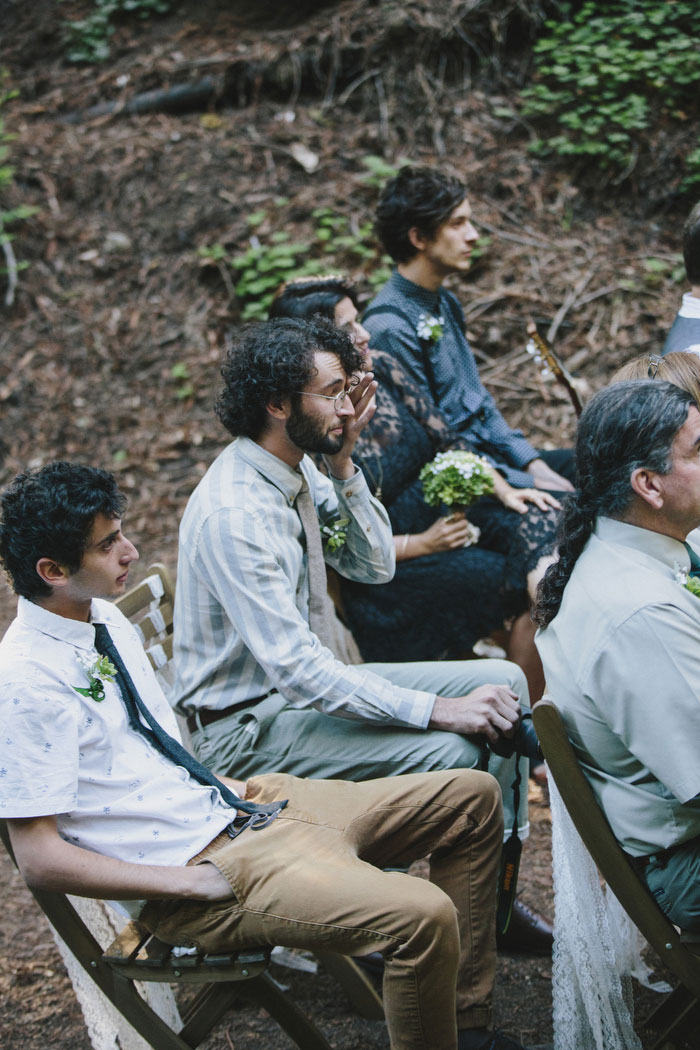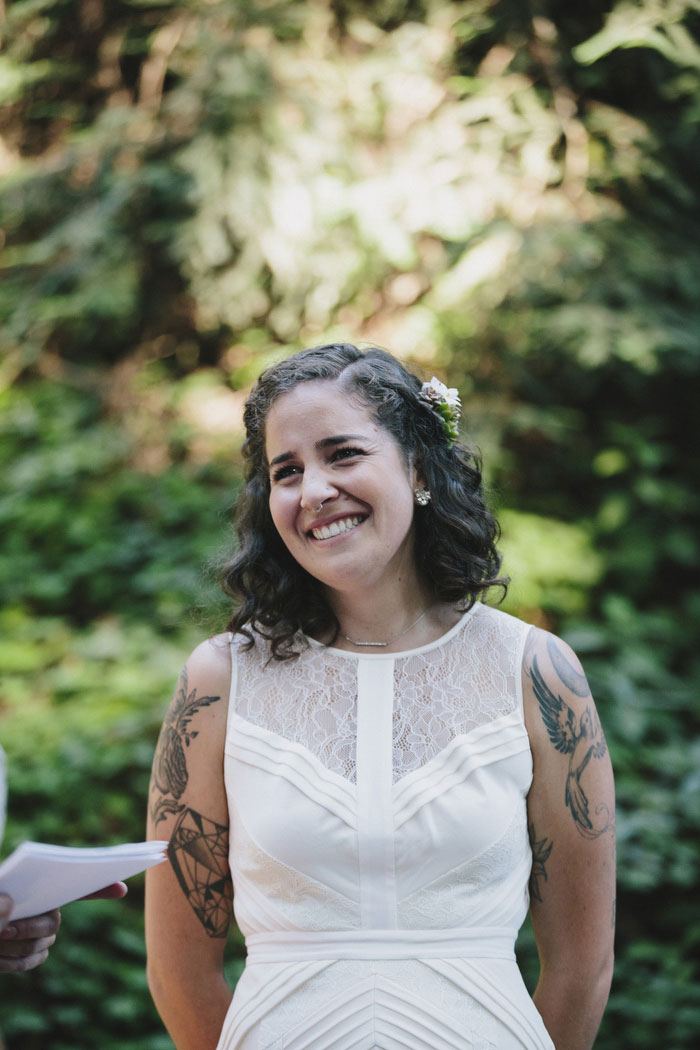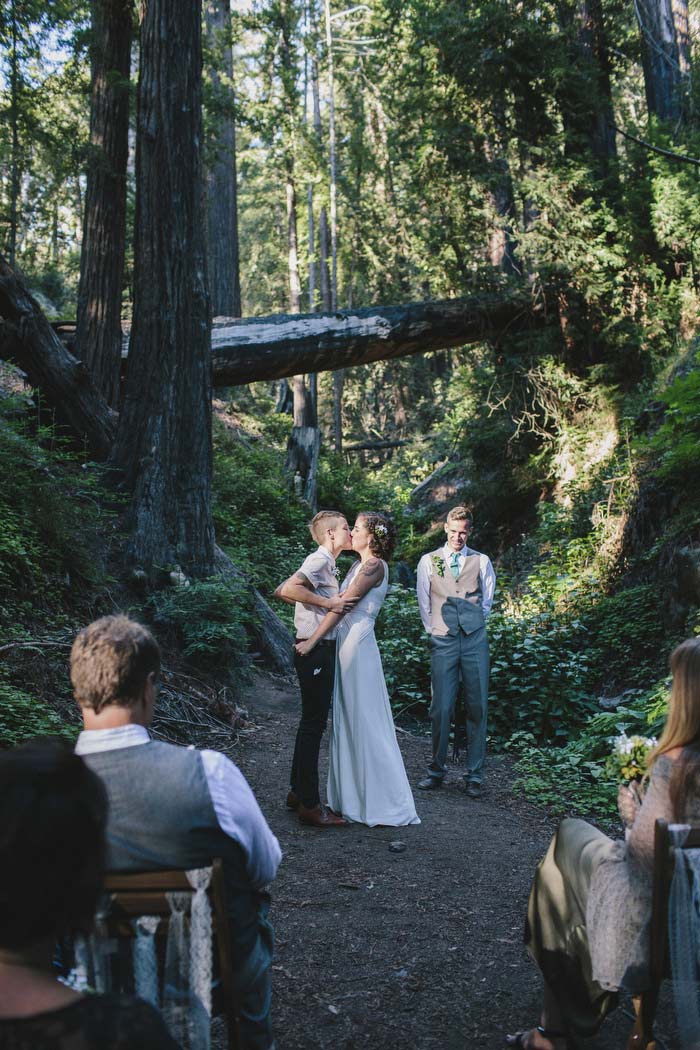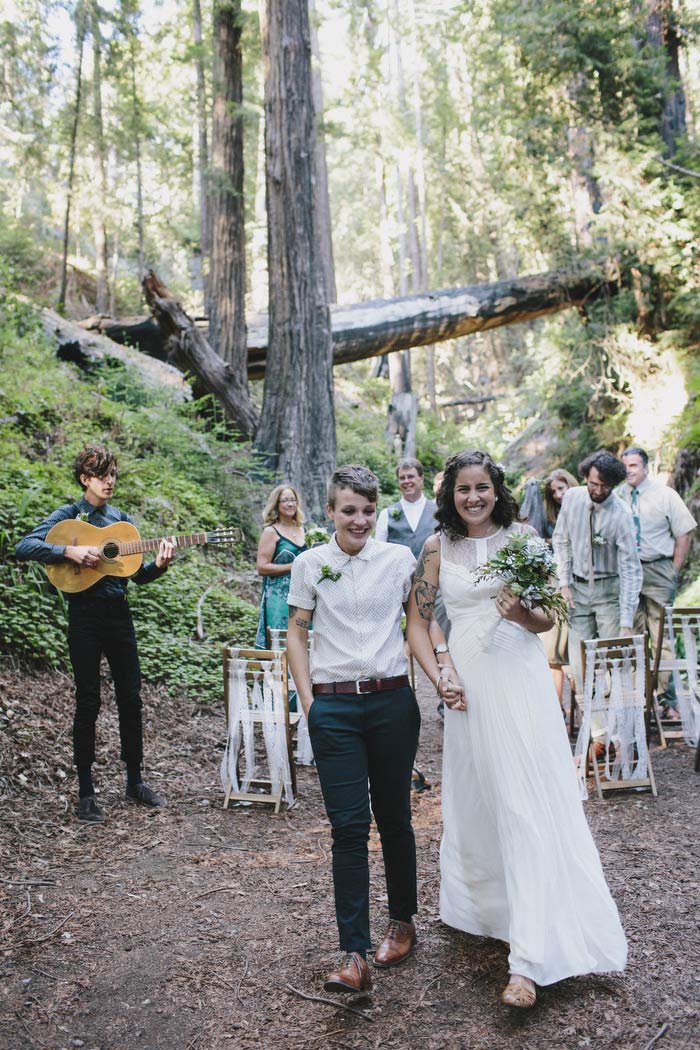 What were the highlights of the reception? 
After a delicious Deetjen's dinner colored by laughter and crying and breathtaking toasts (the kind with champagne, though the bread was also scrumptious), we all caravaned back to our largest cabin which had been decorated with tiny homemade streamers, candles, and paper Martha Stewart flower-balls. After we danced with our Mamas and Papas and each other, we cranked up the ol' iPod to my labor of love, a playlist entitled "homo trax", and got raucous. Feverish and joy-filled dancing ensued, followed by the most emotionally satisfying gift-giving session we could imagine. By the end of the night, each of us were exhausted and too excited to sleep, our hearts brimming, not believing our good fortunes.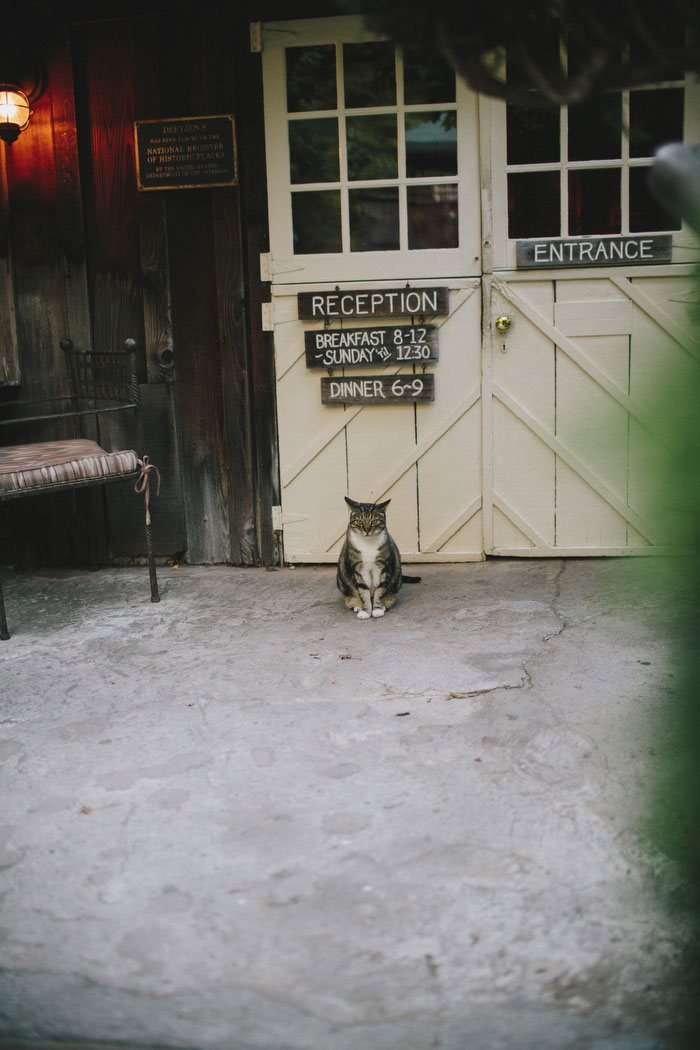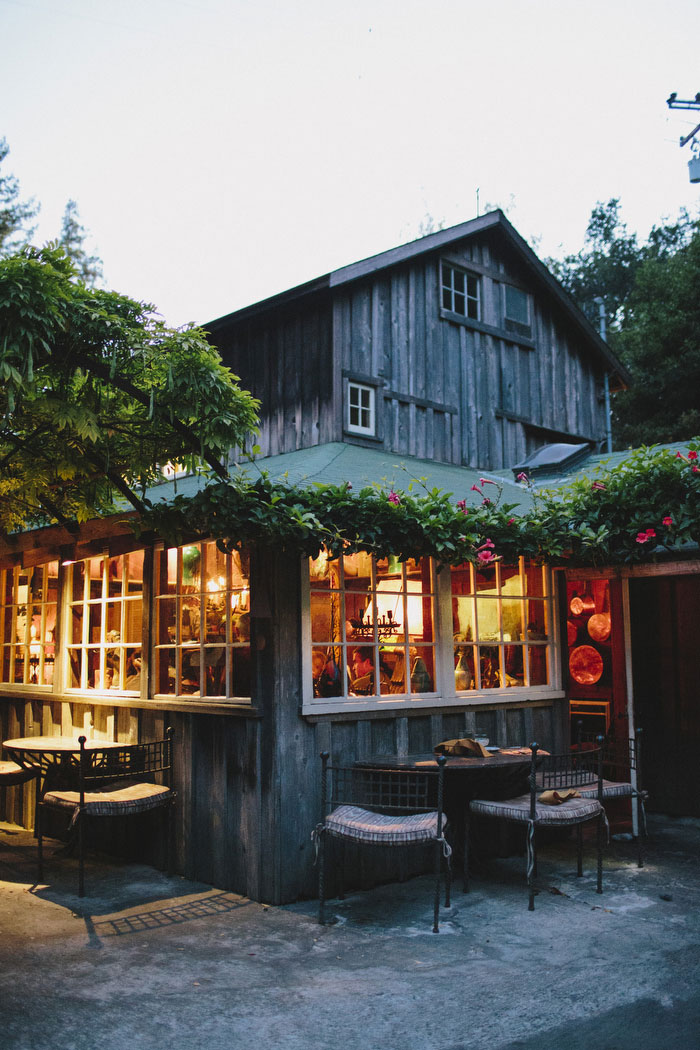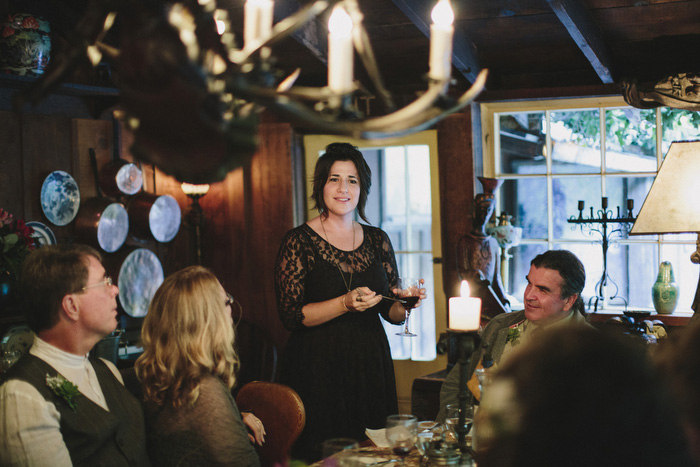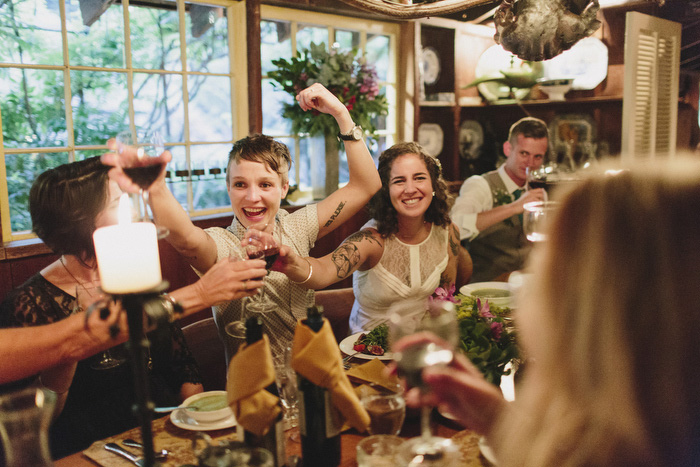 What was the best thing about having an intimate wedding? 
It's hard to say unequivocally because it's the only wedding we've ever had or plan on having, but I'm willing to bet that a lot of the emotional gratification we got from our amazing weekend in the forest with our dearest hearts  directly correlates with its smallness. The morning of our wedding, we took a big group hike and ate deli sandwiches, and then leisurely got ready together. We had nothing to worry about, no relatives we had to keep separated, no one to impress. Despite excited heart flutters before and while we made our commitment, we spent the weekend feeling utterly relaxed with people we love, in one of the most beautiful places we've ever been. We didn't break the bank, and our guests began inquiring about a reunion before we'd even left.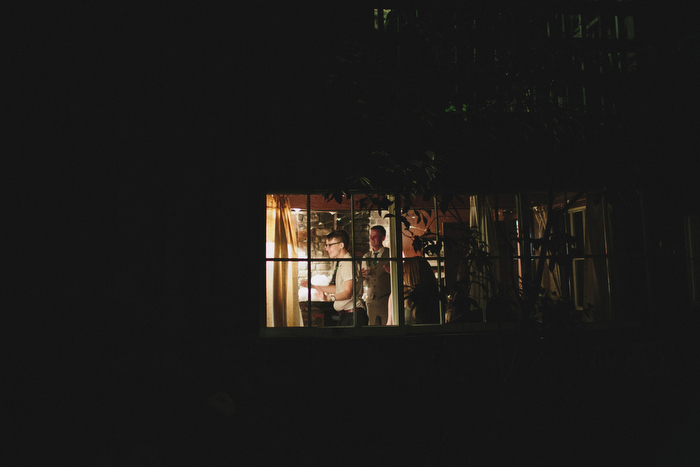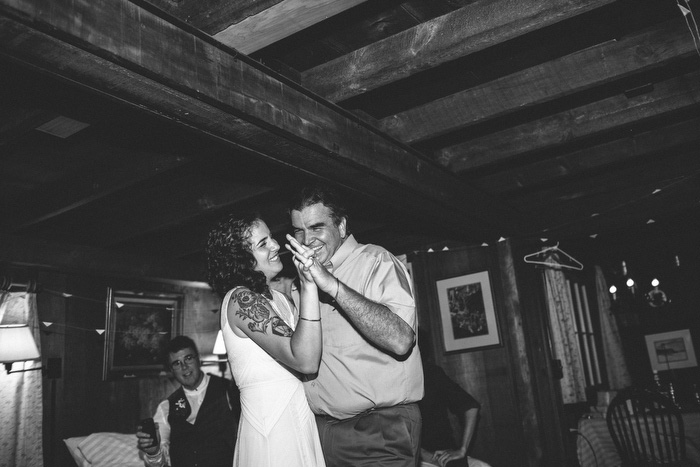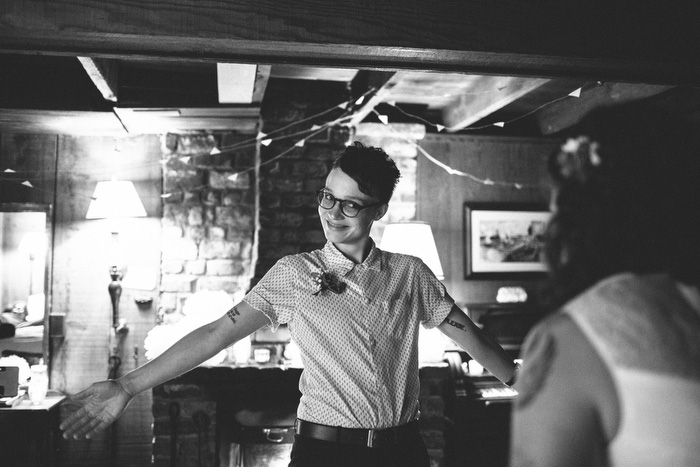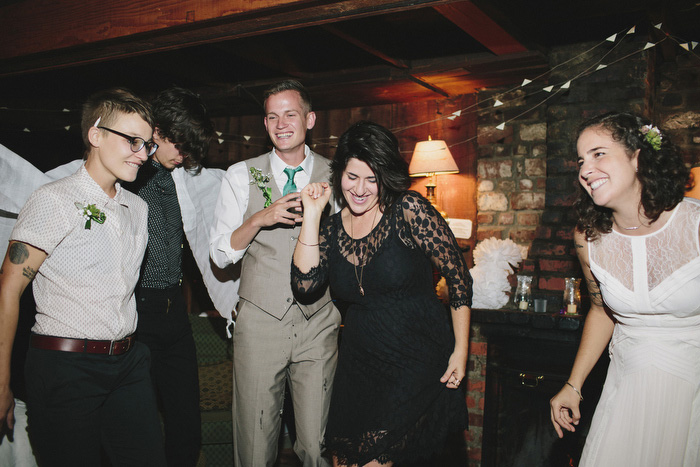 What advice do you have for couples who are considering an intimate wedding? 
Try to be really honest with yourself and your partner about how you want your wedding to feel, how you want the six months leading up to it to feel, and what memories you want to associate with it. Don't be afraid to do things your own way. Evaluate your hopes and desires and those of your partner, consider your values, have an imagination, be realistic about your resources, and use this as a creative outlet. Choose your own adventure!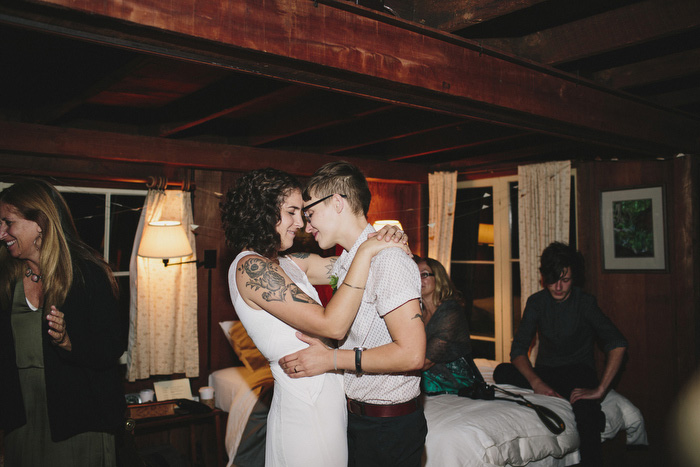 Vendors:
Photography: Rad + In Love
Ceremony and Reception Venue: Deetjen's Big Sur Inn
Bride's Dress: BCBG Max Azria
Succulent Earrings: Mani Designs
Pre-wedding Makeup Tutorials: Lorraine of Just Skin
Bride's Shirt: All Saints
Bride's Pants: Gap
Jocelyn's Ring: 1910's Art Deco Vintage
Caroline's Ring: Custom Designed by Jocelyn (and made by a now-retired jeweler)
Succulent Arrangements: Caroline's Mom, Stephanie
Videography: Jocelyn's brothers, Jake and Josh
Ceremony Music: Angel Olsen, performed by Caroline's brother, Joe
iPod DJ Services: Caroline
Officiant: Gay genius, Cary