With the groom's parents flying in from the Czech Republic to meet the bride's family for the very first time, Lindsay and Miro opted to limit their guest list to immediate family only and keep their wedding day a true family-centered affair. From cooking all the food to decorating the space, both families came together to help the couple prepare for the big day, making the experience even more special and meaningful for everyone involved. With the addition of small personal touches and treasured mementos into their ceremony and reception, Lindsay and Miro's entire wedding day was infused with the most incredible sense of warmth and love. 
Special thanks to Keira Lemonis for capturing and sharing their special day with us!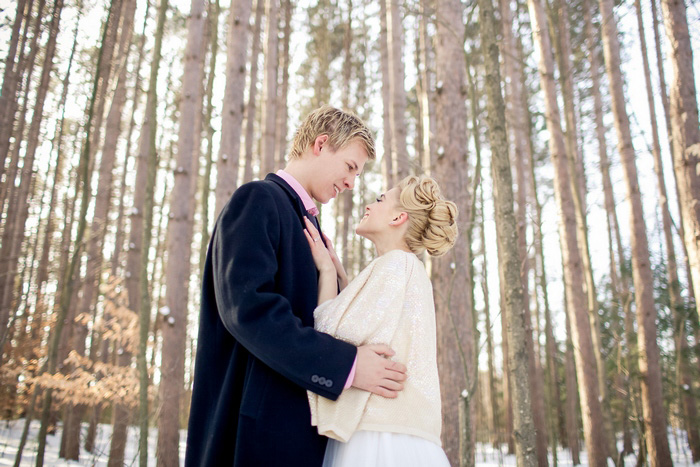 Lindsay, 26 & Miro, 26
Galway, NY
Wedding Date: February 9, 2014
Number of Guests: 12
Wedding Cost: $2,500
Wedding Ceremony Location: Sister-of-the-bride's house
Wedding Reception Location: Sister-of-the-bride's house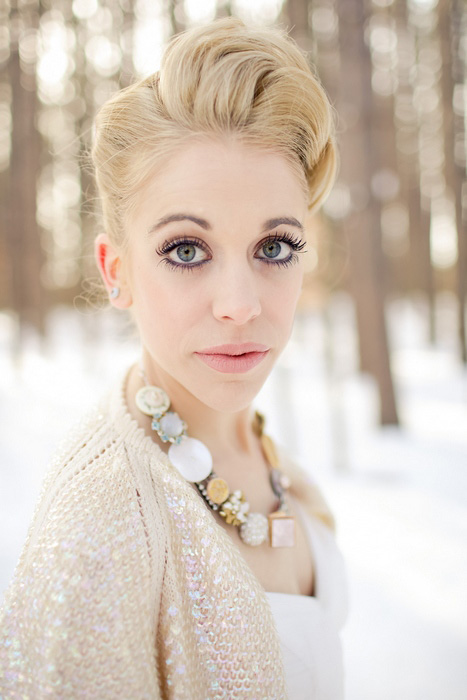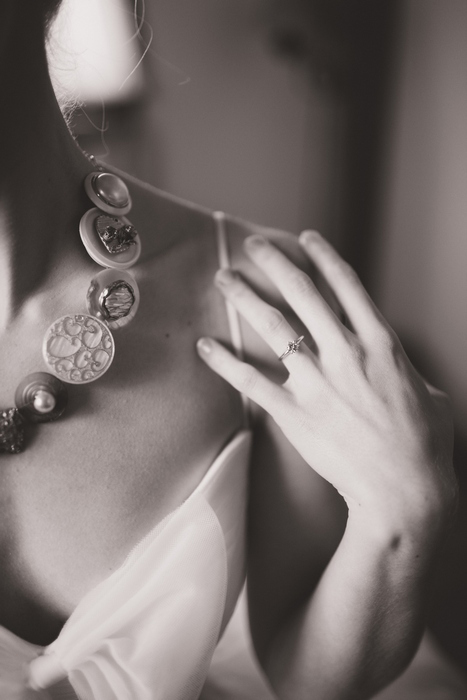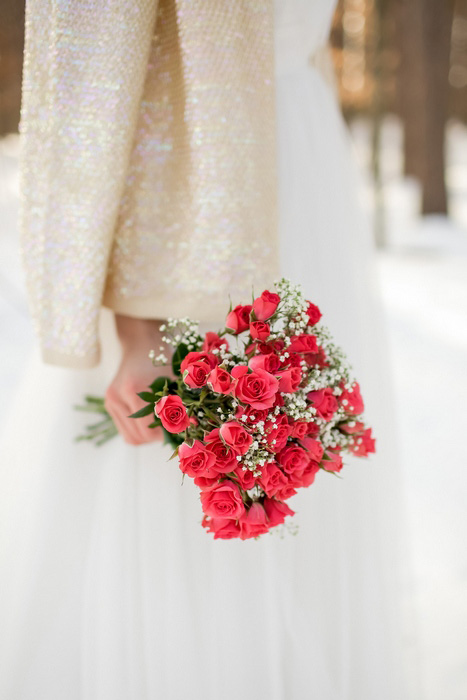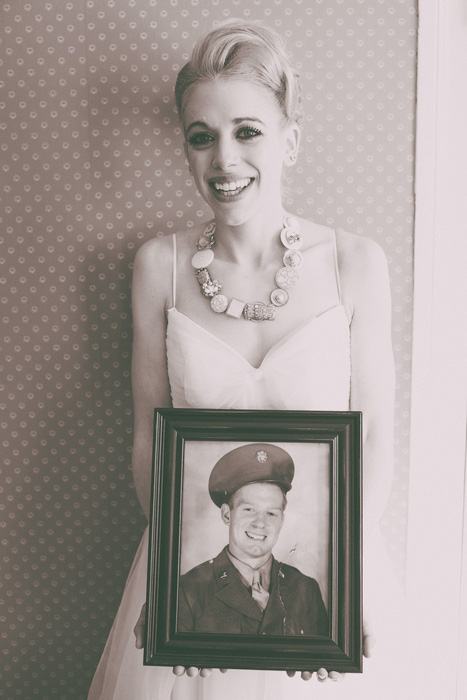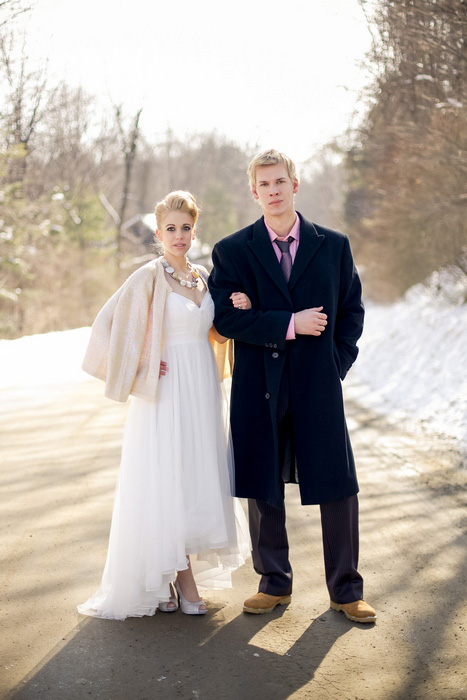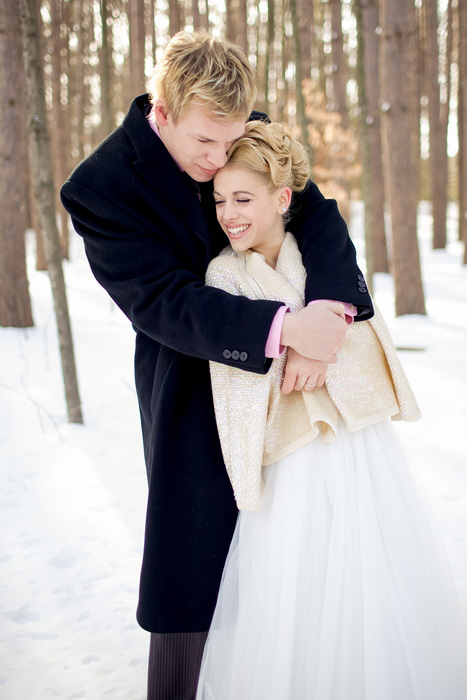 Why did you have an intimate wedding?
I work as an event planner, so I felt confident that I could create a small family-oriented wedding that encapsulated our relationship and told a story. The concept "Winter to Spring" conveyed a message about how couples will have cold times to work through, which can melt away into spring if you work hard to find the sun together.
My husband's parents came all the way from the Czech Republic to meet my family for the first time, so we agreed that the wedding should be immediate family only. The small size allowed us to include all family members in the execution of the big day, including decorating the space as a group and spending all day in the kitchen the Saturday before to prepare the food.  Each person played an integral role and ran errands, moved furniture, cooked, and cleaned to make the day a success. Miro and I are family-oriented people, so it was a great way to bond with our families for the first time as a group.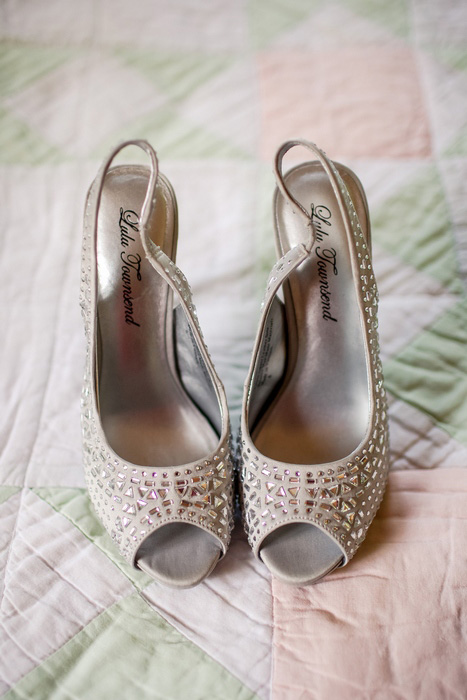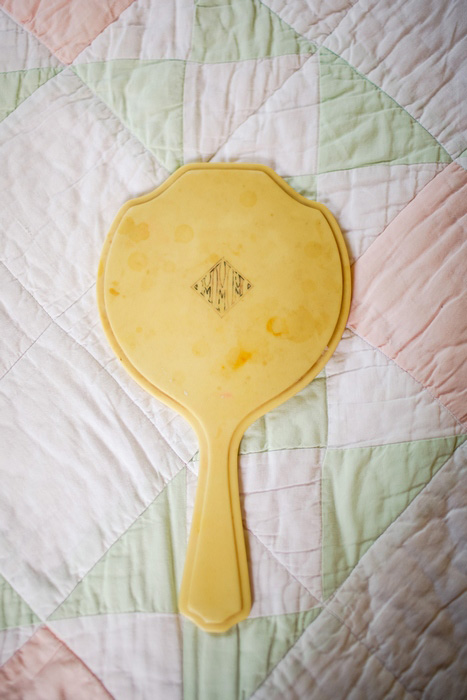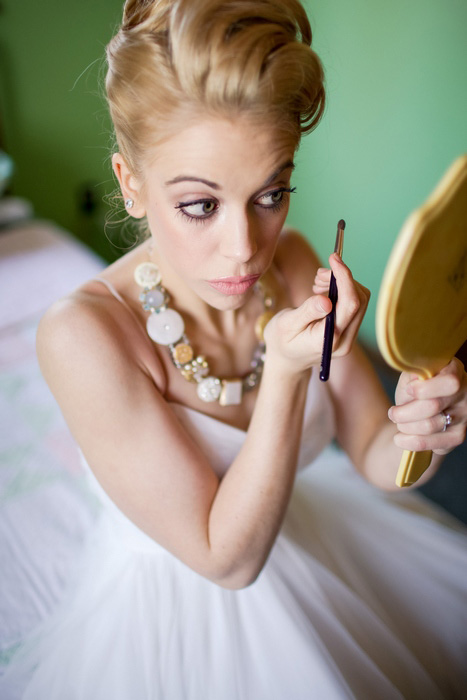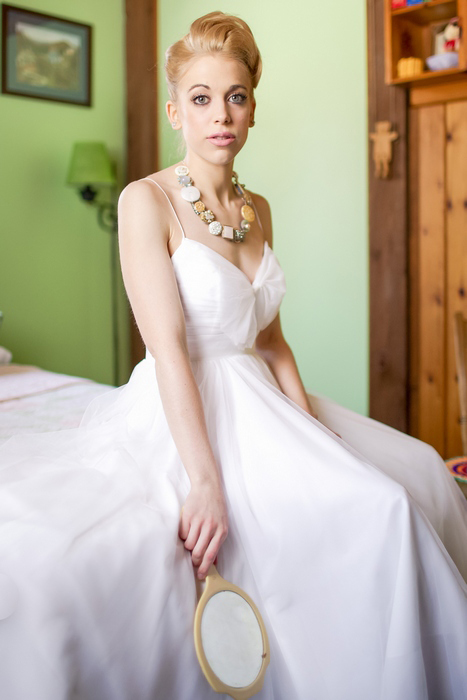 What are some of the challenges that you faced planning an intimate wedding?
We have several food allergies in our family, so developing a menu to accommodate the entire group was difficult, but not impossible. At the end of the day, I wrote out a menu that met the needs of gluten-free, vegetarian and meat eaters! We had many appetizers, several choices for a main course, and of course, dessert.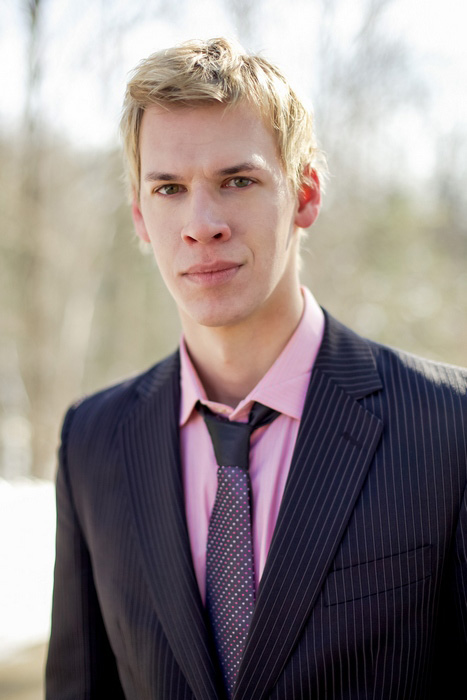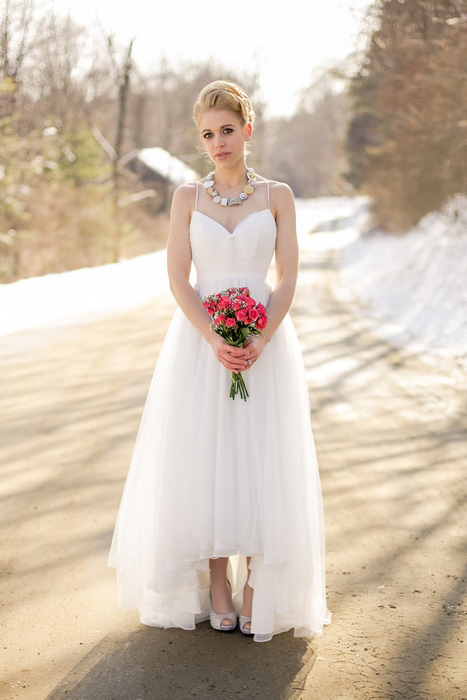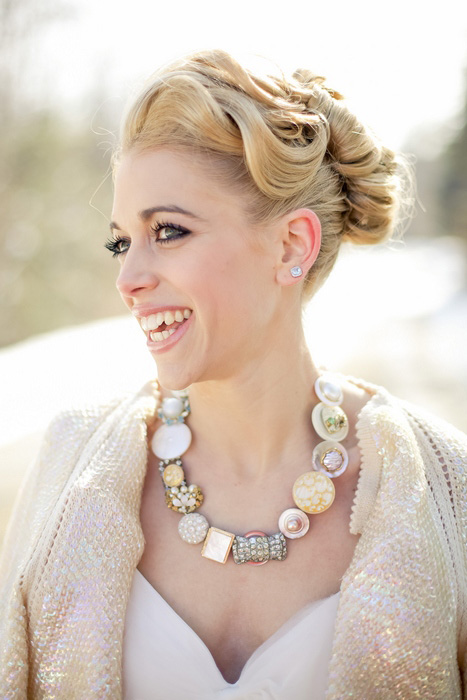 Was it difficult to pare down the guest list?
No, my husband and I agreed from the beginning that our wedding was going to be immediate family only since both parties were meeting for the first time.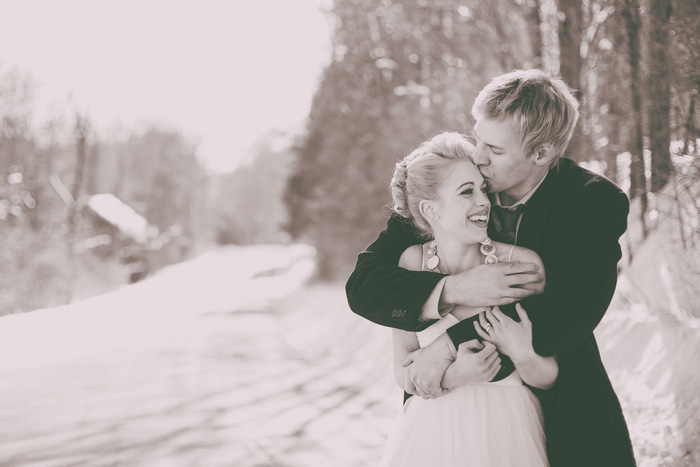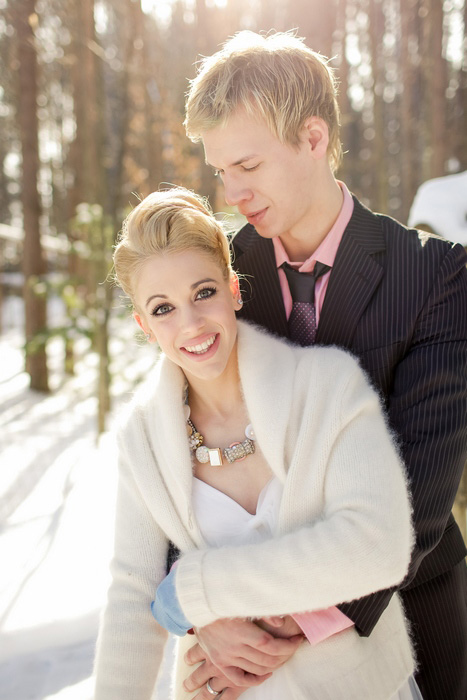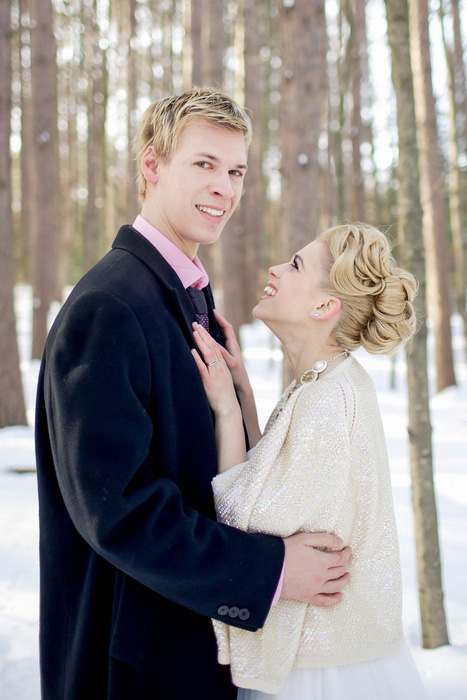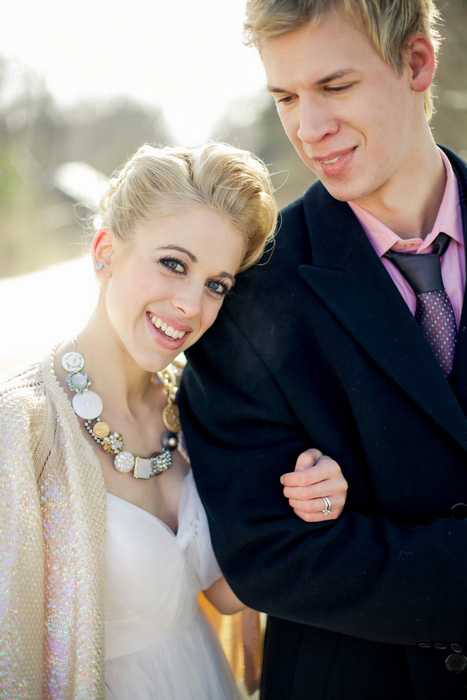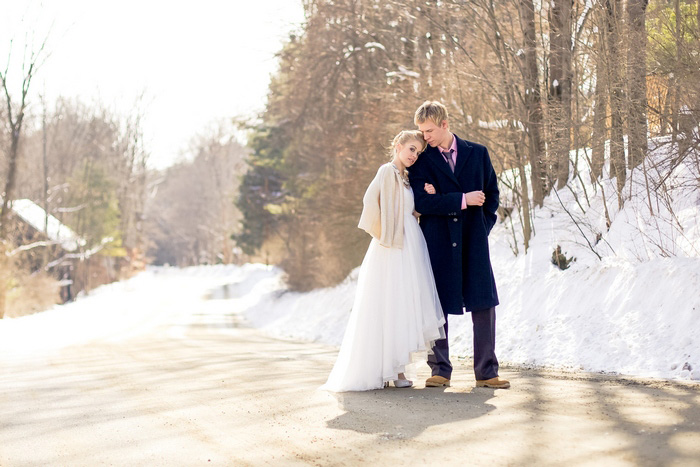 Did you have any 'issues' with the small guest list from friends and family? If so, how did you address them?
It would have been lovely to include all of our extended family and friends, but we had the ceremony and reception in a smaller space, so I think people understood our decision.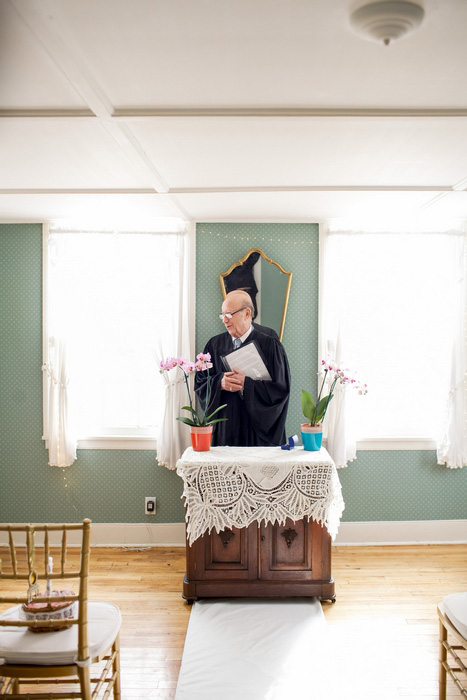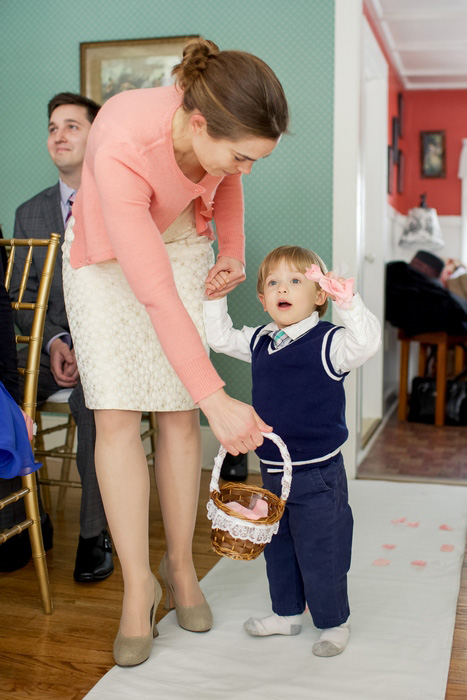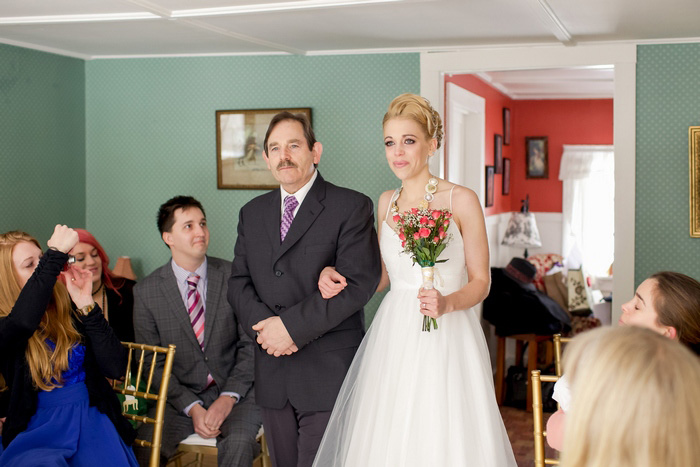 What were the highlights of the ceremony? 
Although my mother's parents have passed, both were incorporated in the ceremony. A photo of my grandfather that I remember from childhood was hanging on the wall as we walked down the aisle, which made it feel like he was there with us. My mother also lent me a lace tablecloth my grandmother had made to decorate our alter at the front of the room.
We customized the ceremony to reflect who we are as a couple, which made it feel real and authentic to us. When we exchanged our vows, the experience was highly emotional. Our family was right there with us in my sister's house, which has many memories and it was special to know that we made such a huge leap in a place where we've had many happy times. I was holding a bouquet my mother and I made together the night before in front of the fireplace in my childhood home. My father made the wedding aisle, and Miro and I rolled it up at the conclusion of the ceremony as a symbolism of teamwork.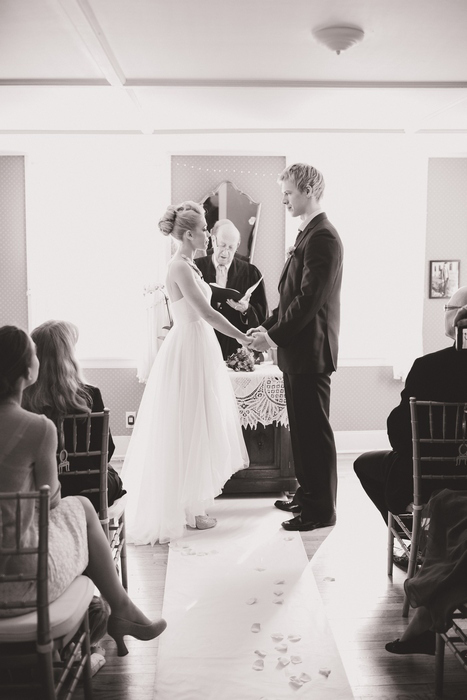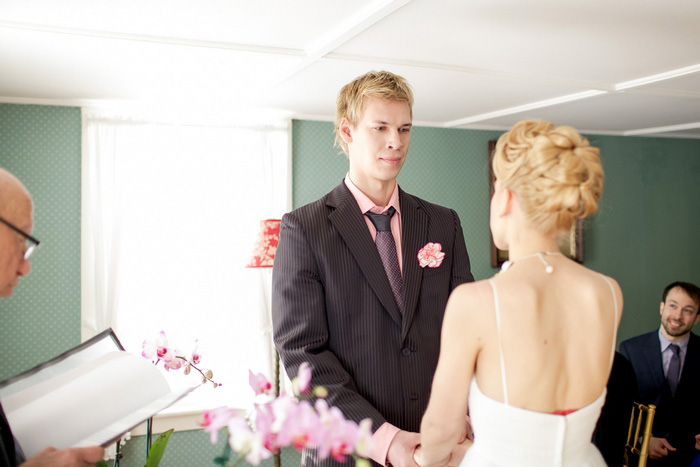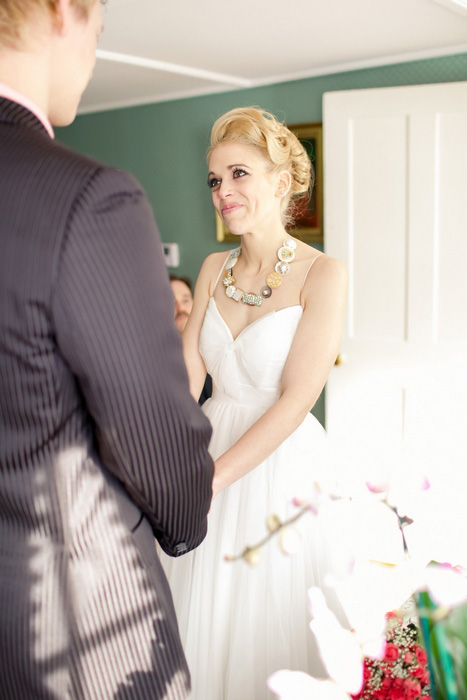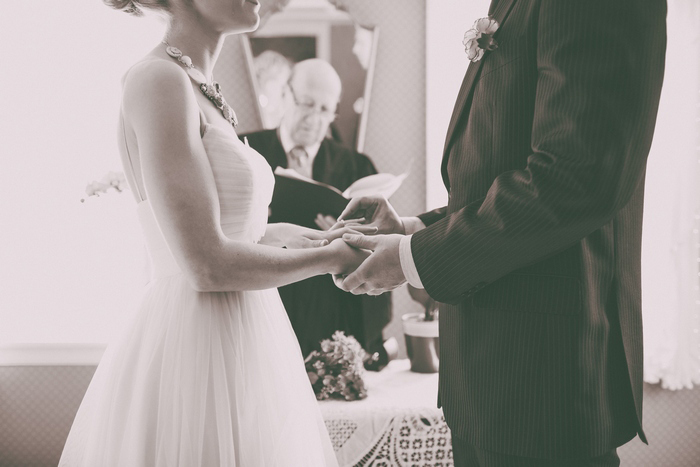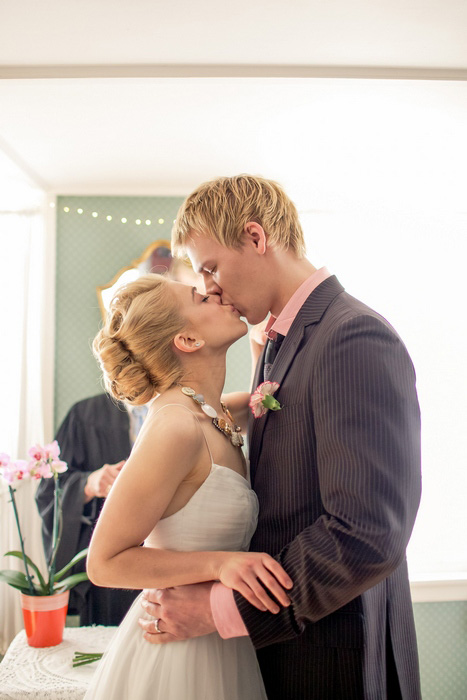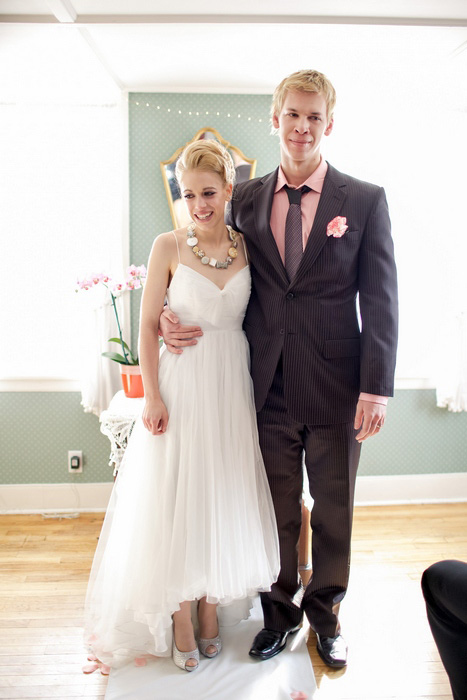 What were the highlights of the reception?
Miro and I created a playlist of our personal favorites and included sentimental songs that we shared with certain members of the family too. The strap of my dress broke on the last spin of our first dance to "Be my Baby" by the Ronettes from one of our favorite movies, Dirty Dancing. We took it as a sign of good luck! I also sang with my father during our father/daughter dance to one of our favorite songs by the Platters.
We all decorated the table together and took fun candid photos with extra cameras we brought. And the biggest highlight was enjoying a family-style meal, made by my mother, sister and her boyfriend, including a beautiful cake made by my sister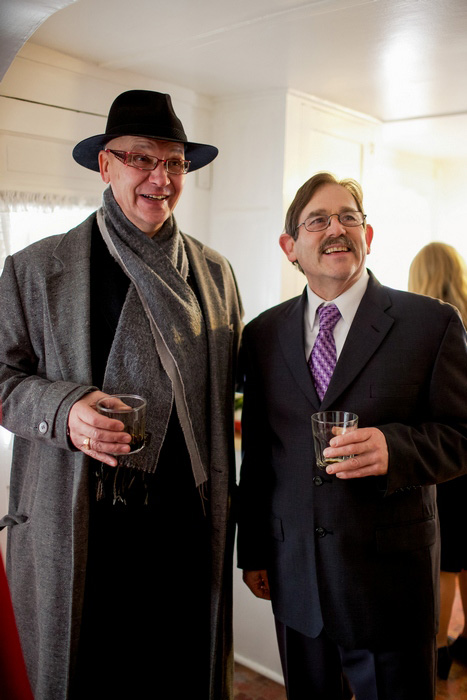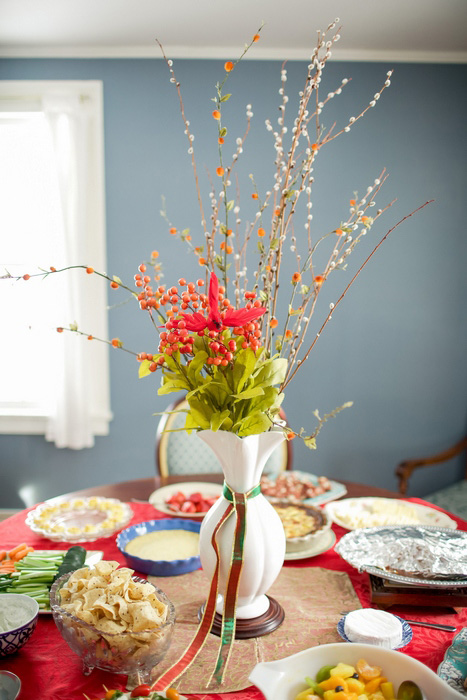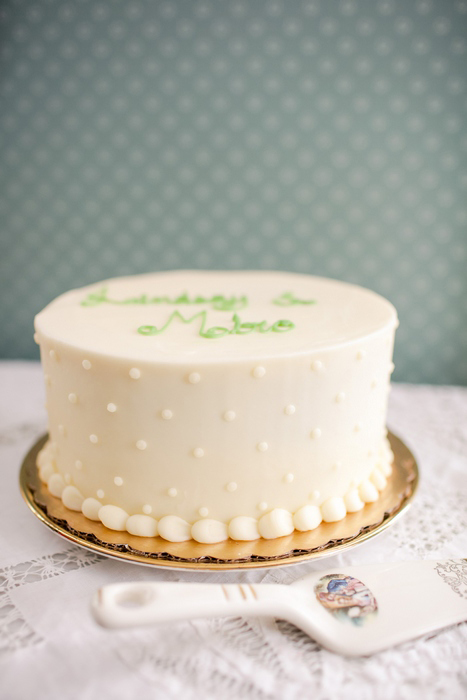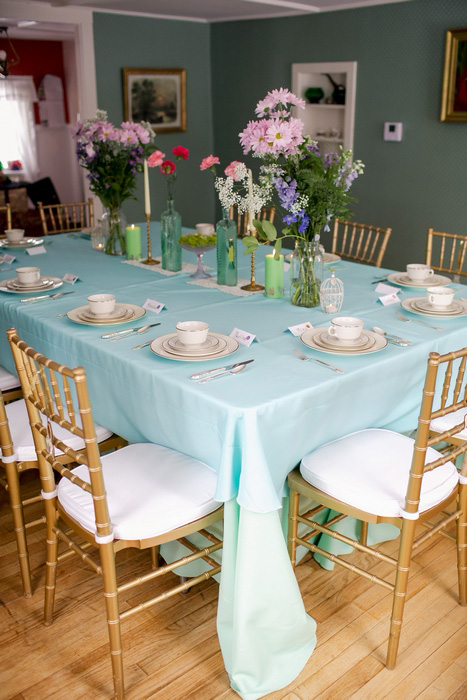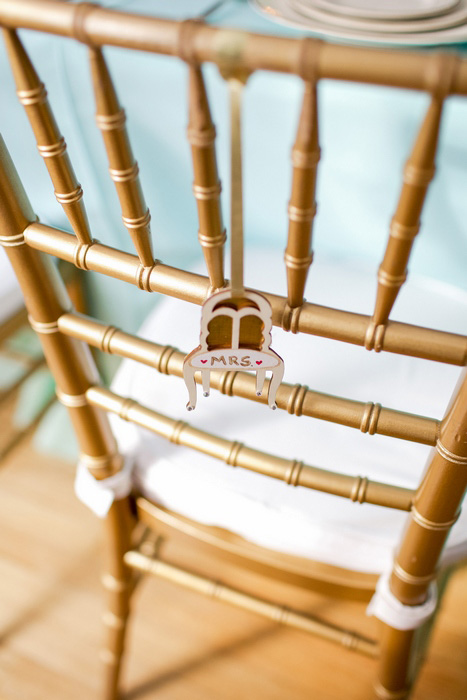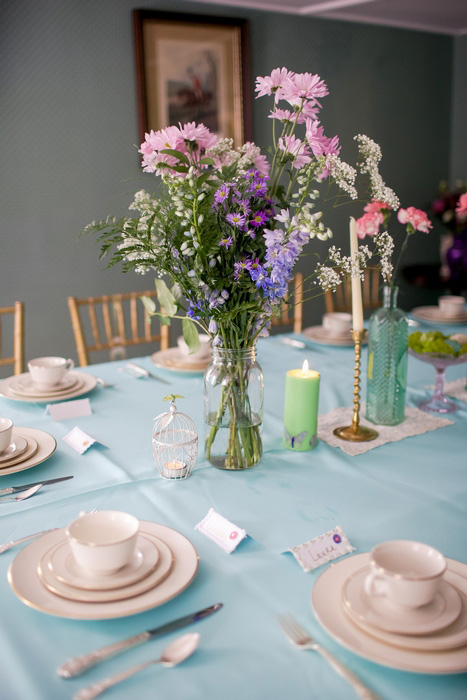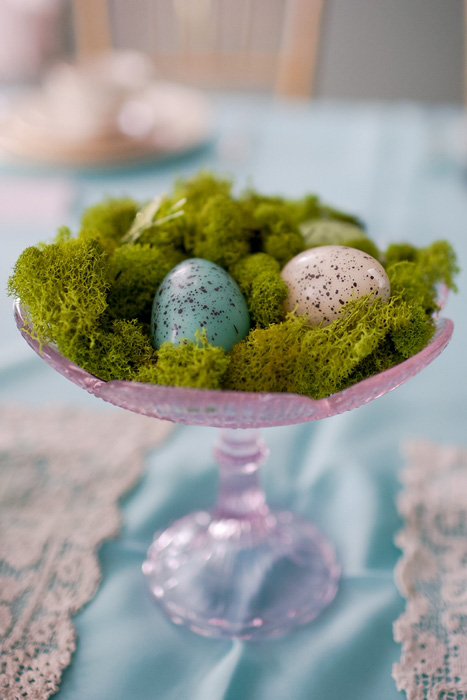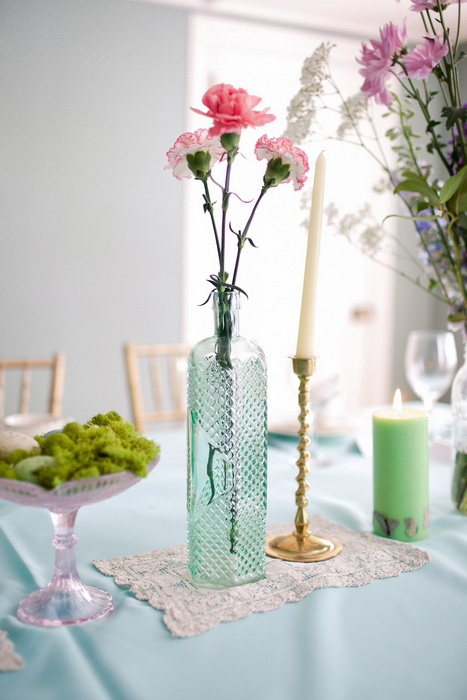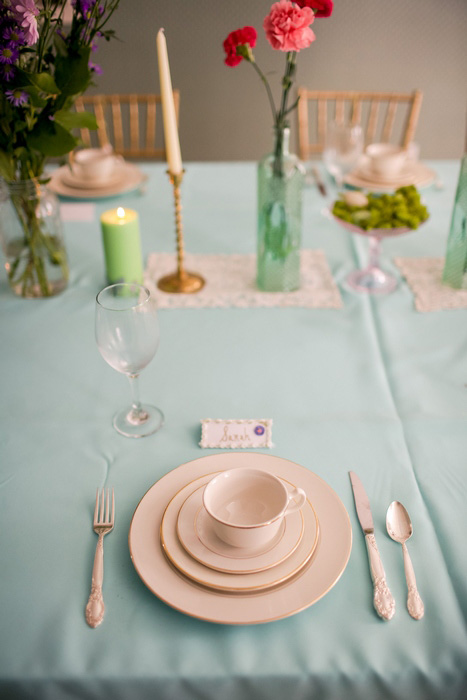 What was the best thing about having an intimate wedding?
The camaraderie leading up to the wedding was an amazing feeling because you could tell that our families were excited to see everything come together. If you have an intimate wedding, you gain complete control over the flow of your own event and can customize your wedding so it includes components that communicate who you are as a couple. I think our wedding photos show the love and happiness between all of the important people in our lives. At the end of the day, you'll be able to look back and be proud of what you accomplished together, not to mention have beautiful memories to cherish forever.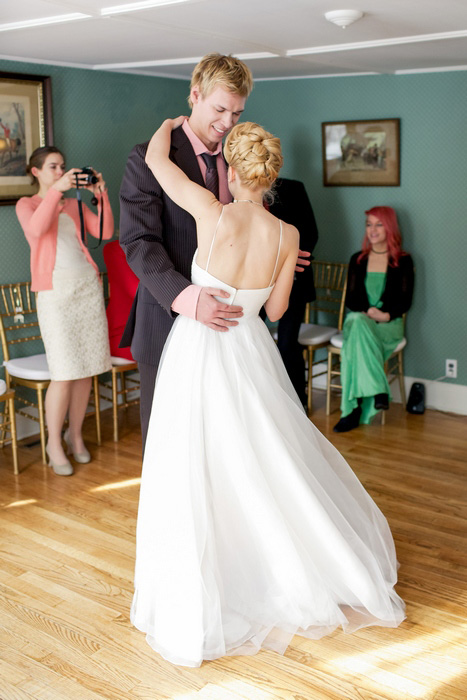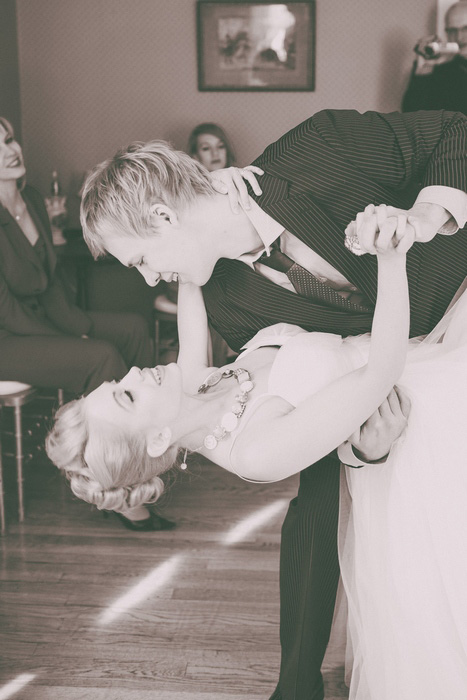 What advice do you have for couples who are considering an intimate wedding?
If you're a detailed-oriented person who loves to organize and create, I would highly recommend having an intimate wedding. You can make it whimsical, modern, romantic or vintage, and incorporate personal touches that make you feel like you're celebrating yourselves in a truly authentic way. Include the people you love and have fun together because that's what life is all about.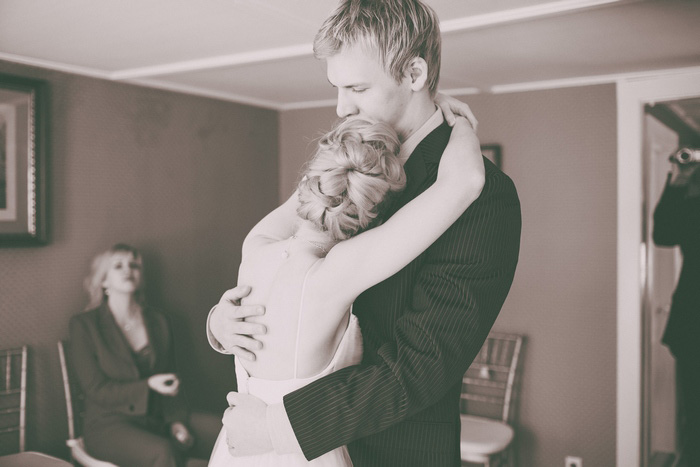 Vendors: 
Cake: The Bread Basket Bakery
Hair: Kara Eletto, stylist at Le Shag in Kingston, NY
Necklace: Sara Swisher-Anderson, owner of Fancy Bits & Buttons
Rentals: Allerdice Party Rental
Photography:  Keira Lemonis Photography