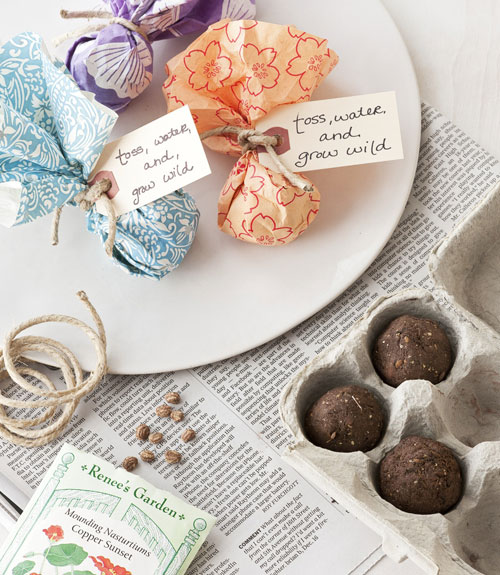 Ever heard of a seed bomb? If you are having an eco-friendly wedding you'll want to know all about this green wedding favor option.
Seed bombs are balls of clay (or shredded paper), compost and seeds. The compost and clay act as a carrier for the seeds so they can be launched over walls or fences and into inaccessible areas such as wasteland or railways, writes the Ecologist.
Here you have in the palm of your hand a little revolution, something that can change the face of the earth, something that contains the early stages of a field of wild flowers, edible crops or a herb garden. You can use seeds of one plant for your seed bombs or combinations of compatible seeds … With a little help from Mother Nature, something as small as a seed bomb has the potential to improve the natural structure of an area in one fell swoop.
The Ecologist cautions that seed bombing should be done with care:
A seed bomb is a little ball of life and comes with a responsibility to choose your plants and be used in the correct way. You have to consider not only the environment where you choose to launch your seed bomb, but also the welfare of the plant. It is your job as a gardener/seed bomber to make sure the seeds get a good chance of germinating and have a good probability of reaching infancy and – even better – maturing into plants that flower and fruit and connect the ends of the circle of growth.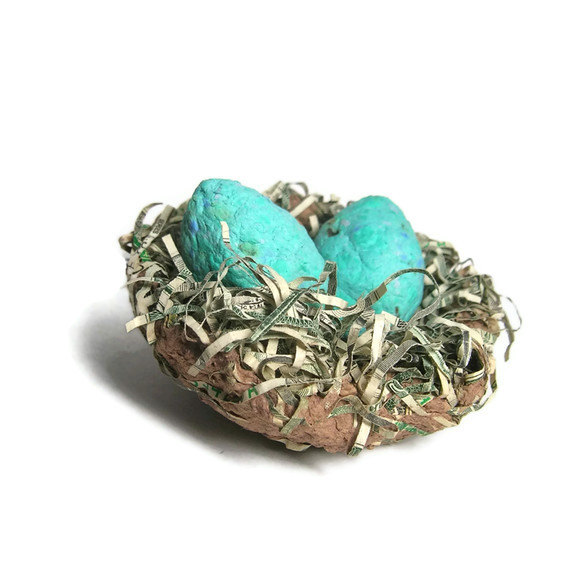 If you don't want to do any guerrilla gardening, you can simply launch them into your own backyard.
Seed bombs make great wedding favors because they are eco-friendly and you can make them yourself!
Seed Bombs Recipe (From Guerillagardening.org via Goodhousekeeping)
Combine two parts mixed flower seeds with three parts compost; stir in five parts powdered clay (available at art or crafts supply stores), and moisten with water. Form balls one inch in diameter; let dry for 24 to 48 hours (stash in an empty egg carton). Gather in paper and tie with raffia; add easy how-tos on a tag.
Here are a couple more recipes for seed bombs:
Instructables – How to Make a Seed Bomb
Photo One: Good Housekeeping; Photo Two: PulpArt