With large families to consider and a big group of friends from all over the world, Ian and Bianca quickly realized that they could either have a grand traditional wedding at home in Australia or they could elope in Paris and spend five weeks traveling through Europe together for the exact same cost. While it was difficult to break the news to their friends and family, the decision was a no-brainer for the couple. After struggling to select a ceremony location from all the great options that Paris has to offer, the bride and groom exchanged their personalized vows on the terrace of their suite at the Shangri-La Hotel overlooking the Eiffel Tower, and ended their perfect day with a spectacular view and an exquisite meal inside the Eiffel Tower itself at the Michelin starred Le Jules Verne Restaurant.
A huge thank you to Brant Smith for sharing Ian and Bianca's gorgeous and romantic Paris elopement with us!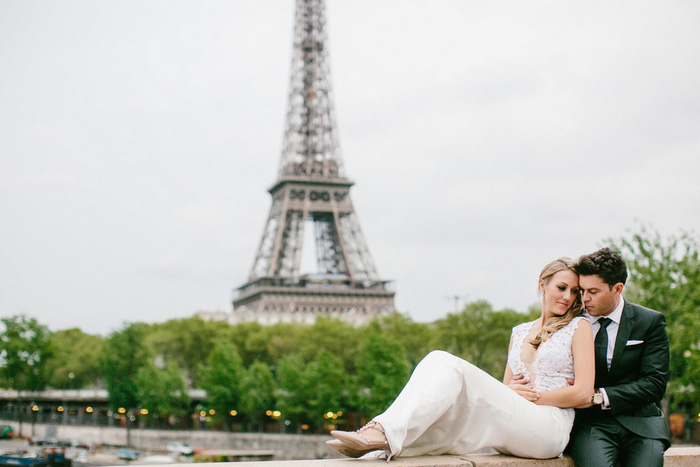 Bianca, 31 & Ian, 31
Location: Paris, France
Wedding Date: May 9, 2016
Number of Guests: The only onlooker we had besides Brant Smith (our fabulous photographer) and our gorgeous celebrant, Claire Bay, was the stunning Eiffel Tower. 
Wedding Cost: We aren't too sure about this one as we ended up spending a total of five weeks in Europe. It might seem like a long holiday, but we are from Australia, which is a long way from anywhere!!
Wedding Ceremony Location: On the terrace of our suite at the Shangri-La. 
Wedding Reception Location: Our reception was an intimate degustation for two at Le Jules Verne overlooking the Trocardero Gardens.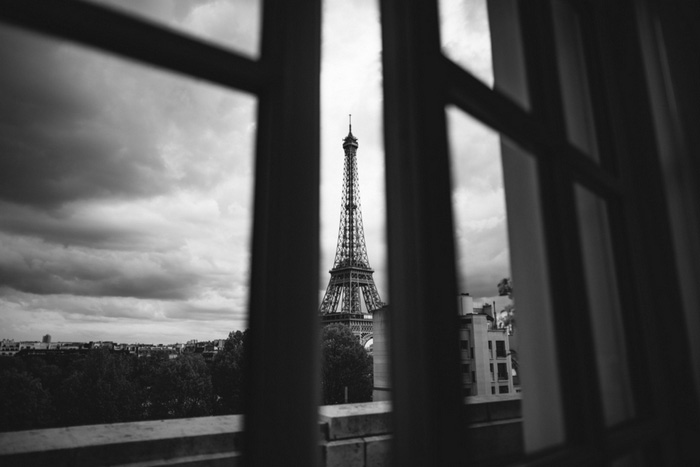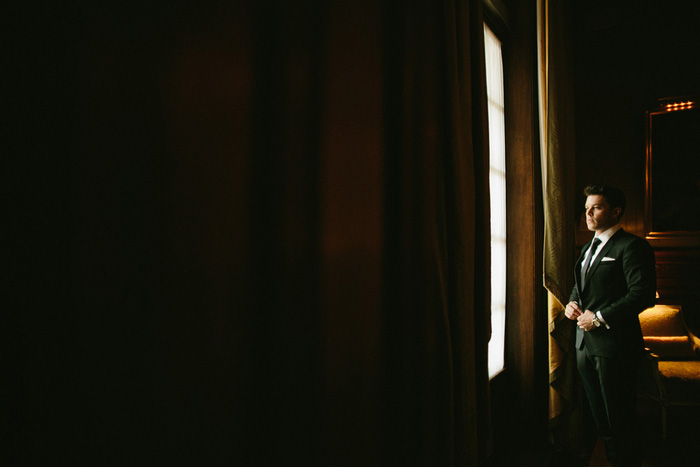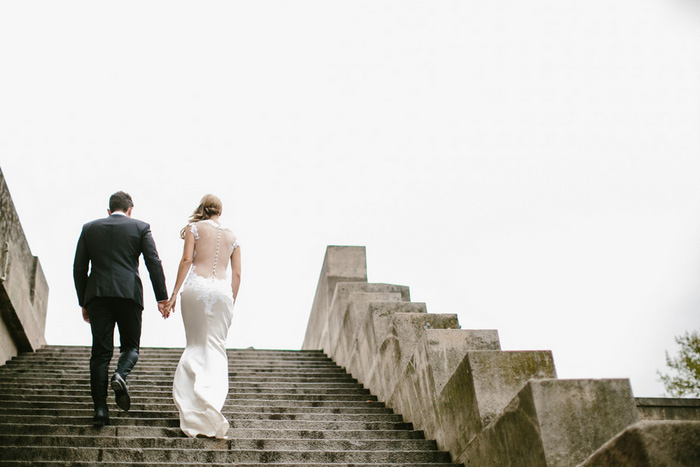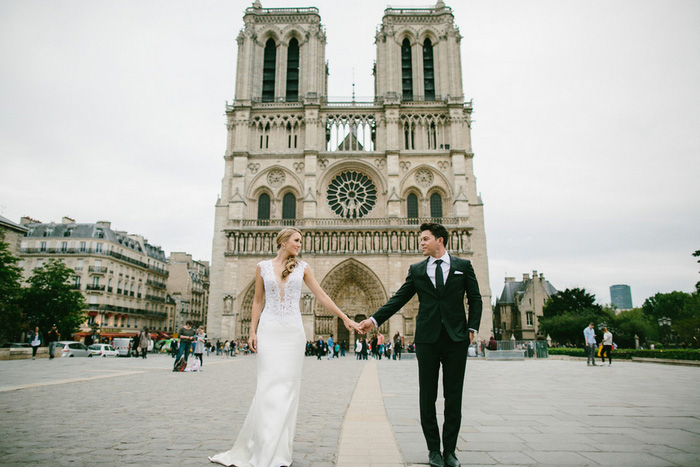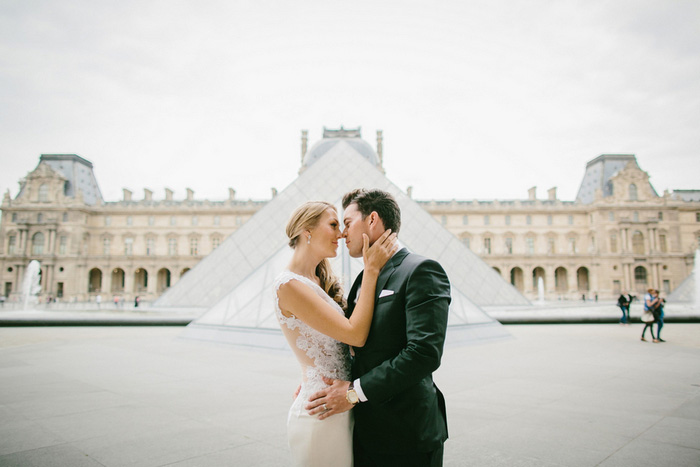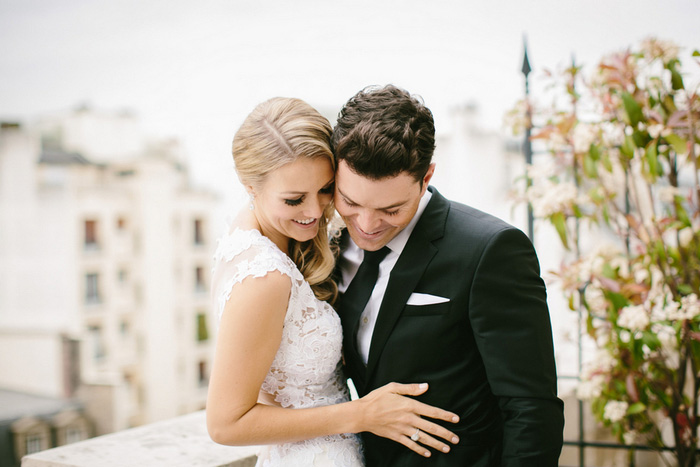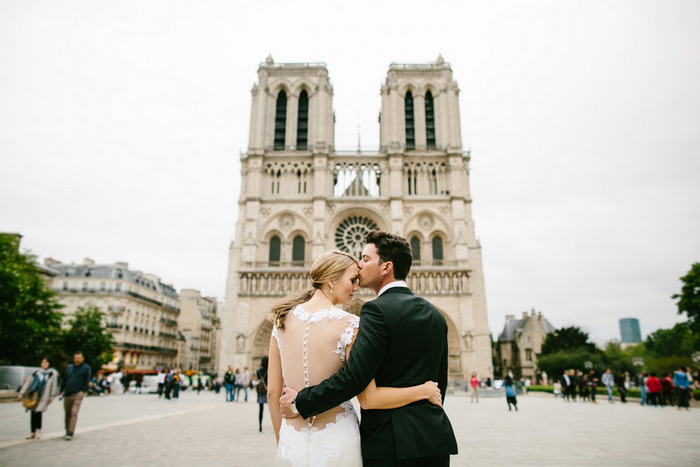 Why did you have an intimate wedding?
We have been together since our late teens, and over the time of our relationship we have been fortunate enough to live in a lot of different places and have made wonderful friends along the way. When we originally started to plan our wedding, we realized that in addition to our large families, we had quite a lot of people that we wanted to invite, but probably couldn't. And then we had trouble trying to narrow down a location that would suit everyone. After we finally settled on guest numbers and a location and roughly calculated costs of all the bells and whistles, we discovered that having a wedding in Australia would be the equivalent of spending 5 weeks in Europe. So we decided on the latter!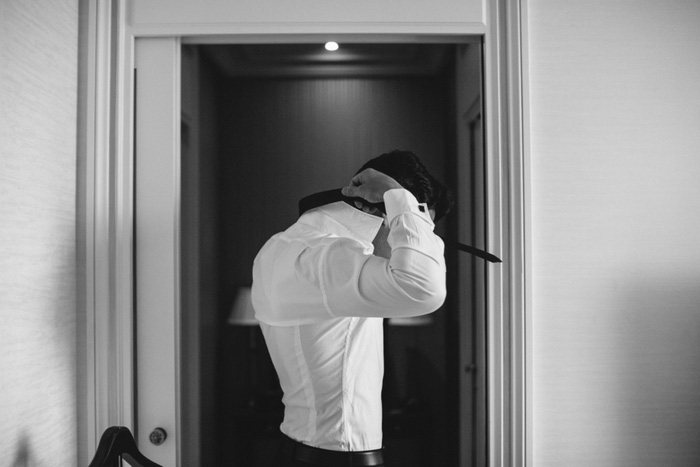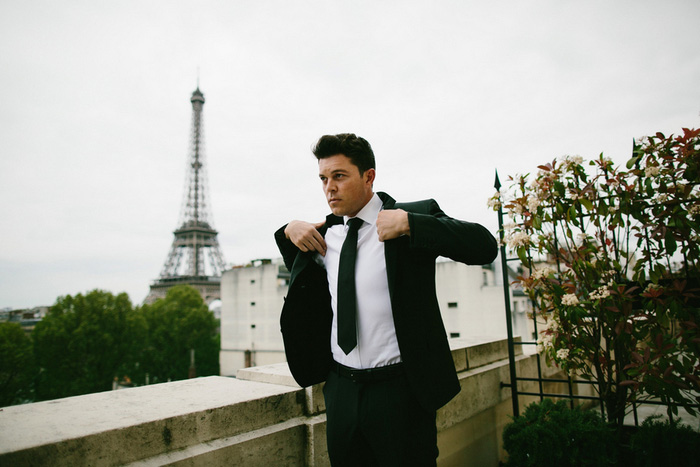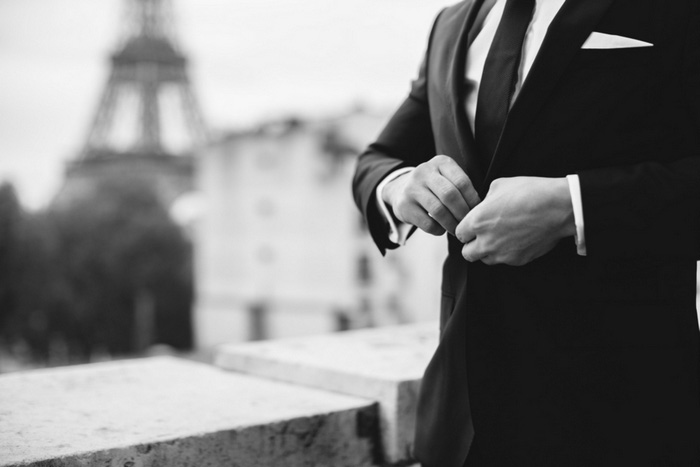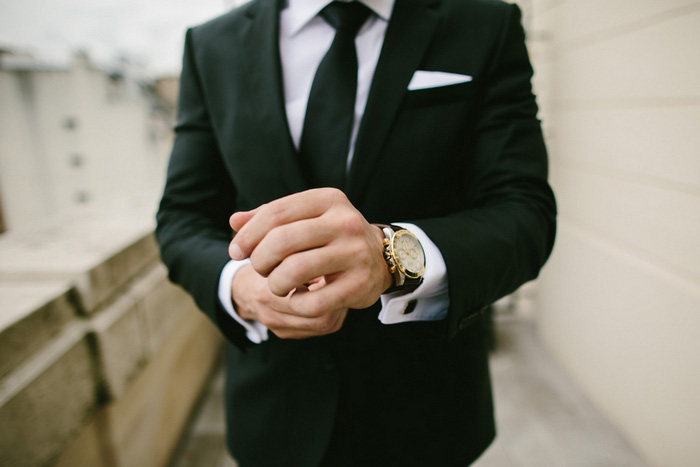 What are some the challenges that you faced planning an intimate wedding?
We thought that planning a wedding in another country where we did not speak the language was going to be our biggest challenge. However, everyone we dealt with along the way was extremely kind and accommodating. Our biggest challenge ended up being trying to select a final location to hold the ceremony – Paris has so many great options!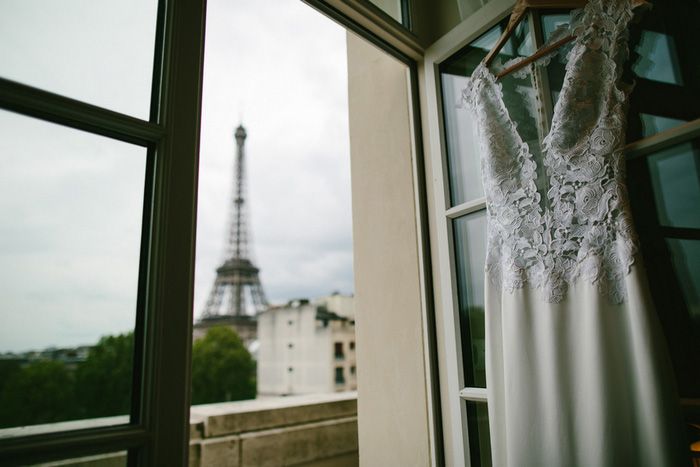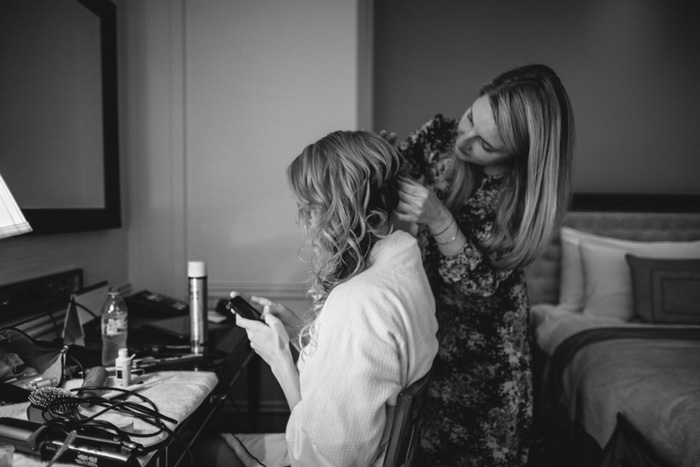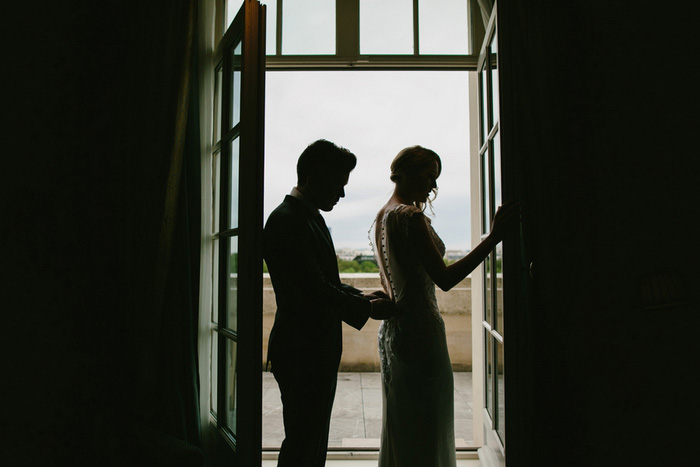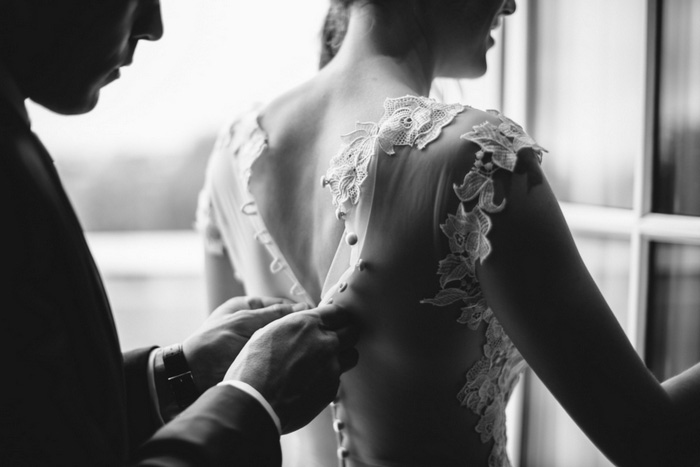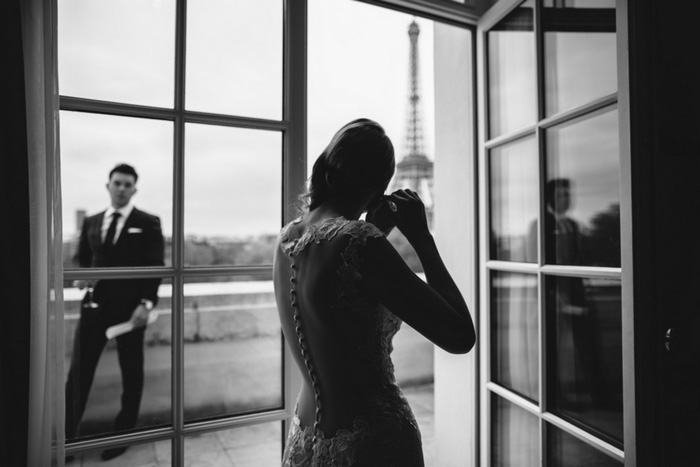 Was it difficult to pare down the guest list?
It was extremely difficult for us to inform our family and friends that we had decided to elope. We know that as tradition goes you aren't supposed to break the news until after the ceremony, however it didn't feel right to exclude the people we love when it came to our decision. All of our friends and family were very understanding which solidified that we had made the right decision to elope.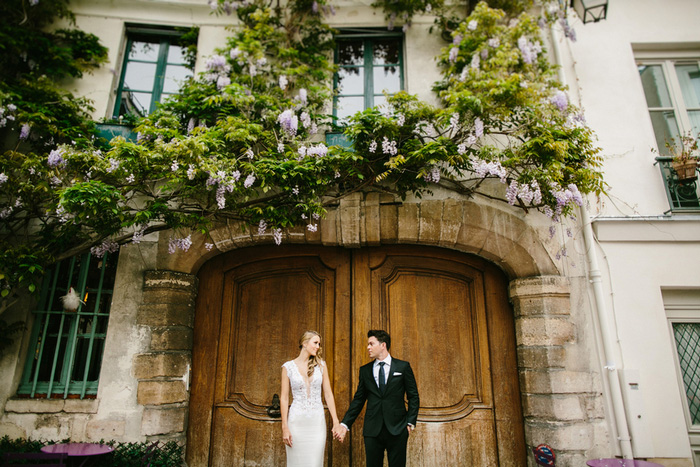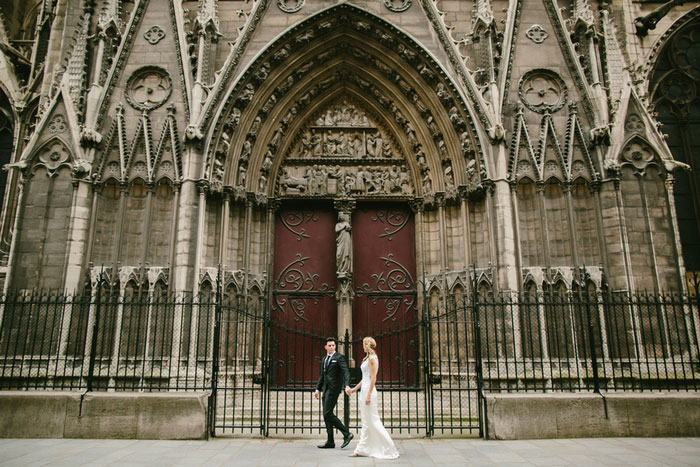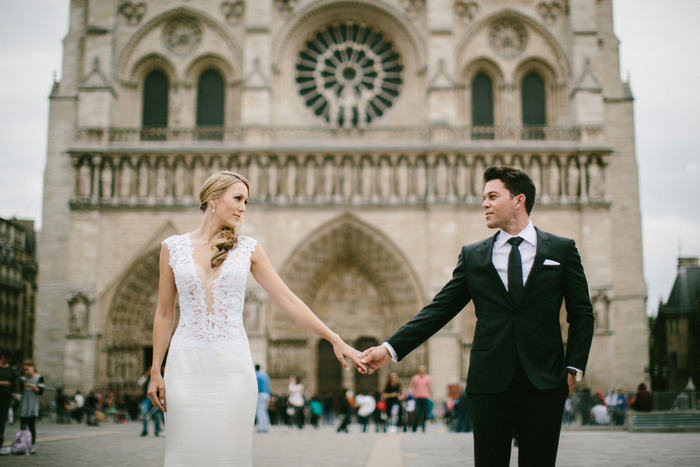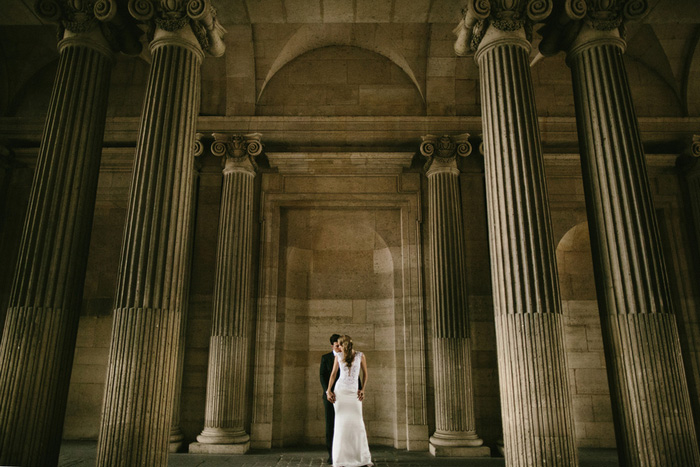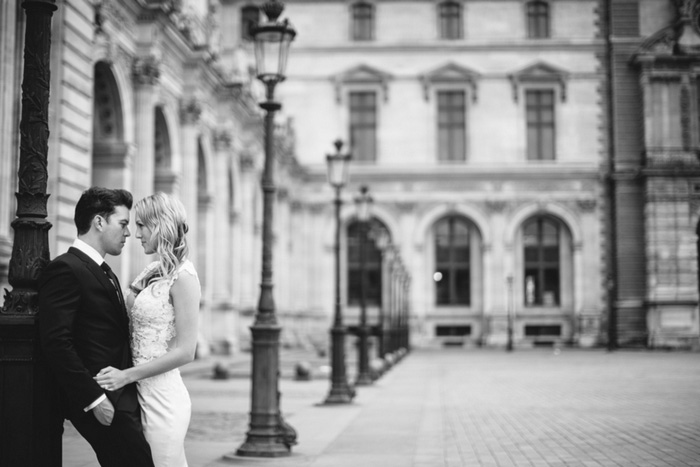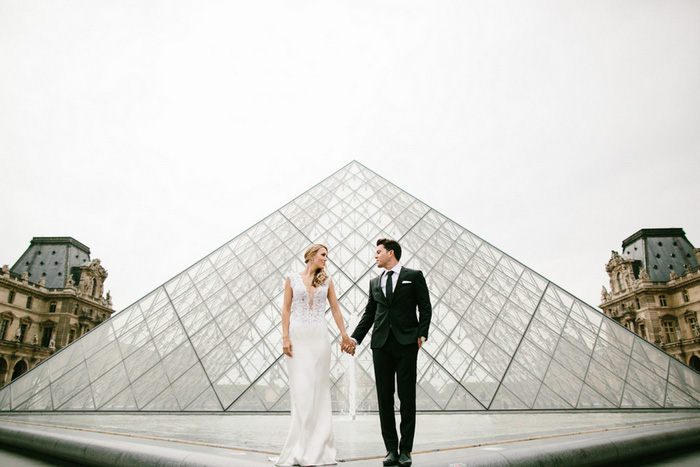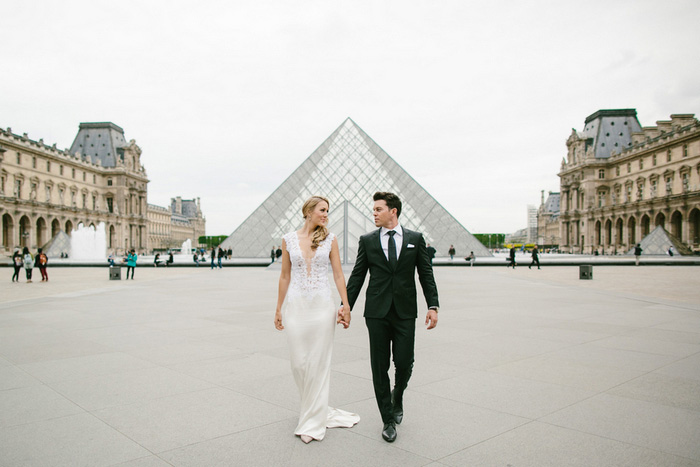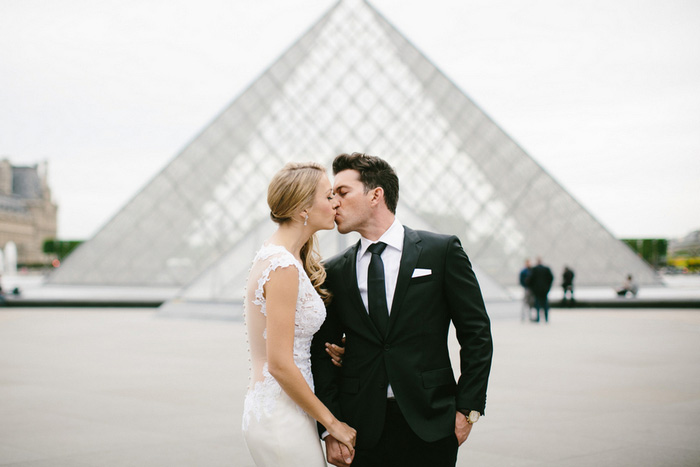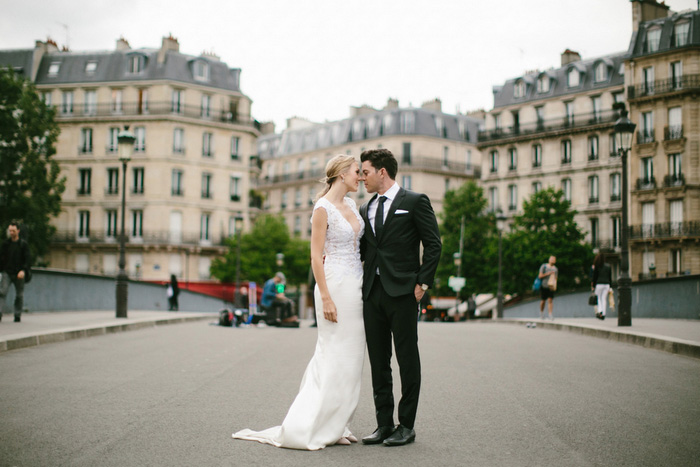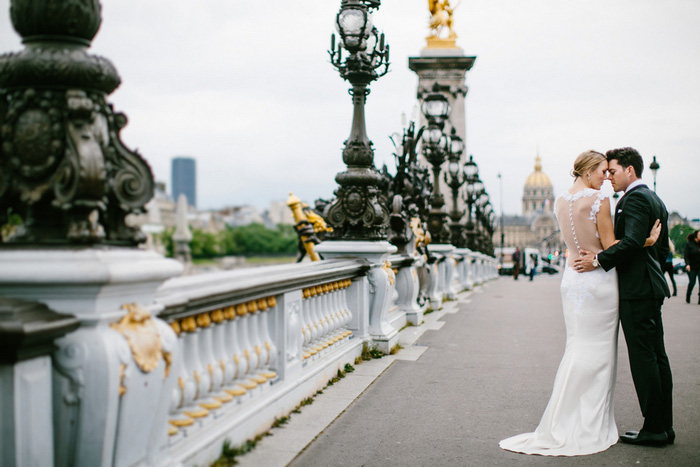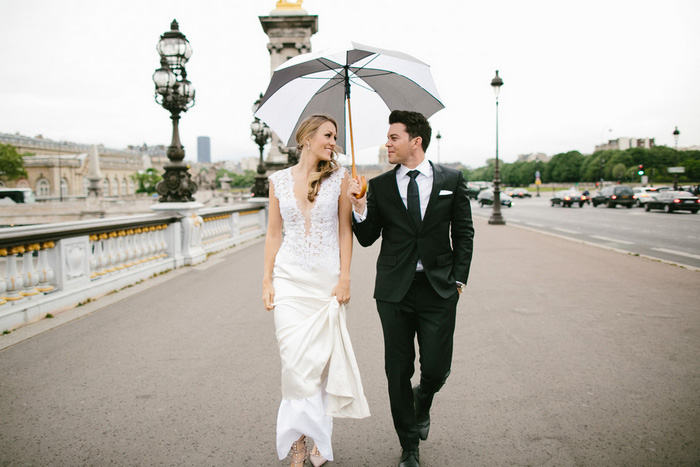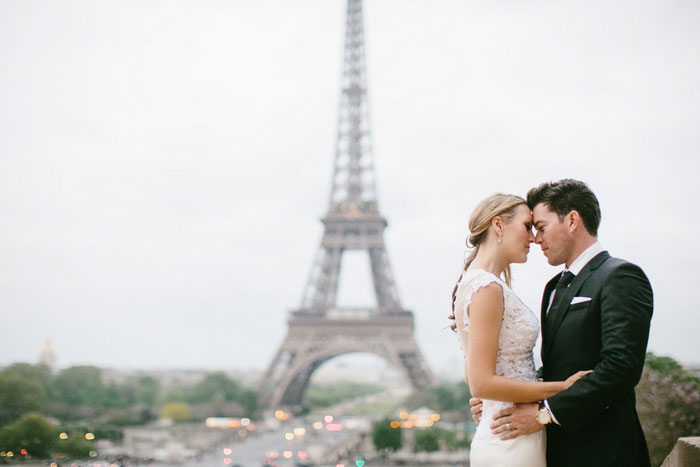 Did you have any 'issues' with the small guest list from friends and family? If so, how did you address them?
Luckily no, although one of my sisters did keep suggesting in jest that she might just 'rock up' on the day!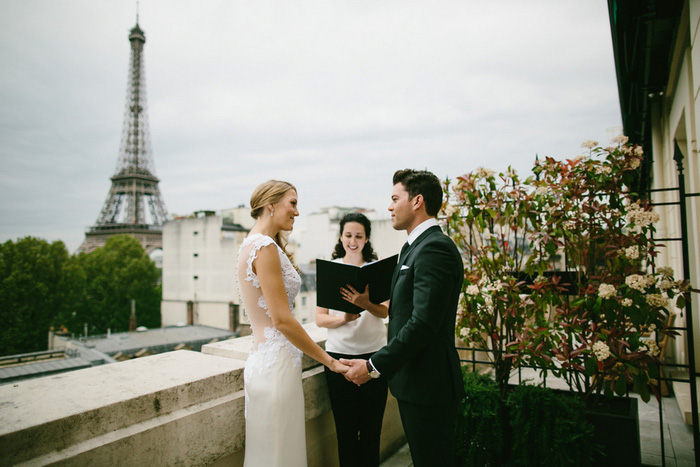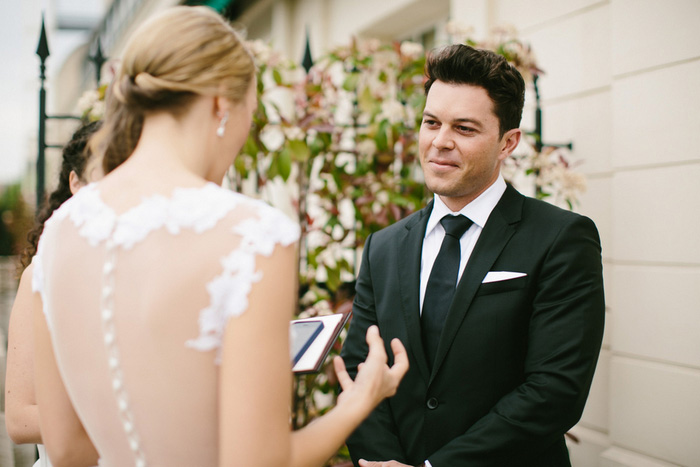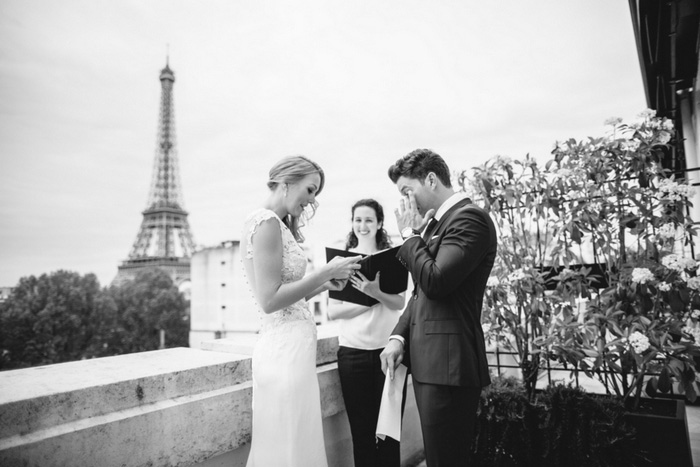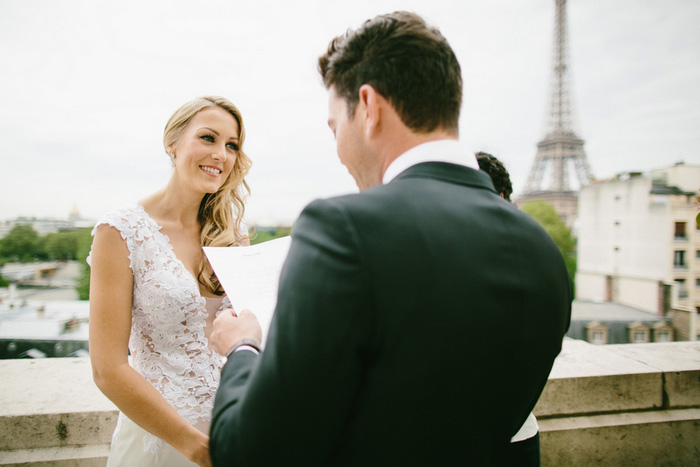 What were the highlights of the ceremony?
Intimately sharing our personalized vows with no one else but ourselves.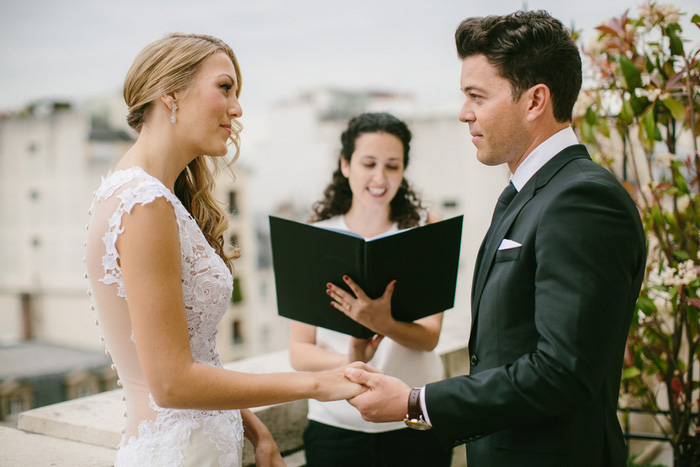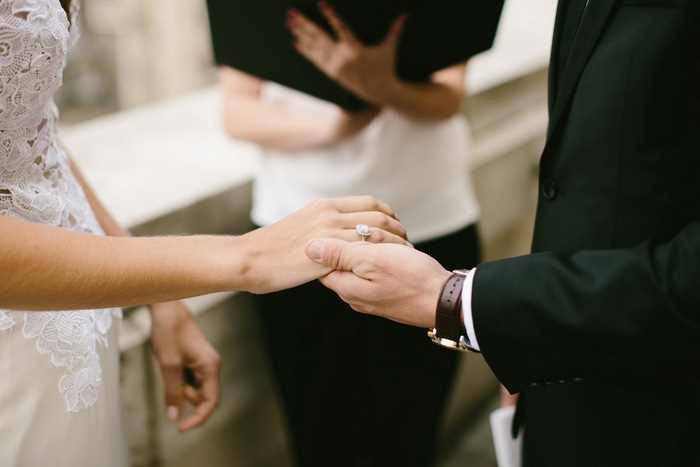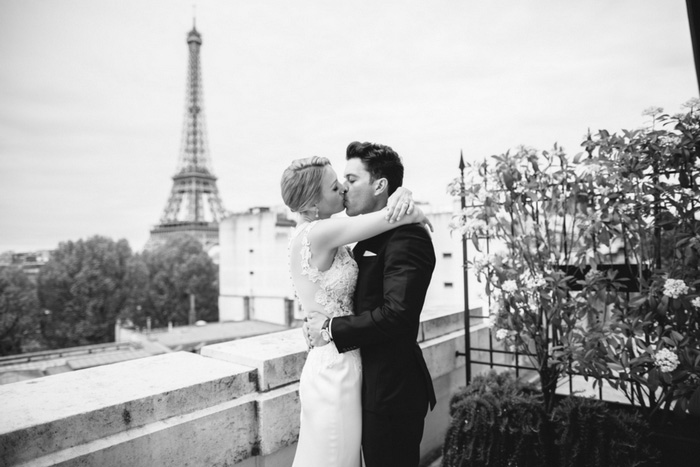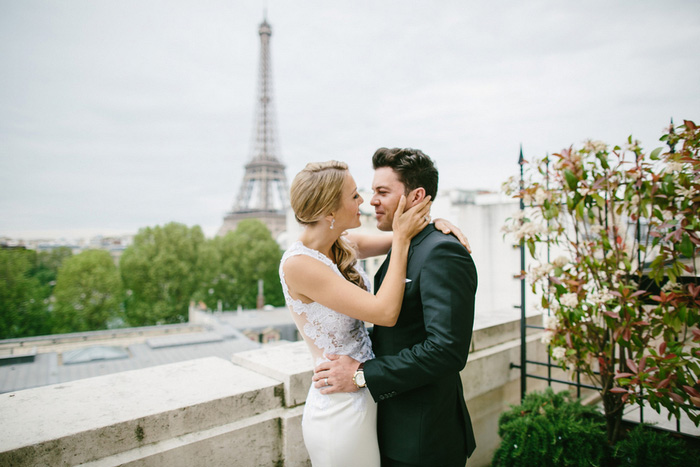 What were the highlights of the reception?
Feeling as though we were floating over the top of Paris. Our spirits were already high from our perfect day, but nothing finished it off quite like the spectacular view we had that evening.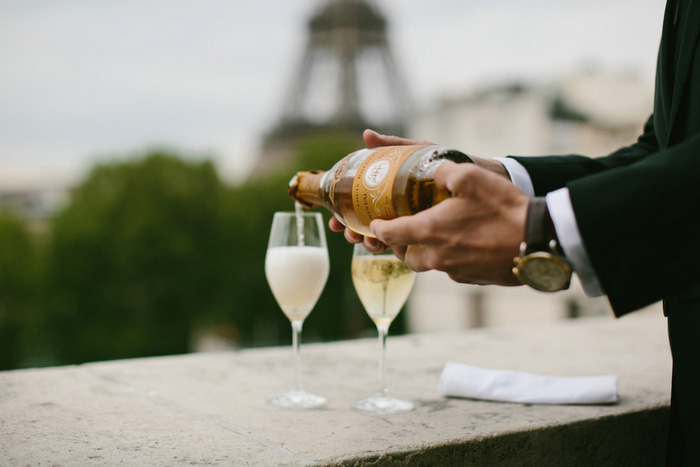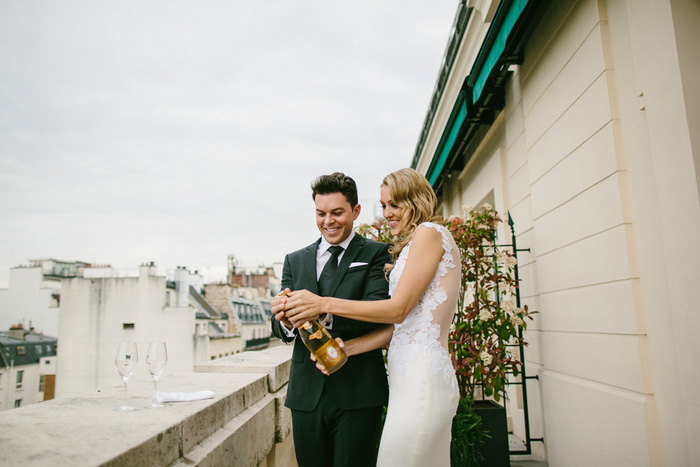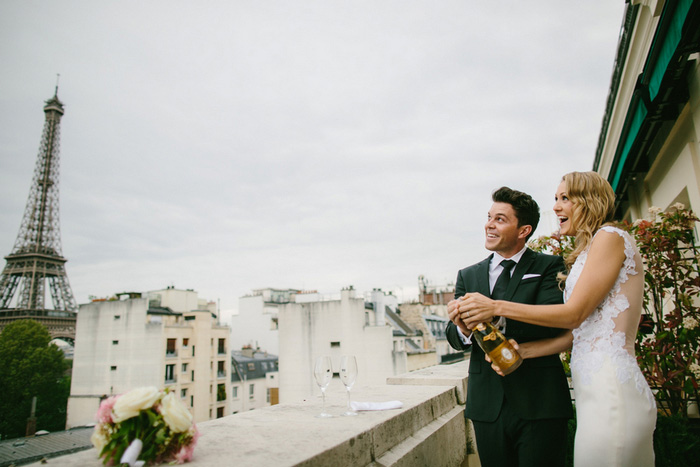 What was the best thing about having an intimate wedding? 
While weddings are a fabulous way to celebrate your relationship with your family and friends, sometimes it can feel as though you are putting on a show just to entertain your guests. Before you know it, the whole day is over and it's just another memory. When you elope, the day really does put the focus on the two of you and you have the opportunity to take your time, be yourselves and enjoy every single minute of the day in each other's company.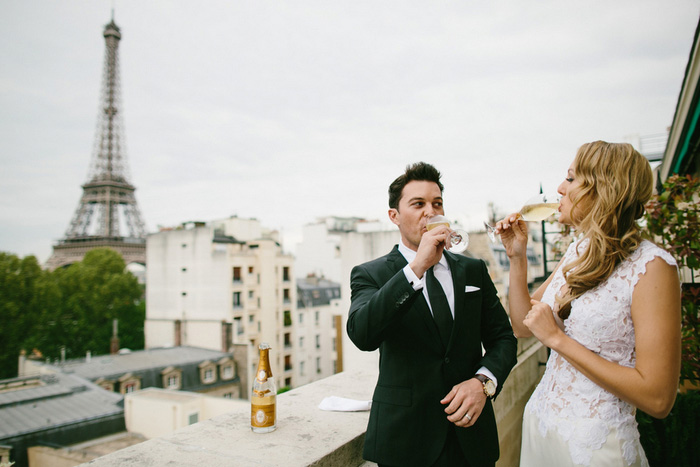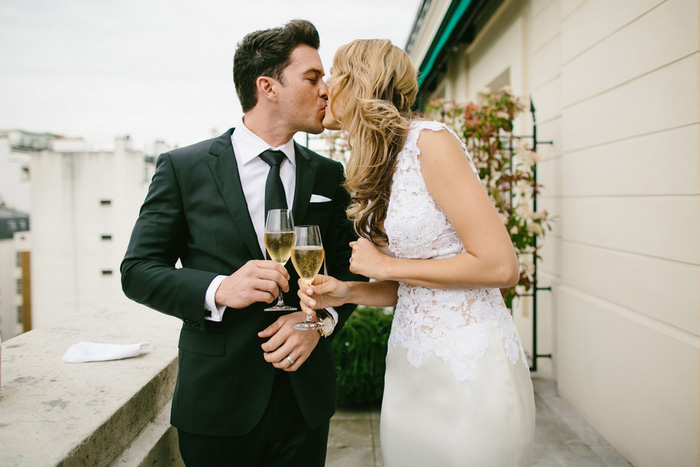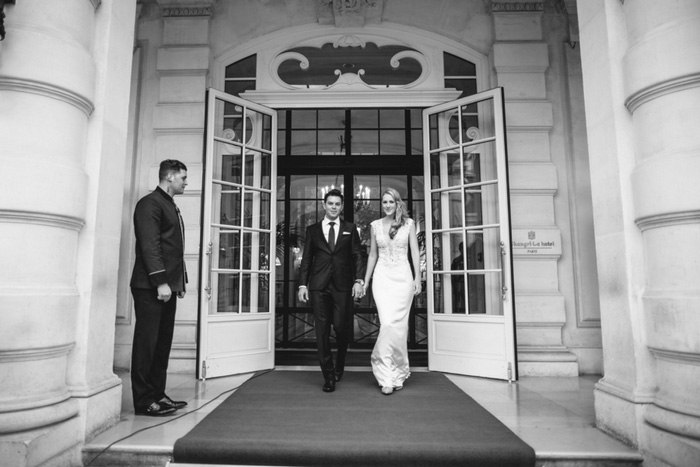 What advice do you have for couples who are considering an intimate wedding?
If you've even entertained the idea of eloping, we recommend just diving in and doing it. It's minimal stress, it can be much cheaper (if you want it to be!) and really allows you to celebrate the fruition of your relationship (and all the personal memories that you've created together) just between the two of you. Just do yourself a favour and make sure you arrange a quality photographer like Brant Smith so you can reflect on the beautiful memories you created together for years to come.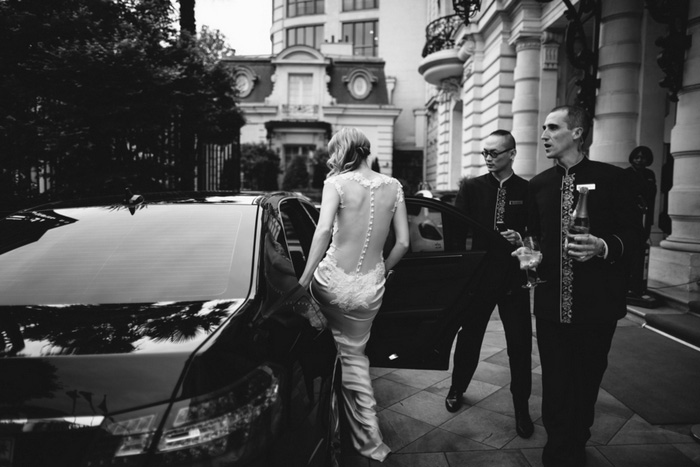 Vendors:  
Photography: Brant Smith  
Hair and Makeup:  Allison Depriestre   
Officiant: Claire Bay at Une Belle Ceremonie 
Save