The great thing about having an intimate wedding is that you can spend more time with your guests on your wedding day. It is also much easier to show how much you appreciate their attendance. Your guests will thank you for the small details that keep them comfortable and show how much you care. We've picked 10 of our favorite ways that you can welcome your guests into your celebration.
1. Breakfast Treat 
If you're having an early ceremony then treat your guests to some breakfast on the go. Homemade cinnamon rolls in vintage tins are a decadent and thoughtful idea. You can have them ready before the ceremony starts or serve with coffee after the ceremony finishes. As they are packaged and ready to go, it also eliminates any fuss.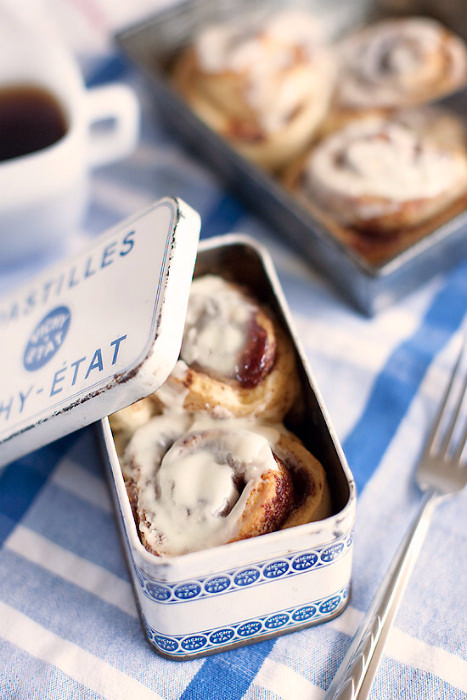 2. Welcome Box 
Welcome boxes are such a fabulous surprise to welcome your guests. If you are having out-of-town or overseas guests then this is a great way to fill up a box with local treats, a neighborhood guide and any scheduled activities.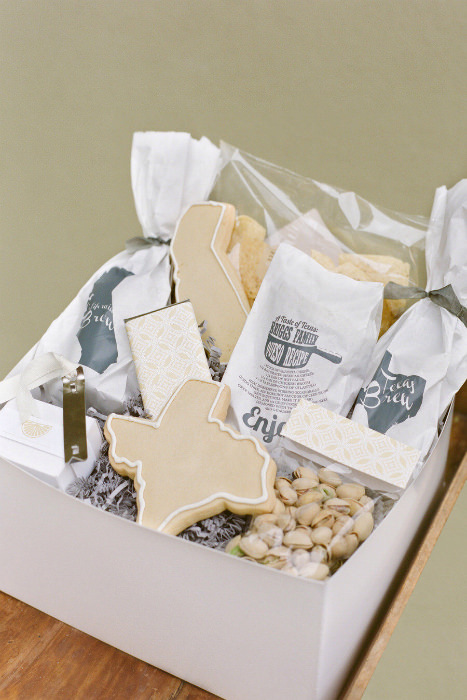 3. Dancefloor Prep 
A basket filled with flip-flops (in your color palette of course) will be a lifesaver for your dancing guests. Your female guests will be truly grateful that they can slip off their heels before the dancing commences.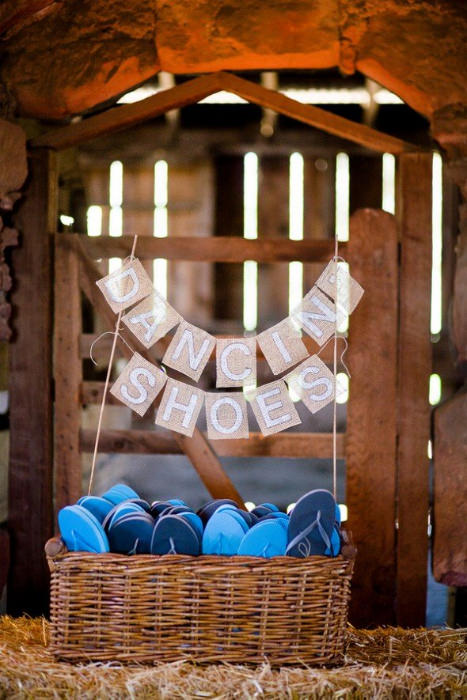 4. Destination Guide
If you're having a destination wedding then a little guide will be very useful. You can create a welcome guide which gives your guests some important phone numbers, an itinerary for any events or meet-ups, and some suggestions for local restaurants and sightseeing tips.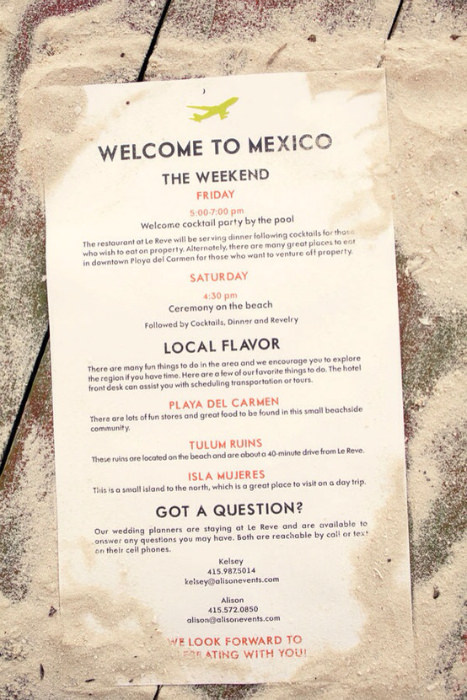 5. Water on the Side
Whether your ceremony will be held outdoors or inside, a chilled bottle of water at every seat is a great idea. Your guests will be hydrated and can carry the water with them if there will be any waiting around.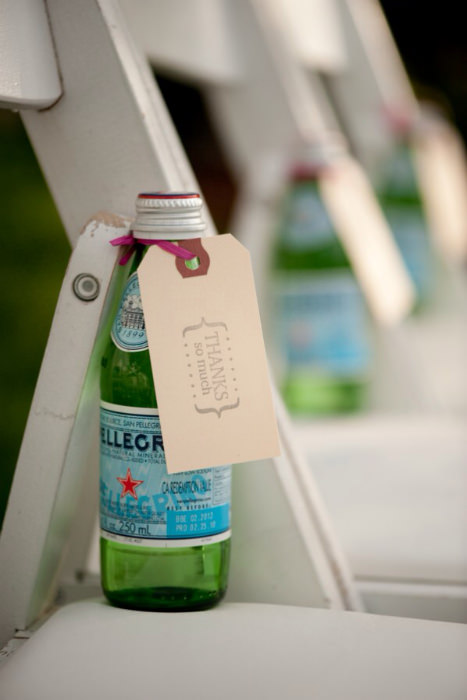 6. Break Time
If there will be a few gaps in the day; for photography and other activities, ensure that there are snacks on hand. A trail mix table that guests can help themselves to during the day is a great idea.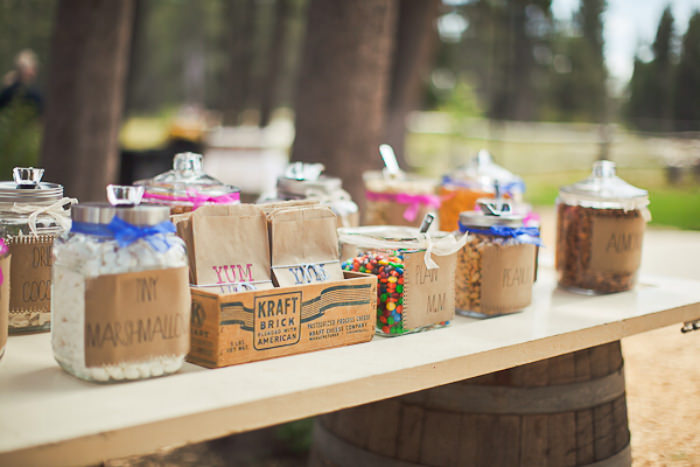 7. Schedule of Events
Sending your guests a schedule of events will keep them informed on the day. They'll have a clear idea of what will be happening and will know in advance how much waiting around and crucially what time they can expect dinner!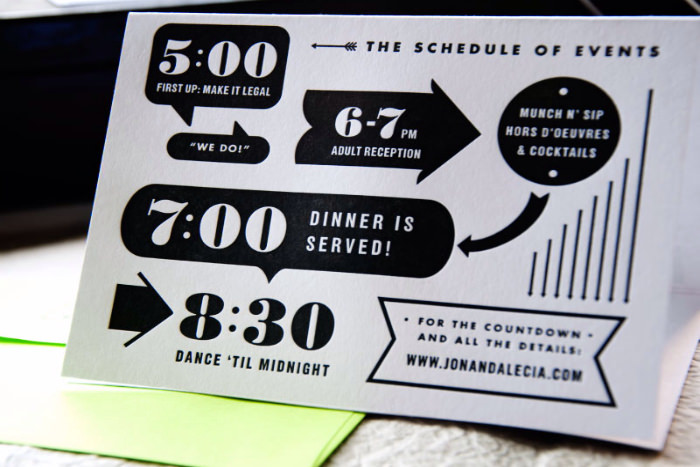 8. Summer Must-Have
The last thing that you want is your guests getting attacked by mosquitoes during your outdoor ceremony. Your guests will thank you for creating a basket with bug spray and sunscreen for them to help themselves too.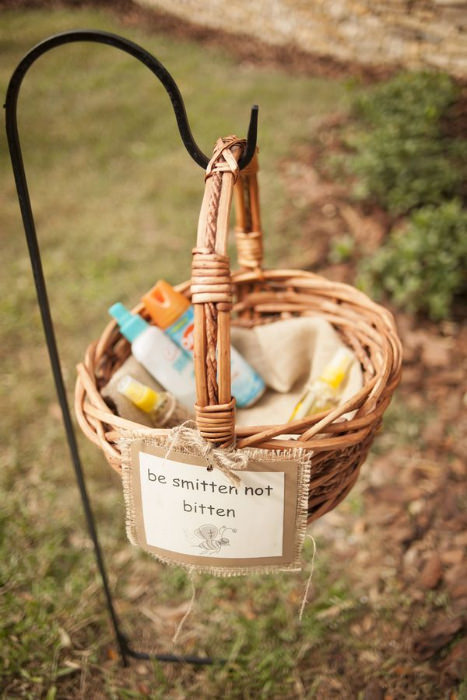 9. Beat the Heat
A fan can make all of the difference in an outdoor ceremony. Fans can also double up as favors that your guests can use again – especially handmade wooden ones.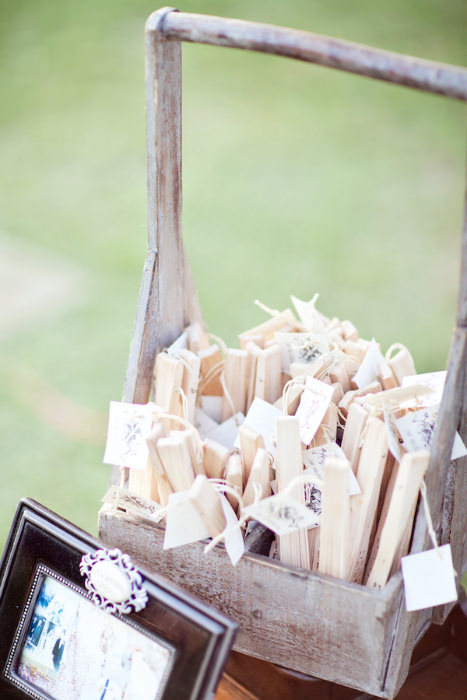 10. Snuggle Box
Fill a vintage suitcase with blankets and pashminas for guests when it starts to get chilly outside. This is not only great for fall and winter weddings, but to also keep your guests comfortable when summer evenings start to cool down.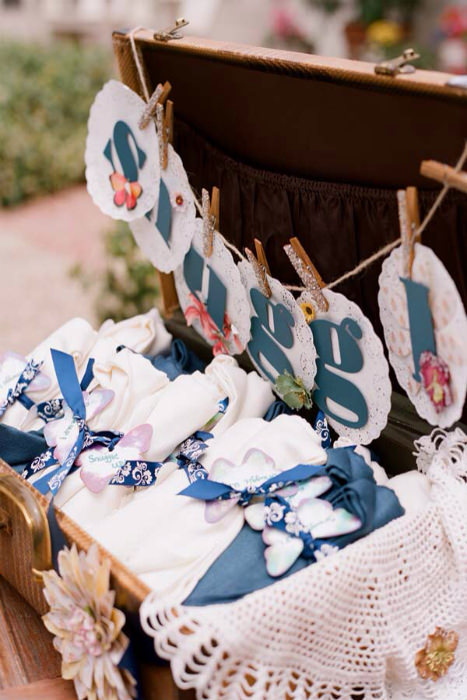 Photo one: piewacketblog.com; Photo two: delesieblog.com; Photo three: rusticweddingchic.com; Photo four: pacoandbetty.com; Photo five: jenniferdavisphotography.com; Photo six: orangeturtlephotography.com; Photo seven: witanddelight.com; Photo eight: pinterest.com; Photo nine: glassjarphotography.com; Photo ten: beauxartsphotographie.com