Here at Intimate Weddings we're hopeless romantics. So, when we saw the dreamy elopement photos of Joanne and D'Arcy (fellow self-proclaimed hopeless romantics!), it's safe to say that we were instantly smitten.
Without telling anyone they were even engaged, the couple secretly planned their Alberta elopement, sight unseen, with the help of their photographer David Guenther, and surprised their family and friends after the fact with the wonderful news and beautiful images of their intimate lakeside ceremony.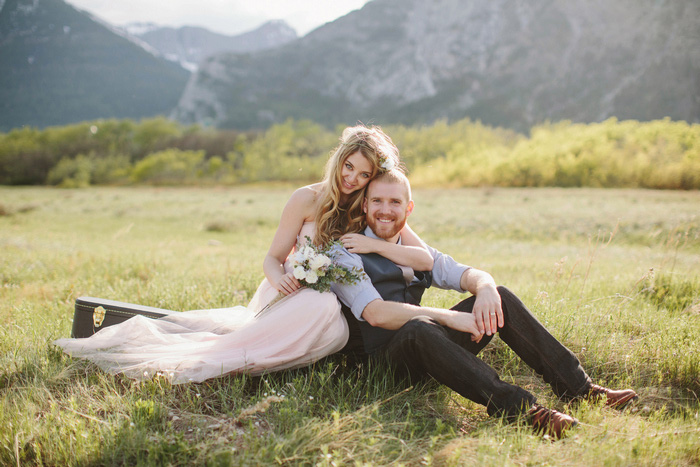 Joanne, 27 & D'Arcy, 30
Waterton Lakes National Park, Alberta, Canada
Wedding Date:  May 27, 2014
Number of Guests: none
Wedding Cost: $5,000 (including wedding bands)
Wedding Ceremony Location: Waterton Lakes National Park
Wedding Reception Location: Bayshore Inn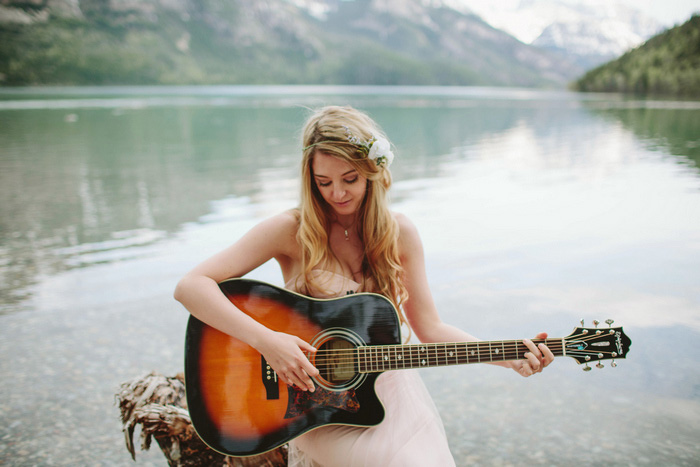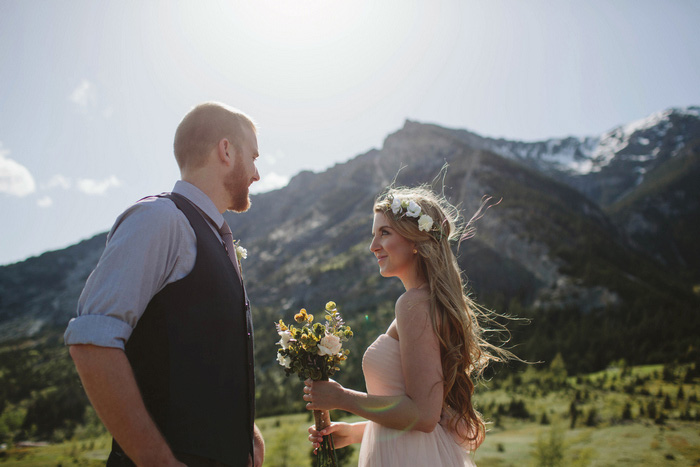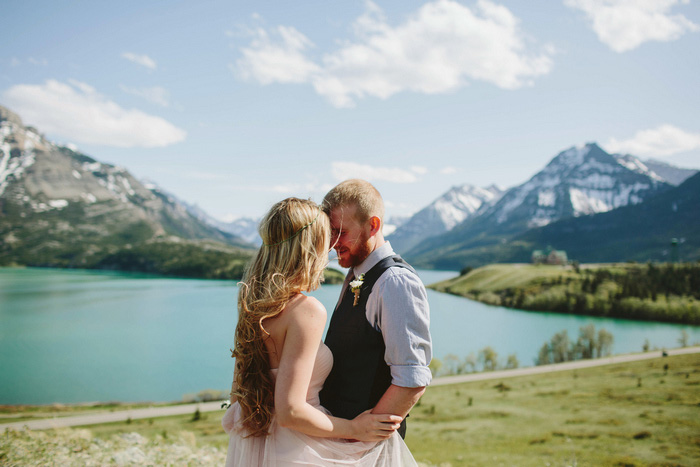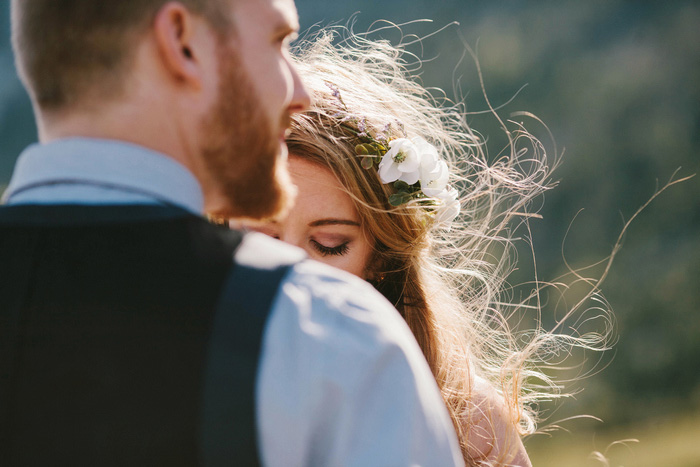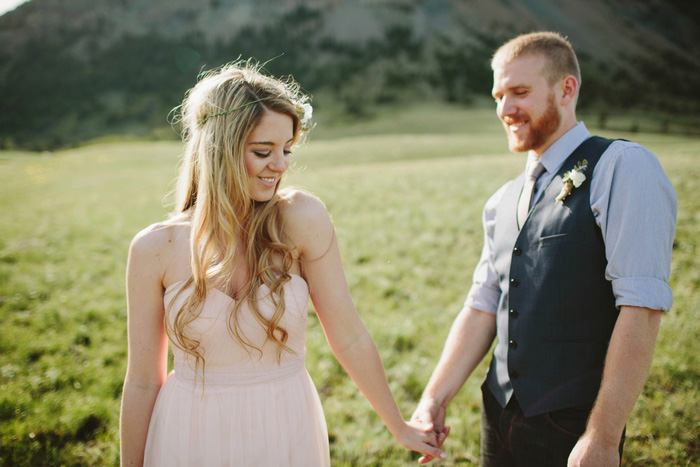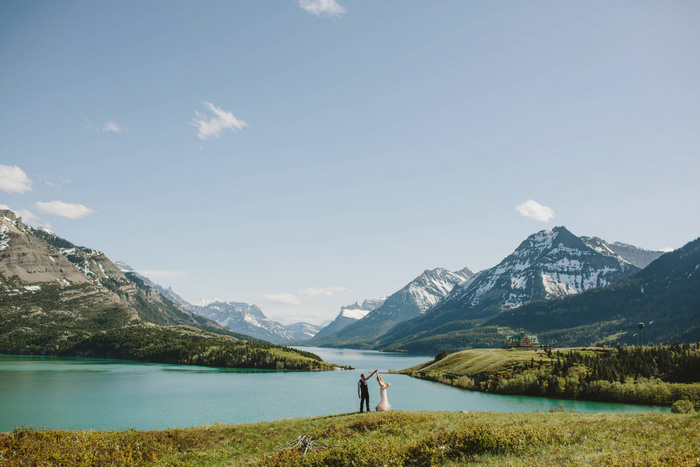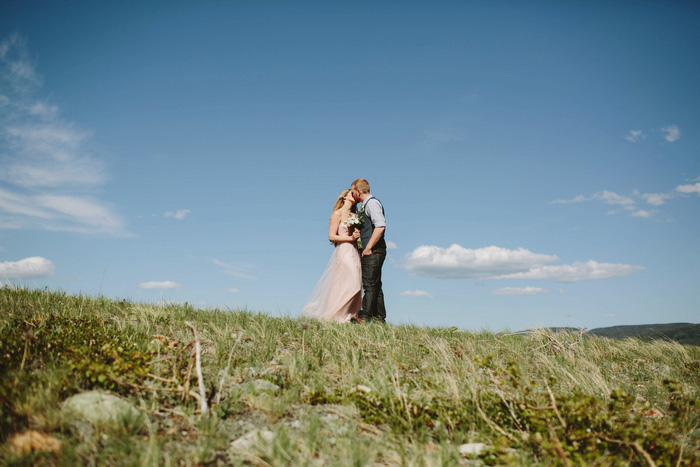 Why did you have an intimate wedding? 
D'Arcy and I are hopeless romantics. We always knew we wanted an intimate elopement. The idea of taking the commercial qualities out of something that is meant to be heartfelt and personal felt right to the both of us from the beginning. But obviously, with social media and other factors, there are pressures coming from every angle to get married a certain way. So we took our plans one step further and decided to forego the traditional engagement. As we secretly planned our wedding, we were engaged in our hearts – no ornamental diamond or Facebook status needed. It was such a perfect day; if we could do it all over again, we wouldn't change a thing!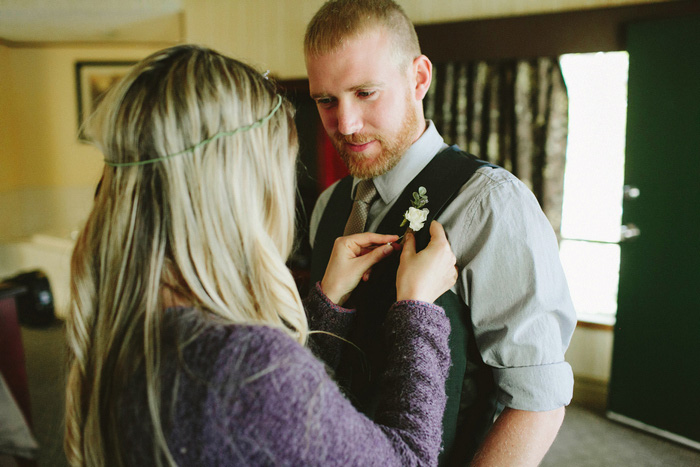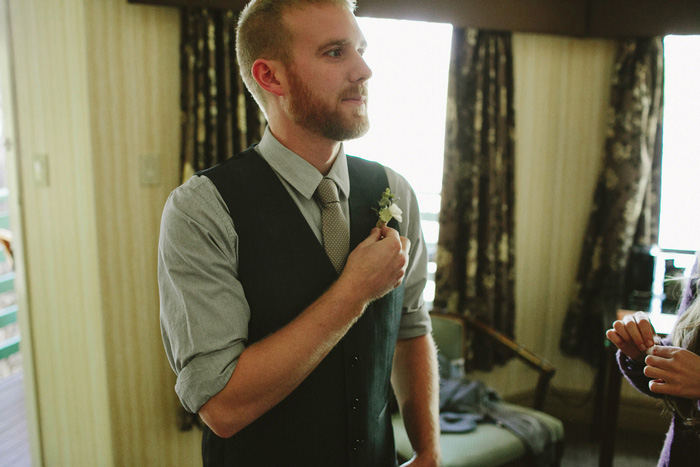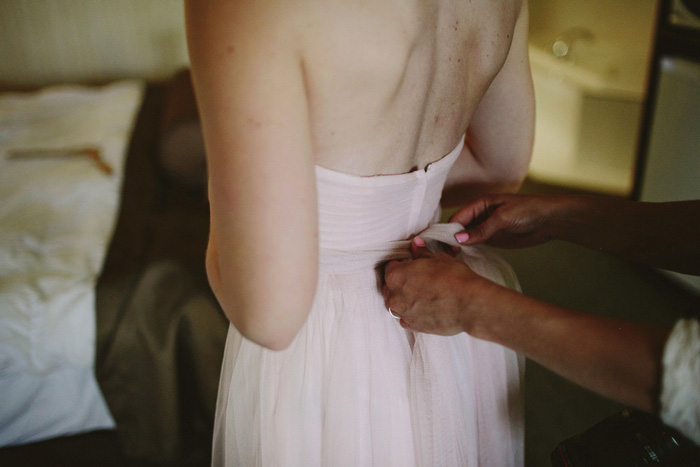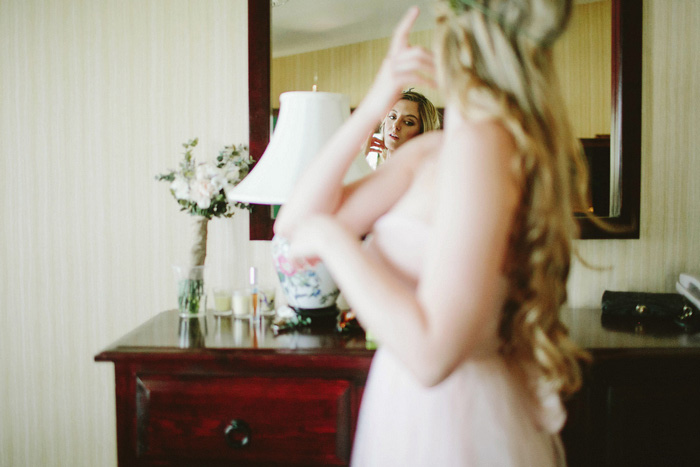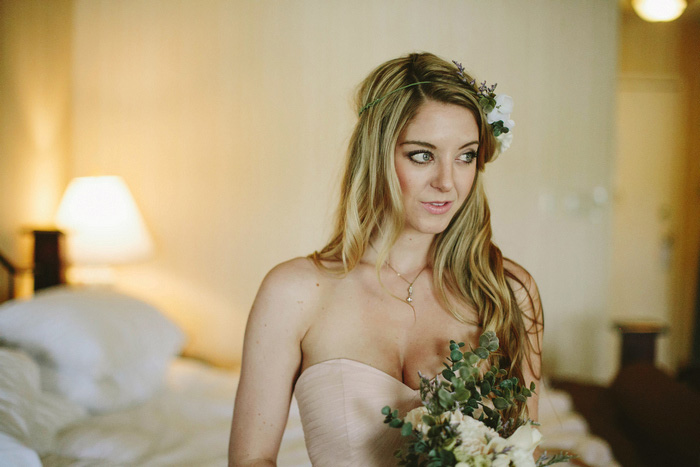 What are some of the challenges that you faced planning an intimate wedding?
We were working in separate provinces, planning a wedding in a town we had never visited. As you could imagine, we had to plan with open minds, but also an open imagination! Luckily, our photographer had worked in Waterton before; he was our eyes and our ears throughout the entire process. And of course, it was extremely difficult to not share the exciting news with our loved ones, but we knew the big surprise would be well worth the wait.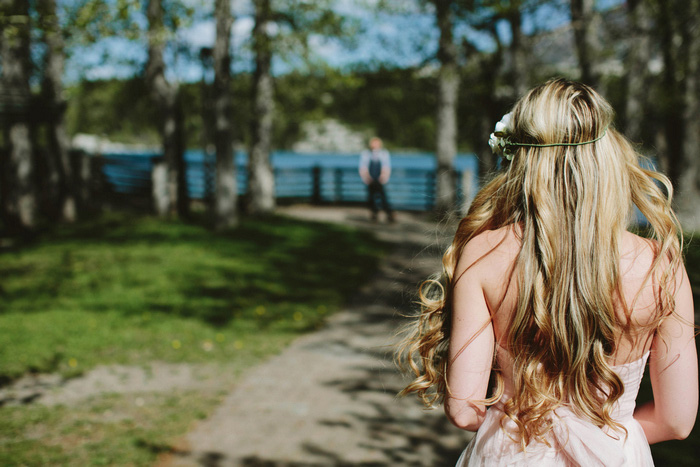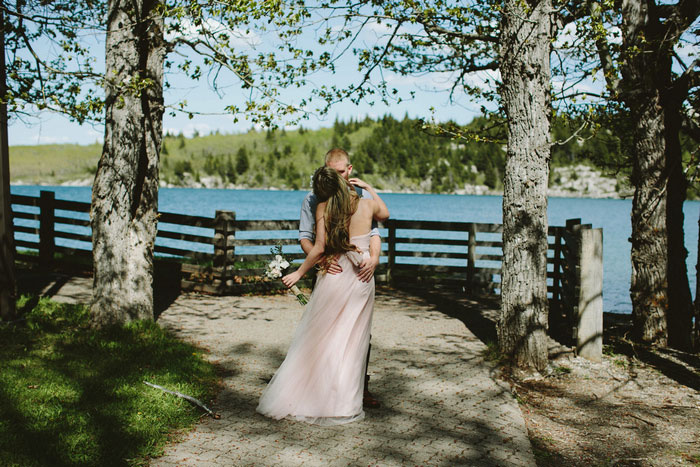 Was it difficult to pare down the guest list?
Absolutely! We would have loved an intimate affair with 30 or so guests, but found it was nearly impossible keep the list that small; we knew right away that if we wanted an intimate wedding, it would have to be just the two of us.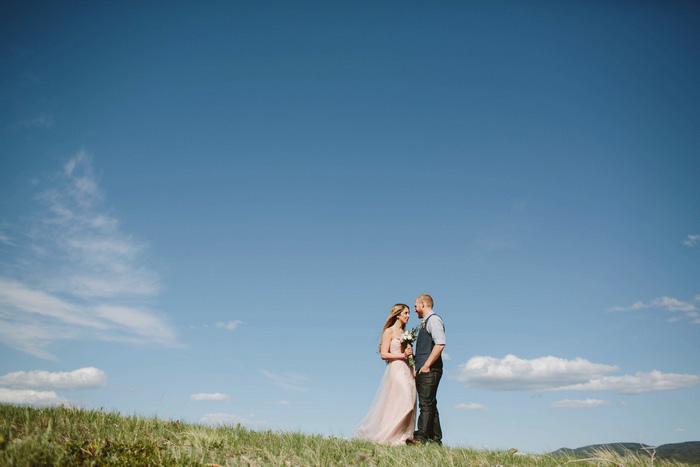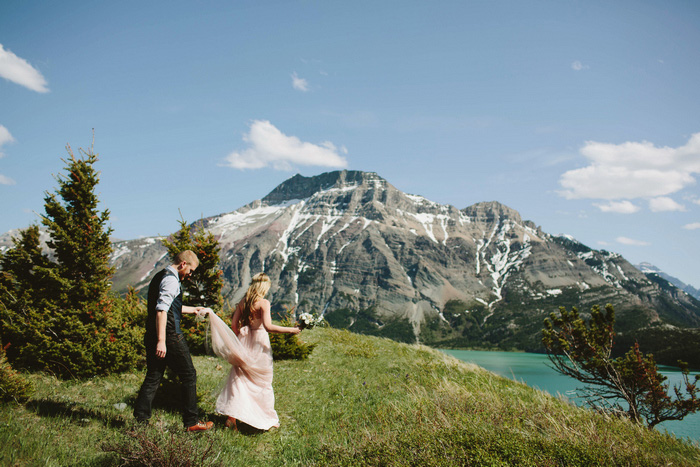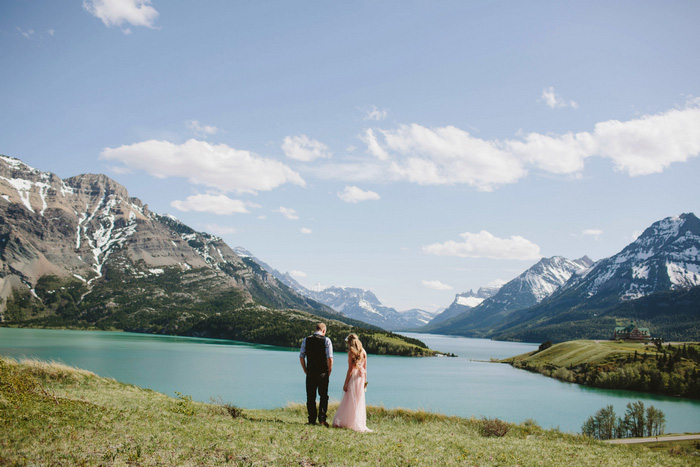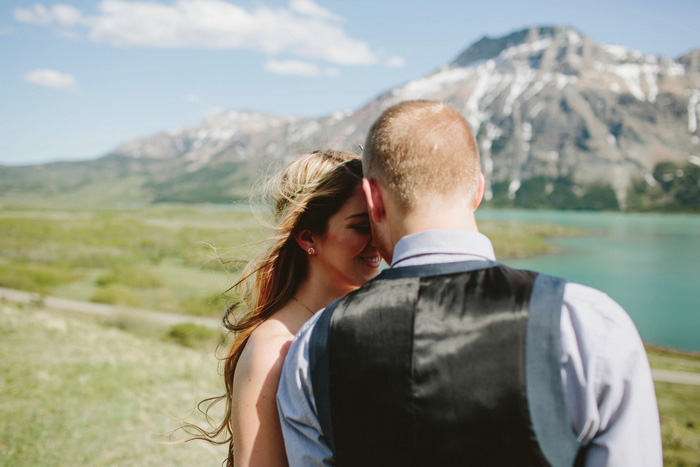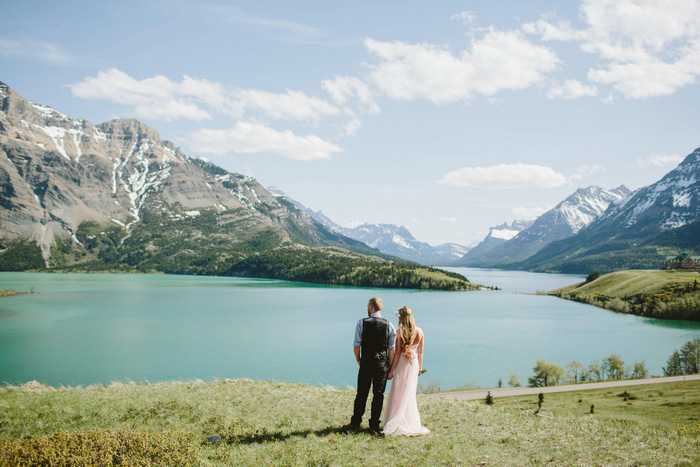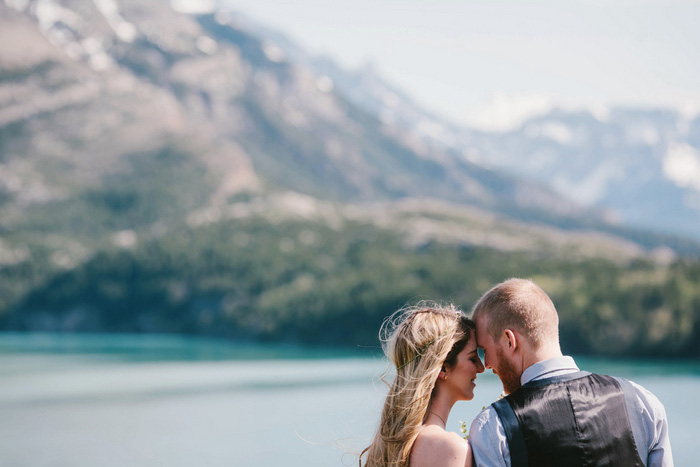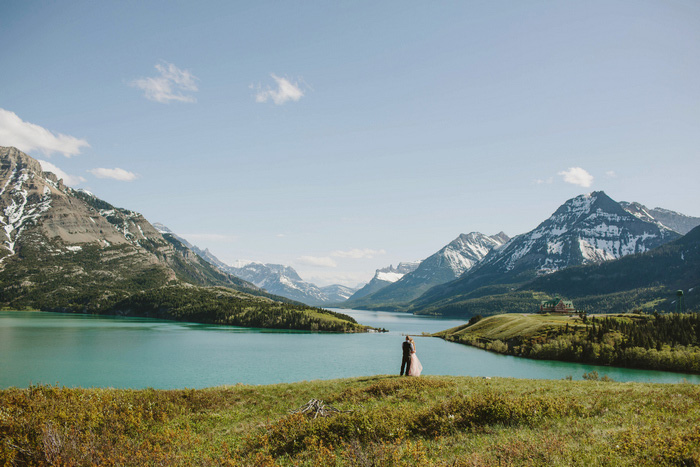 Did you have any 'issues' with the small guest list from friends and family? If so, how did you address them? 
Everyone close to us was extremely supportive of our choice. Although our parents would have loved to witness the ceremony, they were happy to hear the great news.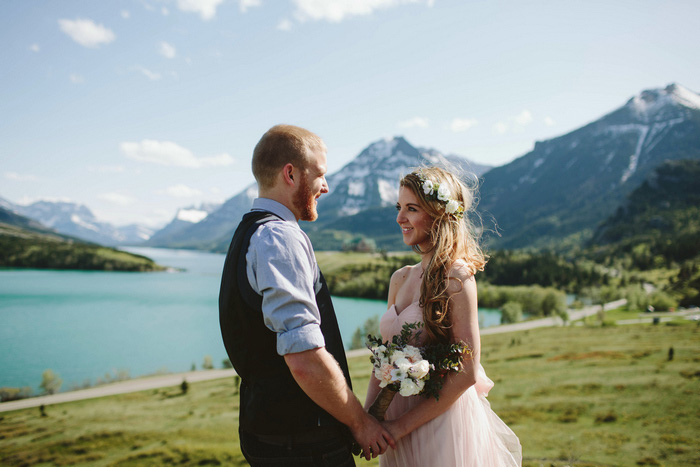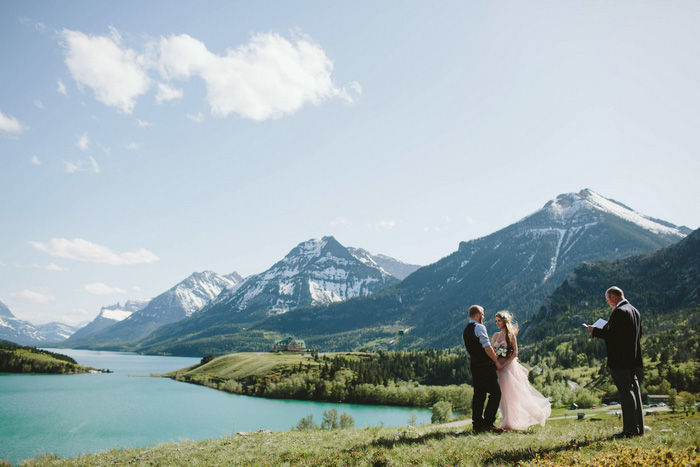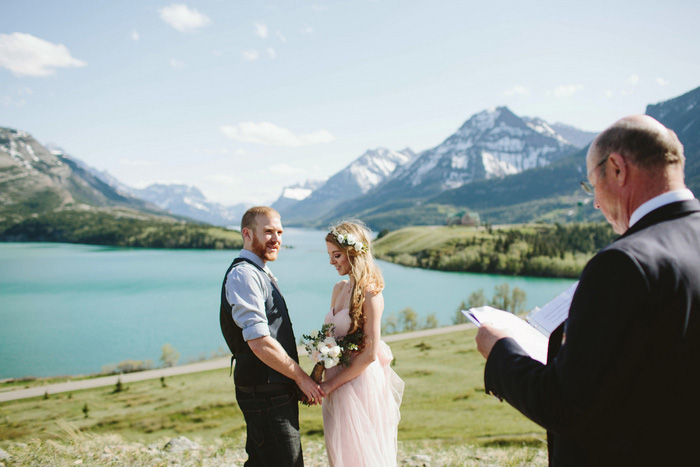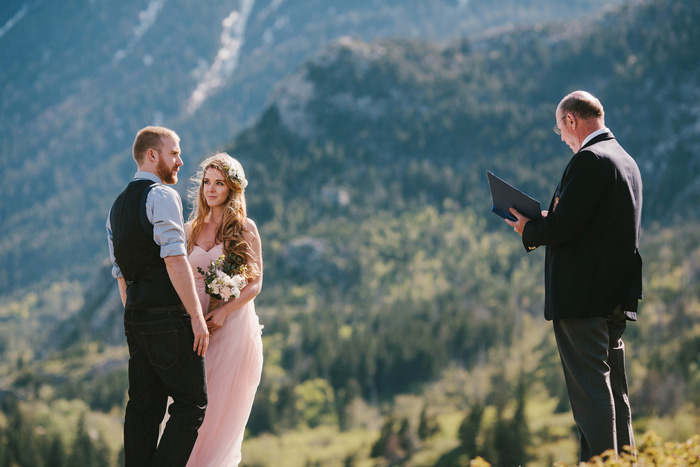 What were the highlights of the ceremony? 
We loved how personal and intimate the ceremony was. It was absolutely thrilling to just look into each other's eyes as we exchanged our vows. I think having two hundred spectators would have made us nervous. Being up on that hill together becoming man and wife was an incomparable experience. We were also told by the photographer and the locals that the weather was extraordinarily beautiful that day. We would have happily wed in a thunderstorm, but it was certainly nice to luck out with clear skies and a warm spring day.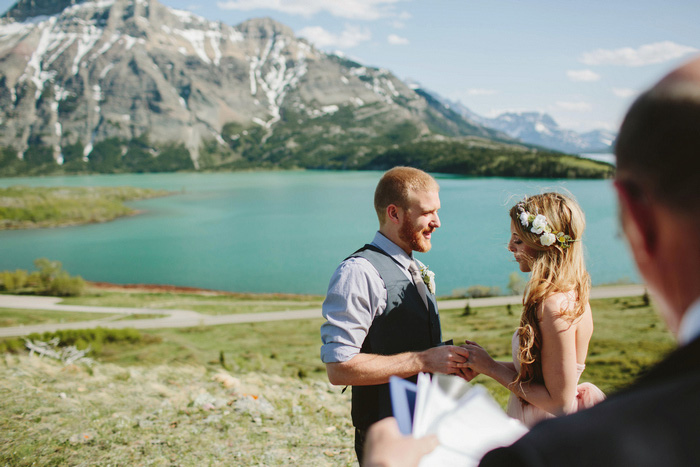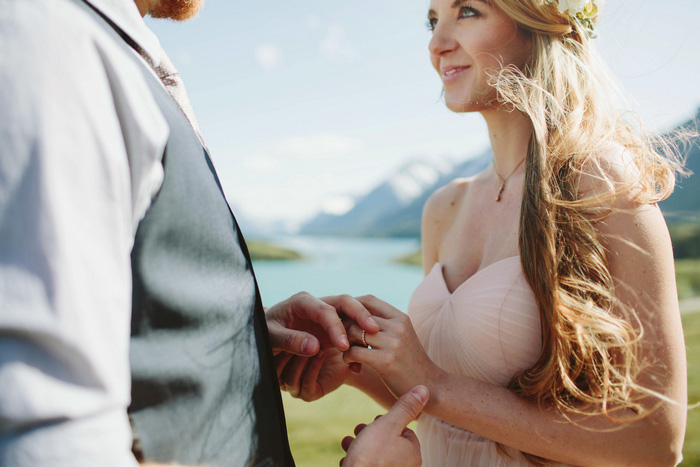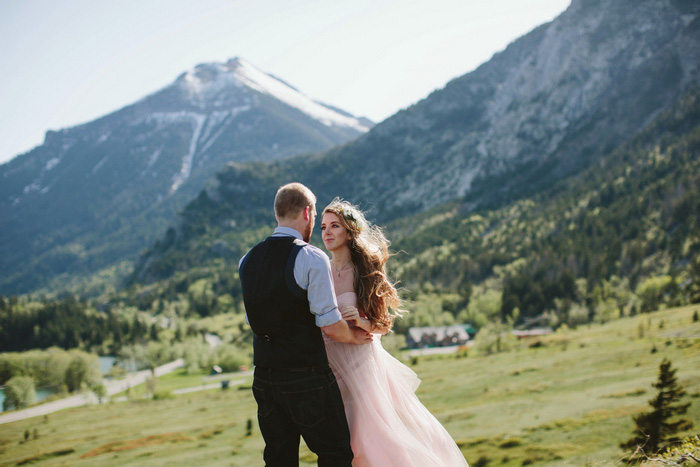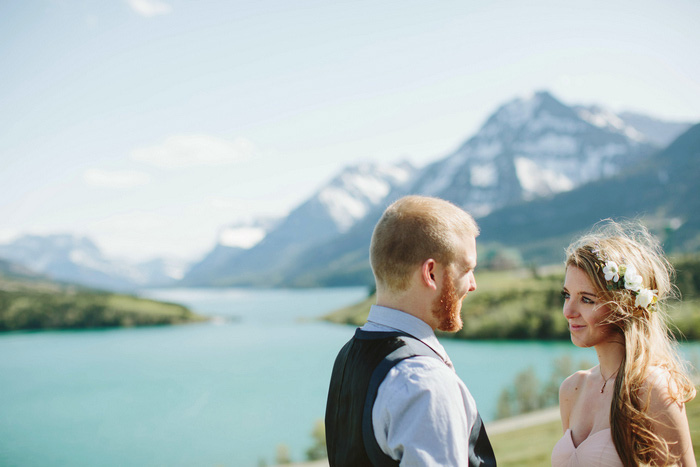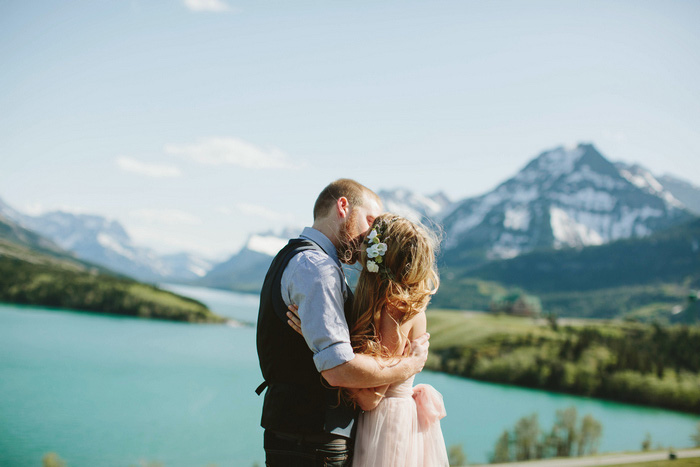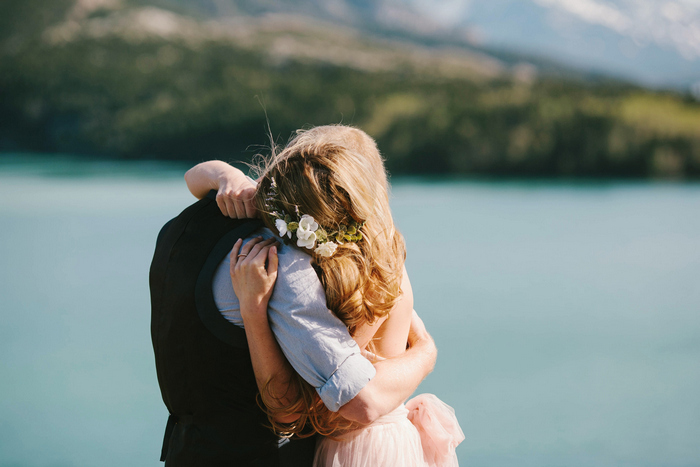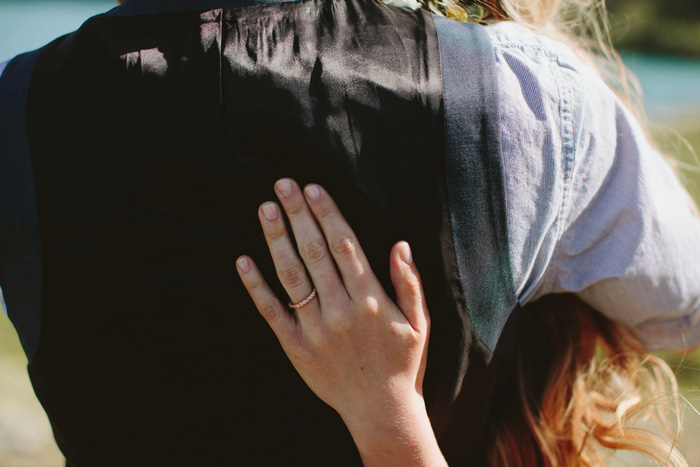 What were the highlights of the reception? 
We had a lovely dinner at Bayshore Lakeside Chophouse. A few days leading up to the wedding, we were both really sick. After a few days of nothing but ginger ale, crackers and smoothies, a gourmet dinner with a nice bottle of wine was a dream come true! We still don't know if we had stomach bugs or wedding jitters, but we were so relieved to wake up healthy – and hungry – on the big day!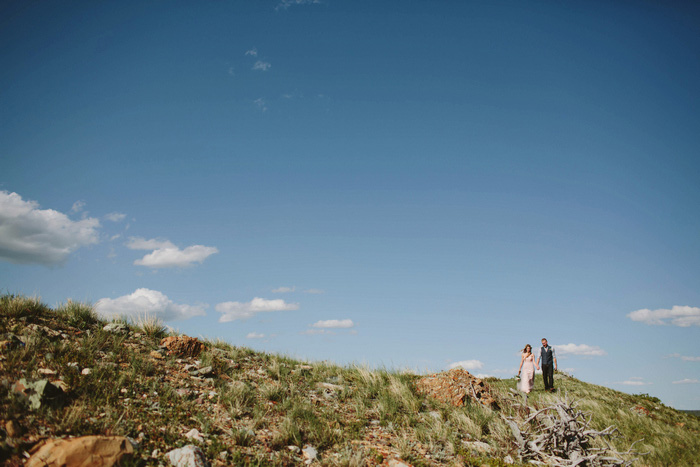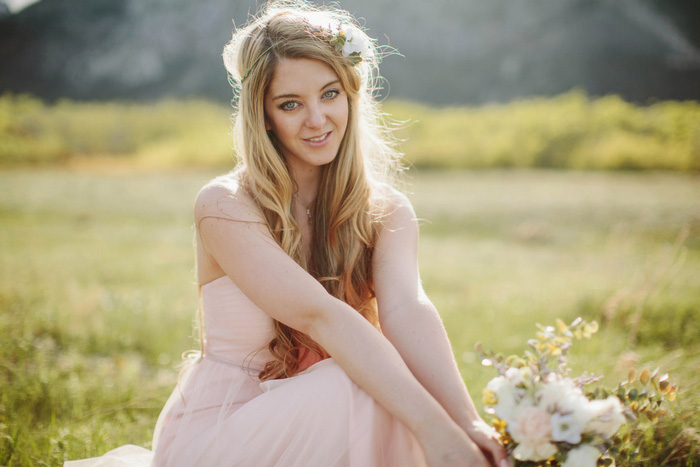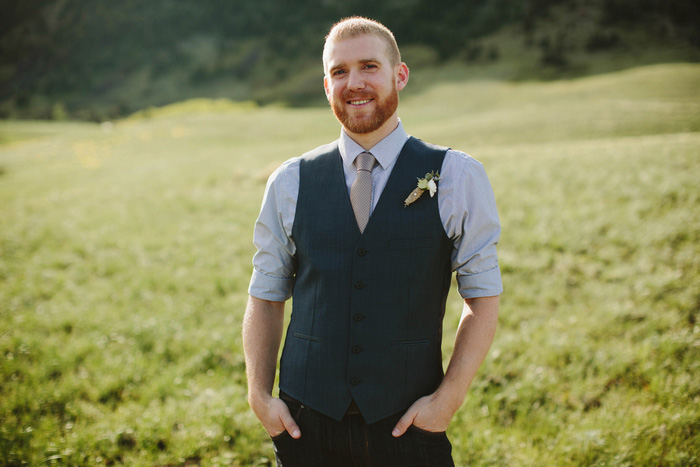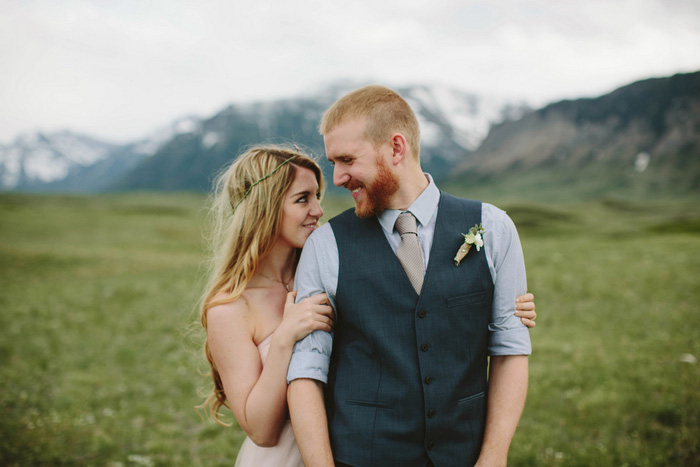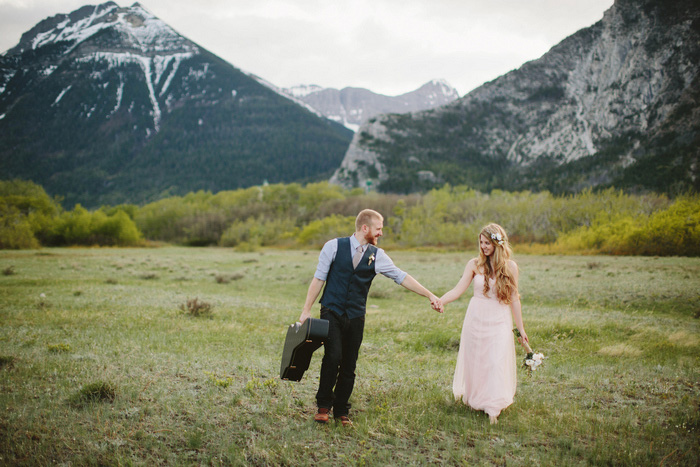 What was the best thing about having an intimate wedding? 
It's nearly impossible to put into words. Everything about the planning process and the day itself felt natural and effortless. We have goals in the future that involve children and a home – it feels right to have given ourselves even the slightest head start by saving the money that would have been spent on a lavish wedding.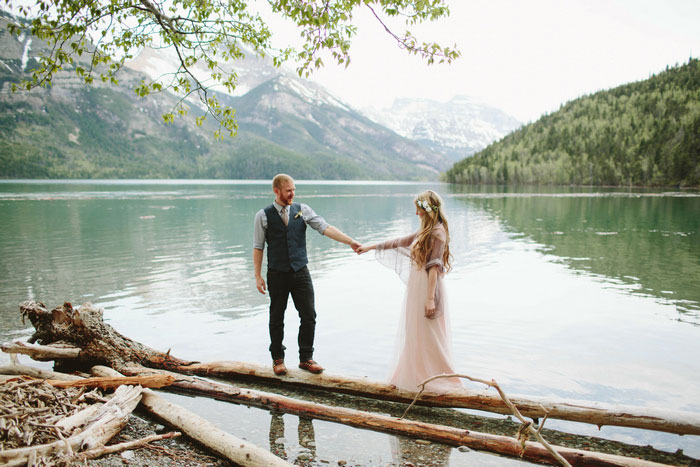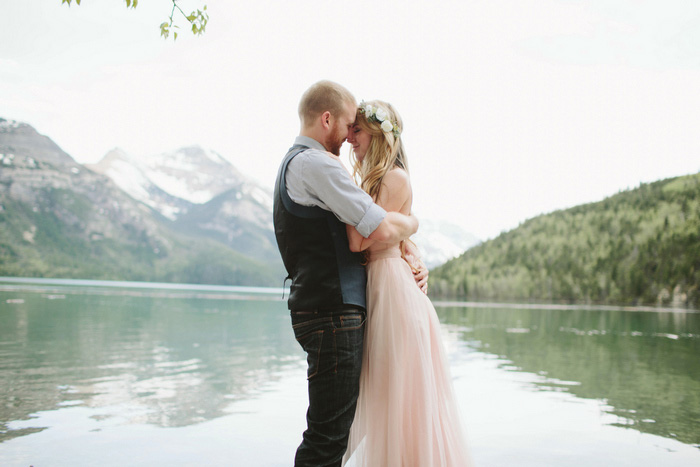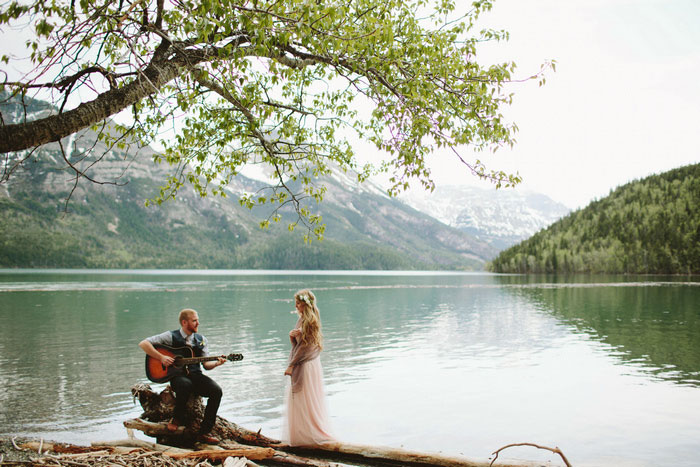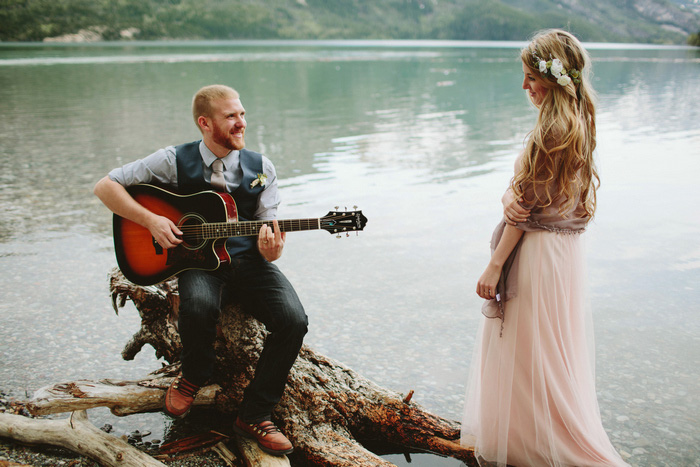 What advice do you have for couples who are considering an intimate wedding? 
My number one advice to those considering an intimate wedding – especially an elopement – is document, document, document. Invest in a fantastic photographer. Not only will the day be over in a blink of an eye, but your friends and family who may have missed out on the wedding will want to see pictures. Not only did our photographer guide the entire day (and, along with his wife, act as our witness!) he produced beautiful, quality photographs. When we surprised our families with the news, it was wonderful to have beautiful photos to document our special day. I don't think our elopement would have had the positive reaction from our parents had we not allowed them to share in our day by presenting them with great photographs.
And last but not least, make sure your wedding is everything YOU want it to be. Not what your friends tell you it should be; not what Pinterest tells you it should be. Let your wedding be a reflection of your love for each other.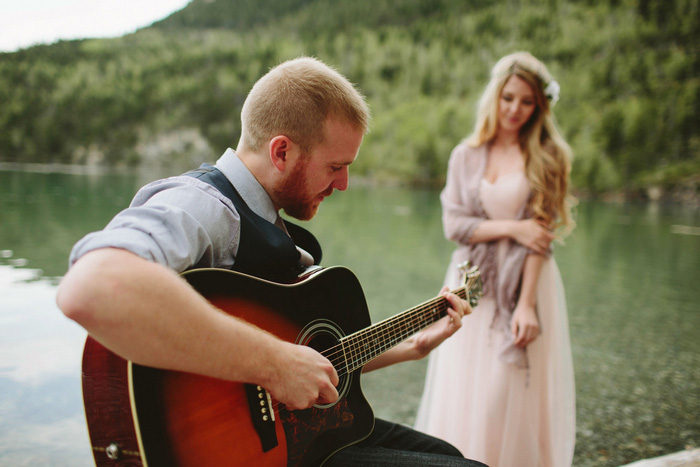 Vendors:
Dress: Jenny Yoo via BHLDN
Groom's Clothes: TopShop
Photographer: David Guenther Photography
Location: Waterton Lakes National Park, Alberta, Canada
Officiant: Grant McLean