If you are a foodie, cutting the food budget for your wedding day is probably not something you even want to consider. But what if you're trying to cut costs? Is it possible to have gourmet, without the gourmet price tag?
It sure is! You don't have to sacrifice great or even gourmet food just because you are trying to scale back on your expenses.
The first step to save money on food and drink for your wedding is to pick a venue that will allow you to be flexible with your options.  Since the key to saving money is to get creative, start by throwing away all the old notions you have about what a wedding reception should look like, and find a wedding venue that will accommodate your needs.
Once you've got that figured out, here are seven ways to eat, drink and be married – without blowing your budget!
1. Serve it Family Style
The buffet's classier and tastier cousin, family style is by far my favourite money saving option. Not only can you save money by serving food this way, but the interactive nature of family style eating will also encourage a wonderfully intimate atmosphere amongst your guests. Rustic and hearty dishes as well as classic comfort foods work best for this type of service, making it a perfect option for a fall or winter wedding.
Pros: Passing and sharing food helps guests connect and start conversations.
Cons: Not all catering companies will offer this option.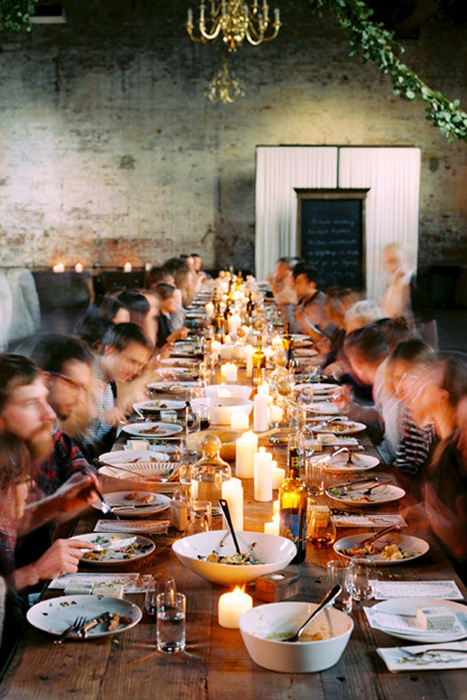 2. Have a Cocktail Reception
The average cost of a sit-down meal at a wedding can run you $100 (or easily more) per person; so for those couples on a really tight budget, it might be best to scrap the meal altogether, especially if you're looking at using a venue with on-site catering. A cocktail reception is a great alternative to consider because it will allow you to still serve your guests really fabulous food, but at a fraction of the cost. Some added bonuses: Guests will typically drink less at a cocktail reception, you won't have to shell out as much for rentals, and if you hold the reception in the afternoon you'll save money on the venue. Win, win, win!
Pros: Great option for foodies on a tiny budget.
Cons: Not ideal if you plan on having an evening reception.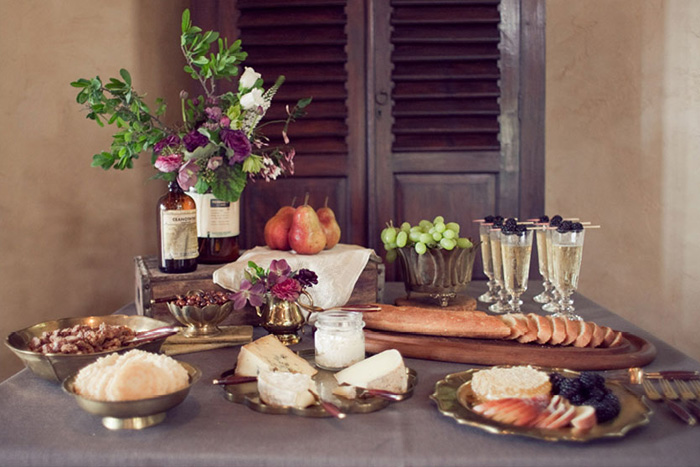 3. Host a Breakfast/Brunch Reception
Pancakes, mimosas, BACON! Do I really need to explain why this is such a great idea?
Pros: Everybody loves brunch!
Cons: Requires you and your guests to be early risers.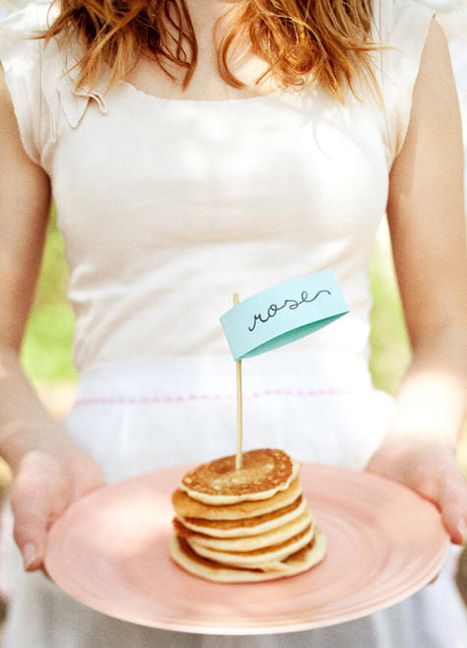 4. Try a BBQ, Picnic or Potluck
I don't know about you, but as a wedding guest I would opt for a juicy burger and grilled corn over a dry piece of chicken and mushy vegetables any day. If you're having a casual or outdoor wedding, you have a ton of budget-friendly options open to you. Why not have a picnic, a pig roast, or even a potluck? And just because these options are casual and budget friendly, doesn't mean you can't find ways to make them gourmet; all you need is a little culinary creativity. You can save more money by doing it yourself, but if that's more than you want to take on, there are lots of catering companies that offer these kinds of services and will do it for you.
Pros: Cutlery optional
Cons: Cutlery optional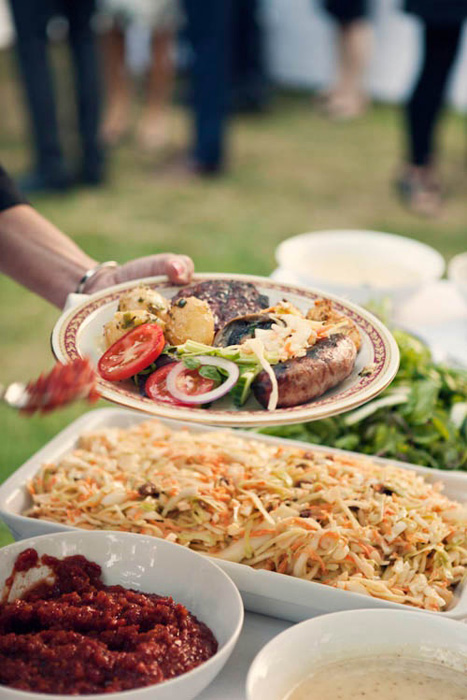 5. Have a Signature Drink
If the idea of an entirely cash bar makes you uncomfortable, but having an open bar isn't financially feasible, having a signature cocktail passed around to guests during the cocktail hour is a nice way to find a happy medium—guests will appreciate the gesture, you'll be able to stick to your booze budget, and you'll be so very on trend. A similar option includes placing a couple of bottles of wine on each table for dinner and having a cash bar for the reception.
Pros: Signature cocktails are sexy
Cons: Coming up with drink that will please everyone is a near impossible task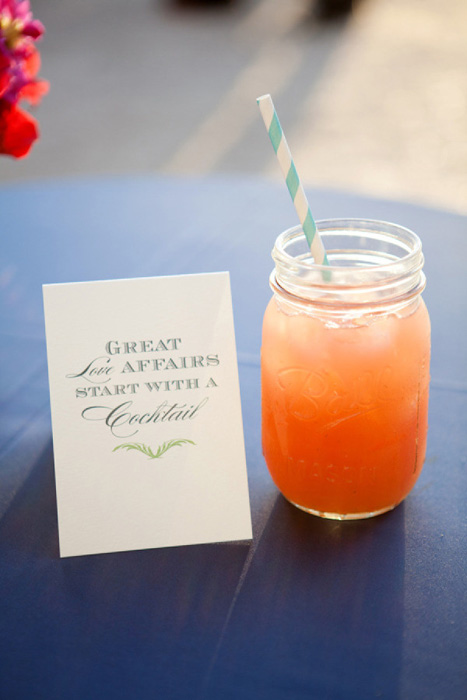 6. Limit your Offerings
If having an open bar is an absolute must for you, consider limiting the options you offer. Eliminating mixed drinks from the bar can substantially lessen your bar tab because not only are they expensive, but people tend to drink them faster and therefore drink more than they would with just beer or wine.
Pros: Sometimes less is more
Cons: Sometimes it's not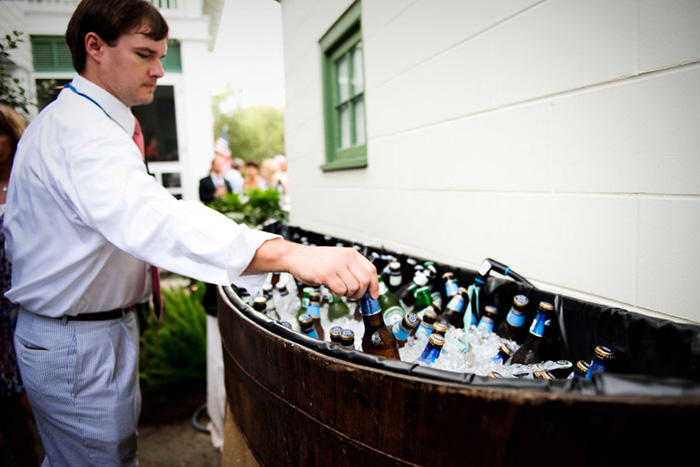 7. Buy your Own Booze
If you have this option open to you, it's a no-brainer really. It's requires more work on your part, but you'll save a ton of money by not having to pay the mark-up costs. To further save money, you can buy your booze in bulk. For example, buy a keg of beer instead of cans or buy a box of wine instead of bottles. Since a box of wine isn't the classiest thing out there, just pour the wine into carafes for serving. Some places will even allow you to return any unopened bottles back to the store for a refund.
Pros: You can have an open bar and still save money
Cons: You'll have a little more running around and schlepping to do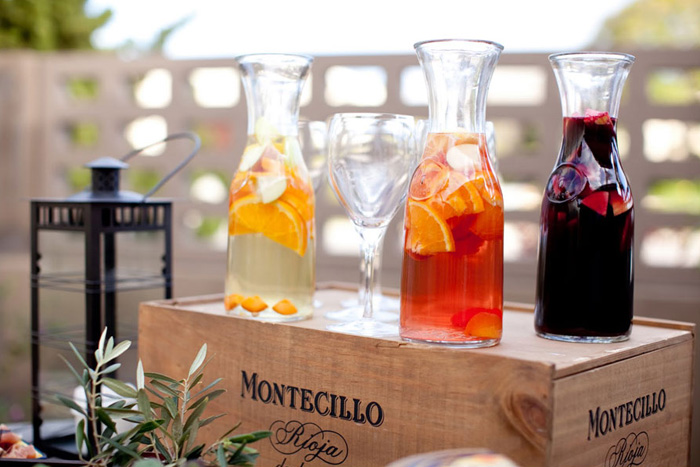 Photo one: thenouveauromantics.com; Photo two: thenouveauromantics.com; Photo three: oncewed.com; Photo four: rocknrollbride.com; Photo five: stylemepretty.com; Photo six: elizabethannedesigns.com; Photo seven: valleyandcolifestyle.com