Living in the Yukon, where weddings are large and very laid-back, Julia and Bobbie wanted to bring some of that Northern spirit to their own intimate Ontario wedding. Quality time with family and friends being a top priority for the couple, the days leading up to and the morning of their wedding were spent prepping for the big event with their nearest and dearest. After a ceremony in the living room of the bride's family home – a space full of memories for not only Julia and her family, but also for Bobbie and many of their guests – the couple and their loved ones celebrated with a relaxed dinner party style reception on the screened-in porch, complete with a local pig roast, a moving musical performance, dancing, and a late-night bonfire.
Special thanks to Jennifer Moher and Hugh Whitaker for beautifully capturing the spirit of day and sharing it with us.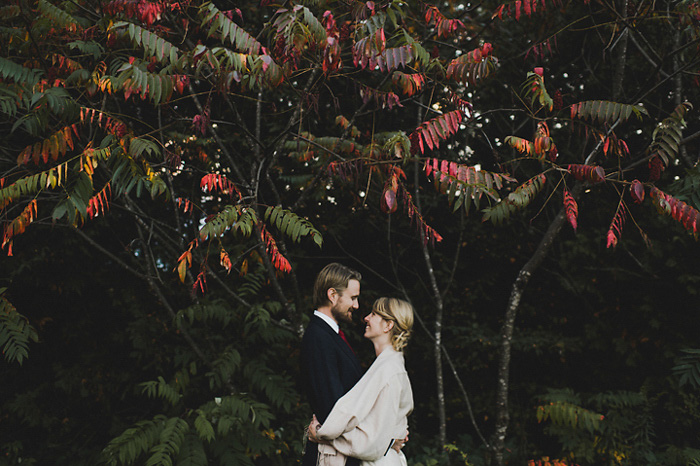 Julia, 30 & Bobbie, 32
Lang, Ontario 
Wedding Date: October 5, 2014 
Number of Guests: 50 (including bride and groom and 2 photographers) 
Wedding Cost: $11,000 (including Bobbie's new wedding jeans and Blundstones!) 
Wedding Ceremony Location: Family living room  
Wedding Reception Location: Screened-in stone porch at the back of the house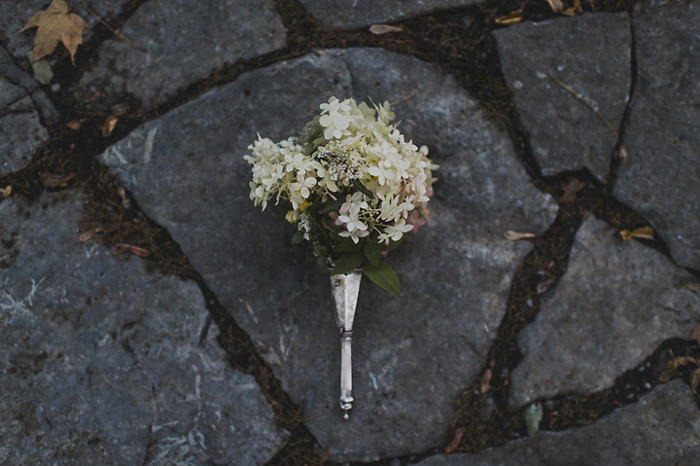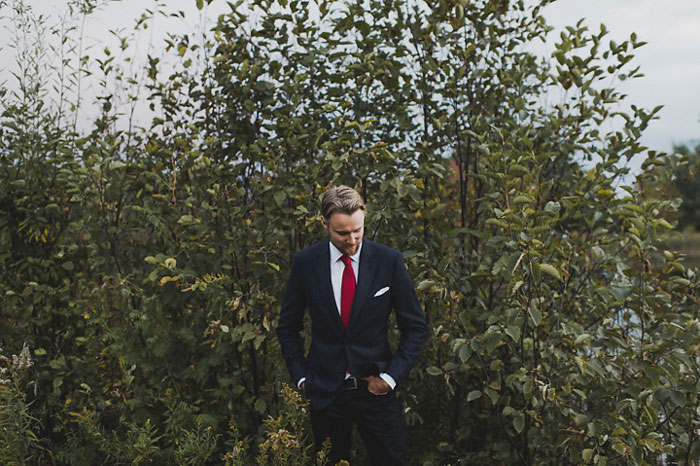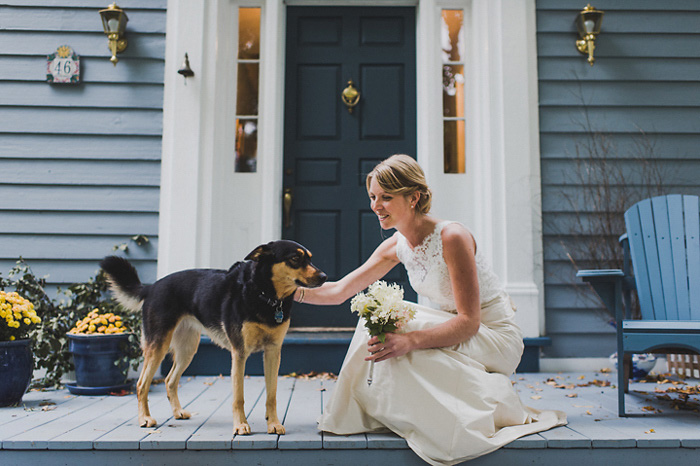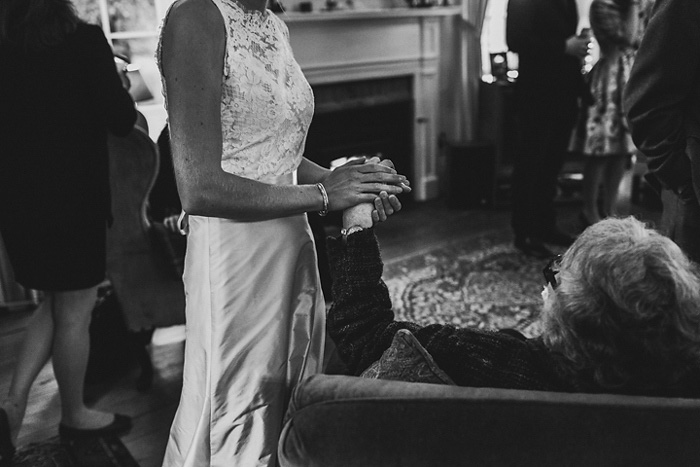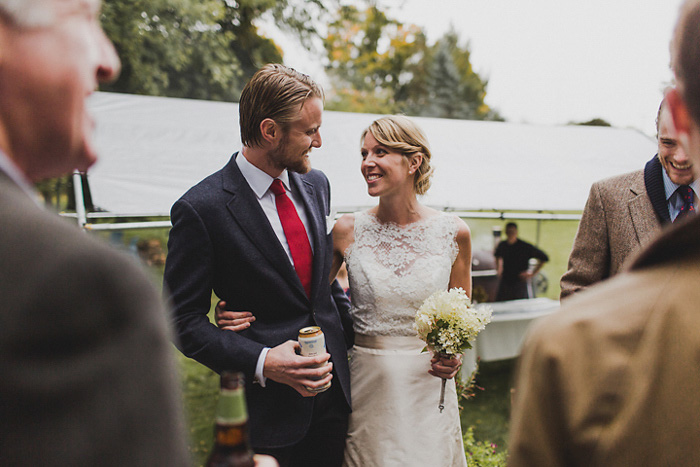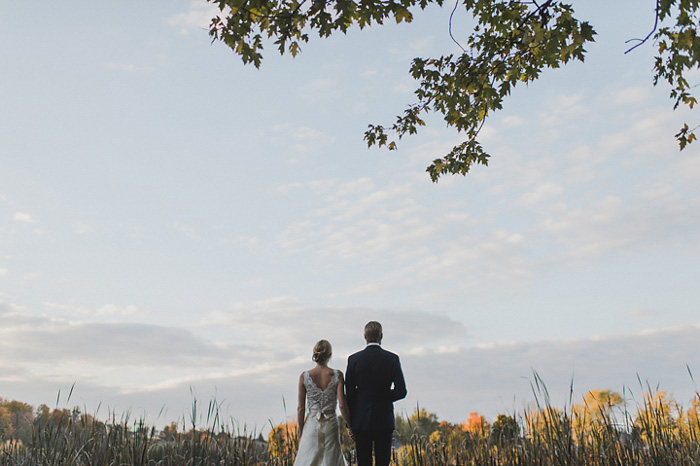 Why did you have an intimate wedding??  
Bobbie and I knew we'd most enjoy the experience if we kept the wedding small, just family and close friends. We loved the idea of gathering together those nearest and dearest in our lives, and wanted the day to feel more like a big, relaxed dinner party than a traditional wedding. We live in northern Canada (Dawson City, Yukon), where weddings are typically large, but incredibly laid-back. We tried to bring the spirit of a northern wedding to our little Ontario celebration.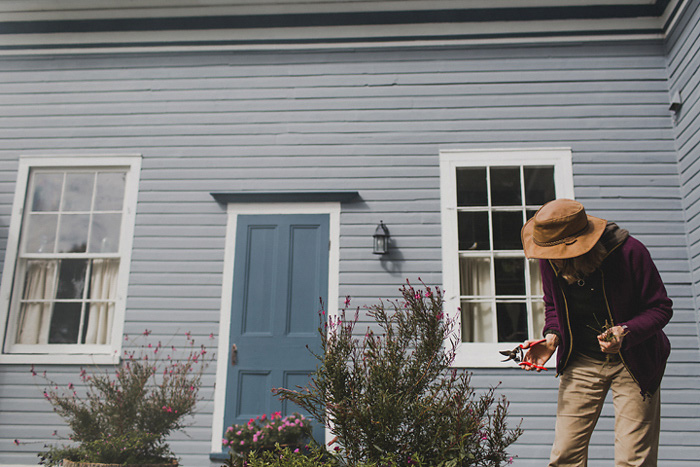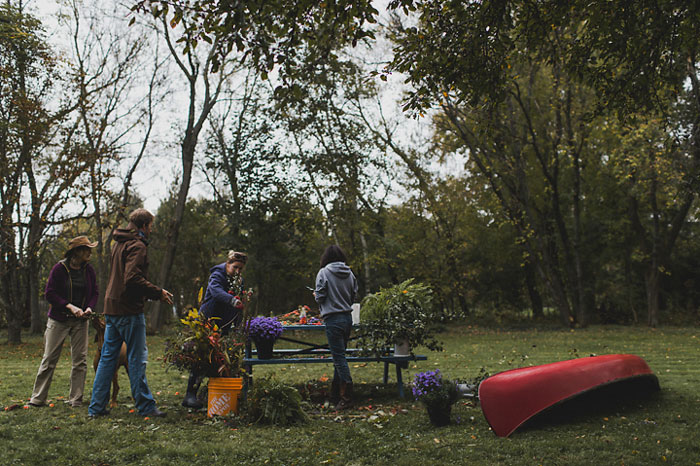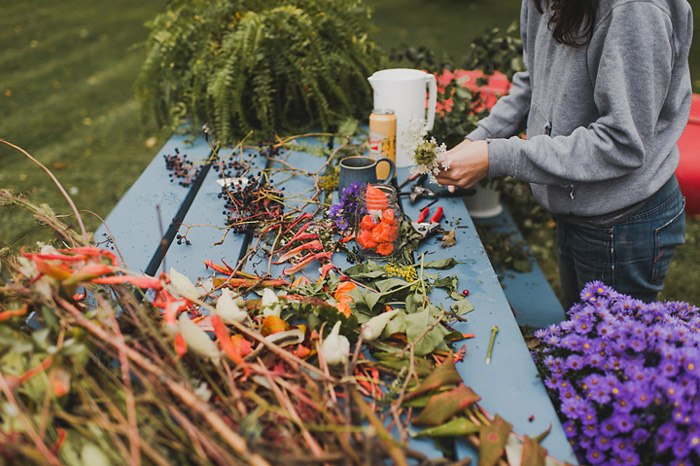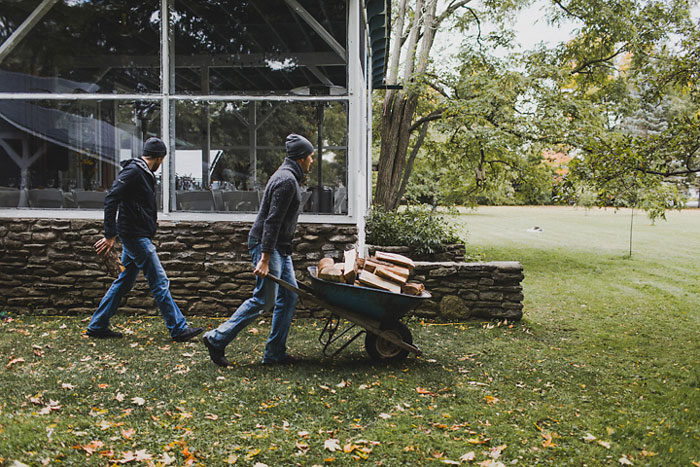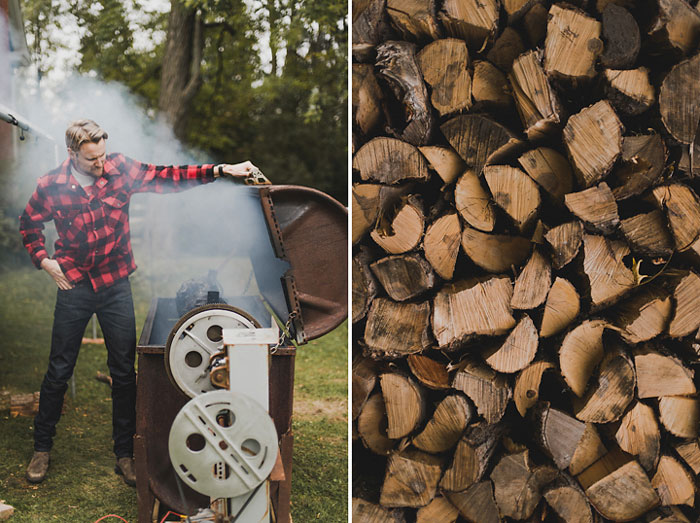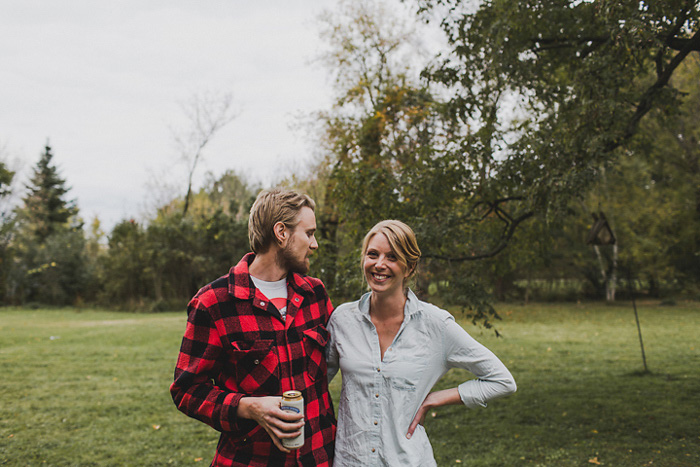 What are some of the challenges that you faced planning an intimate wedding? 
I'd say the biggest challenge was trying to sort out logistics for the day. While the overall goal was for the wedding to feel very casual and relaxed, 50 people is a large enough crowd that a bit of organization was necessary. We were determined to have our meal on the screened-in stone porch of my family home, which was always going to be a very tight fit. After several creative table-arranging attempts, we managed to make it work. Trying to stick to a schedule throughout the day was also a bit of a funny challenge. It all worked out well in the end thanks to our very helpful, organized family and some close friends, and our very laid-back wedding guests.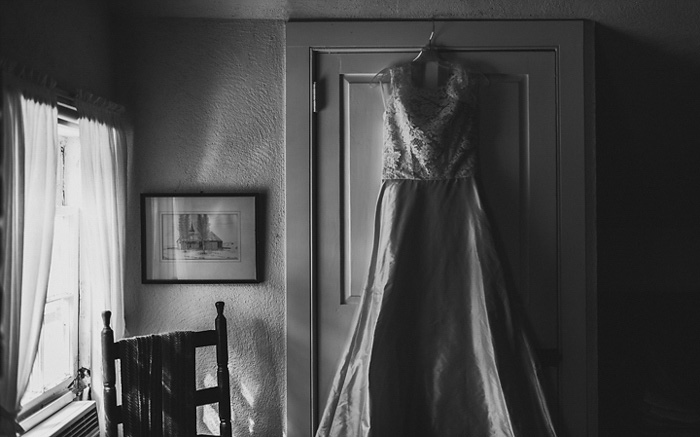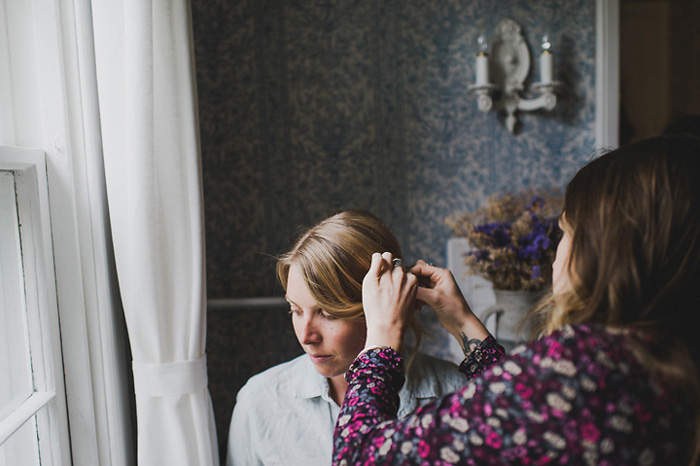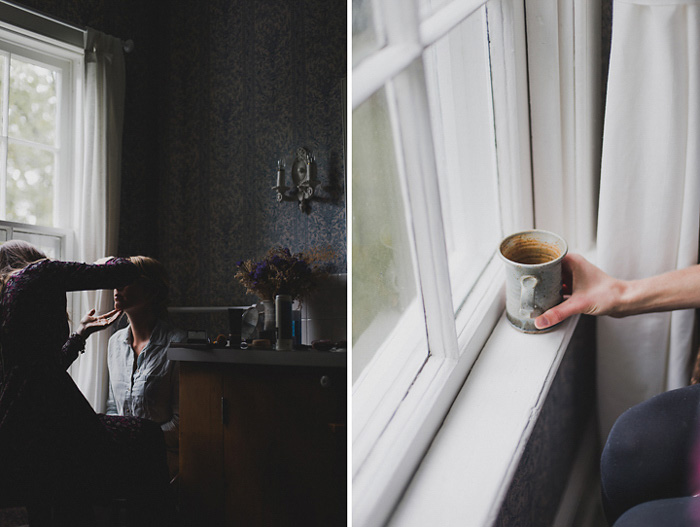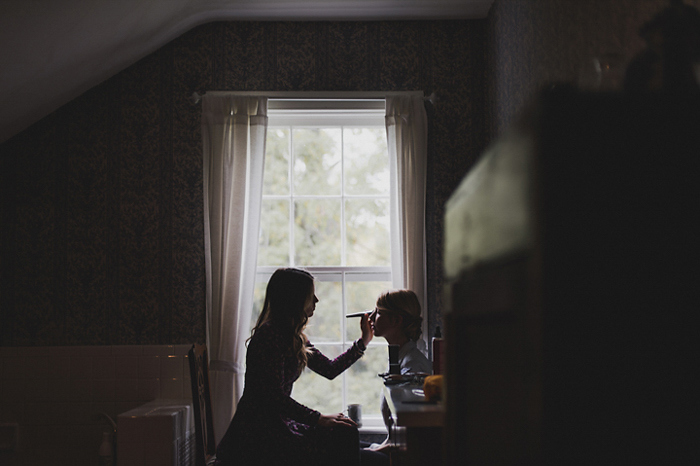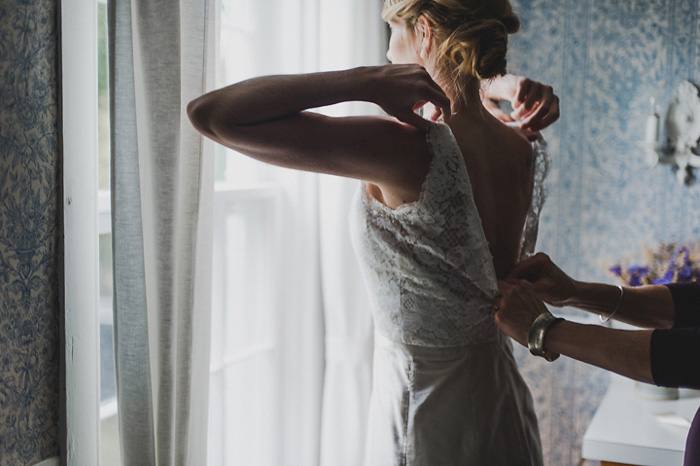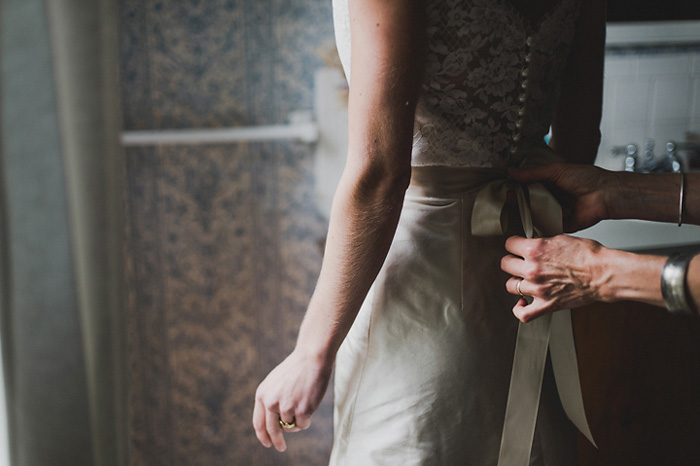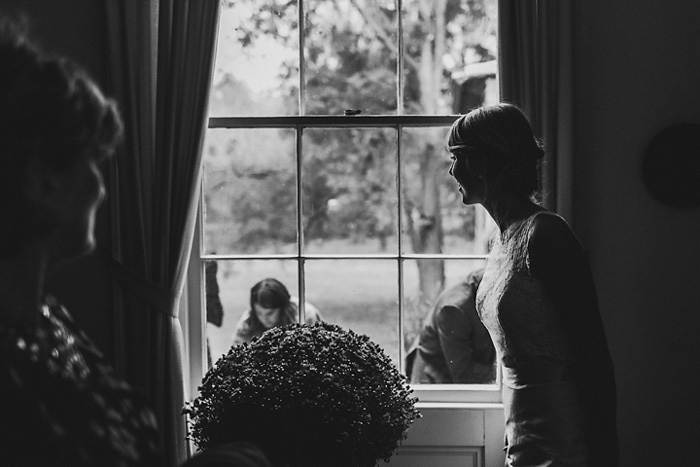 Was it difficult to pare down the guest list? 
Yes and no. Those who came to the wedding were all on the original guest list, which was easy to settle on. Hoping for an intimate atmosphere, we decided not to include plus-ones on invitations unless we knew our guests' significant others – we weren't keen to meet anyone for the first time at our wedding. 
That said, when it came to the guest list there were a number of friends we'd have loved to invite if having a small wedding hadn't been such a priority.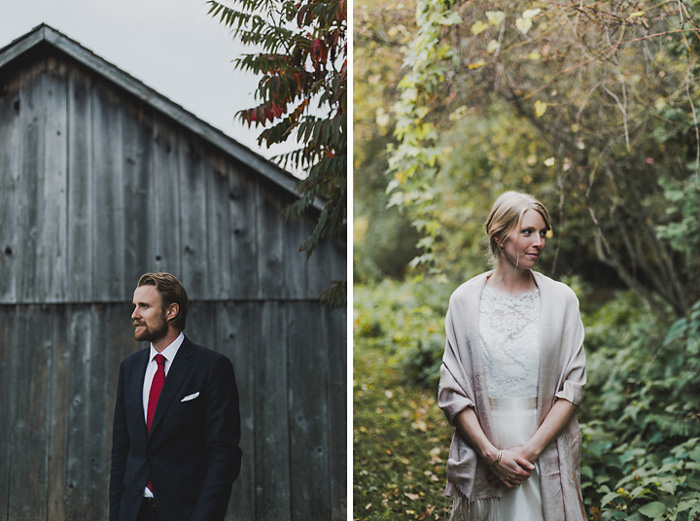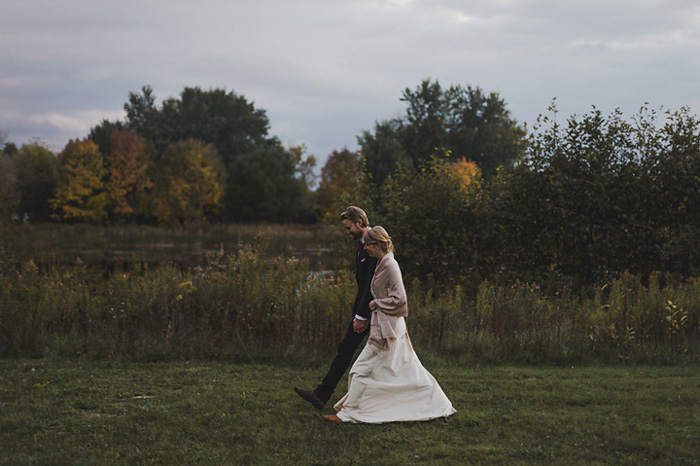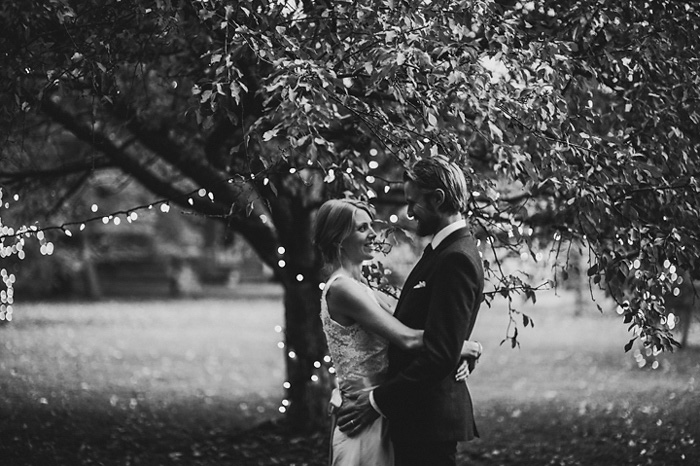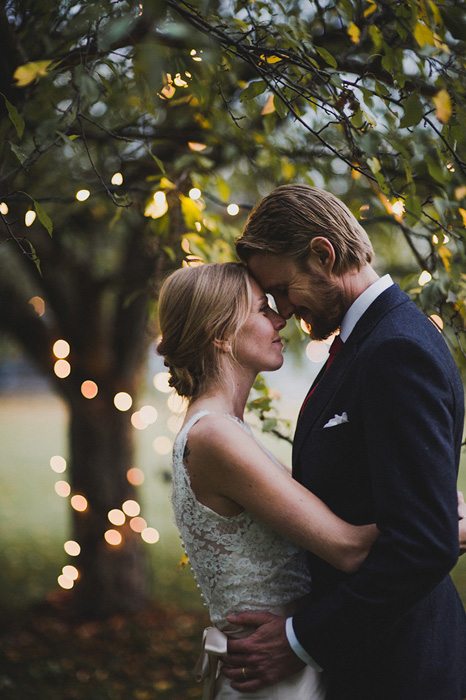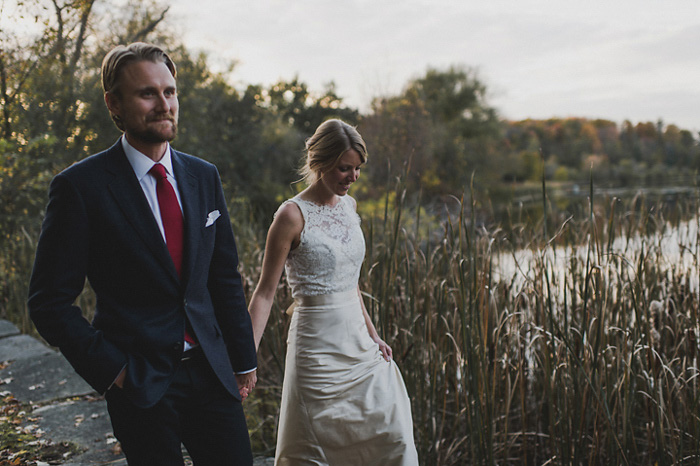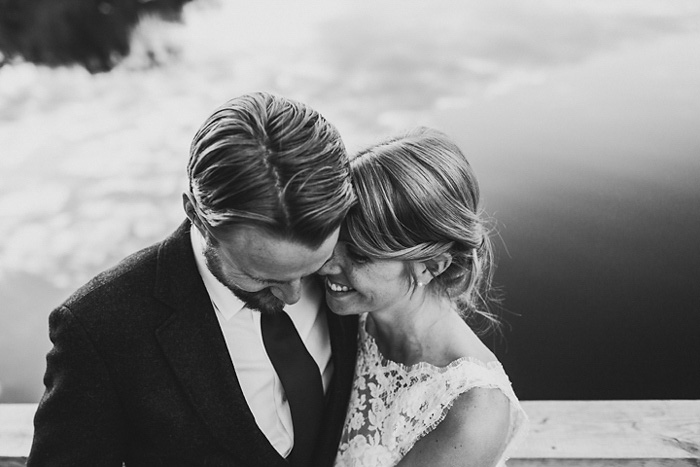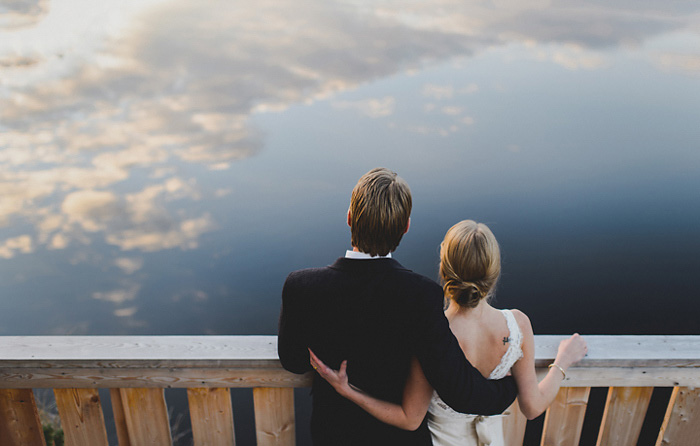 Did you have any 'issues' with the small guest list from friends and family? If so, how did you address them?  
Other than my own sensitivity to how those not invited might feel, it really was ok. Friends, extended family, and neighbours were very understanding of what we were trying to do.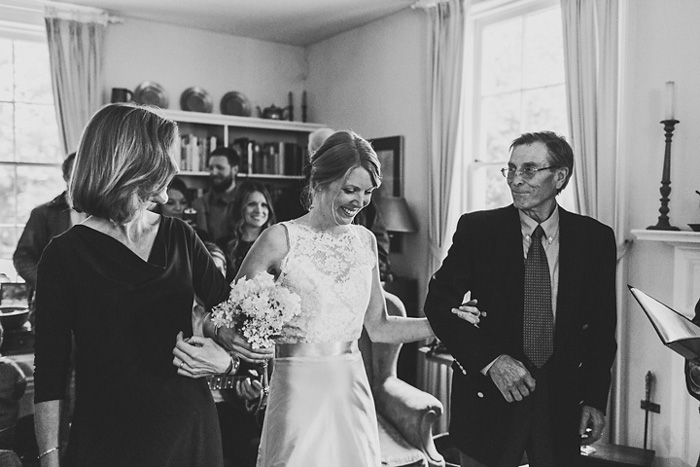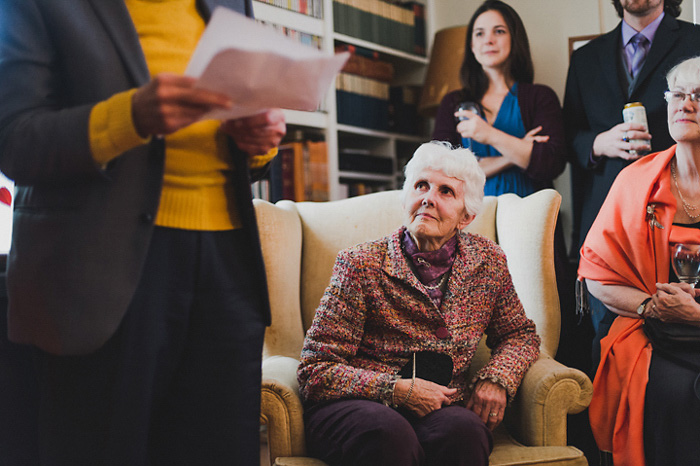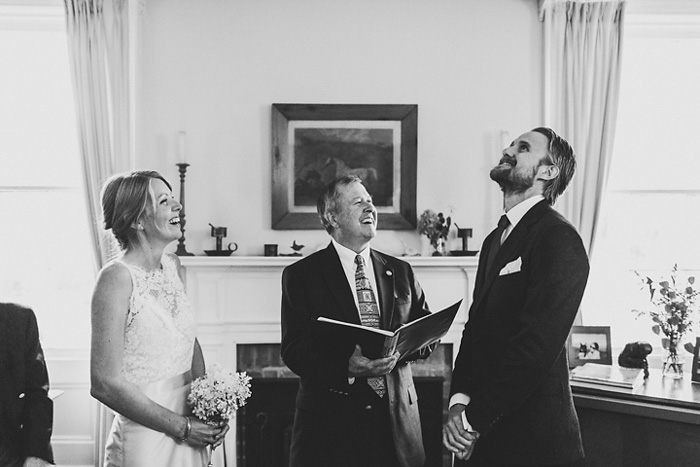 What were the highlights of the ceremony? 
Originally we had planned for the ceremony to take place at the Millpond – a widening of the Indian River – just across from my family home. However, our chilly, windy afternoon had us re-think the setting, and at the last minute we decided to get married beside a roaring fire in the living room of the house instead. It was a perfect alternative. Many of our guests, and especially Bobbie, myself and my family, have years of wonderful memories in that big room. The cozy, more intimate space was a very special place for the ceremony – there were lots of happy tears, big smiles, laughs, and sporadic baby/toddler noises!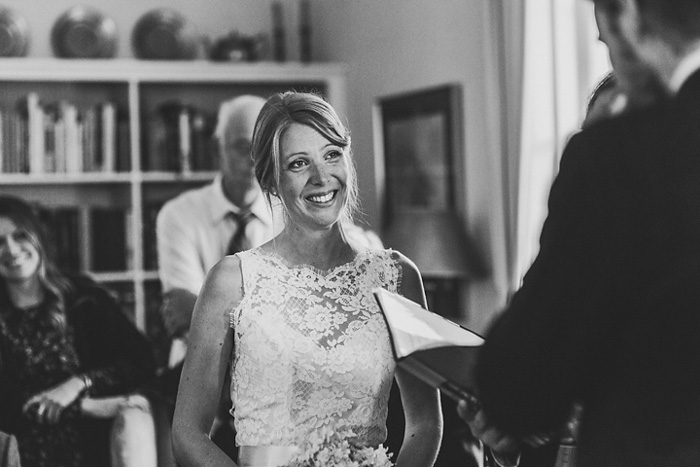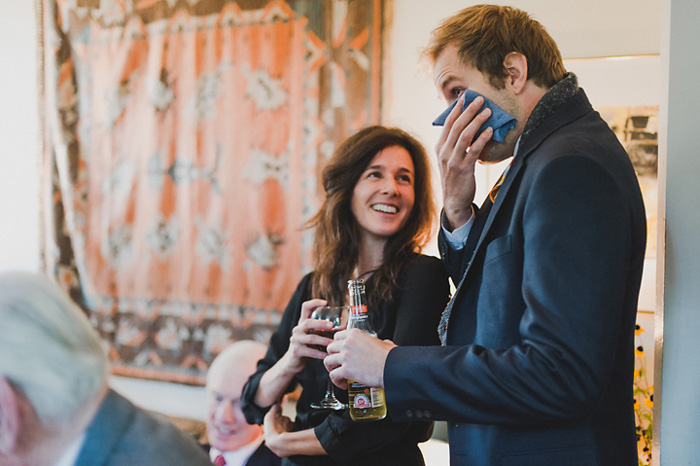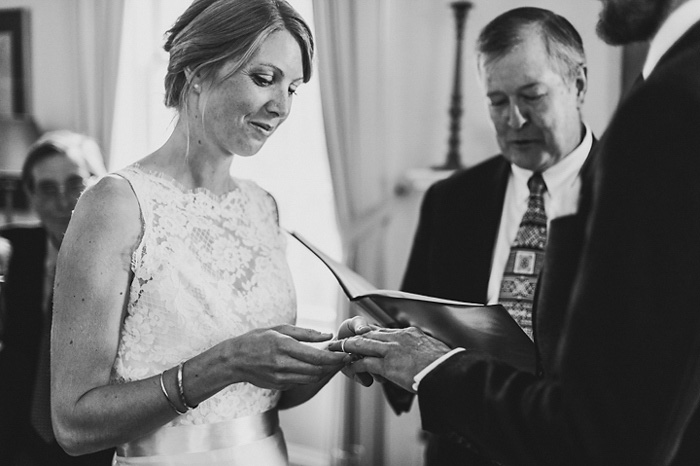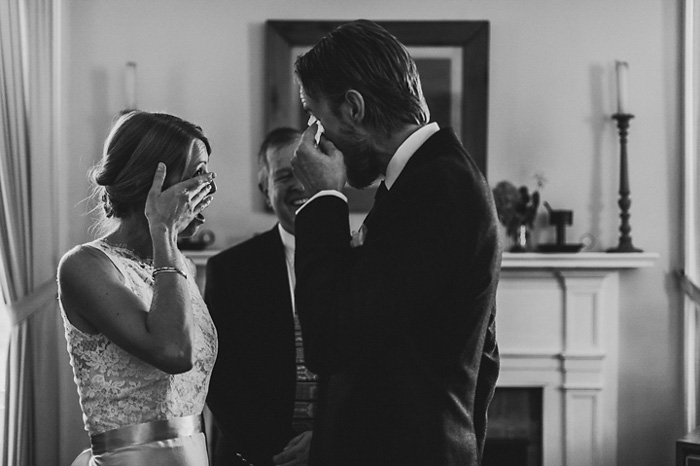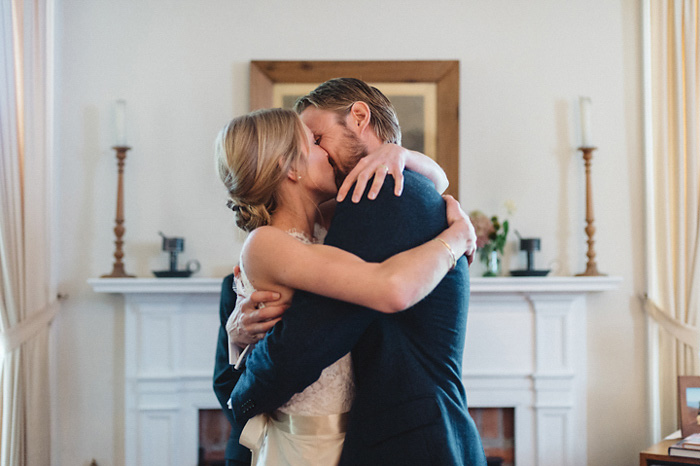 What were the highlights of the reception? 
The reception was fantastic – a really fun relaxed rest of the evening. Up until the ceremony we'd had chilly overcast weather. Just afterwards we were treated to sun, and guests mingled in and around the house. There was a lovely spread of appetizers and hot apple cider, and people helped themselves to the wine bar and beer from a cedar-strip canoe. For dinner we tucked into local roast pig (roasted that day by Bobbie and his brothers) and a delicious seasonal spread of salads, sides and bread, made with local ingredients by our fantastic caterers. 
During the meal, speeches were a free-for-all and my brother and dear friend Kate performed a very moving song, followed by dancing and playing music around a bonfire late into the night. It was a really wonderful evening.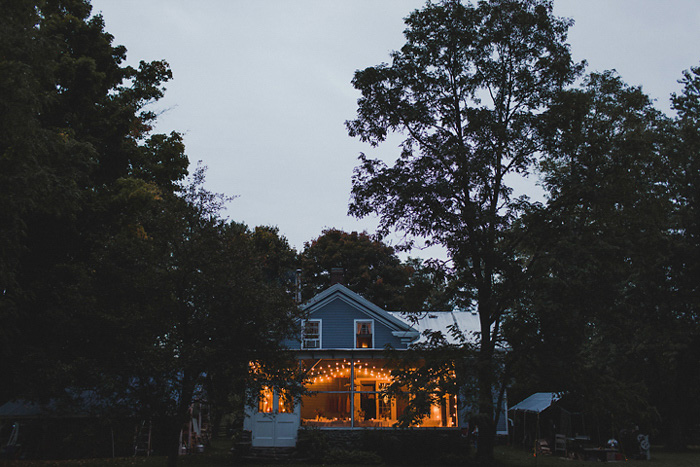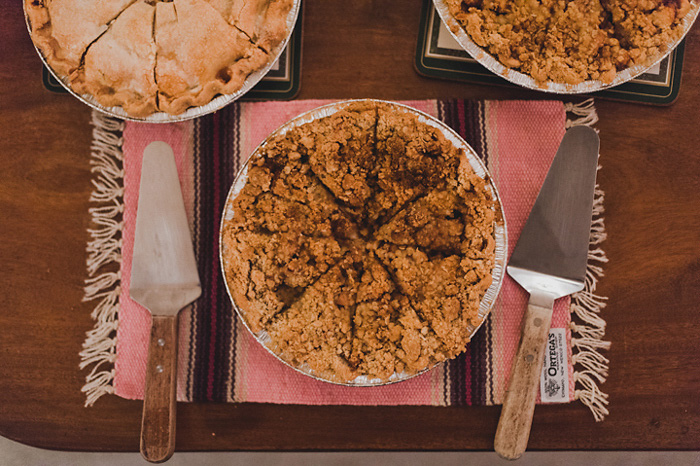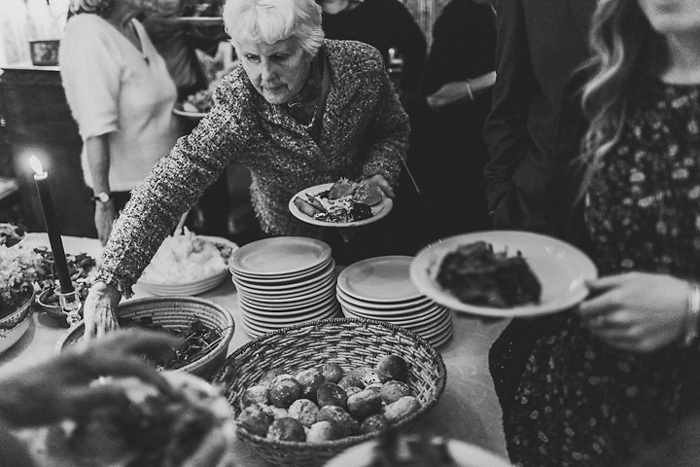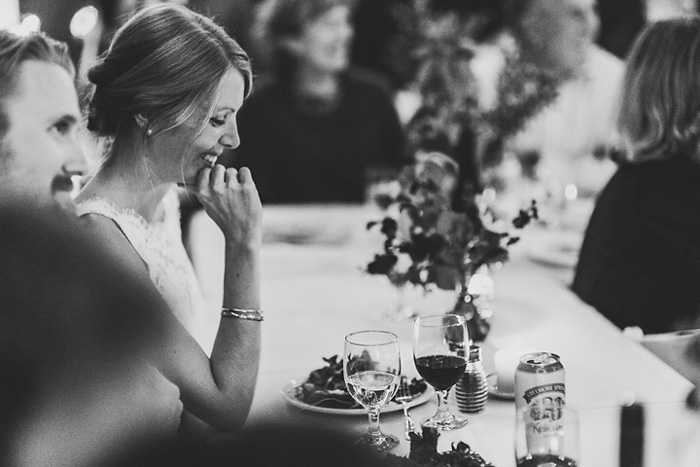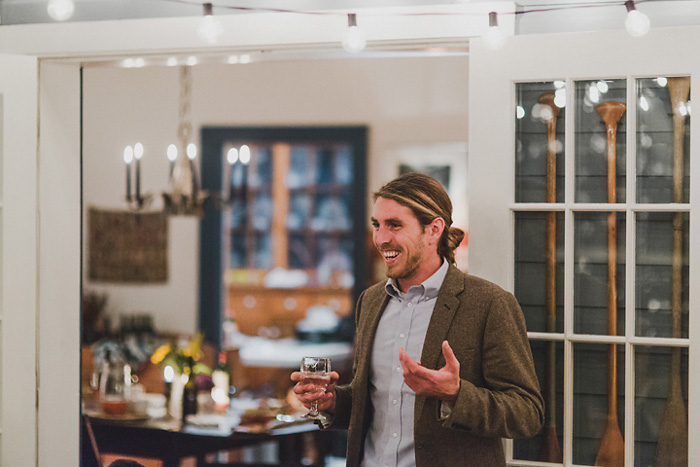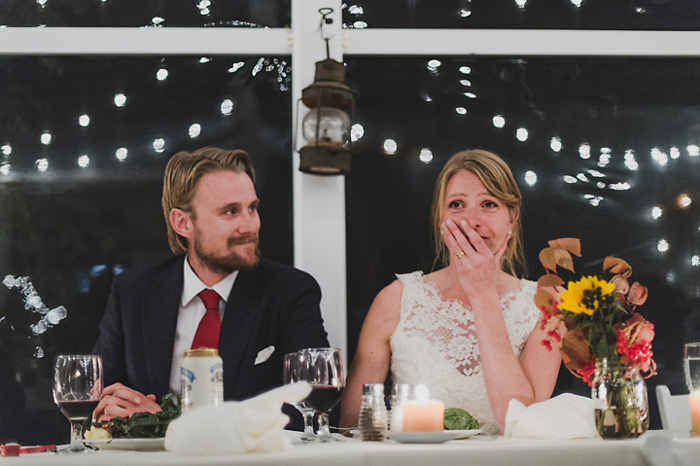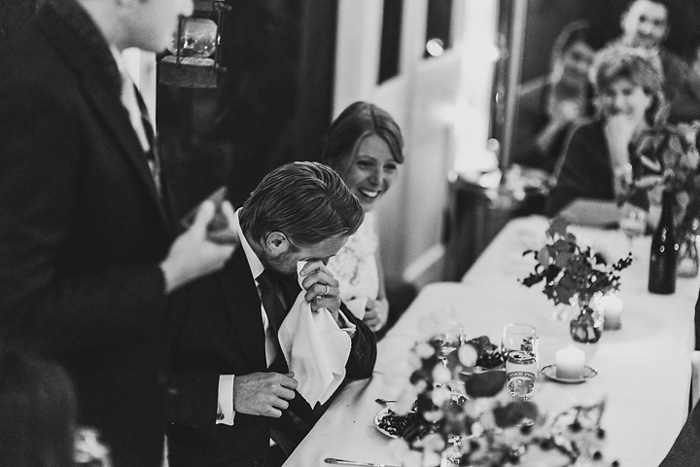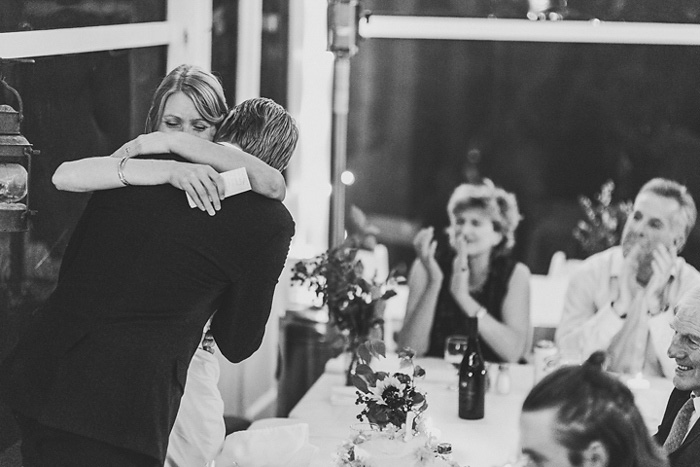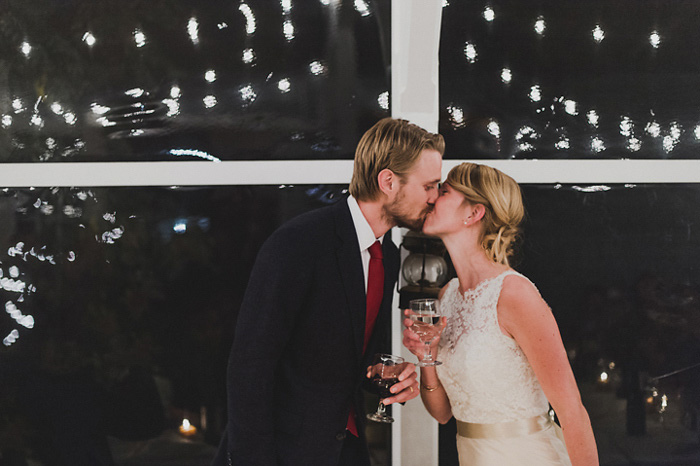 What was the best thing about having an intimate wedding? 
Having a small wedding allowed us to easily spend time with all of our guests, many of whom traveled very long distances to help us celebrate. We didn't feel overwhelmed at any point throughout the day. Most importantly, it was a very unique opportunity: to be surrounded by those we love most, from the various corners of our lives, all at once.
And with small numbers, it was fun to splurge on delicious wine, beer and food!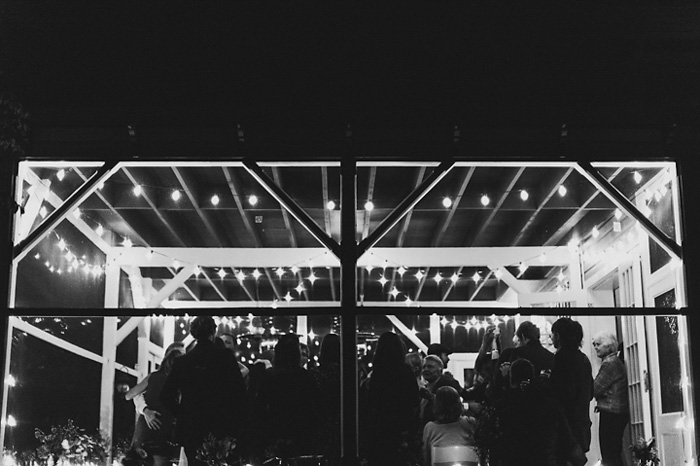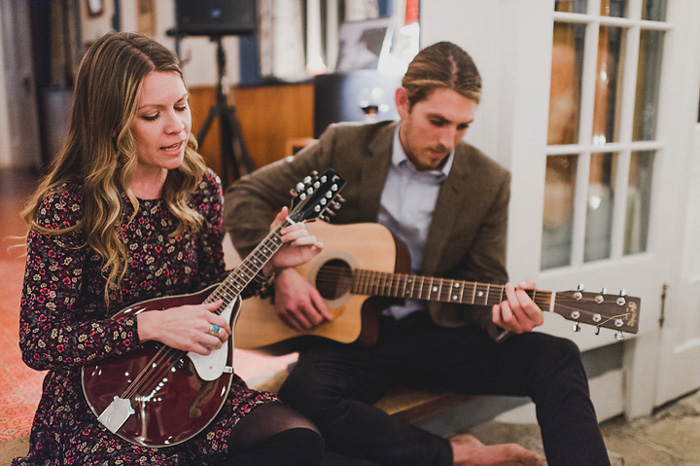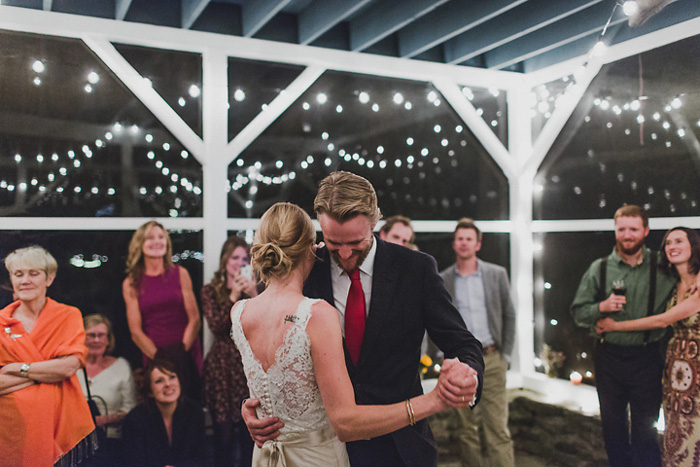 What advice do you have for couples who are considering an intimate wedding? 
Stick to your guns! Bobbie and I were so happy after it was all over to realize we'd had exactly the wedding we'd hoped for. For us, the key to achieving this was to focus on what was most important to us – family, friends, food, drink, natural local elements – and to not over-think the whole thing. Some traditions were nice to follow, but only the ones that held meaning for us. A wedding really can be whatever you want it to be, there are very few rules you need to follow.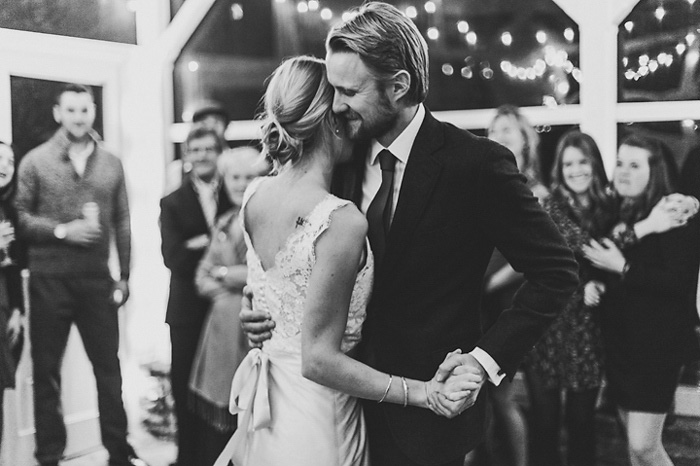 Vendors: 
Photos: We were so lucky to have the incredibly talented duo Jennifer Moher and Hugh Whitaker as our photographers. They so perfectly captured the spirit of the day. 
Wildflowers: They were picked the day before from fields around the house, and arranged by my sisters-in-law, mother-in-law and cousin. My sister-in-law Sasha also arranged my bouquet. 
Food: Bobbie and I care very much about local food, which was reflected in the delicious meal. Bobbie and his brothers roasted a pig from a farm up the road, and our caterer, BE Catering made a delicious spread of salads, side dishes and pies for dessert.  
Cake: My great-aunt Sharon made our 3-tier cake (a family fruit cake recipe), my aunt Julia iced it, and my sister-in-law Sasha decorated it with local wildflowers.  
Dress: I wore a custom wedding dress by Vancouver designer Patty Nayel of Pure Magnolia. Patty is an amazing artist and was lovely to work with. I really admire her business model – creating unique gowns from recycled and sustainable fabrics.  
Groom's Jacket, Shirt and Tie: Brooks Brothers
Hair: Kelly Fisher of Kouture Hair Studio  
Makeup: My dear childhood friend Kate Suhr 
Live Music: my brother and friend Kate Suhr performed a song during the reception, one of the highlights. Kate Suhr is a gifted singer/songwriter and can be booked for events at: http://katesuhr.com