Eloping has always been an option for couples,  but right now it's more popular than ever.
Not only does eloping save money, it's a lot less stressful than planning a wedding. Running away from it all can also be uber romantic, allowing you to focus on the love and commitment part  instead of the matching napkins and letterpress name cards. Another perk is that you have complete freedom in deciding how to spend your special day. Whether you want to run away to the courthouse and celebrate at a local restaurant, or  say I do on the side of mountain followed by a gourmet picnic lunch, your elopement is all about the two of you.
Here are 10 elopement ideas that we love.
1. Tipi Time
If you want some post-ceremony downtime with style then this is for you. A tipi tent complete with lanterns, a gourmet picnic and relaxing on cozy blankets is ideal.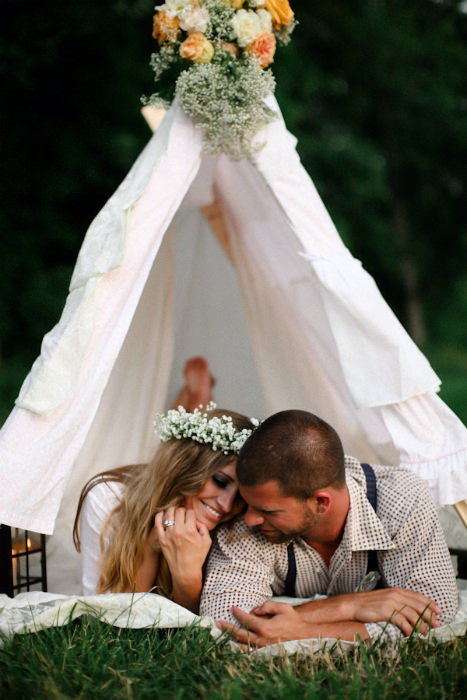 2. Love Letters 
Write each other little notes that will also be keepsakes of the day. You can also write down your memories after the ceremony. This a great idea as you won't have invitations, programs or stories from guests as reminders over the years.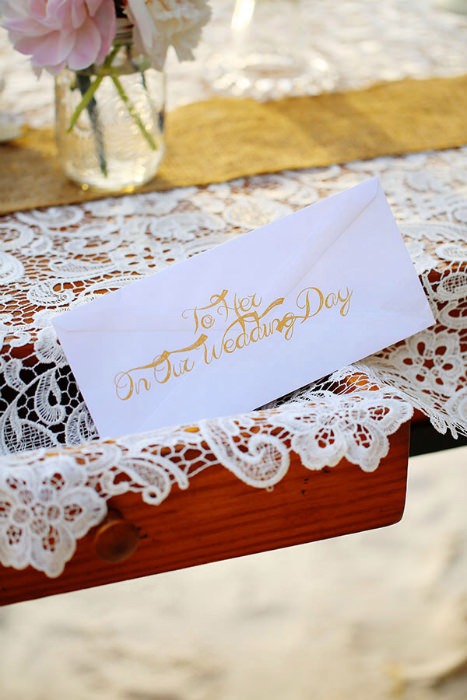 3. Dinner for Two
If you're a foodie on a budget then a fine dining experience for a lot of guests might be impossible. But for two people, it is less so. You can go to an amazing restaurant or set up a table with a centerpiece, and hire a chef to prepare a meal to remember.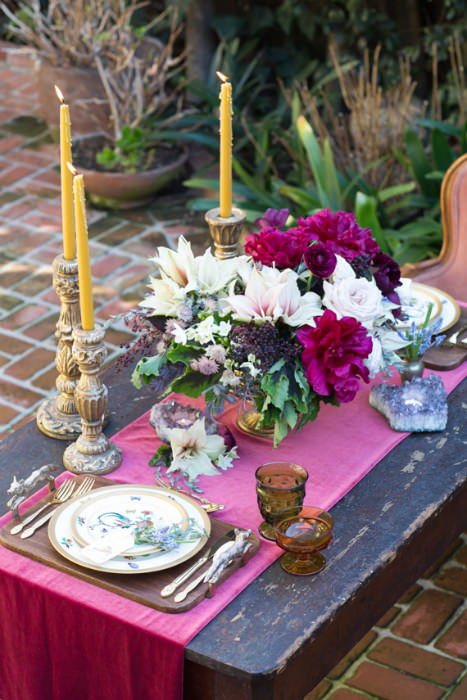 4. Skype Guests
There are various reasons for why couples decide to elope. One reason could be because of the distance between family members. If you still want to include your family or friends in some way then set up a laptop with Skype, so your 'guests' can have a live stream.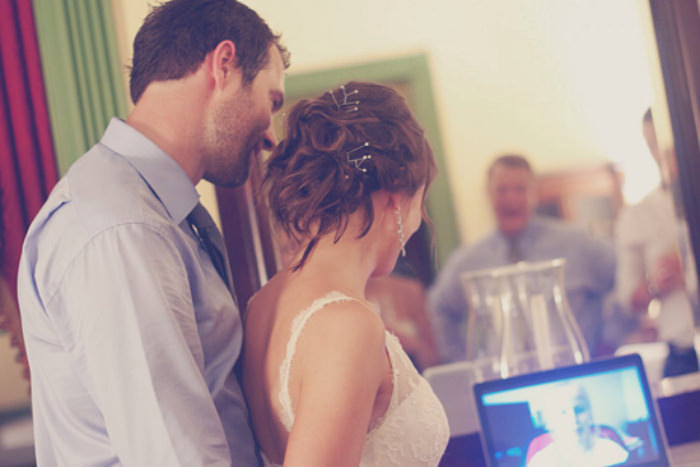 5. Dessert on the Go 
The fun part of eloping is that there doesn't need to be a schedule of events. What we're trying to say is that there won't be anyone there to judge you if you go on a post-ceremony dessert crawl.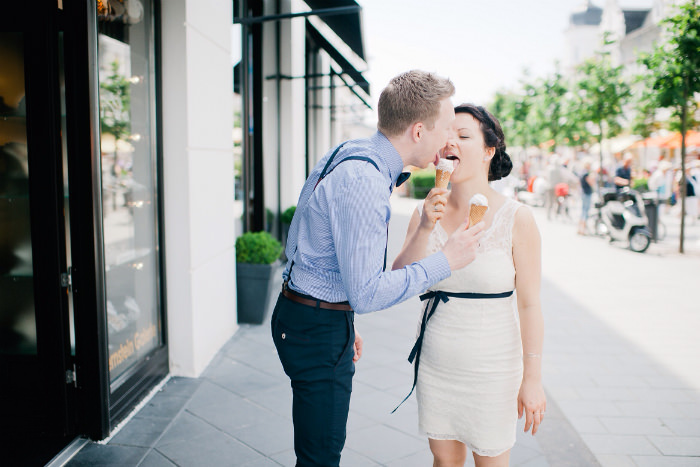 6. Getaway Car
Hire a vintage car to drop you off at the courthouse. It will guarantee that you make a stylish entrance.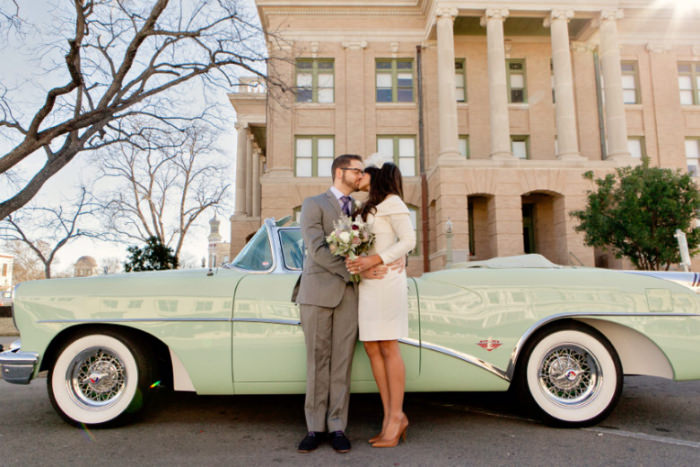 7. Play the Tourist
Jump on the subway or put on some flat shoes for a long walk to city hall or the courthouse. Take in the sights and stop for photos to create even more memories.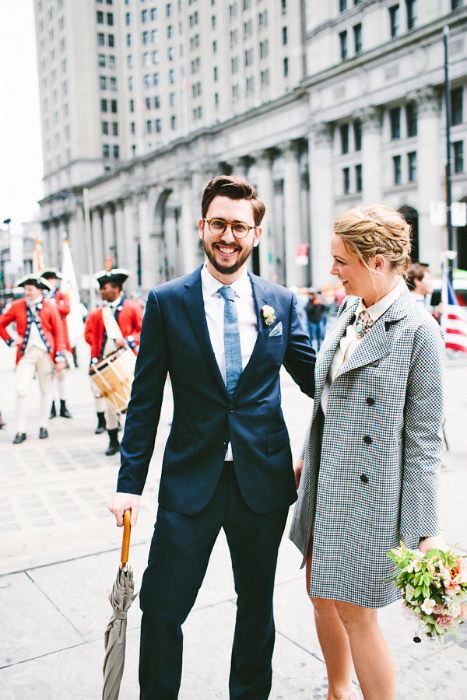 8. Props 
Chances are there won't be any guests in your photographs, so get creative and incorporate a few props. We love balloons, elopement announcements and cheeky signs.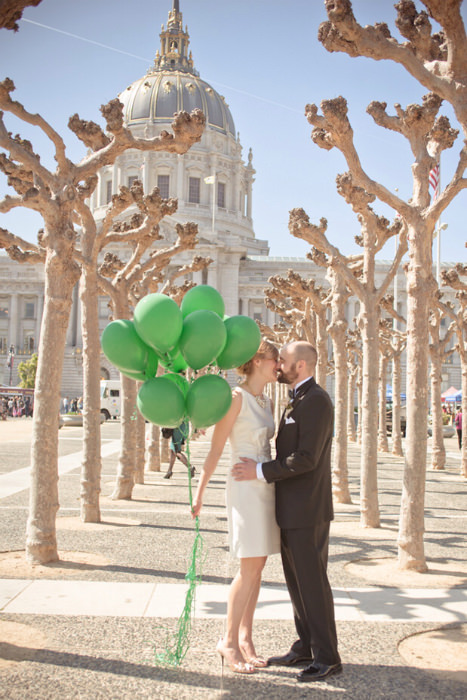 9. Ceremony At Home 
If you want privacy and a space to relax, then a ceremony at home is a lovely idea. If you want the homely feel but in a different environment, then why not rent the apartment or house of your dreams for a night. Saying your vows in front of a candlelit fireplace couldn't be more intimate.
10.  Sentimental Venue
A big bonus of opting for an elopement is that there are more ceremony options available to you. If you're just having a photographer and an officiant then many spaces will be able to accommodate you. The restaurant where you had your first date, the tree under which you had your first kiss or a place that holds special memories for you both. They can all be wonderful options that would otherwise be impossible if you had 100 guests.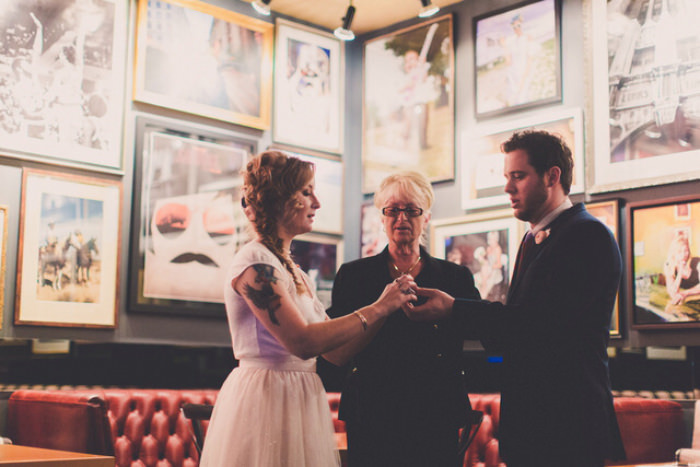 Photo one: megan-w.com; Photo two: stayforeverphoto.com; Photo three: scottclarkphoto.com; Photo four: jessicafeyphotography.com; Photo five: nadiameli.com; Photo six: katherineobrien.com; Photo seven: amyanaiz.com; Photo eight: 100layercake.com; Photo nine: patfureyblog.com; Photo ten: ellephotographs.com; Photo eleven: weddingchicks.com; Photo twelve: mikeolbinski.com