Keeping guests happy and entertained at a wedding can sometimes be tough. For the most part, the only entertainment provided is a DJ and a dance floor; and while this is great for all those that love to cut a rug, what about the guests with two left feet?  Enter the wedding reception lounge! With many guests preferring to spend the evening sitting and chatting with old friends and meeting new ones, adding a lounge space to your reception makes perfect sense. Not only do lounges look cool, but your guests will love having a comfortable place to hang out instead of being stuck sitting at their table or awkwardly standing by the bar/food table with all the other non-dancers.
If you're interested in adding a lounge to your wedding reception, but aren't sure how, we've put together some great tips on how to do it right!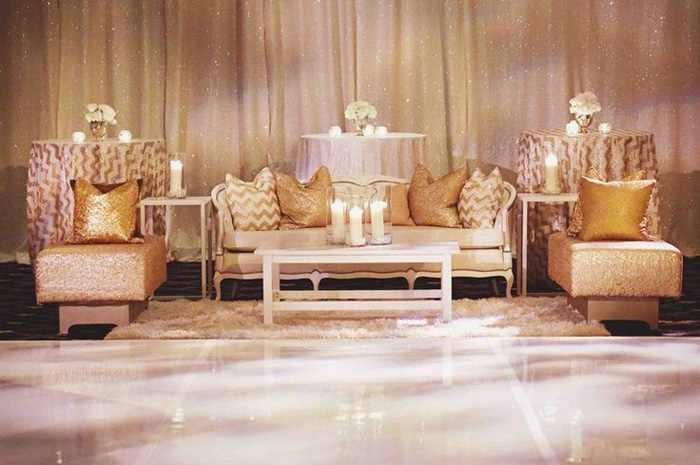 Keep it in Line with Your Theme
When you hear the word lounge, do you automatically envision a nightclub with purple lighting and impossibly attractive people sipping cocktails? If that's the vibe you're going for, more power to you, but if it's not, don't despair! Your wedding lounge can be whatever you want it to be, so don't feel you have to create a swanky space for your guests  if that's not your style. If you're having a rustic barn wedding, for example, why not create a lounge out of hay bales and handmade quilts instead?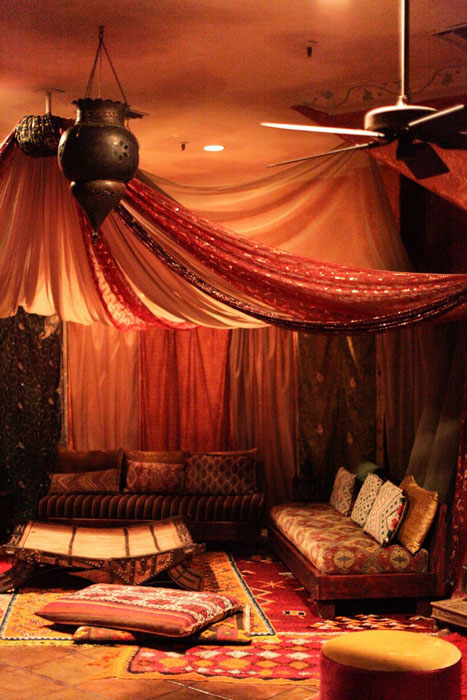 Keep it Cozy, Warm, and Inviting
The most important function of your lounge space is to allow your guests to relax and kick back with friends, so making sure the space is warm, comfortable and inviting is absolutely key. To achieve that cozy inviting feeling, adorn your lounge with the comforts of home in the form of comfy furniture, rugs, pillows, and throws. Of course, a fireplace never hurts either!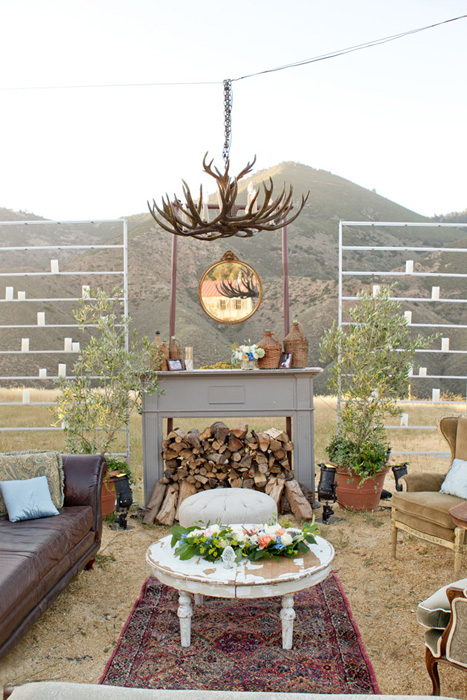 Tenting your lounge area is another great way to make the space more inviting and intimate.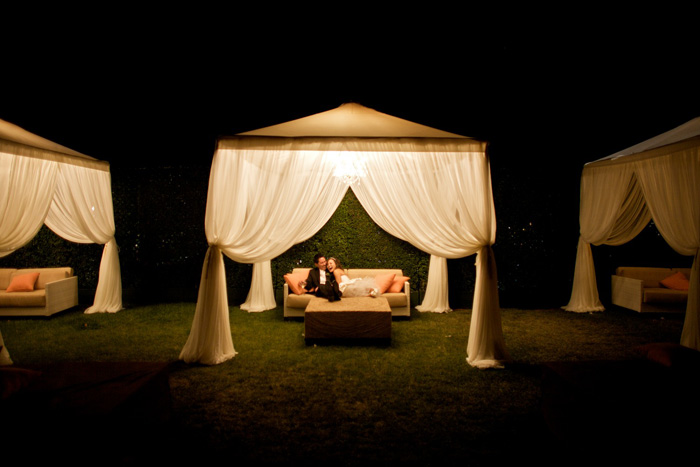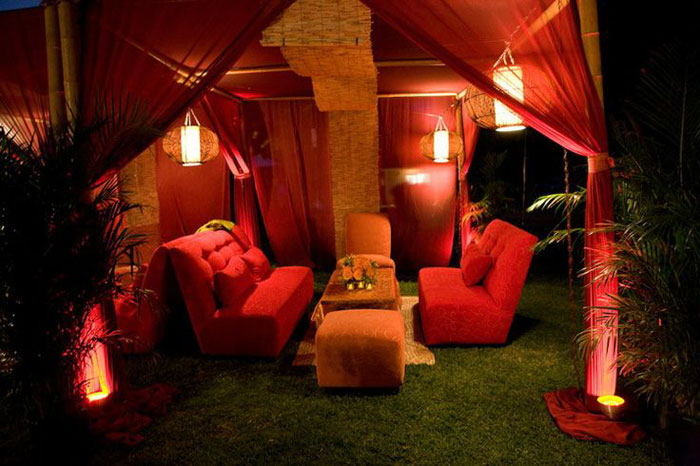 Don't Underestimate the Importance of Lighting
One of the most important factors in making a space warm and inviting for your guests, of course, is lighting. Your choice of lighting will depend heavily on the style of lounge you've decided to create; but whether you choose string lights, a chandelier, candles, or something else,  just remember to keep the lighting low and soft in order to create that warm inviting ambiance you're looking for.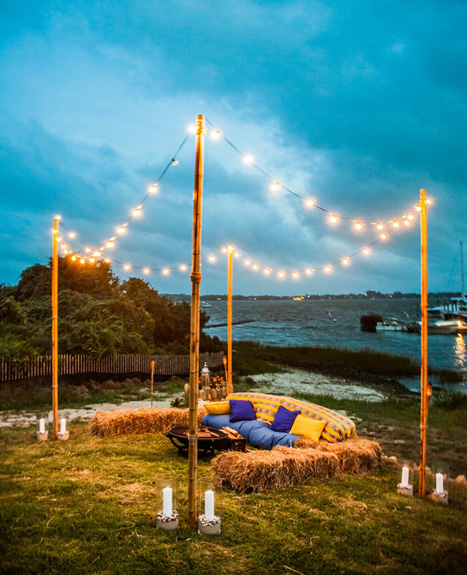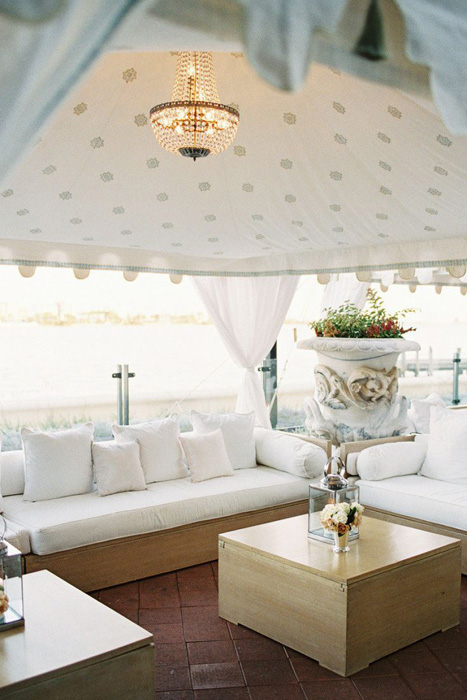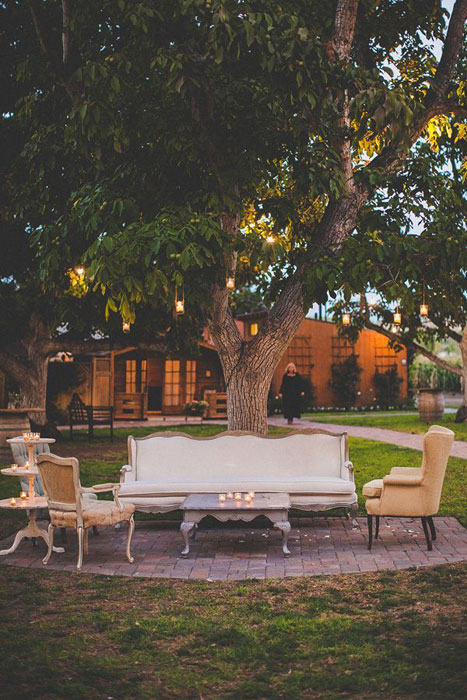 Offer a Variety of Seating Options
Some guests might want to snuggle up on a sofa next to the one they love while others would prefer to have plenty of personal space and their own seat. Having a variety of seating options – sofas, chairs, loveseats, etc. – will allow your guests to choose their preferred seating arrangement for maximum personal comfort.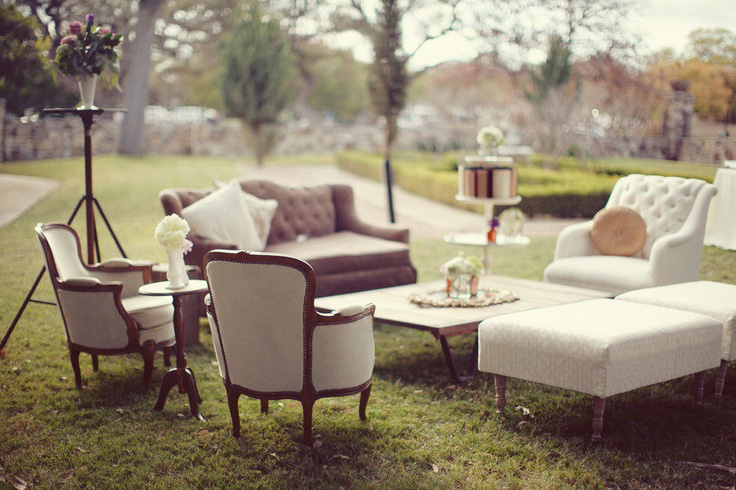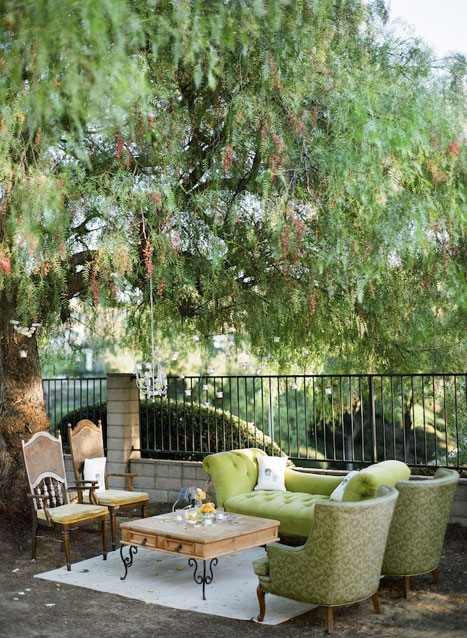 Include Some Tables
Seating is an obvious requirement for a successful lounge space, but perhaps less obvious but still very important, is the side/coffee table. If you've ever been stuck awkwardly balancing your plate and your drink on your lap at a party before, you'll understand why.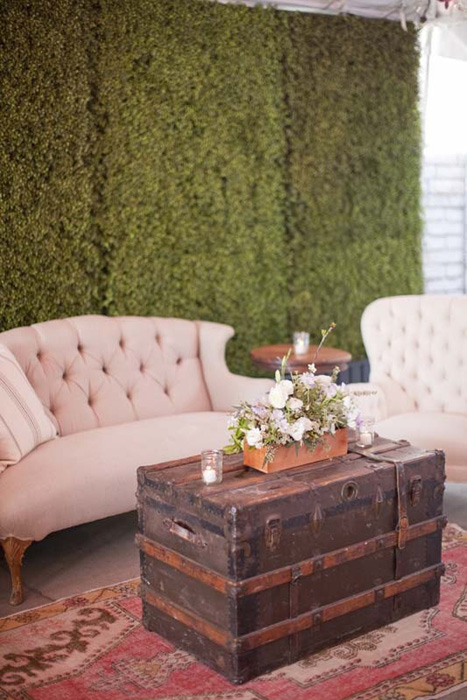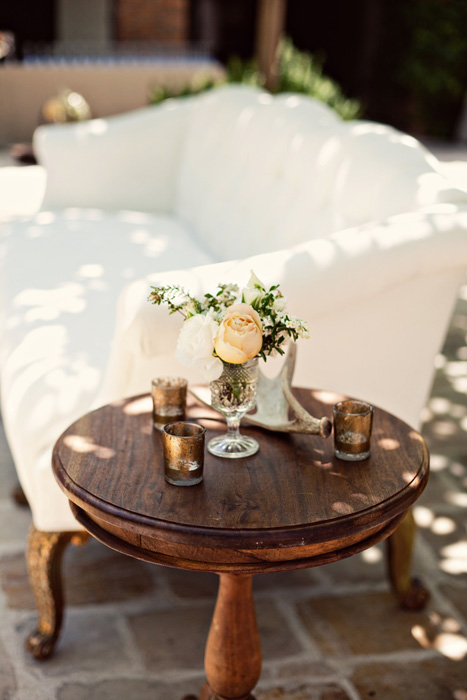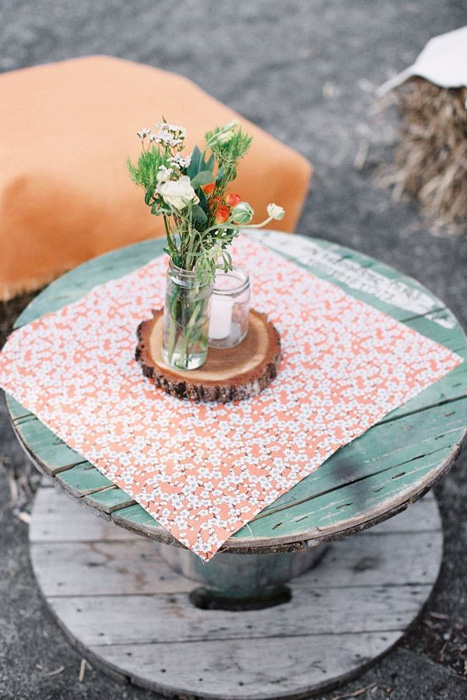 Arrange Multiple Seating Areas
If it's possible, and especially if you're hosting a larger wedding, it's a good idea to offer multiple seating areas within your lounge space. Having a single elaborately staged seating area might look really great, but if it can only accommodate six people, most of your guests won't ever have a chance to enjoy it, and that kind of defeats the purpose, now doesn't it?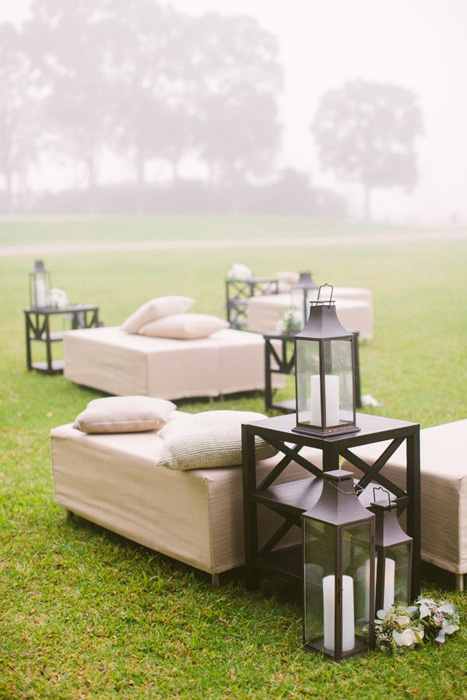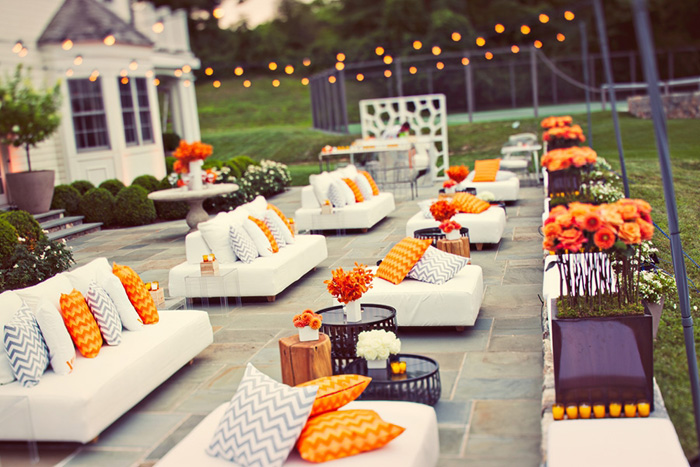 Offer a Built-in Activity
Chatting with friends is great and all, but it's always a good idea to have some sort of activity built-in to your lounge area to help break the ice, especially if your guests don't know each other. It doesn't have to be a highly involved activity, just something to keep people occupied and/or help spark a conversation. Great activity options include s'more making, cigar smoking, bourbon tasting, music making, and card/game playing.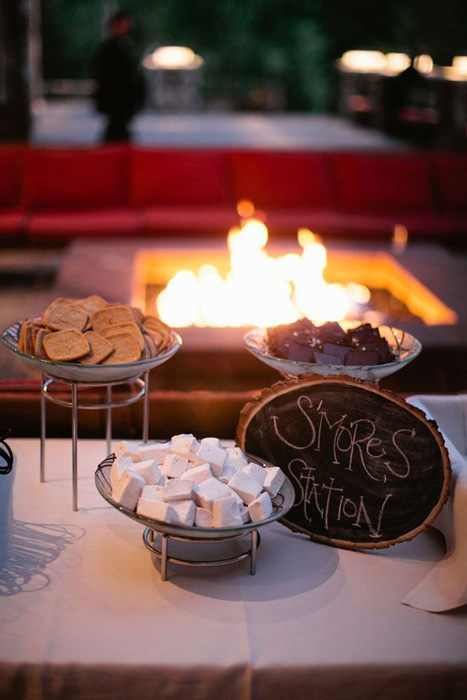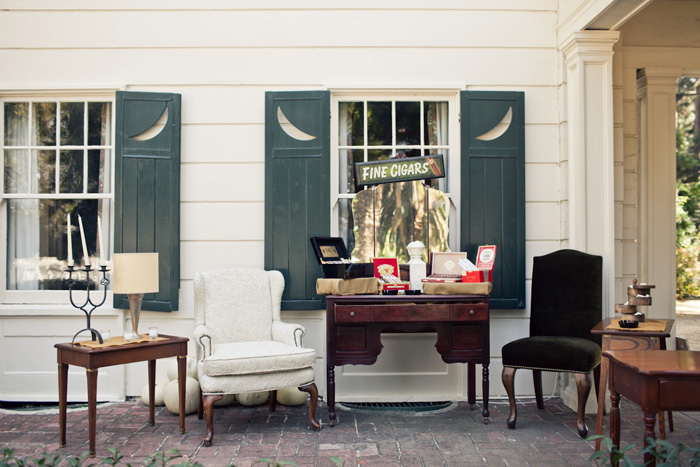 Photo one: brockandcoevents.com; Photo two: rusticweddingchic.com; Photo three: stylemepretty.com; Photo four: sbchic.com; Photo five: inspiredbythis.com; Photo six: whiteorchidwedding.com; Photo seven: theknot.com; Photo eight: stylemepretty.com; Photo nine: weddingchicks.com; Photo ten: birddogwedding.com; Photo eleven: jesihaakweddingsblog.com; Photo twelve: foundrentals.com; Photo thirteen: ashleyroseblog.com; Photo fourteen: inspiredbythis.com; Photo fifteen: elizabethannedesigns.com; Photo sixteen: alchemyfineevents.com; Photo seventeen: lilyandiris.com; Photo eighteen: knotjustflowersfloralcoutureanddesign.com