When Nicole and Jabari first got engaged, the couple dreamed of a magical destination wedding in Turks and Caicos. As the costs starting adding up, however, the couple were forced to rethink their plans. At first, they simply chose to relocate the wedding to a more affordable destination, settling on Mexico instead. But when the decision to settle wasn't sitting well with either of them – it felt like too big a compromise for the cost – they opted to save themselves the money and the hassle by having a small winter wedding at the courthouse in Maryland.
Filled to capacity with their loved ones, the bride and groom's courthouse ceremony was a no frills affair and a far cry from the tropical wedding they had envisioned. Stripped of expectations and unimportant details, however, Nicole and Jabari's wedding day was more honest and more beautiful than they could have ever imagined!
Special thanks to Lindsay Anne Dransfield for sharing Nicole and Jabari's intimate and special day with us.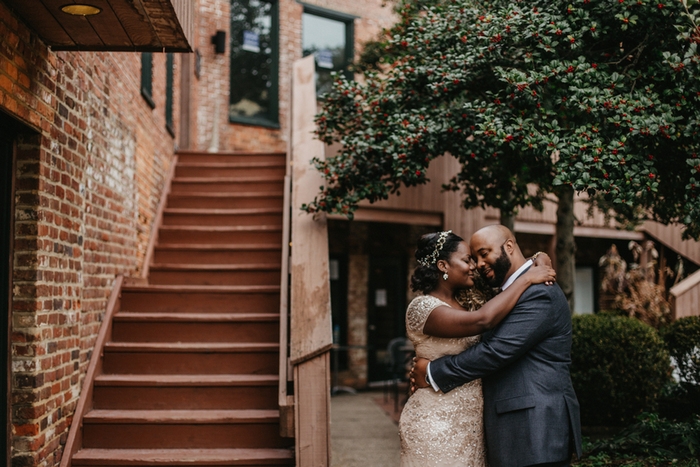 Nicole, 31 & Jabari, 42
Location: Hyattsville, MD 
Wedding Date: February 4, 2016 
Number of Guests: 50 
Wedding Cost: I honestly didn't keep track of costs, but I believe it was under $6,000
Wedding Ceremony Location: Annapolis Courthouse 
Wedding Reception Location: Ruth's Chris Steakhouse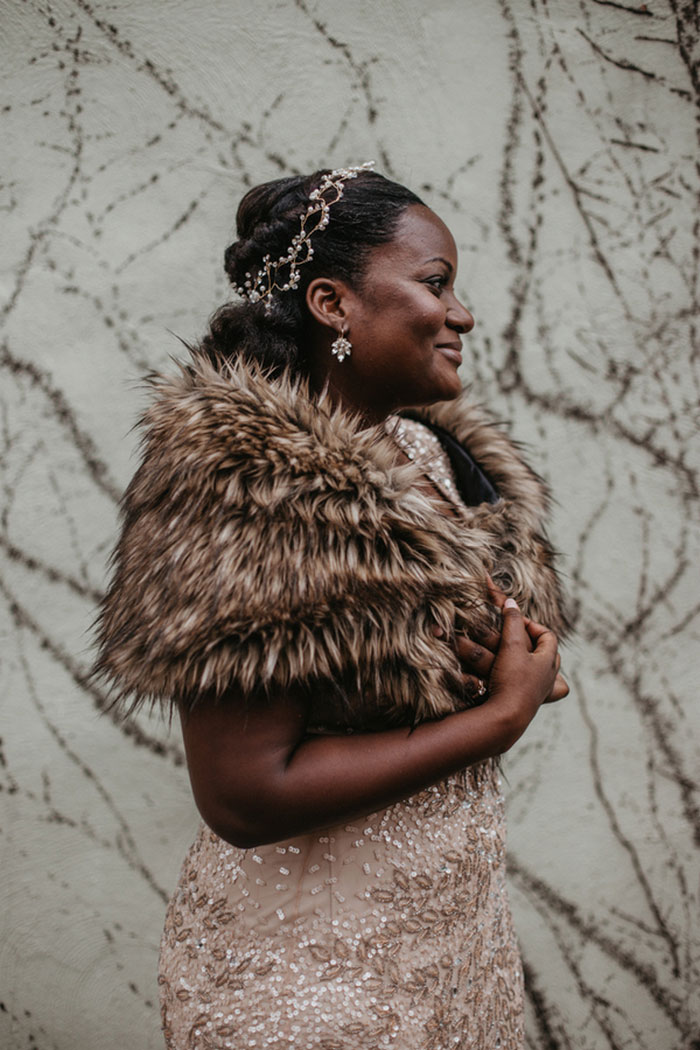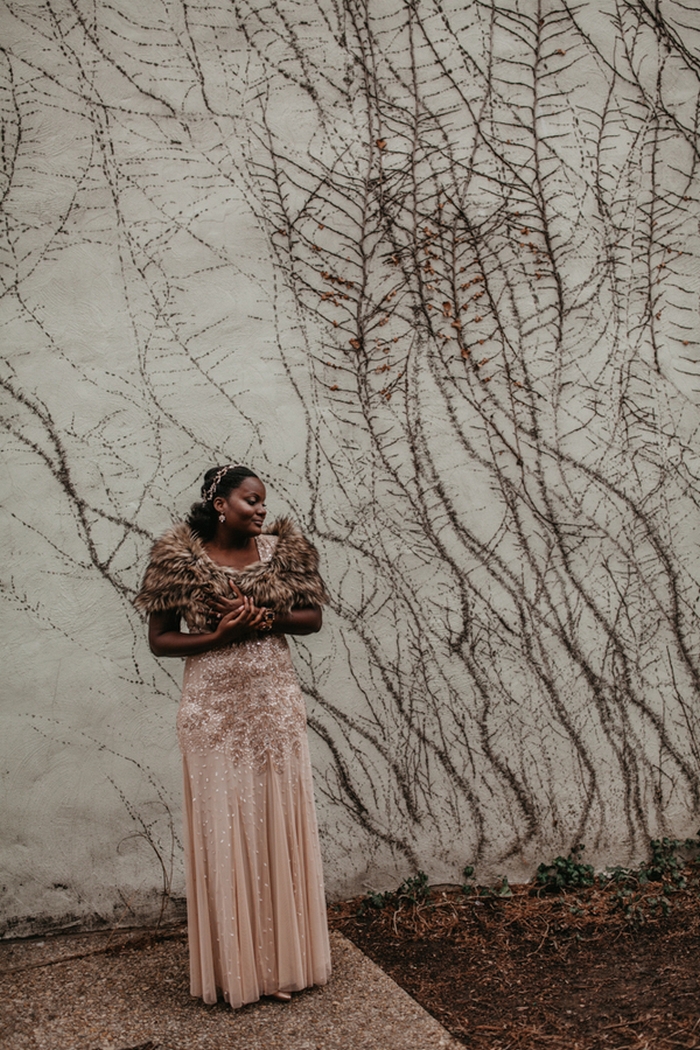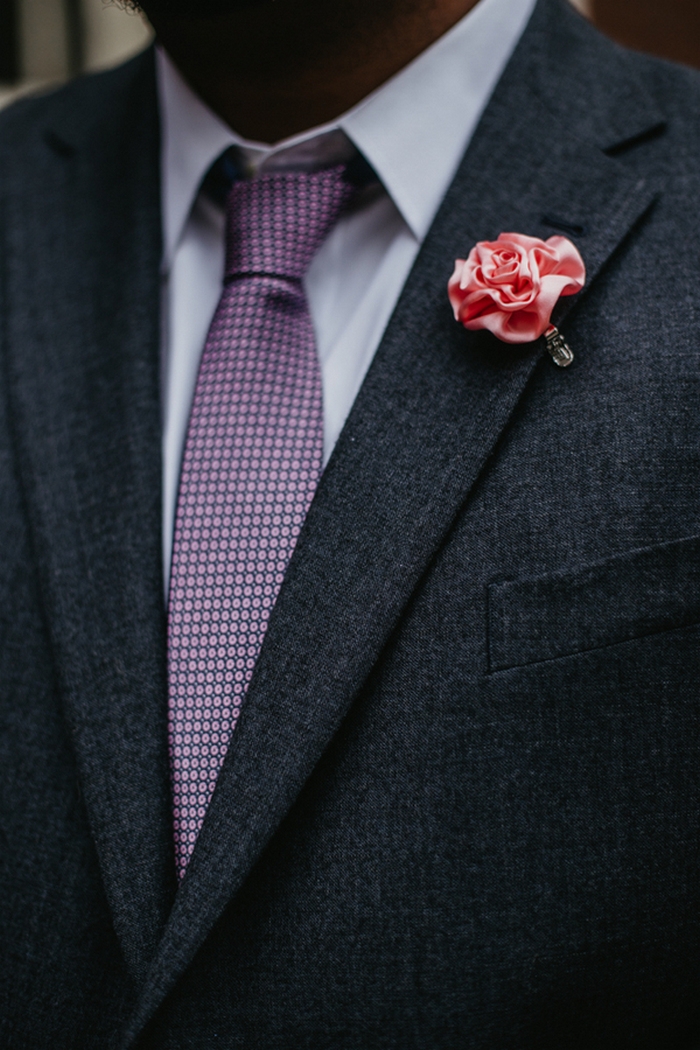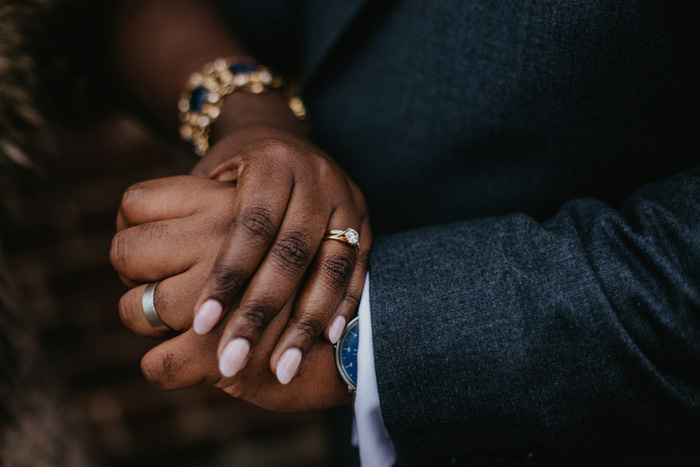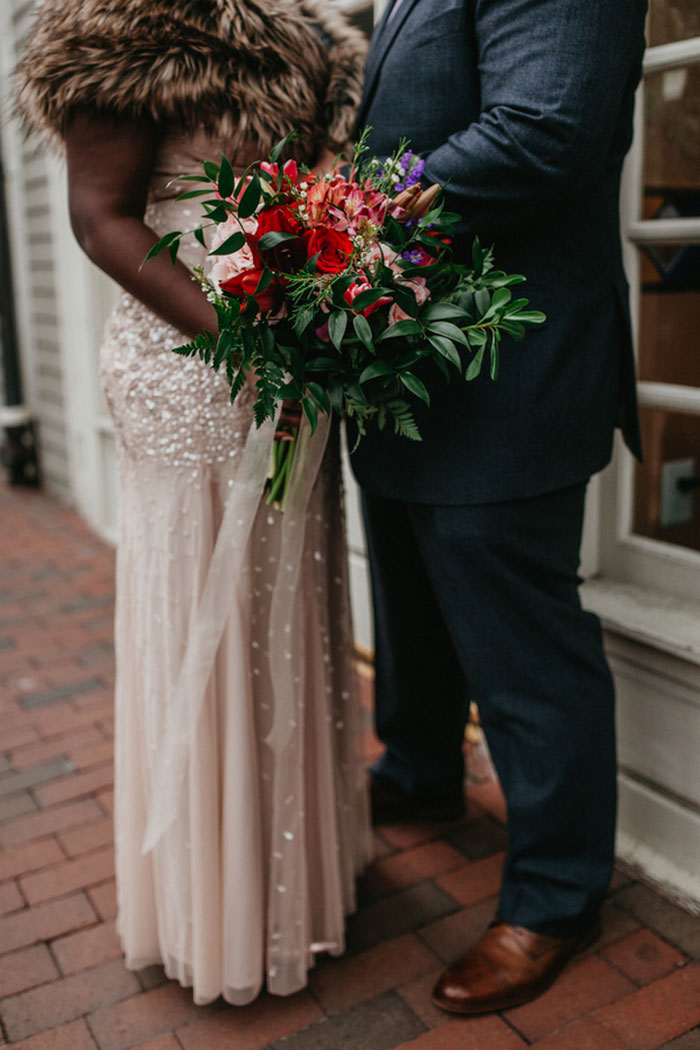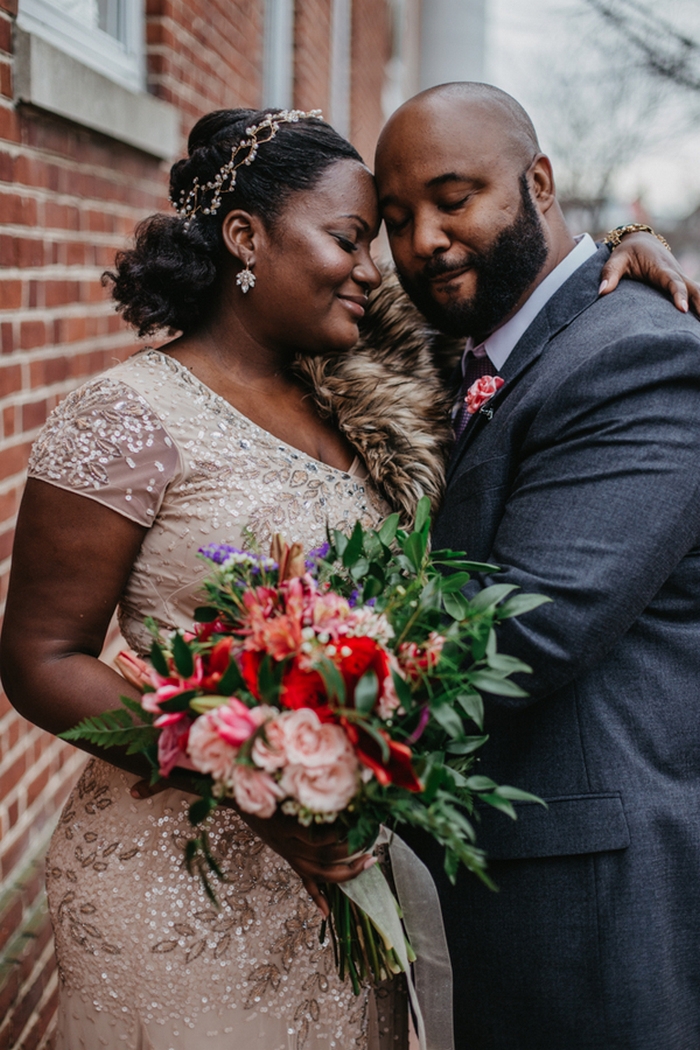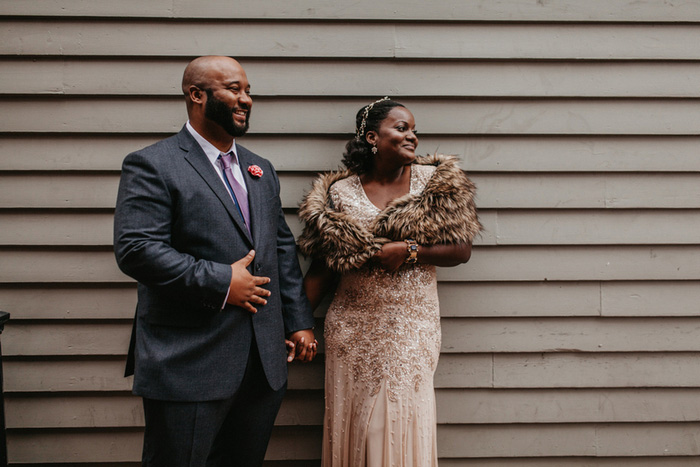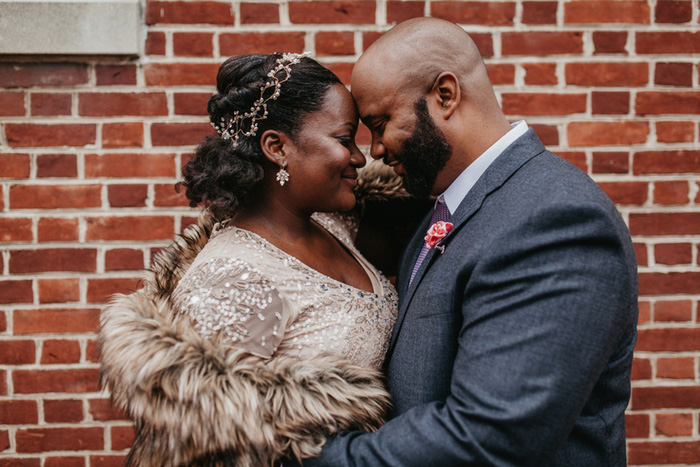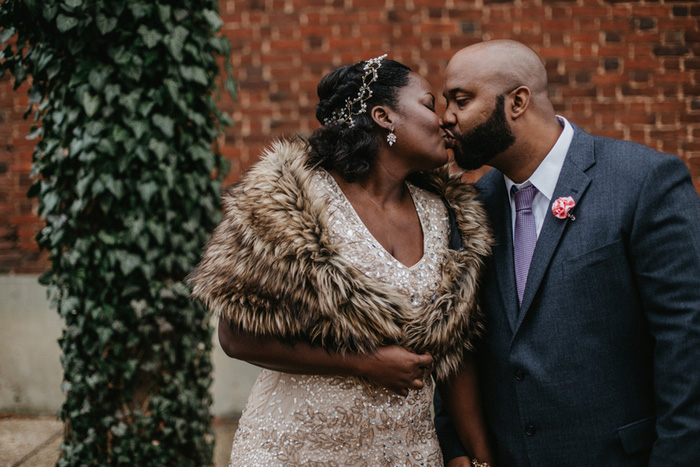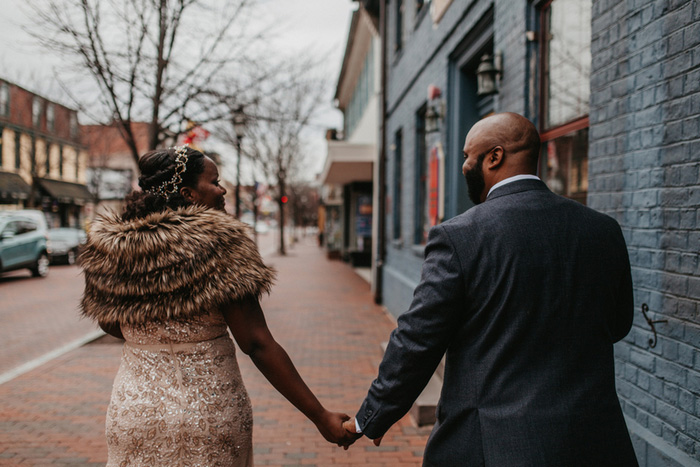 Why did you have an intimate wedding?  
Before Jabari and I got engaged, we knew that we wanted to have a destination wedding. We had a lot of ideas in the works, and we knew our dream location: one of the pristine beaches in Providenciales, Turks and Caicos. The more we tallied up the costs, however, the less confident we became in asking such a tall order from our friends and family.  
We scratched the idea of Turks and Caicos and settled on a beautiful location in Mexico that would be easier to travel to and more affordable for our guests with children. Notice I said settled. While the resort was excellent, it felt like we were compromising so much of who we were for this wedding. It no longer felt like it was about us, and that got to be too much for me. 
I'm a communications and marketing professional who spends a lot of time event planning and on Pinterest, so I thought planning our wedding would be just as fun as my day-to-day job. Now that it was our money, however, every detail was just another price tag instead of a joyous experience. In the end, I turned to Jabari and said, "let's scratch this and elope".
Rather than spending the $25,000 on a one-time event, we thought about what we wanted out of our union together – becoming debt free, spending time traveling and experiencing new things with our family and friends, and building wealth for our future generations. 
So we decided to have a winter courthouse wedding followed by a summer party where we could invite more people. Once we put our desires in perspective, the wedding planning process became much easier for us.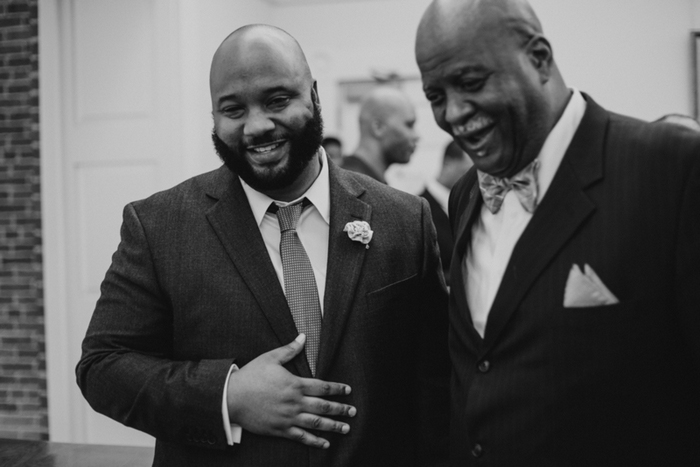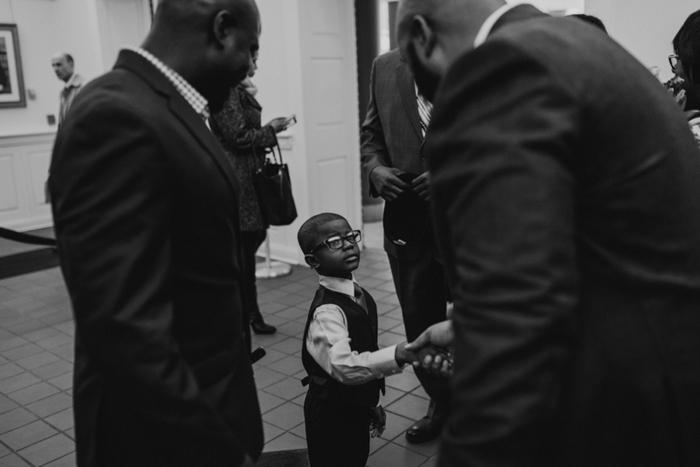 What are some the challenges that you faced planning an intimate wedding?
What led to most of our wedding challenges were our expectations of vendors and people. The vendor we selected to deliver our wedding day flowers strayed so far off track from the inspiration we provided that it was mind-blowing. Luckily, my good friend has a knack for floral arrangements and came to the rescue. 
Secondly, our guest list ballooned because people either did not RSVP on time or some added in "plus ones" – which is even more of a headache when you're planning a smaller wedding and every seat counts. If someone couldn't make it to the wedding, we could think of at least two other friends or family members that we'd want to be there. Jabari would remind me that none of this mattered as long as he and I were present for the ceremony (Did I mention how much of a saint this guy is?).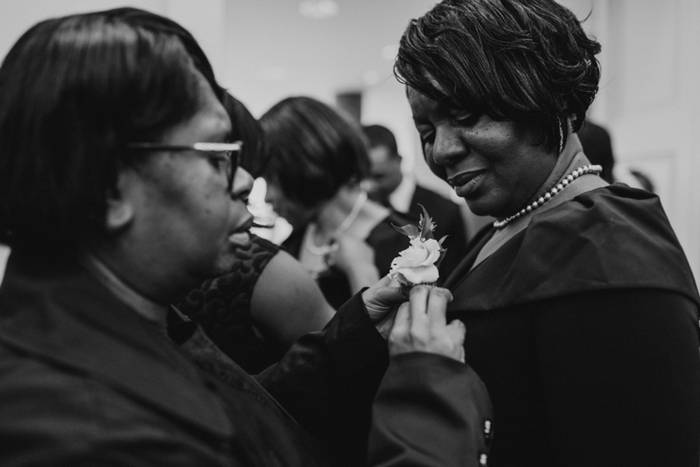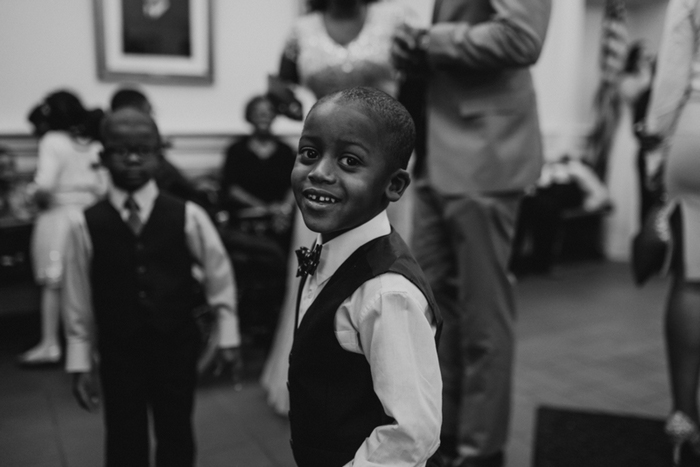 Was it difficult to pare down the guest list?
Absolutely! Jabari and I both come from large, blended families, so it goes without saying that keeping our list to a minimum was incredibly hard. We aimed at having a guest list of 30 people due to the space restrictions of the courthouse, but that quickly went out the window. In the end, we wound up with about 50 of our closest friends and family in a jam-packed room. It was an amazing feeling to look out and see all their smiling faces.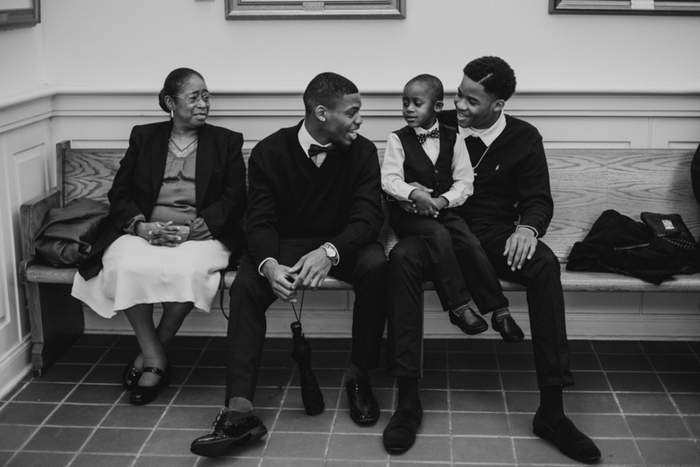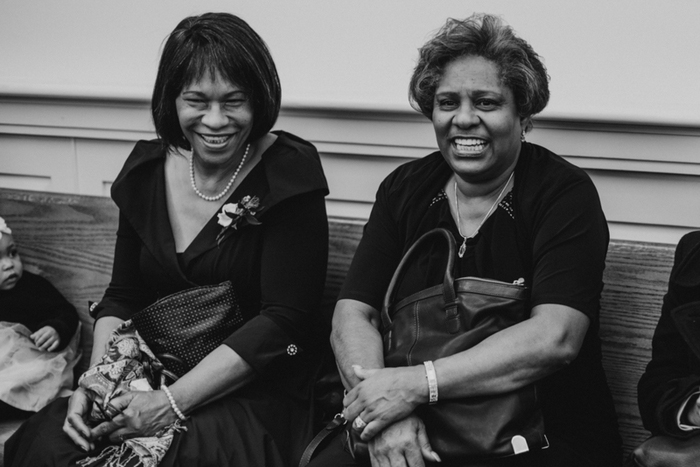 Did you have any 'issues' with the small guest list from friends and family? If so, how did you address them?
We had more than a few gripes from friends and family who we weren't able to attend the wedding. Once we explained that this was the best process for us, however, they warmed up a bit. Also, we just had to be okay with the fact that it is impossible to please everyone.
What was surprising, however, was when family members would applaud our decision to have an intimate wedding. Some even exclaimed that they wish they had kept their own ceremony simple.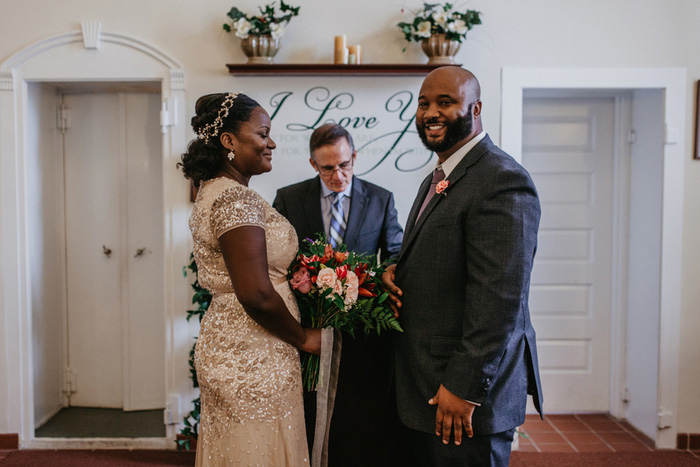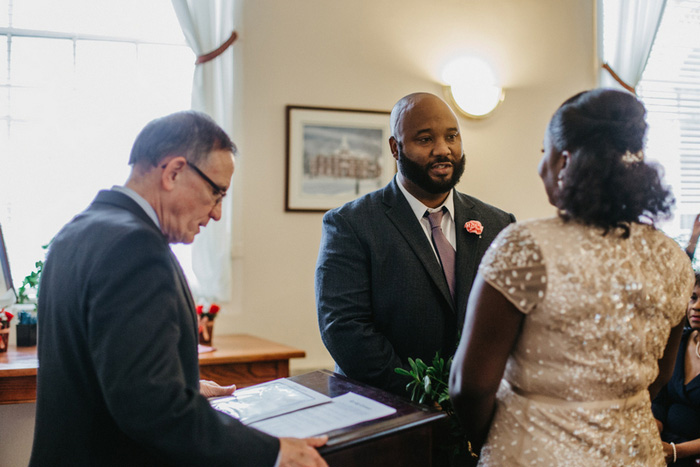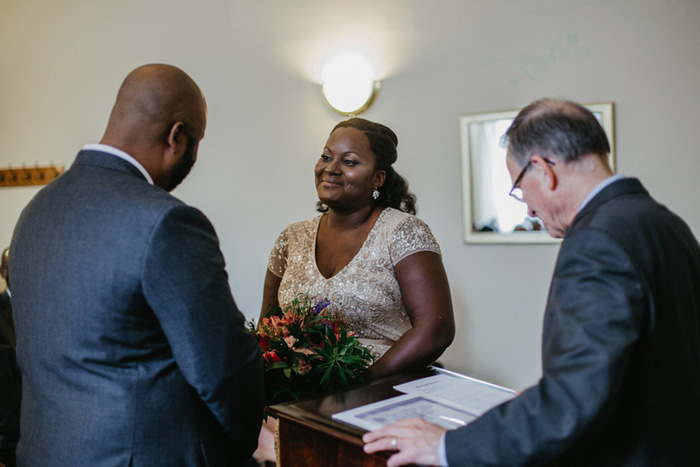 What were the highlights of the ceremony?
To be honest, this day went by so fast, and I was so nervous, most of it was a blur. I remember speaking to Jabari on the way to the courthouse, feeling all eyes on me as I walked in, talking with my friends and family, and chiding myself for forgetting my flask at home. I see now why people have drinks before the wedding ceremony. 
Once it was time for our wedding to begin, our family and friends filled the room, and Jabari and I had a few moments alone before the ceremony. We laughed and talked, and it was a beautiful, calming reminder of why we were there. This ceremony was just a formality; we are committed to one another, so I pressed on with my nerves in shambles while staring into his eyes the entire 10 minutes of the ceremony!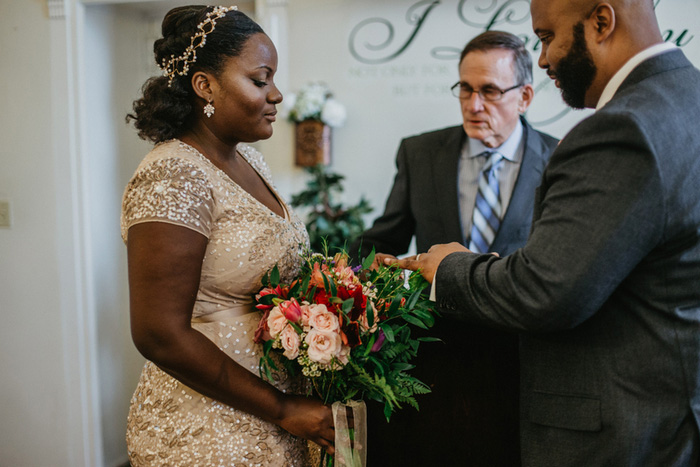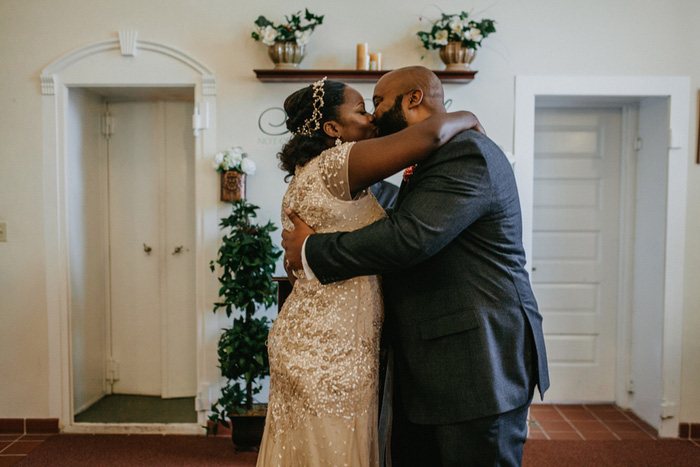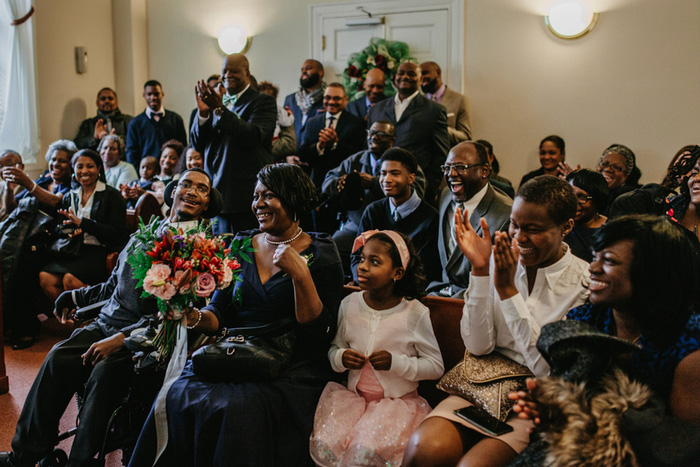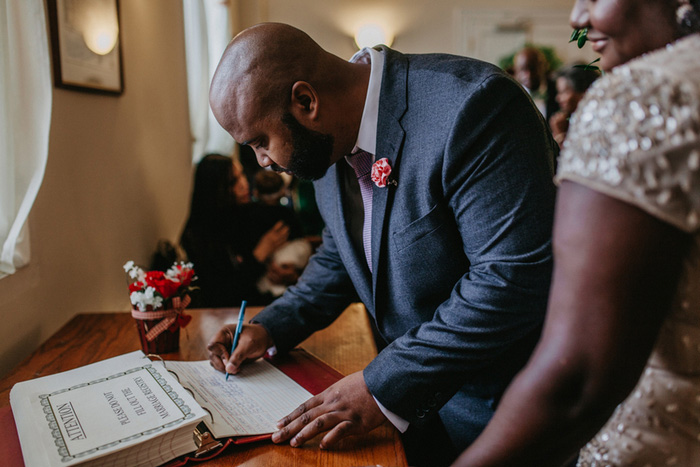 What were the highlights of the reception?
During our scrumptious dinner, we got a chance to work the room and talk with all our guests; we had a blast. 
During the toasts, we asked for advice on marriage. A dear friend told us, "You can be right, or you can be married," and to this day, we both still recall this mantra when we are having discussions. Marriage is about compromise, and having this sage advice at the start of the real work was more than appreciated.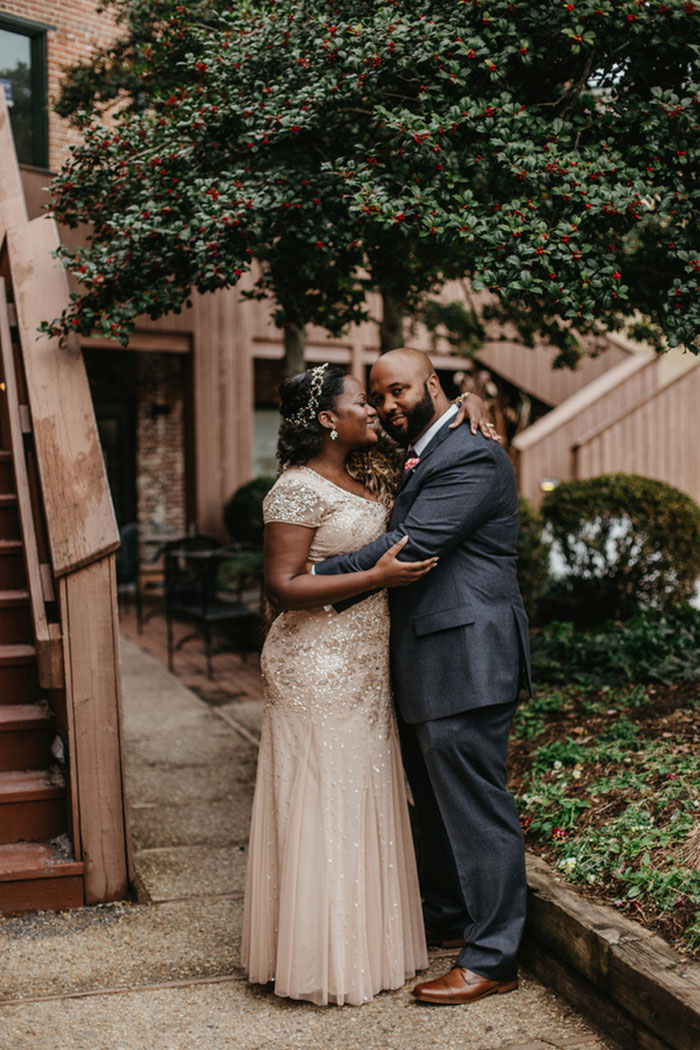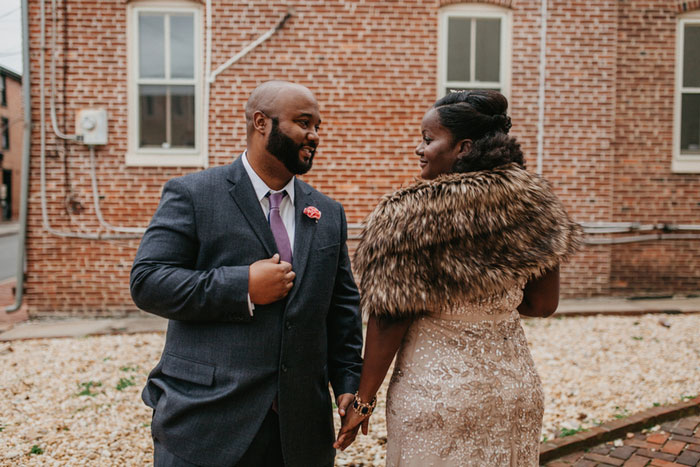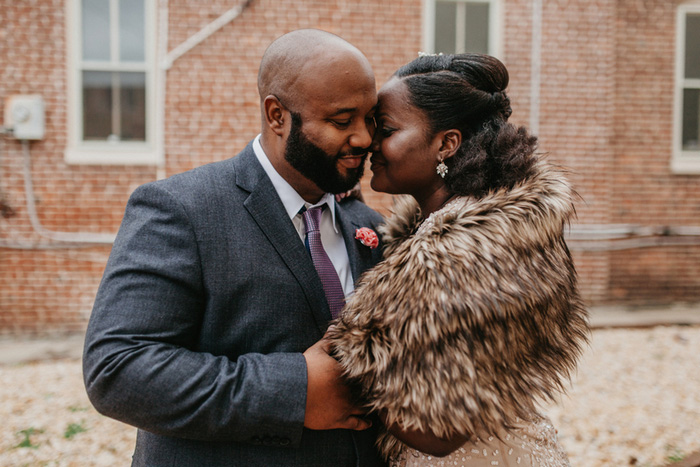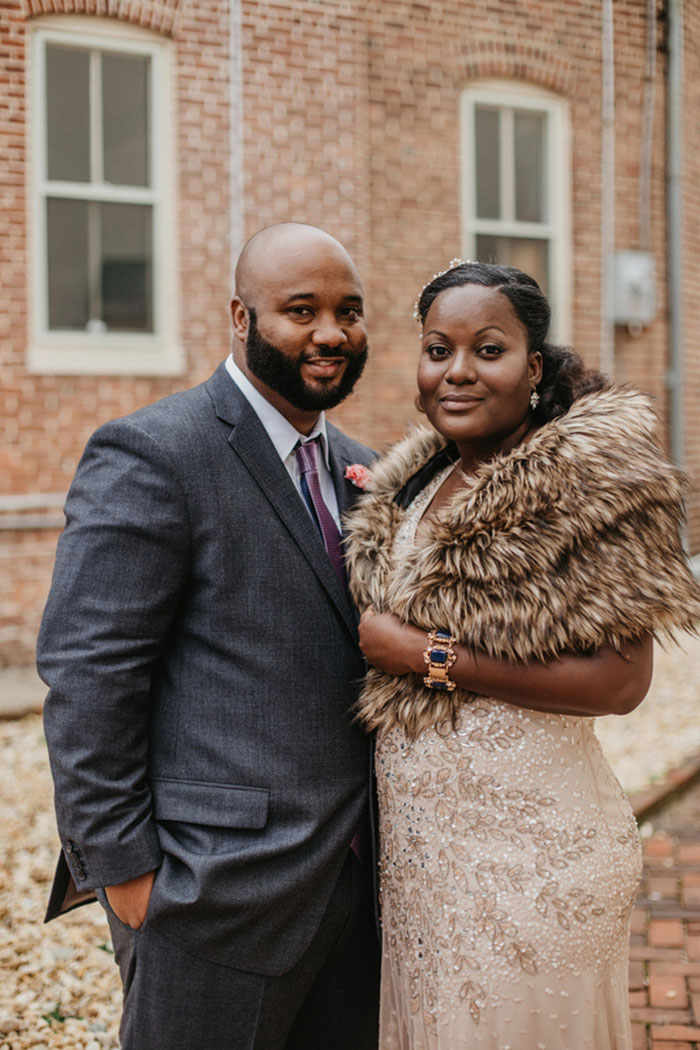 What was the best thing about having an intimate wedding?
The best part about an intimate wedding is that it is the surefire way to put your personal stamp on the event. When we shed all the expectations and assumptions, we stood before our friends and family exactly as we were in our real, waking lives. It was an honest, beautiful experience for us.  
Also, the cost savings. Waking up and looking at our debt would've been entirely different if we did a full-blown destination wedding. The investment in a day in which most people forget the details that you painstakingly worked on should be something that you're comfortable with when it's all said and done.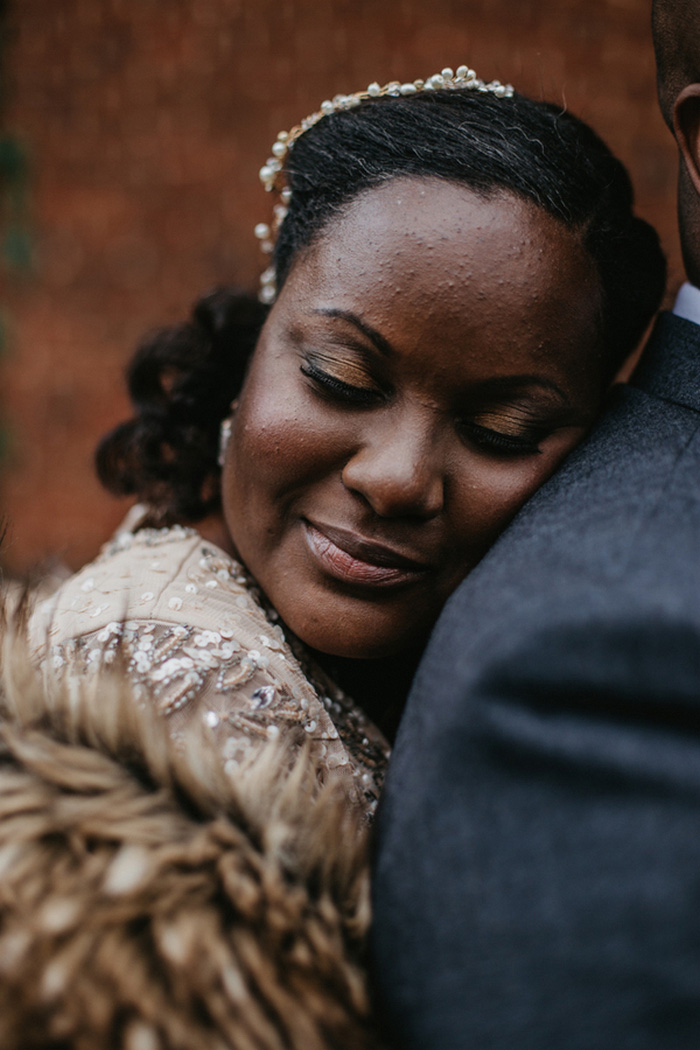 What advice do you have for couples who are considering an intimate wedding?  
I believe it takes courage to have an intimate wedding because you are essentially going against the grain of culture; and sometimes even going against your family. So we'd tell couples who are considering this route three things: 
1. Focus on your partner: Make sure that you are both on the same page for your wedding and that you're not letting your friends and family commandeer your day, your budget, or your guest list. Trust me on this one. Everyone will have input and thoughts; it's just their misguided excitement and sometimes selfishness (Don't believe me? Just read Wedding Wire or The Knot forums). Do what makes the two of you all happy, and stick with that. 
2. Invest in photography/videography: No matter your budget, your wedding day will breeze by, and even as you try to savor the exact moments, all you'll have left are the memories. If you're going to splurge on one thing, let it be the photographs and video; this is the only token you'll have left of the big day. It's six months after our wedding, and we still flip through our photos. 
3. Start planning early: Even though it's a much smaller party, people still procrastinate with proper responses. So as not to introduce unwanted stress into your lives, lock down as much as you can ahead of time. That way, you won't feel as rushed in making decisions that could impact your budget.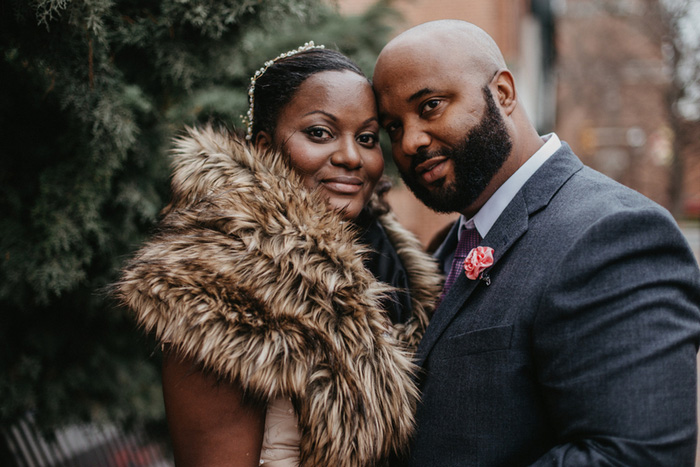 Vendors:  
Cake: Kupcakes & Co. 
Dress & Shoes: Macy's 
Announcements and Decorations: Life Long Media 
Bride's Accessories: Etsy & Ebay
Bride's Rings: Brilliant Earth 
Groom's Ring: Zachary's Jewelers   
Groom's Tuxedo & Shoes: Jos. A Banks 
Photography: Lindsay Anne Dransfield for Sarah Culver Photography
Flowers: Aisha Fross Designs
Save