Photos are the windows to the soul. Wait, that's eyes, but in this digital world photos have become almost as important! Using photos at your wedding can show your guests important memories and beloved family members – and they go a long way in personalizing your wedding.
There are many ways you can incorporate photos into your wedding decor.
Clotheslines are a great way to show off pictures you want to display for your guests. They're easy to see and have a fun rustic look with the line and clips.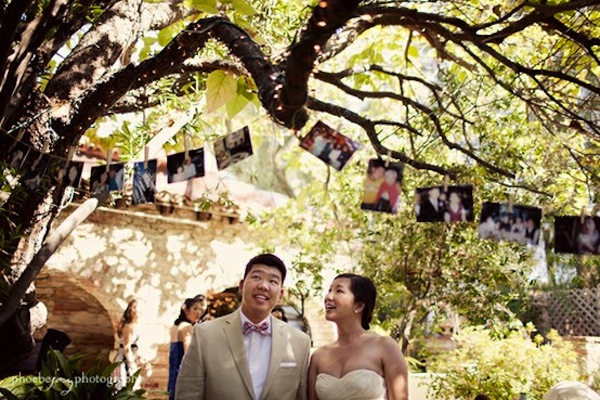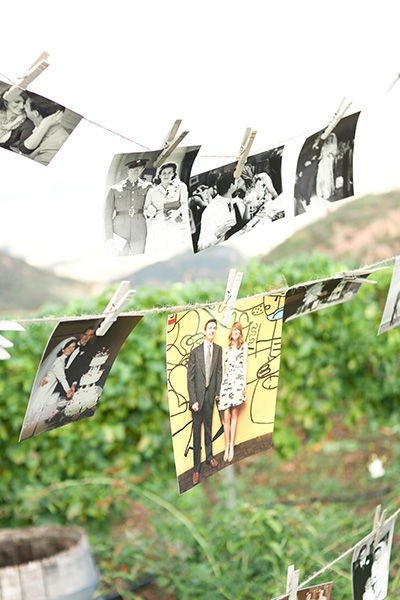 Another fun rustic photo display is done by hanging wire horizontally in an old frame.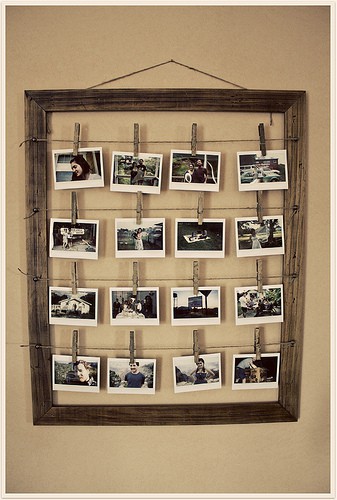 Polaroids hanging in a chain from a metal tree or framed favorites hanging from a real tree both add a touch of whimsy and element of fun.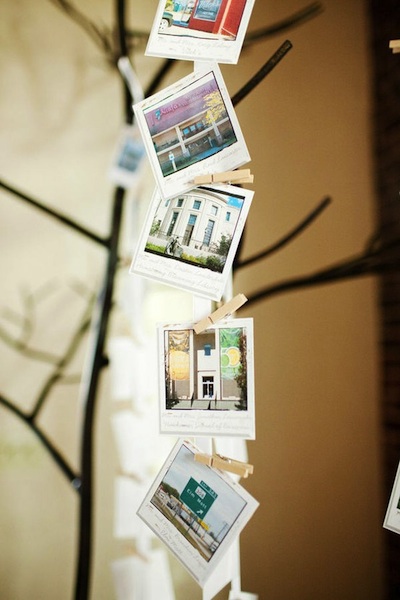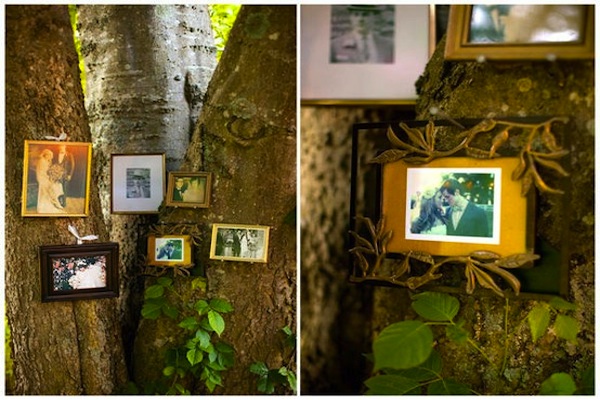 Look at this awesome photo bout!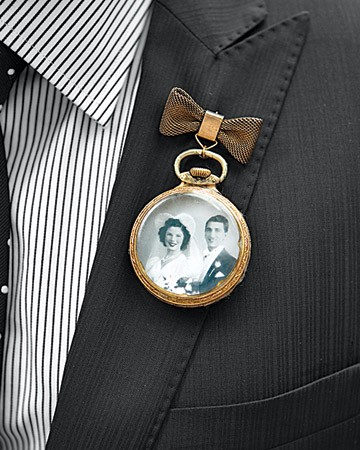 You can also use photos in fan wedding programs.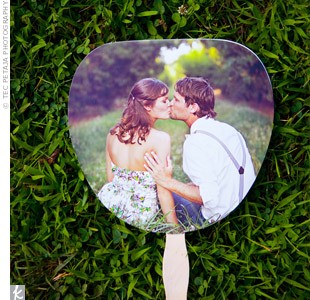 Photo displays are also great additions (or even alternatives) to floral centerpieces. Here, classic framed black and white wedding photos of the couples' parents and grandparents add to a stylish centerpiece. Another photo centerpiece is using a mason jar filled with olive oil to make a photo appear sepia toned and aged. You could put family or couple pics in them.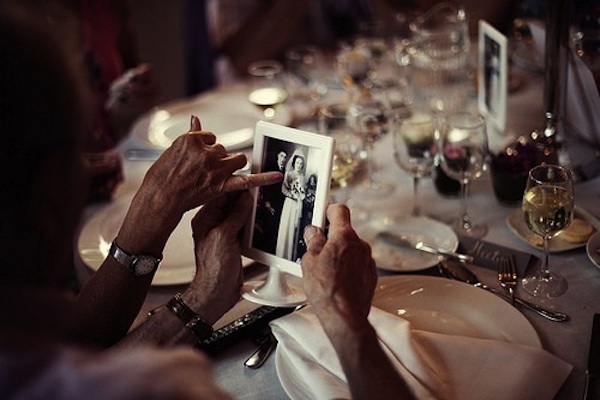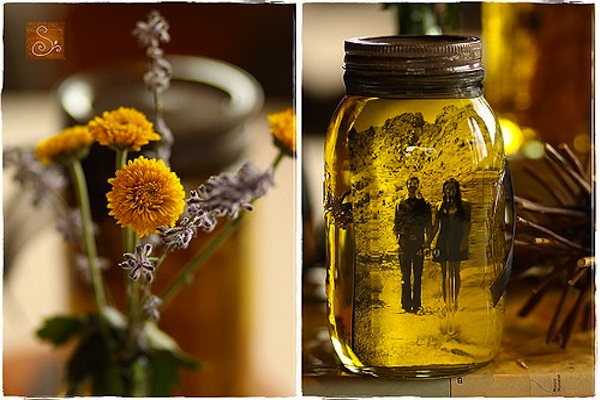 I love this idea for a simple cake, having a small frame holding a photo of the couple. Very cute.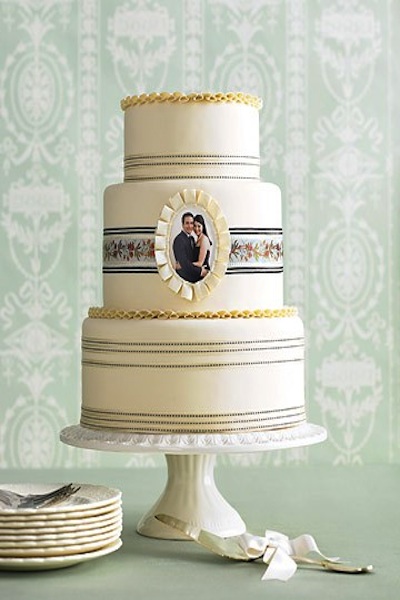 As for photos on paper products, we've seen invites and fans that display photos of the couple and here you see the favor packet (a donation to the couples favorite charity) this couple created for their guests.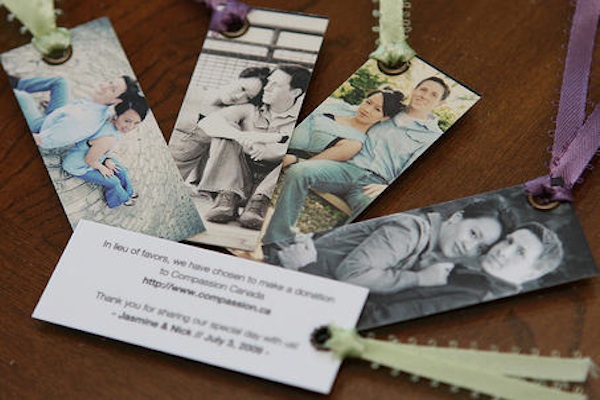 Check out these chocolate bar favors wrapped with childhood photos of the bride and groom.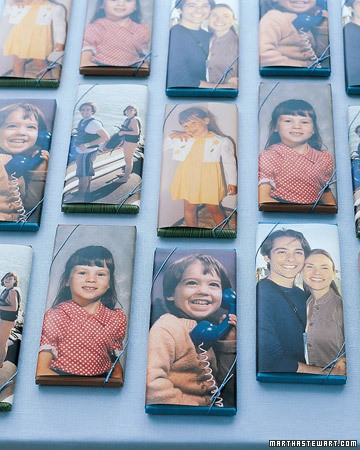 Photo One: greylikesweddings.com; Photo Two: stylemepretty.com; Photo Three: taliachristine.blogspot.com; Photo Four: stylemepretty.com; Photo Five: marthastewartweddings.com Photo Six: TheKnot.com; Photo Seven: OnceWed.com; Photo Seven: offbeatbride.com; Photo Eight: offbeatbride.com; Photo Nine: marthastewartweddings.com; Photo Ten: intimateweddings.com: Photo Eleven: marthastewartweddings.com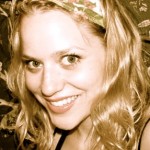 Rebekah is a DIY obsessed, wedding and event design wizard who loves hunting her bay area      homeland for clever craft ideas, vintage gems, bargain buys, new pieces for her vintage rental line  and blogging inspiration. She and her husband live and write in Oakland. Read her blog.