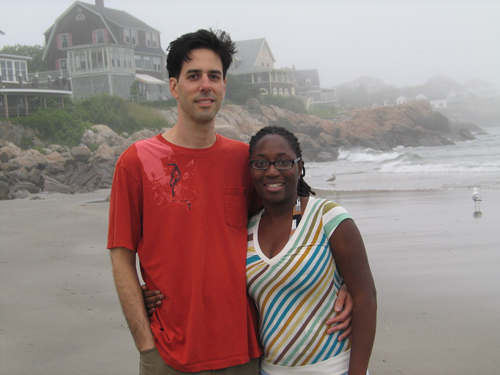 Josh, over at LCI Paper, is getting hitched and he's having 50 people at his backyard wedding. He's agreed to share a bit about his plans and how he and his sweetheart are creating a highly personalized event that is truly a relfection of themselves.
By Guest Blogger, Joshua Birch
Before I proposed, my future bride and I attended a friend's wedding that took place at a church. As we waited for the ceremony to start—and it started quite late—we glanced at each other with uncomfortable looks on our faces and then back to the organist who was playing dark, moody pipe organ selections. We couldn't believe the depressing mood he was creating with his music. I wondered if he was just trying to show off his virtuosity, because he certainly wasn't thinking of the bride and groom or their guests. No one could have directed him to play those pieces for this wedding. It was literally funeral parlor music which I tend to like, but not before a wedding.
The actual wedding was as traditional and as cookie cutter as you could get. There wasn't a hint of the bride or groom's personality, nor did the minister show that he knew them very well. Luckily, at the reception, the toast that my friend the groom was about to make would erase all negative thoughts I might have otherwise kept about the wedding. When it was his turn to toast, he stood and spoke from his heart, complimenting his new bride as if she was the most wonderful woman in the world, and thanking her parents, his parents, and his honored guests.
He must have spoken for 15 minutes, but people were riveted to his words. He thanked a number of individuals for being there and recognized people who had come as far as Jamaica, his native country. I was a very surprised and lucky recipient of his recognition, and I was truly floored. He shared experiences we'd had together and showed how important those experiences were to his current endeavors. A few weeks later, I give him a call and told him how impressed I was with his speech. I felt that he had come into his own as a mature man. Because of his desire to connect with people, he had made his wedding day one that we'll remember with affection.
The type of connection my friend made with his guests is one that I am hoping and planning for my up-coming wedding. But I also want to inject as much of my personality and my fiancée's personality into the actual ceremony.
It started with my proposal location choice. Originally, I had hoped to propose at a ski area–on an actual chairlift. I missed my window of opportunity when the ski season ended and I was not yet ready to propose. So instead, I planned another ski lift ride. But instead of doing it at a ski area, I proposed at our favorite amusement park. At Lake Compounce in Bristol, Connecticut, they have a quad chair lift that brings guests to the top of a scenic and very steep mountain. She was completely surprised and tells me that the excitement of the proposal combined with the fear of the steep ride was almost overwhelming.
Another way I'm injecting personality into our wedding experience is with our wedding site choice which is in the large backyard and on the large deck of a close friend in Massachusetts' Pioneer Valley. The site reminds me of my early childhood in rural Western Mass.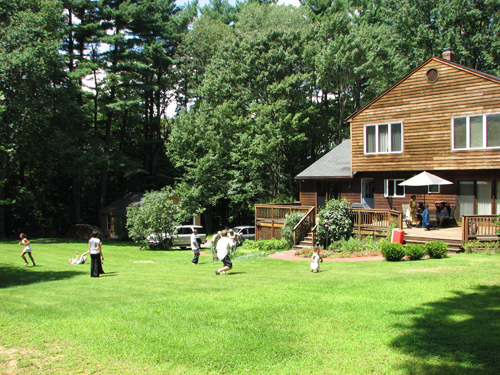 The pastor of my parents' church is marrying us. For many months, we saw him for pre-marriage counseling sessions. He also helped us plan my parents' 50th Anniversary celebration that also took place at the church. And last Saturday, my fiancée was surprised with a bridal shower that took place… Yup, you guessed it, at the church. Through these experiences and by continuing to attend his church services, we've gotten to know him and he has learned a lot about us. We hope this relationship will be apparent throughout our ceremony as he presides.
Since I work at LCI Paper, and I was already comfortable with the company's do it yourself invitation selection having put together and printed many of the wedding kits to photograph for the web site) my fiancée and I decided to choose individual components and make our own invitation ensemble. Our wedding will take place during the last week of September, so we're using fall colors. We went with a pocket fold invitation and a combination of brown, orange, and cream for the components, using natural looking textures like Japanese linen and Vice Versa brand card stock from Gmund in Germany.
Our favorite restaurants are mom & pop ethnic establishments where very often, the owner is the one serving or cooking the food. Our most popular, most reliable type of food when we want to eat out instead of cook is Thai food. We find it to be one of the best values and a great balance of healthy ingredients and great taste. A Thai restaurant local to the wedding site is catering the food for the reception.
During the actual ceremony, we're incorporating two of our guests for special music. One is an original acoustic guitar instrumental and the other is a vocal piece. We asked our friends to suggest what they'd like to perform and we liked their choices. I have to admit that I'm looking forward to the third musical performance the most. Sometime during the reception, my best man will be singing a medley of my favorite '80s love songs over instrumental tracks. From Depeche Mode to Jack Wagner, he's going to surprise people! I hope he won't mind if I spontaneously need to high five him during the middle of his performance! A number of my friends have DJ experience, so instead of hiring a professional, I've asked my buddies to be prepared to play a ½ hour set of music if called on. I'll also have some custom mixed CDs to play as background music.
The most important part of the wedding will be the connections we make with our family and loved ones. Since there will be just over 50 total people, all of the planning I've mentioned and everything else we're trying to achieve is to facilitate a connection among this very small group. I am so looking forward to being able to honor my bride, our parents, and the rest of our families and loved ones who will travel long distances to support us.
All this effort and customization is to make sure that our wedding and all the events leading up to it (including a recent engagement party at our favorite beach) are reflections of our personalities.
Joshua Birch works at LCI Paper. Visit the LCI Paper Blog for creative articles, How To videos, and a podcast with wedding and paper industry professionals.