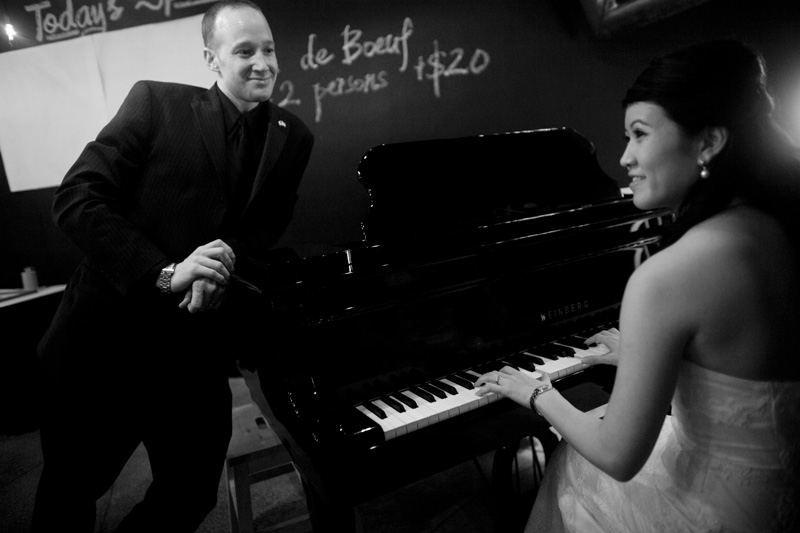 Felicia, 25 & Robert, 30
Singapore (The groom is from California. The couple met while traveling in Tibet.)
Wedding Date: July 4, 2009
Number of Guests: 40
Wedding Cost: $10,000 including rings, excluding honeymoon
Wedding Ceremony Location: Le Bistrot, a French bistro along Singapore's Stadium Waterfront. We created an intimate space by using foot-high lanterns from Ikea, thereby creating a space for the ceremony. Due to the snug size of the restaurant, this was actually also space for our sweetheart table. Tables were quickly replaced after we were done.
Wedding Reception Location: As above. The 50-seat restaurant was closed for our use, as we met the minimum spending. Menu choices were discussed with the Maitre d' and Chef prior to creation of invites, and all wines were paired & provided by the restaurant too.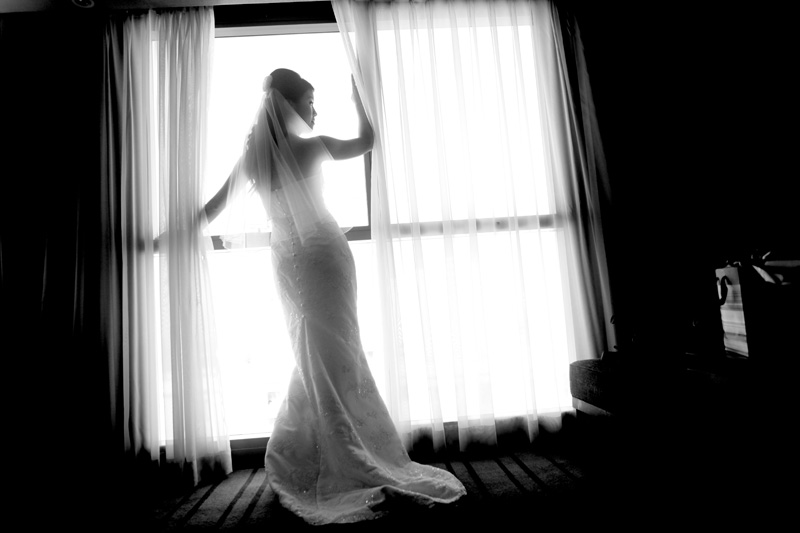 Why did you have an intimate wedding?
We've been to, and shot (my husband is a photographer and I assisted him) large weddings where the atmosphere felt 'diluted' because of a lack of connection between the couple and their guests.  We had initially considered a 150-person guest list, but once we started making the list, we realized that, actually, only about 40 of our nearest & dearest really mattered. Besides, by having a smaller guest list, we could provide greater quality to our guests, and keep things really personal. e.g: we could spend over $100/head for really good French food, instead of skimping and going with a $20 buffet for a lot more people.
In lieu of typical favors, we wrote individual notes to our guests, since every single person present was there because they are a special part of our lives. It made us truly reflect on our friendships/kinships as we wrote them, and there were some joyful tears in the house after guests read their notes. The notes were rolled like scrolls, sealed with our monogram and topped with a mock 'baggage tag' with their name in fancy script. These also served as place cards.
Our invitations, which were travel-themed consisting a 'passport', 'boarding pass' and 'inflight menu', were fully customized. Every guest received a personalized 'boarding pass' listing our wedding details. And this being wholly DIY by the bride from scratch, would have been far too tedious for a larger guest list.
I'm glad the small guest list and personalized touches set the mood for an intimate, personal wedding, where it felt like we were sharing a deeply private, almost sacred moment with our closest friends & family.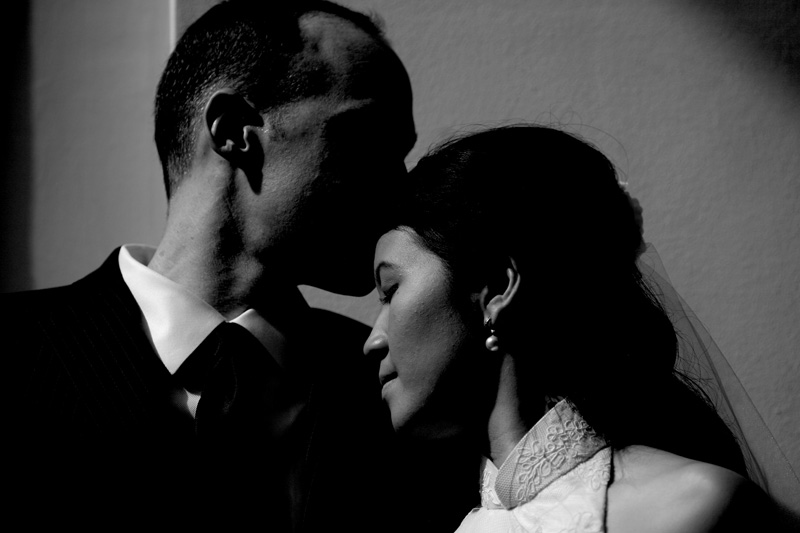 What are some the challenges that you faced planning an intimate wedding?
The most evident would be expectations of who 'should' get to come, and also the fact that some of our friends had partners/spouses whom we were not familiar with.
Taking a highly personalized approach also took a lot of energy from us. Instead of just mass-producing invites, for instance, every boarding pass had to be customized. Guests with special dietary needs also had tailored menus, and the copy extended to them as part of the invite suite also bore their names. And of course, handwritten notes to each & every guest takes considerable time and effort.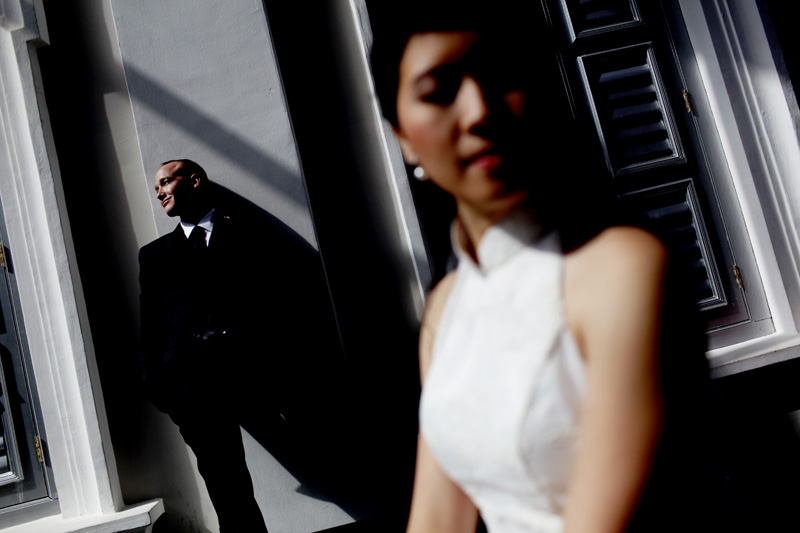 Was it difficult to pare down the guest list?
Not really. We were pretty clear on who 'made the cut' and who didn't, so there wasn't really an 'A list' / 'B list' issue. I guess we were just quite brutal with paring things down, for lack of a better word. I must say, our guests were also very understanding when I explained why the partners/spouses we didn't know well weren't invited. This is a fine line to tread though — we knew we weren't offending our friends because we discussed it candidly with them. We are fortunate that our friends are very understanding, and it helped that most guests came in groups (college friends/immediate family/ex-colleagues) so even without a requisite "plus 1", they did not feel awkward nor out of place.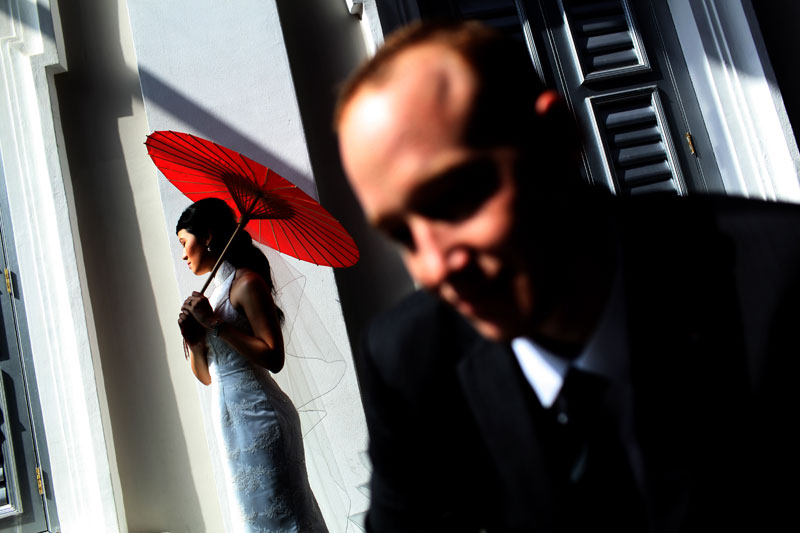 Did you have any 'issues' with the small guest list from friends and family? If so, how did you address them?
To circumvent the issue of family expectations, a small Chinese-style lunch banquet was held for the bride's extended family earlier in the day, along with a traditional tea ceremony honoring the elders. Similarly, we are in the midst of planning a simple hometown reception in California, for guests who could not make the long trip to Asia.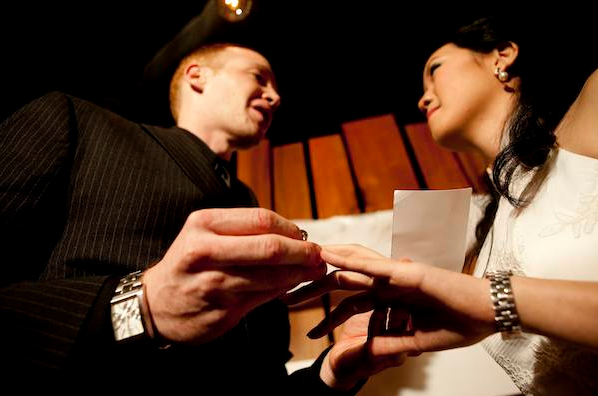 What were the highlights of the ceremony?
As our legal marriage was conducted separate from the ceremony, the ceremony was well, entirely ceremonial. This meant that we had free rein to make the wedding uniquely ours.
Both agnostics, we were certain this would be a non-religious ceremony, and also sought to make it an inclusive and memorable one.Our groomsman then read a portion of Robert Fulghum's 'Union', along with words we penned about how we found each other, and how our friends & families, by their own joys, sorrows, successes and failings, remind us of what love, and what marriage means. A poignant moment, for many have loved/lost, and had advice for us.
Before the bride walked in (alone, met by groom mid way), guests watched an 8 minute slideshow in 2 parts: The first, played to Somewhere Over the Rainbow/What a Wonderful World by Israel Kamakawiwo'ole, was of our respective childhoods; and then the second part, set to 'Lucky', a duet by Jason Mraz & Colbie Caillat. The slideshow was done on the bride's Mac, and drew gasps of admiration from our guests at the slick animation. Some people even thought it was a professionally-commissioned piece of work! Yaay Macs!
In selecting the pictures, we also made sure that all of the guests present were featured, reflective of the them being part of our lives. Many people were appreciative of this, and talked with us fondly about the chosen pictures and the accompanying memories.
Next, our best man, groomsman and bridesmaid were involved in the ceremony, which we wrote ourselves. Their religious views were – none, Christian Pastor, Muslim Pakistani, respectively. We loved the diversity, and were also honored that we had guests fly in from everywhere from California to Poland to Vietnam for the wedding.
For the ceremony, first, we had our rings passed around among the guests for a 'ring warming', a tradition where guests would hold the rings for a moment, to 'warm' the rings with their wishes & blessings for the couple. Instead of a ring pillow, we had the rings tied to a vintage copy of I Married Adventure, an autobiography of a woman who married a travel photograher (which Rob is!) in the 1920s. It was our way of having guests get involved, just as they have been an active part of our lives.
While the rings made their way around, one of our bridesmaids read an excerpt by Khalil Gibran, a Muslim author. The quotes from 'The Prophet' spoke about how marriage involves two people like separate strings of a lute, independent, yet playing the same tune. This reflect our belief that we are two unique individuals, and marriage represents a confluence of who we are, not negating our individualities for an obligatory, collective "we".
We then exchanged our vows, which were highly personal. I started by speaking of our travels together, while he quoted the husband of Objectivist philosopher Ayn Rand – our common favorite author. We ended both our vows with the same words, where we emphasized that we exercised a conscious choice, to take each other as an equal and a partner, among other things.
Our bestman rounded things up by having us join hands, and also invited our guests to take the hands of someone who matters to them, and then read excerpts along the lines of 'These are the hands…' that would be here through the good & the bad.
We closed the ceremony, in lieu of a prayer, by signing a 'marriage certificate' fashioned upon the Quaker concept of a community putting down their signatures to state their support for the couple & their marriage. We're pleased to report that all guests signed!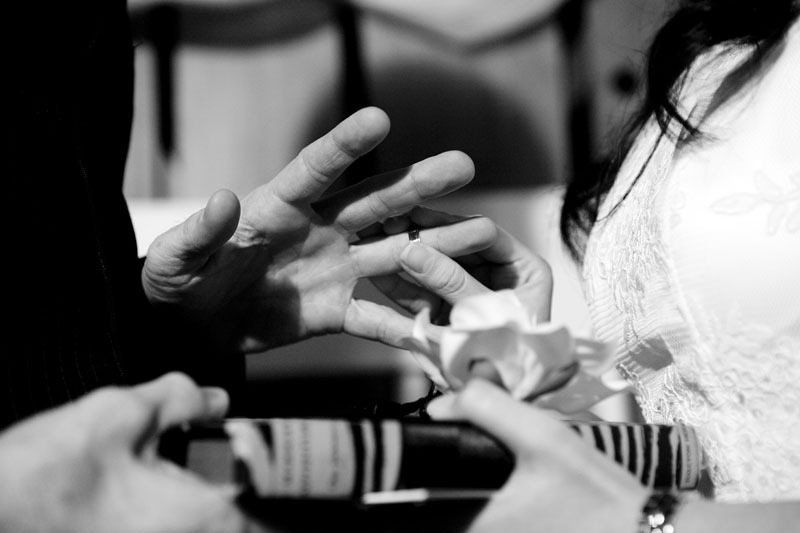 What were the highlights of the reception?
Food was 3-course classic French cuisine. We often had dates at this lovely little eatery and, somewhat on a whim, decided to have our wedding here. We also hired the in-house pianist to play several sets of jazz/evergreen classics, which were very well-received by our guests.
Because it was a very small guestlist, we could have guests pick out their preferred starters & mains via the 'inflight menu' during RSVP. Tray-passed hors d'oeuvres were being served from an hour prior to the ceremony, along with an all-French sparkling/red/white wine selection.
We had a French dessert platter and so did not have a cake, but our bridesmaids & friends ordered a custom 'suitcase' cake, reflecting our travel theme. It was a TOTAL surprise and we were so amused. In fact, we didn't even wait for plates, and started cutting & handing out chunks of cake. I have to say our guests were such great sports as they gamely grabbed a bite!
The bride also had a surprise for the groom, by playing Elvis Presley's "Can't Help Falling in Love" on the grand piano in the restaurant. He was very surprised indeed, since she hadn't played since she was a child, and had to find time to learn & practice amid the wedding preparations.
Finally, the small space (no dance floor, although we did sway around to 'Rainbow Connection' randomly at some point while the pianist played) and 11pm closing time meant that we had to take our party elsewhere.
And what self-respecting 4th of July wedding could be without fireworks?
So we armed our guests with sparklers, lined them up, and we made our grand exit…. onto the awaiting 'party bus' (just a 30-seater bus we hired!), which took us and most of our guests to a 'Howl at the Moon', a dueling pianos bar in downtown Singapore.
We had a blast and ended up dancing up a storm on stage because we're really good sports after sufficient vodka! It was an amazing night, where we had a VIP area reserved for our party of 35, and we boogied the night away, till late.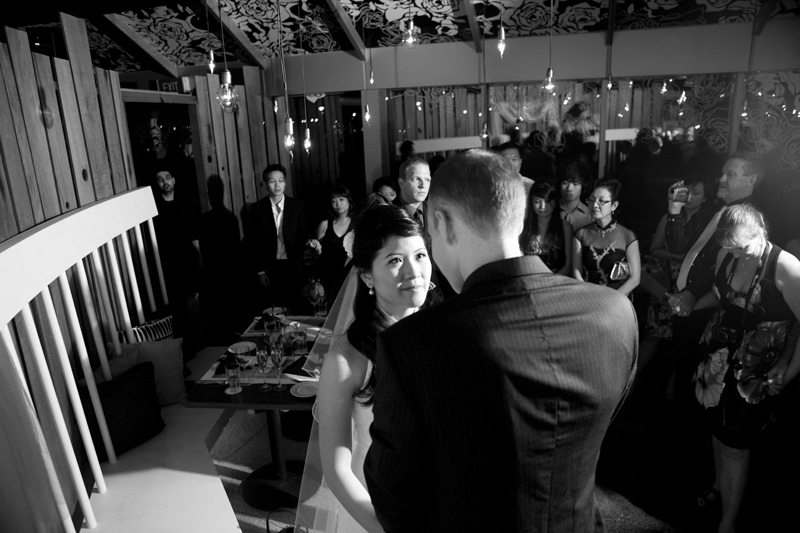 What was the best thing about having an intimate wedding?
Definitely the interaction with guests, without losing out on having a good time. Before the wedding, friends kept telling us, remember to eat, remember to have fun, enjoy the day. By having a sweetheart table, guests could come by freely to take pictures with us, or just come chat, and, in between courses, we also mingled, walked around, checked if everyone was having fun, and all this was just totally natural — because we were in the company of our closest friends. It made for a very relaxing, fun and comfortable evening.
And I think, all the personal touches also meant that the wedding was memorable not only for us, but for our guests as well.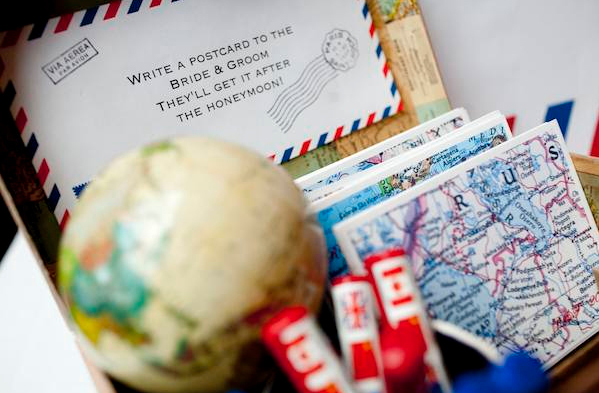 What advice do you have for couples who are considering an intimate wedding?
Don't be afraid to go small. Bigger really doesn't necessarily mean better. We were fortunate because we managed to find that balance and support from our families, by spinning off a lunch (kept small & affordable) and another hometown reception (homely, simple). Going small allows much greater control over what you like/dislike, and also greater room for creativity and an expression of your style. I think the biggest compliment we've gotten about the wedding is that guests say our wedding was totally "us". We went with what was important to us (people closest to us, good photographer, good food) and didn't feel compelled to go with tradition (bouquet/boutonnieres, get tuxedos etc).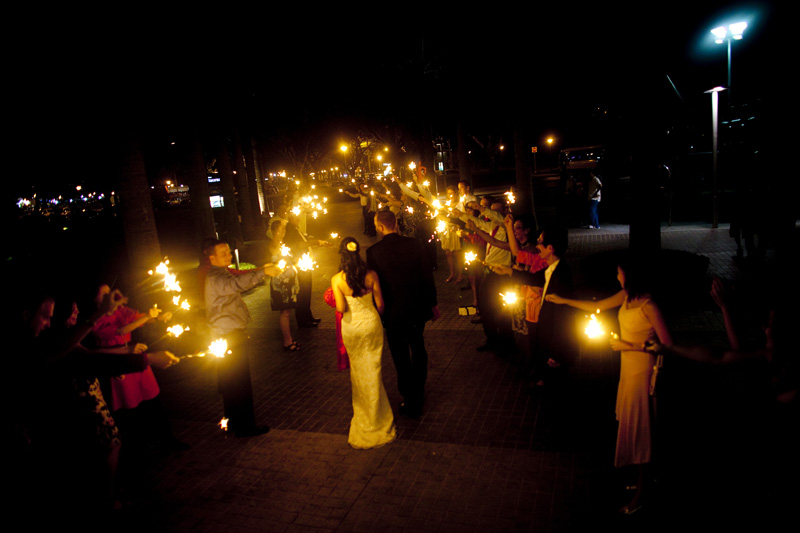 Vendors:
Photographer: Justin Mott. American based in Hanoi, Vietnam
Dress: Max Couture, Singapore. A tiny hole-in-the-wall dressmaker. Dress design was conceptualized by bride.
Grooms' outfits: Suit – preowned, 2 shirts for under $50
Groomsmen's outfits: Shirt/tie/vest sets from ebay at $17 each!

Decor:
Table runners DIYed from vintage maps.
6 x foot-high Ikea glass lanterns on loan from bridesmaid's mom.
Ceremony platform DIYed from Ikea wooden slates (an disassembled bed!).
This is a non-floral wedding! Bride did not have bouquet, no boutonnieres for men. Groom sported US-Singapore 'friendship pin' on his lapel, Bride had hers on her black satin clutch purse.

Pianist: Celine Goh
Make up: Fionna Lau, Singapore
Accessories:
– Cathedral length veil – $6 from Target.com
– Fingertip length veil – Compliments of dressmaker
– Hair flower – $2 from Ikea, DIYed
– Diamante hair barette – $6 from Chomel
– Shoes: Pre-owned