Cathryn and Brian's sweet at-home wedding in San Antonio, Texas wasn't just a celebration of their love and union, but also one of family and heritage. By incorporating their families, Cathryn's Mexican roots, her love of poetry, Brian's love of physics and their mutual appreciation for blues and jazz music into their big day, they paid homage to both their shared and separate histories as they tied the knot in San Pedro Park surrounded by their nearest and dearest.
The talented Kat Bevel was on hand to capture this simple, yet stunning small wedding.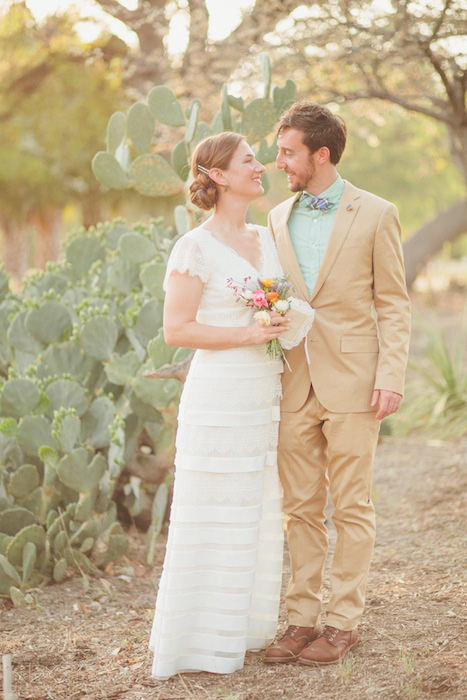 Cathryn, 33 & Brian, 31
San Antonio, Texas
Wedding Date: March 23, 2013
Number of Guests: 25
Wedding Cost: $7,000
Wedding Ceremony Location: San Pedro Park (it's the second oldest park in the U.S. and only second in age to the Boston Commons)
Wedding Reception Location: Bride's mother's house, near the park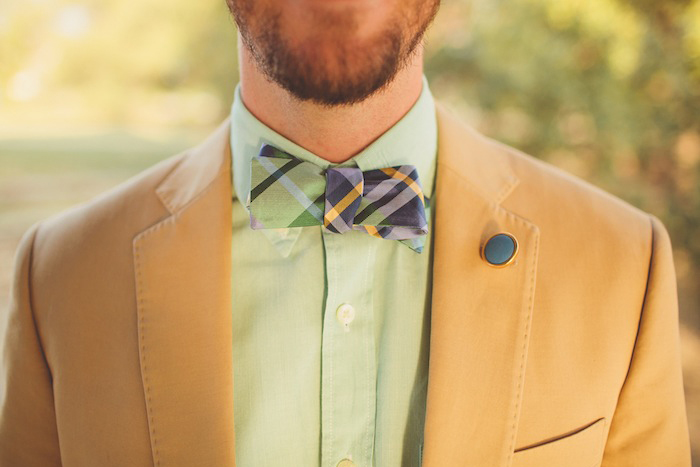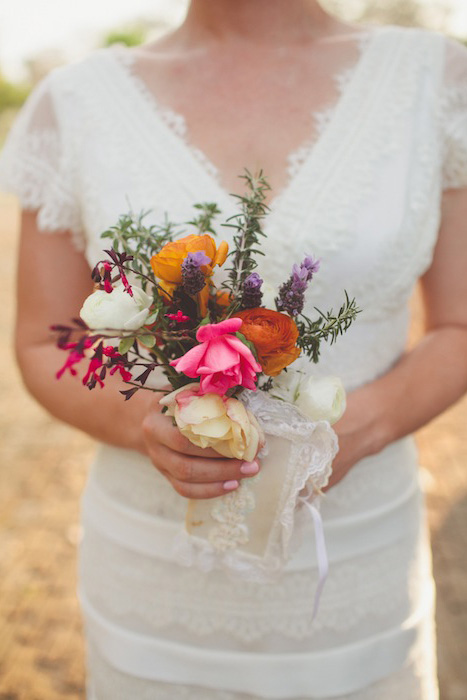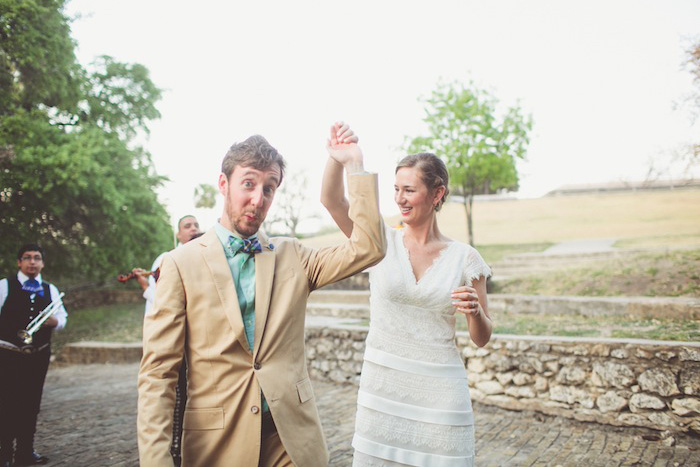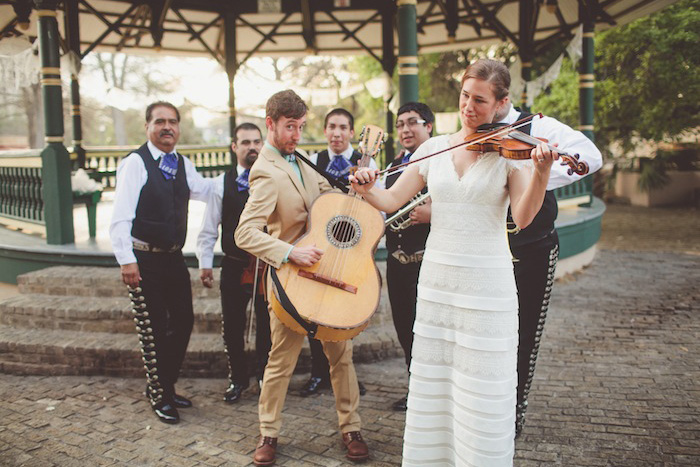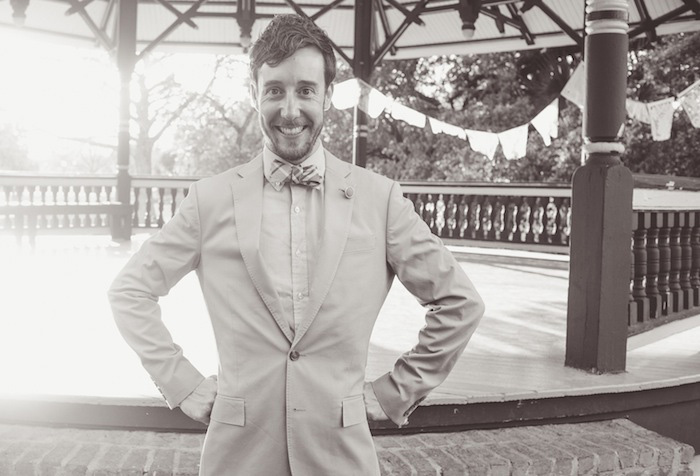 Why did you have an intimate wedding? 
Brian and I are both relatively private people and share the aesthetic (and politics) of less is more. And, actually, we originally were going to have a large wedding, but decided that we wanted to focus on the quality of the experience rather than than the quantity of guests. We rarely have the privilege of having all our close friends and family in the same place, and we really wanted to enjoy and honor that.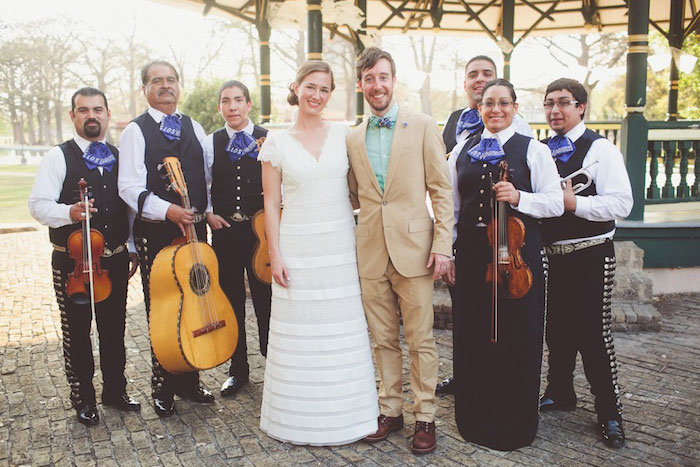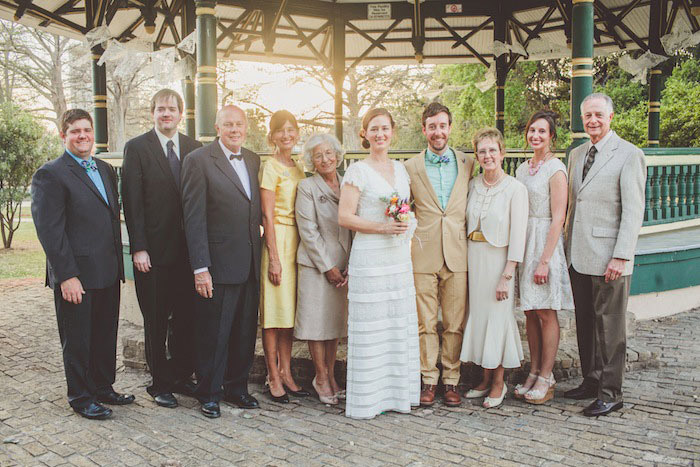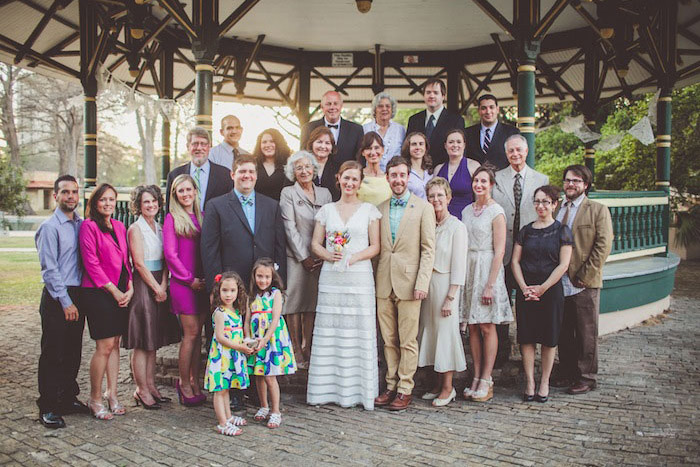 What are some the challenges that you faced planning an intimate wedding?  
The guest list.  But due to the smaller size, planning was much more manageable, and we were able to create the overall feel we were aiming for.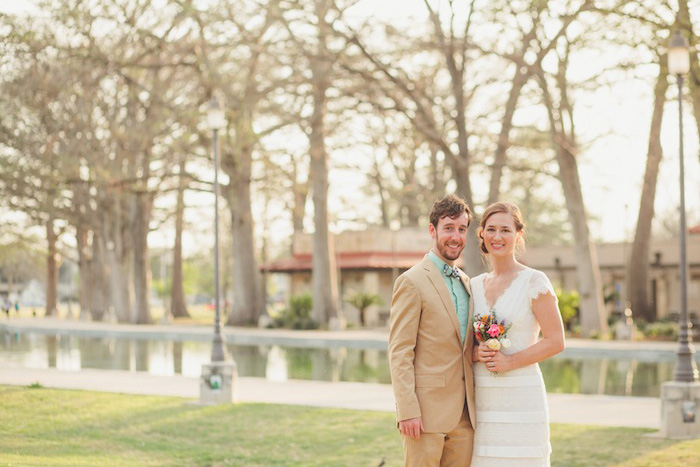 Was it difficult to pare down the guest list?
To be honest, yes. Of course when planning a small wedding you really have to economize when it comes to the guest list. We decided on immediate or closest family as well as childhood/closest friends. We were not able to invite everyone we wanted, but we figured that our other friends and extended family would understand and support us nevertheless.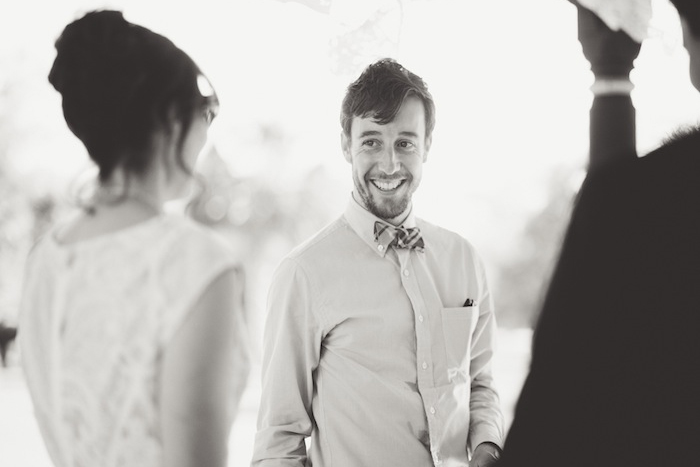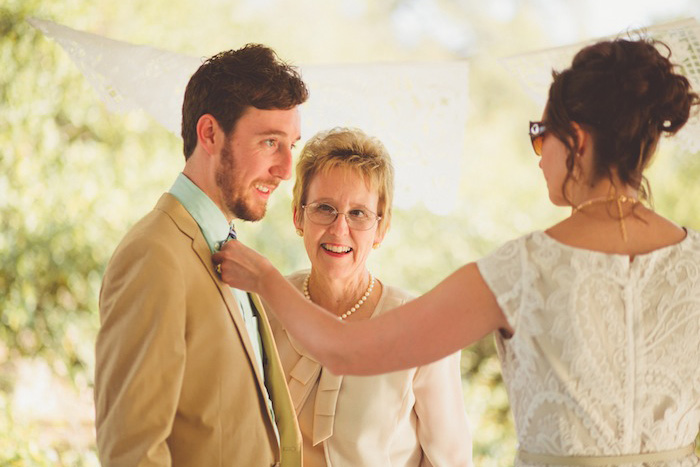 Did you have any 'issues' with the small guest list from friends and family? If so, how did you address them?  
Yes, unfortunately, we did.  We responded as kindly and respectfully as possible and just hoped for the best.  But overall, I think people understood and supported our decision.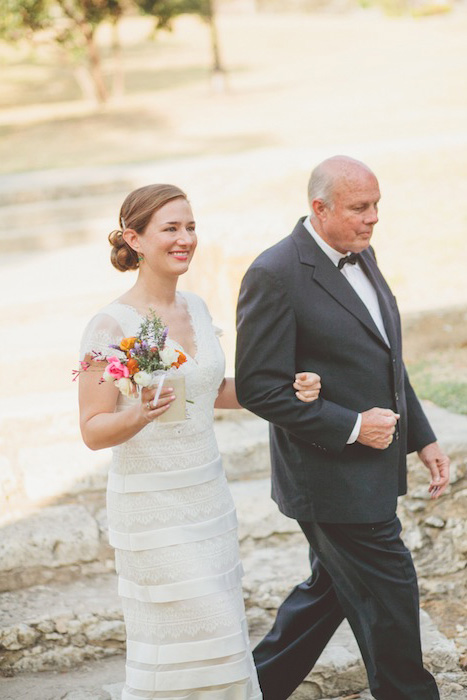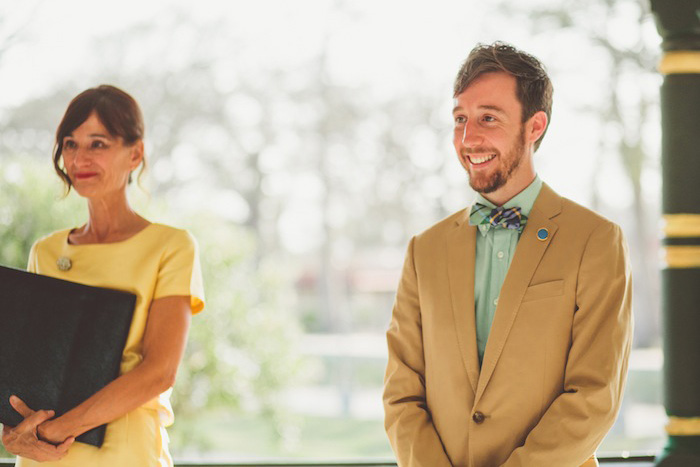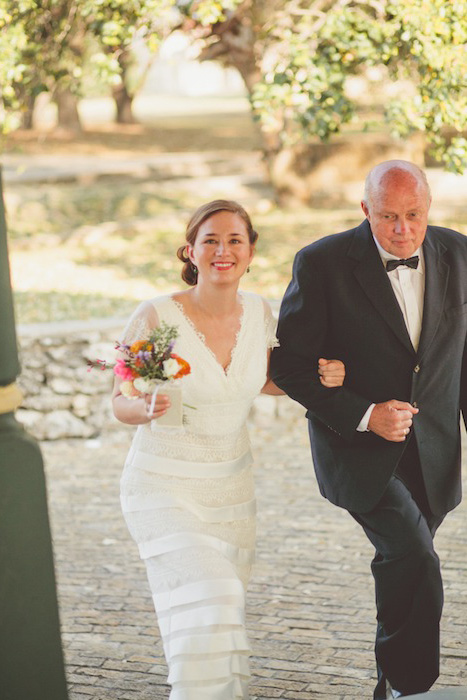 What were the highlights of the ceremony?
The ceremony took place in the evening and everyone and everything was luminous–my now husband was practically radiating! Also, I remember walking up to the gazebo with my father and all my nearest and dearest were there smiling–just seeing that made me break into happy tears, and I'm not a particularly emotive person.  In addition, we wrote our own vows, which made the ceremony especially meaningful.  Since I am an adjunct English professor and Brian is a physics postdoctoral fellow, we tried to incorporate both of our sensibilities. We merged the poetry of Elizabeth Barrett Browning with the quotes from the comic book character the Green Lantern, as well as included lines by Judge Margaret Marshall who wrote the Goodridge decision which allowed gays to marry in Massachusetts.   Finally, our mothers played really central roles.  My mother was the officiant, and talked very eloquently about the significance of conjoining friends and family through marriage.  Brian's mother read an excerpt from 1 Corinthians Chapter 13–which conveys the attributes and significance of love.
Finally, there were mariachis who serenaded us right after the ceremony, as well as a heart-shaped piñata that the ring-bearers (who were girls) got to break open.  As much as I could, I tried to incorporate elements of my own cultural background (Mexican American) and capture the spirit of San Antonio and South Texas.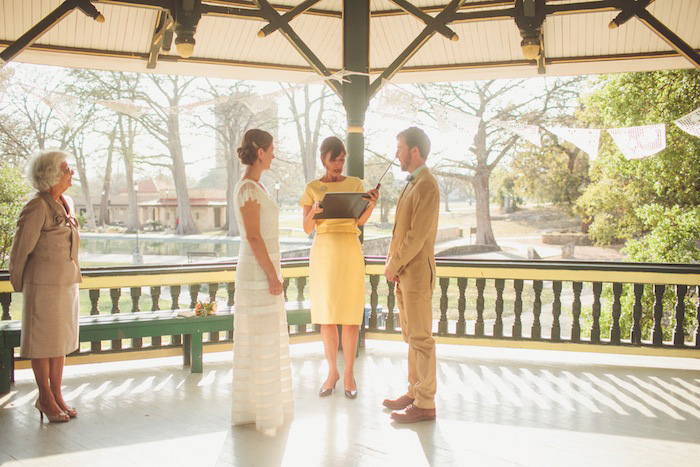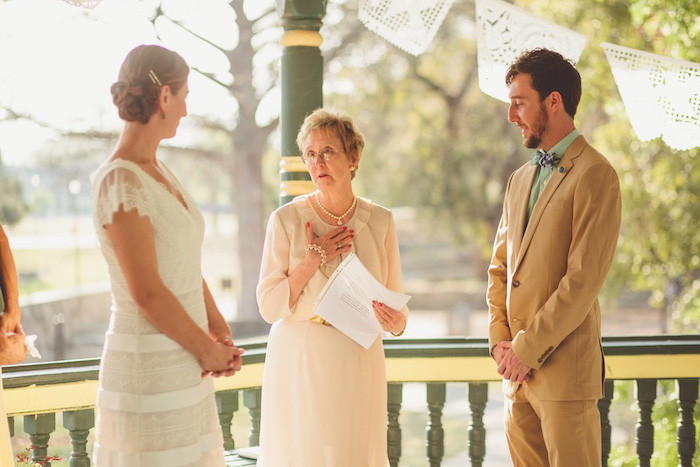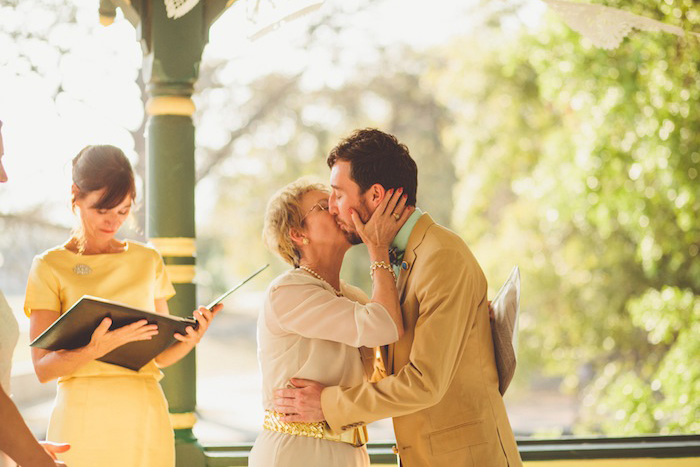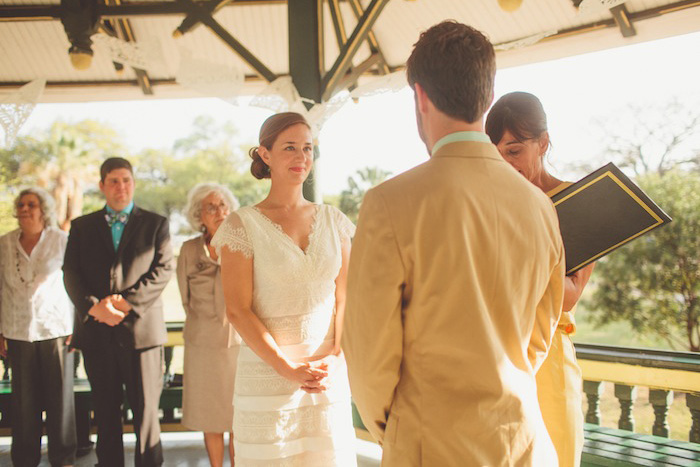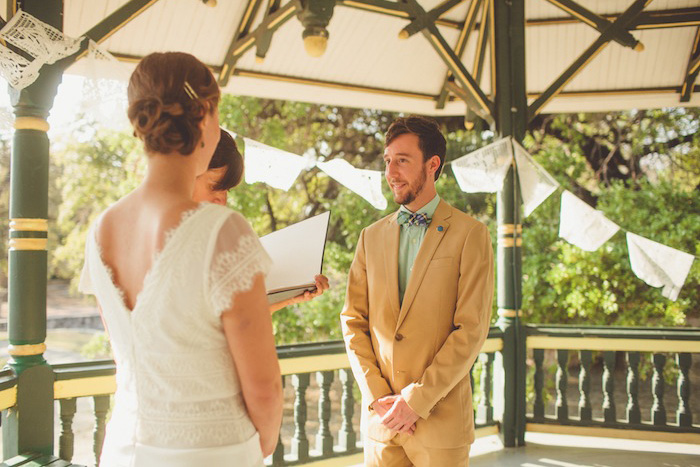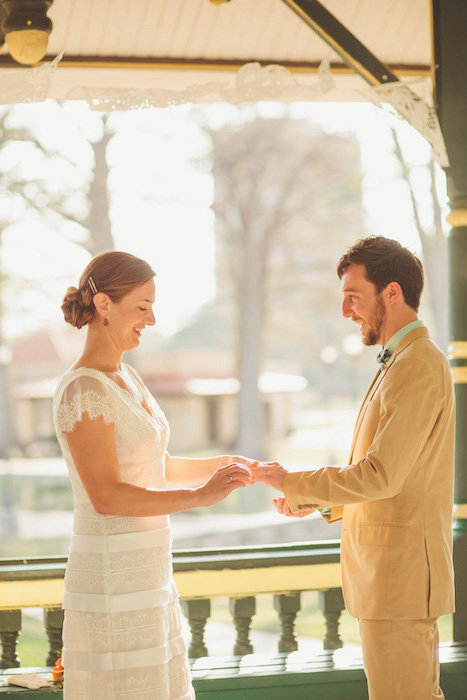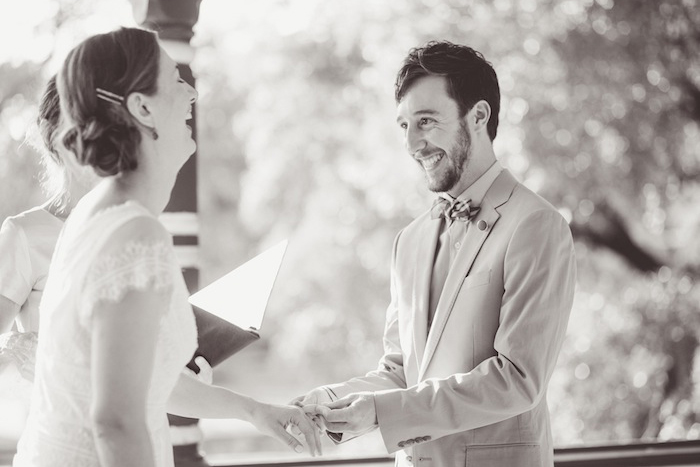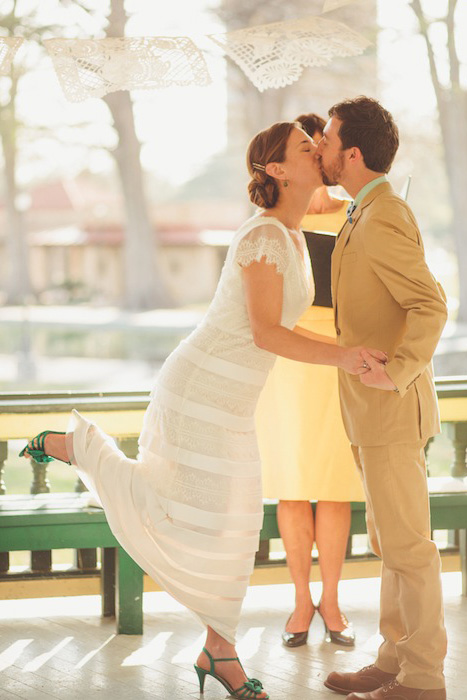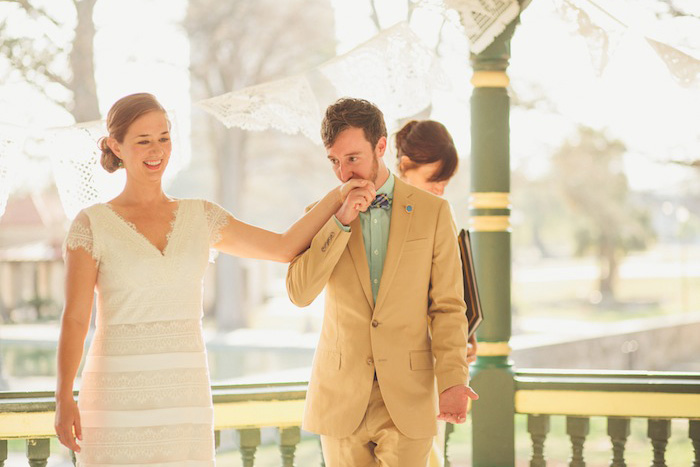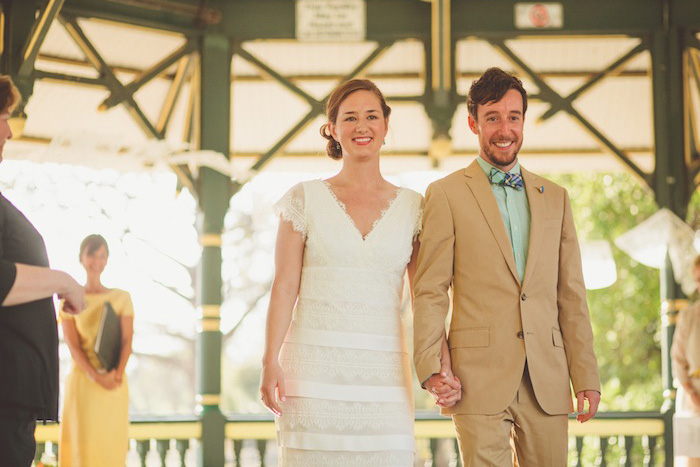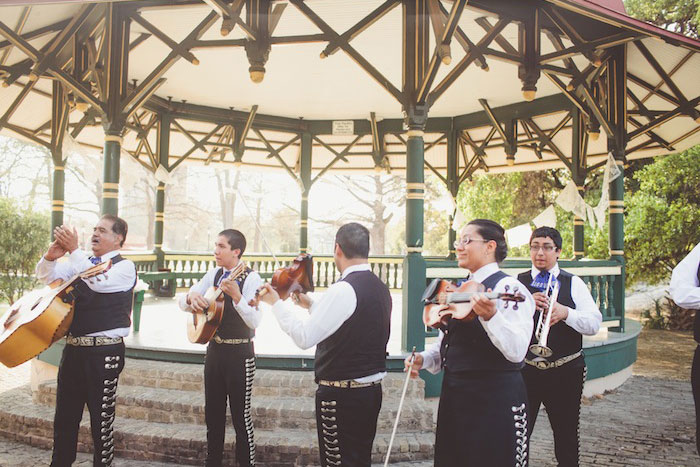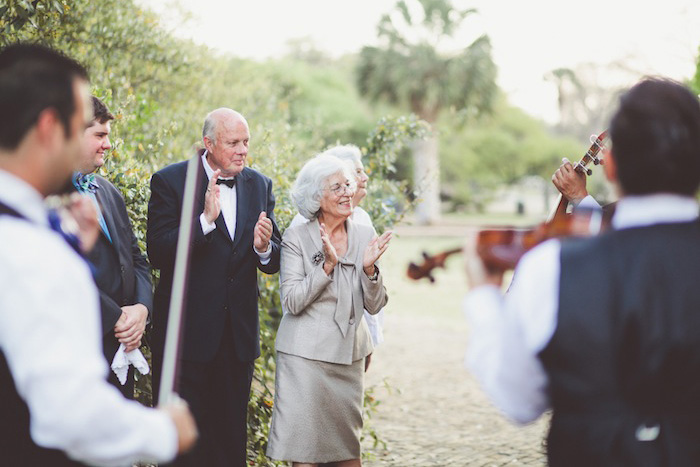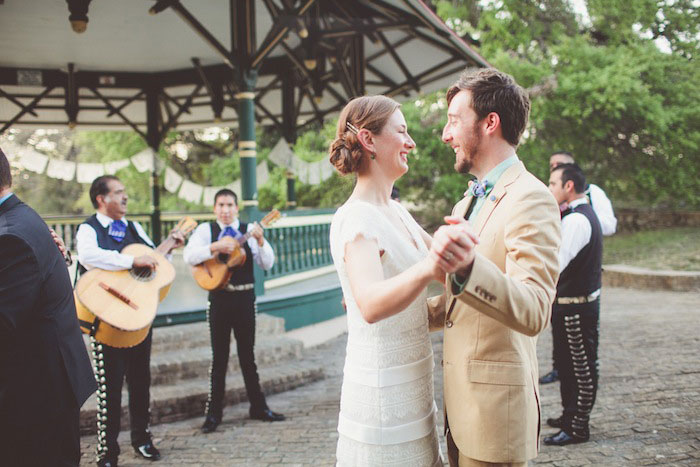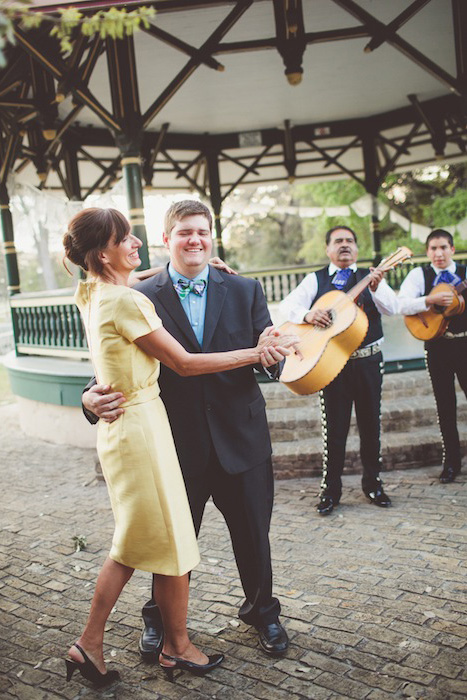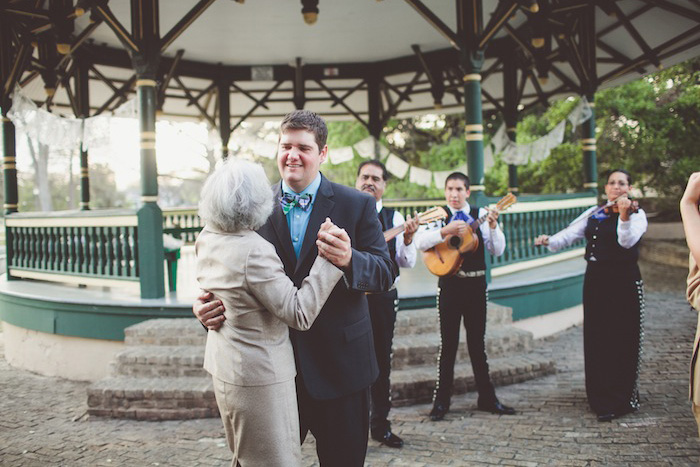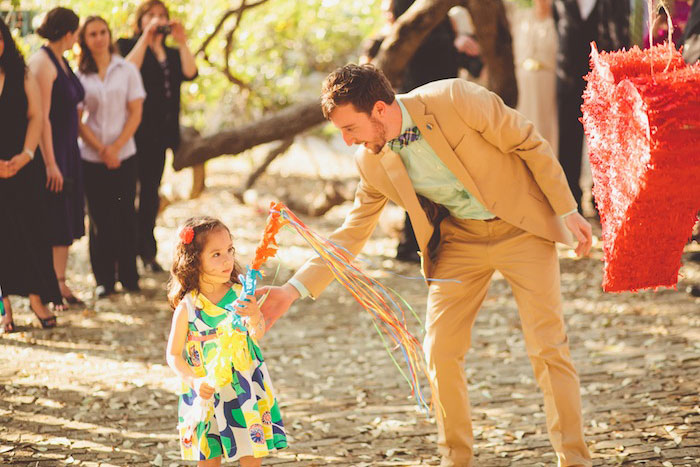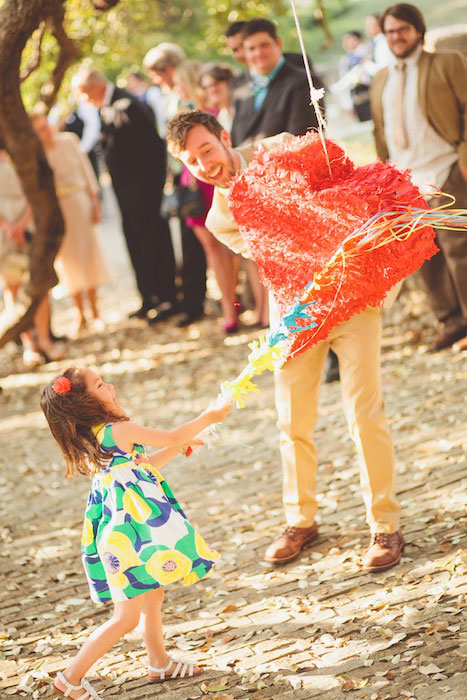 What were the highlights of the reception?
Because of the small size, the dinner was really intimate–and delicious!  The food was amazing since we could afford higher quality catering.  We used Restaurant Gwendoyln, a local gourmet eatery whose menu item are all handmade and locally sourced.  Chef and owner Michael Sohocki, who was nominated for the prestigious Beard Award (like winning the Grammy for chefs!),  sat down with us before the wedding and planned a five-course meal based on a Latin American flavor profile and we paired it with Spanish wine. For the dinnerware we incorporated antique china and silverware from both sides of our family to represent our union. As well, we used Mexican tin hearts as name tags.
The reception took place in my parents' home, which is one of the first houses to be built using Spanish Colonial Revival architecture, and so it was perfect for the Spanish/Latin American feel.  Other special touches included the candles decorating the fireplace which my great aunt (Tia Licha) made in her nursing home with the help of her daughter Debbie, who also helped with a lot of planning details.  My grandmother, turns out, is an amazing florist and created all the bouquets, including the one I carried during the ceremony. She combined various flowers from the florist with Texas wildflowers and herbs from my mother's garden.  It was really great just to relax enjoy the food–and Spanish wines!–with people we really care about and love. Being an audiophile, Brian spent weeks assembling a playlist for the dinner portion and the dancing that followed which expressed our love for blues and jazz and the borderlands from zydeco through conjunto.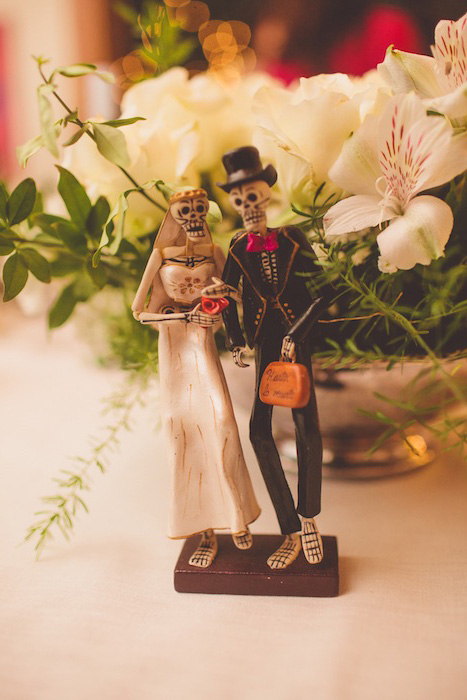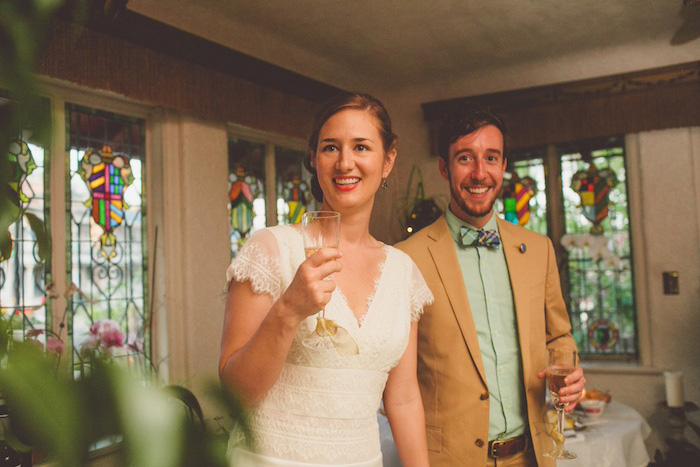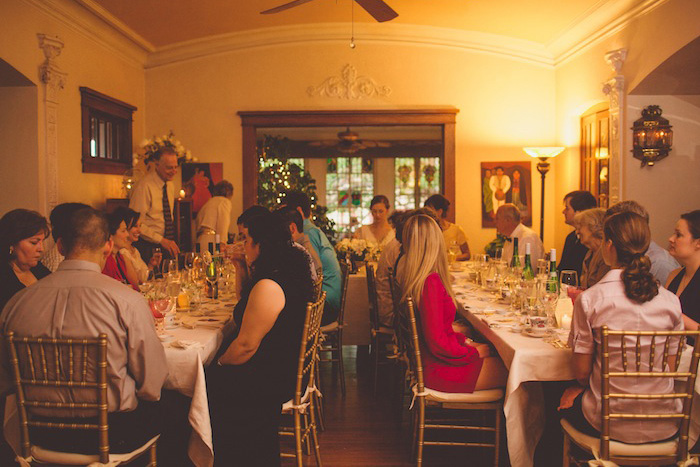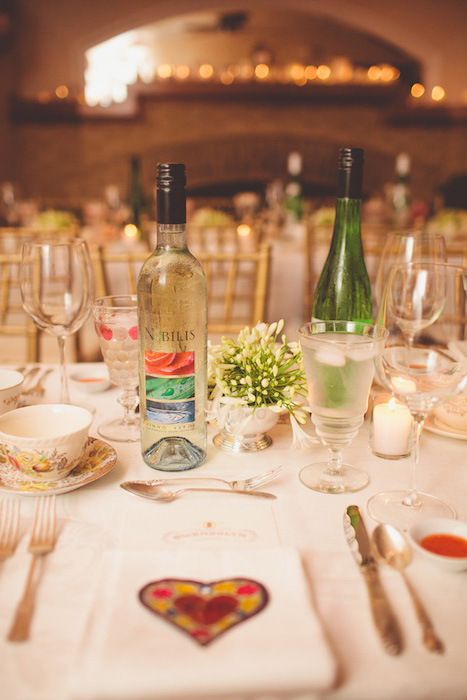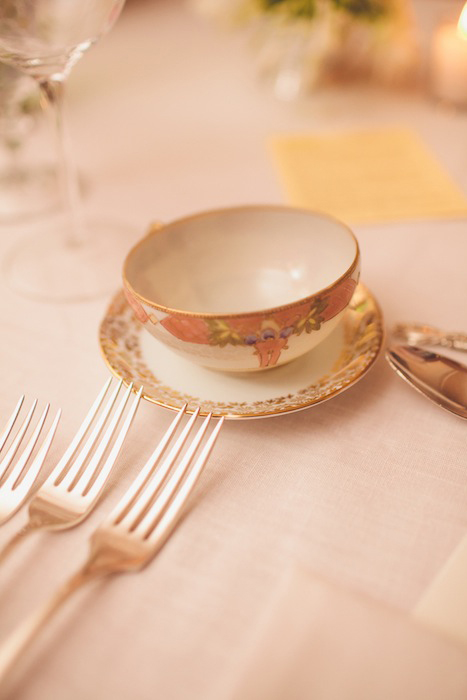 What was the best thing about having an intimate wedding?
Most importantly, we were able to really spend time with people we really love and really love us.  Since my family lives in San Antonio and Brian's family lives in El Paso and Joplin, Missouri, it's rare that our families are able to come together–in fact, my family hadn't even met his sister or her family yet.  We were so grateful just to be able to hang out with everyone, rather than perfunctorily making rounds, during the reception.  In terms of the aesthetics, we were really able to tailor the ceremony and reception to our tastes and personal style–something that we would not have been able to afford with, say, 200 people. The whole wedding just really felt like us.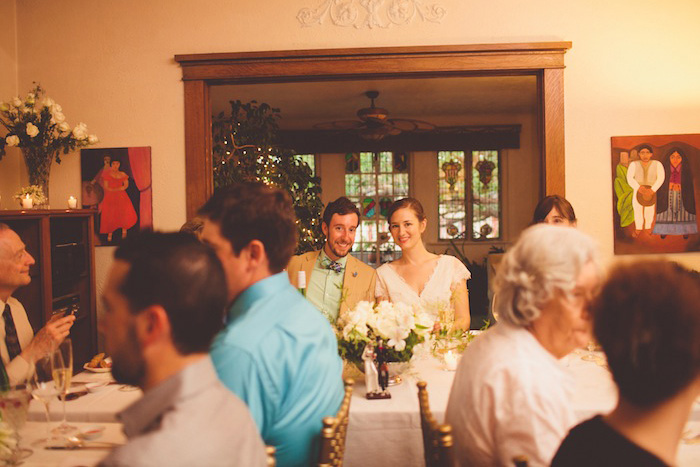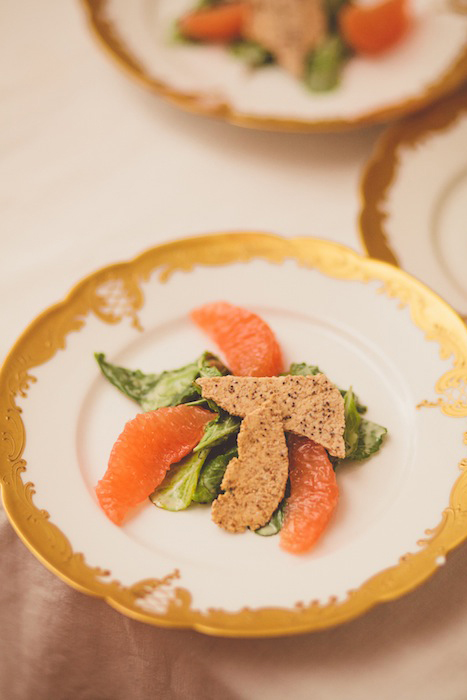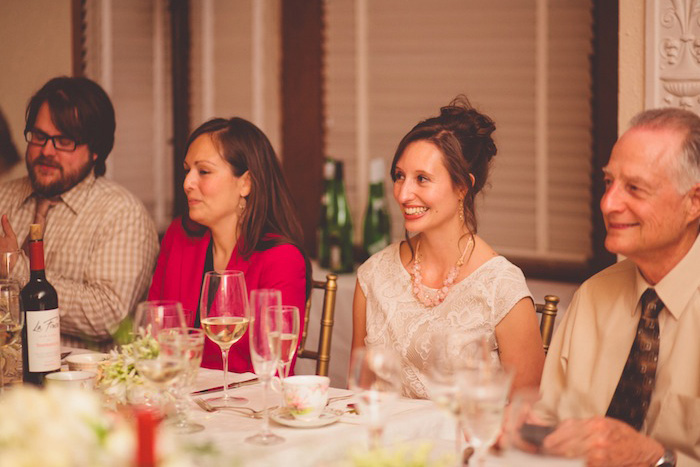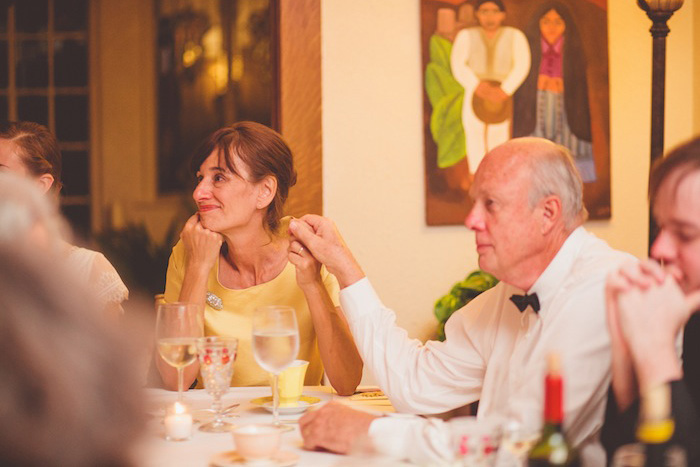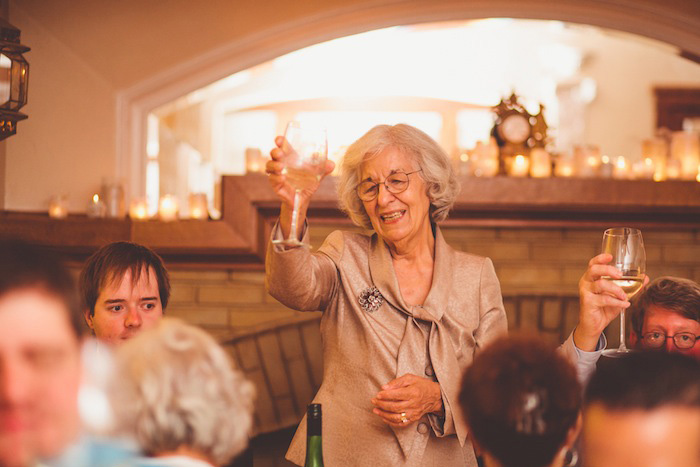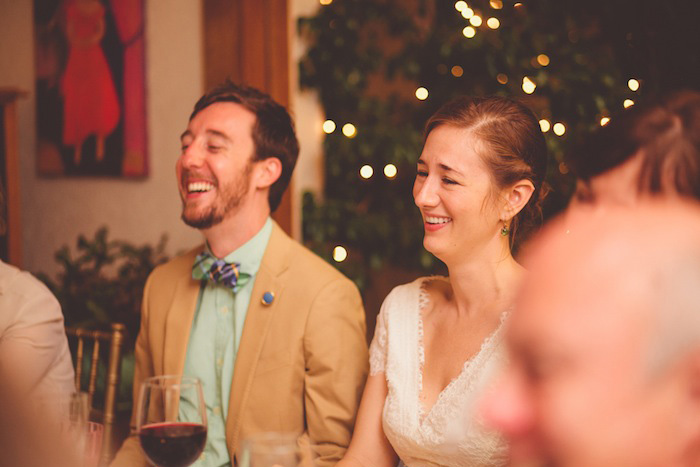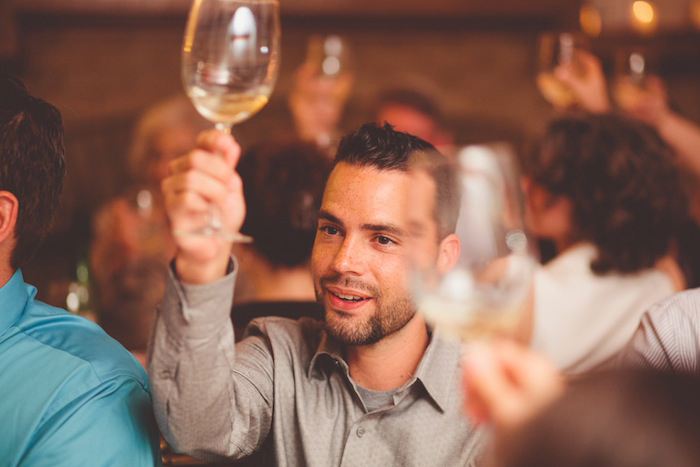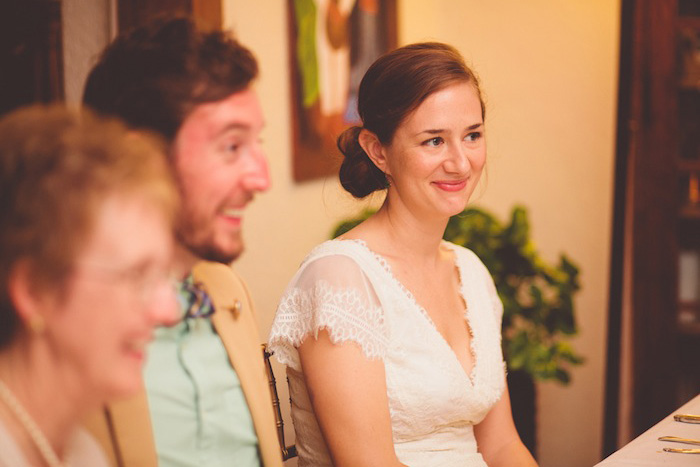 What advice do you have for couples who are considering an intimate wedding?
In regard to the limited guest list, it can be touchy–I won't lie.  Try to be considerate of peoples' feelings who won't be invited.  While I verbally explained to my family and friends our choice to keep the wedding intimate, Brian actually hand-wrote a letter elaborating why we decided to keep it small and emphasized how much he cared about them and looked forward to spending time with them in the future.  Second, having a small wedding gives you the chance to make it your own. It's easier to do DIY projects to achieve a particular aesthetic or to add personal touches more generally. I do suggest, though, keeping it simple and chic, so that the focus is on the newlyweds!