This is the most detailed real wedding story I've received to date – and it was submitted by the groom! How refreshing! I detect so little groom involvement in the world of wedding planning – it's so great to have a guy share so many thoughtful details about his wedding day.   I really appreciated that he took the time to provide lots of helpful insights and tips on planning a destination wedding. This is a great read for anyone planning a wedding away!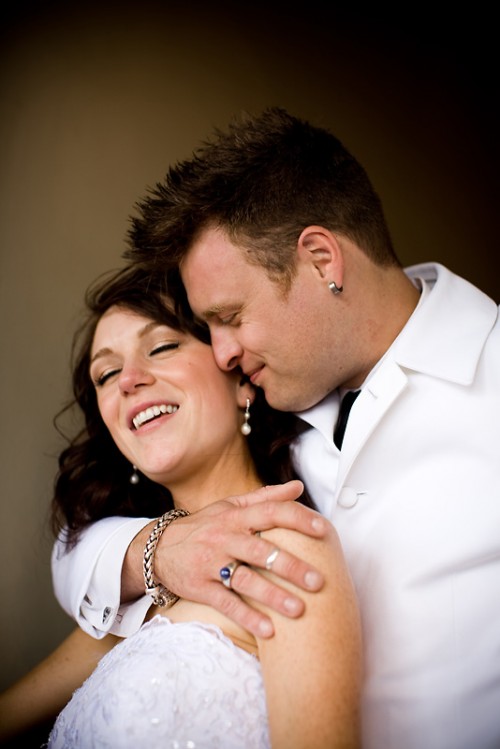 Becky, 31 & Ryan, 32
Santa Catalina Island (aka Avalon, CA)
Wedding Date: August 12, 2008
Number of Guests:  71 at Ceremony & Reception; 58 on cruise
Wedding Cost: $20,000
Wedding Ceremony Location: The Landing (in the courtyard)
Wedding Reception Location: Ristorante Villa Portofino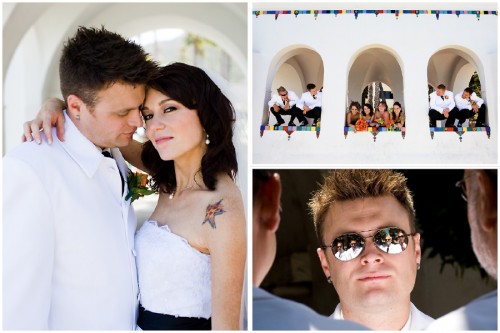 Why did you have an intimate destination wedding?
Becky and I choose to have a destination wedding, and it goes without saying that having a destination wedding will result in an intimate wedding due to the fact that once travel is involved (at least in our case) many family and friends may just opt out of attending the wedding.
One of the reasons we opted for a destination wedding is that both Becky and I have been blessed with large, loving, kooky, fun families. And while both of us had met and developed relationships with each other's family, none of our family members had met each other prior to the wedding, aside from my parents who had met Becky's mom.
Even though the time that we each spend with our own families is oftentimes quite limited, we both love and appreciate everyone and we wanted to share the most important people in our lives with our respective new families.
Another reason is that Becky and I are at the age where we go to quite a few weddings each year. We see the same thing happen at so many weddings. Guests show up, head to the reception with a gift, eat and drink, and do the cake thing. Then they start asking themselves: "Do I stay for a dance or two or run home?  I have a baseball game tomorrow, a fishing trip, or yard work to do, etc."
What I am getting at is that we all have busy lives and oftentimes find ourselves counting down the minutes or hours, checking out our wrist watch over and over, until we leave the wedding reception.  With our minds consumed with our busy lives and schedules, do we really get a chance to enjoy and absorb the special moment?
I imagine many a time the bride and groom have trouble recalling who came and who didn't until they check out their guest book and open wedding presents. We didn't want that to happen to us!
 In fact, Becky and I are very blessed and have almost every "thing" we need.  In all actuality we didn't want wedding presents.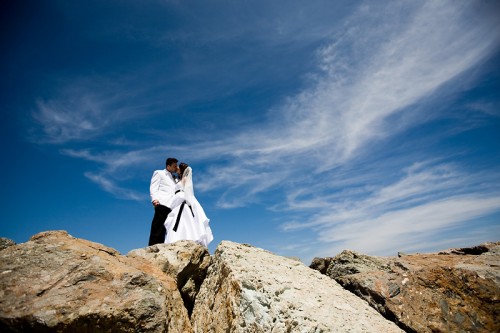 Having our closest family members and friends "present" would be the greatest "present" we could ever ask for or that our family and friends could ever give!  We wanted the chance to spend time with each and every one of our guests.
My  family has always been big into the holidays, having a big meal and spending time together. As I get older, (and yes, maybe more mature) I realize these are the things I cherish the most when I look back at my life.
While I have received many a Christmas or birthday present over the years, I would be hard pressed to remember what they were or even who they were from.  What I do remember is all the laughter, the food, the conversation, and the hugs goodbye at the end of the night. Our lives may go their separate ways, but those hugs are always heartfelt and they mean the world to me.
"Things" break, rust, fade, and get lost, but the memories we make with family and friends are truly the only possessions we ever have that will last a lifetime.
Becky and I wanted to make memories with each and every guest, with both our family and our friends that will last a lifetime.
In the process of making us extremely happy, we wanted our guests to give themselves a present! They all deserve a treat, a vacation, or just a break from it all once in a while, and we wanted to help make sure that all of our guests got just that.
So we said to everyone we invited: "Come vacation with us, attend our wedding, and make your own memories that will last a lifetime!"
We really did put a ton of thought into our wedding event!  I think we found a way for everyone involved to share in the excitement of our big day, as well as have an exotic island adventure together in a very affordable way (less than $1000 per person for everything).
As Becky and I sealed the deal, we really hoped that our wedding guests would consider stepping outside of their normal comfort zone, take a vacation with us, get to know all our wonderful family and friends, and make our wedding an adventure that we could all remember as one of the greatest vacations we've ever had.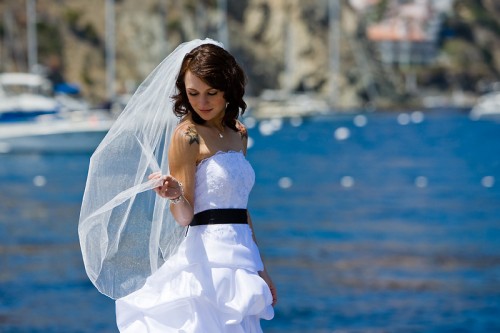 What are some the challenges that you faced planning an intimate destination wedding?
Getting 70+  people to plan for, to save for, and to book plane tickets and rooms/cruise reservations for a destination wedding will most likely take as much time and work as all of the rest of the wedding planning combined.
Make sure you send out invitations as early as possible!
Becky created a personal website for our wedding 18 months prior to our big day. We sent monthly reminder emails for the 18 month duration to everyone who was invited. The emails provided helpful info to assist our guests in their travel plans. Getting everyone to secure their US passport in time for the wedding was another story all together.  We also worked very closely with our travel agent to come up with payment schedules, group pricing, as well as all the small travel details which we included in our monthly reminder emails.
Then at the one year mark, we sent out our official wedding invitations and by this time we had a rough idea of who was serious about making the trek and who wasn't
The key to it all is to remind your guests frequently about the wedding. Guests will procrastinate until they are scrambling to book their trip; to secure last minute funds; to find a roommate; to get their passports. You name it – if they can put it off until the last moment, they will.
Getting your guest there is half of the planning; the other half is all the details of the wedding and reception event.  Since we planned a destination wedding, we hired a wedding coordinator from the Catalina Island area.  She helped keep us on track. She gave us suggested vendors to work with, location advice, as well as helped us to create a general timeline for the wedding ceremony and reception.
Was it difficult to pare down the guest list?
It wasn't as hard to pare down the guest list as we initially thought it would be.  First, we decided on how many people we could afford to have at our reception.  Then we made a list of all the relatives and friends we had to invite. On a separate list we wrote down the names of  friends and family members who we wanted to invite.
Like I stated earlier, when planning a destination wedding one can assume that many family and friends will opt out of attending.  Some of the guests we had to invite declined, so we were able to send out invitations to others that we wanted to invite.
It's important to realize that some family members or friends that you really want to be there might not make the effort or plan to come to your wedding. One should be prepared to be a bit disappointed. But the way we looked at it is that those that were truly MEANT to be there were there.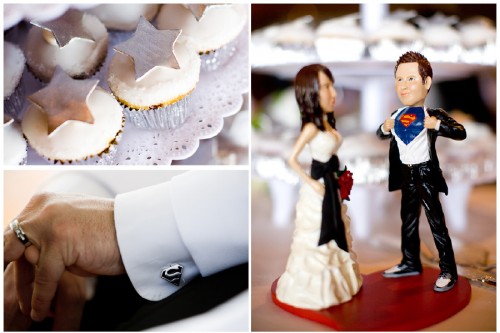 Did you have any 'issues' with the small guest list from friends and family? If so, how did you address them?
Not really.  Our biggest issue was that some family members wanted to know why we had to be so different and have our wedding somewhere other than where we live.  We had to explain that while having the wedding in Seattle would have made planning for, or just attending the wedding easier and more accessible for those living in WA, we still had more than half of the invitees that would have had to travel from several states away as well as find lodging etc, which would cost more per person than the airfare and the cruise combined to our destination wedding.  We decided instead to make it fair: everyone that was going to attend our wedding event would have the same basic costs to plan and save for, and as I pointed out earlier, we made it known that we did not want wedding gifts from those that attended our wedding.
What were the highlights of the ceremony?
Well, firstly, it was just absolutely beautiful.  Our coordinator was invaluable in helping us pull together all the necessities for the ceremony.  And Becky planned out all the unique details. It was amazing!  Whether it was the parasols for all the ladies (which they loved especially in the sunny August weather), or the white silk lily clips scented with lily oil for all of the attending women's hair (Becky and Blaze, a bridesmaid, made them), or the homemade Spanish themed handheld fans available for all the guests (another great addition for a hot day), all these small details and personal touches made the event extra special. But the highlight looking back was the two of us saying our own vows which we wrote ourselves. Not a dry eye in the crowd!
What were the highlights of the reception?
Once again, everything could not have been more perfect.  Other than the wedding party, there were no assigned seats, so guest could sit down with family or their new friends and have a wonderful dinner, along with an open bar.  There was an excellent acoustic guitarist playing flamenco style music to set the atmosphere as well. However, the most memorable part of the reception was just after the maid of honor and best man gave their toasts, and friend after friend, family member after family member, asked for the microphone. It was amazing to hear just how much of an impact we have made on our friends and families lives and how much we truly mean to them. It was a fantastic memory that Becky and I will always keep close to our hearts!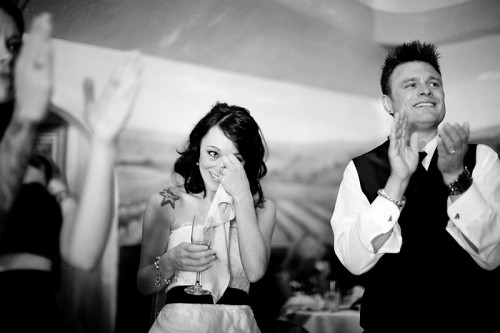 What was the best thing about having an intimate wedding?
The best thing for us in having an intimate wedding was that we accomplished our main mission – which was to spend time with each and every person that came to our wedding.  While we would have loved to spend more time with many of the guests, we did get the chance to spend some personal time with each and everyone who attended our wedding event.
What advice do you have for couples who are considering an intimate wedding?
Have fun. It's your day, so make yourself happy.  Do not worry about what other people want. In the end, doing it your way will be the most rewarding way to plan a wedding, and when you look back at your big day, it will have happened the way you dreamed it would.
Also, do not be afraid to cut costs.  We did not have a big bouquet of flowers on the tables; instead we opted for rose petals and candles. Also, Becky found a bargain dress and we had a cupcake tree instead of a large wedding cake.
One of the most important pieces of advice I have is to get the photographer you really want!  Our wedding photographer was by far our best and most important investment in our wedding.  We hired our photographers (www.geraldpope.com) and took them with us on our destination wedding cruise.  It wasn't cheap, but they were definitely worth their weight in gold.  Becky and I get to look back at our pictures, moments forever captured, and relive that wonderful day again and again – not to mention they made us look like rock stars in all our pictures.  So our best advice is to cut costs everywhere you can so that you can afford to hire the photographer whose work you really connect with most.  Your photos are the one thing that you and everyone else will see and remember your special day with for the rest of your life.  Trust me – Auntie Jane might be trigger happy with her brandy new Canon Rebel, but she won't take the same quality pictures as a professional.
Vendors:
Flowers: Bloom's Floral Design Studio

Music: James Moody

Minister: Tim Mitchell

Reception Venue: Ristorante Villa Portofino

Videography: Alex Wenger,Happy Weng Productions

Cake: Rossmoor Pastries
Wedding Coordinator: Elizabeth Wenger
Photography: Gerald & Airika Pope
Travel Coordinator: Rod Schepper, Capitol Hill Travel

Bridesmaid Dresses: Moms, Maids & More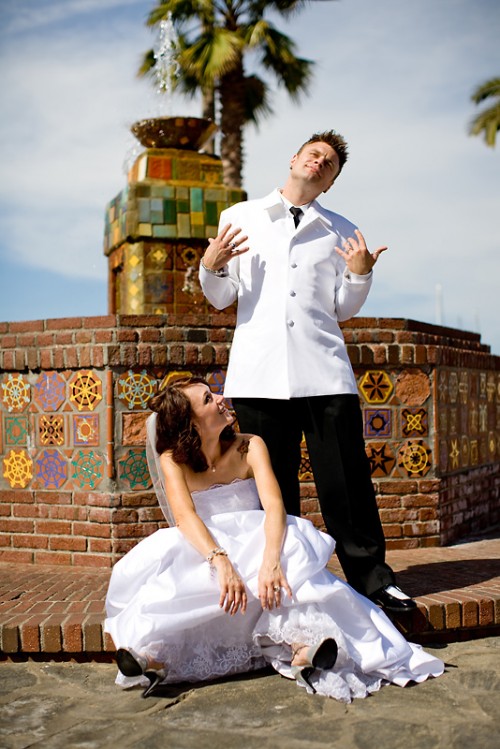 Photos: Gerald and Airika Pope