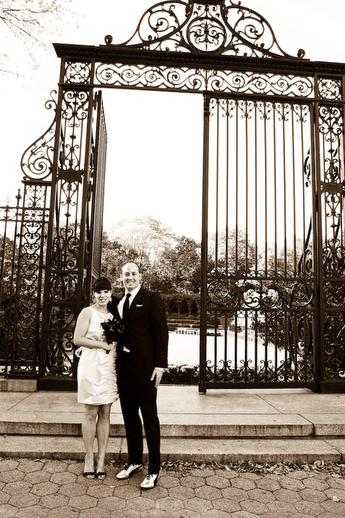 Isabelle, 43 & James, 31
New York City
Wedding Date: October 17, 2008
Number of Guests: 15
Wedding Cost: $25,000
Wedding Ceremony Location: Central Park – North Garden
Wedding Reception Location: Gilt Restaurant
Why did you have an intimate wedding?
I wanted to elope and have just my husband and I, but James wanted a bigger wedding so we compromised that way. We were also thinking of cost. We were either going to have a regular wedding and invite more people or have a spectacular wedding and go all out and have fewer guests. We also wanted to do it in NY because it is our favorite city and we knew that a lot of people could not afford to come. We would not change a single thing. It was the best day of our lives and all our guests said it was the best wedding they have ever been to. We did everything based on the fact that we wanted our guests to live this moment with us and remember it forever. We wanted this to be as memorable for them as it was for us.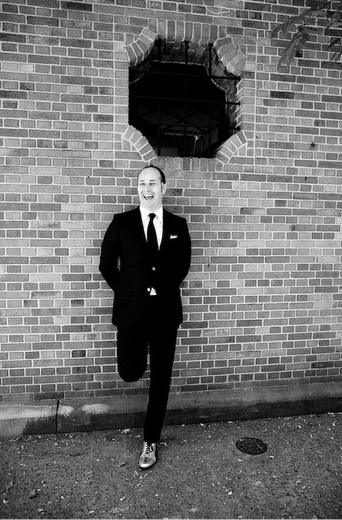 What are some the challenges that you faced planning an intimate wedding?
I must say that we were quite lucky in all the choices we made and that the planning was quite easy, even though we had to do pretty much everything online. It was a leap of faith. We first started looking into marriage licenses and finding someone to marry us. Being Canadian, it was actually quite simple. My husband went online to find someone to marry us and we were blessed enough to find Chaplin Davis and her wonderful assistant Tahana from Columbia University. We also booked Central Park online. Then in May, we spent 5 days in NY to scout everything else. While we were there, we met with Chaplin Davis and had a rehearsal at Central Park. We also talked to the hotel staff and restaurant to book rooms, breakfasts and the rehearsal dinner for our guests. Shopping was also part of our trip and we were lucky to find the wedding shoes, suits, ties, rings, and everything else we need in that short period of time. Everything was falling into place. I booked a pedicure/manicure at a salon next to the hotel and was lucky enough that my own hairdresser in Toronto is a great friend with Marco Guglielmino, an incredible hair master in Soho who came to the hotel and did my hair for me on the wedding day. What a wonderful talented human being! As for the lounge, James did research online and found the Campbell apartment at Grand Central Station. The drinks, the atmosphere and the food was great. For dinner, we had walked in front of Gilt and had marveled at their courtyard numerous times, so we booked a dinner there and met with Tara Grey who took care of everything and made our life so much easier. This was the best service we ever received. As for the photographer, I found Jen on Craig's list and fell in love with her work. Within a day, I had booked her. She did an incredible job and we love our wedding pictures. We did not want another cookie-cutter wedding and we got something unique that people will remember forever; that was because of our vision but mostly because of the amazing group of people we worked with!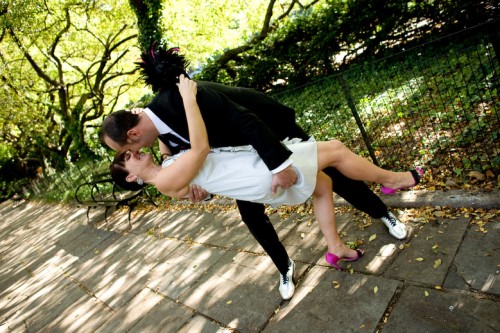 Was it difficult to pare down the guest list?
Instead of paring it down, we decided to each invite 10 friends and a few family members. We started small so we did not have to pare down. A few people could not make it because of financial or health reasons. We had originally planned for 13 more people. Also, because it was a destination wedding with no kids, some friends did not bring their spouse, who stayed home to look after the kids.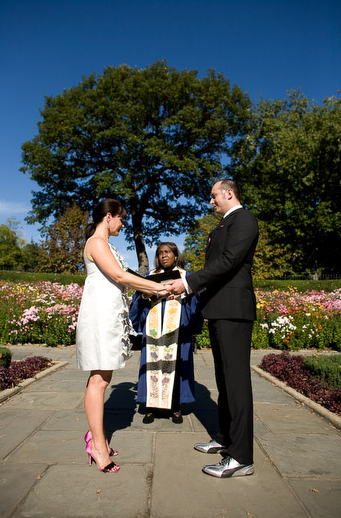 Did you have any 'issues' with the small guest list from friends and family? If so, how did you address them?
No, because we did not let it become an issue. We both have very small families and both my mom and his dad were ill so only my close uncle and aunt came. As for our friends and other family members, we explained that because we were paying for everything ourselves we could only invite a small group of people. Nobody was offended. They were simply happy that we were finally getting married 🙂 We did send a picture to everyone after though. I understand that it might be an issue for some families, but it was not for ours.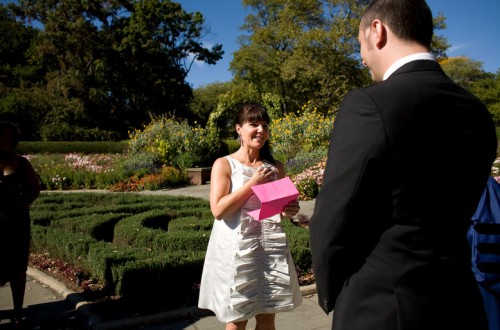 What were the highlights of the ceremony?
Everything. The weather was gorgeous and Central Park was in bloom. I walked down the aisle with my best friend who gave me away (an untraditional decision that I am so happy I made – my best friend is like the sister I never had so she was my only choice). Seeing all our friends, Chaplin Davis and Tahana, my beautiful husband… it was more that I ever hoped for. Chaplin Davis started the ceremony by pointing to our shoes (my hot pink Monolo with black feathers and James' sliver Puma Black shoes). That set the tone for the rest of the ceremony and it was just fun from then on. We hand-picked the poems and the vows ourselves and had a friend read a beautiful poem about love that blooms in the fall. We then asked all our guest to make a wish for our life together and threw pennies in the fountain. Our photographer then took pictures, and afterwards we went on to the Campbell apartment for drinks and food.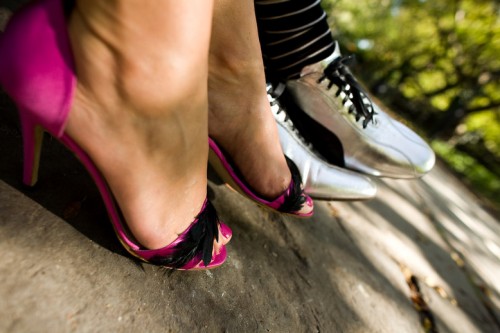 What were the highlights of the reception?
The service at Gilt; the beauty of the restaurant; the amazing food; the drinks; the tea tasting; the chocolates; the speeches –all impromptu and from the heart. I made our wedding soundtrack and put it on an ipod that they played all night for us – lots of jazz, Frank, Ella mixed with some Sex and the City tracks (we then gave a copy of it to our guests, along with a DVD of SATC). I did not want bouquets everywhere so I left it up to the staff at Gilt who created a beautiful, classic and simple table with lots of candles. The room and the food  spoke for themselves. It was perfect. Everybody had a great time and LOVED the food! I would highly recommend that anyone who goes to NY goes to Gilt.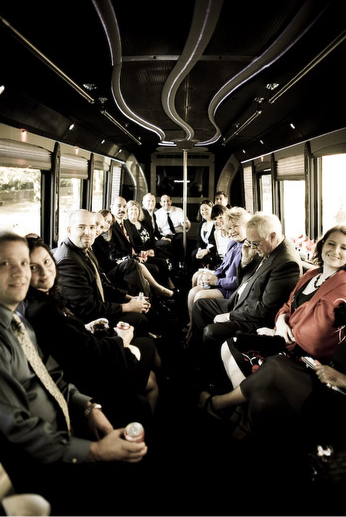 What was the best thing about having an intimate wedding?
We were able to truly spent a lot of time with everyone. Because we went to NY, we basically spent 3 days with our friends. The day after the wedding, we all went for breakfast together at Kitchenette in Soho – then we met up again for dinner and then went skating at Rockefeller Center. Not a single thing went wrong and our friends got to meet people that had never met before and spend enough time with them to make new friendships. I must say that everything was perfect. Nothing went wrong. We were just beast friends enjoying a wonderful time.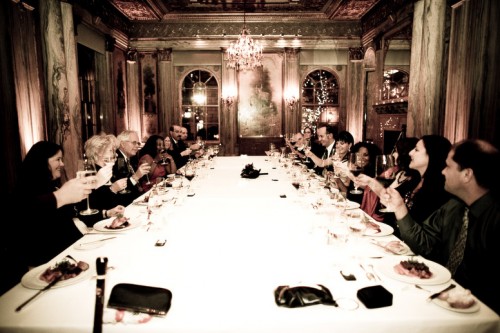 What advice do you have for couples who are considering an intimate wedding?
Go for it! We would not change a single thing about our wedding. It was the perfect wedding and our guests still talk about it every time we see them. You also surround yourself with your best friends so there is no pressure from anyone. They are there because they love you and they want to share this moment with you. Remember that this is your day and that it should be your decision. You can also afford to go all out since you have less guests, which is what we decided to do.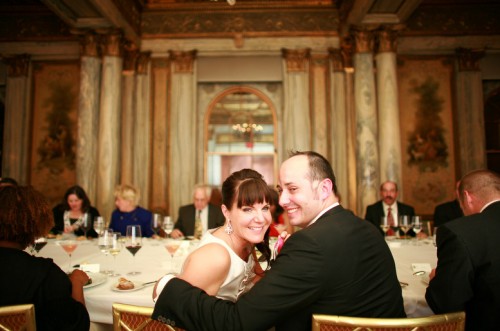 Vendors:
Photography: Jen Huang Photography – New York
Hair: Marco Guglielmino – Soho
Makeup: Marion Smith – Toronto
Feather bouquet: Emplume
Hotel: Hyatt Regency – Jersey City Vue restaurant for rehearsal dinner
Restaurant: Gilt at the New York Palace Hotel
Cocktails: Campbell Apartment at Grand Central Station