If you're looking for something a little extra dreamy today, you're in luck because Maya and Lénaïc's Provence wedding is downright swoon-worthy!
Planned long distance and with a budget of just over $5,000, Maya and Lénaïc's intimate wedding (they're both professional photographers) was held at Beaumes de Venise City Hall. After the ceremony, guests were treated to an intimate, cocktail reception that included a game of Pétanque (similar to Bocce), and a candlelit alfresco feast, all set in the picturesque French countryside of Provence.
We don't know about you, but we don't think it gets much dreamier than that!
Maya, 23 &  Lénaïc, 27
Beaumes de Venise (Provence, France)
Wedding Date: October 20,  2012
Number of Guests: 19
Wedding Cost: Dress: $1,050; Wedding reception (which was basically a huge house in Provence which was used to host a few guests as well for 10 days): $1,000; Tuxedo for the groom, brother of the groom: $8,00; Chairs from Ikea that we painted in white afterward: $250; Wood material for creating the tables: $200; Different accessories for the reception (napkins, candles, tents, light bulbs, vase, glasses, cutleries, etc): around $1,050;  Other expenses (english translator for the ceremony, papers, food &beverage): $800; Total Budget: (Approx.) $5,150
Wedding Ceremony Location: City hall of Beaumes de Venise in Provence, France
Wedding Reception Location: Typical Provence house in Beaumes de Venise. We used the garden to host the cocktail reception, dinner, and game of Pétanque.
Why did you have an intimate wedding? 
We choose to have an intimate wedding because we were on a budget but still wanted our day to be filled with people that we are close to. We wanted a handmade wedding full of love.
What are some the challenges that you faced planning an intimate wedding? 
Planning our intimate wedding was quite a challenge from A to Z. Coming from a long distance relationship, it was a huge but rewarding challenge for us to organize everything through Skype/phone. And prior to that, getting the papers to make our ceremony possible was a challenge in itself as it took about 9 months just to arrange it all; it took a lot of patience on our part. And after all that, the thought of "are we going to be able to pull everything together" kept nagging us. Almost everything was handmade; the table was made by the groom and my father-in-law (Albert); the chairs were hand painted with everyone's help; the flowers were hand-picked by me and the groom on the morning of the wedding; the origami was made by the groom's brother (Thibaut); and the cocktails and dinner were made by my chef sister who came all the way from Cambodia to France and also by my father-in-law and mother-in-law (Florence). Everything was a great success in the end  –  especially because everyone played a part.
Was it difficult to pare down the guest list? 
Surprisingly, it wasn't! My small family and friends are scattered all around the globe (Philippines, Japan, Dubai, USA, Australia etc) and sadly not everyone could make it, so that narrowed the list down.  Then, Lénaïc's family is tiny and most of them are in France, so that made it easier.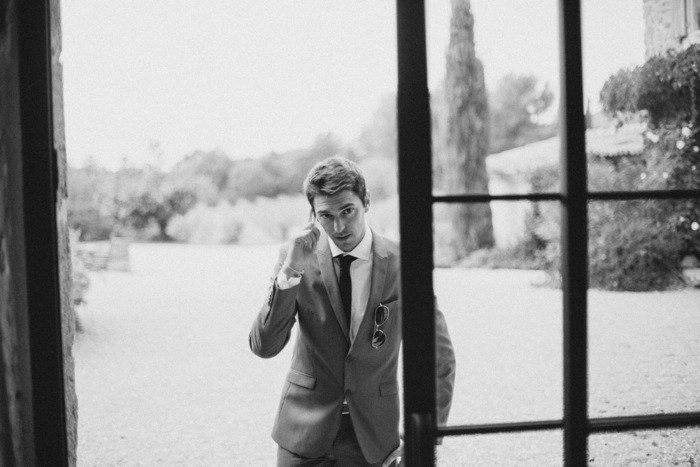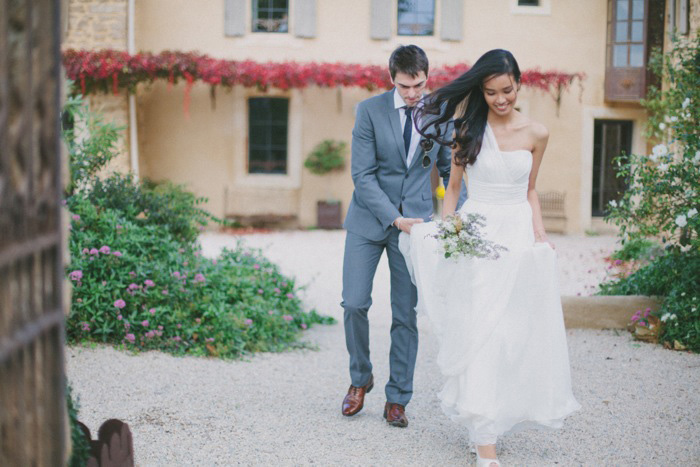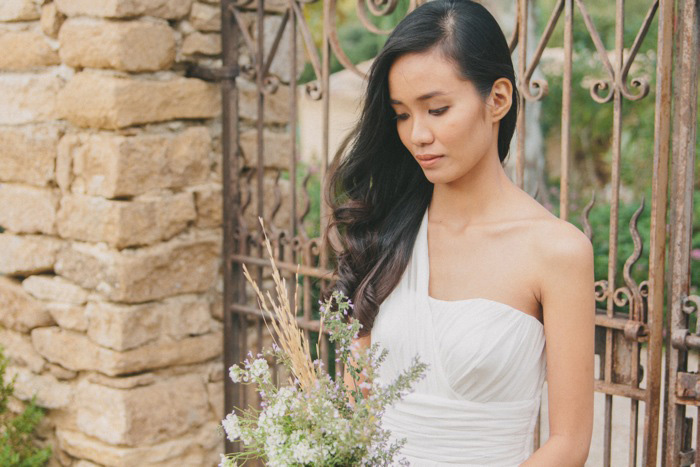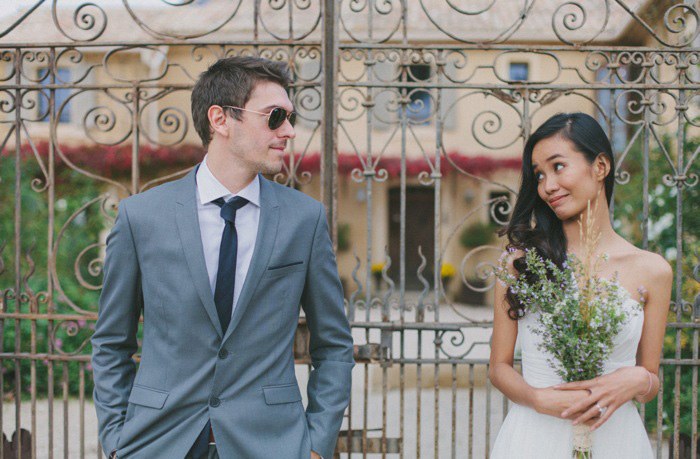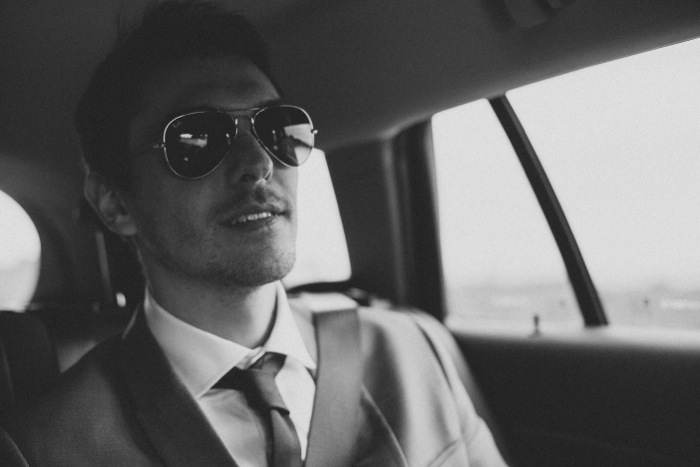 Did you have any 'issues' with the small guest list from friends and family? If so, how did you address them? 
We were really lucky that everything stayed on track without any issues. Our families and friends are really close to each other which made everything light and relaxed.
What were the highlights of the ceremony?
The highlight of the ceremony was the moment that we realised that the year long process of planning the wedding apart from each other had finally all come together in that moment.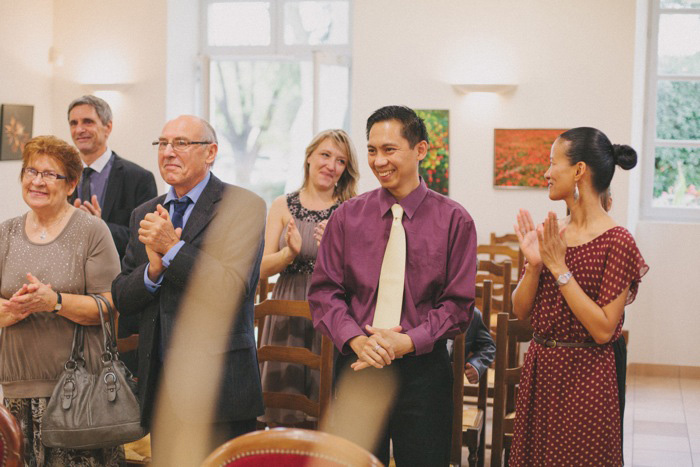 What were the highlights of the reception?
The highlight of the reception was when we played Pétanque, a traditional French game. It was so much fun because everyone got to participate – especially our grandparents and our little cousins as well! And also, the delicious French and Asian meals specially made by our loved ones! Great food=happy tummies=happy people!
What was the best thing about having an intimate wedding?
The best thing about having an intimate wedding was that we managed to get the wedding we dreamed of within our budget. We were surrounded by the most important people in our lives, and in turn, I felt more relaxed. I also think that an intimate wedding gives you more room to personalize your wedding and create more DIY wedding projects. As well, we were able to create a more elaborate menu for our small guest list. And even though we are on a budget, it allowed us to think more of where to spend the allotted budget.
What advice do you have for couples who are considering an intimate wedding?
Go for it! It is your day and you have to think of yourselves first and your closest relatives and friends before everyone else. Know what you want, and what's important to you.
Vendors:
Photography: Lmvisual Wedding Studio (bride and groom's photography company)
Hotel: Le Clos Saint Saourde
Reception Venue: La Micoucoule
Catering: Bride's sister and groom's father